March 19, 2021 at 6:06 pm EDT | by Tom Sommers
Can we relearn being social?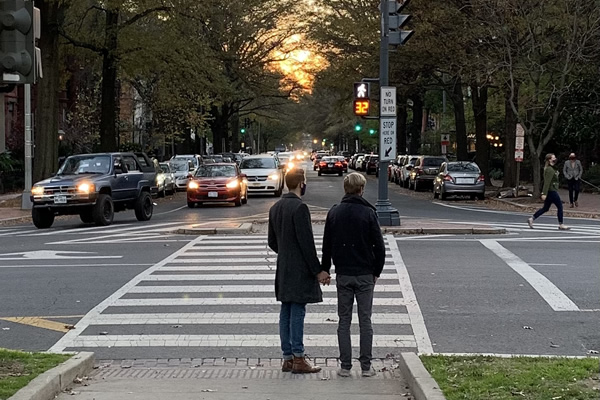 Will vaccines and the end of lockdown mean we have to relearn how to socialize? How has our year off of in-person events, meet-ups and dating changed how we'll socialize?
Pre-vaccine, we had solutions. Some of us had sidewalk-spaced visits; others stayed indoors and got their fix online; and a portion joined the Pod Movement. Forty-seven percent of Americans joined a pod.
I was among the 53 percent who didn't pod. I met some needs through calls with friends, my daughter and healthy parents (ages 92 and 85), and by seeing friends in distanced encounters.
As more of us get vaccinated, will the social light switch finally flip up on June 1? Even Dr. Fauci can't say for certain.
According to an expert from Whitman-Walker Health, folks may not dive right back into their pre-pandemic routines.
"There remains a lot of uncertainty about [how] a post-pandemic life will look. It's important to recognize the pandemic has been a collective trauma. There will be collective and individual impacts once the pandemic subsides," they said. "For example, life after [9/11] meant an increased sense of vulnerability, hyper-vigilance and anxiety. It's likely we'll see similar impacts."
Matt Friedman, 52, of Truxton Circle coincidentally mentioned 9/11, saying "there was a lot of talk of people cocooning after 9/11, and we may see a similar trend."
How long until we can confidently attend a concert/sporting event?
"I would be comfortable being with small groups of friends when I know we are all vaccinated. I'll feel fine eating inside restaurants or shopping after I've been fully vaccinated," said MF.
"I'll feel safe once I, and the majority of the [local] population, are vaccinated," wrote Craig in Alexandria
For me personally, it will depend on my trust of the event/context and other people.
Then there's in-person dating. I've almost sworn off it since March 2020. Others have run the gamut from a few worries to strict celibacy.
As the dating floodgates open, what will people do? Craig and Matt shared that once vaccinated, they'll be okay with dating, though maybe it will be a low priority.
Craig's dating hesitation, "the game itself, lol!"
When asked about when to date, Matt said, "I haven't given this much thought."
Deciding it's time to date is one thing; doing so is another.
Americans won't fully vaccinate. According to NBC4, half of our previous president's supporters will decline getting a vaccine.
New dating will bring questions. Some of us may be rusty with the first date awkwards, the fumbling hands, and dating protocols.
Will we want:
Mask/no mask?
Proof of a vaccine?
Pfizer or Moderna?
Indoor/outdoor date?
Intimate moments: What will/won't we do?
We may experience dating's new importance (or its lack.) A year without may have been a welcome excuse to quit the game. Others will want a home run, ASAP.
I'm fine with whenever. What's another few weeks? The pandemic has made me see priorities and focus on quality time vs. a hookup. I won't jump into social gatherings unless I want to go.
"After over a year of spending less time in public, social circles, it will be interesting to see what dating looks like. Folks have left relationships, other relationships have strengthened, and there will be folks who enjoy [dating] extensively. Other folks may have realized they crave a deeper connection. I am curious to see who lands in which place," Julio J. Fonseca (he/him), 46, in Dupont Circle said.
The pandemic's made us rethink our working lives, so it makes sense we'd reconsider our social time. Going into summer 2021, what will we do/not do this year versus the summer of 2019? Freewheeling or caution?
"There may be a renaissance of social spaces … a 'new Roaring Twenties' feel. I don't think things will ever feel exactly how they did before the pandemic," Julio predicts. "I have learned the type of social engagements I enjoy versus things I had been doing out of a feeling of obligation. Managing the type of engagements and social settings that are more meaningful will be high on my self-care [list]. There will be a few months where people will get sick of seeing me because I will be everywhere."
Until St. Fauci says "go," a vaccinated, trial-and-error-period may be our game plan. Matt captures the D.C. spirit with, "I plan to give all of my friends giant, vaccinated hugs."