May 10, 2019 at 11:26 am EDT | by Michael K. Lavers
'Did this really just happen to me?'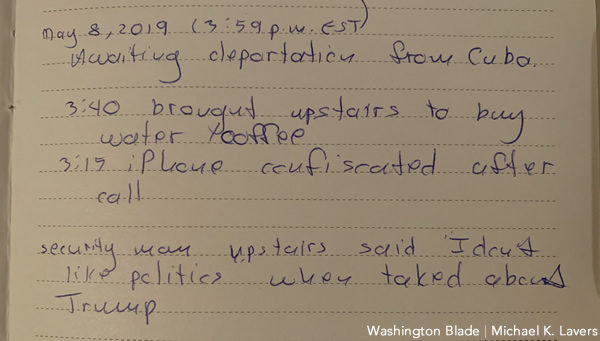 MIAMI BEACH, Fla. — Wednesday was to have been the first day of my seventh trip to Cuba. The country's government put a quick end to that plan.
My American Airlines flight from Miami landed at Havana's José Martí International Airport shortly before noon. I was one of the first passengers off the plane.
There were a few dozen people — mostly customs employees — in the large customs hall downstairs when I approached an officer who was sitting in one of the more than a dozen booths. I said "good afternoon" to her in Spanish and handed her my passport and "tourist card" visa that I bought after I purchased my flights last month. She began to enter my information into a computer and after a couple of minutes she told me to stand behind the line at which people wait before they approach the booths.
A woman who I later realized was a customs manager — who subordinates called "la jefa" or "the boss" in Spanish — approached me and asked for my passport and visa. I gave them to her, and then walked over to where Cleve Jones — a San Francisco-based activist who was to have been the grand marshal of a government-approved International Day Against Homophobia, Transphobia and Biphobia march in Havana that was cancelled earlier in the week with little explanation — and two other Americans who were on my flight were waiting for a contact to escort them through customs. The four of us chatted for a few minutes until the customs manager called my name. I walked over to her and a male colleague with whom she was standing asked me three questions: How many times have I been to Cuba? What is my profession? What was the purpose of my trip? I answered each of the three questions and the man then told me I was not allowed to enter the country. I asked him why and the only thing he said was my name was on a list. He directed me to a row of seats near an emergency exit and I sat there with my backpack, carry-on and a plastic bag with things I bought at Miami International Airport before the flight. Someone from Jones' group asked me what was happening, and I said something to the effect that I was not being allowed into the country. I don't know if they heard what I said.
I used my iPhone to call my husband in D.C. and text Washington Blade editor Kevin Naff to let them know what was happening. I also used my Cuban cell phone to call a contact in Havana. The person who escorted Jones and the other two Americans through customs arrived a short time later and they left about half an hour after our flight landed. I knew I was going to be on an American Airlines flight to Miami that was scheduled to leave at 7 p.m., but I asked the customs manager to confirm this information and to tell me why the government had refused to allow me to enter the country. She said she didn't know and apologized to me. She also asked me if I wanted any water or food. I thanked her; but said no because I had a full water bottle, snacks and half a breakfast sandwich from Miami with me. I asked her if I could use the restroom. She said yes and I walked over by myself.
The thought of spending more than six hours in a Cuban airport was dreadful, but I was not overly scared because I had not been formally detained and the customs manager was doing what she could to keep me comfortable. I spent the next couple of hours walking back and forth to the restroom, pacing around the customs hall, using my iPhone's notes app to write the Blade's article about what happened and talking to a man from Angola who was not allowed to enter Cuba after he arrived on a flight from Panama. I also called a contact in Havana and told them I was "bored out of my mind."
A contact in the U.S. called my iPhone at around 3 p.m., and I began to tell them what was happening. The customs manager and the same male colleague who told me I was not allowed to enter Cuba approached me about 15 minutes later and told me I could not use cell phones in the customs hall, even though several of their colleagues were using theirs. The customs manager then told me to turn off my iPhone and give it to her. She then told me she would keep it with my passport and give them back to me before I boarded my flight to Miami.
I felt even more disconnected from the world after they took my iPhone, but I still had my Cuban cell phone. I muted the ringer, placed it into the hat I was wearing and used it to text the contact in Havana with whom I was in contact and to and Maykel González Vivero, publisher of Tremenda Nota, the Blade's media partner in Cuba. I also took my travel journal out of my backpack and began to write down what was happening. At 3:59 p.m. I wrote "awaiting deportation from Cuba." I also noted a young male customs employee about 20 minutes earlier walked me upstairs to the departures lounge and allowed me to buy bottles of water and a coffee with Cuban pesos I had from my last trip to the country earlier this year. I wrote in my journal he told me, "I don't like politics when (we) talked about Trump." I bought an extra bottle of water for the Angolan man who was sitting next to me downstairs and gave him some of the cookies and dried fruit and nuts I had with me.
The air conditioning was not very strong and it was 90 degrees outside, but I was otherwise comfortable over the next two hours as I waited for my flight back to Miami. At around 6:30 p.m. the customs manager called me over to an elevator. She gave me back my passport and iPhone, handed me my boarding pass and escorted me to the gate. She handed my passport and boarding pass to a gate agent and told a male airport employee to escort me onto the plane. The customs manager said thank you to me as I entered the jet way.
I was the first person to board the plane, which made me feel extremely self-conscious because I was escorted past a group of elderly people in wheelchairs who would have normally boarded well before a 37-year-old man with no health and/or mobility issues. The person who escorted me onto the plane told me before I left customs that American had upgraded me to business class. I sat down in my seat and thought to myself, "Did this really just happen to me?"
I called my husband, Naff and my Havana contact and let them know I was about to leave Cuba. The onboard WiFi allowed me to connect to the Internet, write Facebook and Twitter posts about what happened and text contacts who were able to receive iMessages. I remained on the Internet during the safety demonstration video and take off that a thunderstorm south of the airport made extremely turbulent. The flight landed in Miami shortly after 8 p.m. and I was able to call my mother in New Hampshire and let my relatives know what had happened. A U.S. Customs and Border Protection agent in customs flagged me for a "hard" interview, but it turned out to be nothing more than a simple passport check. I cleared customs in less than 10 minutes and walked downstairs to baggage claim where I retrieved my suitcase that had been damaged. I reserved a rental car, drove to Miami Beach and arrived at a hotel on Collins Avenue I found online shortly after 9:30 p.m.
Coverage of LGBTI issues in Cuba will continue
I first traveled to Cuba in 2015 to cover government-approved IDAHOBiT events. Blade Photo Editor Michael Key and I in 2017 received press visas from the Cuban government that allowed us to cover that year's IDAHOBiT commemorations in Havana as credentialed journalists. The Cuban government has also allowed me to enter the country with a "tourist card" three times — the most recent time on Feb. 28 — with no questions asked.
I have reported across Cuba over the last four years, from Santiago de Cuba in the east to Pinar del Rio in the west.
I have interviewed pro-government and independent activists and have become friends with many of them. I have interviewed vocal critics of the government in Cuba. I have published photo essays and recorded dozens of videos that document life on the island. I am also all too aware of the Cuban government's human rights record and its treatment of journalists, regardless of who they may be or the credentials they may have.
Yariel Valdés González, a Blade contributor from Cuba, has asked for asylum in the U.S. because of the persecution he said he faced in his homeland because he is a journalist. The Cuban government blocked access to Tremenda Nota's website on the island on the eve of the Feb. 24 referendum on a new constitution that once promised to extend marriage rights to same-sex couples. Authorities detained González in October 2016 as he was covering the aftermath of Hurricane Matthew in the city of Baracoa in eastern Cuba and again in September 2017 while reporting on preparations ahead of Hurricane Irma in his hometown of Sagua la Grande in Villa Clara province.
Authorities on Wednesday detained Luz Escobar, a reporter for 14ymedio, a website founded by Yoani Sánchez, a journalist who is a vocal critic of the Cuban government, for several hours after she tried to interview Havana residents who were displaced by a freak tornado that tore through parts of the city on Jan. 27. The contact in Havana with whom I had been speaking from customs told me about Escobar's arrest after I boarded my flight to Miami. The U.S. Embassy in Havana also tweeted about it.
Notamos que @Luz_Cuba fue liberada. Muy buena noticia pero no deberia haber sido detenida, en primer lugar. #TodosSomosLuz #LibertadDePrensa #Cuba

— Embajada EE.UU. Cuba (@USEmbCuba) May 8, 2019
I tagged Cuban President Miguel Díaz-Canel and other government entities in a Tweet that asks for additional information about why I was prevented from entering the country. I have not received a response, and am not holding my breath for one.
Los funcionarios al Aeropuerto Internacional José Martí no me dieron ninguna explanación sobre la decisión del gobierno cubano de prevenirme de entrar el país. ¿Tienen información que pueden compartir conmigo? @CastroEspinM @DiazCanelB @CubaMINREX @USEmbCuba @EmbaCubaEEUU

— Michael K. Lavers (@mklavers81) May 9, 2019
I know there are increased concerns over an IDAHOBiT march that independent activists have said they plan to hold in Havana on Saturday. I know from Tremenda Nota and other independent Cuban media outlets the country's economic situation has grown even more dire since I was last in Cuba less than three months ago. I also know President Trump last week threatened to impose a "full and complete embargo" and additional sanctions against Cuba over its continued support of Venezuelan President Nicolás Maduro.
The last two days have been quite surreal, and I continue to process what happened in Havana. I am quite uncomfortable with the fact that I find myself at the center of a story about a country for which I have a deep affection. I also want to avoid the politics and rhetoric over U.S. policy towards Cuba.
I am so incredibly fortunate to have had the opportunity to travel to Cuba over the last four years, to have had the chance to meet many of the island's LGBTI activists and to have developed lifelong friendships. These feelings — and my commitment to continue my coverage of LGBTI issues in Cuba — have not changed.