May 9, 2019 at 5:25 pm EDT | by Mark Lee
Pete makes us proud, won't be nominee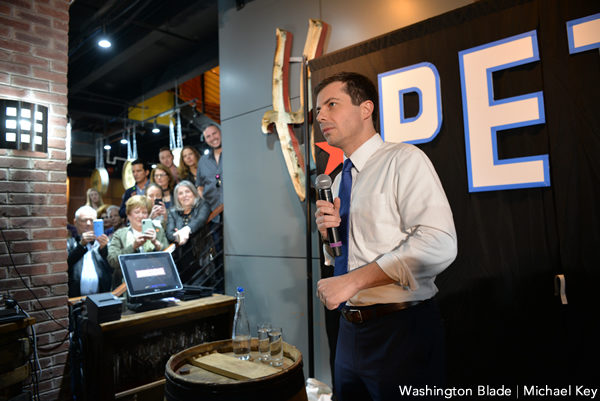 A few weeks ago barely anyone knew the guy.
Since announcing his improbable presidential campaign, South Bend, Ind., Mayor Pete Buttigieg has utilized a savvy strategy of seeking and accepting any and all media appearances to change that.
His coordinated effort has been a successful undertaking, fast propelling the 37-year-old gay politician toward generating both growing name recognition and generally positive reviews. Until poll-dominating Joe Biden entered the fray two weeks ago, Buttigieg had recently begun to overshadow the combined coverage and attention garnered by most other Democratic contenders.
"Mayor Pete," as the fresh face with the hard-to-pronounce surname initially became known, quickly provided concrete proof of how far the nation has come in accepting the LGBT community. The mere fact that a soft-spoken, thoughtful, intelligent, compelling, and openly gay candidate could occupy the center-stage of national politics was testament to how fully integrated the gay community has now become in American life.
He has encouraged that unabashed public embrace by presenting a positive and relatable personal and professional story emblematic of the straight-talking style and down-to-earth demeanor of his Hoosier habitat. The let's-give-a-listen reaction Buttigieg garnered has more to do with his innate ability to speak like an actual human instead of ideological automaton, not for the uniqueness of his sexual orientation. He has also benefited from the common sense of his calmly elucidated statements when contrasted with the flamboyant artificiality and vacuous sloganeering of stereotypic vote-seekers.
Although he has so far intentionally conveyed thematic messages and not specific policy proposals during his time in the spotlight, centrist voters aligned with the Democratic Party have found Buttigieg a refreshing and compelling standout among a mind-numbing and sight-blurring array of what is already nearly two-dozen competitors. He comes across as authentic amid a bevy of either shop-worn or contrived political personas.
Even last week's Time magazine cover photo with affable husband Chasten Buttigieg had the look of a Midwestern couple possessing simple and straightforward bearing, more Walmart-wearing normal dudes than fancy-pants urban gay men. It was not only in stark contrast to the image-stylin' portraiture of the recent Vanity Fair magazine cover and pictorial feature on Beto O'Rourke by renowned photographer Annie Liebovitz, but helped explain why Pete was besting Beto in polls.
While Buttigieg has well represented LGBT Americans, he won't be the Democratic nominee in the 2020 presidential campaign. But his not being nominated won't be because he's gay.
A Quinnipiac poll late last month indicated only 23 percent of all voters nationwide would not be willing to support a gay male presidential candidate. A nominee planning to eliminate private health insurance and enact 'Medicare for All' would lose the support of far more voters than that.
The fear of a repeat of the electoral humiliation in 2016 poses a distinct dilemma for Democrats, and dictates evaluation of potential nominees. Party loyalists struggle with an array of candidates uncertain which, if any, of them can beat the incumbent Republican.
Newly released national polls by both CNN and Gallup indicating that support for Donald Trump has currently risen to his personal-best high of 46 percent, coupled with 56 percent approval for his handling of an increasingly strong and stable economy with the lowest unemployment rate in 49 years, only heightens Democratic anxiety.
A temperate and, if only by comparison, politically moderate Middle American Buttigieg candidacy could provide a winning formula. Democrats, also needing to satiate a delusional far-left activist party base, are too nervous about another national loss to select a relatively inexperienced young mayor of a modest-sized mid-nation town as standard-bearer.
It's exactly that conundrum that has boosted Buttigieg's campaign but will eventually render him an also-ran.
In the meantime, and in a glorious manner that has greatly mattered, Mayor Pete has made us proud – and has already won a victory in doing so.
Mark Lee is a long-time entrepreneur and community business advocate. Follow on Twitter: @MarkLeeDC. Reach him at OurBusinessMatters@gmail.com.