New Aretha bioseries dramatizes singer's turbulent life
Cynthia Erivo shines as legendary Queen of Soul
"Genius: Aretha," a new seven-episode installment of National Geographic's "Genius" series is a feast for the eyes and ears. With stellar performances, stunning cinematography, impressive period detail and rousing musical performances, there's a lot here to like. 
The long-delayed return of the series follows previous seasons "Einstein" and "Picasso." "Aretha" debuts Sunday, March 21 on the National Geographic channel at 9 p.m. Subsequent installments will be made available the next day. 
Pushed back from a May 2020 premiere due to COVID-induced production delays, the series stars Cynthia Erivo — who's only been acting since 2011 and is already just an Oscar short of EGOT status — as adult Aretha while Shaian Jordan plays young Aretha in a stunning debut. 
Each episode pivots between "young" and "adult" Aretha. She works on her breakthrough 1967 Atlantic debut album "I Never Loved a Man" in first episode "Respect" while troublemaking husband Ted White (Malcolm Barrett) creates needless drama with the famed Muscle Shoals musicians. 
Young Aretha goes off with her father (Rev. C.L. Franklin, a famous pastor of his day, played by Courtney B. Vance) in second episode "Until the Right Thing Comes Along" on a summer gospel tour and comes home pregnant. 
One of the series' best passages follows young Aretha and singer Sammie Bryant (Tonya Renee Banks) as they sneak out to a nightclub to see Sam Cooke and get busted by her dad on the way back. 
Episode six, "Amazing Grace," is named after her double-platinum (the biggest seller Franklin ever had in a long career) gospel album and relays its — according to the series — turbulent creation. 
Everything, though, is turbulent in Franklin's adult life in "Genius," the effect of which, the series contends, is the loss of the singer's mother at age 6 and a loving, nurturing but also overbearing and larger-than-life father. 
Franklin, who died in 2018, would undoubtedly hate this series. Although the singer longed to have her life story made into a biopic, she was famous for sugarcoating her past (her memoir "From These Roots" reads like a self-penned hagiography). Anyone who dared to challenge her recollections, such as David Ritz in his 2015 book "Respect: the Life of Aretha Franklin," incurred her wrath. 
So that's not a criticism. It's sad to say, but it's probably best that Franklin did not live to see this series or the upcoming biopic "Respect," due for a summer release, in which Jennifer Hudson will star as the Queen of Soul. 
Much about the series works. The period detail is almost as good as "Mad Men." Erivo, who does her own singing, is one of probably very few people on the planet who could both sing and act the demanding part and the supporting cast is uniformly strong. Vance is especially good as Rev. Franklin as is Omar J. Dorsey as Rev. James Cleveland, a towering — and closeted — gospel figure of the day. 
And the back and forth between child/adult-period Aretha also works better than you might think. The technique, a common one in the Netflix era, feels ping-pongy on some shows, but not here.
There are two problems and sadly they are significant. The writing and pacing by showrunner Suzan-Lori Parks, who won the Pulitzer in 2001 for her play "Topdog/Underdog," often feels leaden and unrealistic. 
Although brief, there are several scenes that make no sense dramatically. 
Listening to another singer tackle "Precious Lord, Take My Hand" in the "Amazing Grace" episode, Cleveland, who'd mentored Franklin as a teen, says, "You can't just outsing 'em, you gotta outshine 'em too," to which Erivo's Franklin gives a wry smile. 
It's a bizarre non sequitur that feels like Parks flipped through a quote book and sprinkled in a down-homey proverb as an attempt at character development. Aretha has just pulled the plug on the project and we're not told what she's thinking or feeling. We know Cleveland, who already invested time on the arrangements, is hoping she'll change her mind (which she does) but in the moment, the scene makes little sense.
In another scene, young Aretha is twirling around the room singing into hairbrushes with her sisters, Erma (Aubriana Davis) and Carolyn (Sydney Hunter). Grandmother Rachel (Pauletta Washington), who raised them, calls them for church. Her sisters leave and young 'Re dissolves into tears. Nothing prompts it. We're supposed to realize that music is Franklin's only real joy. When it stops, she could collapse into tears at any moment. Despite solid execution, it feels forced and clunky. The pacing also drags at times. 
Erivo also fails to bring Franklin fully to life, but it's more the fault of the writing. Her Aretha is an imperious bitch who usually doesn't react to good news, scowls when anyone dares challenge her, rarely raises her voice except in song and seems utterly devoid of joy. 
One might argue that's appropriate for that period in Franklin's life. One of the main takeaways from Ritz's book was there was the life Franklin wanted the public to think she had and the one she actually had. It's obvious Parks and the team here did their homework. Artistic license is to be expected on a project like this. 
But despite the great cast, the gleaming cinematography and the show-stopping soundtrack, the actual dramatization is missing something. The real Aretha, it's no secret, could be an imperious bitch. That's all fair game. She was also, at times, her own saboteur. She was a complicated person. Parks and company do a noble job trying to peel back the layers, they just never quite get there. It may be an impossible job but a good biopic — especially at this luxurious length — should leave you with a tad more insight. 
'Fellow Travelers' mixes queer love, politics for sexy history lesson
A relationship enduring across the years despite resistance and betrayal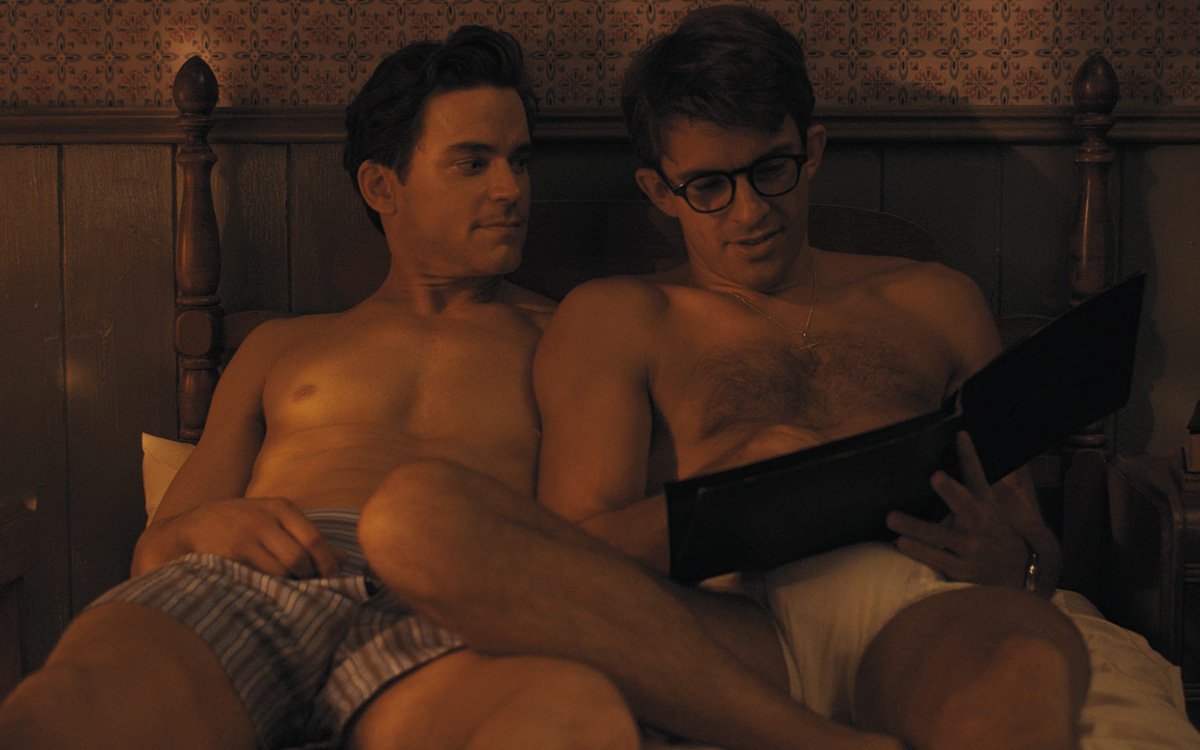 In a time when every streaming platform is falling over itself to present the newest "must binge" series, the phrase "Event TV" really has no meaning.
Yet once upon a time – just a few decades ago, in fact, when three major networks and a handful of cable companies highlighted every season with "hot topic of the day" shows from "Roots" to "The Band Played On" – it was something television viewers expected, a standard part of the small-screen line-up that inevitably generated ratings and provided a cultural touchstone (or at least, a good topic of discussion in the break room at work) for millions of people. If that era were still going on today, "Fellow Travelers" would be a perfect fit for the category.
Adapted from Thomas Mallon's 2007 novel of the same name, Showtime's sweeping eight-episode historical romance, which premiered with its provocative first episode on Oct. 27, checks off all the necessary boxes to pique the zeitgeist of our time. Presenting a fictionalized-but-authentic narrative that weaves real-life history into an intensely intimate love story spanning decades, it touches on issues of hotbed importance to our modern world while spinning an irresistible tale of forbidden romance – tempered by hard reality – that both blends into and epitomizes the lived reality of a generation.
To cement its status as a show that is not to be missed, it casts gay heartthrobs Matt Bomer ("Magic Mike," "The Normal Heart," and any number of Ryan Murphy projects) and Jonathan Bailey ("Bridgerton") as the star-crossed couple at its center, whose love plays out across a period of queer American political experience that spans from the deeply closeted pre-Stonewall era of 1950s America to the cultural trauma of the AIDS epidemic.
Simultaneously telling both the beginning and the end of its story, "Travelers" moves back and forth through time as it follows the love affair between two gay men – war hero turned government man Hawkins "Hawk" Fuller (Bomer) and political idealist Tim Laughlin (Bailey) – through three-and-a-half decades of American history. Juxtaposing the story of their increasingly enmeshed relationship – alongside that of a queer couple of color, a Black journalist (Jelani Alladin) and a gender-bending nightclub performer (Noah J. Ricketts) – with the years-later saga of their reconnection after a devastating betrayal has torn them apart, its dominant throughline is tied to the underreported (though irrefutably documented) history of homophobic discrimination by the U.S. government that began with the McCarthy "Red Scare" era purge of known-or-suspected homosexuals employed within government service. Perpetrated under excuse of the presumed security risk associated with anyone participating in a "deviant" lifestyle, it was a targeted propoganda campaign that would eventually culminate in the debacle of the nation's indifference to AIDS and the rising death toll that was taking place in plain sight.
It's not the first show to tackle this subject matter; America's response to AIDS, and the deeply ingrained cultural homophobia that laid unabashedly behind it, has been explored so much that it has become almost a thematic trope. As to the topic of queer life in an environment where "passing" as straight is purely a matter of survival, it's a subject as relevant to queer existence in much of the world today as it has ever been, which we've rightly seen reiterated time and again. But given the current push in American politics to erode the hard-won advancements of the LGBTQ community toward acceptance and equality, it's hard to complain about a show that wants to explore it on our screens yet again.
Even so, it's also hard not to go into "Fellow Travelers" without noting the common ground it shares with other dramatic narratives covering the same ground – especially, perhaps, playwright Tony Kushner's seminal and now-iconic Pulitzer-winning "Angels in America," with which it invites comparison by virtue of its inclusion of real-life poster boy for internalized homophobia Roy Cohn (played here by Will Brill) and its focus on closeted characters working within the U.S. political establishment – and wondering if it will have anything new or noteworthy to say.
Based solely on its first episode, you might be prodded toward even more skepticism; establishing itself with a broad strokes and a glossy tone, it feels a bit like an old-school tearjerker, evoking the Douglas Sirk-ish social melodramas of its (predominantly) vintage setting even as it moves from past to future and back again. It's stylish, even lovely, but seems built on a distancing artifice. And its romantic leads, the characters to which we are supposed to attach ourselves, might be hard to swallow – for some viewers, at least – simply because they are gay men seemingly content to live their real lives under cover while working for a governmental system that facilitates their oppression. To put it simply, it all feels a little too "Hollywood."
Yet despite this, or perhaps because of it, the show draws us in. Though at first we might think it tends toward the shallow, drawing on familiar formulas and offering up two thinly drawn protagonists in hopes we'll accept them simply because they are played by a pair of impossibly handsome leading men, the ideas it presents are important and the history it documents illuminates a past that has remained obscured for far too long, so we're willing to jump on board. Besides, those leading men are not only very handsome, they have a winning chemistry together, and the authenticity of the casting pays off by delivering a queer screen couple that feels genuine – and that's not just because of their unapologetically sexy love scenes. Even if their story doesn't quite make sense to us yet, we want to see more of them.
That's a very good thing, because as the series moves along, the tone changes drastically. Though the world of episode one is full of blithe denial and resignation to a status quo that might make our hindsight bristle, it's a world that quickly changes as things progress, a point driven home by the show's time-jumping framework. The oppression gets worse, the danger gets real, and the effect those things have on the lives of these two men – one a seemingly amoral pragmatist who has accepted and embraced a closeted life as a condition for success and the other a passionate "true believer" naïve enough to fall under the spell of a right-wing political ideology – has an impact. They change, they make choices and suffer consequences; in other words, they deepen, and as they do, the show does too.
That's because show creator Ron Nyswaner, despite making some changes from the novel, understood the throughline at its core and held tight to it in building the series. Ultimately, "Fellow Travelers" is not a story about politics, or social causes, or any of the other weighty issues that shape its trajectory. It's a story about love, enduring across the years despite resistance, opposition, and betrayal; whether it ends happily or not – and you won't get any spoilers here – it is lived passionately. Because of that, we care, and because we care, those big ideas land even more soundly.
Kardashian carries her weight in 'AHS: Delicate'
Show's 12th season faces hurdles before we'll know whether it lives up to the promise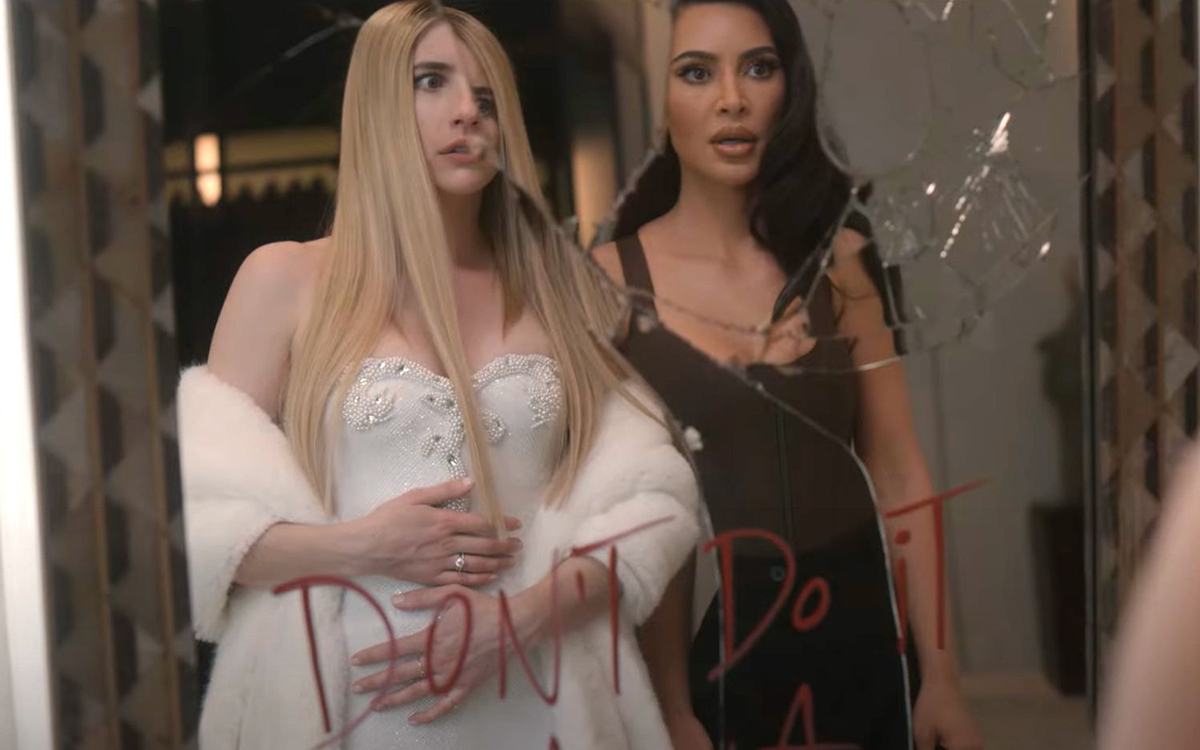 The biggest question around the 12th season of "American Horror Story" has nothing to do with the plot, which means it won't count as a spoiler if we answer it right off the bat: Kim Kardashian's acting is just fine.
At least, that's true through the first episode; future installments may require a reassessment of her skills, and perhaps that will add an additional layer of suspense to the proceedings as the story unwinds – a "hook" that might be a big part of the reason the reality show "famous-for-being-famous" celebrity was cast for this season in the first place. Whether her performance ends up being a triumph or a train wreck, it's guaranteed that millions will want to watch it, and she herself would likely be the first to endorse that kind of sensationalist strategy to boost audience interest in the newest season of a show that has been around longer than many of its fans have been old enough to watch it. Ryan Murphy's uber-gay, aggressively transgressive horror anthology may once have been "must-see TV" – but after more than a decade of thrilling, edgy concepts that were just as likely to fall apart into an anticlimactic mess as they were to build to a coherent conclusion, it has become more of a "guilty pleasure."
Before you come for us and call us "haters," rest assured we're not dismissing the power and genius of "AHS" both as a show and as a brand; camp and horror have always been deeply intertwined, and Murphy's trope-driven premise for the series has never shied away from leaning into that connection. The absurdity of its cobbled-together plots, contrasted with the histrionic over-seriousness of their presentation, is precisely what allows it to drive home its blatantly metaphoric commentary on whatever cultural or social themes it happens to be addressing. At its best, it has been electrifying, provocative, insightful TV, and at its worst, it has been painfully obvious, exploitative schlock that loses steam long before it sloppily ties all its threads together for a season finale, but either way, it has never failed to keep its audience coming back for more. Clearly, it has a power that lies beyond imposed standards of artistic quality, and it's hardly a stretch to suggest that power comes from the show's deeply progressive heart, which invariably and relentlessly exposes the hypocrisy, deviousness, cruelty, and oppression of a programmed and homogenized social order – with particular emphasis on the experience of those who dare to be outliers from that imposed norm, making it a perennial favorite with the queer demographic as much as its unabashedly gimmicky stunt casting of pop culture icons like Lady Gaga (and Kardashian, of course) to draw queer eyes faithfully to the screen for 10 weeks each autumn.
Yet even if queer subtext is a big part of what makes "AHS" tick, the series doesn't always place its focus – as it did in last year's grim AIDS allegory, "NYC" – on overtly or exclusively queer subject matter, and for its newest season – "Delicate", the new season adapted from Danielle Valentine's novel, "Delicate Condition" – the venerable FX tentpole series full-heartedly embraces a feminist milieu. The story wastes no time in evoking questions and concerns about the rights of women to maintain autonomy over their own hearts, minds, and bodies. Led by "AHS" veteran Emma Roberts – who, though Kardashian has been granted the most press attention, is the season's central character, and brings her to life with likable charm and compelling intelligence – it tells the tale of Anna Alcott (Roberts), a blossoming movie star trying to conceive a child with her supportive-yet-controlling partner Dex (series newcomer Matt Czuchry), who finds herself haunted by bizarre visions and unexplainable phenomena as she undergoes IVF treatment from a high-end fertility clinic.
Episode one launches the plot with the series' usual blend of stylish panache and unapologetic pulp by subjecting its heroine to a mysterious nocturnal incident, opening into an extended flashback that establishes a back story that will presumably be crucial to the events to follow. Juggling newfound success and fame with her commitment to starting a family, Anna is plagued by strange anomalies that lead her to question her own perceptions, and begins to suspect she is being targeted by a stalker (or stalkers) with potentially sinister motives. When these strange occurrences begin to affect her behavior, she finds herself ever more isolated from the skeptical Dex, who both coddles and condescends to her, and who may or may not still be obsessed by a the memory of a dead fiancée. She also becomes increasingly paranoid that she is being terrorized and manipulated by everyone around her – including her doctor (Denis O'Hare) and her recently acquired publicist (Kardashian), who exert conflicting pressures on her as she tries to navigate both her "real" life and the career she's on the cusp of creating. By the time the episode comes full circle and returns to the mysterious incident with which it opens, it seems clear than Anna's hopeful journey toward motherhood is happening at the center of some sort of arcane conspiracy.
Like most previous seasons of "AHS," "Delicate" starts out with promise. Conjuring and weaving together key themes from classic films from "Gaslight" to "Rosemary's Baby" to "The Stepford Wives," it leaves little doubt programming of women to make them conform to male-defined fantasy – and from the biblically coined notion that their gender is forever "cursed by God" to be punished for Eve's "original sin." From what we've seen so far, it seems clear that Murphy and writer/showrunner Halley Feiffer aim to frame that archaic perspective as a deliberate and coordinated effort to render women into expendable, easily managed accessories in a male-dominated world. That is certainly not a new concept, but one that is arguably more important to explore in the America of 2023 than ever before. And though the season's inaugural entry is too busy with exposition to give us much in the way of potent frights or shocks, it also provides flashes that hint at a season full of the kind of grotesque body horror that has always been a hallmark of the show.
Still, even if Kardashian – perfectly cast, by the way, as Anna's publicist and confidante, whose savvy for promotion makes her into one of her industry's leading names but who may also somehow be involved in the forces pushing her client toward a dark fate – can manage to meet the success of a few surprisingly good initial reviews, there are still a lot of potential hurdles for "Delicate" to jump before we can know whether it lives up to the promise from which so many previous seasons have fallen short.
It hardly matters, though; no matter how it plays out, the show is sure to strike a chord with all the loyal "AHF" fans, and those who are less devoted will probably still find much to keep them interested in the series' signature gruesome-but-elegant aesthetic, no matter what.
'And Just Like That' ditches preachiness to become addictive TV
Second season wraps Aug. 24 with Samantha Jones cameo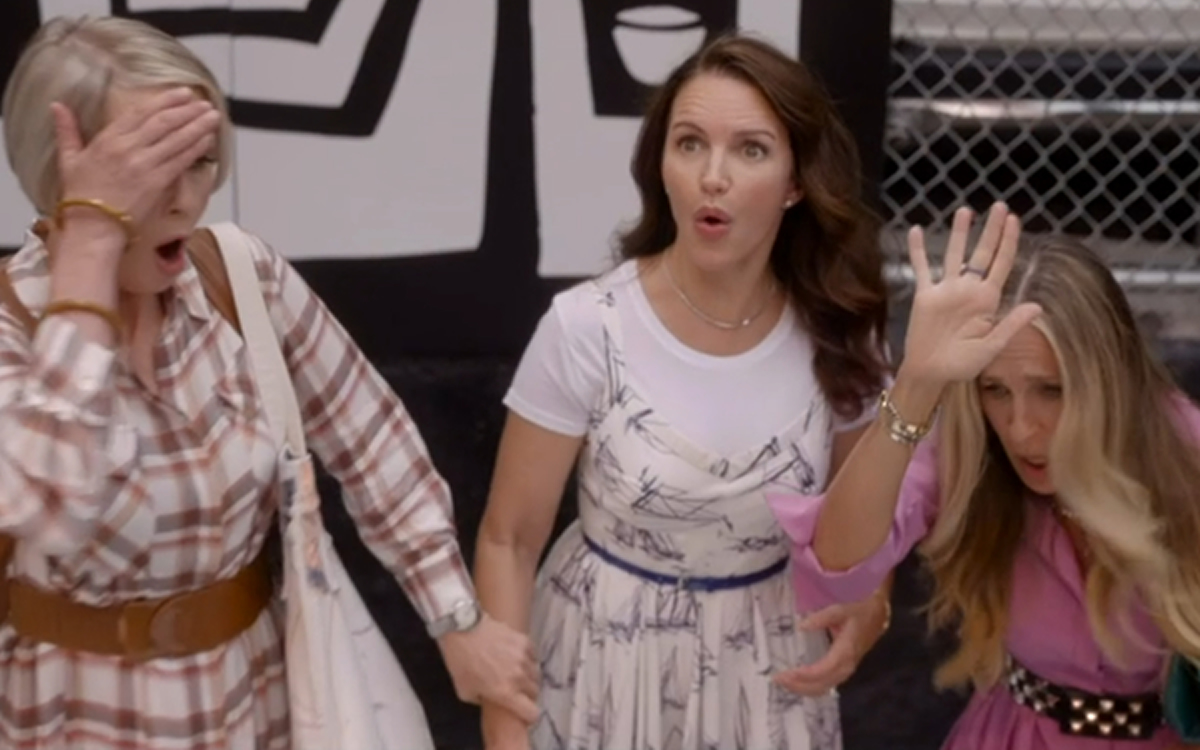 "Do you know where your children are?" New York TV station WNYW asks the parents in its audience every night.
This isn't a worry for Charlotte York Goldenblatt (Kristin Davis) or Lisa Todd Wexley (Nicole Ari Parker) two of the main characters featured on season two of "And Just Like That," (AJLT), the "Sex and the City" reboot, airing weekly on Max through Aug. 24. Their children (from elementary school kids to teens) are safely ensconced at a posh summer camp. While their off-spring are away, Charlotte, who back in the day ran an art gallery, is having sex so good it's like fireworks on the Fourth of July with her husband Harry (Evan Handler), a highly successful divorce lawyer.
Lisa, a distinguished documentarian filmmaker, and her husband Herbert (Christopher Jackson), a wealthy investment banker who's thinking about running for New York City comptroller, devote themselves to their work. And to enjoying the rare treat of having a drink at a swanky bar by themselves (sans children).
Meanwhile, corporate (turned human rights) lawyer Miranda Hobbes (Cynthia Nixon) knows all too well where her son Brady (Niall Cunningham) is. He's living with Steve (David Eigenberg), his dad, in their Brooklyn townhouse. Miranda's relationship with Che Diaz (Sara Ramirez), a nonbinary, bisexual, Mexican, Irish comedian who's making a TV sitcom pilot with Tony Danza (playing himself), has brought Miranda, Steve and Brady into therapy.
Carrie Bradshaw, writer, (Sarah Jessica Parker), Seema Patel, a hot real estate agent, (Sarita Choudhury) and Dr. Nya Wallace (Karen Pittman), a Columbia Law School professor, are so busy grieving, having exit-out-of-grief sex and mourning stolen Birken bags that they wouldn't have time for children. Nya is divorcing her musician husband Andre Rashad (LeRoy McClain) after many years of marriage because he wants kids and she doesn't.
Yes! It's summer in the city, "And Just Like That," the fab ladies are back! With less sizzle than in "Sex and the City," but still fun watch. No matter how hard the writers try, no amount of additional characters could make up for the absence of Samantha Jones, the utterly fabulous PR maven, who was an integral part of "Sex and the City." Even the highly talented Samantha Irby, a bisexual producer and writer of AJLT, couldn't create a character as captivating as Samantha, who is slated to make a cameo in the final episode.
But the sophomore season of "And Just Like That" has its share of style and juice. How can you resist a series that, in the seven episodes that have aired to date, has given us a (fictional) Met gala and a "cum slut?"
The first season of AJLT spent much time trying to make "Sex and the City" (SATC) more diverse.
It succeeded in many ways. Che, Seema, Lisa and Nya, the new featured characters of color, have intriguing stories. They have good chemistry with the original SATC characters. Yet, it sometimes felt heavy-handed and joyless.
The current season of the show, mostly, dispenses with the exposition and preachiness of season 1. In this season, sex and glam fashion are back in the city.
The episode of "AJLT," when Charlotte becomes Harry's Kegel coach to help him with his "dust balls" when he can't ejaculate and Carrie talks of "Casper, the friendly cum," is nearly as good as SATC's "funky spunk" episode.
The women on AJLT are fab. But one of the most enjoyable characters is Anthony Marantino (Mario Cantone), who runs the Hot Fellas bakery. In one hilarious scene, he turns to his BFF Charlotte when he desperately needs to find a Hot Fella to appear with him on Drew Barrymore's talk show. This being AJLT, Charlotte instantly finds a hot Italian poet who more than fits the bill. Dressed in his Hot Fellas uniform, the poet's "package" is so great, that looking at him makes Barrymore sweat.
In another scene, Lisa, wearing a dress (designed by Valentino) with a huge train that won't fit into a cab, has to walk 10 blocks to the Met Gala. "It's not crazy," she says to Herbert, who's holding her train, "It's Valentino."
"And Just Like That" isn't prestige TV. It's more important: it's addictive entertainment.