March 30, 2021 at 12:21 pm EDT | by Lou Chibbaro Jr.
'May Is: All About Trans' conference set for May 1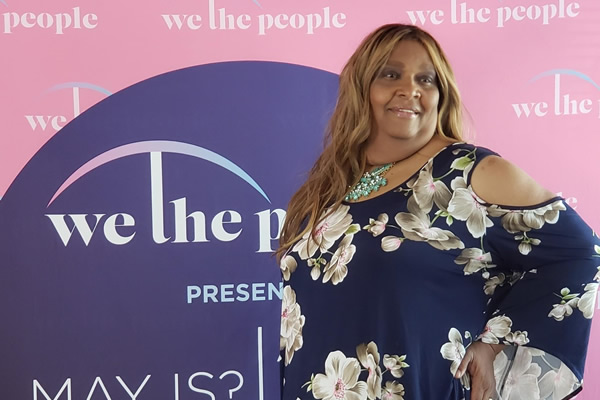 Participants and speakers from across the United States and at least one speaker from Mexico are expected to attend the fourth annual "May Is: All About Trans" conference and celebration scheduled take place virtually May 1-29.
Longtime D.C. transgender activist SaVanna Wanzer, the founder and CEO of the D.C.-based organization that has organized the annual transgender conference and celebration since 2018 said this year's gathering will include at least 24 events spread out over 29 days. She said an opening online "meet and greet cocktail party" will take place April 30.
Among the events are multiple panel discussions featuring speakers with expertise in transgender related issues, performances, and celebrations, including a May 15 "redeveloped Trans Pride celebration." A statement released by the May Is organization says the events also include a Trans Youth Town Hall and an Adult Town Hall; legal clinics; an open mic session; and a movie night, among other events.
Topics of the panel sessions include HIV & PrEP; Mental Health for All; Trans Led Leadership; Transmasculine & Feminine Conversations; Pronouns: What Do They Mean?; and Love & Family.
"The goal is to foster a better understanding of what it is like to be a person who is trans, gender non-conforming and nonbinary," the statement released by the May Is group says. Among the gathering's objectives, the statement says, is to "focus on bringing together multiple communities through initiatives such as art viewings, open mic nights, educational outreach events and more."
Wanzer noted that the month-long conference and celebration is open to the public free of charge thanks to support from several prominent organizational and corporate sponsors, including Gilead Sciences, the pharmaceutical company that's serving as presenting sponsor. Stoli, the AIDS Healthcare Foundation, Whitman-Walker Health, the Center for Black Equity, and Westminster Presbyterian Church are among the other sponsors.
Speakers and participants that have so far signed on to attend the event will be from at least 18 U.S. cities in addition to D.C., according to Wanzer. At least one speaker will be from Mexico.
"We understand that all gender identities and expressions must be validated," Wanzer said in a statement to the Blade. "Likewise, actively engaging cultures including African American, Indigenous people, Latinx people and all People of Color is our path to full inclusion," she said, adding that speakers and participants will be from diverse backgrounds.
"So, it's an educational event. It's a social event. It's a place we can get information about name change, and organizations that deal with the transgender community," Wanzer said. "And it's about education and erasing our stigmas in the community."
Added Wanzer, "In the midst of this global pandemic our trans community is experiencing higher rates of isolation and depression. The connection that we are looking to provide takes on an even more important status to create as many opportunities as possible for transgender people to meet, interact, socialize, collaborate, and definitely support each other."
Wanzer said a complete list of events and speakers and registration information for accessing the 2021 May Is: All About Trans conference and celebration will soon become available at mayistransdc.com.