Rehoboth Beach welcomes Christopher Peterson back
Drag legend to perform weekly beginning July 4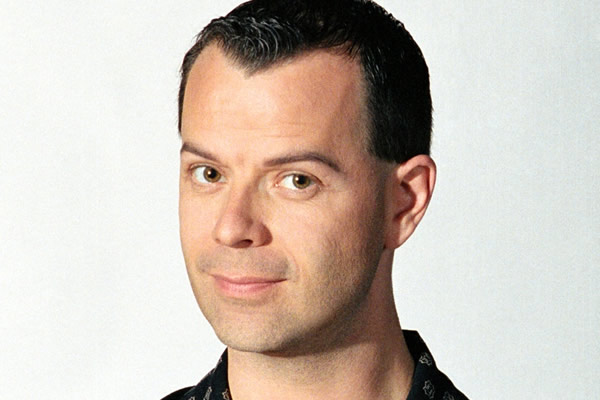 Christopher Peterson will celebrate 25 years of performing his brilliant show EYECONS when he brings it back to Rehoboth Beach this summer. He will be at Clear Space Theatre every Saturday at 10 p.m. and Sunday at 9 p.m. from July 4 to Sept. 5.
I have seen the show a number of times over the years from when he performed at the Renegade showroom (youngsters may not remember the Renegade out on the highway) to now at the Clear Space Theatre, so I am biased in saying it is always worth the price of a ticket. In fact it is worth a lot more because Christopher is an amazing talent. In addition to his own show he can be seen in "Priscilla, Queen of the Desert" at Clear Space.
I recently had the opportunity to chat with Christopher. He has lived in Key West, Fla., for years and performs there during the winter and when he isn't booked around the country. Christopher told me he was born Moncton, New Brunswick but grew up in Halifax (actually Dartmouth across the harbor) Nova Scotia, Canada 58 years ago.
We talked about gay life today and I asked him when he came out and he responded: "in the womb." He told me he always knew who he was even before he knew you could call it gay. He told me he was lucky and grew up in a family that always accepted him for who he was. I asked him if he was excited about coming back to Rehoboth and he told me he sometimes thought of this as his final 'widow tour' as it is his first time back at the beach since he lost the love of his life, James Mill, in September of 2019. They were together for 35 years and James was not only his partner in life but in business. Many in Rehoboth knew James and will miss seeing him at Christopher's side. He was a beautiful man.
Christopher has been called North America's greatest female impersonator and though I haven't seen all of them, I have seen enough to thoroughly concur with that. He not only impersonate the characters, he seems to become them. He never lip-syncs but sings their songs and talks in their voice. Christopher once said his only vocal training was in high school and in church choirs but you would never know that when listening to him sing. Christopher also designs all of his own costumes and they are incredible. It's amazing how quickly he can change from Marilyn Monroe and become Cher with just a new gown and new wig that he has stashed in the closet at the side of the stage. The transformation is mesmerizing.
Over the years he has impersonated so many iconic women, including Marilyn Monroe, Carol Channing, Madonna, Joan Rivers, Reba McEntire, Bette Midler, Tina Turner, Julie Andrews, Barbra Streisand, Liza Minnelli, Judy Garland, Eartha Kitt, Cher, Bette Davis, and Lucille Ball. He will add a new character once in a while if he feels comfortable having tried them out — one being Lady Gaga.
I asked him if he has a favorite character and he said, "That's like asking me if I have a favorite child. These are all my children and they each represent something special to me." He said, "as an example Streisand is the voice and Garland is the heart." I remember he was once quoted as saying Judy Garland is his favorite to do and since he told me she represents the heart it didn't surprise me as Christopher has a big heart. He often saves her for the end of the show and when you see her you leave wanting more.
I asked Christopher about the weirdest thing that ever happened during his show. He told me the story about an evening during the show, when he talks with an audience member, he leaned over the stage and began to chat with a table on the right of the stage and asked an older gentleman, Christopher called him Mary, how he liked the show. After saying he loved it the next thing Christopher saw was Mary keeling over. Turns out he had a heart attack. Christopher said he told the audience there would be a pause in the show and asked if there was a doctor in the house. One came forward and attended to the man and called 911. The gentleman seemed to recover and after they took him out on a stretcher the show went on. Christopher said this has happened more than once at his shows. Maybe it's the excitement.
I asked him if any of the women he impersonates have been to see the show and was surprised when he said no. I would think any of those still alive would be honored to see how Christopher does them and shows them off so well.
This will be an exciting summer in Rehoboth and Christopher is prepared for visitors to come to the show and still follow any restrictions in effect for the pandemic. The theater has said it will continue to abide by all COVID restrictions in order to ensure the safety of both the actors and the audience. Clear Space Theatre has been doing this all winter and doing it safely.
I urge anyone who has never seen Christopher Peterson to get your tickets early as anyone who has seen him will be buying tickets to his shows and you don't want to miss this chance to have a great fun evening in the theater.
Two new political memoirs reveal how the sausage of democracy is made
Top Dem, GOP spin-meisters weigh in on Trump, Buttigieg, more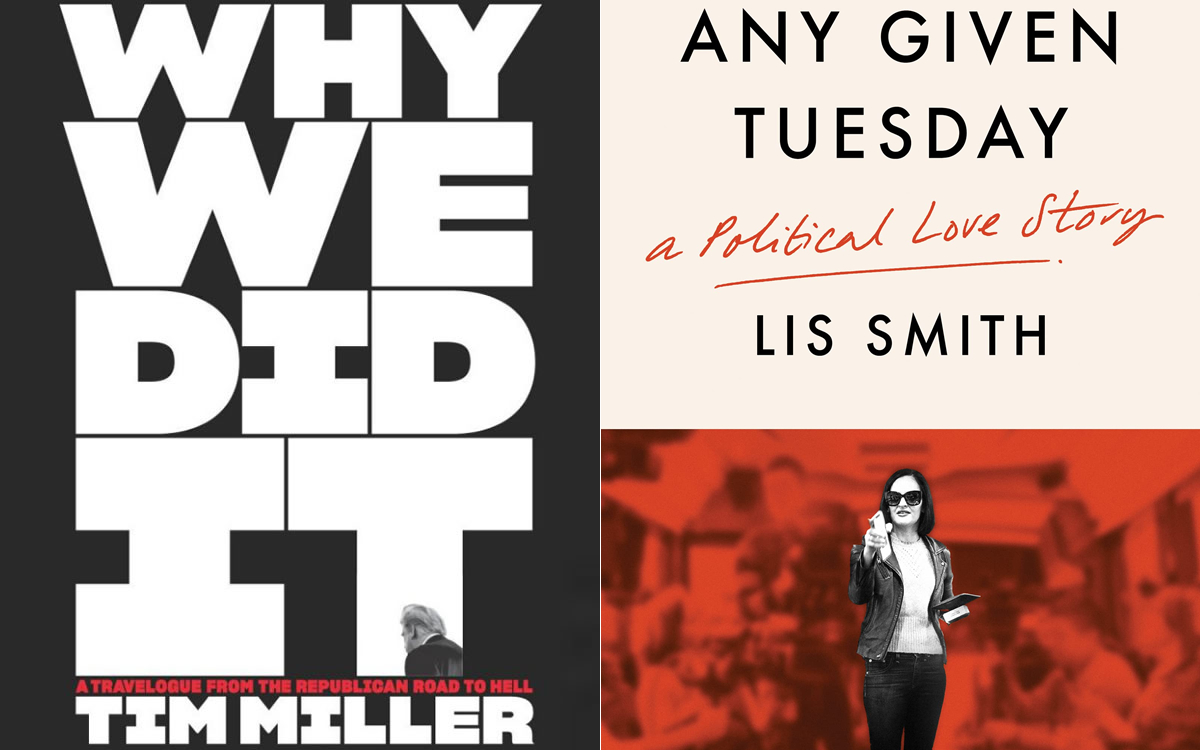 'Why We Did It: A Travelogue from the Republican Road to Hell'
By Tim Miller
c.2022, Harper
$26.99/259 pages
'Any Given Tuesday: A Political Love Story'
By Lis Smith
c.2022, Harper
$22.39/304 pages
The lilies of the field, the Bible tells us, "neither toil nor spin." If only, they had met Tim Miller and Lis Smith!
Miller and Smith, two top-tier spinmeisters have written memoirs. Fasten your seatbelts. These aren't the usual tepid politico's tales.
As you read, you'll laugh out loud one minute. Then gulp down your go-to comfort food or libation while (literally) worrying about the fate of our democracy.
"Next to love, the most sacred thing you can give is your labor," James Carville says to staff and volunteers in the last days of Bill Clinton's 1992 presidential campaign in a real life Aaron Sorkin moment in the 1993 documentary "The War Room."
Miller and Smith both saw "The War Room" when they were kids. Miller would grow up to be a Republican strategist who left the party over Trump. Smith would become a top Democratic political operative. But "The War Room" instilled in both of them a love of the public service and game of politics.
Miller, who lives in Oakland, Calif., with his husband Tyler and their daughter Toulouse, is a former Republican political operative. He was communications director for Jeb Bush's 2016 presidential campaign and spokesman for the Republican National Committee during Mitt Romney's 2012 presidential campaign. Miller left the GOP to become a leader of the "Never Trump" movement. After calling it quits with Trump, Miller worked briefly as a consultant for Scott Pruitt, Environmental Protection Agency administrator during the Trump administration. Now, Miller is an MSNBC analyst, a writer at large with "The Bulwark" and the host of "Not My Party" on Snapchat.
The Republican Party has a history – from Ronald Reagan's abysmal record on AIDS to Donald Trump's transphobic policies – of being anti-queer. You're likely wondering how Miller, as a gay man, could stomach working for the GOP.
In "Why We Did It," Miller puts himself and some of the people who "enabled" Trump under the microscope. 
"America never would have gotten into this mess if it weren't for me and my friends," Miller writes, "We were the 'normal' Republicans."
When Trump arrived, they didn't take him seriously. They didn't, "get off on the tears of immigrant children," Miller writes. Nor would they have been caught "dead in one of those gaudy red baseball caps," he adds.
"Why in the fuck," Miller asks, "did the vast, vast majority of seemingly normal, decent people whom I worked with go along with the most abnormal, indecent of men?"
The first half of the memoir is Miller's story of how he "compartmentalized" being a gay man with being an operative for the largely homophobic GOP.
Take when he worked for John McCain's presidential campaign. Though he was gay, Miller told McCain to walk it back after McCain said "gay marriage should be allowed if there's a ceremony kind of thing."
In the second half of the book, Miller examines why people such as Elise Stefanik opted to "take the red pill" and work for "the great MAGA future."
"Why We Did It" is dishy, dark, and soul-churning.
Smith, a top Democratic strategist and veteran of 20 campaigns, has worked for everyone from Claire McCaskill to Barack Obama. She was a senior communications adviser for Pete Buttigieg's presidential campaign.
Thankfully, "Any Given Tuesday" isn't a stuffy political memoir. It's smart, snarky, and gossipy. Smith is James Carville in high heels.
"Any Given Tuesday" is about Smith's life in politics intertwined with stories from her personal life.
Due to sexism, her love life was politicized. Smith became a tabloid target when she fell in love with former New York Gov. Eliot Spitzer. Former New York City Mayor Bill de Blasio, after learning of Smith's relationship with Spitzer, fired her from her job with his administration. (Though she had worked for de Blasio's campaign.)
You wonder if this would have happened if Smith had been a man. But Smith gets many digs at de Blasio. After her firing, de Blasio tried to win Spitzer's political endorsement. "Both of us had tried to get in bed with Eliot," she writes of de Blasio's failure to win Spitzer's backing, "but only one of us had been successful." (Smith and Spitzer no longer have a relationship.)
Unlike Miller, Smith doesn't have to twist herself into a compartmentalized pretzel to do her work. Like Miller, she's hopped up on the "game" of campaigns. Though Smith doesn't agree with everything everyone she works for believes in, she's generally in synch with centrist Democrats.
Among the most interesting chapters of "Any Given Tuesday" are those about her work on Buttigieg's campaign. If you're queer or queer-friendly, even if you don't agree with his politics, you get the historic significance of Buttigieg's campaign.
Smith's account of being on the road with the "Buttibus" and prepping Buttigieg for the candidates' debates is entertaining and informative. It's moving when Smith, a seasoned, snarky hack, comes to believe Buttigieg is "the one" — the candidate who truly would serve this country well.
In "Any Given Tuesday," Smith reveals how the messy sausage of democracy is made. In "Why We Did It," Miller makes even die-hard atheists pray that democracy will last.    
The Blade may receive commissions from qualifying purchases made via this post.
New musical highlights Frederick Douglass but falls short
'American Prophet' needs more energy and spark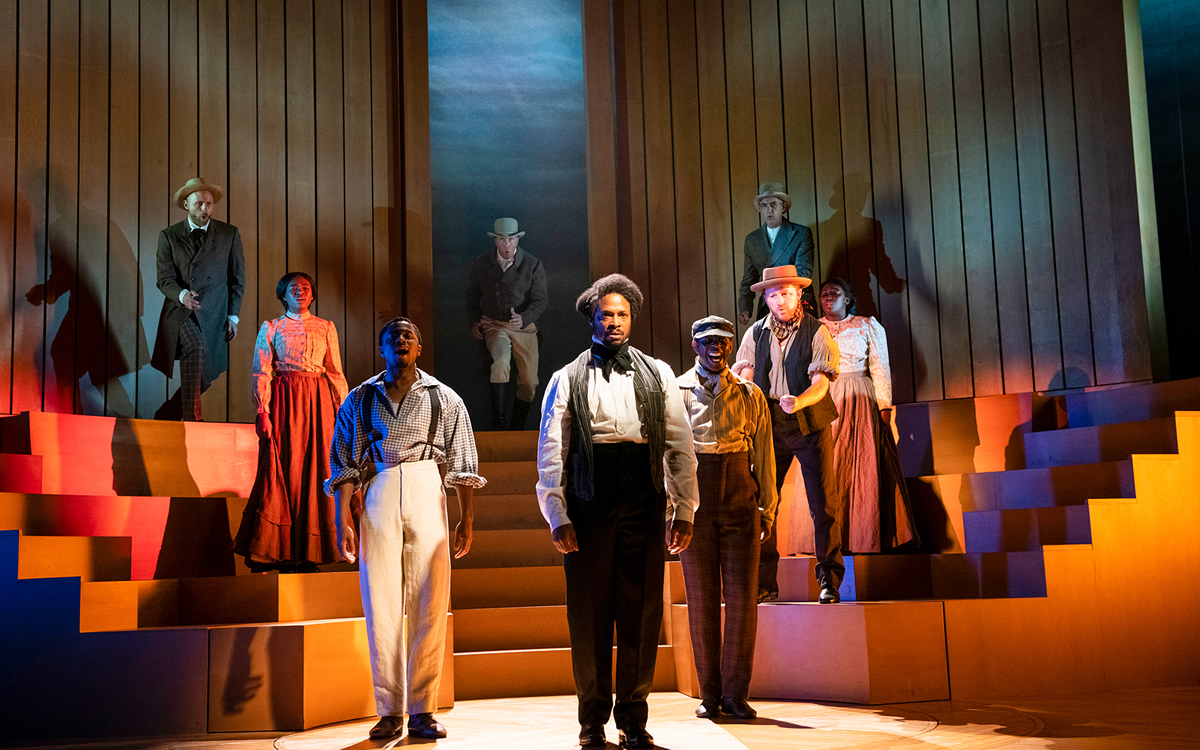 'American Prophet'
Through Aug. 28
Arena Stage
1101 Sixth St., S.W.
$66 – $115
Arenastage.org
Frederick Douglass's brilliance didn't blossom in a walled garden. 
Born into slavery around 1819, the renowned abolitionist worked the fields of Maryland's Eastern Shore, and docks of Baltimore before escaping to freedom in New York where he emerged as a famed orator, writer, and publisher. Along his exceptional journey, Douglass was supported by family, and like-minded folks including prominent progressives of different temperaments whom he both learned from and heavily influenced.
In "American Prophet," a biographical musical now premiering at Arena Stage, co-creators Marcus Hummon and Charles Randolph-Wright have intentionally relied heavily on Douglass's written words with mixed results. In both dialogue and lyrics, the great orator's fearless opines are present, sometimes they spark and crackle, soar and inspire, and other times they're not enough. 
The action takes place on a tiered set resembling the choir space in an unadorned church. It's here the players congregate to tell Douglass's remarkable story that doubles as a compelling slice of mid-19th century American history.
Standing centerstage is Douglass with a serious but handsome countenance, that distinctive side part, dark coat and vest. The actor (Curtis Wiley stepping in for Cornelius Smith, Jr., on a recent Sunday evening) is every inch the activist whose photograph is copiously featured in history books.
(Having slipped into Arena's Kreeger Theatre just as the lights went down, I didn't realize until intermission when a strip of paper announcing the substitution fell out of my program, that I was watching an understudy. Wiley didn't miss a line or lyric. His voice is gorgeous.)
Staged by Randolph-Wright, the musical unfolds chronologically as a straightforwardly told story. Douglass is born Frederick Bailey, purportedly the son of a slave and her white owner. After his mother's death, he's nurtured by a loving maternal grandmother (Cicily Daniels) and taught to read by his owner's sympathetic wife who recognizes the boy's quick mind and ability. Soon after he's sent off to Baltimore to serve as companion to a family relation about his same age. When that doesn't work, he's sent back to the farm where an overseer unsuccessfully tries to break young Bailey's spirit.
Back in Baltimore, still a slave, he works long hours as a stevedore with his pay going to his owners. Exuberant and inexhaustible, he finds time to take in some pleasures of the city. At a dance he meets his wife, a free black woman named Anna Murray (Kristolyn Lloyd). Together, they successfully flee to the free North. Once there – after changing his name to Douglass from a narrative poem by Sir Walter Scott, "The Lady of the Lake," – his career booms. 
Grammy-winning composer Hummon's score, a mix of gospel and country sounds, moves the story lucidly along while leaving room for some strong stand-alone melodies, particularly Kristolyn Lloyd's pleasing rendition of Anna's "I Love a Man." In the supporting role of supporting wife, Lloyd is a standout.
Going forward, Douglass finds friendship and opportunity with William Lloyd Garrison (Thomas Adrian Simpson) an abolitionist who demands absolute fealty from his colleague. He forms a true comradeship with fiery abolitionist John Brown (Chris Roberts), but when their tactics become too dissimilar, the pair part company.
The second act finds us on the precipice of the Civil War, and it's here we meet Abraham Lincoln (Simpson again). It's not the usual hagiographic portrayal we're used to seeing, far from it. The great savior of the Union is written as a real politician – gladhanding and strategic. Still, Lincoln evolves and benefits from his association with Douglass, even borrowing his thoughts from time to time.
Douglass was a force. Insanely ahead of his time, he called slaveowners to the carpet and expressed the hypocrisy of America at home and on tours abroad. And while the musical does lovingly put his humanness on display, I wanted more. When that jolt of energy and spirit finally comes with the show's stirring final number "American Prophet," it's too little too late.
Douglass spent his final years in Washington. He died at his home Cedar Hill in Anacostia. He was 77.
New doc illuminates Patricia Highsmith's life and work
'Intercourse with men is like steel wool to the face'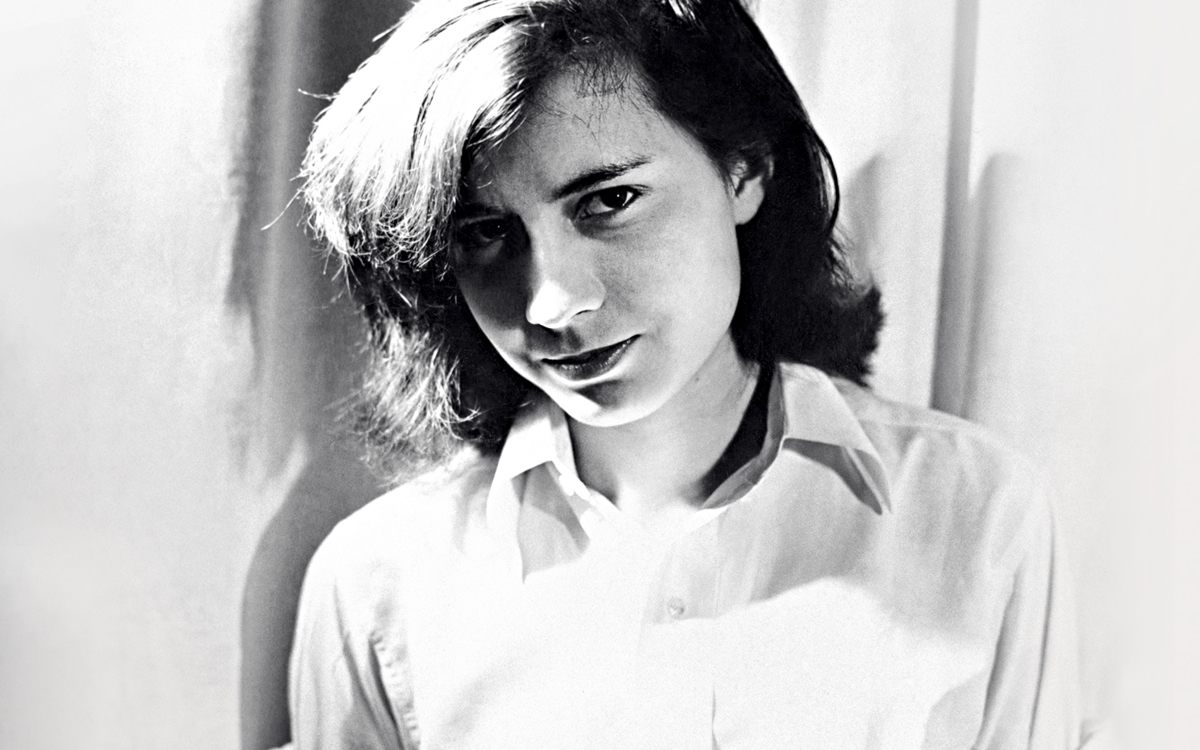 If you've been transfixed by the amusement park scene in Alfred Hitchcock's "Strangers on a Train," rooted for the sociopath Tom Ripley in the 1999 film "The Talented Mr. Ripley" or been moved to tears by the love of Therese and Carol in Todd Haynes's movie of "Carol," Patricia Highsmith is etched in your DNA.
Highsmith, who lived from 1921 to 1995 wrote more than 50 books (novels and short story collections). Nearly all of her books were made into movies.
Recently, "Loving Highsmith," a fab documentary about Patricia Highsmith has been released. The film, written and directed by Eva Vitija, opens Sept. 2 at the Film Forum in New York and Sept. 9 at Landmark's Nuart Theatre in Los Angeles. "Loving Highsmith" premiered at the Sydney Film Festival and bowed at the Frameline Film Festival in June.
Highsmith, like Tom Ripley and many of her other fictional characters, led a double life. She was a lesbian. But, because of the homophobia of her era, Highsmith had to be closeted about what she called "the ever present subject" of her "homosexuality."
Except in the 5,000 pages of her diaries and notebooks. (1,000 pages of her diaries and notebooks were published in 2021 in "Patricia Highsmith: Her Diaries and Notebooks: 1941-1995.")
Even if Highsmith weren't acclaimed for her mastery of suspense, she would be a queer hero.
In 1952, her novel "The Price of Salt" was published under the pseudonym "Claire Morgan." (It was reissued in 1990 under the title "Carol" and with Highsmith's real name.)
Then, fiction featuring queer characters had to end unhappily: they died or went to jail. "The Price of Salt," a rare exception, became a lesbian cult classic. Its protagonists end up together – alive and not in prison.
"Loving Highsmith" deftly uses writings from her diaries and notebooks as well as interviews with her family and lovers to illuminate not only Highsmith's life and work but queer culture in the 1950s.
The film skillfully interweaves archival clips from interviews with Highsmith and famous film adaptations of her work with stories from her relatives and lovers. Gwendoline Christie ("Game of Thrones") reads excerpts from Highsmith's work.
Too often watching documentaries of talented, deceased icons is deadly. You feel like you're entombed in lifeless talking heads and stagnant images.
You don't have to worry about "Loving Highsmith." Its talk and images make Highsmith's story come alive.
As the film makes clear, Highsmith was quite "loving." She had many lovers – in New York, England, France and Germany. Despite trying to cure herself with analysis, Highsmith sexually liked women. "Sexual intercourse [with men] is to me like steel wool to the face," she says.
Highsmith's mother, by the accounts of Highsmith herself, her family and her lovers, was a horror show. She told Highsmith that she was sorry she hadn't aborted her. When Highsmith was 14, her mother berated her for "making noises" like a "les."
New York had many gay bars in the 1950s, we learn from "Loving Highsmith." But homophobia was so rampant that you wouldn't get off at a subway stop near a bar out of fear that a straight friend, family member, or co-worker would see you going into a queer bar.
There is one problem with "Loving Highsmith." It soft pedals Highsmith's anti-Semitism and racism. It mentions Highsmith's prejudices only once: saying Highsmith in her old age reverted to the bigotry of her grandparents.
Highsmith's bigotry grew more virulent in her old age. But, though she had Jewish friends, Highsmith was anti-Semitic throughout her life.
This doesn't diminish Highsmith's literary achievement or iconic role in queer history. Anti-Semitism and racism were likely common in Texas where Highsmith was born and lived before moving to New York when she was six. "Loving Highsmith" is a thoughtful, informative documentary. It would have been more insightful if more attention had been paid to Highsmith's prejudices.
Even with this caveat, "Loving Highsmith" is a must-see documentary. It will send you racing to read the nearest Highsmith book at hand.