Biden administration to ban discrimination against LGBTQ patients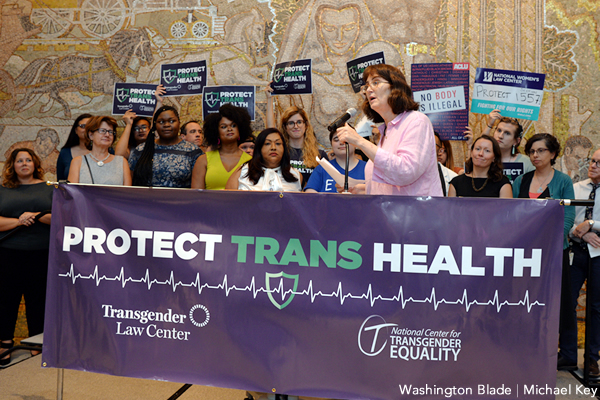 The Biden administration announced on Monday it would enforce civil rights protections under Obamacare to prohibit discrimination in health care against patients for being LGBTQ, reversing policy during the Trump years excluding transgender status as a protected characteristic under the law.
The Department of Health & Human Services declared it would enforce Section 1557 of the Affordable Care Act, which prohibits discrimination in health care on the basis of sex, and begin to take up cases of discrimination based on sexual orientation and gender identity.
HHS Secretary Xavier Becerra said in a statement the Supreme Court has "made clear that people have a right not to be discriminated against on the basis of sex and receive equal treatment under the law, no matter their gender identity or sexual orientation."
"Fear of discrimination can lead individuals to forgo care, which can have serious negative health consequences," Becerra said. "It is the position of the Department of Health and Human Services that everyone — including LGBTQ people — should be able to access health care, free from discrimination or interference, period."
The move is consistent with the executive order President Biden signed on his first day in office directing federal agencies to implement the U.S. Supreme Court's decision last year in Bostock v. Clayton County to the furthest extent possible. Federal agencies were directed to comply within 100 days of the executive order, which is about now and a short time after Biden's first 100 days in office.
The announcement with respect to Section 1557 comes on the same day as the hearing took place this morning in Bagly v. HHS, a case before a federal court in Massachusetts challenging Trump's undoing of transgender protections under the law. An attorney with the U.S. Justice Department announced a new notice of proposed rule-making is coming with respect to Section 1557.
Sharita Gruberg, vice president for the LGBTQ Research and Communications Project at the Center for American Progress, said in a statement the change "assures LGBTQ people that their rights will be upheld at the doctor's office, vaccine sites, and everywhere else they seek health care and coverage."
"The administration's announcement that it will enforce these protections are a critical step toward addressing vaccine hesitancy among LGBTQ people, a population that has been disproportionately impacted by the pandemic and seriously harmed by the previous administration's attempts to permit discrimination against LGBTQ patients, Gruberg added.
The past three administrations have instituted policy on LGBTQ protections based on their interpretation of Section 1557. Each move had varying implications and directions for LGBTQ patients.
The Obama administration issued a rule in 2016 interpreting Section 1557 to apply to cases of anti-transgender discrimination and discrimination against women who have had abortions, which was consistent with court rulings at the time. However, that move was enjoined by a nationwide court order in Texas as a result of litigation filed by Texas Attorney General Ken Paxton.
The Trump administration, shortly after the Supreme Court's ruling in Bostock, made final a regulation proposed last year rescinding the Obama administration's transgender protections under Section 1557. Faced with criticism, the Trump administration defended itself by saying its move was consistent with the court order in Texas, although it seemed to ignore the decision from the higher court.
The new rule from HHS goes above and the beyond the Obama administration by instituting protections based on both sexual orientation and gender identity. It wasn't immediately clear whether the proposed rule would be a new regulation entirely, or seek to modify the changes that were made in the two previous administrations. The Blade has placed a request seeking comment with HHS.
Susan Bailey, president of the American Medical Association, said in a statement the new HHS rule is a welcome change after the Trump administration rescinded protections for transgender patients.
"It's unfortunate that such an obvious step had to be taken; the AMA welcomes this common-sense understanding of the law," Bailey said. "This move is a victory for health equity and ends a dismal chapter in which a federal agency sought to remove civil rights protections."
Discrimination in health care is an experience transgender people commonly report. The U.S. Transgender Survey in 2015 found one-third of responders said they had at least one negative experience in health care related to being transgender. Further, 23 percent of responders said they didn't seek health care because they feared being mistreated and one-third said they didn't go to a provider because they couldn't afford it.
A Center for American Progress survey from 2018 had similar findings with respect to transgender people and patients with being gay, lesbian and bisexual or queer. Eight percent of responders said a doctor refused to see them because of their perceived or actual sexual orientation, while 28 percent of providers said a doctor refused to see them because of their actual or perceived sexual orientation.
Hospitals, especially religiously affiliated providers, refusing to provide transition-related care, including gender assignment surgery, is another frequently reported incident for transgender patients. The American Civil Liberties Union, for example, has filed litigation against hospitals under Section 1557 for refusing to perform the procedure.
Rachel Levine, assistant secretary of health and the first openly transgender presidential appointee to obtain Senate confirmation, hailed the HHS rule change in a statement.
"The mission of our Department is to enhance the health and well-being of all Americans, no matter their gender identity or sexual orientation. All people need access to healthcare services to fix a broken bone, protect their heart health, and screen for cancer risk," Levine said. "No one should be discriminated against when seeking medical services because of who they are."
Although the Biden administration's announcement is a welcome move for LGBTQ advocacy groups, the change is not without critics.
John Banzhaf, a law professor at George Washington University who declares himself a supporter of transgender rights, said the policy could have unintended consequences, which he said has become evident in the British health system.
"[Transgender] individuals with a penis but no vagina are being asked to have medical tests on their non-existent cervices, while [transgender] persons with a vagina and cervix will not be asked, under new guidelines which appear to place lives at risk and encourage a physically impossible medical exam on organs which simply do not exist," Banzhaf said. "And, carrying this absurdity to its totally illogical conclusion, a patient with a penis and a full beard was offered a cervical test because, despite his clearly masculine appearance and style of dress, he registered himself as being gender neutral."
LGBTQ advocates fight on for trans athletes, but they may be losing the battle
Transgender women competing in women's sports remains unpopular in polls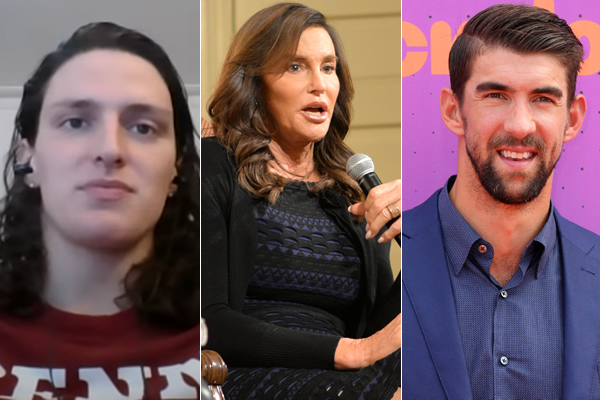 In the wake of the NCAA changing its policies regarding transgender athletes and state legislatures advancing new legislation against trans inclusion in school sports, LGBTQ advocates continue the fight to ensure athletes can compete consistent with their gender identity, although they may be losing the battle.
As public polling has demonstrated, transgender athletes competing in sports — especially trans women in women's sports — remains unpopular even among pro-transgender people. Key figures have emerged in recent days opposing transgender inclusion amid the focus on Lia Thomas, a recently transitioned swimmer at the University of Pennsylvania who has been smashing records in women's aquatics.
Nonetheless, LGBTQ advocates charged with fighting for transgender rights are continuing the efforts. After a coalition of LGBTQ advocates sent a letter to the NCAA urging the organization to include a non-discrimination provision in its updated constitution, the Human Rights Campaign condemned the organization for refusing to keep the language, which appears to have the effect of allowing the sports division to decline to allow transgender athletes to compete consistent with their gender identity, and sent an action alert to supporters.
Joni Madison, interim president of the Human Rights Campaign, said in a statement the NCAA "needs to show us their playbook for protecting LGBTQ+ and specifically transgender athletes from discrimination" as state legislatures advance legislation against transgender kids in sports.
"The NCAA has so far proven to be an unreliable ally to LGBTQ+ athletes across the country who depend upon the organization to protect them from discrimination and now they owe these athletes answers," Madison said.
Instead of reaffirming non-discrimination protections, the NCAA announced a change in policy that goes in different directions but appears aimed at limiting participation of transgender women without taking full responsibility for it. On one hand, the NCAA delegates to the bodies governing individual sports the policies for transgender participation, but on the other hand requires transgender women to document having limited testosterone levels over a certain period of time.
The fight now continues in state legislatures as sports bills are among the latest crop of measures seeking to limit access for transgender people. After South Dakota Gov. Kristi Noem made a push for legislation against transgender kids in sports at the start of the year, the state legislature responded by advancing such a measure. On Wednesday, a South Dakota House committee favorably reported out legislation already approved by wide margins in the Senate that would make biological sex the standard for sports in an attempt to limit transgender participation.
Sam Ames, director of advocacy and government affairs at The Trevor Project, said in a statement upon the committee vote the legislation "has nothing to do with fairness — and everything to do with South Dakota politicians using transgender youth as pawns on a political chessboard.
"Proponents of this blanket ban are hard-pressed to find examples of transgender students making South Dakota sports less fair or safe," Ames said. "Research from The Trevor Project makes clear that many already opt out of sports due to fear of bullying and discrimination."
Although the issue of transgender women in sports has emerged in recent years as conservative activists found a way to challenge LGBTQ rights in a way that was palatable to the public, the fervor peaked as Thomas made headlines for breaking records in the pool.
After having previously competed in men's aquatics, Thomas — after she transitioned — began competing in women's events and was beating her competitors by wide margins. In one event in December, Thomas came in first in the 1,650-yard freestyle and 38 seconds ahead of her closest competitor. The NCAA rules would appear to have the effect of barring Thomas from further competition.
Public polling, which has shown strong support for LGBTQ rights in general, continues to show the sentiment is against transgender women competing in sports, although the outcome of the poll can change considerably depending on the wording of the question. One Gallup poll last year found only 34 percent of those surveyed supported transgender athletes participating on teams consistent with their gender identity, while 62 percent said transgender people should have to compete with other athletes of their gender designated at birth.
One LGBTQ strategist, who agreed to speak on condition of anonymity, said the time may have come for LGBTQ advocates to admit a fait accompli if they want to seek broader civil rights protections in employment, housing and public accommodations with the Equality Act or other federal legislation.
"Advocates should just admit this is a very different issue than a trans person applying for a job or finding an apartment," the strategist said. "Equality principles differ by situation — that's why we have separate men's and women's sports in the first place. The same public opinion overwhelmingly supportive of the Equality Act is also clearly skeptical of a one size fits all federalization of all sports everywhere."
Adding fuel to the fire are recent comments from key figures in athletics.
Caitlyn Jenner, who before she transitioned was an Olympic champion in the 1970s, has been among the more prominent voices to speak out against transgender women in sports and said on a recent appearance on Fox News it represents "a woke world gone wild."
Jenner, who came out against transgender participation in sports during her unsuccessful gubernatorial campaign last year in the California recall election, said the NCAA "just kicked the can down the road" on the transgender sports issue and had choice words for Thomas.
"When you do transition and you do go through this, you have to take responsibility and you have to have integrity," Jenner said. "I don't know why she's doing this."
Michael Phelps, the decorated Olympic swimmer, also declined to support transgender athletes fully when asked about the issue during an interview on CNN, bringing up doping in sports in comparison.
"I don't know what it looks like in the future," Phelps said. "It's hard. It's very complicated and this is my sport, this has been my sport my whole entire career, and honestly the one thing I would love is everybody being able to compete on an even playing field."
To be sure, advocates for allowing transgender people to compete in sports consistent with their gender identity also have their supporters in the sports world, including tennis legend Billie Jean King. On Monday, Dorian Rhea Debussy, who's non-binary and one of 54 facilitators in the NCAA Division III LGBTQ OneTeam program, resigned in protest over recent NCAA actions.
"I'm deeply troubled by what appears to be a devolving level of active, effective, committed, and equitable support for gender diverse student-athletes within the NCAA's leadership," Debussy said. "As a non-binary, trans-feminine person, I can no longer, in good conscience, maintain my affiliation with the NCAA."
Arguably, schools complying with the new NCAA policy and states enacting anti-transgender laws would be violating Title IX of the Education Amendment of 1972, which prohibits discrimination on the basis of sex in education, especially after the U.S. Supreme Court's ruling in Bostock v. Clayton County finding anti-transgender discrimination is a form of sex discrimination.
One federal court last year blocked a West Virginia state law against transgender participation in sports on that legal basis. No litigation, however, appears to be in the works at this time challenging colleges or the NCAA policy.
Florida House committee passes "Don't Say Gay" bill
"LGBTQ people are your neighbors, family members, and friends. We are a normal, healthy part of society and we will not be erased"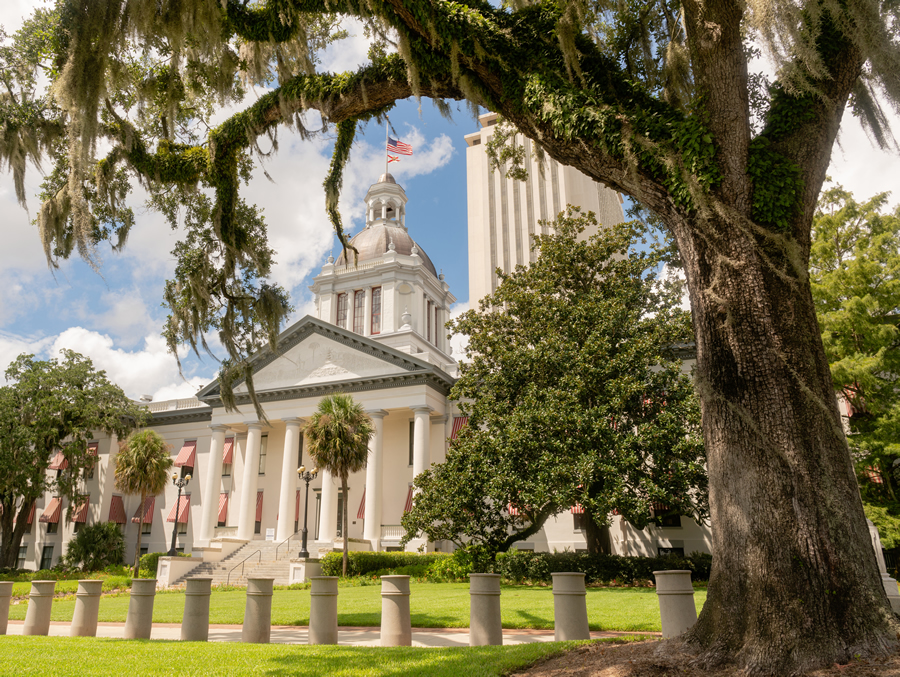 TALLAHASSEE – A Republican majority Florida House Education & Employment Committee passed HB 1557, the Parental Rights in Education bill, colloquially referred to as the "Don't Say Gay" bill advancing the measure to the full House.
HB 1557 and its companion Senate bill SB 1834, would ban classroom discussions about sexual orientation and gender identity in schools, erasing LGBTQ identity, history, and culture — as well as LGBTQ students themselves.
The bill also has provisions that appear to undermine LGBTQ support in schools and include vague parental notification requirements which could effectively "out" LGBTQ-identifying students to their parents without their consent.
"The Trevor Project's research has found that LGBTQ youth who learned about LGBTQ issues or people in classes at school had 23% lower odds of reporting a suicide attempt in the past year. This bill will erase young LGBTQ students across Florida, forcing many back into the closet by policing their identity and silencing important discussions about the issues they face," said Sam Ames, Director of Advocacy and Government Affairs at The Trevor Project. "LGBTQ students deserve their history and experiences to be reflected in their education, just like their peers."
In an email to the Blade, Brandon J. Wolf, the Press Secretary for Equality Florida noted; "Governor DeSantis' march toward his own personal surveillance state continues. Today, the Don't Say Gay bill, a piece of legislation to erase discussion of LGBTQ people from schools in Florida, passed its first committee and became another component of an agenda designed to police us in our classrooms, doctor's offices, and workplaces. Make no mistake — LGBTQ people are your neighbors, family members, and friends. We are a normal, healthy part of society and we will not be erased."
This will kill kids, @RonDeSantisFL. You are purposefully making your state a harder place for LGBTQ kids to survive in. In a national survey (@TrevorProject), 42% of LGBTQ youth seriously considered attempting suicide last year. Now they can't talk to their teachers? https://t.co/VtfFLPlsn3

— Chasten Buttigieg (@Chasten) January 20, 2022
The Trevor Project's 2021 National Survey on LGBTQ Youth Mental Health found that more than 42% of LGBTQ youth seriously considered attempting suicide in the past year, including more than half of transgender and nonbinary youth.
According to a recent poll conducted by Morning Consult on behalf of The Trevor Project, 85% of transgender and nonbinary youth — and two-thirds of all LGBTQ youth (66%) — say recent debates about state laws restricting the rights of transgender people have negatively impacted their mental health.
When asked about proposed legislation that would require schools to tell a student's parent or guardian if they request to use a different name/pronoun or if they identify as LGBTQ at school, 56% of transgender and nonbinary youth said it made them feel angry, 47% felt nervous and/or scared, 45% felt stressed, and more than 1 in 3 felt sad.
If you or someone you know needs help or support, The Trevor Project's trained crisis counselors are available 24/7 at 1-866-488-7386, via chat at TheTrevorProject.org/Get-Help, or by texting START to 678678.
California mom claims school manipulated child into changing gender identity
Jessica Konen gave the school permission to use the boy's name for attendance and tried to be supportive but noted it was difficult for her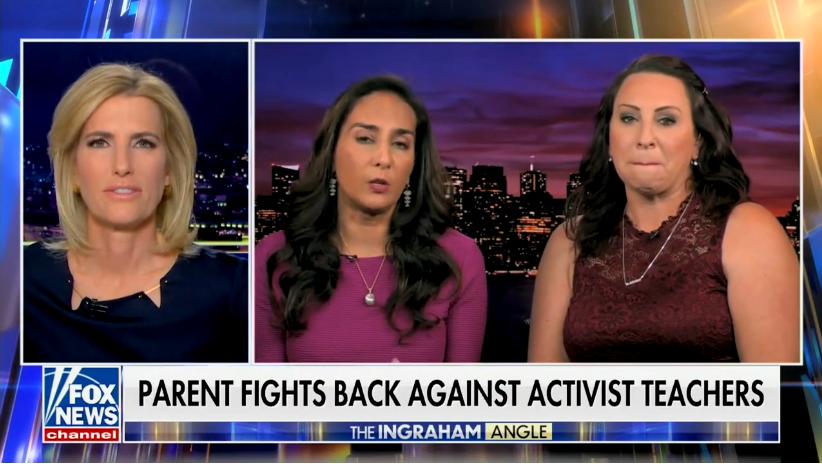 A Northern California mother is claiming teachers in a small school district in the state manipulated her daughter into changing her gender identity and name in a legal claim. 
The claim, filed by the ultra-conservative Center for American Liberty on behalf of the mother, alleged "extreme and outrageous conduct" by the Spreckels Union School District, leading Jessica Konen's 11-year-old daughter to change her gender identity and drive a wedge between them.
Specifically, the claim, a precursor to a lawsuit, names two teachers – Lori Caldera and Kelly Baraki – at Buena Vista Middle who, in addition to teaching, ran the school's Equality Club, later known as UBU (You Be You). Buena Vista is a part of the district.
It comes after Abigail Shrier, the author of a book widely criticized as anti-trans, quoted what the two educators said last year at the California Teachers Association's annual LGBTQ+ Issues Conference in a piece headlined "How Activist Teachers Recruit Kids." Caldera and Baraki spoke about the difficulty of running a Gay-Straight Alliance (GSA) in a socially conservative community.
After the article was published, the teachers were put on administrative leave, and the district hired a law firm to investigate, which is ongoing. The UBU club was suspended.
Spreckels is a town of about 400 people in the agricultural Salinas Valley, approximately 90 miles south of San Francisco.
According to the complaint, Konen's daughter began attending Equality Club meetings after being invited by a friend when she started sixth grade at Buena Vista. After attending one session, she decided it wasn't for her until Caldiera convinced her to come back. At the gatherings, Caldera and Baraki held LGBTQ-centered discussions and introduced students to different gender identities and sexualities.
During her time in the club, Konen's daughter began exploring her own gender identity and sexuality, choosing to wear more masuline clothes. At some point, she decided to change her name and pronouns, which she has since changed back to her original name and pronouns.
Konen said she was aware her daughter was bisexual but did not know she began using a male name and gender pronouns until she was called into the school when her daughter was in seventh grade. The meeting caught both Konen and her daughter by surprise – Konen's daughter had said she wanted to notify her mother, but she did not know the meeting was that day.
Konen gave the school permission to use the boy's name for attendance and tried to be supportive but noted it was difficult for her.
However, when Shrier's article was published and circulated around the small town, everything changed. At this time, Konen's daughter was again using a female name and pronouns.
In the leaked recording from the LGBTQ conference, Caldera and Baraki were discussing how they kept meetings private, among other things.
"When we were doing our virtual learning — we totally stalked what they were doing on Google, when they weren't doing school work," Baraki said. "One of them was googling 'Trans Day of Visibility.' And we're like, 'Check.' We're going to invite that kid when we get back on campus."
However, Caldera told the San Francisco Chronicle that the quotes were either taken out of context or misrepresented. According to Caldera, the stalking comment was a joke. She also defended their work, saying students lead the conversation and they provide honest and fair answers to their questions.
In addition, a spokesperson for the California Teachers Association criticized the group bringing the lawsuit forward, according to the Associated Press: "We are concerned about a political climate right now in which outside political forces fuel chaos and misinformation and seek to divide parents, educators and school communities for their own political gain, which is evident in this complaint. The Center for American Liberty is concerned with pushing its own political agenda through litigation and has filed multiple lawsuits against various school districts and communities."