Biden administration to ban discrimination against LGBTQ patients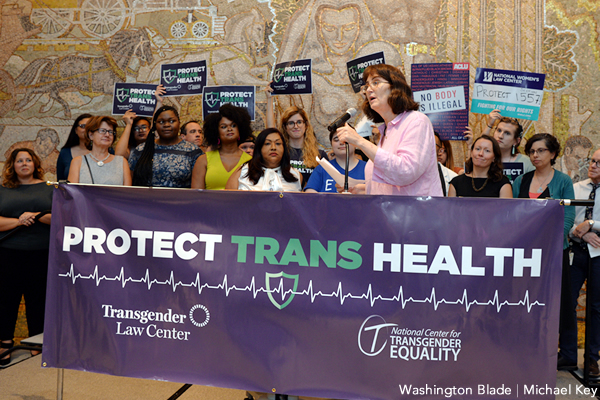 The Biden administration announced on Monday it would enforce civil rights protections under Obamacare to prohibit discrimination in health care against patients for being LGBTQ, reversing policy during the Trump years excluding transgender status as a protected characteristic under the law.
The Department of Health & Human Services declared it would enforce Section 1557 of the Affordable Care Act, which prohibits discrimination in health care on the basis of sex, and begin to take up cases of discrimination based on sexual orientation and gender identity.
HHS Secretary Xavier Becerra said in a statement the Supreme Court has "made clear that people have a right not to be discriminated against on the basis of sex and receive equal treatment under the law, no matter their gender identity or sexual orientation."
"Fear of discrimination can lead individuals to forgo care, which can have serious negative health consequences," Becerra said. "It is the position of the Department of Health and Human Services that everyone — including LGBTQ people — should be able to access health care, free from discrimination or interference, period."
The move is consistent with the executive order President Biden signed on his first day in office directing federal agencies to implement the U.S. Supreme Court's decision last year in Bostock v. Clayton County to the furthest extent possible. Federal agencies were directed to comply within 100 days of the executive order, which is about now and a short time after Biden's first 100 days in office.
The announcement with respect to Section 1557 comes on the same day as the hearing took place this morning in Bagly v. HHS, a case before a federal court in Massachusetts challenging Trump's undoing of transgender protections under the law. An attorney with the U.S. Justice Department announced a new notice of proposed rule-making is coming with respect to Section 1557.
Sharita Gruberg, vice president for the LGBTQ Research and Communications Project at the Center for American Progress, said in a statement the change "assures LGBTQ people that their rights will be upheld at the doctor's office, vaccine sites, and everywhere else they seek health care and coverage."
"The administration's announcement that it will enforce these protections are a critical step toward addressing vaccine hesitancy among LGBTQ people, a population that has been disproportionately impacted by the pandemic and seriously harmed by the previous administration's attempts to permit discrimination against LGBTQ patients, Gruberg added.
The past three administrations have instituted policy on LGBTQ protections based on their interpretation of Section 1557. Each move had varying implications and directions for LGBTQ patients.
The Obama administration issued a rule in 2016 interpreting Section 1557 to apply to cases of anti-transgender discrimination and discrimination against women who have had abortions, which was consistent with court rulings at the time. However, that move was enjoined by a nationwide court order in Texas as a result of litigation filed by Texas Attorney General Ken Paxton.
The Trump administration, shortly after the Supreme Court's ruling in Bostock, made final a regulation proposed last year rescinding the Obama administration's transgender protections under Section 1557. Faced with criticism, the Trump administration defended itself by saying its move was consistent with the court order in Texas, although it seemed to ignore the decision from the higher court.
The new rule from HHS goes above and the beyond the Obama administration by instituting protections based on both sexual orientation and gender identity. It wasn't immediately clear whether the proposed rule would be a new regulation entirely, or seek to modify the changes that were made in the two previous administrations. The Blade has placed a request seeking comment with HHS.
Susan Bailey, president of the American Medical Association, said in a statement the new HHS rule is a welcome change after the Trump administration rescinded protections for transgender patients.
"It's unfortunate that such an obvious step had to be taken; the AMA welcomes this common-sense understanding of the law," Bailey said. "This move is a victory for health equity and ends a dismal chapter in which a federal agency sought to remove civil rights protections."
Discrimination in health care is an experience transgender people commonly report. The U.S. Transgender Survey in 2015 found one-third of responders said they had at least one negative experience in health care related to being transgender. Further, 23 percent of responders said they didn't seek health care because they feared being mistreated and one-third said they didn't go to a provider because they couldn't afford it.
A Center for American Progress survey from 2018 had similar findings with respect to transgender people and patients with being gay, lesbian and bisexual or queer. Eight percent of responders said a doctor refused to see them because of their perceived or actual sexual orientation, while 28 percent of providers said a doctor refused to see them because of their actual or perceived sexual orientation.
Hospitals, especially religiously affiliated providers, refusing to provide transition-related care, including gender assignment surgery, is another frequently reported incident for transgender patients. The American Civil Liberties Union, for example, has filed litigation against hospitals under Section 1557 for refusing to perform the procedure.
Rachel Levine, assistant secretary of health and the first openly transgender presidential appointee to obtain Senate confirmation, hailed the HHS rule change in a statement.
"The mission of our Department is to enhance the health and well-being of all Americans, no matter their gender identity or sexual orientation. All people need access to healthcare services to fix a broken bone, protect their heart health, and screen for cancer risk," Levine said. "No one should be discriminated against when seeking medical services because of who they are."
Although the Biden administration's announcement is a welcome move for LGBTQ advocacy groups, the change is not without critics.
John Banzhaf, a law professor at George Washington University who declares himself a supporter of transgender rights, said the policy could have unintended consequences, which he said has become evident in the British health system.
"[Transgender] individuals with a penis but no vagina are being asked to have medical tests on their non-existent cervices, while [transgender] persons with a vagina and cervix will not be asked, under new guidelines which appear to place lives at risk and encourage a physically impossible medical exam on organs which simply do not exist," Banzhaf said. "And, carrying this absurdity to its totally illogical conclusion, a patient with a penis and a full beard was offered a cervical test because, despite his clearly masculine appearance and style of dress, he registered himself as being gender neutral."
Boston Children's Hospital targeted by violent anti-LGBTQ threats
'We condemn these attacks in the strongest possible terms'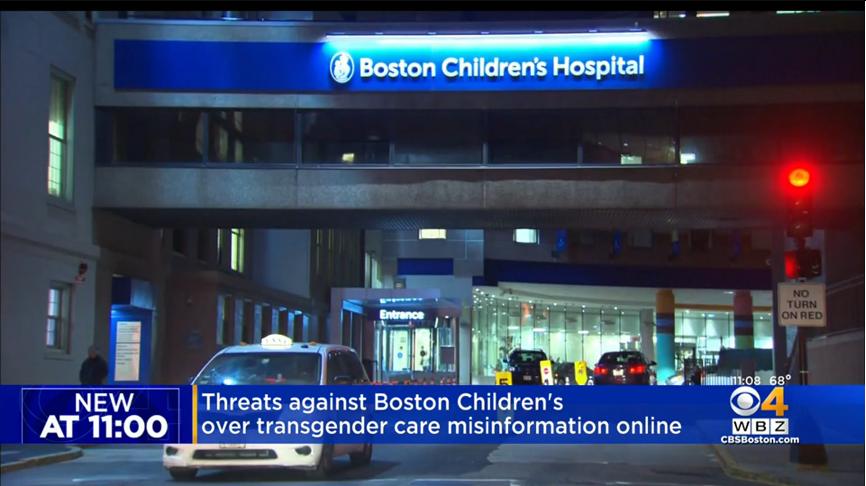 Anti-LGBTQ far right extremists are targeting Boston Children's Hospital, threatening its employees and medical staff after falsehoods and disinformation spread online recently about the healthcare facility's treatment of transgender youth.
In a statement posted online, a spokesperson for Boston Children's Hospital wrote: "In response to commentary last week critical of our Gender Multispeciality Service (GeMS) Program, Boston Children's Hospital has been the target of a large volume of hostile internet activity, phone calls and harassing emails including threats of violence on our clinicians and staff fueled by misinformation and a lack of understanding and respect for our transgender community."
The statement notes that the false information, with special attention being cast on the lies that Boston Children's Hospital was performing hysterectomies (transgender care related) on minors. The age of consent for that gender-affirming procedure is 18.
"We condemn these attacks in the strongest possible terms, and we reject the false narratives upon which they are based," the hospital continued. "We are working with law enforcement to protect our clinicians, staff, patients, families and the broader Boston Children's Hospital community and hold the offenders accountable. We will continue to take all appropriate measures to protect our people."
August 16, 2022
Journalist Martha Bebinger with WBUR,  Boston's NPR news station, noted the campaign started last week with criticism of a video posted on the hospital's website about hysterectomies. Several conservative social media accounts shared posts about the video on Twitter. The hospital performs hysterectomies on patients 18 and older, but not on children as some of the posts claimed.
The social media account Libs of TikTok, which has often promoted "groomer" discourse that falsely linked LGBTQ teachers and parents to pedophilia, began to make a variety of false claims. One allegation included the lie about Boston Children's Hospital offering gender-affirming hysterectomies to children under 18 years old.
Surgeons at Boston Children's Hospital have said they would consider performing other procedures, including phalloplasty, or penis construction, on 17-year-old male trans patients. But hospital staff say that hasn't happened because no 17-year-old has met the required legal and other criteria.
Conservative journalist and anti-LGBTQ+ activist Christopher Rufo, who has helped incite white Christian nationalist right-wing uproar over the critical race theory being taught in the nations' secondary schools and also fabricated a story that queer theory was also being taught to kindergarteners up through high school, took aim at Boston Children's Hospital in a tweet Wednesday.
Yes, American doctors are performing "vaginoplasties" on minors—castrating young males and creating artificial vaginas out of their penile tissue.https://t.co/LzLsZpeeRU pic.twitter.com/6NgBGitZZh

— Christopher F. Rufo ⚔️ (@realchrisrufo) August 17, 2022
Then adding to the far-right extremist pile-on, Media Matters for America reported Wednesday that anti-trans pundit Matt Walsh also attacked the hospital.
The Daily Wire's Matt Walsh falsely accused Boston Children's hospital of putting "every toddler who has ever been born…on a path to sterilization and butchery before they can even talk." Two days later, the hospital's staff was deluged by violent threats. pic.twitter.com/uoyb35VPM6

— Media Matters (@mmfa) August 17, 2022
Christina Buttons, a Nashville-based radical anti-LGBTQ far-right journalist for the Canadian anti-LGBTQ conservative publication, the Post Millennial, which features other transphobic writers, attacked NBC News reporter Brandy Zadrozny on Twitter over her reporting on Boston Children's Hospital.
God help me, I know I shouldn't bother, but just quick before I log off: the "evidence" for this lie, that a children's hospital is performing genital surgery on minors, actually shows that the center provided ZERO of these surgeries on minors.https://t.co/elQ7nF1dCU https://t.co/478VyUsx4U pic.twitter.com/L6BP11HHDc

— Brandy Zadrozny (@BrandyZadrozny) August 17, 2022
A spokesperson for Twitter told the Washington Blade Wednesday afternoon that the company support team was looking into the reports of harassment.
Zadrozny reported: Anti-trans activists also targeted the individual doctors who appeared in the YouTube videos from Boston Children's Hospital, leaving vulgar and harassing comments on their social media accounts and flooding their online pages with negative reviews. Some hospital staff have since made their social media profiles private.
This isn't the first time that far-right activists have targeted doctors and medical institutions — or even Boston Children's Hospital.
Lee Leveille, co-director of Health Liberation Now, a trans rights advocacy group that investigates the effects of policy on trans health, said the hospital was also a target in May 2021 for providing gender-affirming care amid a similar wave of targeted harassment on medical facilities.
"The original organized network that jump started the clinic protests has been slowing down a bit and is more decentralized," Leveille said over email. "Local pockets will still operate here and there, but they're less connected to a central organized push than the original ones. Now we're seeing new faces rallying the cause — including the likes of Matt Walsh and Libs of TikTok."
A spokesperson for the Boston Police Department said the department is aware of the threats and is working with hospital staff.
Dance parties: End-of-summer fun or monkeypox super-spreaders?
Health officials urge precautions as cases reach 12,689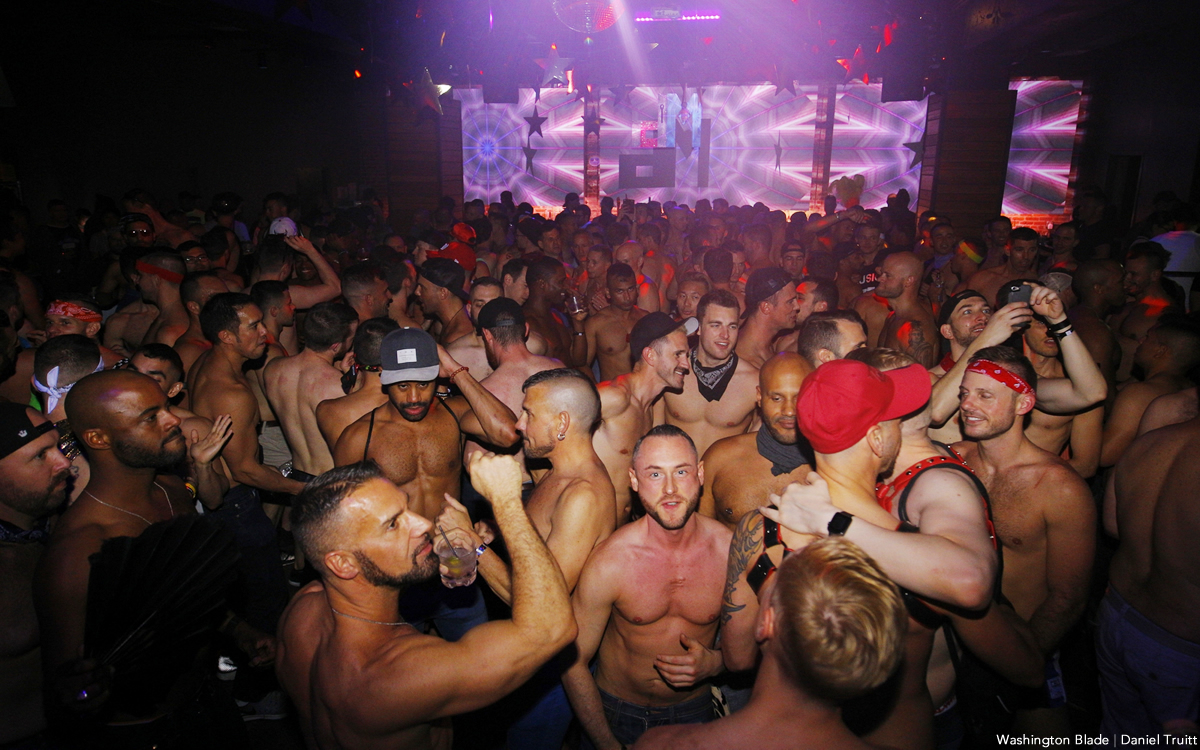 This is the time of year when gay men say farewell to summer with trips to the beach and resort towns for festivities, parties, and other revelry consisting of shirtless dancing and various forms of intimate contact — now a potential health risk as super-spreader events amid a monkeypox outbreak that continues to spread among men who have sex with men.
With the number of reported cases of monkeypox in the United States reaching 12,689 and demand for vaccines failing to keep up with supply, questions remain about taking precautions like those seen during the coronavirus epidemic as health experts and event organizers point to existing guidance to ensure a reasonable degree of safety.
Wes Combs, president of the CAMP Rehoboth board of directors, said his organization from the beginning of the monkeypox outbreak has been engaging with health officials at the state level in Delaware about what people should be looking for in terms of symptoms, as well as information about how people in high-risk categories can sign up to get vaccinations.
"As is everywhere in the country right now, where LGBTQ communities have big populations people are concerned, so we have received a number of calls about more information about monkeypox, about whether or not people can get vaccinated at CAMP Rehoboth," Combs said.
A monkeypox town hall hosted by CAMP Rehoboth in conjunction with Delaware state health officials took place Tuesday, providing an opportunity to offer the latest information and answer questions about the monkeypox outbreak. CAMP Rehoboth announced it has been identified as one of two additional sites for vaccinations in addition to what the Department of Health provides from its health centers.
Rehoboth is among the many places in the United States where gay men are expected to flock to celebrate, along with Fire Island and Provincetown on the East Coast, making vaccinations against monkeypox in high demand at a time when the Biden administration is facing criticism for not making them more widely accessible. (Gay cruises for the summer, however, may not be among these events. A Carnival Cruise Line spokesperson said the charters team has no LGBTQ cruises coming up.)
Brad Perkins, chief medical officer at Karius, Inc., when asked about appropriate guidance for these end-of-summer events advised "trying to encourage community awareness and responsibility to isolate yourself and not infect others if you believe that you've been exposed or know that you're infected."
"But the longer game here is that we don't want this disease to become endemic in the United States," Perkins added. "And I think there's a short-term threat, there's a long term threat, both of them are really important [and] I think should weigh on decisions like the one you're suggesting people need to make."
Perkins said Karius, which works on advanced molecular technology for diagnosis of infectious diseases, is seeking to apply microbial cell-free DNA technology to create monkeypox tests earlier than options currently available, which require a sample from already developed skin lesions. The proposed testing has detected the virus in hospital patients, Perkins said, and following research over the course of the next few months may be available on an outpatient basis.
In Rehoboth, Combs said CAMP Rehoboth as a result of work with state officials is set to obtain 200 doses of JYNNEOS vaccine and, per guidance from the Centers for Disease Control & Prevention, plans to distribute them in a two-dose regimen, with the first dose set for Aug. 23 and second one on Sept. 28. As of Tuesday, Combs said CAMP Rehoboth has already scheduled appointments for 135 shots in the two-doze regimen, which is more than two-thirds of the total available shots.
"We are in talks with the state to [see] if they are able to get additional doses to create a larger vaccination site that's capable of having more people vaccinated," Combs added. "Right now, it's one person every five minutes — over the span of from nine o'clock to three — and that's the rate based on the number of doses. But if we can get more, we will do more, and we tell that to the state."
Many of these end-of-summer events consist of gay men engaging in shirtless dancing in close proximity with each other as well as other intimate contact, creating ideal opportunities for a disease transmitted by skin-to-skin contact.
Be honest: While participants aren't engaging in sexual activity as part of these events per se, they can lead to sexual encounters in the aftermath with a causal partner (or causal partners should these participants elect to have group sex to close out the night).
The CDC has guidance on its website for safer sex and social gatherings amid the monkeypox outbreak, which suggests festivals, events, and concerts where attendees are fully clothed and unlikely to share skin-to-skin contact are safer, as well as being mindful of activities (even kissing) that might spread monkeypox. Enclosed spaces, such as private and public sex parties where intimate and often anonymous sexual contact with multiple partners occurs, the CDC says, may have a higher likelihood of spreading monkeypox.
During the COVID epidemic, many group events required proof of vaccination and were even cancelled in an effort to mitigate the spread of the dangerous and potentially fatal disease. The same, however, cannot be said about events during the monkeypox outbreak, where the disease can be painful, but not fatal, and the availability of vaccines has not kept up with demand.
Combs said he's unaware of any event being cancelled in Rehoboth due to monkeypox and, in fact, its biggest fundraiser of the year, the annual Sundance dance party is on track to happen over Labor Day weekend. Additionally, Combs said he cannot foresee a proof of vaccination requirement "largely because the availability of vaccines is so difficult to get right now, and there's…high demand and low supply."
"Certainly we understand what worked well with COVID, and that was getting information education out to the public about how this virus is transmitted and providing as much access to vaccines as possible," Combs said. "So the one thing that is different is the number of vaccines available seems to be much lower, so I know that there's lots of pressure being placed on the government at all levels to ensure that they get more supply to meet the demand that appears to be there."
Perkins, asked whether precautions taken during COVID would be appropriate for monkeypox, drew a distinction between the two diseases, pointing out "the sort of positive take on monkeypox is that we're somewhat prepared for this threat, mostly through efforts to prepare for smallpox."
"Certainly, the most relevant one I think the community at this point is if you think you have been exposed, or, particularly if you've been exposed and you're ill, getting vaccine, accessing the vaccine that's available, or at least discussing being vaccinated as prophylaxis or at least, if not prophylaxis, prevention of infection, at least decreasing the severity of illness if it does occur," Perkins said. "I think as is you know, it's one of the good news stories of the efforts that have been taken to date."
Although to date the transmission of monkeypox has been overwhelmingly among men who have sex with men, Perkins predicted that could change.
"In fact, we're starting to see more cases outside that circle," Perkins said. "I would expect that that will increase unless we control this epidemic. I think that will be a certainty moving forward that we'll see a broader distribution of cases, because certainly the transmission of this infection, unlike HIV…includes routes of transmission that are non-sexual."
Court rules transgender people have legal protections under ADA
Judge writes gender dysphoria not excluded under law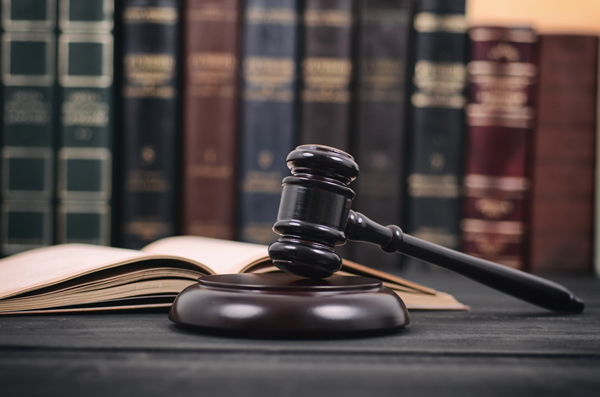 Transgender people have additional protections from discrimination under federal law for having a disability if they experience gender dysphoria, the U.S. Fourth Circuit Court of Appeals ruled Tuesday in a consequential decision that marks a first for a federal appeals court.
A three-judge panel on the Fourth Circuit, which has jurisdiction over Virginia, North Carolina, and South Carolina, determined the Americans with Disability Act prohibits discrimination against people with gender dysphoria — despite explicit language in the law excluding "transsexualism" and "gender identity disorder" as protected classes.
U.S. Circuit Court Judge Diana Gribbon Motz, an appointee of Bill Clinton, wrote in a 56-page decision gender dysphoria doesn't fall under the those two categories in the law because "gender dysphoria is not a gender identity disorder."
"[T]he ADA excludes from its protection anything falling within the plain meaning of 'gender identity disorders,' as that term was understood 'at the time of its enactment,'" Motz writes. "But nothing in the ADA, then or now, compels the conclusion that gender dysphoria constitutes a 'gender identity disorder' excluded from ADA protection."
As a result, the appeals court remanded the case for additional review to the lower trial court, which had come to the opposite conclusion and determined transgender people aren't covered under ADA.
The case was filed by Kesha Williams, a transgender woman with gender dysphoria who spent six months incarcerated in the Fairfax County Adult Detention Center. Although she was initially housed in a women's prison, she was transferred to a man's prison when officials learned she was transgender and was faced with delays in getting transition-related care as well as harassment from fellow inmates and prison officials.
Among the group advocating in the case for additional protections under ADA were LGBTQ groups, including GLBTQ Legal Advocates & Defenders and the National Center for Lesbian Rights, which filed a friend-of-the-court brief before the Fourth Circuit.
Jennifer Levi, GLAD's transgender rights project director, said in a statement the decision is a "huge win" for transgender advocates because "there is no principled reason to exclude transgender people from our federal civil rights laws."
"It's incredibly significant for a federal appeals court to affirm that the protections in our federal disability rights laws extend to transgender people," Levi said. "It would turn disability law upside down to exclude someone from its protection because of having a stigmatized medical condition. This opinion goes a long way toward removing social and cultural barriers that keep people with treatable, but misunderstood, medical conditions from being able to thrive."
The idea transgender people are covered under ADA has been controversial even among transgender people. On one hand, reading the law to include transgender people gives them added legal protections. On the other hand, transgender advocates have been fighting for years to make the case that being transgender isn't a mental disorder. The American Psychiatric Association removed "gender identity disorder" as a type of mental disorder with the publication of DSM–5 in 2013, replacing it with "gender dysphoria."
Although the Fourth Circuit is the first federal appeals court to rule transgender people have protections under the Americans with Disabilities Act, other courts have come to the same determination. In 2017, a federal trial judge in Pennsylvania ruled transgender people are able to sue in cases of discrimination under ADA despite the exclusions under the law.
CORRECTION: An earlier version of this post misattributed and mischaracterized the change to DSM-5. The Washington Blade regrets the error.