Elections in Chile: LGBTQ candidates make their mark
Eight queer people elected to write new Constitution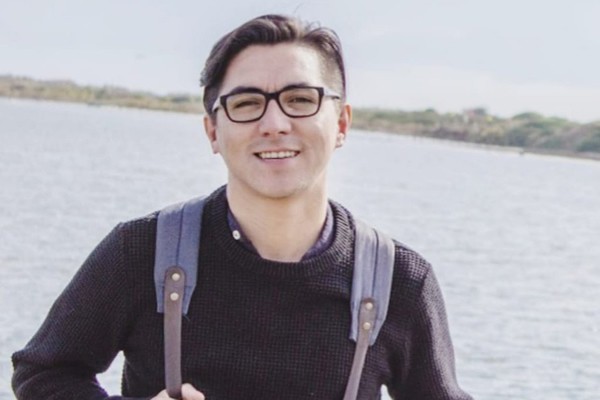 Editor's note: The Washington Blade published a Spanish version of this story on May 20.
CONCEPCIÓN, Chile — LGBTQ activists and organizations celebrated the results of last weekend's historic elections in Chile in which eight openly queer candidates were elected to write the Latin American country's new Constitution.
They are Jennifer Mella, Valentina Miranda, Bessy Gallardo, Pedro Muñoz, Javier Fuchslocher, Gaspar Domínguez, Rodrigo Rojas and Tomás Laibe, who represent 5.2 percent of the total of 155 seats that will make up the Constitutional Convention.
"Although the representation of people with different sexual diversities remains low, it is a historic step to have constituencies that allow us to install the urgency of our demands, and promote respect and protection of the rights of the LGBTIQ+ population in the new constitution and in society. The commitment of feminist and progressive forces regarding these issues will also be very relevant, and as an observatory we will be attentive to that discussion," explained Marion Stock, coordinator of Les Constituyentes, Marion Stock, in a statement after the votes were counted.
The Movement for Homosexual Integration and Liberation (Movilh), meanwhile, described "as historic that eight openly LGBTIQ+ people had been elected as constituents, inasmuch as this allows the rich diversity of Chile to have a voice and vote in the most important transformation process faced by the country."
"We hope that the new constitution explicitly guarantees nondiscrimination based on sexual orientation, gender identity and expression; as well as by all the categories protected in the Zamudio Law; and full equality of rights is recognized for all individuals, couples and families, whatever their composition. Only with this, each and every one of the homo/transphobic laws and public policies that still persist in Chile can be eliminated at once," said Movilh spokesperson Óscar Rementería.
Laibe from the Socialist Party of Chile, who was elected in the southernmost area of the country, views his presence and that of seven other LGBTQ people at the convention will help replace the current constitution as a cultural milestone. The current Chilean constitution has been in place since Augusto Pinochet's military dictatorship.
"I think it is a milestone that, first, we have had more than 40 candidates of sexual diversity to this Constitutional Constitution," said the political scientist during an interview with Lo Que Queda del Día on Cooperativa radio. "It is a milestone in the history of Chile and it will probably set the tone for what the rest of the elections, in which I am sure we will have more of a presence, will be."
He added that "we feel proud in our case, because we were the only diverse candidacy in the southern region, where we are so isolated and suddenly we are much more conservative than in the rest of the country and we do not realize that in Santiago they pass things and that perhaps there is a cultural advance that is very different from what is happening in the regions."
"It has been very important to nail down this flag, to talk about sexual diversity throughout the campaign to try to make visible this problem that is part, I think, of the diagnosis of the social outbreak: There are flags that have been hidden, invisible, for a long time; there are people who feel discrimination every day and who experience inequality and discriminatory treatment in education, health, at work," said Laibe. "That is going to be, without a doubt, one of the struggles that we are going to have to address in the Constitutional Convention."
Chileans in the last elections not only elected Constitutional Convention members. They chose their new community and regional representatives. And the LGBTQ community also saw positive results in these races.
The Washington Blade spoke with Cristian Martínez, an LGBTQ activist who was elected as a councilmember in Molina, a city that is 210 kilometers south of the Chilean capital of Santiago.
His race made national news a few weeks ago due to the fact that an Adventist college distributed openly anti-LGBTQ text to its students. Martínez last Sunday made history in Molina as the first openly gay person to be elected as an elected official in his home region.
"My city and my region is rural and conservative. We are a rural area, however, there is a process of change and that is demonstrated by the fact that they have elected me, an openly gay person as a councilor, but it is slower than what is happening in the big cities, I believe that we are going slower here with respect to the LGBTQ+ community and particularly trans people, therefore visibility is the most important thing," Martínez told the Blade.
"As long as residents do not know trans people, lesbian, bisexual, gay, intersex people, etc., they will not know how to love, respect and welcome them, I believe that making ourselves visible is the most important thing and there you have to do a job that we are advancing. I believe that my town is willing to advance on these issues, but the challenge is huge. There are slightly more conservative Christian communities that also exert social pressure in certain spaces. I believe that this will be lessened as we become more visible," concluded the now-elected councilor.
Martínez told the Blade that it was "super important" for LGBTQ activists "to participate in these elections because after the social outbreak, all activists and people who participated in social movements felt the responsibility and obligation to assume responsibilities of popular election in the elections that took place. they came, in our territories, in our communes, in our spaces."
Chile, in this way, leaves behind the prejudices that say LGBTQ people are unqualified to hold public office and this will allow further political inroads, especially in the next elections in November when Chileans go back to the polls to elect a president and members of Congress.
Stephen Breyer announces retirement, opens up new battle over Supreme Court
Biden gets chance to add pick to bench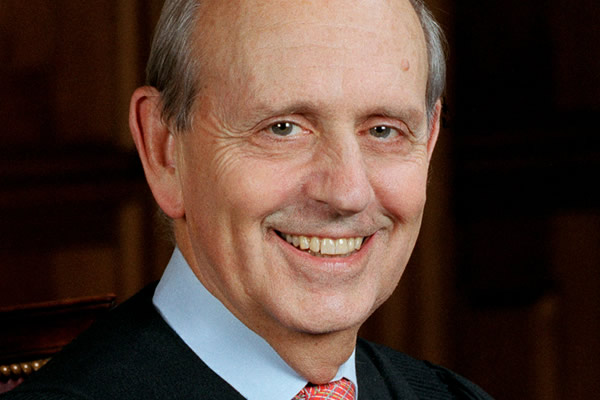 U.S. Associate Justice Stephen Breyer, who had joined landmark decisions from the U.S. Supreme Court in support of LGBTQ rights, announced on Wednesday he'd retire, opening up a new battle over the judiciary and the potential for President Biden to add his first nominee to the high court.
First reported by NBC News, the retirement of Breyer, appointed by former Bill Clinton and confirmed in 1994, fulfills a wish among progressives for him to step down for him to step down to ensure a replacement would be named with Biden in the White House and Democrats in control of the U.S. Senate.
LGBTQ advocates immediately hailed Breyer upon his departure as they called on Biden to name a choice who would fulfill that same approach to the law for generations to come.
Sharon McGowan, chief strategy director and legal director for Lambda Legal, said in a statement Breyer "has been a reliable defender of the civil rights of LGBTQ+ people."
"We strongly urge President Biden to select a nominee whose commitment to equal justice under law is beyond question, and whose record demonstrates their understanding that LGBTQ+ people are entitled to the full protection of the Constitution's guarantees of equality and liberty," McGowan said.
Breyer had joined each of the major decisions from the Supreme Court in favor of LGBTQ rights, which are all handed down during his tenure on the bench. Among them are earlier decisions in Romer v. Evans and Lawrence v. Texas as well as decision in favor in marriage equality in Windsor v. United States and Obergefell v. Hodges.
In Bostock v. Clayton County, which affirmed last year anti-LGBTQ discrimination is illegal under federal law, Breyer made the case during oral arguments Congress intended the Title VII of the Civil Rights Act of 1964 to help all vulnerable communities, which include include LGBTQ people.
"In the '60s, we were only 10 years away from where people who were real slaves and discriminated against obtained a degree of freedom," Breyer said. "And these statutes were all part of a civil rights movement that was designed to include in our society people who had been truly discriminated against for the worst of reasons. And at that time, this civil rights statute, when it was passed, would have put in the category gay people, transgender people as people who were suffering terrible discrimination."
Biden, who during his presidential campaign said he'd appoint a Black woman to the Supreme Court, now has the opportunity to act on that commitment in the wake of Breyer's retirement.
Ruben Gonzales, executive director of LGBTQ Victory Institute, said Biden should go a step further in that diversity and choose for the high court a Black LGBTQ woman.
"We urge President Biden to make history and appoint a Black LGBTQ woman to the U.S. Supreme Court," Gonzales said. "With his previous commitment to nominate a Black woman, President Biden affirmed the important role diverse perspectives have on the bench and on the health of our democracy and society. There is a powerful pipeline of Black LGBTQ judges, officials and leaders who are more than qualified to fulfill this promise.
One possibility, named by Gonzales in his statement, Washington State Supreme Court Justice G. Helen Whitener. Another potential choice would be U.S. District Judge Staci Michelle Yandle, who was nominated by former President Obama and confirmed in 2014.
LGBTQ advocates fight on for trans athletes, but they may be losing the battle
Transgender women competing in women's sports remains unpopular in polls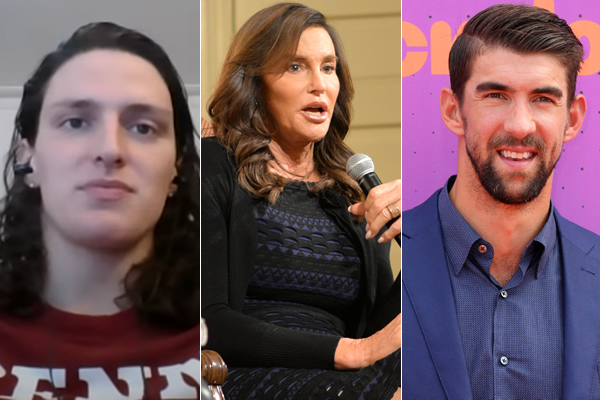 In the wake of the NCAA changing its policies regarding transgender athletes and state legislatures advancing new legislation against trans inclusion in school sports, LGBTQ advocates continue the fight to ensure athletes can compete consistent with their gender identity, although they may be losing the battle.
As public polling has demonstrated, transgender athletes competing in sports — especially trans women in women's sports — remains unpopular even among pro-transgender people. Key figures have emerged in recent days opposing transgender inclusion amid the focus on Lia Thomas, a recently transitioned swimmer at the University of Pennsylvania who has been smashing records in women's aquatics.
Nonetheless, LGBTQ advocates charged with fighting for transgender rights are continuing the efforts. After a coalition of LGBTQ advocates sent a letter to the NCAA urging the organization to include a non-discrimination provision in its updated constitution, the Human Rights Campaign condemned the organization for refusing to keep the language, which appears to have the effect of allowing the sports division to decline to allow transgender athletes to compete consistent with their gender identity, and sent an action alert to supporters.
Joni Madison, interim president of the Human Rights Campaign, said in a statement the NCAA "needs to show us their playbook for protecting LGBTQ+ and specifically transgender athletes from discrimination" as state legislatures advance legislation against transgender kids in sports.
"The NCAA has so far proven to be an unreliable ally to LGBTQ+ athletes across the country who depend upon the organization to protect them from discrimination and now they owe these athletes answers," Madison said.
Instead of reaffirming non-discrimination protections, the NCAA announced a change in policy that goes in different directions but appears aimed at limiting participation of transgender women without taking full responsibility for it. On one hand, the NCAA delegates to the bodies governing individual sports the policies for transgender participation, but on the other hand requires transgender women to document having limited testosterone levels over a certain period of time.
The fight now continues in state legislatures as sports bills are among the latest crop of measures seeking to limit access for transgender people. After South Dakota Gov. Kristi Noem made a push for legislation against transgender kids in sports at the start of the year, the state legislature responded by advancing such a measure. On Wednesday, a South Dakota House committee favorably reported out legislation already approved by wide margins in the Senate that would make biological sex the standard for sports in an attempt to limit transgender participation.
Sam Ames, director of advocacy and government affairs at The Trevor Project, said in a statement upon the committee vote the legislation "has nothing to do with fairness — and everything to do with South Dakota politicians using transgender youth as pawns on a political chessboard.
"Proponents of this blanket ban are hard-pressed to find examples of transgender students making South Dakota sports less fair or safe," Ames said. "Research from The Trevor Project makes clear that many already opt out of sports due to fear of bullying and discrimination."
Although the issue of transgender women in sports has emerged in recent years as conservative activists found a way to challenge LGBTQ rights in a way that was palatable to the public, the fervor peaked as Thomas made headlines for breaking records in the pool.
After having previously competed in men's aquatics, Thomas — after she transitioned — began competing in women's events and was beating her competitors by wide margins. In one event in December, Thomas came in first in the 1,650-yard freestyle and 38 seconds ahead of her closest competitor. The NCAA rules would appear to have the effect of barring Thomas from further competition.
Public polling, which has shown strong support for LGBTQ rights in general, continues to show the sentiment is against transgender women competing in sports, although the outcome of the poll can change considerably depending on the wording of the question. One Gallup poll last year found only 34 percent of those surveyed supported transgender athletes participating on teams consistent with their gender identity, while 62 percent said transgender people should have to compete with other athletes of their gender designated at birth.
One LGBTQ strategist, who agreed to speak on condition of anonymity, said the time may have come for LGBTQ advocates to admit a fait accompli if they want to seek broader civil rights protections in employment, housing and public accommodations with the Equality Act or other federal legislation.
"Advocates should just admit this is a very different issue than a trans person applying for a job or finding an apartment," the strategist said. "Equality principles differ by situation — that's why we have separate men's and women's sports in the first place. The same public opinion overwhelmingly supportive of the Equality Act is also clearly skeptical of a one size fits all federalization of all sports everywhere."
Adding fuel to the fire are recent comments from key figures in athletics.
Caitlyn Jenner, who before she transitioned was an Olympic champion in the 1970s, has been among the more prominent voices to speak out against transgender women in sports and said on a recent appearance on Fox News it represents "a woke world gone wild."
Jenner, who came out against transgender participation in sports during her unsuccessful gubernatorial campaign last year in the California recall election, said the NCAA "just kicked the can down the road" on the transgender sports issue and had choice words for Thomas.
"When you do transition and you do go through this, you have to take responsibility and you have to have integrity," Jenner said. "I don't know why she's doing this."
Michael Phelps, the decorated Olympic swimmer, also declined to support transgender athletes fully when asked about the issue during an interview on CNN, bringing up doping in sports in comparison.
"I don't know what it looks like in the future," Phelps said. "It's hard. It's very complicated and this is my sport, this has been my sport my whole entire career, and honestly the one thing I would love is everybody being able to compete on an even playing field."
To be sure, advocates for allowing transgender people to compete in sports consistent with their gender identity also have their supporters in the sports world, including tennis legend Billie Jean King. On Monday, Dorian Rhea Debussy, who's non-binary and one of 54 facilitators in the NCAA Division III LGBTQ OneTeam program, resigned in protest over recent NCAA actions.
"I'm deeply troubled by what appears to be a devolving level of active, effective, committed, and equitable support for gender diverse student-athletes within the NCAA's leadership," Debussy said. "As a non-binary, trans-feminine person, I can no longer, in good conscience, maintain my affiliation with the NCAA."
Arguably, schools complying with the new NCAA policy and states enacting anti-transgender laws would be violating Title IX of the Education Amendment of 1972, which prohibits discrimination on the basis of sex in education, especially after the U.S. Supreme Court's ruling in Bostock v. Clayton County finding anti-transgender discrimination is a form of sex discrimination.
One federal court last year blocked a West Virginia state law against transgender participation in sports on that legal basis. No litigation, however, appears to be in the works at this time challenging colleges or the NCAA policy.
ANC supports license for Capitol Hill LGBTQ bar
Lesbian owners back 'settlement agreement' with restrictions on hours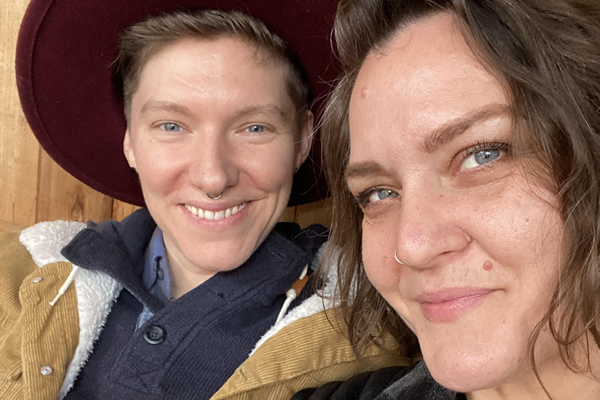 The Capitol Hill Advisory Neighborhood Commission 6B voted unanimously on Tuesday night to support a liquor license for the LGBTQ-owned As You Are Bar, which plans to open in a two-story building at 500 8th St., S.E. in a commercial section of Capitol Hill known as Barracks Row.
The ANC's decision to support the license took place at a virtual meeting attended by nearby residents and supporters of the bar after its owners, lesbian activists Jo McDaniel and Rachel Pike, agreed to the terms of an ANC settlement agreement that calls for restrictions in the hours the bar can offer dancing, entertainment, and music from a DJ.
The agreement means the ANC will not file a protest against the license before the city's Alcoholic Beverage Control Board, a development that would have delayed a decision on the license by the ABC Board by as much as seven months. A protest by the ANC could have cost the bar thousands of dollars in legal fees to contest the protest by providing legal arguments seeking the approval of the license.
The ABC Board makes the final decision on whether to approve all liquor licenses in the city.
McDaniel and Pike have said they plan to operate an upstairs dance bar during evening hours and a café on the first floor during the day as well as in the evenings that will be an inclusive space that "welcomes anyone of any walk of life that will support, love, and celebrate the mission of queer culture."
The two, who are business and life partners, say As You Are Bar will welcome people of all ages, genders, sexual orientations and gender identities as well as drinkers and non-drinkers as customers.
They have also told the ANC and nearby residents they have taken steps to soundproof the building, which they are renting, to ensure their plans to operate a dance bar with music from a DJ on the second floor will not disturb nearby residents.
Under terms of the settlement agreement, which was posted on the ANC's website prior to the start of the meeting, the bar's operating hours will be from 12 p.m. to 12 a.m. Sunday through Thursday and 12 p.m. to 3 a.m. on Friday and Saturday. Under D.C. law, bars are allowed to remain open for the sale of alcoholic beverages until 2 a.m. during weekdays and 3 a.m. on Fridays and Saturdays.
The Settlement Agreement further calls for As You Are Bar to restrict the hours of consumption of alcohol from 12 p.m. to 11:30 p.m. Sunday through Thursday and 12 p.m. to 2:30 a.m. on Friday and Saturday. It calls for allowing live entertainment and dancing (indoors only) from 12 p.m. to 12 a.m. Sunday through Thursday and from 12 p.m. to 1:30 a.m. on Friday and Saturday.
However, the agreement says DJ and amplified music will not be permitted after 8 p.m. on weekdays.
McDaniel told the Blade that at the request of As You Are Bar's attorney Richard Bianco, the ANC agreed to modify that restriction at the Tuesday night meeting to allow the bar to play "conversational" background music after 8 p.m. until closing time on weekdays.
Among other things, the agreement requires the bar comply with a noise mitigation provision to "ensure that sound, noise, and vibrations are not audible or felt beyond the curb or any other premises at any time." It also calls on the bar to provide an "appropriate number of staff" to monitor patrons as they leave the bar through the 8th Street entrance to "prevent loud voices and littering."
Under rules established by the ABC Board and the city's Alcoholic Beverage Regulation Administration or ABRA, if a settlement agreement is reached between an applicant for a liquor license and the ANC, a protest against the license by groups of five or more citizens is not allowed. Protests could still be filed by community-based civic groups and residents of an "abutting" house or residential facility.
In the case of As You Are Bar, no citizens group has emerged to oppose the license. There is just one abutting townhouse on E Street whose owner has expressed general support for the settlement agreement, according to McDaniel. But the resident has indicated she will not rule out a possible protest until Feb. 7, which is the deadline for filing a protest under ABRA's rules.