First gay Black man elected in Texas; Beats anti-LGBTQ incumbent
"Jalen shattered a lavender ceiling in Texas, and it came as right-wing state legislators target LGBTQ people."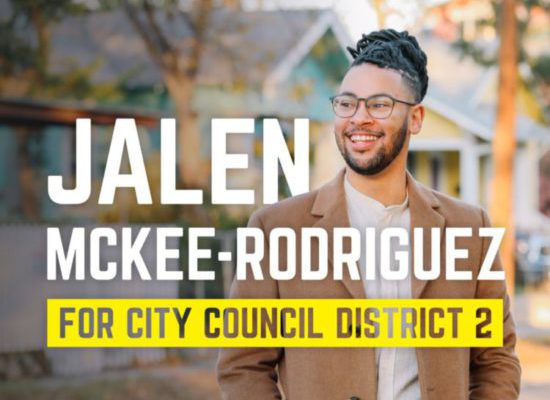 SAN ANTONIO, TX. – Jalen McKee-Rodriguez, a high school math teacher and graduate student who has lived in San Antonio since 2013, beat his former boss and incumbent in the runoff race for the San Antonio City Council. With his victory, McKee-Rodriguez became the first out gay Black man ever elected in the state of Texas.
McKee-Rodriguez once worked for his opponent, incumbent City Councilwoman Jada Andrews-Sullivan, but left her office in 2019 after facing retaliation for reporting anti-gay discrimination and harassment. Just last week, poll watchers heard two pastors who endorsed Andrews-Sullivan tell congregants voting for McKee-Rodriguez would be a "sin."
"Jalen shattered a lavender ceiling in Texas, and it came as right-wing state legislators target LGBTQ people and people of color with bigoted policies aimed at rallying their extremist political base," said former Houston Mayor Annise Parker, President & CEO of LGBTQ Victory Fund. "We need more people of color, young people and LGBTQ people in state and local government who will ensure politicians look to improve the lives of Texans, not further marginalize them. Jalen's victory is a rejection of the homophobic and racist politicking so fashionable in Austin and it will inspire more LGBTQ Black leaders to run and win."
McKee-Rodriguez graduated from the University of Texas at San Antonio, (UTSA) with a BA in Communication in 2017 and will graduate with a Masters of Education in Educational Leadership and Policy Studies this year. McKee-Rodriguez married his husband Nathan, a pharmacy technician, in 2018, and the couple owns a home in the suburban San Antonio Northeast Crossing neighborhood.
Grenell emails reveal internal talk on Trump era policy against Pride flag
U.S. embassies barred from rainbow flag on official poles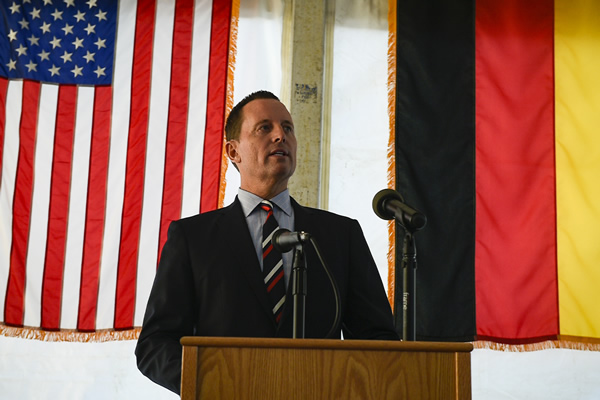 The latest emails from the State Department obtained by the Washington Blade via its lawsuit under the Freedom of Information Act reveal internal deliberation in the Trump administration over news reports about the prohibition of displaying Pride flags on the official pole at U.S. embassies.
Former U.S. Ambassador Richard Grenell, whose emails the Blade is seeking as the public face of a global initiative that pledged to decriminalize homosexuality, is repeatedly shown in the communications instructing his aides at the embassy in Berlin to give no comment to the media, including in response to an inquiry at the time from the Blade, on the flag policy for embassies.
"Thanks. Say nothing. I'm working it internally," Grenell responds in an email chain after being updated on the latest media inquiries, which included requests from ABC's Conor Finnegan, the Huffington Post, Buzzfeed, and CBS.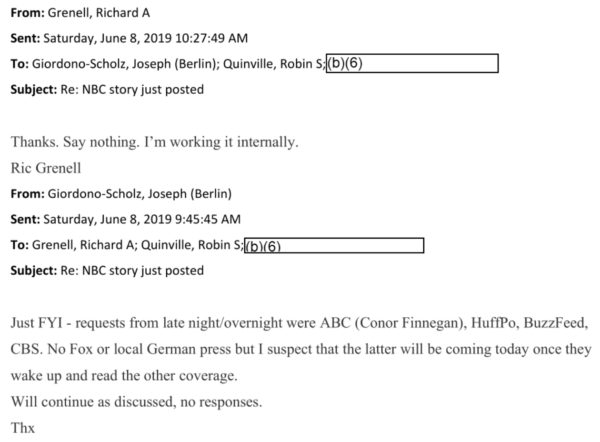 It's unclear what, if anything, Grenell was doing as part of "working it internally" as news broke that embassies were barred from flying Pride flags on the official pole, or even whether he was seeking a substantive change as opposed to crafting talking points to mitigate the appearance of the Trump administration being anti-LGBTQ.
"No Fox or local German press but I suspect that the latter will be coming today once they wake up and read other coverage," writes Joseph Giordono-Scholz, who was handling media relations for the embassy. "Will continue as discussed, no responses."
In 2019, shortly after Grenell announced he'd spearhead a global initiative to decriminalize homosexuality on behalf of the Trump administration, U.S. embassies that had sought to raise the rainbow flag in recognition of June as Pride month were barred from doing so under guidance from the State Department.
Critics at the time jumped on the policy as further evidence the Trump administration was anti-LGBTQ, despite having recently launched the decriminalization initiative. Trump defenders pointed out the prohibition was limited to the official pole, was a general ban of flying any flag other than the U.S. flag, and embassies found other ways to display the Pride flag on their grounds.
Grenell didn't respond Tuesday to the Blade's request for comment on the meaning of "working it internally," but Log Cabin Republicans, an organization close to Grenell, volunteered a message shortly after the Blade sent its inquiry to him.
Charles Moran, managing director of Log Cabin Republicans, said in the email the conception the Trump administration banned Pride flags at embassies is erroneous.
"We were very pleased that President Trump made it clear that pride flags could continue to be flown at embassies around the globe, despite logistical discussions internally being had at the State Department," Moran said.
Attached in the email is an image of Moran standing below a pole with both a U.S. flag and a rainbow flag, which Moran said was taken at the U.S. Embassy Berlin on July 26, 2019, when he was en route to a decriminalization discussion forum being hosted there.
Asked by the Blade whether that was the official pole, Moran replied, "I don't know what an 'official pole' is. It was a professionally installed flag pole, on the embassy next to the front door." Moran didn't respond to an additional follow up question on what he meant by Trump making it clear Pride flags would be allowed at embassies.
Morgan Ortagus, then-spokesperson for the State Department, defended former Secretary of State Mike Pompeo's policy against Pride flags on as she acknowledged "Pride Month that we're in right now celebrated around the world by many State Department employees, by many embassies."
"The secretary has the position that, as it related to the flag pole, that only the American flag should be flown there," Ortagus said.
The email chain within the U.S. embassy in Berlin on the news development began with Giordono-Scholz forwarding Grenell a link to a story from NBC News's Josh Lederman, who broke the story on U.S. embassies being unable to fly Pride flags, followed by a subsequent email with the text of his article. The immediacy with which the aide sends the link in an email first before the story itself in a subsequent message suggests a sense of urgency in distribution and awareness the article would be forthcoming.
Other news outlets were quick to follow up, including the Blade, as evidenced by Giordono-Scholz's follow up question to Grenell after sharing the initial NBC News story.
"CNN (Michelle Kosinski) just called, asked if we had anything to add," Giordono-Scholz writes. "Wash Blade also just emailed. How would like me to respond to these and coming inquiries — just point them to the NBC statement you gave and refer back to DC on questions about the Dept?"
Grenell was succinct in response: "Say nothing. Right now don't respond."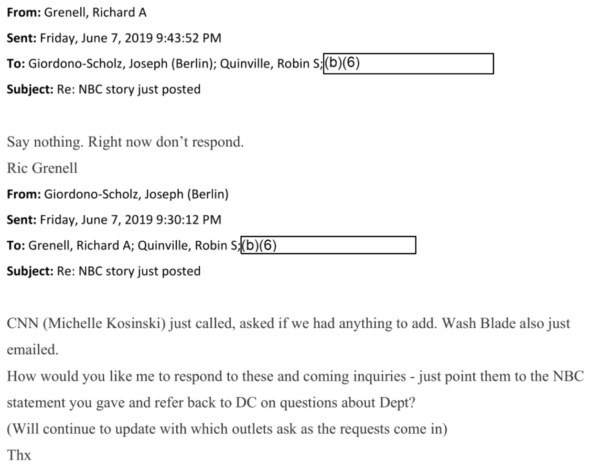 Giordono-Scholz acknowledges the instructions from Grenell in a subsequent email, which also notifies him of an inquiry from the Washington Post's Carol Morello.
"Will continue to let you know about inquires but not respond to any," Giordono-Scholz writes.
The emails were obtained in a FOIA production from the State Department this week as a result of a lawsuit filed by the Blade with attorneys at the law firm Davis Wright Tremaine LLP. The litigation was filed in August 2021 after interminable delays in production of communications, which the Blade initially sought by a FOIA request in September 2020.
The State Department has identified tens of thousands of emails potentially responsive to the Blade's request and is expected to release those it deems to be responsive periodically as a result of an agreement in the litigation.
Also ensnared in the latest email dump are communications on other foreign policy topics, including the Nord Strom 2 pipeline and Iran's seizure of oil tankers. Many of these emails reveal a preoccupation with using tweets as a tool to convey foreign policy messages with little else mentioned in terms of engagement.
"I'm watching. Already tweeted about it ;)" Grenell responds when an aide informs him that Iran has seized oil tankers.
Evyenia Sidereas, political minister-counselor at the U.S. embassy in Berlin, responds: "My twitter alerts can't keep up :)," which prompts Grenell to reply: "I've been a little busy today. Lol."
The emphasis on Twitter is also seen after an aide in May 2019 brings to Grenell's attention the Kenya high court has affirmed the country's law against homosexuality. An aide (whose name the State Department redacted in the email) informs him then-U.S. Ambassador Kyle McCarter is set to have a meeting with staff "to discuss whether he'll issue a statement" and the embassy in Nairobi had updated the State Department while awaiting further guidance.
"I'll tweet about this one, too," Grenell says. "Can you make a suggestion and I'll tweet Hungary today. Kenya tomorrow." (It's unclear what the reference to Hungary was regarding.)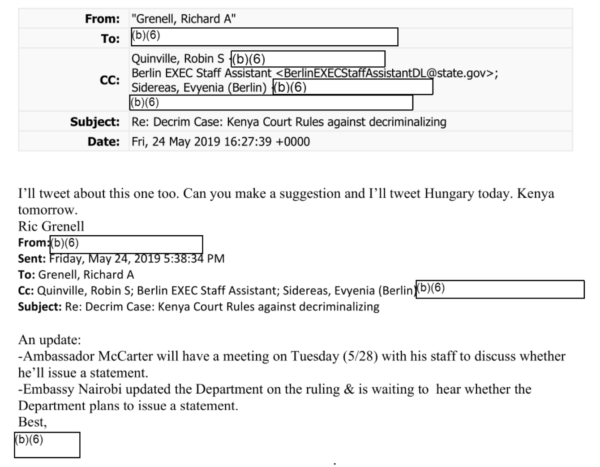 In terms of discussion at the U.S. embassy on the Kenya decision, whatever was considered apparently didn't bear fruit. The Blade couldn't immediately find any public statement on the Kenya decision from McCarter in his capacity as a U.S. ambassador during the Trump administration. McCarter didn't respond to the Blade's request to comment for this article.
In 2018, McCarter was grilled during his Senate confirmation hearing on his record as an Illinois state legislator who opposed LGBTQ rights, including his vote against an anti-bullying measure after stating he believed it would promote homosexuality. McCarter also had a history of misogynistic tweets and in 2016 tweeted: "Hillary for Prison. No, really."
Much of the focus on the Trump administration's global initiative appeared to be Iran, which has been an antagonist on the global stage and more so after Trump withdrew from the Iran deal. Iran is also one of the countries where homosexuality is not only criminalized, but punishable by death.
Although Grenell has publicly disputed Iran was the focus, he was quick to provide a quote to his assistant seeking a response from him after the country's foreign minister affirmed its anti-gay policy in response to questions from a reporter with a German newspaper.
"The UN's Declaration of Human Rights makes clear that these answers from the Iranian regime are violating basic UN principles," Grenell writes. "UN members should agree with the Declaration in order to be members. Criminalizing homosexuality violates the Declaration, plain and simple."
Grenell's response was later found online in an article in The Jerusalem Post, which covered reaction to the news in an article titled, "Iran's FM affirms right to execute gays and blasts U.S. and Israel."
Biden puts his weight on changing Senate rules to pass voting rights
President says changes need to 'protect our democracy'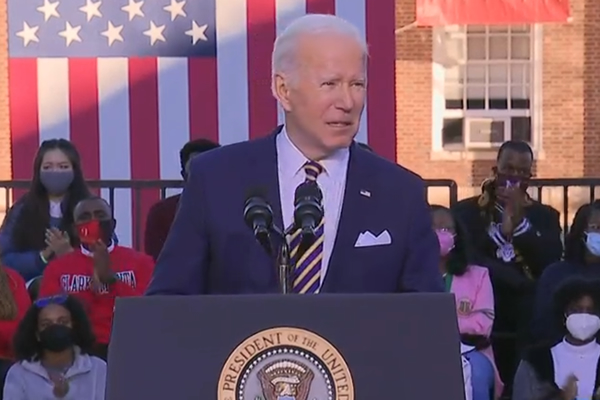 President Biden, after paying tribute to civil rights pioneer Dr. Martin Luther King Jr. by leaving a wreath on his grave, brought the strength of his presidency to bear in a speech Tuesday in an effort to reform U.S. Senate rules to enact voting rights legislation.
"I'm making it clear, to protect our democracy, I support changing Senate rules whichever way they need to changed to prevent a minority of senators from blocking basic voting rights," Biden said.
Biden has indicated before he supports changes to longstanding rules the Senate requiring 60 votes to end a filibuster and proceed with debate on legislation, but the speech marks an elevation of viewpoint in a more formal way and increases the pressure on fellow Democrats like Joe Manchin (W.Va.) and Kyrsten Sinema (Ariz.), who oppose such a change.
Based on his words, Biden's position on filibuster reform appears limited to voting rights legislation, which like so much other legislation has passed in the House and has stalled out in the Senate. The Washington Blade has placed a request in with the White House seeking comment on why, if Biden supports changing the filibuster for voting rights, why hasn't he made the case for other issues, such as police reform or LGBTQ civil rights.
A major reason cited by Biden to bring the force of his presidency down on this issue: The attack on U.S. Capitol on Jan. 6, 2021 instigated by President Trump, who falsely claimed he won the 2020 election against Biden.
Biden conjured images of the long road in the civil rights journey in the United States and a "violet riot" at the Capitol that Biden said undermined the process.
The recently enacted voter law in Georgia, which makes mail-in voting illegal, limits hours and locations for ballot drop boxes and bars the delivery of food and water to persons waiting in line to vote, was another major focus for Biden, who pointed out Republican lawmakers in Georgia put it in place after he won the state in 2020 and Trump pressured officials there to find more votes for him.
As a result, Biden said the "threat to democracy is so grave" he supports changes to the filibuster, which came about in use in the Senate from senators seeking to block civili rights legislation.
"If that bare minimum is blocked, we have no choice but change the Senate rules, including getting rid of the filibuster for this," Biden said.
Biden identified two bills in his speech: the John Lewis Voting Rights Act, which seeks to rectify a U.S. Supreme Court decision undermining the Voting Rights Act and the Freedom of the Vote Act, which would dramatically reform voting process, including the expansion of voting by mail and early voting.
Joining Biden in Atlanta in favor of changing rules to advance voting rights was Vice President Kamala Harris, who said "nowhere — nowhere — does the Constitution give a minority the right to unilaterally block legislation."
"Over the past few years, we have seen so many anti-voter laws, that there is a danger of becoming accustomed to these laws, a danger of adjusting to these laws as though they are normal, a danger of becoming complacent, complicit," Harris said. "Anti-voter laws are not new in our nation, but we must not be deceived into thinking they are normal."
Second time the charm? Clay Aiken announces another bid for Congress
'American Idol' runner-up pursues seat in N.C.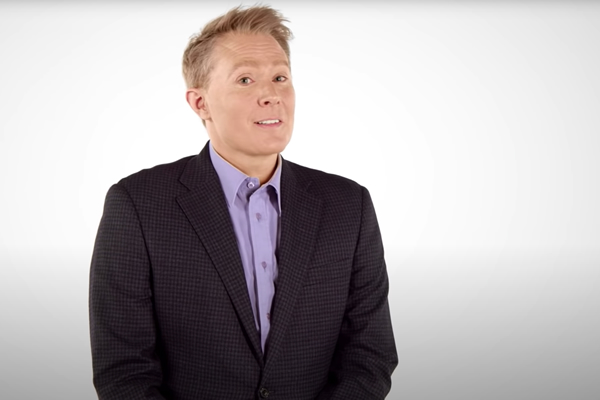 Clay Aiken, following an unsuccessful bid to represent North Carolina as a member of Congress in 2014, declared his bid on Monday for another shot in an effort to reverse his state's "backwards ass policies."
The singer-turned-politician announced in a video he'd pursue the Democratic nomination for North Carolina's 6th congressional district, which is being vacated by the retirement of Rep. David Price (D-N.C.).
"For decades, North Carolina was actually the progressive beacon in the South," Aiken says in the video. "But then things changed, and the progressives lost power, and we started getting backwards ass policies, like the voter suppression bills and the bigoted bathroom bill."
Aiken became known as the most successful runner-up on "American Idol" after taking second place in the 2003. He came out as gay in 2008.
Taking a knock at other politicians in his own state, Aiken says "the loudest voices in North Carolina politics are white nationalists like this guy" before a clip plays of Rep. Madison Cawthorn (R-N.C.) at the Jan. 6 "Stop the Steal" rally.
Aiken goes on to denounce homophobes before a clip plays of North Carolina Lt. Gov. Mark Robinson, who has unapologetically denounced LGBTQ people. Robinson is shown in the middle of a thunderous speech as he questions, "What is the purpose of homosexuality?"
Other images follow of GOP Reps. Marjorie Taylor Green (R-Ga.) and Lauren Boebert (R-Colo.), conservative members of Congress who have earned the ire of progressives.
Aiken in 2013 came up short as he pursued a seat in a Republican-leaning district, but may stand a better chance in North Carolina's 6th congressional district, which encompasses the urban areas of Winston-Salem and Greensboro. According to the Charlotte-based News & Observer, the district shape, however, is subject to change in ongoing court challenges to the maps. Observers are predicting the election will be favorable to Republicans.