One person dead after pickup truck hits Wilton Manors Pride parade participants
Vehicle narrowly missed U.S. Rep. Debbie Wasserman Schultz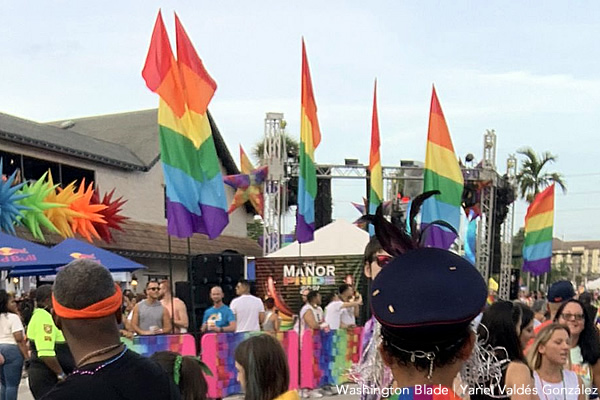 WILTON MANORS, Fla. — At least one person died on Saturday when a pickup truck ran over them during a Pride parade in Wilton Manors, Fla.
South Florida Gay News, WPLG and other South Florida media outlets reported the incident took place shortly before 7 p.m. after the Stonewall Pride Parade began on Wilton Drive.
Christian De La Rosa, a WPLG reporter, told his television station a white pickup truck that was lined up with other parade floats hit the accelerator and ran over two people. WPLG reported the vehicle narrowly missed U.S. Rep. Debbie Wasserman Schultz (D-Fla.), who was in a convertible participating in the parade.
"I want to thank our first responders for their heroic efforts as both police and emergency medical personnel stepped into action quickly," tweeted the congresswoman after the incident.
"We're praying for the victims and their loved ones as law enforcement investigates, and I am providing them with whatever assistance I can," she added. "I am so heartbroken by what took place at this celebration. May the memory of the life lost be for a blessing."
"This is a terrorist attack against the LGBT community," Fort Lauderdale Mayor Dean Trantalis told WPLG shortly after the incident took place, without any apparent confirmation. "This is exactly what it is. Hardly an accident. It was deliberate, it was premeditated and it was targeted against a specific person. Luckily they missed that person, but unfortunately, they hit two other people."
BREAKING: At least 2 people have been hit by a truck at the beginning of the @WiltonManorsCty #Pride parade. @delarosaWPLG was only yards away at the time. He spoke with @DeanTrantalis. @WPLGLocal10 pic.twitter.com/CRRmGz0a12

— Ian Margol (@IanMargolWPLG) June 19, 2021
Detective Ali Adamson of the Fort Lauderdale Police Department told reporters near the scene the "investigation is active and we are considering and evaluating all possibilities."
"We owe it to our community to conduct a thorough and complete investigation," she added.
Adamson confirmed her department is "working with" the Federal Bureau of Investigation, and is "evaluating all possibilities." The pickup truck's driver remains is in custody.
"We have to look at all the angles and that's what we are doing," said Adamson.
Fort Lauderdale Gay Men's Chorus President Justin Knight told WPLG reporter Liane Morejon that the two victims and the driver who struck them were members of his organization. Knight in his statement also said to his knowledge the incident "was not an attack on the LGBTQ community."
"We anticipate more details to follow and ask for the community's love and support," added Knight.
Florida state Sen. Shevrin Jones, who is openly gay, in a tweet said he is "heartbroken and in shock over what has happened at Wilton Manors Pride."
"Praying for and sending love to everyone there, including many friends," he said.
Washington Blade Senior News Reporter Lou Chibbaro, who is currently on vacation in Wilton Manors, was along the parade route when the incident took place.
The Stonewall Pride Festival had begun earlier in the day. Chibbaro said Pride organizers cancelled the parade.
The incident took place a week after the 5th anniversary of the massacre at Pulse, an LGBTQ nightclub in Orlando. Republican Florida Gov. Ron DeSantis earlier this month signed a bill that bans transgender athletes from participating in high school and college sports teams that correspond with their gender identity and vetoed funding that activists say would have funded programs for Pulse survivors and homeless LGBTQ youth.
"We are heartbroken by the news of loss of life and multiple injuries at Wilton Manors Pride tonight," said Equality Florida, a statewide LGBTQ advocacy group, in a series of tweets. "Our hearts go out to all those impacted. Our staff and volunteers at Pride are all safe and accounted for."
"We are, with the rest of the community, awaiting additional info on whether this was a tragic accident or an intentional act of hate," added Equality Florida.
Equality Florida also said "fears are heightened at a time when Gov. DeSantis and GOP legislators are fanning the flames of anti-LGBTQ hatred for political gain."
"We can't help but think of the awful bill passed this session enabling people to use vehicles as weapons against demonstrators. And, just days after the Pulse remembrance, we know dangerous rhetoric comes with real costs," said Equality Florida. "But let us await the full story and send hope and healing to those injured and grieving tonight."
The Blade will provide additional details as they become available.
Man accused of assaulting lesbian activist surrenders to D.C. police
Aiyi'nah Ford attacked at Congress Heights bar earlier this month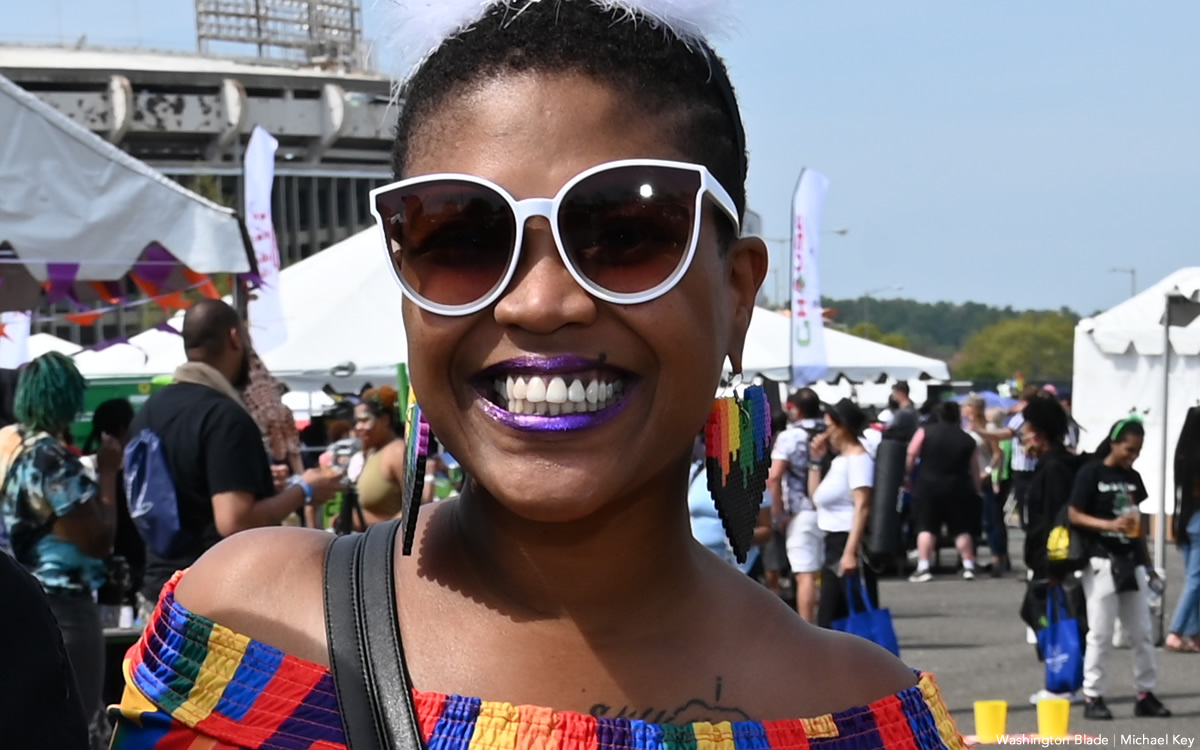 D.C. police on Aug. 11 charged a 46-year-old D.C. man with assault with a dangerous weapon in connection with incident earlier this month in which lesbian activist Aiyi'nah Ford said she was hit in the head three times with the metal legs of a barstool wielded by a man yelling anti-gay names at her.
A police report says the incident took place at the Player's Lounge, a restaurant and bar at 2737 Martin Luther King Jr. Ave., S.E., in the city's Congress Heights neighborhood shortly before and after midnight on Aug. 3 and Aug. 4.
Police identified the man charged in the case as Donnell Anthony Peterson, who police say is a resident of 1200 block of Southern Avenue in Southeast D.C.
Ford told the Washington Blade that Peterson, who is a regular customer at Player's Lounge as is she, assaulted her after the two got into a verbal argument over, among other things, the city's violence interruption program. Ford said she told Peterson and others who were having a discussion that she considered the program to be ineffective and a "joke."
It was around that time, Ford said, that Peterson began repeatedly calling her a "dyke bitch" and threatened to shoot her.
The arrest affidavit says witnesses reported seeing Ford covered in blood from a serious head injury before an ambulance arrived on the scene and took her to George Washington University Hospital, where she was treated for a head and scalp wound that required multiple stitches.
The affidavit, which was filed in D.C. Superior Court, says Peterson on Aug. 11 "turned himself into the Seventh District Police Station," saying he did so after someone told him police issued a Twitter posting announcing he was wanted on an assault allegation.
Court records show that at the time of his arrest, D.C. police also charged Peterson with Possession with Intent to Distribute a Controlled Substance (Cocaine) based on an unrelated Aug. 26, 2021, outstanding warrant for his arrest on the drug charge obtained by U.S. Park Police.
The affidavit for his arrest on the assault charge says police learned about the outstanding U.S. Park Police arrest warrant when they conducted a criminal record background check after learning through a tip that Peterson was the person who allegedly assaulted Ford at Player's Lounge.
Court records also show that Peterson appeared before Superior Court Judge Renee Raymond on Aug. 12, one day after his arrest, for a presentment hearing in which Raymond ordered him held in the D.C. Jail until a scheduled preliminary hearing on Monday.
At the Monday hearing, through his attorney, Peterson waived his right to a full preliminary hearing and agreed that Judge Neal E. Kravitz, who presided over the hearing, would rule that prosecutors with the U.S. Attorney's office established probable cause that Peterson committed the assault. The probable cause finding means that the case can proceed to a trial.
While ruling in favor of probable cause, Kravitz denied a request by Assistant U.S. Attorney Alec Levy that Peterson continue to be held in jail pending trial. Levy argued that Peterson "viciously" hit Ford over the head with a barstool at least two times as shown on a video recording of the incident obtained from a camera from Player's Lounge video security system.
Levy also said that at the time Peterson assaulted Ford he used "derogatory" language referring to her sexual orientation.
But court records show that as of the time of the Monday hearing, the U.S. Attorney's office did not list the assault against Ford as a bias related crime.
In response to an inquiry by the Blade, a spokesperson for the U.S. Attorney's office said he would look into whether prosecutors were considering adding a bias or hate related enhancement to the assault charge.
As part of his argument for Peterson to be held while awaiting trial, Levy requested and received permission from the judge to show a segment of the video on a large projection screen in the courtroom. Peterson, who is seen in the video wearing a red shirt, is shown knocking Ford to the floor, and picking up a bar stool and twice hitting her in the head with the metal legs of the stool.
Levy concluded his argument by noting that Peterson has three prior convictions on drug related charges. The prosecutor said Peterson fled the scene when he was stopped in his car by U.S. Park Police who found cocaine in the vehicle in August 2021, which resulted in the warrant for his arrest being issued and which Levy called a fourth prior criminal offense.
Combined with the Assault with a Dangerous Weapon charge, Levy argued that Peterson should be held pending trial on grounds that he is a danger to the community.
Brandon Burrell, Peterson's court appointed attorney, argued that the current assault case was the only case in which Peterson is accused of a crime of violence. Burrell said that Peterson has never failed to appear at a court hearing in any of his prior arrest cases and is gainfully employed at a facility providing services to senior citizens in Ward 8.
Burrell also said he plans to point to evidence shown in the video of the assault at Player's Lounge that Ford acted in an aggressive and hostile way toward Peterson and that Peterson has grounds for making a case of self-defense. Levy disputed Burrell's claim that there may be grounds for self-defense. Levy said that, among other things, the video footage shows Peterson acting as the aggressor by violently wielding a bar stool as a weapon.
After listening to the arguments by the defense and prosecutor and after reading the arrest affidavit, which describes in detail the segments of the video that were not shown in the courtroom, Kravitz ruled that Peterson was eligible to be released into the court's high intensity supervision program. Kravitz ordered Peterson into "home confinement" at his residence in Southeast D.C. except for the time during the week when he goes to work at his job. The judge also ordered that Peterson must wear a GPS device that keeps track of his whereabouts.
Kravitz scheduled a felony status conference for which Peterson must return to court on Sept. 16.
The four-page arrest affidavit prepared by a D.C. police detective describes in detail the video obtained from the security camera at Player's Lounge that captured the incident as it occurred and in which Peterson is seen striking Ford in the head at least two times with what it describes as a chair.
"The suspect grabs one of the chairs that's at the bar (red with black frame) at 23: 11:06," the affidavit says. "The suspect then slams the chair into the complainant's head," it says.
"The suspect then pushes the complainant into the bar at 23:11:09. The suspect pulls a chair from underneath the complainant and slams it into the complainant's upper body again at 23:11:15," the affidavit states.
According to the affidavit, "The suspect attempts to grab a chair for the third time, but patrons are able to separate the suspect and push him into another room."
Pope Francis meets with transgender people at Vatican
Meeting took place during weekly audience at St. Peter's Basilica on Aug. 10.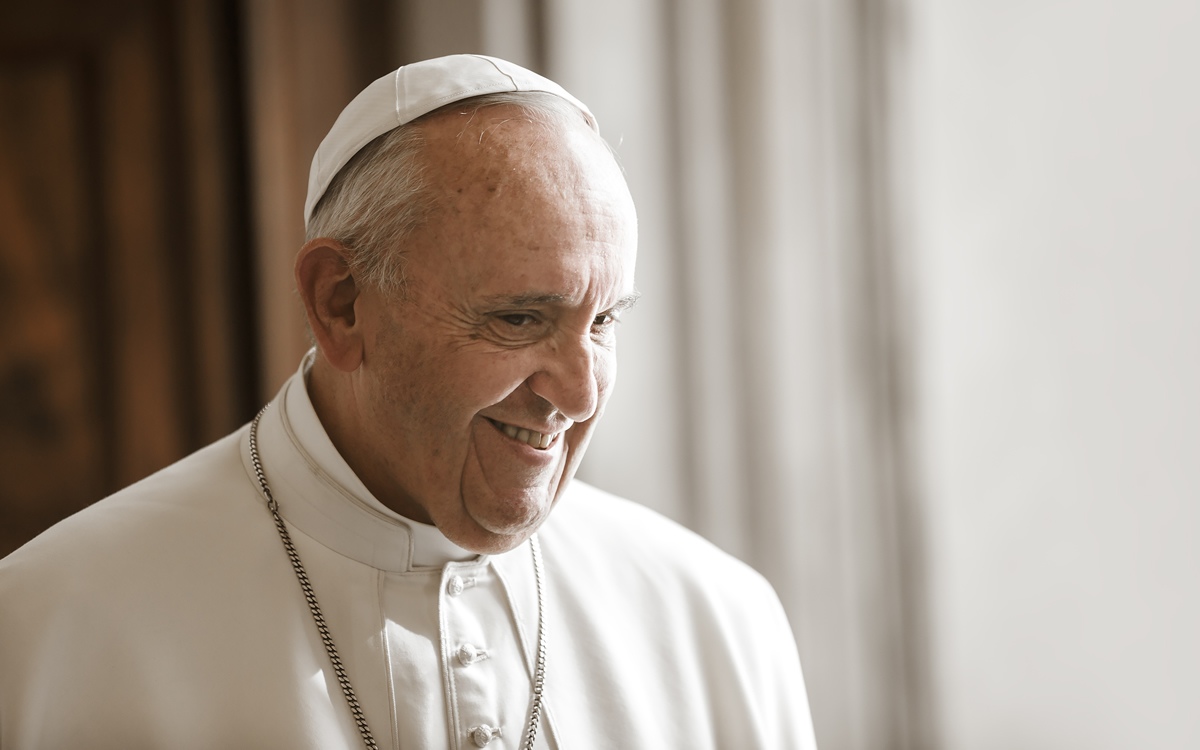 The Vatican's newspaper L'Osservatore Romano reported that during the weekly papal audience in St. Peter's Basilica on Aug. 10, Pope Francis met with a fourth group of transgender people who are staying in a church on the outskirts of Rome.
Sister Genevieve Jeanningros and the Rev. Andrea Conocchia told L'Osservatore Romano that this was the fourth papal audience since the Blessed Immaculate Virgin Church in the Torvaianica neighborhood of Rome's suburbs opened its doors to trans people during the coronavirus pandemic.
L'Osservatore Romano noted that the pope previously met with some of the trans residents sheltering in the church on April 27, June 22 and Aug. 3.
"No one should encounter injustice or be thrown away, everyone has dignity of being a child of God," the paper quoted Jeanningros as saying.
Francis has earned praise from some members of the LGBTQ and intersex community for his outreach.
When asked in 2013 about a purportedly gay priest, he replied, "Who am I to judge?" He has met individually and in groups with trans people over the course of his pontificate the Associated Press reported.
But he has strongly opposed "gender theory" and has not changed church teaching that holds that same-sex sexual acts are "intrinsically disordered." In 2021, he allowed publication of a Vatican document asserting that the Catholic Church cannot bless same-sex unions since "God cannot bless sin," the AP noted.
Pride Franklin County welcomes rural LGBTQ community
Pennsylvania organization planning October celebration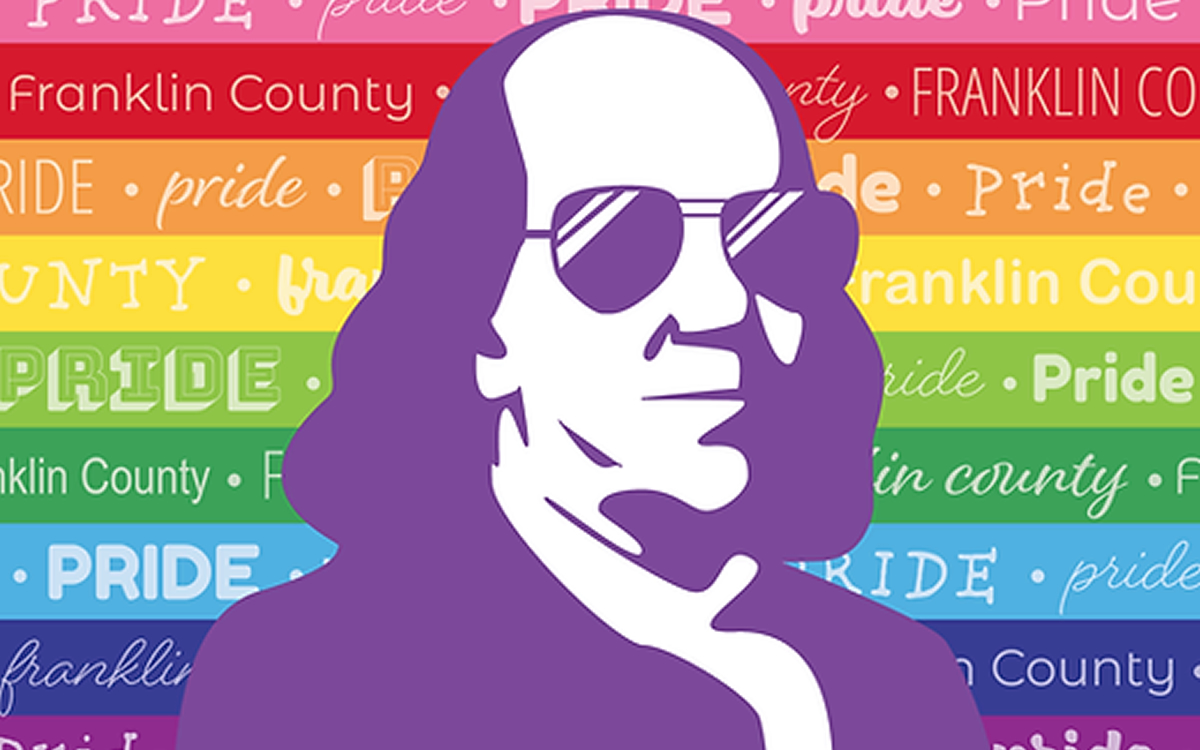 When Pride Franklin County held its first Pride celebration in 2018, it sought to address a lack of LGBTQ programming in rural southern Pennsylvania. Greeted by more than 1,000 attendees at its inaugural event, Pride Franklin County's leadership was reassured the event was something the area not only wanted, but needed. Since the onset of the COVID-19 pandemic, the local organization has once again sought to address community needs — in new and broadened ways.
Pride Franklin County operates under the Franklin County Coalition for Progress, a local social justice nonprofit that formed in the wake of the 2016 presidential election. "We live in a very rural, conservative area, but that election was a turning point all across the country," explained Noel Purdy, a founder of Pride Franklin County and founder and president of FCCP.
"People came out of the woodwork who were worried about the LGBTQ community … and other populations that had experienced different forms of oppression in our community," Purdy explained. This interest in supporting the local LGBTQ community led to a group of LGBTQ community members and allies leading the 2018 Pride celebration.
"We just really wanted to create a space where people know that they're accepted, no matter who they are," said Nathan Strayer, vice president of FCCP and a founder of Pride Franklin County. "We want people to know that you fit in. There are a lot of people here that are going to love you."
But in 2020, at the peak of the event's popularity — Strayer noted that upwards of 3,000 people attended Pride the year prior — Pride Franklin County had to cancel its programming in light of public health concerns.
With the "momentum" it has going, Strayer explained that the organization did not want the pandemic to limit its ability to serve the Franklin County community: " That's when we really decided to make the entire initiative something bigger," he said. "We're not just here to throw a party."
In 2021, the organization began advocating for a local non-discrimination ordinance codifying inclusivity for all community members, regardless of their identity. The Borough of Chambersburg Council, which represents the largest borough in the county, adopted the ordinance that fall — a major win for LGBTQ activists and allies in a rural Pennsylvania county that leans conservative socially and politically.
Yet, just months after the organization celebrated its achievement, new council members were elected in the borough in January 2022, and soon thereafter a majority of the council decided to repeal the non-discrimination ordinance.
While the ordinance's revocation greatly disappointed Pride Franklin County, it also reminded its leaders and activists how much work was left to be done.
"From the growth of Pride to the pushback we've gotten from some of our elected officials here locally, it's definitely lit a fire in us to continue pushing ahead so that we can truly make Franklin County an inclusive place for everyone," Strayer emphasized.
This year, the organization launched its Franklin County Welcoming Project, which spearheads public displays of support to the LGBTQ community. In June, the organization received a media grant to create billboard and radio advertisements throughout the county advocating for inclusivity within the Franklin County community.
The organization also reached out to local businesses, providing them with custom decals to put in their windows after signing a pledge stating that they are a "diverse, inclusive, accepting, welcoming, safe space for all," Strayer said, adding that, despite some initial hesitation, more than 100 local businesses signed the pledge and displayed the logo in their storefronts.
Pride Franklin County has also looked to meet the local demand for LGBTQ programming throughout the year while maintaining public health precautions. More recent projects have included mental health LGBTQ programming, community picnics, drag shows and a Taste of Pride food event. Strayer added that there has been significant demand from the community for more programming centering LGBTQ youth.
Purdy added that voting rights advocacy has become a center point of current efforts from the organization, as it hopes to educate the local community on the importance of their political involvement. "Hopefully, we're inspiring more people to learn to pay attention more to what's going on, and trying to understand the connection between policy and voting," Purdy explained
While the process of founding a grassroots organization has come with obstacles, Purdy and Strayer both noted that the community response has been rewarding.
"One thing that I've been surprised about is how you have this cultural context of being in a conservative area, thinking that that's going to be a barrier to doing an event that supports the LGBTQ community, and that it's going to be super controversial," but ultimately receiving a positive reception from many community members and resources needed to keep the organization running, Purdy explained.
Getting Pride Franklin County up and running has "definitely been very emotional," Strayer noted. When Strayer decided to come out in 1999, he turned to leaders in his school — a guidance counselor and principal — for advice, but he recalled them "both sitting down and looking at (him) like, 'We don't really know what to do,'" making him feel alone in a particularly important part of his life. But with Pride Franklin County, Strayer is "seeing how things are growing and changing."
"There's help out there for youth that are struggling with the same things I was struggling with," Strayer said. "When I look back at when I was coming out, I thought, 'This is never going to happen here.' Seeing now that it is happening here, it's just such an amazing feeling and it just gives me so much pride in my community."
Pride Franklin County will host its Pride Festival 2022 on Oct. 9 from 11 a.m. to 5 p.m. More information can be found on the organization's website at pridefranklincounty.org.