After pandemic, local gay restaurateurs thriving at Knead
Berry, Reginbogin plan to open several new spots in coming year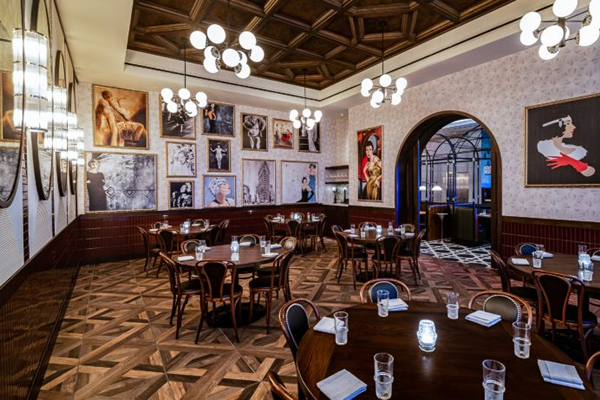 At the outset of 2020, D.C.-based Knead Hospitality + Design founders and co-owners (and partners for more than 20 years) Jason Berry and Michael Reginbogin envisioned big plans for their rapidly expanding realm of restaurants across the D.C. area.
"In March 2020, however, we thought that we were going to lose everything," Reginbogin says.
Today, Knead has recovered, and then some. In the context of the sweep of more than 100 restaurant closings in D.C. since then, Berry and Reginbogin pulled out four restaurant openings, with several more planned for the rest of this year alone.
Not since the (somewhat slower) growth of Jose Andres' ThinkFoodGroup has the city seen a locally based firm with a diverse set of concepts open so widely. Andres launched the first Jaleo back in 1993; his ThinkFoodGroup now runs 10 restaurants in D.C., plus stalls at Audi Field.
Yet Berry and Reginbogin promise that it's not size that counts. "Biggest isn't always best. We want to be the best operator in the city for the types of restaurants we offer."
This spring's opening of glitzy-retro diner Gatsby speaks directly to Reginbogin's vision for that "our restaurants are experience-driven. They focus on the visual as much as the food and beverage offerings."
Gatsby, located in Navy Yard, is a direct outgrowth of Berry's belief that "like the Roaring '20s after the Spanish flu, there's all this pent-up demand…. People will want to celebrate life, and they want to be part of that return to society," he says.
In 2014, Berry served as COO for the Rosa Mexicano Restaurants, and Reginbogin had been working as director of operations for other large brands like B.R. Guest Restaurants, TAO, Milos, and Sushi Samba. After living in cities like Los Angeles and New York, they decamped for Washington, D.C., a city they'd visited dozens of times for work, with an idea of creating their own style of dining experience.
Both having attended the University of Southern California, the two met on AOL in their early 20s and started dating soon after. They have worked in the restaurant industry for their entire careers.
"D.C. is a beautiful, diverse city," says Reginbogin, "but of all the cities we had lived in, we felt there was the most opportunity in D.C. The growth of the restaurant industry has been because of a welcoming regulatory environment as well as a city of quality, unique, and amazing restaurants. We want to surround ourselves with peers who are of the same philosophy."
He says that they felt at home, welcomed "both professionally but also personally." To further connect them with the LGBTQ community, the pair ensured that they were prepared for Pride month, setting up drink and food specials at their restaurants, with proceeds going to LGBTQ organizations.
"There was always the question of being able to both live and work with your partner," Berry notes, "but because we excel at different areas, it works out. Our background in the restaurant industry gives us the perspective on how the restaurant should be constructed."
When Berry and Reginbogin plan each new concept, they first analyze its urban and social geography. By understanding the restaurant's space, interior and exterior, they put together a concept and then a menu (often along with a celebrity chef) to follow. But they also target specific parts of town.
"We tend to favor neighborhoods that are not reliant on one demographic for attracting a guest base," says Reginbogin. "We tend to open where we can establish roots…. The pandemic taught everyone that it's easy to lose a prized group of guests. You don't want that one type to be the only guest you attract."
This outlook led them to Navy Yard, the Wharf, and Penn Quarter, among other neighborhoods.
When they kicked off in 2015, opening Succotash in National Harbor, they invested some of their own capital, raised money from friends and family, and took on loan debt. "Our newer big restaurants are roughly $6-7 million projects. We are also opening smaller restaurants that cost significantly less, in the $2 million range," said Reginbogin.
As of June, Knead operates five other concepts: Succotash, Mi Vida, The Grill, Gatsby, and Mah-Ze-Dahr, which abuts Gatsby and is run by baker Umber Ahmad, a 2019 James Beard semifinalist. They also run four quick-service stands inside Swingers, the massive adults-only minigolf concept out of London that just opened in Dupont Circle. Berry promises there is more to come in 2022 and beyond.
Knead's other planned openings this year include Bistro du Jour, Mi Casa, another Succotash location in Penn Quarter, and another Mah-Ze-Dahr by the new Amazon HQ.
Back to Gatsby, the glam atmosphere showcases the group's focus on space and design as much as menu. As the location is across from Nationals Stadium, the two envisioned an all-American restaurant. Yet the interior and atmosphere did not express to them a stereotypical diner with an Airstream and laminate-covered booths. Instead, the two visualized the swinging, Art Deco style of the 1920s when diners started to become popular. As it translates to plating, this means the overflowing bowl of pasta that might appear on a multi-page diner menu is lightened and elegantly served; the Caesar salad is vegan. No detail is spared, from soaring ceilings and retro prints to translucent silver plates with textured patterns.
"We want people to eat with their eyes," Berry concludes. "Everything is important: the lighting, music, tableware, even the restrooms. If everything looks good and feels good, then everything tastes better, too."
Restaurants have history as places for protest
ShutDownDC solicits tips for whereabouts of anti-Roe justices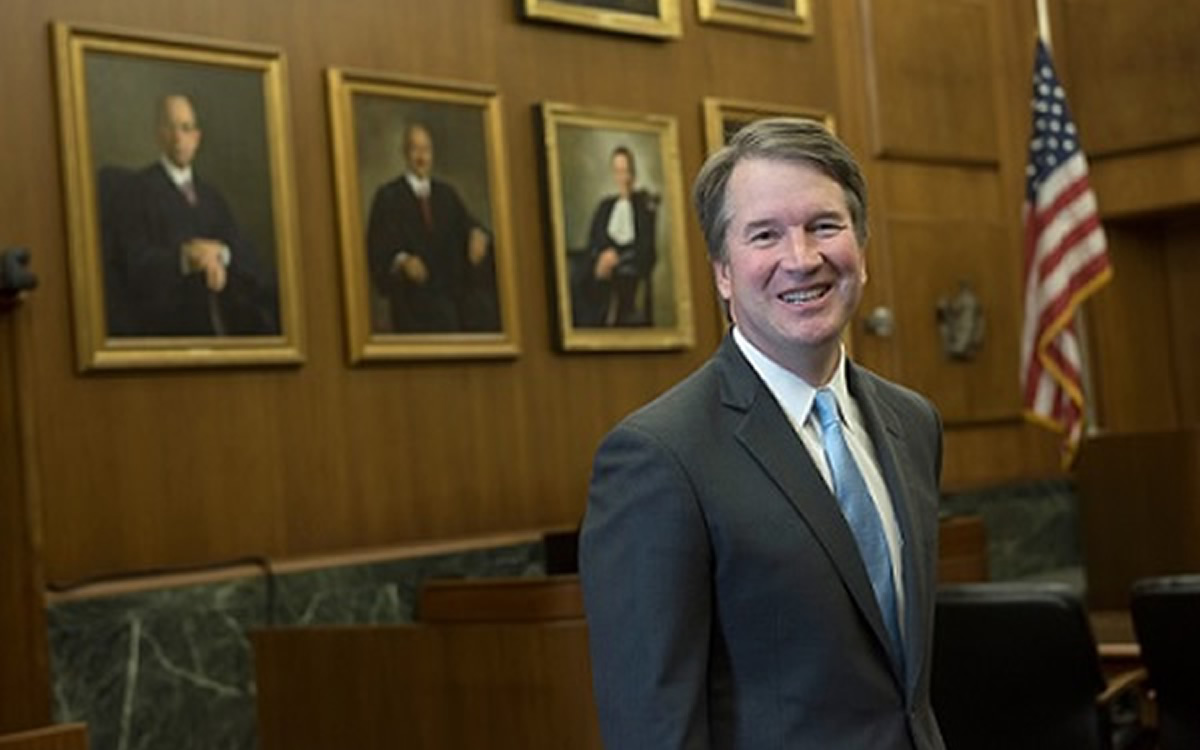 Food is inherently political — including the spaces that serve them. Restaurants, as "third places" in the public arena (outside of home and work), are accessible and open, a convener of society. Politicians in D.C. have traditionally treated restaurants as a half-third space: a semi-private location outside of the office to conduct business, utilizing restaurants as an extension of their workspace. This public presence, however, implicitly invites the public in — and lawful protesters have taken note.
On July 6, the dimly lit downtown location of Morton's The Steakhouse chain became a protest stakeout. According to media reports, Supreme Court Justice Brett Kavanaugh was having dinner at the steakhouse when protesters learned of his whereabouts, convening a small demonstration.
The gathering was put together by an organization called ShutDownDC, which has called for peaceful action against the justices who voted for the Dobbs decision that overturned Roe v Wade. Politico reported that Kavanaugh may not have even seen or heard the protests, but he did leave before dessert.
And while the Supreme Court did not release a statement, the restaurant's management was perturbed. It sent a statement to a Politico reporter noting:
"Honorable Supreme Court Justice Kavanaugh and all of our other patrons at the restaurant were unduly harassed by unruly protestors while eating dinner at our Morton's restaurant. Politics, regardless of your side or views, should not trample the freedom at play of the right to congregate and eat dinner. There is a time and place for everything. Disturbing the dinner of all of our customers was an act of selfishness and void of decency."
The response to Morton's plea was swift and fierce. Commentators noted that protest is enshrined in the Constitution, while the right to eat dinner is not.
Notably, Morton's The Steakhouse parent company is owned by billionaire Tilman Fertitta, who also owns the Houston Rockets. According to The Counter, Fertitta is one of Republican Texas Gov. Greg Abbott's biggest donors, providing more than $100,000 annually since 2015. His family has given several hundred thousand dollars of donations to other Republican politicians, including President Trump.
After this protest, ShutDownDC stated on Twitter that it will offer up to $250 to industry staff for tips of the whereabouts of justices who voted for Dobbs.
This incident, however, was not the first time that citizens have engaged restaurants as a space for protest. Restaurants, as these third spaces, have offered fertile ground for previous demonstrations – especially during the Trump administration.
Washingtonian noted that one of the most infamous was against former Homeland Security Secretary Kirstjen Nielsen at Mexican restaurant MXDC in 2018 during a controversy regarding DHS and treatment of migrants crossing the U.S.-Mexican border. Several other expressions of peaceful demonstrations against Trump officials took place during the rest of his term in office. Restaurant owners themselves are not immune to taking political action – during the 2020 Black Lives Matter movement, many restaurants offered food and other support.
During the tumultuous conclusion to that presidency, restaurants also had to contend with the specter of aggressive action. In preparation for what would turn out to be the Jan. 6 insurrection, many restaurants and other businesses closed their doors and fortified their exterior walls. In comparison to the peaceful restaurant protests, the Jan. 6 actions turned violent, denying restaurants revenue – and leaving many fearing for their safety.
Kavanaugh, meanwhile, was safely ensconced in his steakhouse, without fear of violence. Groups like ShutDownDC will continue to "use strategic direct action to advance justice and hold officials accountable," according to its website, supporting nonviolent action in public places.
Anthony Aligo, a gay man and owner of wine bar Barkada, noted that, "This isn't anything new. We believe everyone should be treated with respect and believe in the constitutional right to exercise your first amendment rights."
This most recent event reinforces that restaurants, especially those known to harbor power lunches, must contend with the possibility of this type of protest. And leaders, when they decide to go out in these public spaces, must be aware that the people they represent also can be present there as well.
Double dose of D.C. dining deals
Black Restaurant Week, RAMW Summer Restaurant Week return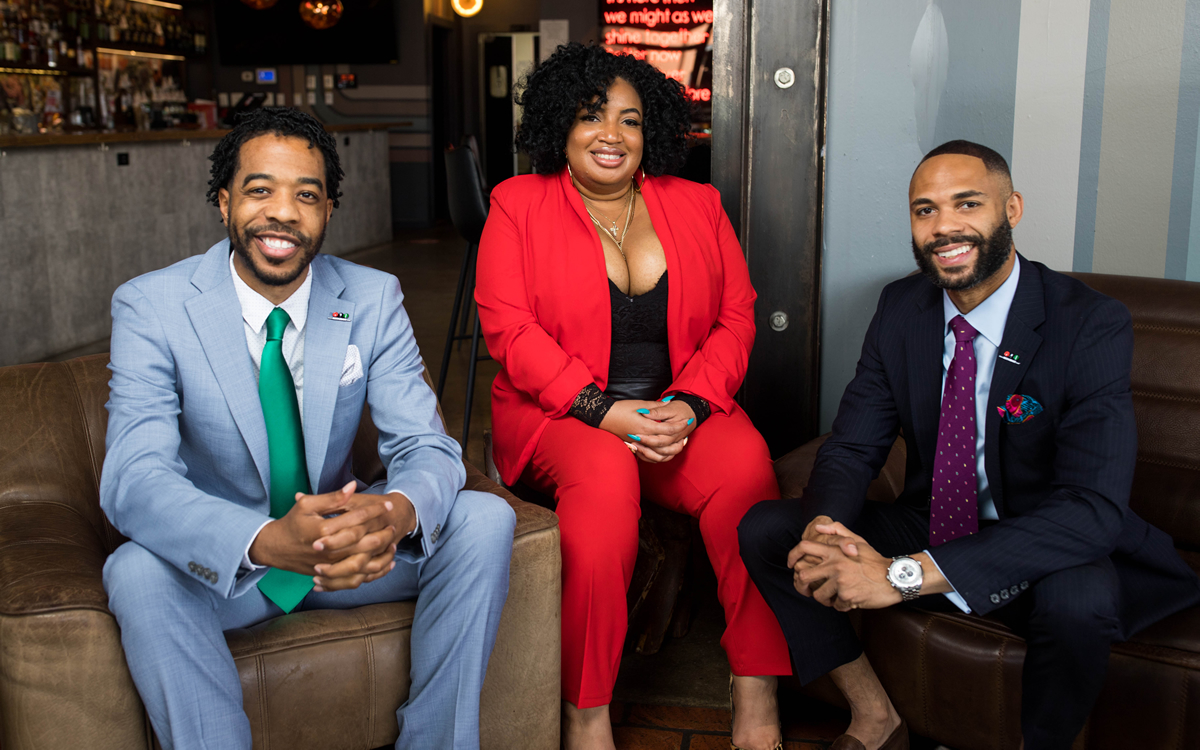 D.C. is about to receive a double dose of dining destination deals over the next several weeks: Black Restaurant Week (July 18-31) and RAMW Summer Restaurant Week (August 15-21).
Black Restaurant Week
Founded in 2016, Black Restaurant Week is holding its third annual celebration of African-American, African, and Caribbean cuisine in the D.C. and Baltimore region July 18-31. During Black Restaurant Week, participating venues create their own promotions, rather than being constrained to a specific meal or prix-fixe menu.
For this iteration, BRW is partnering with the National Urban League Conference, and has extended the promotion from 10 days to 14. BRW, according to its founders, was developed to shine a light on minority businesses – aiding them in building community awareness to increase their bottom line. The mission: celebrate African-American, African, and Caribbean influences in the culinary industry, educating consumers on the abundance of cultural cuisines.
More than 100 restaurants are participating in the area. A short, non-comprehensive list includes 2 Southern Belles, All Set Restaurant & Bar, Austin Grill, Cloudy Donut, England Eatery, FishScale, Melange, Money Muscle BBQ, and Negril the Jamaican Eatery.
As part of the campaign, BRW hosts events to better bring together the dining community. The promotion begins with a Kickoff Mixer at The Delevate on July 19; other events include a happy hour, an open mic night, and a date night, all at different participating venues.
Black Restaurant Week has supported more than 2,000 restaurants, bars, bakeries, caterers, food trucks, and other culinary establishments across the country since the organization's founding.
Kristal Williams, co-owner of Fishscale, says, "Black Restaurant Week provides an opportunity to discover and celebrate Black-owned restaurants and Black chef-owned establishments."
Ferrell, one of the BRW co-founders, notes that, "during our Black Restaurant Week campaigns, we see an average of 15% to 20% increase in sales for participants, which helps tremendously as businesses are in a continual recovery status from the pandemic and as we are in an inflation season."
She continued that, "Black Restaurant Week has an immediate financial impact with participants. The goal is to invest dollars back to the business. With our nonprofit organization, Feed the Soul Foundation, we have been able to provide $52,000 in financial support to Washington, D.C. and Baltimore-based, minority-owned culinary businesses."
A full list of participants and more information can be found at blackrestaurantweeks.com.
RAMW Summer Restaurant Week
The semi-annual Summer Restaurant Week, run by the Restaurant Association Metropolitan Washington (RAMW), will take place Monday, Aug. 15, through Sunday, Aug. 21. The area's signature summer dining promotion invites diners to experience regional restaurants in a variety of ways.
Participating restaurants will offer on-site multi-course brunch and lunch menus for $25 per person, and multi-course dinner menus for $40 or $55 per person. Many restaurants will also offer cocktail pairings.
Returning again this summer is the "RW-To-Go" dinner meals, available at two price points: $70 or $100 for two people and $140 or $200 for four people so that those uncomfortable with indoor dining can take the meal home.
"Diners across the region can look forward to what will be a delicious promotion celebrating the season's summer flavors with menus at great price points," says Kathy E. Hollinger, president and CEO of RAMW. "We have the return of the popular RW cocktail, wine, and mocktail pairings, as well as RW-To-Go dinner meals for diners who may want a great night out or picnic outdoors. This promotion is designed to give the most options for patrons as they dine their way around our great region."
Restaurants stretching from Alexandria to Friendship Heights to Woodley Park are participating.
A number of 2022 RAMMY Awards Finalists are participating in the promotional dining week including Annabelle, Baan Siam, Blend 111, Bindaas Cleveland Park & Foggy Bottom, Bresca, China Chilcano, Convivial, Cranes, Dauphine's, La Bise, La Cote D'Or Cafe, Mintwood Place, Modena, Nama, Slate Wine Bar, Rasika, Rasika West End, and Sababa. The 2022 RAMMY Awards will take place on July 31.
New participating restaurants include Annabelle, Dolce Vita, Dovetail Bar & Restaurant at the Viceroy, and Il Piatto.
Longtime participant Alan Popovsky, co-founder and principal of PRG Hospitality (Lincoln Restaurant, Teddy & the Bully Bar), says that "for our downtown locations, Restaurant Week provides an opportunity to make new guest relationships and fortify our existing ones. It's essential in our industry today."
A full list of participants and more information can be found at ramw.org/restaurantweek.
Crazy Aunt Helen's to host 'Pride-a-palooza'
Barracks Row restaurant celebrating all month long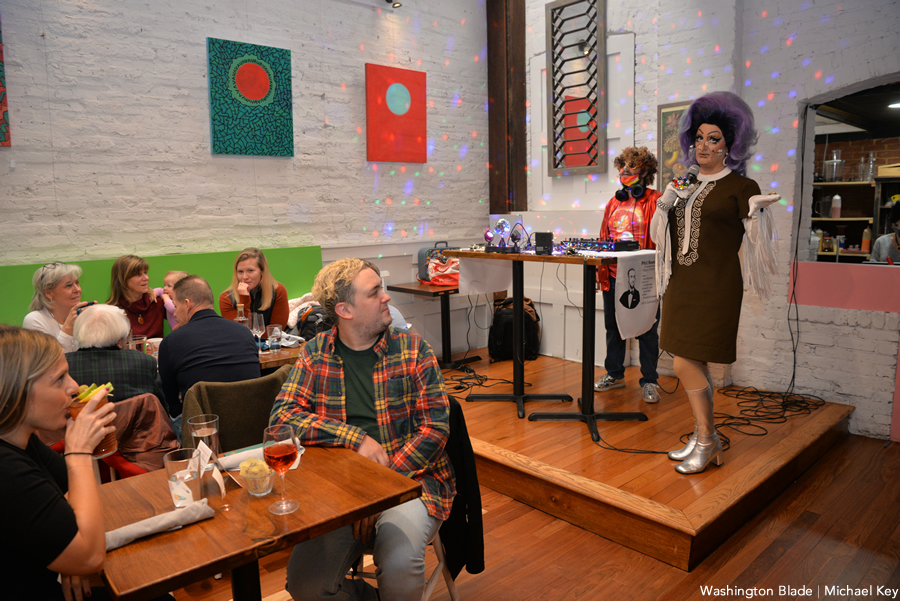 Shane Mayson's restaurant is as colorful as his language. His multi-hued American eatery Crazy Aunt Helen's debuted last July on Barracks Row, just a few days after Pride concluded. But as Pride is 365, this restaurant has spent its first year with flair and fanfare, and this June, Mayson, who identifies as gay, isn't holding back.
"I LOVE PRIDE MONTH," Mayson wrote (caps are his). "I love everything we have at Crazy Aunt Helen's for Pride. Check out our events and get blown away," he says.
This isn't Mayson's first Pride – but it is his first as owner of Crazy Aunt Helen's, a delightfully fabulous neighborhood restaurant in Barracks Row.  
Thus far in June, Mayson has already held comedy shows, book readings, a ladies' tea dance, play readings, bingo, and a Story District event. Coming up on June 25, to end Pride month with even more color, is "Pride-a-palooza," featuring a host of drag queens, food, drinks, prizes, and plenty of surprises that MayD.C. Mayor Muriel Bowserson has been waiting an entire year to showcase.
Crazy Aunt Helen's "serves American comfort food with a southern slant," explains Mayson. Taking over the space of Irish pub Finn McCool's, Crazy Aunt Helen's spreads over two floors, plus a patio and streatery. The interior is wildly bright: a Prince-esque purple host stand and staircase welcome guests, and a highlighter-green wooden banquette runs the length of the dining room. A set of wicker chairs and flower-print cushions recall that southern influence.
Mayson enlisted Pixie Windsor – the very same of eponymous Miss Pixie's – to design the restaurant (the two have been friends for years). "Pixie has a way with creating fabulous comfortable spaces," Mayson says.
Windsor and Mayson partnered to craft the whimsical aesthetic, from the brilliant paint job to a bright-pink neon sign.
Mayson is quick to note that his Aunt Helen "was charming, warm, and funny, with an amazing laugh, and I wanted my restaurant to have that same feeling," he says. "I wanted our guests to feel like they are getting a big'ol hug each time they walk in the doors."
The menu is just as homey and eclectic. Mayson waxes poetic about the fried green tomatoes, the chicken fried steak smothered in chicken sausage gravy, and a Jewish-style braised brisket. Yet many of the dishes are also vegan and vegetarian, like the "fab" cakes made of soy and mushroom and a vegan steak.
As for the drinks, Mayson says that the "signature cocktails are also seasonally driven, and I only use local distilleries like Republic Restoratives, another LGBTQIA business." There's also a list of beer, wine, and zero-proof drinks.
Mayson has been in the restaurant business since he moved to D.C. in 1984, working first at Mr. Henry's on Capitol Hill, and most recently as director of business development for the restaurant group of the highly lauded restaurant industry leader, and lesbian, Jamie Leeds.
Mayson is using Pride this year as Crazy Aunt Helen's coming out, both as a restaurant and a safe space. "I can say that I have had experiences in my life where I didn't feel welcomed places. The staff and I work very hard to make sure everyone who walks into Crazy Aunt Helen's feels welcome," he says.
"I find it's the small things that build to allow folks to feel safe," he notes. There's no required uniform, allowing staff to dress however they feel most comfortable. Mayson also makes an effort to support local LGBTQ artists and performers, giving them space in the second-floor Peacock Room to share their talents.
To that end, Mayson is offering The Rainbow Theatre Project, a theater group that has been dark since pandemic closings, a home until they are back up and running. During June, they performed four staged readings from four LGBTQ playwrights. "I can't wait to have the Peacock Room buzzing with entertainment every night of the week and to hear all the people laughing and enjoying the food, each other and the show," Mayson says.
Mayson's goal at Crazy Aunt Helen's is twofold: create a space "that's welcoming and nourishing to both our bellies and our spirits."