D.C. restaurants, bars ready to celebrate Pride
Many drink, food specials to benefit local LGBTQ charities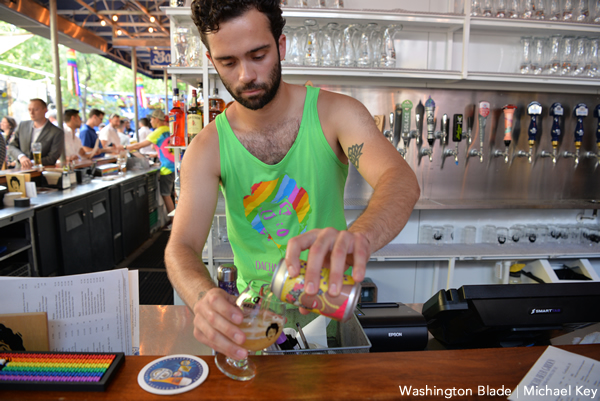 Capital Pride looks different this year as the city wakes from its pandemic closures. While official Pride events are mostly virtual in June, bars and restaurants will still have plenty going on to celebrate and commemorate LGBTQ+ Pride in DC.
Selected options for drinks, food, and events are listed below.
Food & Drinks
Aslin Beer Company (847 S Pickett St., Alexandria) made news this spring with an announcement of a planned second location on 14th Street where Dacha had sought to open a location. The brewery will again produce its "Now More Than Ever" beer, an 8.6% double IPA hopped with citra and sabro, in recognition of Pride month. It will be $20 for a pack.
Astro Doughnuts & Fried Chicken (1308 G St., N.W.) is circling the Pride square with fried goodies. At all three locations, the Pride doughnut ($3.75) is a vanilla glazed with rainbow sprinkles – plus other decorations, including one with a non-edible rainbow ring that can be worn after the doughnut is enjoyed. A portion of proceeds go to SMYAL.
ANXO Cidery (300 Florida Ave., N.W.) is producing a Pride cider, with a portion of proceeds benefitting Casa Ruby. It will be a Northern Spy apple cider, fermented dry in in stainless steel. It is sugar-free and gluten-free, and will sold nationwide. The can will be decked out in rainbow colors.
Karma Modern Indian (611 I St., N.W.) is offering a special cocktail for the month of June: the Banyan Shade ($14). It's made with Tito's Vodka, Domaine Canton, and "Spinach Aqua" and has a garnish resembling a colorful flag. Karma will be making a donation to Casa Ruby from the proceeds.
Dirty Habit DC is having "Colors of the Rainbow," a month-long series during which the restaurant will feature a different color themed food and beverage offering each week. A portion of sale of every "Colors of the Rainbow" signature item will be donated to the Human Rights Campaign and PFLAG.
As an LGBTQ-owned business, KNEAD Hospitality + Design is supporting the Capital Pride Alliance by donating a portion of proceeds on punch cocktails at all KNEAD restaurants: The Grill, Succotash, Gatsby, and Mi Vida, on June 12 and 13.
Foxtrot Market (1267 Wisconsin Ave., N.W.), the new upscale corner store and café in Georgetown, is partnering with Brooklyn artist Cute Brute to create a Confetti Cake Brownie for the month of June. Proceeds from sales of the brownie will go to Casa Ruby.
In keeping to its annual tradition, DC Brau Brewing is making its hops queer, with a limited run of a special PRIDE PILS. Proceeds will go to benefit SMYAL. DC Brau will do a second run of PRIDE PILS in October, benefiting The Blade Foundation, set for the weekend of National Coming Out Day.
El Tamarindo, the Mexican-Salvadoran restaurant more than three decades old, is serving a Walter Mercado cocktail ($11), garnished with an elegant orchid. The front window display is dedicated to Walter Mercado and his cultural influence. Proceeds from the drink go to Casa Ruby.
The eco-friendly plant-based fast-food joint HipCityVeg is mixing up its first-ever Pride drink: The Love Shake, served all June long. This strawberry shake is topped with rainbow and glitter sprinkles and gets a compostable rainbow straw. A percentage of sales go to SMYAL and Whitman-Walker. "We wanted something colorful and festive that would both raise spirits and raise funds for organizations that serve the community," explains Director of Marketing Aviva Goldfarb. "We have tons of LGBTQ+ staff members and customers and knew this would also be meaningful (and fun) for them. Plus, we have seasonal strawberry shakes in stores in June so adding the colorful and glittery sprinkles and the rainbow straw made sense." 
Events
Dacha Beer Garden (1600 7th St., N.W., and 79 Potomac Ave., S.E.) is hosting a Cause Tuesday fundraiser with Gay for Good on Tuesday, June 7, and a Dacha Beer Club with local brewery 7 Locks on Wednesday, June 8. The Beer Club event will showcase the 7 Locks Surrender Dorothy beer, part of the sour series Bitch Monkey. Dacha will have a Dorothy Drag surprise, and guests are encouraged to wear their Wizard of Oz best. Special Dacha brand tank tops will be on sale at both locations.
Via the Capital Pride Alliance is its official weekly mixer of Pride Season, Hooked on Capital Pride! It will take place at Hook Hall (3400 Georgia Ave., N.W.) in Petworth. Every Wednesday beginning June 9, there will be drink specials, music, and celebrations. A portion of the proceeds from this event will support the Capital Pride Alliance and partner Pride organizations through the GivePride365 Fund. Every reservation will include a bottle of Rose Bubbly, and a celebration kit. This event will take place on June 9, 16, 23, and 30 from 3-9 p.m.
Bark Social (935 Prose St, North Bethesda, Md.) is partnering with Montgomery County Council member Evan Glass to celebrate D.C. Pride with a PAWrade and canine costume contest on Saturday, June 12 from 11 a.m.-4 p.m. This beer garden and coffee house for dogs and humans will create a rainbow-filled canine festival of pride + paws. The bar will pour a special Pride-inspired cocktail with proceeds donated to the Moco Reconnect Center to work with other local creating inclusive spaces for LGBTQ+ youth.
Capital Pride is hosting a citywide Sunday funday on June 13 to support local LGBTQ businesses with the first-ever city-wide Taste of Pride Brunch. Various local restaurants have made a commitment to support Pride and local LGBTQ+ charities, featuring food items, drink specials, and entertainment. The event will raise awareness and resources for the GivePride365 Fund, benefiting local LGBTQ+ charities, and help to ensure the return of a full-scale Pride in 2022.
The speakeasy-style back room at Capo Deli (715 Florida Ave.) rounds out Pride weekend parties with an post-brunch event Sunday, June 13, 2-5 p.m. The event, called Bubbles & Bass, features DJ Babbitt and DJ Chris Adam playing disco over rose, Champagne, and other drink specials.
Caboose Commons (2918 Eskridge Rd., Fairfax, Va.) and its dog-friendly patio is hosting an event for Pride on Saturday, June 19 with Beer Babes Drag. There will be two seatings (12 p.m. and 3 p.m.) and a portion of sales (including items sold) will support PFLAG and the National LGBTQ Task Force.
Celebrate PRIDE with a staycation, via Kimpton Monaco. This hotel is the Trevor Project's "Premiere National Hotel Partner." When guests make a reservation at Hotel Monaco D.C., Kimpton will donate $10/night to The Trevor Project, and guests receive 15% off the hotel's "Best Flexible Rate."
There's no place like Lyle's
Hollywood art deco style in Dupont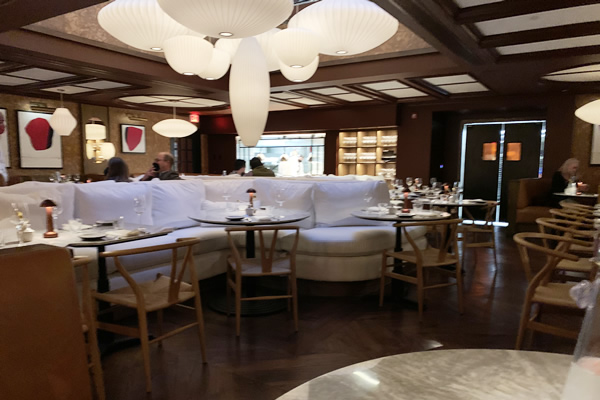 The moment Eric, suited in navy blue and gleaming white sneakers, welcomed me into The Lyle Hotel's art deco lobby, I half-expected him to say, "We've been expecting you." I knew we were in for a sophisticated, relaxing dinner.
I opted to get the party started so Eric ushered me to Lyle's restaurant where I waited for my real estate pal, Josh Hedrington. We were passing through the private dining room when my eyes caught, two black, human-hand chairs – in sharp contrast to the other multiple red chairs.
Our dinner was a preamble to The Lyle Hotel's opening last month. This newest, old hotel, stands like a neighborhood matron underneath New Hampshire Avenue's lush tree canopy near the quirky shops of 18th, 17th, and U Streets.
The Lyle Hotel is the second U.S. property from London's Lore Group. The hotel closed in September 2020 for a $15-$20 million refurbishment. Now, The Lyle Hotel and Lyle's evoke the former halcyon days as the Hotel Carlyle.
As Eric and I walked past the human-hand-chairs toward Lyle's, the anticipation was like waiting for a curtain to rise on Broadway. Enter Lyle's and the soft lights against the white and caramel-colored banquette tables was immediately wondrous, spacious, and intimate. The vibe is reminiscent of 1950s Hollywood and Tinseltown's celebrity restaurant scene.
Eric seated me, and on cue, Isaac, our waiter, glided by to welcome me and ask for water preferences. I settled into the plush table for six anticipating Josh's arrival.
Moments later, he arrived, and it was time for cocktails and food.
The menu features nearly 70 wines, beer, and Lyle's own cocktails. We each chose the Peach + Basil Collins. The surprisingly tall, cold glass of dark-lime-colored libation was hard to resist and as refreshing as the color suggested.
I expected watered-down cocktails. Au contraire. It had a surprising punch. For our second round, Isaac nudged us to sample the Lyle Smash. Its resemblance to a snow-cone made for a treat.
It was our first Lyle's experience, so we opted for a mix of the chef's creations.
For starters, we had the Small Plate (hardly small) of the Viking Village Scallop Crudo with jalapeno, green apple, and yuzu (an East Asian citrus); and the Spring Pea Fritter; plus a Large Plate of the Ravioli with spring onion, goat cheese, and asparagus.
The latter two were our favorites for the ravioli's seasoning, creamy cheese center, and al-dente consistency. The Spring Pea Fritter came with a smooth hummus-like dipping sauce for the melt-in-your mouth fritters.
The listed entrées included seven meat and fish options. We chose the King Salmon with soy-ginger, Calrose rice, bok choy, and scallion, plus the fried chicken with hot honey, sunchoke, and pickled vegetables.
The chicken's hot honey, crispy/crunchy coating made for a novel texture. The salmon's topping reminded me of sesame seeds, adding a crunchy contrast to the smooth fish. After three starters, the entrée portions were plenty.
The chocolate hazelnut cake with caramelized marshmallow fluff and the banana bread with chocolate walnut topping completed the show. I'd return for the hazelnut cake (with ice cream).
The wait staff was the evening's brightest star. Isaac was omnipresent without hovering, delightful, and gracious without being disingenuous. He knows his social cues. Isaac and Giovanni were impeccably attentive.
The delights didn't end when we put down our forks. Isaac left us with a hand-written thank you note.
Then while Josh and I stood under the NH Avenue canopy, a woman walked by and asked, "Is this a hotel? Are they open? Are they serving food?"
We assured her that they are indeed open. Once we sated her curiosity, she smiled with a sense of relief and excitement — the neighborhood again has a buzzing centerpiece.
As we headed to the car, Johnny, the front-office supervisor came out to ask about our dinner. Such warmth and follow-up. The three of us chatted about the neighborhood and friends. Johnny thanked and welcomed us to return for dinner and a stay.
We'll be back, and hope you'll make this a regular stop. There's no place like Lyle's.
Tom Sommers is a D.C.-based writer, editor, and data analyst and former chair of CenterGlobal. Follow today @tomsommers1.
'Jew-ish' cookbook is a queer love story
Celebration of a young gay man who found connection to ancestry at the table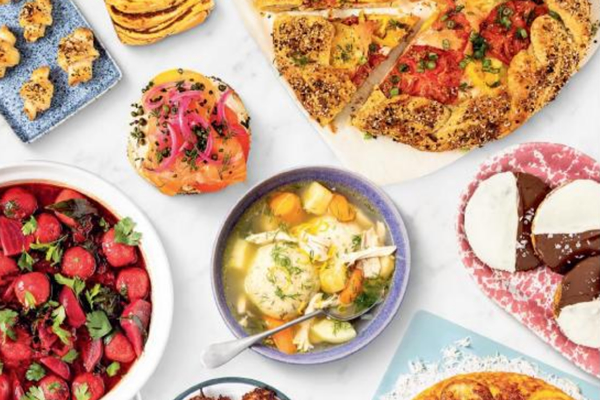 It is in the kitchen, elbow-deep in flour, or in a dining room crowded with friends, that Jake Cohen has found the ability to connect with his queer and Jewish identities.
"This book," he says, "is a queer love story all about me and my husband."
Cohen is a culinary school graduate and social media darling – and is embracing his truest, proudest self through his first cookbook, "Jew-ish," released March 9.
"Jew-ish" "offers that representation to create a normalized story of a queer Jewish relationship, and how they explore that through food," he says.
His cookbook is a triumphant, jubilant celebration of a young, modern, metropolitan Jewish gay man who found himself and his connection to his ancestry at the table and with the written word. His reimagined, repurposed recipes bring to life ancient dishes that still speak loudly to us today.
The task was not a simple one. Cohen expressed that, as is the case for many young Jews, participation in Jewish traditions only takes place during the holidays. This was not sufficient for Cohen and his husband, whom he met on Hinge in 2015 and whom he married in 2018. As they created their relationship, they wanted to ensure that being Jewish was as far out of the closet as being gay.
"We don't need to set aside Jewish ritual just because we may not fit a certain mold. We don't have to give up one to be the other."
"Jew-ish," then, is firmly grounded in Cohen's experience exploring his husband's Sephardic (Spanish and Middle Eastern Jewish) identity while better understanding his own Ashkenazi (Eastern European Jewish) ancestry. Dishes from the Sephardic tradition meld easily alongside Ashkenazi classics that American readers are more used to. The book is suffused with stunning, color-blasted images and a colloquial and familiar writing style so that his peers – those possibly disaffected millennials — can connect to their heritage in a way that works for them.
Before writing the cookbook, Cohen explains that he sought a gay circle outside of the bar and club scene. He happened upon OneTable, an organization that supports young Jews in creating Friday night Shabbat dinners in a personal and meaningful way. OneTable allowed him to be part of ritual throughout the year. "Jew-ish" means that his readers can do this on the daily.
But "Jew-ish" wouldn't be whole without Cohen repeatedly discussing his family. Jews in popular media are increasingly represented by shows like "Seinfeld" or "Marvelous Mrs. Maisel," that hardly recognize the Jewishness of their characters. Meanwhile, he notes that media focuses on queer trauma and the queer struggle.
Cohen writes a celebratory story of a gay couple that is also unabashedly Jewish.
It was seeking that community and criticality of representation that Cohen turned to social media. He says that he encountered 'gatekeepers' in institutional media on the recipes he could publish or discuss, and in what way. Social media has democratized the content process, and he can push out to his hundreds of thousands of followers on Instagram and TikTok recipe videos for everything from the trendy and mundane (creamy one-pot pasta) to the intricate (babka). Social media, he notes, also democratizes voices, something he also embraces by partnering with queer voices like Adam Eli and Evan Ross Katz.
Cohen draws his inspiration, then, as much from Ina Garten as from TikTok. He will craft several kinds of brisket, but also explain in the headnotes for the Za'atar Pesto Risotto that his "love language is carbs. And luckily, it's my husband's, too."
Cohen notes that depending on circumstance, people still sometimes need to put away pieces of themselves, like their Jewish identities or gay identities. But through the lens of "Jew-ish", he – and the reader – is able to bring the whole self to dinner.
And as this writer can attest, the struggle – the balance – in bringing our whole selves to all spaces is an unending challenge. Creating my own authentic gay and Jewish experience is a journey every day. This cookbook is one way to facilitate that journey.
As You Are Bar offers a place to belong
Bar-coffeeshop-danceboutique to open brick-and-mortar soon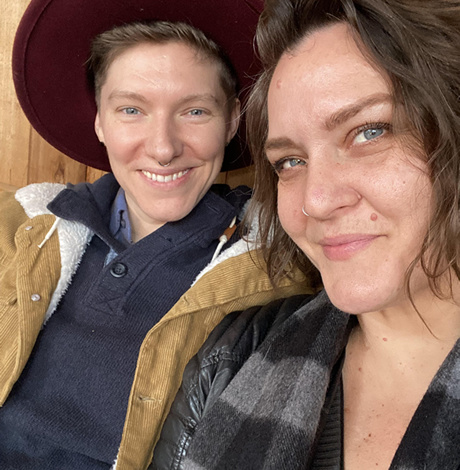 Vodka soda, pinot grigio, light beer, ginger ale, or all of the above: whatever your tribe, As You Are Bar recognizes your flavor.
Currently virtual and soon physical, As You Are (AYA) Bar is the new joint venture from bar industry veterans Jo McDaniel and Rachel Pike, partners and both queer women.
Launched earlier this year, AYA is "a virtual queer space with a priority of safety and inclusion," says McDaniel.
McDaniel, who has been recognized by the Washington Blade in the past for her cocktail crafting skills, began her career at now-closed gay bar Apex, and later as a bartender at Phase 1, Phase 1 Dupont, Freddie's Beach Bar, and Cobalt.
McDaniel went on to open and then manage A League of Her Own (ALOHO), located aside Pitcher's in Adams Morgan. For her part, Pike started in the industry in security at Nellie's, and was also on hand to open ALOHO. She moved up to lead security and bartender at ALOHO.
At ALOHO, the duo teamed up to make it "as safe a space as possible," says McDaniel. But, as for the entire industry, the pandemic threw a wrench in their in-person abilities to do so.
When the pandemic hit, "we realized it was time to do more," she says. "Humans are made to connect, and we couldn't support them well at a brick-and-mortar-space. Thus, AYA bar was born."
Having left ALOHO to expand their dream bar model, AYA allowed them to entirely rethink the bar space. At times, they admit, "the 21-35 crowd can dominate nightlife. The goal is to pull away from that," McDaniel says. In addition, Pike notes that "pandemic, and the time off, opened many people's eyes to so many injustices, inequities and racism in our world." They want to address those concerns at AYA by accepting every part of the queer rainbow.
Right now, AYA is creating that welcoming space virtually. One popular event on the AYA website is Click in with Coach, a Zoom-based happy hour hangout. It's a place to have bar talk without the physical bar. McDaniel hosts Hey Jo, an Instagram live interview show where McDaniel speaks with a guest from the community to discuss queer spaces, ways to support community causes, and lessons over the years and from this time in a pandemic. Other events include a YouTube virtual dance party hosted by DJ MIM (a popular queer DJ) and Our Side of the Bar, at which McDaniel and Rach take the hot seat and dish what life is like on the other side of the bar.
Regardless of location, McDaniel stresses that the team wants "to expand our reach and center marginalized communities within this larger community: Black, brown, and indigenous people of color (BBIPoC), queer youth, and queer elders."
The two are actively searching for a physical location, and hope to have more news on its opening by the summer.
Their goal is to make AYA a daytime-to-nighttime café-cum-danceboutique. In the morning and afternoons, it will serve as a coffeeshop for families and youth, and welcome after-schoolers. In the evening, a part of the space will dim the lights and turn up the tunes, allowing the bar to transform into an accessible, everyone-welcome bar. They hope to include the 18+ crowd on certain nights, too. The café section will likely stay open for those looking for a quieter nook at night.
"Because we identify under the queer umbrella," says McDaniel, "our passion to provide safety to this community courses through us in everything we do. Because we're white, we believe we have a responsibility to BBIPoC to center the needs and voices of marginalized people. We were both also young queer people at one point looking for a place to belong, come as we were, and feel safe. Everyone deserves a space that is theirs. A space they can be who they are and know they will be respected, protected, and nurtured. As You Are is for anyone that couldn't find that place elsewhere."