Fire destroys lesbian-run migrant shelter in Mexican border city
Blaze displaced 152 Refugio del Migrante residents in Mexicali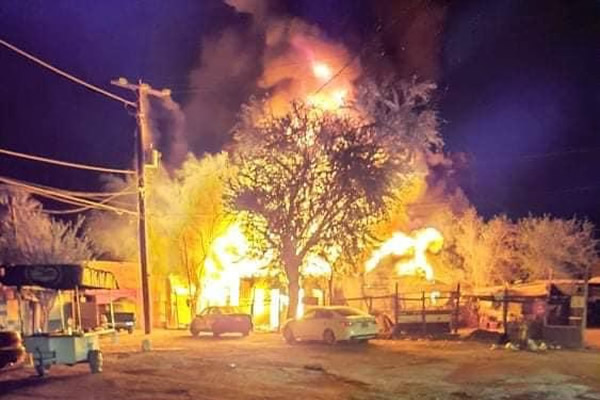 A fire destroyed a lesbian-run migrant shelter in the Mexican border city of Mexicali on Friday morning.
Local media reports indicate the blaze began at Refugio del Migrante at around 1:40 a.m.
The majority of the 152 migrants — including 22 minors — who the fire displaced are from Guatemala, El Salvador and Honduras. They all escaped the fire without injury.
Centro Comunitario de Bienestar Social (COBINA), a Mexicali-based group that serves LGBTQ people and other vulnerable groups, ran the shelter. It also runs two other migrant shelters in the city that borders Calexico, Calif., in California's Imperial Valley.
COBINA President Altagracia Tamayo told La Voz de la Frontera, a local newspaper, it appears as though an electrical short circuit in one of the shelter's bedrooms sparked the fire.
COBINA and organizers of Mexicali's annual Pride events are raising funds to help the displaced migrants. They are also accepting donations of clothes, shoes, toilet paper, personal hygiene products, bottled water and canned food.
The International Community Foundation is among the groups that are raising funds to help the displaced migrants. They can also register with the U.N. Refugee Agency and the International Organization for Migration for additional assistance.
Aquí se puede ayudar pic.twitter.com/PC8Cs8Mexm

— Maky Pollorena (She/Her/Ella) (@Its_Maky_Bitch) July 10,
The Washington Blade in January 2019 visited Posada del Migrante, another COBINA-run migrant shelter that is a few blocks away from the one that burned down. Posada del Migrante and the third COBINA migrant shelter continue to operate.
British prime minister panned as 'disgrace' in response to Pride message
Government cancelled conference after rights groups announced boycott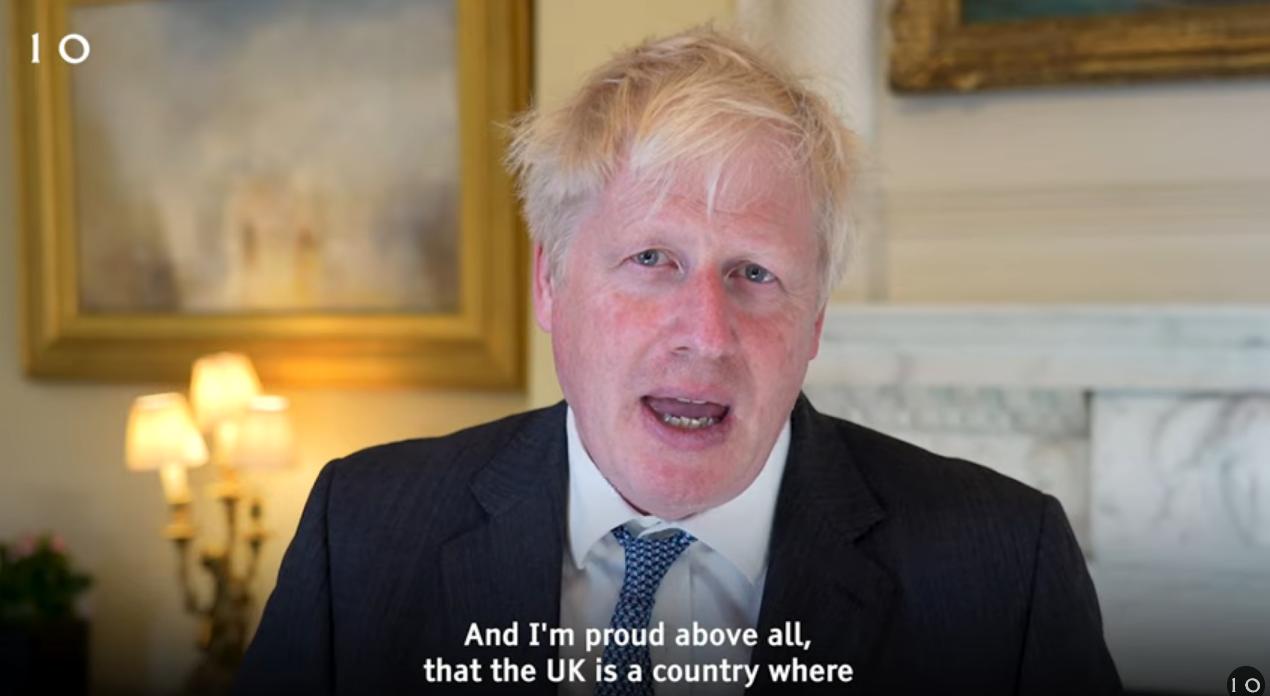 British Prime Minister Boris Johnson released a video message on his official Twitter and YouTube platforms celebrating Pride Month in the U.K. Tuesday under the social hashtag of #WhyPridematters.
The prime minister said that he was "proud" at how many LGBTQ and intersex people have sought asylum in the U.K. from Afghanistan after the Taliban regained control of the country. However, within literal minutes he was promptly criticized and in the Twitter pushback was told by one user: "You're an absolute disgrace."
Another chimed in saying his remarks were hollow.
Johnson's Tory-led government seemingly has been more indifferent to Britain's LGBTQ and intersex community — transgender people in particular — according to activists and the largest LGBTQ and intersex advocacy group, Stonewall UK.
Last Spring, in early April, Bloomberg reported more than 80 organizations pulled out of the British government's international LGBTQ and intersex conference due to be held in June after Johnson dropped a plan to ban so-called conversion therapy for trans people.
One of Johnson's top ministers, Liz Truss, was accused of using LGBTQ and intersex rights to 'rile up her right-wing support base' PinkNewsUK reported.
As minister for women and equalities, Truss scrapped much-needed reform to the Gender Recognition Act (GRA) despite reams of evidence showing there was strong public support for changes that would make accessing legal gender recognition easier for the trans community.
She has also been criticized for her appointments to the Equalities and Human Rights Commission, and her defenses of "gender critical" views.
There has also been outcry by LGBTQ and intersex advocacy groups and activists over the government's willingness to deport LGBTQ and intersex and other asylum seekers on one-way flights to Rwanda. That decision has been criticized by queer and trans advocates as "hugely concerning" and "potentially life-threatening."
Canadian LGBTQ and intersex news outlet Xtra reported that queer and trans asylum seekers in the U.K. already face inhospitable conditions. Sebastian Rocca, founder of charity Micro Rainbow, which provides safe housing to LGBTQ and intersex asylum seekers and refugees in the U.K., tells Xtra in a statement: "One of the most common reasons for the Home Office to refuse asylum to LGBTQI+ people in the U.K. is because they do not believe they are LGBTQI+," adding that the policy has "potentially life-threatening consequences."
The "single young men" framing of the policy means any gay or bisexual men, transmasculine people or transfeminine people — including those seeking asylum in the U.K. for their sexual orientation or gender identity — could potentially be deported to a country with a long history of human rights violations.
In Tuesday's message the prime minister referred specifically to Afghan LGBTQ and intersex people fleeing the notoriously intolerant Taliban which regained control of the country after the Biden administration pulled the remaining armed forces out of the war-torn country last summer after nearly 21 years of conflict.
"LGBT Afghans coming to this country because we're a place that is welcoming and understands that type of intolerance is simply unacceptable in this country," Johnson said.
Why #Pride Matters. pic.twitter.com/XBj8frzPo3

— UK Prime Minister (@10DowningStreet) June 20, 2022
Johnson added: "I'm proud above all that the U.K. is a country where you can be however you want to be and you can love whomever you choose to love no matter who you are or where you come from or what your background is.
"So it's great to see Afghans coming to this country with that knowledge and seeing our country as a beacon of hope.
"That's why Pride Month matters so much. And I hope you have a great Pride."
Twitter was less than impressed:
Boris Johnson said gay people are 'tank top bum boys' and compared equal marriage to three men marrying a dog.

The Tory government have also deported LGBT+ people to countries where LGBT+ people are criminalised and more Tory MPs voted against same sex marriage than for it. https://t.co/cqgNBjCI87

— George Aylett (@GeorgeAylett) June 21, 2022
Hollow words from a Government who are still content with deporting LGBT+ refugees to Rwanda despite their own report stating that LGBT+ people "regularly" face "arbitrary arrest and detention by state security forces without due process." #ToriesOut https://t.co/0qB0U9irIQ

— Chris Davis 🇺🇦 (@Chris_Davis1998) June 21, 2022
You're an absolute disgrace. https://t.co/pBWcti3UbX

— Richard 🌈🏳️‍🌈 (@RJFirth) June 21, 2022
Why Pride matters | Prime Minister Boris Johnson:
Istanbul once again bans Pride march
Organizers sharply criticized authorities' decision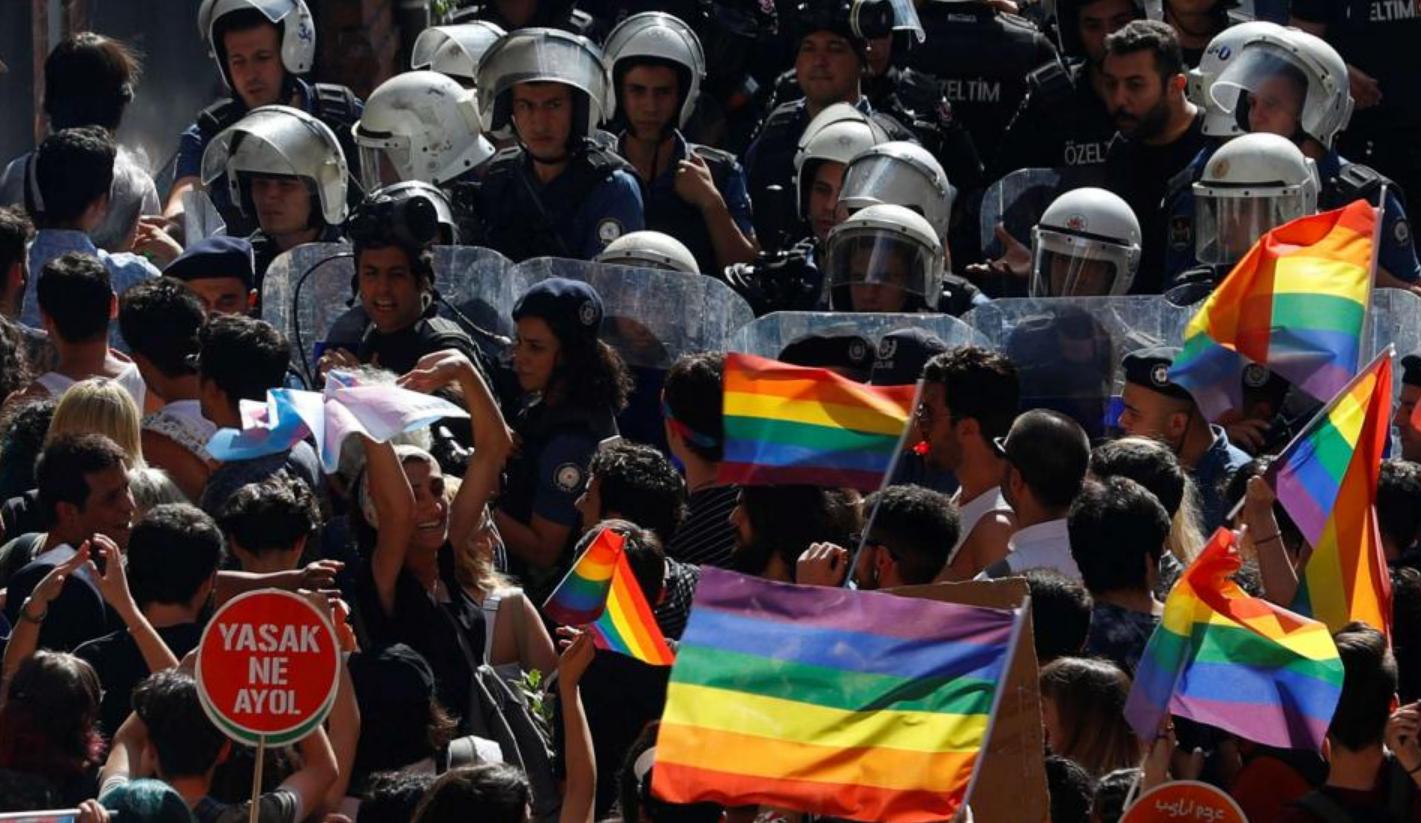 The Beyoğlu and Kadıköy District governors' offices which oversee the mega metropolitan area of this ancient city located on both banks of the Bosporus connecting the Black Sea to the Sea of Marmara have once again banned the city's Pride march.
The governors' offices announced a ban on all gatherings in both districts, where Pride week events have traditionally been held, on Monday, the Diken news site reported, citing the Turkish Law on Demonstrations and Public Meetings.
"We have obtained information that between 21 June 2022 (Tuesday) and 23 June 2022 (Thursday) gatherings, press releases, marches, distribution of leaflets, etc are planned to be held within the scope of the 30th 'Istanbul LGBTI+ Pride Week,'" the governor's statement said.
"All events are banned in all open and closed areas for seven days."
Had the Pride week march and accompanying festivities been allowed to take place, it would have marked the 30th anniversary of Pride in the megacity. Istanbul's Pride Parades, which attracted up to 100,000 people from across the region, have been banned since 2014, with officials citing security reasons for the ban.
In the past years since the ban first was enacted, Turkish police and LGBTQ activists had clashed with police units firing tear-gas pellets at the crowd along with physically violent arrests.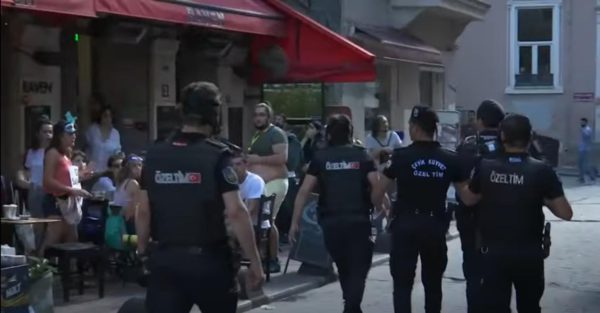 Ahval, an independent Turkish media outlet, reported Monday that Turkey's LGBTQ groups accused the government of President Recep Tayyip Erdoğan of waging a "hate campaign" against them, encouraging violence against a vulnerable community.
Turkey has ranked second worst country in the EU for LGBTQ people, scoring only above Azerbaijan, according the 2022 "Rainbow Europe" ranking compiled by Brussels-based ILGA-Europe.
Less than a week ago in Ankara, Turkish police officers carrying clear-plastic riot shields, wielding batons and deploying pepper powder balls as well as tear gas violently broke up a Pride Parade organized by Middle East Technical University students on their campus.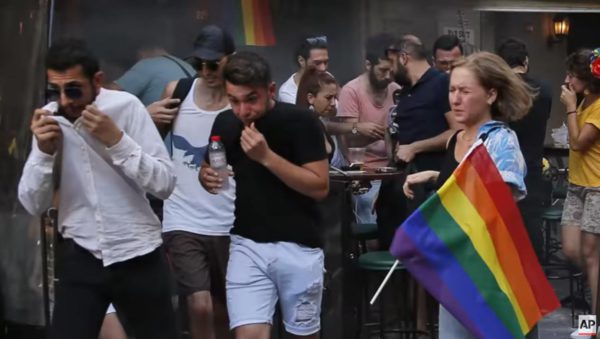 PinkNewsUK reported the Istanbul LGBTQ+ Pride Week Committee issued a statement shortly after the announcement, saying that the decision was "illegal" and that they would use "our rights [to] make the necessary objections".
"Today, with the start of Istanbul 30th LGBTI+ Pride Week, police inspected the venues where the events would take place, under the guise of 'general control,'" the group said. "The law enforcement officers tried to put pressure on the venues by asking for documents such as tax plates."
"We would like to thank our entire network of lawyers and venues that have supported us. We won't give up, we are not afraid!"
'Logistical error' prevented Brittney Griner from speaking with wife on anniversary
Calls to embassy phone in Moscow went unanswered on Saturday
A State Department spokesperson on Tuesday admitted a "logistical error" prevented detained WNBA star Brittney Griner from speaking with her wife over the weekend.
Cherelle Griner told the Associated Press that her wife's lawyers said she tried to call her 11 times "over a period of several hours" on Saturday, which was the couple's fourth anniversary.
The AP reported the Russian government approved the call.
The U.S. Embassy in Moscow, according to the AP, had given Brittney Griner a number that was to have allowed her to connect to her wife in Phoenix once an embassy staffer received the call. The AP reported each of the calls that Brittney Griner made went unanswered because nobody was at the desk where the phone was located.
"I was distraught. I was hurt. I was done, fed up," Cherelle Griner told the AP. "I'm pretty sure I texted BG's agent and was like: 'I don't want to talk to anybody. It's going to take me a minute to get my emotions together, and just tell everybody I'm unavailable right now.' Because it just knocked me out. I wasn't well, I'm still not well."
Cherelle Griner said the call had been on her schedule for two weeks. She told the AP that she is "very pissed" about what happened.
"We deeply regret that Brittney Griner was unable to speak with her wife because of a logistical error," the State Department spokesperson told the Washington Blade on Tuesday in a statement.
Officials at Moscow's Sheremetyevo Airport in February detained Brittney Griner — a center for the Phoenix Mercury — after customs inspectors allegedly found hashish oil in her luggage. The State Department has determined that Russia "wrongfully detained" her.
"We cannot call her a hostage," Kremlin spokesperson Dmitry Peskov told NBC News' Keir Simmons on Monday. "She violated Russian law and now she is being prosecuted."
Secretary of State Antony Blinken on May 14 spoke with Cherelle Griner.
Officials with the State Department's Office of the Special Presidential Envoy for Hostage Affairs and Bureau of Educational and Cultural Affairs on June 13 met with Brittney Griner's teammates to discuss her detention and efforts to secure her release. A Russian court the following day extended Brittney Griner's detention through at least July 2.
"We are determined to bring her home along with Paul (Whelan, an American citizen who is serving a 16-year prison sentence in Russia after a court convicted him of spying) and for that matter, any and every American who is being unjustly detained anywhere in the world," said Blinken on June 15 during a roundtable with this reporter and five other LGBTQ and intersex journalists. " "It's something that I am personally focused on, and I want to leave it at that because it is obviously an ongoing issue. But just know that this is a matter of intense focus for us."
The State Department spokesperson reiterated this point.
"We have no higher priority than the safety and security of U.S. citizens overseas," said the spokesperson. "We remain in regular contact with the families of those held hostage or wrongfully detained; we are grateful for their partnership and feedback; and we continue to work to ensure we are communicating and sharing information in a way useful to our families."
Cherelle Griner told the AP that she no longer trusts the U.S. government.
"I find it unacceptable and I have zero trust in our government right now," she said. "If I can't trust you to catch a Saturday call outside of business hours, how can I trust you to actually be negotiating on my wife's behalf to come home? Because that's a much bigger ask than to catch a Saturday call."