'The Guncle' never wanted kids but now has two
Novel is as charming as they come with a surprise ending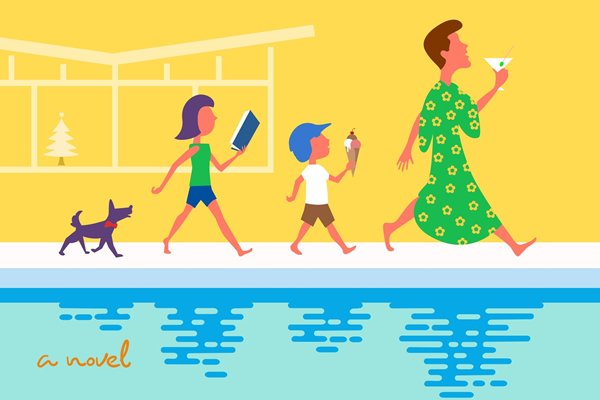 'The Guncle'
By Steven Rowley
c.2021, Putnam
$27/326 pages
The situation you're facing isn't one you wanted.
You had no wish for it; in fact, it's 100 percent the opposite. Not your circus, not your monkeys, as they say. So usually, you'd follow your instincts and run but this time, you surprise yourself by stepping up and taking ownership. Now it is your problem but, as in the new novel, "The Guncle" by Steven Rowley, that's more than OK.
Sara had been his friend first.
Patrick wasn't exactly happy when she married his brother, Greg, but she managed to make it work and he loved her for it. He loved her first, actually, and he never let her forget it.
But now she was gone and Greg had asked the impossible: would Patrick – gay man, former TV star, Palm Springs fixture, no-responsibilities Patrick – take Greg and Sara's kids, nine-year-old Maisie and six-year-old Grant, for the summer so Greg could go to rehab while grieving the death of his wife? Could the kids' GUP (Gay Uncle Patrick) step up?
No. There was no way that Patrick was taking temporary custody of two kids – but then his older sister, Clara, copped an attitude, rolled her eyes, and told him he was "off the hook."
PfftRight.
And so Greg headed to rehab after the funeral and the kids went home with Patrick to Palm Springs. It would be a long 90 days.
Grant was cute but full of questions; Patrick learned to make things up. Maisie was nobody's fool and Patrick learned to hide his passwords. He gave them "Guncle" Rules (gay + uncle = guncle), life lessons, and stories about their mother – but past that, what does a gay man who never wanted kids do when he suddenly has two of them?
He takes them to the museum way too often, that's what. He takes them to five-star restaurants and cringes when they order kid food. He lounges with them in the pool, gets them a dog, lets them put up a Christmas tree in July, hugs them, and throws a party.
And he loves them.
There are four words that best describe "The Guncle": A. Dor. A. Bull.
That's it. This novel is simply as charming as they come and don't be surprised if you can almost hear your favorite actors as any of the characters here. Don't be surprised, either, if you spend your vacation racing to reach the ending you think's coming and you're wrong.
Indeed, author Steven Rowley offers the perfect mix of snorts and sobs here, snarky fun one minute and pathos the next but neither emotion is belabored or forced. That gives readers room to enjoy the tale as it unfolds and grows like an inflating pool toy, and to watch the characters twisting wistfully in irresistible, concentric circles.
Your ticket's in your hand, your suitcase is packed, your destination is close, but you need a book to get you there. If you'd love to immerse yourself inside a sweet novel like "The Guncle," then step right up.
New ACT UP book is part history, part memoir
'Boy with the Bullhorn' chronicles hard work, grief, anger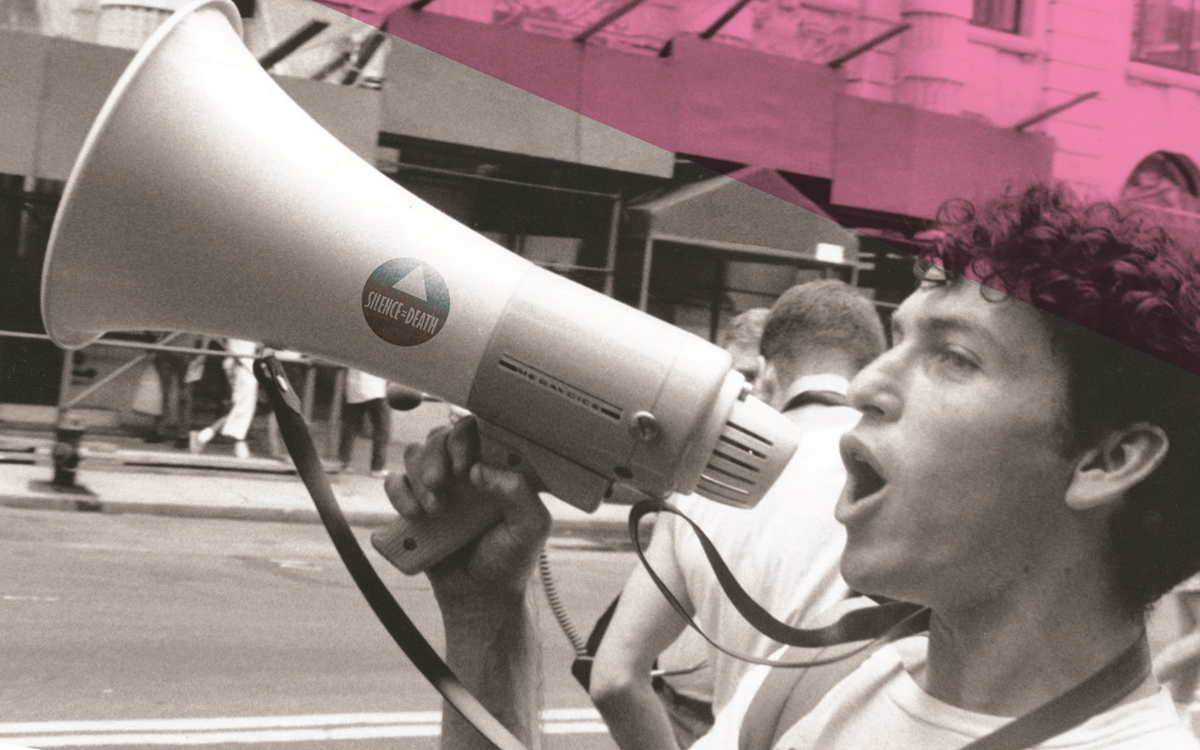 'Boy with the Bullhorn: A Memoir and History of ACT UP New York' 
By Ron Goldberg
c.2022/ Fordham University Press
$36.95/512 pages
The sign above your head shows what's going on inside.
Last night, you made the sign with a slogan, firm words, a poke to authority – and now you carry it high, yelling, marching, demanding that someone pay attention. Now. Urgently. As in the new book, "Boy with the Bullhorn" by Ron Goldberg, change is a-coming.
He'd never done anything like it before.
But how could he not get involved? Ron Goldberg had read something about ACT UP, the AIDS Coalition to Unleash Power, and he heard they were holding a rally near his workplace. It was 1987, he'd never participated in anything like that before, but whispers were everywhere. He and his friends were "living under a pervasive cloud of dread."
He "was twenty-eight years old… scared, angry, and more than a little freaked out" about AIDS, he says.
Couldn't he at least go down and hold a sign?
That first rally led Goldberg to attend a meeting, which, like most, as he came to realize, were raucous and loud and "electric." Because he was "living fully 'out and proud'," and because he realized that this was an issue "worth fighting for," he became even more involved with ACT UP by attending larger rallies and helping with organizing and getting his fellow activists fired up. He observed as women became involved in ACT UP, too. Monday night meetings became, for Goldberg, "the most exciting place in town."
There, he learned how politics mixed with activism, and why ACT UP tangled with the Reagan administration's leaders. He puffed with more than just a little ownership, as other branches of ACT UP began spreading around the country. He learned from ACT UP's founding members and he "discovered hidden talents" of his own by helping.
On his years in ACT UP, Goldberg says, "There was hard work, grief, and anger, surely, but there was also great joy." He was "a witness. And so, I began to write."
Let's be honest: "Boy with the Bullhorn" is basically a history book, with a little memoir inside. Accent on the former, not so much on the latter.
Author Ron Goldberg says in his preface that Larry Kramer, who was one of ACT UP's earliest leaders encouraged him to pull together a timeline for the organization and this book is the result of the task. It's very detailed, in sequential order and, as one reads on, it's quite repetitive, differing basically in location. It's not exactly a curl-up-by-the-fire read.
Readers, however – and especially older ones who remember the AIDS crisis – won't be able to stop scanning for Goldberg's memories and tales of being a young man at a time when life was cautiously care-free. The memories – which also act as somewhat of a gut-wrenching collection of death-notices – are sweet, but also bittersweet.
This book is nowhere near a vacation kinda book but if you have patience, it's worth looking twice. Take your time and you'll get a lot from "Boy with the Bullhorn." Rush, and it might just go over your head.
The Blade may receive commissions from qualifying purchases made via this post.
'Before We Were Trans' explores a complicated history
Scholars 'need to tread carefully and responsibly'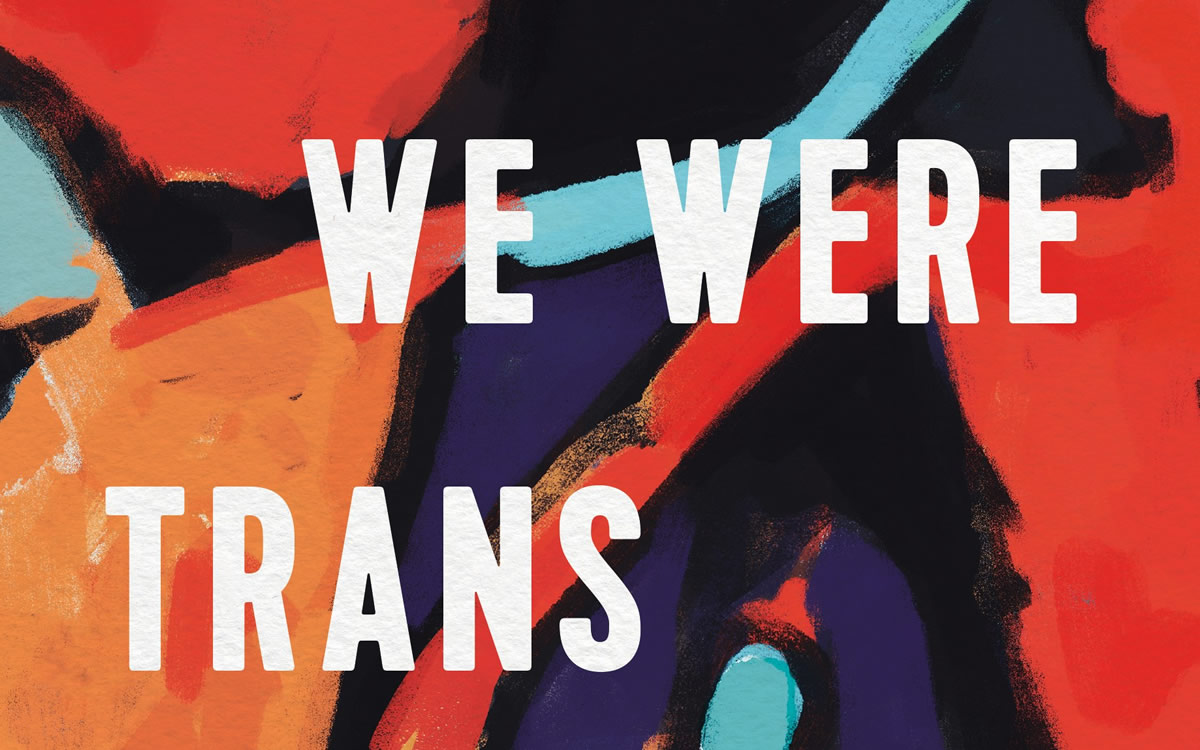 'Before We Were Trans'
By Kit Heyam
c.2022, Seal Press
$30/352 pages
Yes or no: before there were rockets, there were no astronauts.
No, there wasn't a need for them without a vehicle to go where people only dreamed of going. But yes – the word "astronaut" is more than a century old. Words and labels matter, as you'll see in "Before We Were Trans" by Kit Heyam, and time is no excuse.
On the evening of June 8, 1847, John Sullivan was apprehended by gendarmes while weaving down a sidewalk in London. Sullivan was wearing a few women's garments, and was carrying more, all of it stolen. Because it wasn't the first time he was arrested, he spent 10 years in an Australian penal colony for his crime.
"Is this story a part of trans history?" asks Heyam.
There aren't enough clues to determine Sullivan's truth, not enough "evidence that their motivation for gender nonconformity was not external, but internal." The answer's complicated by the fact that "transgender" wasn't even a word during Sullivan's time. Presumably, Sullivan was white but even so, we must also consider "that the way we experience and understand gender is inextricable from race."
Surely, then, Njinga Mbande, the king of Ndongo, can be considered trans; they were assigned female at birth but presented themselves as king, as did Hatshepsut of Egypt. In precolonial Nigeria, the Ekwe people were gender-fluid, to ensure that there was a male in the household. Do political and social reasons fit the definition of trans?
In England, it was once believed that to dress like the opposite sex was to become that gender. In prison camps during World War I, men participated in plays to ease the boredom, and some ultimately lived permanently as women. Early history shows many examples of people living as "both." Were they trans or not?
Says Heyam, "historians need to tread carefully and responsibly when we talk about the histories of people who blur the boundaries between intersex and trans."
Moreover, can we allow that there's probably some "overlap"?
The answer to that could depend on your current situation and mindset. Absolutely, author Kit Heyam dangles their own opinion throughout this book but "Before We Were Trans" doesn't seem to solve the riddle.
Judging by the narrative here, though, it's possible that it may be forever unsolvable. There's a lot to untangle, often in the form of partially recorded tales that hark back to antiquity and that are shaky with a lack of knowable details. Even Heyam seems to admit sometimes that their thoughts are best guesses.
And yet, that tangle can leave readers with so much to think about, when it comes to gender. Ancient attitudes toward trans people – whether they were, indeed, trans or acted as such for reasons other than gender – absolutely serve as brain fodder.
This is not a quick-breezy read; in fact, there are times when you may feel as though you need a cheat-sheet to follow similar-sounding names. Even so, if you take your time with it, "Before We Were Trans" may put you over the moon.
The Blade may receive commissions from qualifying purchases made via this post.
'Knocking Myself Up' a hilarious, hopeful read
Queer writer Michelle Tea reveals struggle to get pregnant in memoir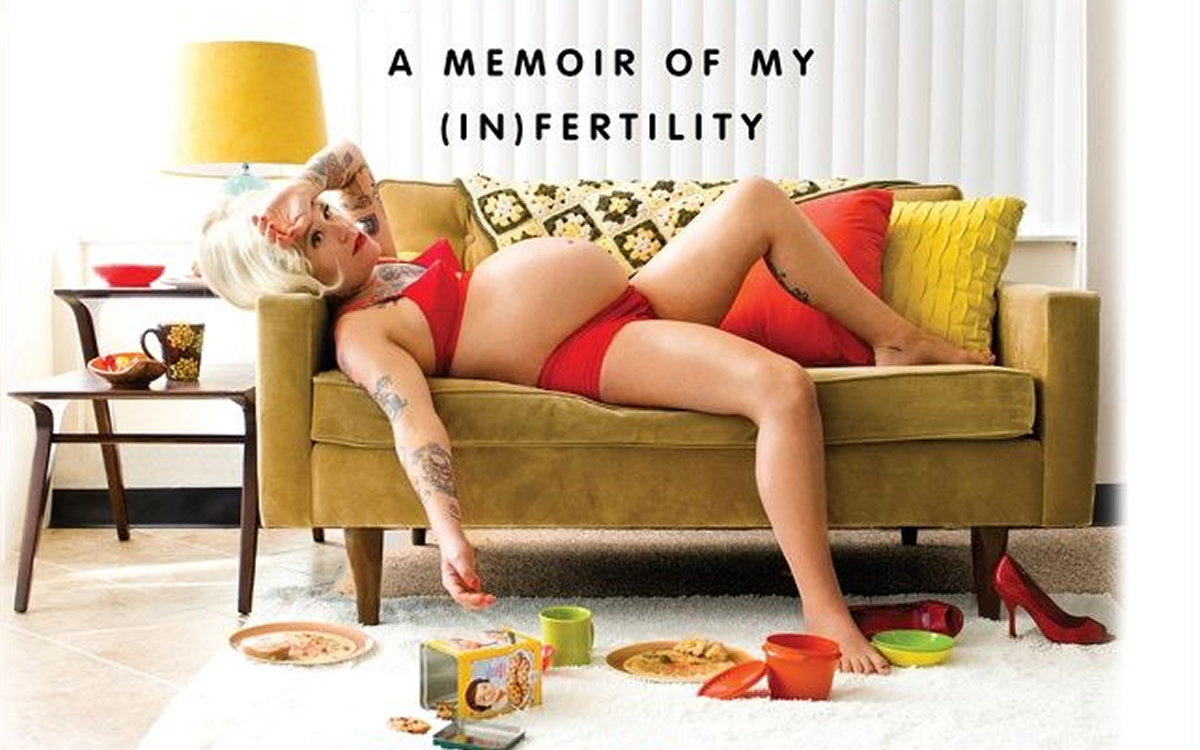 'Knocking Myself Up: A Memoir of My (In)Fertility'
By Michelle Tea
c.2022, Dey Street
$28.99/304 pages
Most books, no matter how fab, can be put down. For meals, naps, dancing, binge-watching – sex.
This isn't how it goes with queer writer Michelle Tea's new book "Knocking Myself Up: A Memoir of My (In)Fertility." Once you start it, everything else will stop until you finish it. Then, you'll still be inhaling Tea's captivating memoir.
Recently on YouTube, I came across the mid-century TV sitcom "Leave It to Beaver." The show featured an archetypal 1950s family – the Cleavers: white, middle-class, straight – with a Dad (Ward) who worked at "the office," Mom (June), a homemaker, and two sons – Wally and Theodore (a.k.a. Beaver). They lived in a house with an immaculate lawn and a white picket fence.
This isn't to dis the Cleavers, who were beloved by many Boomers (queer and non-queer). R.I.P., Tony Dow! (Dow, who played Wally, died last month.)
But June Cleaver, the epitome of white, hetero, middle-class motherhood, would be thunderstruck by "Knocking Myself Up."
After being childless, Tea, 40, and living in San Francisco, single, with no health insurance, after much soul-searching, decided to have a child.
From the first word – Tea sucks us into her story.
"Hello," Tea writes, "This is your narrator, Michelle Tea."
"I'm about to bring you into my inner world," Tea continues, "during a period of time when that space was as wild, messy, hopeful, dizzy, tragic, terrifying and open-hearted as any era I've ever lived."
Tea has become iconic for her queer wit, intelligence and searing interrogation of herself, the people in her life and the culture.
Tea, born in 1971 in Chelsea, Mass., grew up in a working-class background. She struggled with alcoholism, drug addiction, and mental illness (which ran in her family).
Her family members aren't monsters. Tea's mother and sister love her. But growing up for her wasn't a sitcom odyssey.
Her stepfather copped to spying on her (in her bedroom – in the bathroom) through a hole in the wall.
Tea became a scribe when she was in second grade and, since then, has never stopped writing.
She's the author of more than 12 books, including the cult classic "Valencia," the brilliant essay collection "Against Memoir" and the speculative memoir "Black Wave."
Tea has received awards from the Guggenheim, Lambda Literary and Rona Jaffe foundations; Pen/America; and other distinguished institutions. Along with being a prolific writer, Tea has been an intrepid cultural interventionist.
She started Drag Queen Story Hour, co-created the Sister Spit queer literary performance tours, and was the founding director of RADAR Productions, a Bay Area literary organization for more than a decade.
This is just the tip of the iceberg of, what Tea's bio calls, her "cultural interventions."
Tea has helmed the imprints Sister Spit Books at City Lights Publishers and Amethyst Editions at the Feminist Press. Tea produces and hosts the Your Magic podcast where she reads tarot cards for Roxanne Gay and other artists.
But Tea's dazzling literary status doesn't prevent her from running into obstacles when she tries to become pregnant and give birth. Professional cred is no match against heteronormality.
Opting to have a baby is a rollicking ride no matter who you are, Tea writes. "You're setting out to conjure a life," she adds, "and in the process, deeply unsettle your own."
But having a child is a hell of a lot more unsettling, Tea discovers, if you're queer, single and have no health insurance — even if you live in San Francisco (the epicenter of queerness).
Tea finds that fertility clinics are set up for straight people.
During her quest to become pregnant, she finds love and marries Orson, who's nonbinary. Yet clinic forms and personnel refer to Orson as her "husband." Because they're queer, Tea and Orson (unlike straight couples) are required to talk to a mental health professional.
Tea worries that even though she's married, she'll have to legally adopt her baby.
Despite Tea's no-holds-barred stories of these difficulties, "Knocking Myself UP" is far from a downer.
It features a glam drag queen sperm donor, a witch, Tea's loving sister and tons of info on everything from ovulation to implantation.
"Knocking Myself Up" is a hilarious, compelling, hopeful read at a time when hope is scarce as gold and fleeting as the wind.
The Blade may receive commissions from qualifying purchases made via this post.