Mayor joins Whitman-Walker in groundbreaking for new building
Health organization to open largest-ever facility at St. Elizabeth's East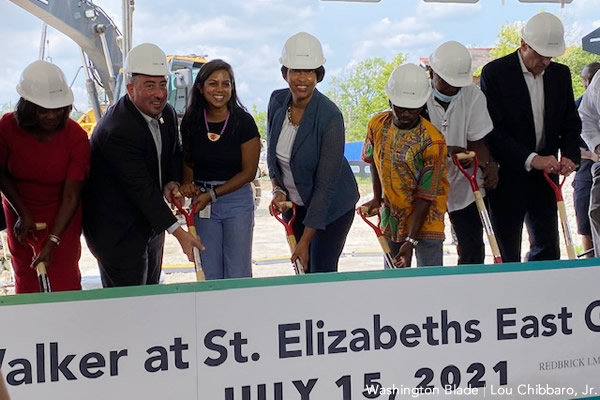 D.C. Mayor Muriel Bowser and D.C. Council members Trayon White (D-Ward 8) and Vincent Gray (D-Ward 7) joined other city officials and community leaders in a groundbreaking ceremony on July 15 for Whitman-Walker Health's new healthcare center at the city's rapidly developing site in Ward 8 known as the St. Elizabeth's East Campus.
The six-story, 118,000-square-foot building, scheduled to open in the middle of 2023, will be Whitman-Walker's largest-ever healthcare facility and will expand the health services currently provided in Ward 8 by Whitman-Walker's Max Robinson Center in nearby Anacostia, according to a Whitman-Walker statement.
"This new health care home will reflect the vibrancy of the community and will give us an opportunity to expand care in ways we have been dreaming of for decades," said Whitman-Walker CEO Naseema Shafi. "We are humbled to be working with Mayor Bowser and her team on this project," Shafi told participants in the groundbreaking event.
Whitman-Walker describes itself as a non-profit community health center serving the D.C. metropolitan area with a special expertise in HIV/AIDS healthcare and LGBTQ healthcare. It says it currently provides services and care to more than 20,000 people annually.
In a statement released on the day of the groundbreaking event, Whitman-Walker said the new building will provide, among other services, primary, behavioral, dental, and "substance misuse" treatment services. Shafi said the new facility, similar to Whitman-Walker's other facilities in Northwest D.C., will provide HIV-related care and care for transgender people and LGBTQ people in general.
According to the statement, the new facility will also include a ground-floor pharmacy and increased care for young people. In addition, it will provide administrative office space for over 100 Whitman-Walker staff, the statement says.
"This expansion will also allow Whitman-Walker to diversify and expand its research portfolio," said Whitman-Walker spokesperson Jewel Addy. "Whitman-Walker has conducted research since 1987, studying nearly every HIV and Hepatitis C treatment on the market today," Addy said.
"It's difficult to say how important Whitman-Walker has been to D.C. residents," Mayor Bowser told close to 100 people who turned out for the groundbreaking. "You've been part of the community for almost 50 years," the mayor said. "And as you have grown and expanded, you have always prioritized the needs of the community. And because of that, Whitman-Walker has earned the trust of D.C. residents," she said. "And we can't wait to welcome you to St. Elizabeth Campus."
White said he was pleased that Ward 8, which he represents on the D.C. Council, will be the host to the new Whitman-Walker facility. He and Gray, who represents nearby Ward 7, said they were looking forward to the expanded healthcare services the new facility will provide for people in need who live in the eastern section of the city, which historically has been underserved in healthcare.
John Falcicchio, the D.C. Deputy Mayor for Planning and Economic Development, told the gathering that the new Whitman-Walker building will be one of several public and commercial buildings and facilities that either have already opened or will soon open at the St. Elizabeth's East Campus.
He noted that the campus is home to the already operating St. Elizabeth's East Sports and Entertainment Arena, which is home to the world champion Washington Mystics women's basketball team. He said the campus will soon become home to a 252-unit housing facility, about 80 new townhomes, a new parking garage, a new city library, and a new hospital.
The Whitman-Walker statement says the D.C. development companies Redbrick LMC and Gragg Cardona Partners are working with Whitman-Walker to arrange for the construction of the new building.
"This groundbreaking represents the beginning of the realization of a bold vision shared by our partners at Whitman-Walker, Gragg Cardona Partners, District leadership and members of the community to build a new engine for economic vitality and quality healthcare," said Louis Dubin, managing partner at Redbrick LMD.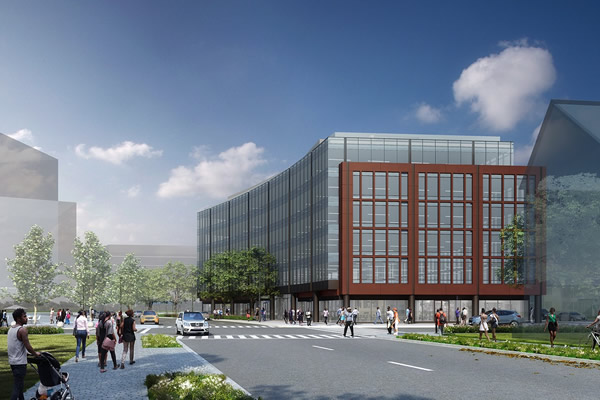 DC Center, Capital Pride sign joint lease for new offices
LGBTQ groups to operate in historic Shaw neighborhood building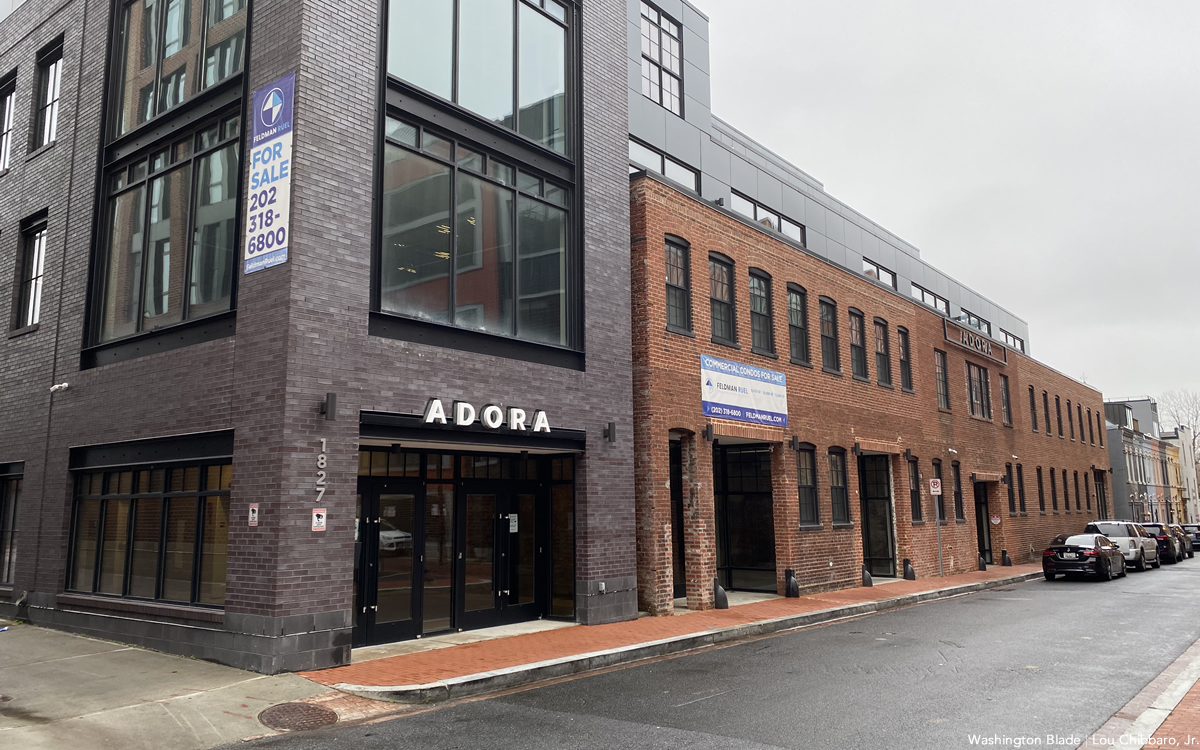 The DC Center for the LGBT Community and the Capital Pride Alliance, which organizes D.C.'s annual LGBTQ Pride events, announced on Wednesday that they have signed a joint lease to move their operations into a renovated warehouse building in the city's Shaw neighborhood.
In a Dec. 7 statement, the two organizations said the lease is for a 6,671-square-foot space on the entire first floor of a five-story building at 1827 Wiltberger St., N.W. called The Adora. The building is located steps away from the Howard Theatre and a little over a block from the Shaw-Howard University Metro station.
The new space is more than double the 2,400-square-foot offices the D.C. Center and Capital Pride currently occupy in the city's Reeves Center municipal building at 2000 14th St., N.W. The Reeves building is slated to be demolished as part of a new development project that will require all its tenants, including the D.C. Center, to move.
The sprawling building, which takes up about half of the narrow, one-block long Wiltberger Street, was built in 1891 as the home of the Holzbeierlein Bakery, according to the online publication Commercial Observer.
Online real estate listings show it was redeveloped about two years ago with an extension and now includes commercial condominium space on the second and third floors and nine luxury residential condominium units on the fourth and fifth floors.
The statement released by the D.C. Center and Capital Pride Alliance says the first-floor space in the building that the two groups leased currently is un-renovated warehouse space. The statement says the space is being designed for a build out renovation by an architectural firm "with the D.C. Center's specific needs in mind." It will include 10 offices and multiple workstations, the statement says.
According to the statement, the renovation is being funded in part by a $1 million grant approved by D.C. Mayor Muriel Bowser through the Office of the Deputy Mayor for Planning and Economic Development and the Mayor's Office of LGBTQ Affairs.
Rehana Mohammed, who serves as vice chair of the D.C. Center's Board of Directors, told the Washington Blade the renovation work was scheduled to be completed by mid-2023. She said D.C. Center officials were hopeful that the Center and Capital Pride would be able to move into the new space in June or early July.
The statement says the new, larger space will enable the D.C. Center to expand its services to include "dedicated therapy rooms, a larger food pantry for the community food distribution program, and dedicated wellness spaces for meditation, yoga, and counseling."
It says there will also be an expanded state-of-the-art cyber lounge, a larger Community Closet program, which provides free apparel, and that will incorporate a designated dressing area, and individual lockers providing temporary storage for "unhoused/displaced community members."
"This is an extraordinary opportunity for the D.C. Center to more fully expand our support offerings and provide vital and integral wraparound care to and for our LGBTQIA2s+ siblings," D.C. Center Executive Director Kimberley Bush said in the statement.
"When community members come to this new space, they'll see a broader range of support being offered and an enhanced experience for increasing their health, wellness, and personal security," Bush said.
"We are very excited to support this opportunity and come together in a new space with fellow nonprofits," said Ryan Bos, the Capital Pride Alliance executive director. "Collectively and collaboratively, we will better serve the LGBTQ+ community and combine resources to provide a much-needed safe space to gather," Bos said in the statement.
The statement by the two groups says the new larger space will also allow the D.C. Center to sublease office and desk space to other LGBTQ+ nonprofit organizations. As of this week, the Wanda Alston Foundation, Rainbow Families and G3 Associates, an organization operated by local gay activist George Kerr, have confirmed arrangements to sublease space in the new building, the statement says.
"We are proud to reaffirm our support for D.C.'s LGBTQ+ community," said Mayor Bowser in a statement referring to her office's awarding a $1 million grant to help fund the D.C. Center's build out in the new space. "This investment is a reflection of our D.C. values," the mayor said.
"We know that when we foster community, and when we support organizations that invest in the community, D.C. is stronger and our residents have more and better opportunities to reach their full potential and live happy, healthy lives," the mayor said.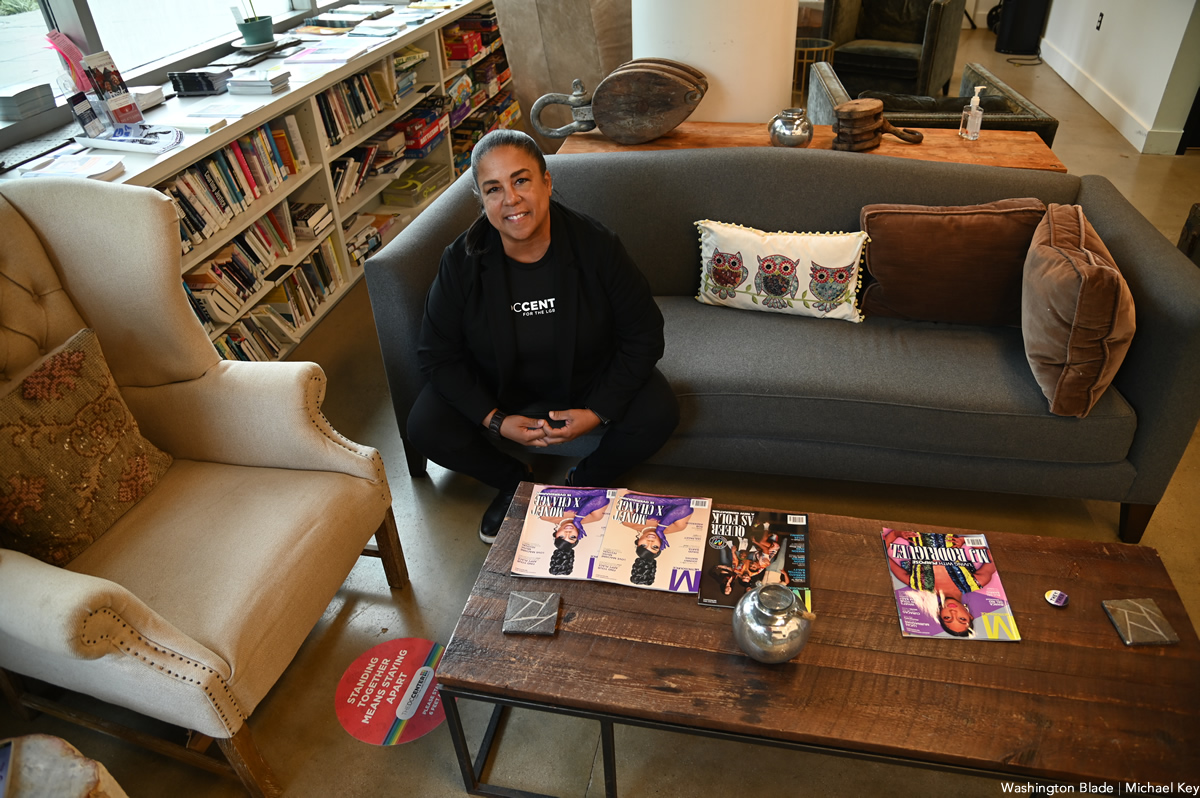 LGBTQ contingent to join National Vigil for gun violence victims in D.C.
Gays Against Guns plans Capitol Hill procession to honor those lost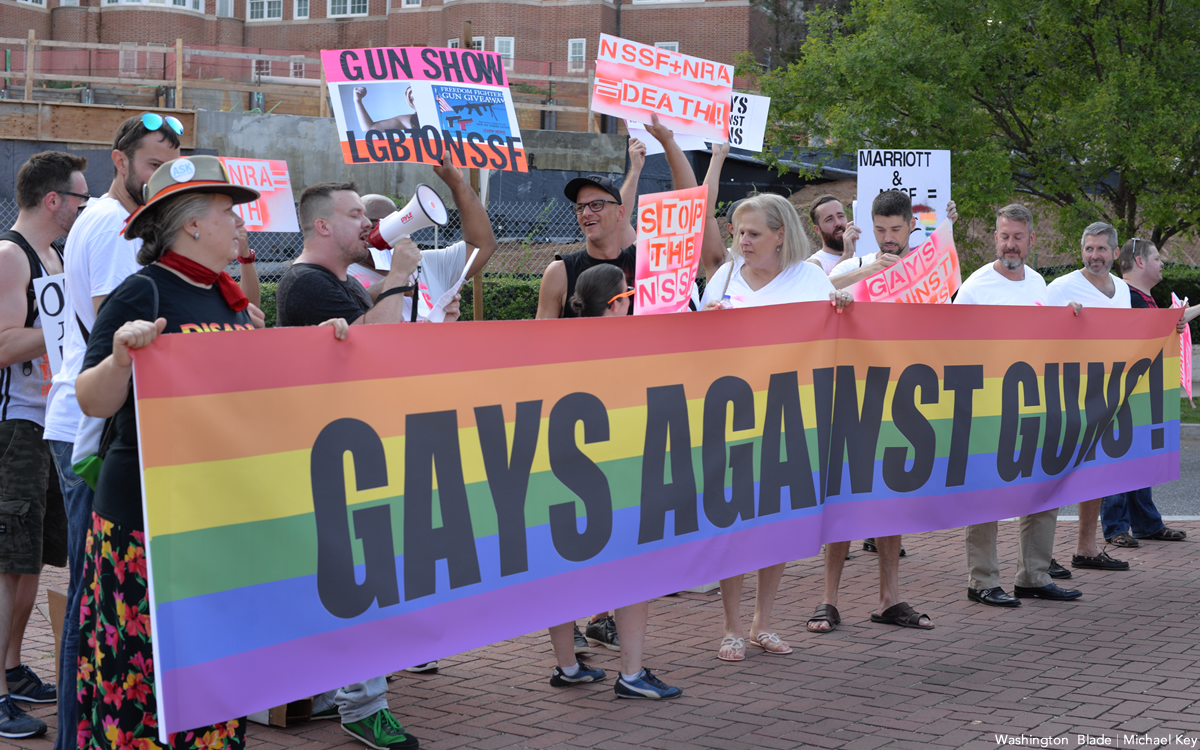 As many as several dozen LGBTQ activists wearing white robes and carrying photos of victims of gun violence were planning a procession along city streets from the As You Are LGBTQ bar on Capitol Hill on Wednesday afternoon, Dec. 7, to the nearby St. Mark's Episcopal Church.
The church, located at 301 A St., S.E., was scheduled to host the 10th annual National Vigil for All Victims of Gun Violence beginning at 7 p.m. on Wednesday.
The New York City-based group Gays Against Guns, which is organizing the LGBTQ contingent, released a statement saying its members would be meeting at As You Are at 500 8th St., S.E. with LGBTQ "political, community based, nightlife, and gun violence prevention allies" to finalize plans for the procession a few hours before the start of the vigil.
Jay Walker, one of the Gays Against Guns leaders, told the Washington Blade the group and its supporters have scheduled a press conference at As You Are on Wednesday at 3 p.m. to draw attention, among other things, to threats and anti-LGBTQ protests against drag shows over the past two weeks in cities across the country.
Walker pointed to news reports of hostile protesters, some armed with guns, assembling outside bars or clubs holding drag shows in Columbus, Ohio; Lakeland and Ft. Lauderdale, Fla.; Aurora, Ill.; and Manhattan, Staten Island, and Oceanside, N.Y. within the past two weeks.
Most of these reported attempts to intimidate people patronizing or participating in drag performances took place after the Nov. 19 shooting at the Club Q gay bar in Colorado Springs, Colo., in which a gunman shot and killed five people and injured at least 17 more.
That shooting took place shortly before a drag show was scheduled to take place at the Club Q.
The National Vigil for All Victims of Gun Violence, set for 7 p.m. Wednesday at St. Mark's Episcopal Church, was to take place shortly after speculation has surfaced that opposition to a drag show was the motive that prompted one or more as yet unidentified suspects to fire multiple gunshots at electrical power substations in Moore County, N.C., causing a blackout affecting 45,000 residents.  
Law enforcement officials investigating what they have said was a targeted attack aimed at knocking out the electric power substations also said they have no evidence yet as to what the motive was for the crime.
But in its statement released this week, Gays Against Guns said the attack on the power substations took place shortly after a drag event was held in the town of Southern Pines in Moore County that drew opposition and protests from far-right activists and anti-LGBTQ community members.
"Enough is enough!" the Gays Against Guns statement says. "Our communities must take a stand and issue demands of our elected leaders, law enforcement, and the greater polity to take action on this threat to all Americans."
The latest incidents targeting drag shows have taken place after D.C. police announced shortly after the Club Q shooting in Colorado Springs that they were stepping up police patrols around D.C. LGBTQ establishments, including gay bars.
"At this time, there are no known threats to any events or locations in the District," a Nov. 23 police statement says. "MPD will continue to monitor the developments in Colorado Springs and share information with our local, regional and federal law enforcement partners," the statement says.
But a short time later, on Nov. 30, the U.S. Department of Homeland Security issued a terrorism threat bulletin warning that domestic extremists have posted online praise for the Club Q shooting suspect and have called for copycat attacks.
"Targets of potential violence include public gatherings, faith-based institutions, the LGBTQI+ community, schools, racial and religious minorities, government facilities and personnel, U.S. critical infrastructure, the media, and perceived ideological opponents," the bulletin states.
"Some domestic violent extremists who have conducted attacks have cited previous attacks and attackers as inspiration," the DHS bulletin continues. "Following the late November shooting at an LGBTQI+ bar in Colorado Springs, Colorado — which remains under investigation — we have observed actors on forums known to post racially or ethnically motivated violent extremist content praising the alleged attacker," the bulletin says.
Mark Lee, coordinator of the D.C. Nightlife Council, a group representing bars, restaurants, nightclubs, and entertainment establishments, said the community nightlife businesses welcome the increased police patrols of these establishments.
"The local nightlife association has offered periodic security and active shooter training sessions for venue operators, managers, and staff for a number of years, most recently on Nov. 1 in conjunction with the restaurant association," Lee said. "These specialized trainings feature presentations by both a nationally recognized training firm and DCNC affiliate member nightlife security consultants and the D.C. Metropolitan Police Department," Lee told the Blade.
"Nightlife hospitality establishments understand the importance of being constantly vigilant about, and prepared for, any and all incidents that could occur whenever people are gathered," he said.
Walker of Gays Against Guns said participants in the planned LGBTQ procession from As You Are bar to St. Mark's Church would be carrying photos or signs commemorating the LGBTQ victims of gun violence, including victims of the Pulse LGBTQ nightclub shooting in Orlando, Fla. in June 2016 in which 49 mostly LGBTQ patrons of the club were shot to death by lone gunman.
The Wednesday night vigil at St. Mark's Episcopal Church, among other things, will commemorate the 10th anniversary of the Sandy Hook, Conn., school shooting incident in which 26 people were shot to death, 20 of whom were children, according to a statement released by organizers.
"By this December, over one million Americans will be killed or injured by guns since the Sandy Hook shooting tragedy," the statement says. "We urge you to join the gun violence prevention community in our collective effort to continue to shine a light on the devastating epidemic of gun violence in our nation until these gun deaths and injuries are reduced."
Ruby Corado describes D.C. civil case as 'persecution'
Casa Ruby founder claims board approved transfer of $400,000 in funds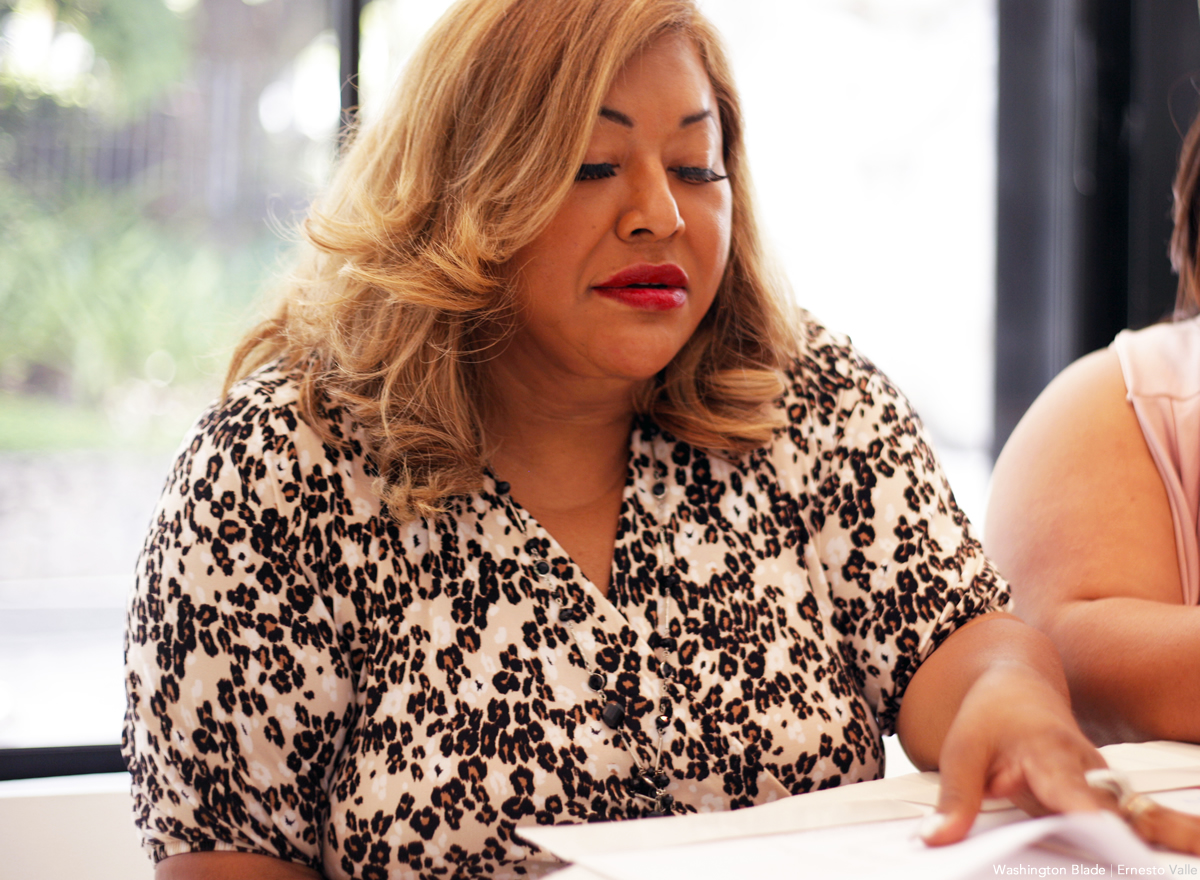 (Editor's note: International News Editor Michael K. Lavers translated this interview from Spanish into English.)
SAN SALVADOR, El Salvador — Casa Ruby founder Ruby Corado told the Washington Blade on Friday during an interview in the Salvadoran capital the allegations that D.C. officials have made against her amount to "persecution."
"This is persecution," Corado said during an interview at a San Salvador coffee shop. "At the end of the day I am interested in people knowing all these things, because I am a human rights activist and what is happening to Ruby Corado should be an alarm for any human rights defender."
The D.C. Department of Human Services on Sept. 24, 2021, informed Casa Ruby it was not going to renew its annual $850,000 grant that, among other things, funded Casa Ruby's emergency "low-barrier" shelter for homeless LGBTQ youth and adults. Corado during the interview with her in El Salvador said Casa Ruby remained open and was not in debt, even though she said the D.C. government did not pay the organization for six months.
"The staff was always paid, because the organization's principal mission is giving work to all of those people that nobody wants to employ," she said. "The government as of today owes us around a million dollars for services we provided and we have never been reimbursed, no newspaper has said this."
The Office of the D.C. Attorney General in a civil complaint it filed in D.C. Superior Court on July 29, 2022, alleged Corado violated the city's Nonprofit Corporations Act in connection with its financial dealings. D.C. Superior Court Judge Danya Dayson later placed Casa Ruby under receivership.
She named the Wanda Alston Foundation, a D.C.-based organization that provides housing services for homeless LGBTQ youth, as the city's receiver. The Wanda Alston Foundation in a preliminary report it filed on Sept. 13 said Casa Ruby "should be dissolved."
An amended civil complaint the Office of the D.C. Attorney General filed in D.C. Superior Court on Nov. 28 alleges Corado withdrew more than $400,000 of Casa Ruby funds for unauthorized use in El Salvador.
The amended complaint, among other things, includes three new defendants to what legal observers say is the equivalent of a D.C. government lawsuit against Corado and Casa Ruby. The new defendants are limited liability companies that Corado created and controls. They include a new version of Casa Ruby called Casa Ruby LLC, doing business as Moxie Health; Pneuma Behavioral Health LLC; and Tigloballogistics LLC, doing business as Casa Ruby Pharmacy.
The amended complaint notes Corado claimed the new companies — and especially the pharmacy — were part of Casa Ruby's mission, but she never received the Casa Ruby board of directors' approval to create them. The attorney general's office has said the board rarely met and failed to provide any oversight of Corado's actions.
According to the amended complaint, Corado transferred large sums of money from Casa Ruby to these companies. And at some point she transferred funds from the new companies to her own personal bank account.
Both the original complaint and the amended complaint allege Corado transferred as much as $500,000 of Casa Ruby's funds to create what she said was a new Casa Ruby in El Salvador that the board approved. But the earlier and amended complaints allege the board never authorized the El Salvador operation.
The amended complaint says Corado between April 2021 and September 2022 transferred more than $400,000 from two Casa Ruby related accounts "to accounts she held under her birth name in two El Salvador banks." It says the Casa Ruby board "never authorized any of these transfers."
Corado told the Blade she feels targeted because she always tells the truth. Corado added people are distracted from the truth because of a system that benefits from "lies and defamation."
"People know my work and have seen me working and because of this there are many people who continue to support me," she said.
The Blade in March 2021 interviewed Corado about the opening of Casa Ruby in El Salvador.
"Our work at Casa Ruby is to avoid suffering and [to offer] support through alliances, that is why we aim to share the programs for migrants that work in Washington because we have seen that they work," she said during an interview from Casa Ruby's new office in San Salvador, on March 18, 2021. "We will do a little more work here in El Salvador so that the LGBTQ community has greater access to these opportunities."
Corado said part of this work included the purchase of a restaurant and nightclub in order to create jobs for LGBTQ people. Corado also opened a shelter "with limited resources, not like what had been done in Washington" and offered makeup classes and other workshops that allowed clients to learn skills to support themselves.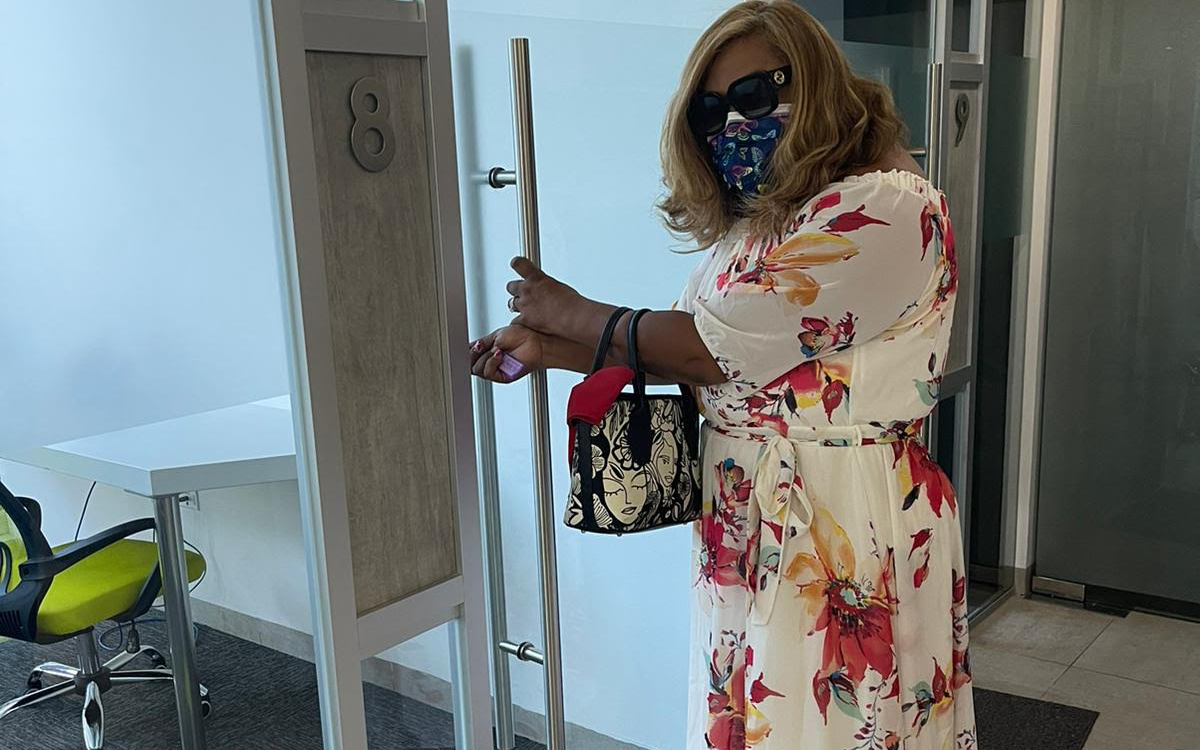 Corado said she began these projects with money she obtained through the sale of her home in D.C. and through her own salary. Corado categorically denied allegations that she withdrew more than $400,000 from Casa Ruby's bank accounts without the board's approval.
"I have everything documented in writing, where [the board] approved my salary and also where the $400,000 was approved," said Corado. 
Corado said the board always knew about the El Salvador project, which she said was part of her strategy for Casa Ruby to expand its work outside the U.S. to countries that include Guatemala and Nicaragua. Corado also denied the allegation the majority of Casa Ruby employees were paid less than $15 an hour, which is less than the D.C. minimum wage as of July 1, 2021.
The minimum wage on that date rose to $15.20 an hour.
"Does the prosecutor want to spend resources investigating Ruby Corado and throwing away her work — as they have wanted to do for the last eight years — instead of feeding the needy," said Corado. "Let them do it."
"The project that I presented was a priority that President Biden had, which was giving money to NGOs to ensure that people don't continue to migrate," added Corado. "I didn't invent anything that wasn't already on the agenda."
Corado noted she was among the LGBTQ and intersex activists who met with Biden in 2021.
"I went and I talked about what the barriers were," she said. "One of them is local government relationships with the community."
Corado said she has "more information that she cannot reveal," but stressed she will do it through the court system. Corado told the Blade she was afraid to speak up because she did not want to jeopardize Casa Ruby's funding.
The next court hearing in the Casa Ruby civil case is scheduled to take place on Jan. 6, and Corado is expected to attend.
'I never kissed anyone's ass'
Corado was born in El Salvador.
She said one of the reasons she decided to open Casa Ruby in the country was because she needed to "heal inside" and "take care of myself" from the trauma she said she suffered during the country's civil war, from her life on the streets of D.C. and from the loss of several people close to Casa Ruby.
She said she had issued reports about hate crimes in D.C. and the Office of the Attorney General did not work with her. Corado said she once told D.C. Attorney General Karl Racine during a meeting that she did not think he was doing enough to help the city's LGBTQ community.
"I was on this man's black list from that moment on," Corado said.
Corado once again described Racine's allegations and the tweets he made against her as baseless, and she has made her opinion to the judge known.
"I never kissed anyone's ass. I don't expect these people now, after 30 years, to come and approve my work," Corado emphasized.
The office of D.C. Attorney General Racine released a statement to the Blade in response to questions about Corado's accusations. "We opened an investigation after public reporting in the Washington Post on July 17th suggested Casa Ruby had engaged in serious violations of the District's nonprofit laws, which our office is responsible for enforcing," the statement read. "Our complaint, and the remarkable amount of evidence we've uncovered in just a short time, speaks for itself."
Corado also said she continues to receive death threats, and her car was vandalized when she was last in D.C.
"I was staying with a friend and someone came to the apartment wanting to hurt or kill me," she said. "I don't know."
Lou Chibbaro, Jr. contributed to this story.