LGBTQ ally Hoffberger stepping down at American Visionary Art Museum
Iconic Baltimore attraction looking for a successor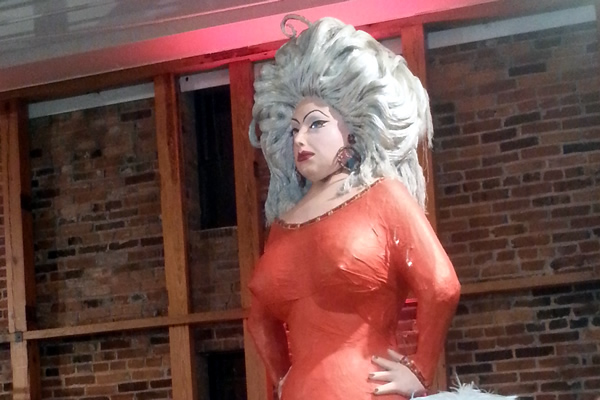 A longtime ally of the LGBTQ community is leaving her job in the arts world.
After 26 years as founder, director and primary curator of the American Visionary Art Museum in Baltimore, Rebecca Alban Hoffberger disclosed this week that she will retire in March of 2022.
In 1992, Congress designated the museum as a "national repository and educational center for visionary art," which is defined as works "produced by self-taught individuals, usually without formal training" which arise from "an innate personal vision that revels foremost in the creative act itself."
Rather than focusing on works of visionary art as objects unto themselves, Hoffberger curates exhibits that combine art, science, philosophy, and humor, always with an underlying focus on social justice and betterment. AVAM's exhibits have explored themes ranging from hunger, public health and climate change to sleep and what makes us smile.
Throughout her tenure, Hoffberger has supported LGBTQ artists by featuring their work and stories in her themed exhibits and adding their work to the museum's permanent collection. While other museums have only recently begun to call attention to their efforts to support Diversity, Equity, Inclusion and Access, AVAM has done it all along.
One of AVAM's best known and most photographed pieces by an LGBTQ artist is British sculptor Andrew Logan's 10-foot-tall statue of Divine, a tribute to the gay actor and Baltimore native who starred in drag in "Pink Flamingos," "Multiple Maniacs," "Hairspray" and other movies by filmmaker John Waters.
Logan, whose paintings and sculpture fill the Andrew Logan Museum of Sculpture between England and Wales, has two other works at AVAM: Icarus, a figure suspended above the main staircase, and the Cosmic Galaxy Egg, an eight-foot sculpture on a plaza outside the museum's Jim Rouse Visionary Center.
Other LGBTQ artists highlighted at AVAM include painter James Snodgrass; Judy Tallwing McCarthy, an Apache leatherwoman and multi-media artist who won the first International Ms. Leather contest in 1987; Andrey Bartenev, a Russian performer, sculptor and experimentalist who won the Alternate Miss World pansexual beauty pageant in 2018 as Miss UFO; and psychic and "consciousness researcher" Ingo Douglas Swann, co-founder of the Stargate Project that was launched to investigate psychic phenomena in military and domestic intelligence applications.
Local visionary talents include woodworker Bob Little; Bob Adams, a multi-media artist and one of John Waters' Dreamlanders, whose photographs, scrapbooks, shrines and other assemblages have been featured in three AVAM exhibits, and Bob Benson, a popular classical music radio host who became a prolific visual artist later in life, responsible for the fart machine in the museum's Flatulence exhibit; the blinged-out Universal Tree of Life visible on Key Highway (made with Rick Ames and David Hess); the ocean beneath Icarus and the sky above him, and many other creations.
The museum has supported the LGBTQ community in other ways as well. It was one of the first places in Maryland to offer a welcoming setting for same-sex weddings, even before they were legal in the state. Couples would get married in the District of Columbia, where it was legal, and then come to AVAM's Meditation Chapel to have a second wedding and reception.
One of Hoffberger's year-long exhibits was called "Race, Class and Gender: 3 Things that Contribute "0" to CHARACTER (Because being a Schmuck is an equal opportunity for everyone!), also known as The Character Show. As part of that 2005-2006 presentation, she wrote an essay entitled "gender," in which she explored the ways people in different countries think about transgender citizens; "intersex" children born with both male and female reproductive organs; gender "verification" for athletes; gender fluidity, the "gender rights" movement and related subjects.
"Every human being is precious," she argued at the end. "We are all, all of us, part of God's family. We all must be allowed to love each other with honor."
The museum's shop, Sideshow, has a gay owner whom she recruited from Chicago, Ted "Uncle Fun" Frankel, and is filled with gay-friendly books and gifts that reflect his sensibility. TripSavvy.com, a website last month named AVAM the LGBTQ+ Best Hidden Gem in Maryland. Readers of The Baltimore Sun just chose it as Baltimore's Best Museum and Best Tourist Attraction.
In announcing her departure, Hoffberger said she loves her time at the museum but wants to pursue other interests, including writing a play about the close friendship between inventor Nikola Tesla and writer Mark Twain.
"I consider myself the luckiest woman I know," she said. "It has been such a fantastic privilege to imagine, birth and to help our American Visionary Art Museum flourish over these past decades, alongside the most wonderful hardworking staff imaginable. Every beautiful thought, opportunity to communally inspire some greater good, we have joyfully undertaken."
Her final curated exhibit as director will be "Healing & The Art of Compassion (And The Lack Thereof!)," scheduled for Oct. 9, 2021 to Sept. 4, 2022. A farewell gala and fundraiser has been set for Nov. 20. The museum's board has appointed m/Oppenheim Executive Search to help find her replacement.
Waters, a big fan of the museum, is one of many who think Oppenheim doesn't have an easy assignment.
"Rebecca Hoffberger's name is almost synonymous with the word 'irreplaceable," the writer and filmmaker said in an email message.
"She has given the world the perfect museum to celebrate Baltimore's reputation as a welcoming home to eccentric artistic outsiders and crackpot personalities," he said. "The statue of Divine watches over the international visiting guests with benevolence and the same understanding Rebecca has for all artists who don't fit in. Rebecca is passionate, obsessive in her drive, and nobody else could have made this place become such a major tourist destination. And now to find a successor? Who knows? We need another Glinda, the Good Witch of the Visionary. She's out there somewhere."
Va. Senate subcommittee tables anti-transgender student athlete bill
Virginia Beach Republican introduced SB 766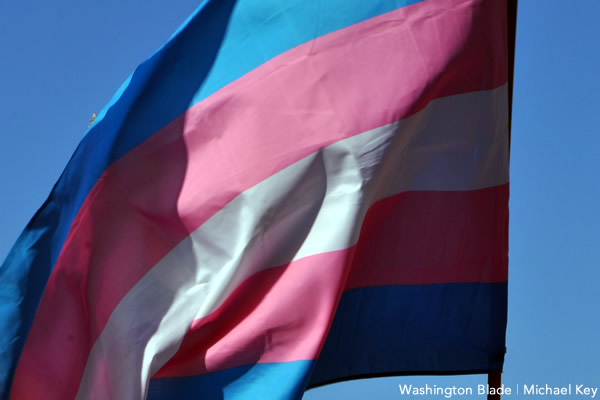 A Virginia Senate subcommittee on Thursday tabled a bill that would have banned transgender students from joining school sports teams that are consistent with their gender identity.
Senate Bill 766, which state Sen. Jennifer Kiggans (R-Virginia Beach) introduced on earlier this month, would have required "each elementary or secondary school or a private school that competes in sponsored athletic events against such public schools to designate athletic teams, whether a school athletic team or an intramural team sponsored by such school, based on biological sex as follows: (i) 'males,' 'men,' or 'boys'; (ii) 'females,' 'women,' or 'girls'; or (iii) 'coed' or 'mixed.'"
"SB 766 (trans sports ban) was passed by indefinitely (it died!) after a long line of speakers testified against it, affirming trans students' rights to participate in sports just like their cisgender peers," tweeted the American Civil Liberties Union of Virginia after the vote. "Trans students belong in sports. Period."
Republican Gov. Glenn Youngkin during his campaign said he does not support allowing trans children to play on sports teams that are consistent with their gender identity.
The General Assembly's 2022 legislative session began on Jan. 12 with Republicans in control of the House of Delegates. Democrats still control the Senate by a 21-19 margin.
A bill that would have eliminated the requirement that school districts implement the Virginia Department of Education's trans and non-binary student guidelines died in a Senate subcommittee on Thursday. The Senate General Laws and Technology on Thursday also tabled a religious freedom measure that would have undermined Virginia's LGBTQ-inclusive nondiscrimination law.
Hyattsville mayor dies by suicide
Kevin Ward and husband adopted son in D.C. in 2012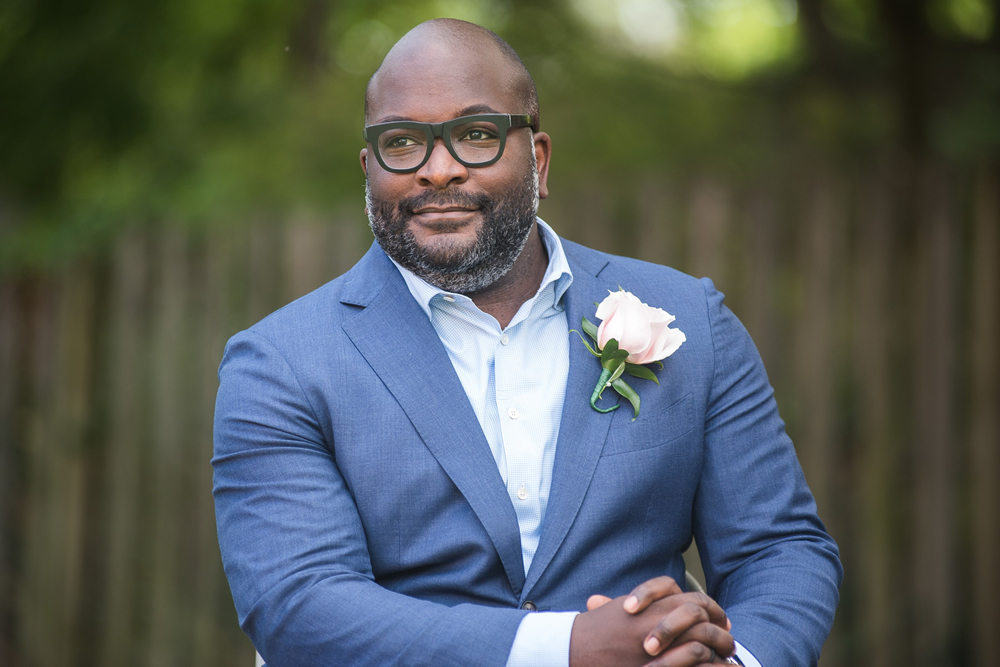 The city of Hyattsville released a statement on Wednesday afternoon announcing that their city's openly gay Mayor Kevin Ward had died one day earlier by an apparent suicide.
"The city of Hyattsville reports with great sadness that our beloved Mayor Kevin Ward passed away yesterday, Jan. 25, from an apparent self-inflicted gunshot wound," the statement says.
"Mayor Ward was a valued and trusted leader and a fierce advocate for all the people of Hyattsville," the statement continues. "We are heartbroken at this loss and extend our deepest sympathy to the mayor's family," it says.
"No further information is available at this time," the statement adds. "Details about services and remembrances will be shared when they are available."
The Washington Post reported that U.S. Park Police disclosed that Ward was found deceased in Fort Marcy Park in McLean, Va., with a "self-inflicted gunshot wound."
Ward, 44, became acting mayor of Hyattsville on Jan. 1, 2021, following the resignation of former Mayor Candace Hollingsworth. He was next in line to become mayor under the city's political system in his then-position as president of the Hyattsville City Council.
He won election to complete the remainder of Hollingsworth's term through 2023 in a May 11, 2021, special election, receiving 57.8 percent of the vote in a three candidate race, according to the Hyattsville election board. His closest opponent, Joseph Solomon, received 31.7 percent of the vote.
Nearby fellow gay mayors — Patrick Wojahn of College Park and Jeffrey Slavin of Somerset — said they got to know Ward through Maryland political circles and thought very highly of him.
"He was insightful, smart and dedicated," Wojahn said. "He always seemed very confident and together as a person. And he had a great sense of humor."
Slavin said he shared that remembrance of Ward, adding that he found Ward to be a "very nice person" dedicated to the people he served both as mayor and during his two terms on the Hyattsville City Council.
"There was noting in his public life that would have predicted this," said Slavin in referring to Ward's sudden passing.
The Washington Blade first reported on Ward in 2012 in a feature story on Ward and his then-domestic partner Chad Copeland when the two attended a ceremony at the D.C. Superior Court to complete the process of adopting their then-5-year-old son Norman. Ward and Copeland were among several gay couples who had their adoption papers signed by a judge at the ceremony.
On the website for his mayoral election campaign last year Ward said he and his family made Hyattsville their home in 2014 after he and his husband adopted their two sons.
"I am a pretty straightforward person," he said in message to voters on his campaign website. "I believe in listening more than talking. But when I talk, I am not one to mince words or tell people what they want to hear," he said. "I believe in doing the work. I believe that if I can help someone, then I can change her or his life," he continued.
"This is why I dedicated my career to providing the best technology to education and to human services, to help as many people as I can," he said.  
Ward was referring to his career in the field of educational and human services technology.
ANC supports license for Capitol Hill LGBTQ bar
Lesbian owners back 'settlement agreement' with restrictions on hours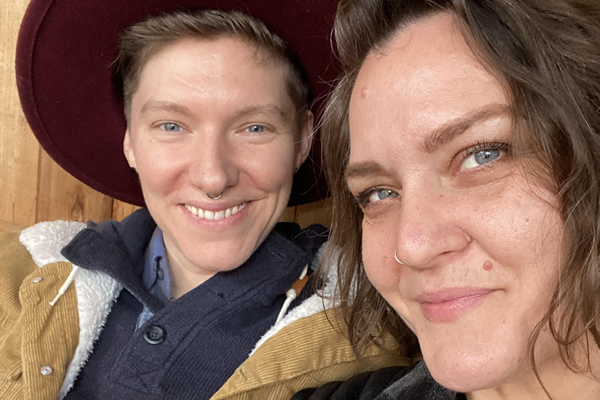 The Capitol Hill Advisory Neighborhood Commission 6B voted unanimously on Tuesday night to support a liquor license for the LGBTQ-owned As You Are Bar, which plans to open in a two-story building at 500 8th St., S.E. in a commercial section of Capitol Hill known as Barracks Row.
The ANC's decision to support the license took place at a virtual meeting attended by nearby residents and supporters of the bar after its owners, lesbian activists Jo McDaniel and Rachel Pike, agreed to the terms of an ANC settlement agreement that calls for restrictions in the hours the bar can offer dancing, entertainment, and music from a DJ.
The agreement means the ANC will not file a protest against the license before the city's Alcoholic Beverage Control Board, a development that would have delayed a decision on the license by the ABC Board by as much as seven months. A protest by the ANC could have cost the bar thousands of dollars in legal fees to contest the protest by providing legal arguments seeking the approval of the license.
The ABC Board makes the final decision on whether to approve all liquor licenses in the city.
McDaniel and Pike have said they plan to operate an upstairs dance bar during evening hours and a café on the first floor during the day as well as in the evenings that will be an inclusive space that "welcomes anyone of any walk of life that will support, love, and celebrate the mission of queer culture."
The two, who are business and life partners, say As You Are Bar will welcome people of all ages, genders, sexual orientations and gender identities as well as drinkers and non-drinkers as customers.
They have also told the ANC and nearby residents they have taken steps to soundproof the building, which they are renting, to ensure their plans to operate a dance bar with music from a DJ on the second floor will not disturb nearby residents.
Under terms of the settlement agreement, which was posted on the ANC's website prior to the start of the meeting, the bar's operating hours will be from 12 p.m. to 12 a.m. Sunday through Thursday and 12 p.m. to 3 a.m. on Friday and Saturday. Under D.C. law, bars are allowed to remain open for the sale of alcoholic beverages until 2 a.m. during weekdays and 3 a.m. on Fridays and Saturdays.
The Settlement Agreement further calls for As You Are Bar to restrict the hours of consumption of alcohol from 12 p.m. to 11:30 p.m. Sunday through Thursday and 12 p.m. to 2:30 a.m. on Friday and Saturday. It calls for allowing live entertainment and dancing (indoors only) from 12 p.m. to 12 a.m. Sunday through Thursday and from 12 p.m. to 1:30 a.m. on Friday and Saturday.
However, the agreement says DJ and amplified music will not be permitted after 8 p.m. on weekdays.
McDaniel told the Blade that at the request of As You Are Bar's attorney Richard Bianco, the ANC agreed to modify that restriction at the Tuesday night meeting to allow the bar to play "conversational" background music after 8 p.m. until closing time on weekdays.
Among other things, the agreement requires the bar comply with a noise mitigation provision to "ensure that sound, noise, and vibrations are not audible or felt beyond the curb or any other premises at any time." It also calls on the bar to provide an "appropriate number of staff" to monitor patrons as they leave the bar through the 8th Street entrance to "prevent loud voices and littering."
Under rules established by the ABC Board and the city's Alcoholic Beverage Regulation Administration or ABRA, if a settlement agreement is reached between an applicant for a liquor license and the ANC, a protest against the license by groups of five or more citizens is not allowed. Protests could still be filed by community-based civic groups and residents of an "abutting" house or residential facility.
In the case of As You Are Bar, no citizens group has emerged to oppose the license. There is just one abutting townhouse on E Street whose owner has expressed general support for the settlement agreement, according to McDaniel. But the resident has indicated she will not rule out a possible protest until Feb. 7, which is the deadline for filing a protest under ABRA's rules.