Suspect charged in murder of trans woman in PG County apartment
District Heights man apprehended in Arlington following unrelated arrest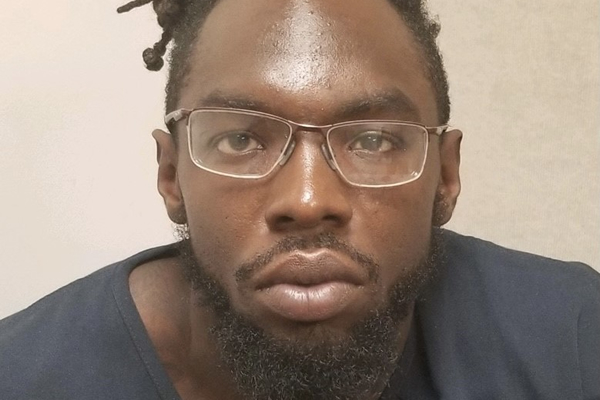 Prince George's County, Md., Police announced on Wednesday that homicide investigators identified and filed murder charges against a 27-year-old District Heights, Md., man for the July 17 homicide of transgender woman Taya Ashton, 20, who was found shot to death in her apartment in nearby Suitland, Md.
In a statement, P.G. Police said they charged DeAllen Davonta Price of the 6400 block of Hil Mar Drive in the unincorporated area of District Heights with first-degree and second-degree murder and related charges in connection with Ashton's death.
According to the statement, while P.G. police detectives identified Price as a suspect in the Ashton murder, Arlington County, Va. Police arrested him on July 18 on an unrelated robbery charge after he attempted to flee from Arlington and Metro Transit police inside a train tunnel at the Pentagon City Metro Station.
"With the assistance of Metro Transit Police, Prince George's County Police detectives and a K9 officer searched those tracks and recovered a weapon that's now been linked to Taya's murder," the P.G. Police statement says.
"Price remains in custody in Virginia pending extradition to Prince George's County," the statement says. "The motive remains under investigation," says the statement, but it adds, "Detectives have uncovered no evidence suggesting Taya's murder was due to her gender identity."
The announcement by P.G. police of Price's arrest came on the same day that family members and friends of Taya Ashton held a vigil to honor her life at 4 p.m. on Wednesday at River Terrace Park in Northeast D.C. along the banks of the Anacostia River, which is part of the neighborhood were Ashton grew up.
Veteran D.C. LGBTQ rights advocate Phil Pannell, who attended and spoke at the vigil, said that in addition to family members and friends of Ashton's, those who spoke included Prince George's County State's Attorney Aisha Braveboy; D.C. Council member Trayon White (D-Ward 8), D.C. transgender rights advocate Earline Budd, and numerous community leaders in D.C. and P.G. County. Budd said more than 200 people turned out for the vigil.
At the conclusion of the vigil, many of the participants drove in a lengthy caravan of cars to the apartment building in the Suitland section of Prince George's County, where Ashton lived and where her life ended, to further honor her.
"The nearby streets were completely filled with people coming out for Taya and her family," Budd said.
A three-page charging document filed in Prince George's County District Court by P.G. Police on Wednesday, July 21, provides a detailed account of how homicide detectives used cell phone records and high-tech firearm ballistics techniques to link Price to the murder.
P.G. police said homicide detectives began an intense investigation into the murder almost immediately after family members who discovered Ashton's body at her apartment on July 17 called police. Ashton's grandfather, Stuart Anderson, who said Taya Ashton's status as a transgender woman was accepted by her family, told the Blade that family members who arrived at the apartment could not find any evidence of a forced entry, leading them to believe the assailant responsible for the murder may have been someone Ashton knew and invited into her home.
The charging document says that although Ashton's phone was missing from the apartment and presumed stolen at the time her body was found, detectives obtained her phone number from family members and used it to discover through the tracing of her calls and text message records that she and Price communicated with each other by text or calls between Friday, July 16, one day prior to the murder, and at 11:42 p.m. Saturday, July 17.
"This is the last call that the Decedent makes or answers before being found deceased," the charging document states.
According to the charging document, earlier in the evening of July 17 Ashton and a friend of hers exchanged text messages in which Ashton wrote, "My dude is on his way" which the friend understood to mean a sexual encounter was expected to take place. A short time later Ashton told her friend in a follow-up text message "that a sexual encounter occurred," the charging document says.
"As the investigation continued, it was discovered that Defendant was arrested on 07/18/2021 at approximately 1642 hours [4:42 p.m.] by the Arlington County Police Department for a theft," the charging document in support of Price's arrest says.
It says that when Arlington Police initially attempted to apprehend Price, "he jumped off of a platform and ran into a subway tunnel towards the Pentagon Metro Station." The document says he hid inside the tunnel for about two hours before being arrested after he walked out of the tunnel into the station.
At the time of his arrest, the charging document says, Price was in possession of a Gucci cross strap bag with distinct markings that Ashton's family members reported was missing from her apartment at the time her body was found.
A short time later, P.G. County homicide investigators, who arrived on the scene, conducted a search of the train tunnel and found a black semi-automatic .40 caliber Smith and Wesson handgun, the charging document states.
It says that that a police firearm expert, after examining the gun, "was able to conclude that the fired .40 caliber cartridge casing recovered from the scene [of the murder] and the fired projectile recovered from the Decedent's body were fired from the Smith and Wesson handgun bearing serial #HTU3274 recovered from the area the Defendant hid from police."
The document states that when questioned after his arrest, Price waived his Miranda rights to withhold comment and obtain representation from an attorney and acknowledged that police had obtained access to his correct cell phone number.
"He also admitted to being sexually intimate with the Decedent and stated that he has known the Decedent for approximately three months," the charging document continues. "He then admitted to being at the Decedent's apartment the night of the murder and being sexually intimate with the Decedent that night," it says.
"Based on the aforementioned facts, the evidence indicates that the Defendant is responsible for shooting and killing the Decedent," the document concludes. The document does not state whether detectives asked Price whether he committed the murder or whether or not he admitted or denied fatally shooting Taya Ashton.
An arrest warrant that accompanies the charging document says that in addition to being charged with first-degree and second-degree murder, police charged Price with Assault-First Degree; Firearm Use/Felony Crime of Violence; Assault-Second Degree; Handgun on Person; and Loaded Handgun on Person.
Court records show that Price had been arrested in Virginia and Maryland several times prior to his latest arrests beginning in 2012 on charges that include illegal possession of a firearm, armed robbery, misdemeanor theft, and grand larceny.
Monika Nemeth to run for Ward 3 D.C. Council seat
First known trans elected official in city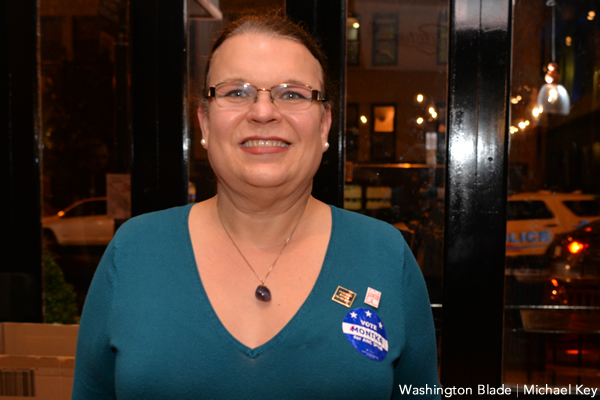 Ward 3 Advisory Neighborhood Commissioner Monika Nemeth, who became the first known transgender person to win election to public office in D.C. when she won her ANC seat in 2018, says she plans to run as a Democrat for the Ward 3 D.C. Council seat currently held by incumbent Democrat Mary Cheh.
Nemeth is a former president of D.C.'s Gertrude Stein Democratic Club, which recently changed its name to the Capital Stonewall Democrats. She currently serves as chair of the ANC Rainbow Caucus, which advocates for LGBTQ issues. She holds the seat for ANC 3F 06, which represents the neighborhoods of North Cleveland Park and Wakefield.
Nemeth's LinkedIn page says she has worked for more than 25 years in the Information Technology field. She says she currently manages a team of software developers for an IT company.
"Yes, I am planning a run for Ward 3 D.C. Council in 2022," Nemeth told the Washington Blade. "I will be running as a Democrat, so I plan to be on the Democratic primary ballot," she said. "I will pursue the public finance option for my campaign."
When asked what she would do differently from Cheh, who is a longtime supporter of LGBTQ rights and who is expected to run for re-election, Nemeth said only that she will announce her platform at the time she formally announces her candidacy, which she expects to happen in early September.
Cheh was first elected to the D.C. Council in 2006. She is an attorney and tenured professor of constitutional law at George Washington University Law School.
The Washington City Paper has reported that at least one other candidate is considering running against Cheh for the Ward 3 Council seat – Washington Metropolitan Area Transit Authority attorney Petar Dimtchev. Dimtchev received the Washington Post endorsement when he ran unsuccessfully against Cheh in 2018 as an independent, according to the City Paper.
UDC hit with anti-trans discrimination complaint
University accused of misgendering student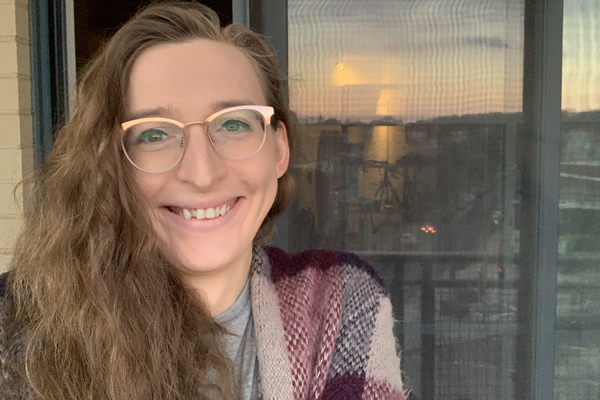 A female transgender student at the University of the District of Columbia on Aug. 2 filed a discrimination complaint against the university on grounds that it is violating the city's Human Rights Act by continuing to use her legal name on school documents and class enrollment lists unless she obtains a legal name change.
Emma K. Alexandra, 28, a part-time student who was admitted to UDC in April, states in her complaint filed with the D.C. Office of Human Rights that she informed UDC officials that she was not ready to immediately undertake a legal name change. She states in her complaint that she has repeatedly asked that her chosen name alone be used on all documents and student lists that can be viewed by fellow students and professors.
She said she understands that her legal name may be needed for legal admissions and academic transcript related documents. But to her dismay, Alexandra told the Washington Blade, UDC officials put in place what they consider a compromise position that identifies her on all public university documents and student class lists by both her legal name and her chosen name.
She said the university began and currently continues to identify her by her male legal name with her preferred name written next to her legal name inside parentheses in this way: Legal First Name (preferred name Emma); Legal last name (preferred name Alexandra).
"This is an egregious solution," Alexandra told UDC President Ronald Mason Jr. in a July 4 email. "This is the name that appears everywhere now," she wrote Mason. "Most notable, it's the name that was displayed to my fellow students and professor during the class I took this summer on Blackboard," she said, which is an online site like Zoom on which UDC conducts classes.
"This effectively outed me as trans to every other student and my professor," she told Mason. "I assume the same will continue when I go to campus in the fall and get an ID. My ID will have this name and out me to everyone I show it to," she wrote. "This is completely unacceptable, disrespectful and dangerous."
Alexandra said she currently works full time as a Web Application Architect for Bloomberg Industry Group as part of its News Engineering team. She said the company is fully accepting of her using her chosen name without obtaining a legal name change. She said she has enrolled at UDC to take courses she needs to qualify for applying to medical school to fulfill her dream of becoming a psychiatrist.
Under longstanding procedures, the D.C. Office of Human Rights investigates discrimination complaints and usually calls on both parties to consider reaching a conciliation agreement over the complaint if possible. If conciliation cannot be reached, OHR makes a determination of whether probable cause exists that discrimination occurred in violation of D.C. law.
If such a determination is made, the case is sent to the D.C. Commission on Human Rights, which conducts a trial-like hearing that includes testimony by witnesses before it issues a ruling on the case.
In response to a question from the Blade about whether a refusal by a D.C. university to use a transgender person's chosen name violates the Human Rights Act, OHR Director Monica Palacio said OHR cannot provide legal advice on such a question. But in a statement to the Blade, Palacio said for educational institutions, the Human Rights Act prohibits discrimination based on 15 protected characteristics, including gender identity and expression.
OHR's regulations related to educational institutions "prohibit creating a hostile environment which could include deliberately misgendering a student," Palacio said. "If anyone believes the statute has been violated, they may file a complaint with OHR," she said. "OHR investigations are confidential."
Alexandra said she had yet to receive a direct reply to her email message to Mason as of early this week. But last week she was contacted by phone by an official from the university's admissions office and from Dr. William Latham, UDC's Chief Student Development and Success Officer on behalf of Mason.
According to Alexandra, the two explained that her legal name was needed on certain legal documents. She said Latham explained that a software system the university uses to manage student records known as the Banner system, doesn't support preferred names and currently prevents the school from displaying only her preferred name.
The officials said the university planned to upgrade to a newer version of Banner in October and the new system "may" support using preferred names, Alexandra said.
"Overall, I thought this was a really ridiculous conversation where folks from UDC tried to convince me that they are using my preferred name while also stating that they cannot use my preferred name as it should be used, mostly due to limitations of software," Alexandra told the Blade. "I don't think the Human Rights Act has an exception for software systems," she said.
The Blade contacted UDC President Mason by email on July 20, asking him to comment on Alexandra's concerns and asking him what, if any, problems would be caused if the university used Alexandra's chosen name rather than her legal name on the various public, external documents and lists in which her legal name is being used.
"In response to your July 20 email, the Office of the Registrar can enter the student's preferred name in Banner (via all access screen for faculty and staff awareness), however all official documents, such as the academic transcript, will require the use of the student's official legal name," Mason told the Blade in a one-sentence response.
His response didn't address the issue raised by UDC official Latham in his phone conversation with Alexandra in which Latham said the Banner software system couldn't currently identify Alexandra only by her chosen name. Mason also didn't respond to the Blade's question of why UDC could not adopt a policy like the D.C. Public Schools system, which accepts a request by transgender students to use their chosen name without having to obtain a legal name change.
Alexandra, meanwhile, points out that UDC's refusal so far to allow her chosen name alone to be used on all public university documents and student lists without her legal name being attached to it appears to be at odds with a May 4 open letter Mason released to the university community expressing strong support for using the appropriate pronouns for transgender and gender non-conforming students.
"The University of the District of Columbia (UDC) strives to be an inclusive campus that supports and values all members of our community, including LGBTQIA+, nonbinary, intersex and gender non-conforming students," Mason says in his letter.
"Choosing to not use or ignore the pronouns someone has requested you to use implies that person shouldn't and doesn't exist and does not deserve respect," Mason wrote in his letter. "Therefore, we encourage all faculty and staff to use pronouns in their email signatures as an act of solidarity and to foster a culture of respect for every Firebird," he concludes in referring to the symbolic name used for members of the UDC community.
UDC is governed by a 15-member independent Board of Trustees. Eleven of the members are appointed by the D.C. mayor and confirmed by the D.C. Council. Three are appointed by UDC alumni and one by students, according to information on the UDC website.
LULAC Lambda announces 2021 scholarship awards
Castro, Javier Rodriguez win $1,000 honors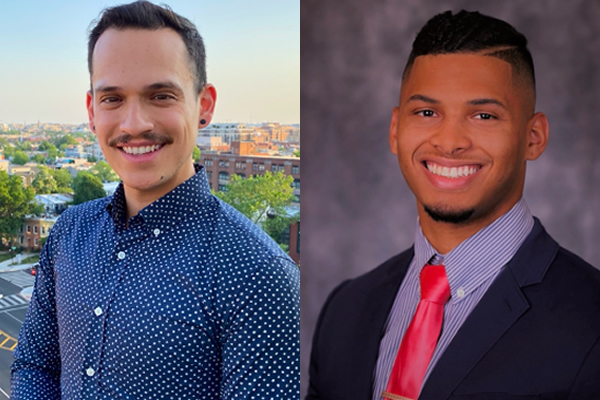 The D.C.-based LGBTQ Latinx organization LULAC Lambda has announced it has selected two D.C. residents bound for graduate studies in foreign affairs and higher education to receive its 2021 annual scholarship award.
"For a fourth year in a row, LULAC Lambda will provide scholarships to outstanding scholars who come from our LGBTQ+ Latinx community," said Erik Rodriquez, the LULAC Lambda president, in a statement released by the group. "Our scholarship program will help these scholars achieve their academic goals and reduce their student debt," Rodriquez said.
The statement says one of the two scholarship awards, for $1,000, will go to Brian Castro, who will begin studies for a master's degree in the fall of 2021 at Georgetown University's Walsh School of Foreign Service.
"The generous scholarship provided by LULAC Lambda will complement my studies by going directly into my tuition costs," Castro said in the statement. "Though I have been a resident of Washington, D.C., working full-time at a leading public health consulting firm, I am grateful to have received the support from an organization that is also committed to social justice," he said.
The other scholarship, for $1,300, will go to Victor Javier Rodriguez for his doctoral work in education at Florida State University. The LULAC Lambda statement says Javier Rodriquez's academic interest lies in "exploring the relationship between school communities and districts' implementation of anti-racist practice and student success."
In his own words, Javier Rodriquez said, "A long-term career goal of mine is to affect change at the federal level through the United States Department of Education, in which I would work to address our nation's education crisis by advocating for equitable policies and practices that improve the outcome for all our students, especially those who are most vulnerable."
LULAC Lambda says it was founded in October 2014 "to mobilize and strengthen the LGBTQ+ and Latinx communities of Washington, D.C. through community and civic engagement." It is one of 1,000 chapters across the country affiliated with the League of United Latin American Citizens (LULAC), the nation's largest and oldest Latinx volunteer-based civil rights organization, the group's statement says.