Suspect charged in murder of trans woman in PG County apartment
District Heights man apprehended in Arlington following unrelated arrest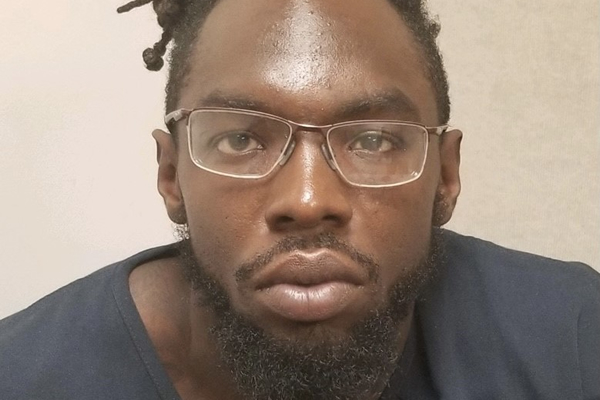 Prince George's County, Md., Police announced on Wednesday that homicide investigators identified and filed murder charges against a 27-year-old District Heights, Md., man for the July 17 homicide of transgender woman Taya Ashton, 20, who was found shot to death in her apartment in nearby Suitland, Md.
In a statement, P.G. Police said they charged DeAllen Davonta Price of the 6400 block of Hil Mar Drive in the unincorporated area of District Heights with first-degree and second-degree murder and related charges in connection with Ashton's death.
According to the statement, while P.G. police detectives identified Price as a suspect in the Ashton murder, Arlington County, Va. Police arrested him on July 18 on an unrelated robbery charge after he attempted to flee from Arlington and Metro Transit police inside a train tunnel at the Pentagon City Metro Station.
"With the assistance of Metro Transit Police, Prince George's County Police detectives and a K9 officer searched those tracks and recovered a weapon that's now been linked to Taya's murder," the P.G. Police statement says.
"Price remains in custody in Virginia pending extradition to Prince George's County," the statement says. "The motive remains under investigation," says the statement, but it adds, "Detectives have uncovered no evidence suggesting Taya's murder was due to her gender identity."
The announcement by P.G. police of Price's arrest came on the same day that family members and friends of Taya Ashton held a vigil to honor her life at 4 p.m. on Wednesday at River Terrace Park in Northeast D.C. along the banks of the Anacostia River, which is part of the neighborhood were Ashton grew up.
Veteran D.C. LGBTQ rights advocate Phil Pannell, who attended and spoke at the vigil, said that in addition to family members and friends of Ashton's, those who spoke included Prince George's County State's Attorney Aisha Braveboy; D.C. Council member Trayon White (D-Ward 8), D.C. transgender rights advocate Earline Budd, and numerous community leaders in D.C. and P.G. County. Budd said more than 200 people turned out for the vigil.
At the conclusion of the vigil, many of the participants drove in a lengthy caravan of cars to the apartment building in the Suitland section of Prince George's County, where Ashton lived and where her life ended, to further honor her.
"The nearby streets were completely filled with people coming out for Taya and her family," Budd said.
A three-page charging document filed in Prince George's County District Court by P.G. Police on Wednesday, July 21, provides a detailed account of how homicide detectives used cell phone records and high-tech firearm ballistics techniques to link Price to the murder.
P.G. police said homicide detectives began an intense investigation into the murder almost immediately after family members who discovered Ashton's body at her apartment on July 17 called police. Ashton's grandfather, Stuart Anderson, who said Taya Ashton's status as a transgender woman was accepted by her family, told the Blade that family members who arrived at the apartment could not find any evidence of a forced entry, leading them to believe the assailant responsible for the murder may have been someone Ashton knew and invited into her home.
The charging document says that although Ashton's phone was missing from the apartment and presumed stolen at the time her body was found, detectives obtained her phone number from family members and used it to discover through the tracing of her calls and text message records that she and Price communicated with each other by text or calls between Friday, July 16, one day prior to the murder, and at 11:42 p.m. Saturday, July 17.
"This is the last call that the Decedent makes or answers before being found deceased," the charging document states.
According to the charging document, earlier in the evening of July 17 Ashton and a friend of hers exchanged text messages in which Ashton wrote, "My dude is on his way" which the friend understood to mean a sexual encounter was expected to take place. A short time later Ashton told her friend in a follow-up text message "that a sexual encounter occurred," the charging document says.
"As the investigation continued, it was discovered that Defendant was arrested on 07/18/2021 at approximately 1642 hours [4:42 p.m.] by the Arlington County Police Department for a theft," the charging document in support of Price's arrest says.
It says that when Arlington Police initially attempted to apprehend Price, "he jumped off of a platform and ran into a subway tunnel towards the Pentagon Metro Station." The document says he hid inside the tunnel for about two hours before being arrested after he walked out of the tunnel into the station.
At the time of his arrest, the charging document says, Price was in possession of a Gucci cross strap bag with distinct markings that Ashton's family members reported was missing from her apartment at the time her body was found.
A short time later, P.G. County homicide investigators, who arrived on the scene, conducted a search of the train tunnel and found a black semi-automatic .40 caliber Smith and Wesson handgun, the charging document states.
It says that that a police firearm expert, after examining the gun, "was able to conclude that the fired .40 caliber cartridge casing recovered from the scene [of the murder] and the fired projectile recovered from the Decedent's body were fired from the Smith and Wesson handgun bearing serial #HTU3274 recovered from the area the Defendant hid from police."
The document states that when questioned after his arrest, Price waived his Miranda rights to withhold comment and obtain representation from an attorney and acknowledged that police had obtained access to his correct cell phone number.
"He also admitted to being sexually intimate with the Decedent and stated that he has known the Decedent for approximately three months," the charging document continues. "He then admitted to being at the Decedent's apartment the night of the murder and being sexually intimate with the Decedent that night," it says.
"Based on the aforementioned facts, the evidence indicates that the Defendant is responsible for shooting and killing the Decedent," the document concludes. The document does not state whether detectives asked Price whether he committed the murder or whether or not he admitted or denied fatally shooting Taya Ashton.
An arrest warrant that accompanies the charging document says that in addition to being charged with first-degree and second-degree murder, police charged Price with Assault-First Degree; Firearm Use/Felony Crime of Violence; Assault-Second Degree; Handgun on Person; and Loaded Handgun on Person.
Court records show that Price had been arrested in Virginia and Maryland several times prior to his latest arrests beginning in 2012 on charges that include illegal possession of a firearm, armed robbery, misdemeanor theft, and grand larceny.
Capital Stonewall Democrats backs Robert White over Bowser
LGBTQ group endorses Erin Palmer over incumbent Mendelson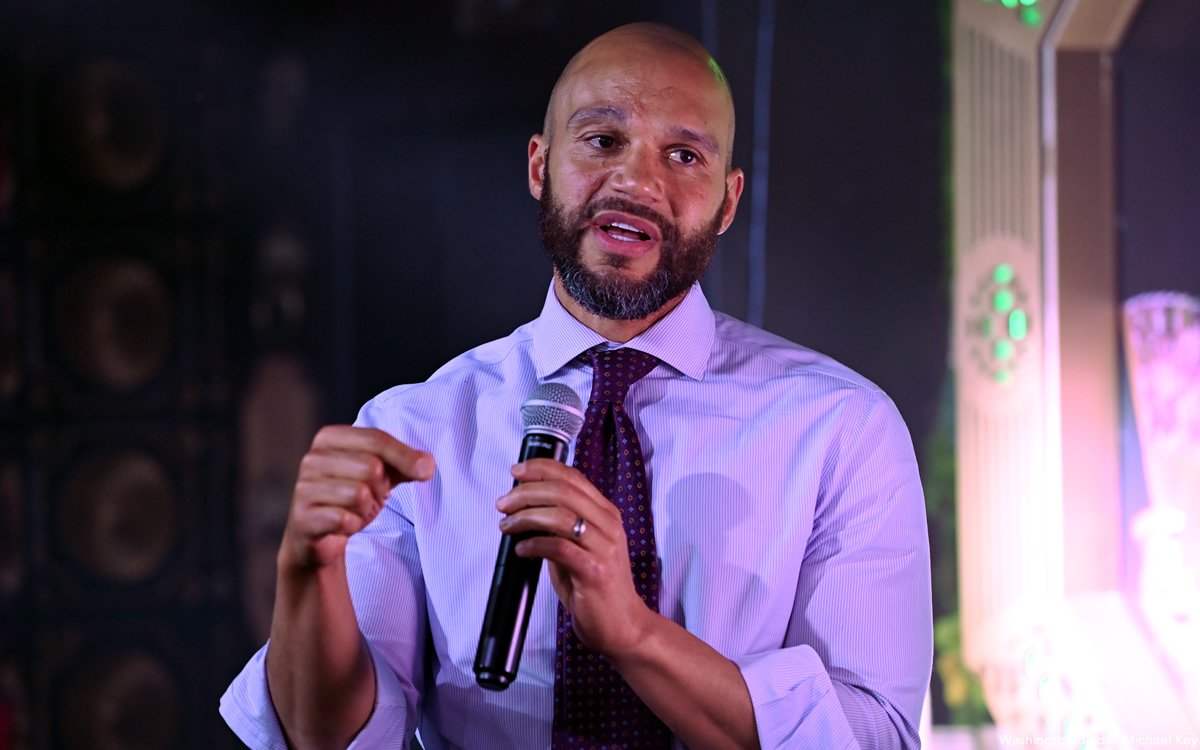 The Capital Stonewall Democrats, the city's largest local LGBTQ political group, announced on May 17 that it has selected D.C. Council member Robert White (D-At-Large) over incumbent Mayor Muriel Bowser and political newcomer Erin Palmer over D.C. Council Chair Phil Mendelson as its endorsed candidates in the city's June 21 Democratic primary.
With Bowser and Mendelson as well as White having longstanding records of support for LGBTQ rights and Palmer expressing strong support for the LGBTQ community, local observers say the LGBTQ Democratic group's 163 voting members appear to have based their endorsement decisions on other pressing issues facing the city rather than only LGBTQ specific issues.
In other races, Capital Stonewall Democrats, formerly known as the Gertrude Stein Democratic Club, which was founded in 1976, voted to endorse incumbent Ward 1 Council member Brianne Nadeau over gay former D.C. police officer Salah Czapary and community activist Sabel Harris who are running against Nadeau.
In the Ward 5 Council race, the group has endorsed gay D.C. Board of Education member Zachary Parker in a five-candidate contest for the seat being vacated by incumbent Council member Kenyan McDuffie, who ran unsuccessfully for the office of D.C. Attorney General.
The group has also endorsed Council member Charles Allen (D-Ward 6), who is running unopposed in the primary; D.C. Congressional Del. Eleanor Holmes Norton (D), who's favored to win re-election against two lesser-known opponents; and D.C. shadow U.S. Rep. Oye Owolewa, who's also favored over a lesser known opponent.
Capital Stonewall Democrats announced it did not make an endorsement in the Ward 3 and At-Large D.C. Council races and in the D.C. Attorney General race because no candidate received a required 60 percent of the vote under the group's longstanding rules for endorsements.
By not endorsing in the At-Large race, the group passed over incumbent At-Large Council member Anita Bonds, a longtime supporter of LGBTQ issues. Bonds is being challenged by Advisory Neighborhood Commissioner Lisa Gore, former D.C. shadow House member Nate Fleming, and former D.C. Council staffer Dexter Williams.
In the hotly contested Ward 3 Council race, nine candidates are competing for the seat being vacated by incumbent Mary Cheh, another longtime LGBTQ rights supporter.
In the race for attorney general, three prominent local attorneys — Brian Schwalb, Ryan Jones, and Bruce Spiva — are competing for the AG position being vacated by incumbent Karl Racine, who chose not to run for re-election.
Capital Stonewall Democrats' endorsements follow a series of five LGBTQ candidate forums the group held virtually in which most of the candidates running in the various races attended.
In the group's mayoral form, Bowser was the only one of the four mayoral contenders that did not attend. Her supporters said she had a conflicting event organized by gay Democratic activist Kurt Vorndran that prevented her from attending the Stonewall event.
Those who attended the mayoral forum were Robert White, D.C. Council member and mayoral candidate Trayon White (D-Ward 8), and former attorney and community activist James Butler.
A detailed vote tally released by Capital Stonewall Democrats shows the vote count for each of the endorsed candidates as well as candidates in the races for which the group did not make an endorsement.
In the mayoral race, Robert White received 120 votes, or 74.5 percent. Bowser came in second place with 37 votes or 23.0 percent; Trayon White received just two votes or 1.2 percent, with Butler receiving just 1 vote at 0.6 percent. One vote was cast for no endorsement.
In the D.C. Council Chair race, Palmer received 89 votes or 60.1 percent, just surpassing the 60 percent threshold needed for an endorsement. Mendelson received 48 votes or 32.4 percent. Eleven votes were cast for no endorsement.
In the Ward 1 Council race, Nadeau received 100 votes or 69.4 percent compared to gay candidate Czapary, who came in second place with 23 votes or 16.0 percent. Candidate Sabel Harris came in third place with 9 votes or 6.3 percent, with a no endorsement selection receiving 12 votes or 8.3 percent.
In the Ward 5 contest, gay school board member Parker received 91 votes or 64.5 percent. Candidate Faith Hubbard came in second with 31 votes or 22.0 percent. The remaining candidates received fewer than 10 votes each, including former At-Large and former Ward 5 Council member Vincent Orange, who received 5 votes or 3.5 percent.
"Since Capital Stonewall Democrats has only 221 members, and only 163 bothered to vote, this is clearly not representative of the LGBTQ+ community in the District," said gay Democratic activist Peter Rosenstein, who is supporting Bowser for mayor.
But longtime D.C. LGBTQ rights advocate A. Billy S. Jones-Hennin is among the local activists who view the Capital Stonewall Democrats' endorsement of lesser-known challengers – most of whom have progressive, left-leaning views – as a reflection of changes in the demographics of the LGBTQ community and the Stonewall group's members.
"At the forefront for voters is who they feel can address core problems like crime, open drug transactions, and increased homeless populations," Jones-Hennin told the Blade. "Just asking voters for support based on their support of the LGBTQ+ community in the past does not cut it," he said. "We are multi-faceted voters looking for new, more progressive and aggressive leadership."
The Capital Stonewall Democrats list of endorsements as well as races with no endorsement can be viewed below:
• Mayor: Robert White, with 74.5% of the round one vote
• DC Attorney General: No Endorsement
• DC Council Chair: Erin Palmer, with 60.1% of the round one vote
• Ward 1 Council: Brianne K. Nadeau, with 69.4% of the round one vote
• Ward 3 Council: No Endorsement
• Ward 5 Council: Zachary Parker, with 64.5% of the round one vote
• Ward 6 Council: Charles Allen, with 83.2% of the round one vote
• At-Large Council: No Endorsement
• Delegate to U.S. House of Representatives: Eleanor Holmes Norton, with 69.7% of the round one vote
• U.S. Representative: Oye Owolewa, with 66.1% of the round one vote
Pannell resigns in protest from Ward 8 Council member's LGBT Commission
Says Trayon White has no out member of his staff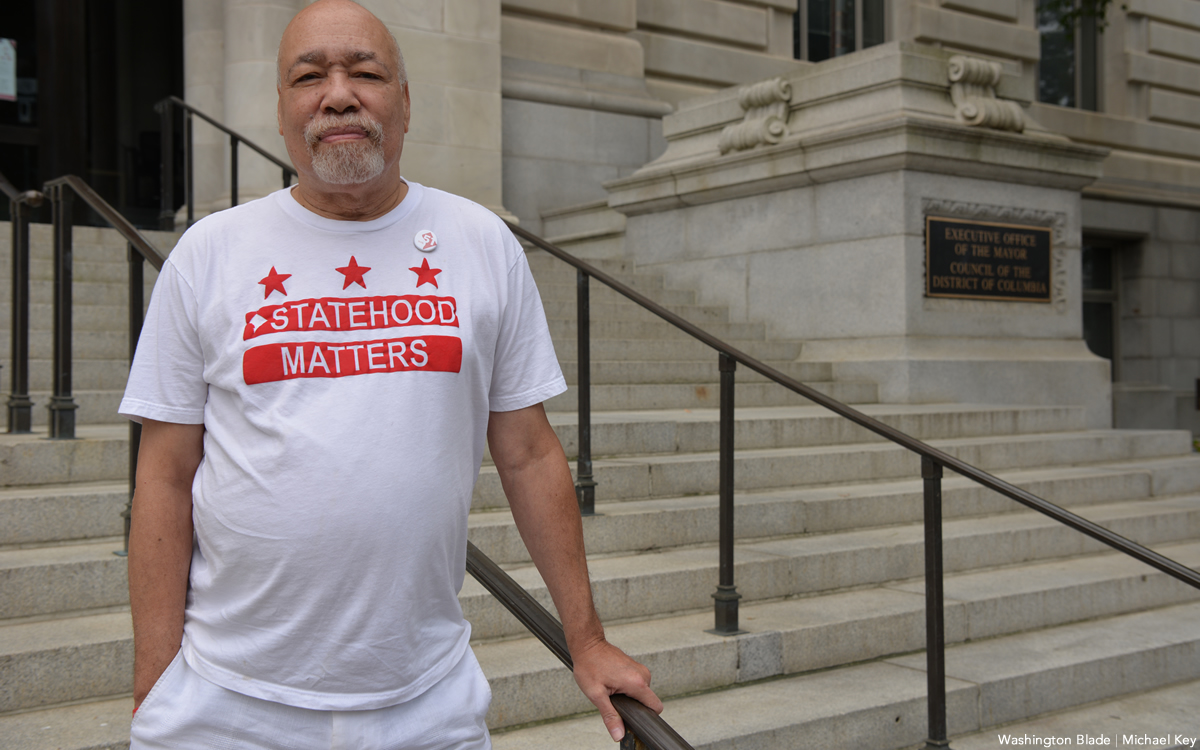 Longtime D.C. LGBTQ rights activist Phil Pannell announced on May 6 that he has resigned as a member of the Ward 8 LGBT Commission created by D.C. Council member Trayon White (D-Ward 8) on grounds that White does not have an LGBTQ person on his Council staff.
White's office has said the Council member created the commission to "focus on the specific needs of this community" in his role as a supporter of LGBTQ equality.
"For me, this is a major issue of inclusion, affirmative action and diversity," Pannell said in an email message announcing his resignation. "I as a Black Gay man cannot in good conscience continue to be a member of my Councilmember's LGBT Commission when he has no one from my community on his staff," Pannell's announcement message continues.
"This is hypocritical at best and structurally homophobic at worst," he said. "I deeply resent and refuse to be used as anyone's homosexual prop for any purposes. Therefore, I resign from the commission effective immediately."
In response to a request by the Washington Blade for comment on Pannell's resignation, Julia Jessie, White's director of communications, said White's Council office "follows all legal HR procedures and hires based on experience and skillset." Jessie added, "As an employer, we do not discriminate or consider a person's race, color, religion, or sex, including sexual orientation or gender identity, when making decisions about employment qualifications."
According to Jessie, "We do, however, harvest a safe and inclusionary work environment where employees who wish to voluntarily disclose their sexual orientation of gender identity feel comfortable doing so."
White's office released a statement from the Ward 8 LGBT Commission's chair, Marvin 'Rahim' Briggs, saying the commission "regretfully accepts" Pannell's resignation.
"The Commission will continue to focus on and address issues affecting Ward 8 LGBTQ," Briggs says in the statement. "We'll continue to organize to promote acceptance of LGBTQ community diversity and to foster respect and appreciation for each member of the community residing in Ward 8."
Two gay candidates disqualified from D.C. primary ballot
Republican, Libertarian activists withdraw from races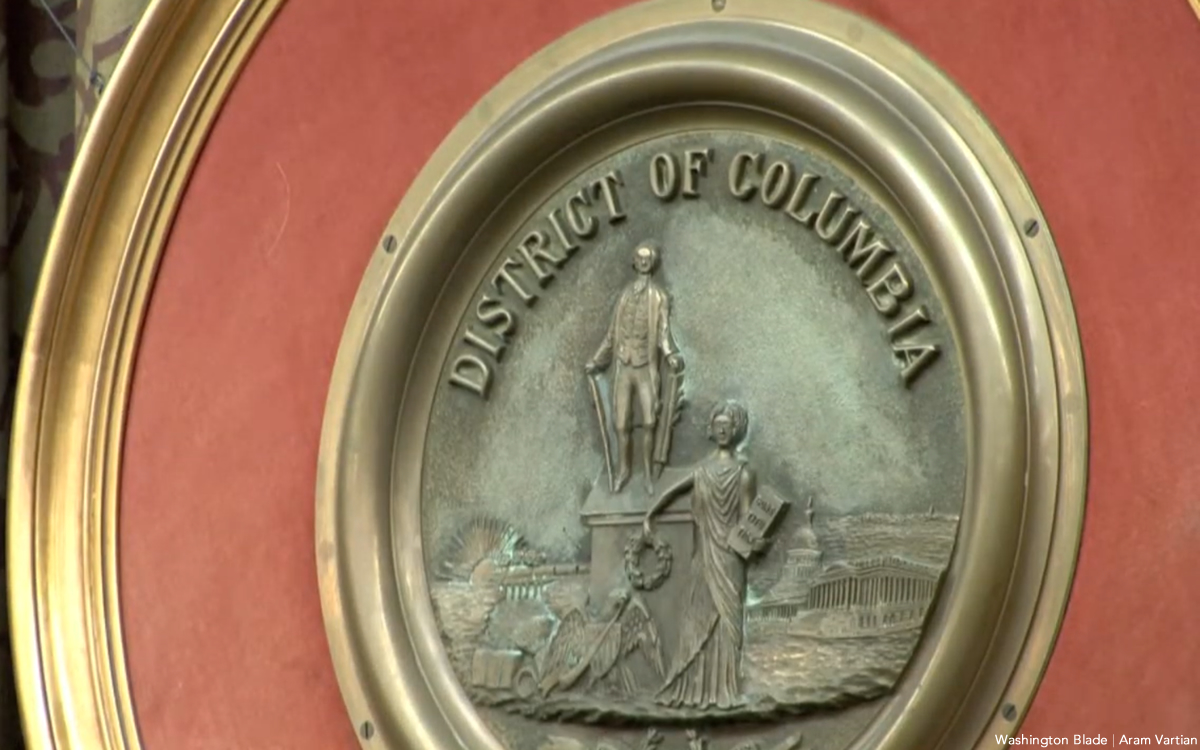 A member of the Capital Stonewall Democrats, D.C.'s largest LGBTQ local political group, mounted a successful challenge before the D.C. Board of Elections earlier this month that resulted in a gay Republican and a gay Libertarian Party activist withdrawing as candidates for public office in the city's June 21 primary.
James Harnett, 24, a member of the Ward 2 Democratic Committee and a member of the staff of U.S. Sen. Sherrod Brown (D-Ohio), filed challenges to the candidacy of gay Libertarian Party activist Bruce Majors, who was running unopposed in the June 21 primary for the office of both D.C. Delegate to the U.S. House and chair of the Libertarian Party of D.C.
The Board of Elections upheld Harnett's challenge claiming that Majors failed to obtain a sufficient number of valid petition signatures needed to be placed on the ballot for both offices, according to elections board spokesperson Nicholas Jacobs. Majors withdrew his candidacy for both offices rather than contest the challenge.
The Board of Elections also upheld a challenge filed by Harnett against the candidacy of gay Republican and D.C. Log Cabin Republicans organization member Andrew Desser, who was running unopposed in the primary for the position of Ward 1 Chairperson of the D.C. Republican Committee.
Desser told the Blade he acknowledged that he fell short in obtaining the needed number of valid petition signatures and would not contest the challenge.
Harnett, who appeared to be acting on his own behalf and not representing the Capital Stonewall Democrats in his challenges to Majors and Desser before the election board, did not respond to the Blade's request for comment.
Board of Elections records showed that he also successfully challenged six other candidates seeking ballot placement in the June 21 primary, one of whom, Lori Furstenberg, was running for mayor as a Republican and another, Corren Brown, was running for mayor as a Statehood-Green Party member.
The others Harnett mounted a successful challenge against were GOP candidates running for the Ward 2, Ward 4, and Ward 7 GOP Chairperson positions; and Leniqua 'Dominique' Jenkins, a Democrat running for the at-large D.C. Council seat, who was the only Democrat challenged by Harnett.
Harnett, a former ANC commissioner in the Foggy Bottom neighborhood, ran unsuccessfully in 2020 for the nonpartisan office of D.C. Board of Education for Ward 2. Among the candidates he ran against was gay education advocate Allister Chang, who won that race.