Out athletes going for gold
New milestones in queer representation at Tokyo Olympics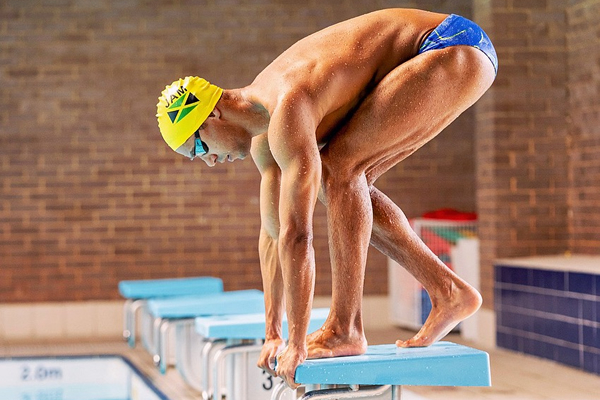 The 2020 Tokyo Olympic Games begin on June 23, with competitions continuing through Aug. 8. The Games were postponed in March 2020 as a result of the COVID-19 pandemic.
For many aspiring Olympians, the quadrennial event is the culmination of a lifetime of sacrifices to compete against the best athletes in the world while representing their country on an international stage.
The road to get there is filled with obstacles and this Olympic cycle produced one more barrier in the form of training disruptions that happened in almost every sport.
After all the dust settled during the qualifying process, 627 athletes were named to Team USA. More than 30 of those athletes are out members of the LGBTQ community.
Regarding the other countries competing, according to a recent story by Outsports, "At least 142 publicly out gay, lesbian, bisexual, transgender, queer and nonbinary athletes are headed to Tokyo for the Summer Olympic Games."
Flashback to the 2016 Rio Olympic Games when a correspondent from The Daily Beast used hook-up apps such as Bumble, Tindr, Grindr, and Jack'd to message gay athletes. His published story went on to describe the athletes, creating potentially dangerous situations for the athletes from countries with high anti-LGBTQ violence rates.
What should we expect from the environment in Japan?
There have been a handful of Japanese athletes who have come out recently but for the most part, they are competing in other countries – notably trans soccer star Kumi Yokoyama who plays for the Washington Spirit and out lesbian Shiho Shimoyamada who plays soccer for SV Meppen in Germany.
LGBTQ activists in Japan were hoping that the worldwide attention on the Tokyo Olympics would help push their ruling Liberal Democratic Party to pass EqualityActJapan banning discrimination against LGBTQ people. Their legislature went into recess without passing the measure.
That setback did not stop Pride House Tokyo Legacy from opening in October 2020 in Shinjuku, Tokyo. It will serve as a permanent LGBTQ support center where individuals can feel safe and at home.
Pride House Tokyo Legacy has been authorized as part of the Tokyo 2020 Official Program by the Tokyo Organizing Committee of the Olympic and Paralympic Games along with full support from the International Olympic Committee. Those endorsements make it the first Pride House worldwide to achieve this status.
Visibility for the LGBTQ community is important for a variety of reasons and in the sports world, we tend to point to LGBTQ athletes as role models for younger generations.
Over the next few weeks we will bear witness to the first transgender athlete to compete in Laurel Hubbard as a weightlifter for Team New Zealand.
We will watch lesbian triple jumper Yulimar Rojas compete and carry the flag for her country of Venezuela in the Parade of Nations.
And we will sit enthralled as gay British Olympic diver Tom Daley is cheered on by his three-year-old son Robbie as he attempts to medal again in his fourth Olympics.
The last time the Blade checked in with out Tongan swimmer Amini Fonua, he was in heavy training to qualify for the 2020 Tokyo Olympics and struggling with the funding needed to complete that journey.
Fonua was one of the Olympic athletes that spoke out against The Daily Beast story from 2016, which helped to get the story retracted, with an apology. It was the first instance where the International Olympic Committee, which also chimed in, had ever acknowledged an LGBTQ presence.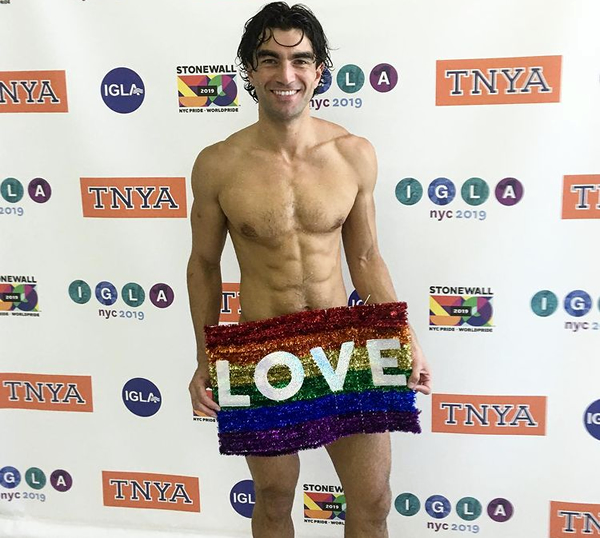 When the pandemic hit, Fonua's training pool closed and his income from teaching swimming lessons dried up. In an effort to be closer to his training group, New York Athletic Club, he moved from New Jersey to New York City mid-pandemic.
To stay in shape, he ramped up his time spent on weight training, running, biking, and yoga.
"The pandemic changed a lot of things for all of us," says Fonua. "This past year has been about survival, and I have done my best with what I have been given."
Eventually pools opened back up with limits on swimmers per lane and time spent in the water. Fonua was only allowed four 45-minute swim practices per week, which is well below the amount of time that elite swimmers spend in the pool.
He also found employment with Fitter and Faster Swim Camps with all of his travel to swim camps completed by train to minimize his exposure to the virus.
As of May 2021, Fonua was not the top Tongan swimmer that would be selected for the Olympic team. He was also facing swim meet entry barriers due to COVID restrictions to even compete for a spot on the team.
In smaller nations and those with developing swim programs, the international federation for swimming, FINA, and the International Olympic Committee allow for universalityentries into the Olympics.
The universality system allows a nation with no Olympic swimming qualifier to enter up to one man and one woman in the Olympics. The two swimmers are chosen based on FINA points, which are calculated using a cubic curve.
Fonua received a last minute entry to the Atlanta Classic swim meet on May 14 where he would have one last shot to make the team. He threw down a time in the 100 meter breaststroke that moved him past the top Tongan swimmer based on FINA points and qualified him for his third Olympics.
For this Olympic experience, Fonua will be thinking about what his father always says to him regarding sports — be competitive, do your best, and have fun.
"I will be staying in the Olympic Village but there won't be any Grindr this time because I am in love. I will be racing on the 24th and still hope to walk in the Parade of Nations the night before," Fonua says. "My mom is the team manager for the Tongan swim team, and I am looking forward to cups of tea with her and visiting Pride House Tokyo. I know it will be different this time because of COVID, but there is nothing like experiencing a city hosting the Olympics."
When you receive an email from out swimmer Michael Gunning, the signature line says Professional Athlete. He laughs when asked about it and says it is a continuation of what he used to write on his school essays — Michael Gunning, The Swimmer.
Gunning, who currently trains in Manchester, England, became fully committed to swimming at age 13 when he won a national competition in England. A few years later he was representing Great Britain on their junior national team.
"We have all heard that Black people don't swim, and I wanted to prove it could be done," says Gunning. "I began chasing those Olympic dreams at every event I swam in."
Despite swimming well in the 200 meter butterfly in the qualifying trials for the 2014 Commonwealth Games, he was left off the Great Britain team.
Jamaica reached out and said they would love for Gunning to swim for them (his father was born in Jamaica). He represented the country for the first time at the 2017 World Championships in Budapest and again at the 2019 World Championships in Gwangju.
"I was really on the fence before saying yes. I felt like I wasn't being taken seriously in the UK and this was an opportunity to do my bit and inspire," Gunning says. "That first experience in Budapest was amazing. The Jamaican team accepted me, and I finally felt good enough."
When the Blade last checked in with Gunning, he was pointing toward the 2020 Tokyo Olympics. At that time, he was the top Jamaican point earner if it came down to a FINA universality selection for the Olympics.
Then the pandemic hit. Gunning was out of the water for more than 100 days and scrambling to stay in shape with dryland training.
"Those were dark and desperate times," says Gunning. "Once I was able to get back in the water, I trained by myself for 20 weeks."
With COVID barriers for training and competitions, Gunning knew all along that another Jamaican swimmer could top his FINA points.
And then it happened.
FINA adjusted their earned points for the 200 meter butterfly downward and another swimmer earned more points in the 200 meter IM.
Gunning had one last shot in June at a meet in Glasgow but did not swim near his best times. He received the news earlier this month that he was not selected for the team.
"Swimming shapes you as a person. Whether you reach your end goals or not, you are so much stronger for it. I don't regret any of the hard work I put in," Gunning says. "Swimming prompted me to come out – swimming gave me that. We still need diversity and inclusion, especially at the grass roots level. I want to be that representation."
With the news being so fresh, Gunning is unclear on his long term path in the pool. He will continue to teach swimming and field offers that come his way. Next year, he will be a Pride House ambassador at the Commonwealth Games in Birmingham.
"The Olympics make role models, and I am excited to support and cheer for the LGBTQ athletes who are competing," says Gunning. "For now, I am going to live every day, one day at a time, being myself and being authentic."
Caitlyn Jenner celebrates FINA ban on Trans swimmers on Twitter
"[…] what's fair is fair! If you go through male puberty you should not be able to take medals away from females. Period," Jenner tweeted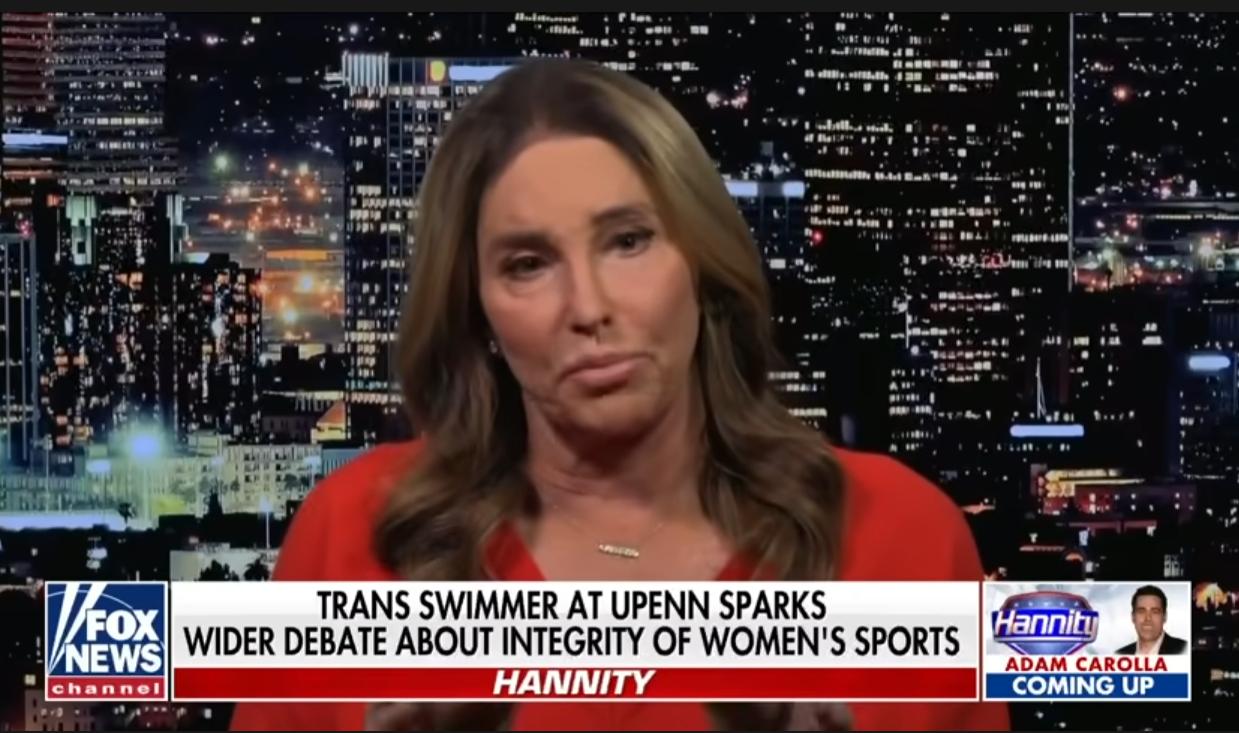 Former Olympian and one-time California Republican gubernatorial candidate Caitlyn Jenner enraged Trans activists Monday after she tweeted her approval of the FINA vote Sunday that essentially bans Trans women from participating and competing as collegiate swimmers.
"It worked! I took a lot of heat – but what's fair is fair! If you go through male puberty you should not be able to take medals away from females. Period," Jenner tweeted Sunday after the international athletic organization announced its vote to ban trans athletes.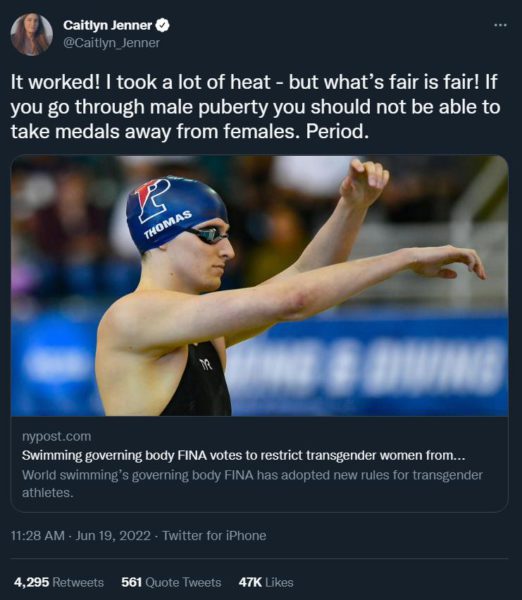 The Swimming's world governing body voted to restrict transgender athletes from elite women's competitions. The final vote tally of the representatives was 71.5% approval for the new policy which requires transgender athletes show that "they have not experienced any part of male puberty beyond Tanner Stage 2 or before age 12, whichever is later."
"We have to protect the rights of our athletes to compete, but we also have to protect competitive fairness at our events, especially the women's category at FINA competitions," FINA's president, Husain Al-Musallam, said in a statement.
The organisation is maintaining that it was necessary to use sex and sex-linked traits to determine eligibility criteria because of the "performance gap" that appears between males and females during puberty.
Jenner's appearances on the Fox News Network over the past six months have been unrelenting attacks on Trans athletes, especially University of Pennsylvania Women's Team swimmer Lia Thomas. Jenner also appeared on the network to defend her attacks on Trans athletes.
"We must protect women's sports. We cannot bow down to the radical left wing woke world and the radical politically charged agenda of identity politics," Jenner tweeted. In another tweet she said;
"Thank you @seanhannity and @HeyTammyBruce for having a conversation grounded in common sense. All we want to do is protect women's and girls sports! It's that simple. And calling out the libelous, defamatory lies of @PinkNews and @emilychudy@benjamincohen"
Jenner has been asked about her position on the multiple pieces of anti-Trans youth sports legislation across the United States. She responded that she saw it as a question of fairness saying that she opposed biological boys who are Trans- competing in girls' sports in school.
"It just isn't fair," Jenner said adding, "and we have to protect girls' sports in our school."
In April the Fox network hired Jenner as on-air contributor role with her first appearance on Hannity.
World swimming body FINA votes to ban Trans athletes
Says policy necessary because of 'biological performance gap'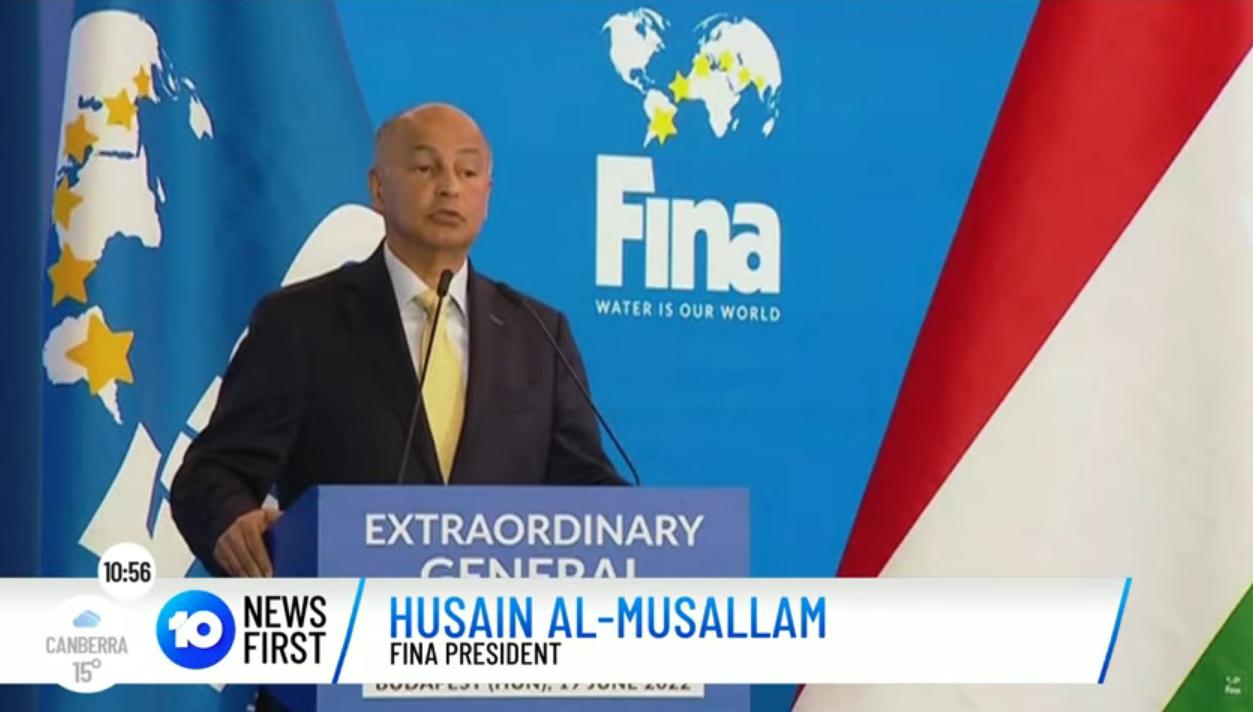 The Swimming's world governing body FINA meeting in the Hungarian capital city voted to restrict transgender athletes from elite women's competitions. The final vote tally of the representatives was 71.5% approval for the new policy which requires transgender athletes show that "they have not experienced any part of male puberty beyond Tanner Stage 2 or before age 12, whichever is later."
Enactment of that requirement effectively eliminates trans women's eligibility to compete in the women's category.
Tanner Stages describe the physical changes people undergo during puberty.
"We have to protect the rights of our athletes to compete, but we also have to protect competitive fairness at our events, especially the women's category at FINA competitions," FINA's president, Husain Al-Musallam, said in a statement.
The organisation is maintaining that it was necessary to use sex and sex-linked traits to determine eligibility criteria because of the "performance gap" that appears between males and females during puberty.
"Without eligibility standards based on biological sex or sex-linked traits, we are very unlikely to see biological females in finals, on podiums, or in championship positions; and in sports and events involving collisions and projectiles, biological female athletes would be at greater risk of injury," the statement from FINA's new policy read.
Athlete Ally, which advocates for Trans athletes responded:
"FINA's new eligibility criteria for transgender athletes and athletes with intersex variations is deeply discriminatory, harmful, unscientific and not in line with the 2021 International Olympic Committee framework on Fairness, Inclusion and Non-Discrimination on the Basis of Gender Identity and Sex Variations," said Anne Lieberman, Director of Policy and Programs at Athlete Ally.
"This sudden and discriminatory decision is a blatant attack on transgender athletes who have worked to comply with longstanding policies that have allowed them to participate for years without issue," said Joni Madison, Human Rights Campaign Interim President. "This policy is an example of swimming organizations caving to the avalanche of ill-informed, prejudiced attacks targeted at one particular transgender swimmer. We urge the FINA to rethink its policy and ensure inclusion for all athletes — including transgender women – and allow them to participate in sports free from discrimination, abuse and harassment.
"To the young athletes who may be disheartened by this policy, know that we know and believe that every young person deserves to be treated with dignity and respect and that transgender kids, like their friends, deserve the same chances to learn sportsmanship, self-discipline, and teamwork, and to build a sense of belonging with their peers," Madison added.
Swimming Body FINA Votes To Segregate Trans Athletes | 10 News First:
**********************
Poll finds majority of Americans oppose trans athletes in female sports teams
Washington Post and University of Maryland conducted survey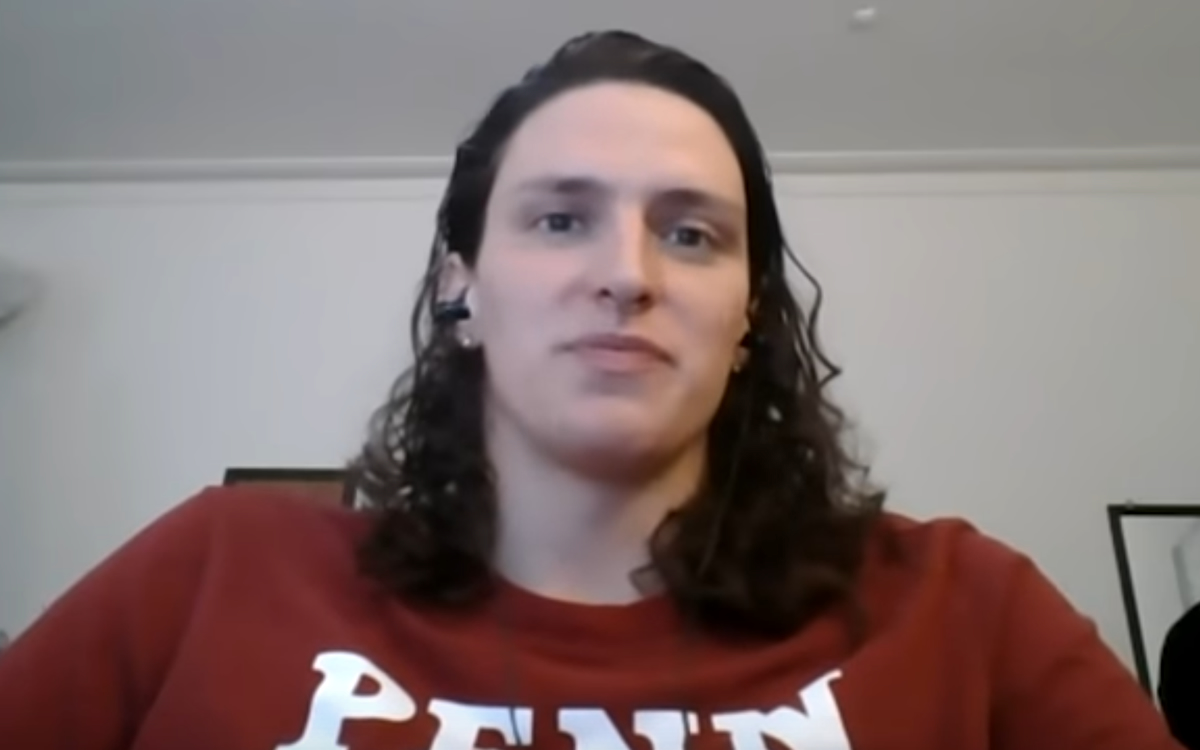 As the nationwide debate over transgender athletes' involvement in sports teams corresponding to their gender identity continues, the Washington Post on Tuesday released a new poll identifying where Americans stand on the issue.
The new poll, conducted by the Washington Post and the University of Maryland, found that a majority of Americans oppose trans women and girls' involvement in female sports.
According to the poll, which surveyed more than 1,500 Americans, 55 percent were opposed to trans athletes participating in female high school sports. Similarly, the poll found that 58 percent were opposed to trans athletes competing on both college and professional female sports teams.
The only sports category in which there was not majority opposition was on the question of trans athletes' involvement in youth female sports teams. Forty-nine percent opposed their involvement at this level, while 33 percent supported it. Seventeen percent answered as having no opinion on the topic.
The poll's findings contrast a growing overall acceptance among the population for those who identify as trans.
Roughly 40 percent of those polled by the Post said that greater acceptance of trans people in society was good, compared to 25 percent who believed such to be bad. The findings remained relatively consistent with polling done earlier this year by the Pew Research Center that found similar attitudes that favored accepting trans individuals.
And as the share of young Americans identifying as trans has begun to rise, so too have the rates of Americans in recent years that have favored more social acceptance. However, the country's perception on the issue of trans women and girls competing in female sports has remained stagnant. Some of the most prominent debate came earlier this year after Pennsylvania State University swimmer Lia Thomas competed on the women's swim team and became the first trans person to win an NCAA Division 1 national championship.
"Trans women competing in women's sports does not threaten women's sports as a whole because trans women are a very small minority of all athletes and the NCAA rules regarding trans women competing in women's sports have been around for 10-plus years," Thomas said in an interview with ESPN. "And we haven't seen any massive wave of trans women dominating."
The results of the poll and renewed debates come as state legislatures across the country have pushed forward efforts in recent years to address what some lawmakers see as an unfair playing field presented by trans athletes' presence on sports teams. Such efforts have risen in both prominence and frequency as the conversation has continued and remained persistent.
Just one week before the Post released their poll, the Louisiana State Legislature passed a bill that would prohibit trans athletes from competing on women's and girls' sports teams at youth, high school and college levels. Democratic Gov. John Bel Edwards declined to veto or sign the bill, citing overwhelming support for the bill in the legislature that would have overridden his potential veto. Without requisite opposition, Louisiana will become the 18th state to enact such legislation.
Cathryn Oakley, state legislative director and senior counsel for the Human Rights Campaign, pushed back on both the legislature's decision to pass the bill as well as Edwards' decision not to block its passage.
"The radical politicians that engineered this bill are targeting kids who just want to play sports for the same reason all students do — to learn the values of teamwork, to face healthy competition, and to have fun," Oakley said in a statement. "These children were failed by their leaders."
Lawmakers in some states that have yet to pass restrictions on trans athletes' involvement in sports have continued their attempts to do so.
On the same day of the Louisiana bill's passage, the Pennsylvania Senate voted to advance similar legislation to mandate students in public schools and universities compete on sports teams consistent with their assigned sex at birth. Democratic Gov. Tom Wolf has since indicated his intent to prevent the bill's passage into law.
"Pennsylvania's Republican lawmakers are celebrating Pride Month by advancing legislation targeting trans kids," Wolf wrote on Twitter. "As I've said, I will veto this bill if it makes it to my desk."