Olympic qualification a hurdle for out Tongan swimmer
Amini Fonua lacks perks many swimmers from other countries enjoy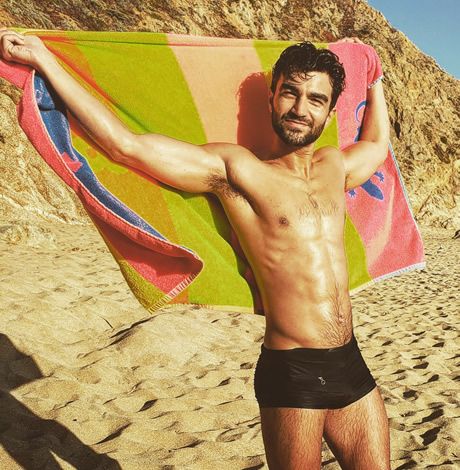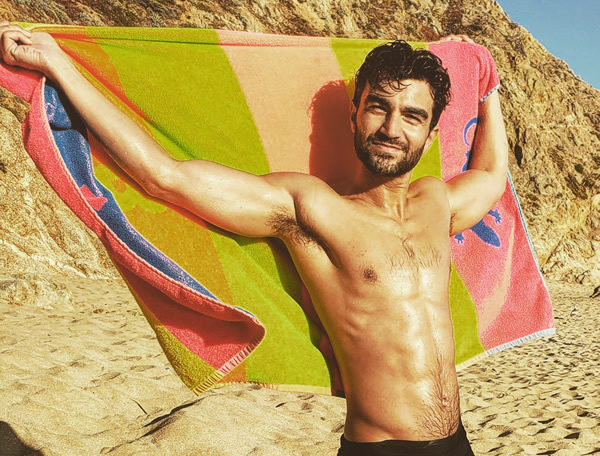 An elite athlete who represents his or her country on the international stage generally receives living expenses and medical insurance funded from a variety of sources.
The athlete may also receive paid travel and accommodation for competitions, high quality racing gear, training equipment, coaching, post-workout recovery treatment and nutritional supplementation.
This week in the Blade's Game Changers series, we meet an openly gay, two-time Olympic swimmer from Tonga who is funding his own training to qualify for his third Olympics this summer in Tokyo.
Amini Fonua represents a country where homosexuality is illegal and elite athletes do not receive financial support. To cover his expenses, Fonua works as a barista along with side jobs teaching private swimming lessons and mentoring high school athletes hoping to swim in college.
In an effort to minimize his expenses and commit to the training needed to qualify for the Olympics, Fonua recently moved from California to New Jersey. His daily schedule consists of work and traveling to New York City where he trains with the New York Athletic Club.
Fonua grew up in Auckland, New Zealand in a sports-oriented family and was active in rugby, basketball and swimming. By age 14, he turned his full attention to swimming.
"At that age toxic masculinity enters into the equation in most sports. In swimming, everyone is equal in the water," Fonua says. "I enjoyed the underwater silence of being in the pool."
He qualified for the Junior Pan Pacs in Hawaii at age 17 and was inspired by the level of competition. Also on hand at the event were college recruiters from American universities.
Fonua was recruited by Texas A&M University and began his collegiate career there in 2009. As a gay man, it wasn't an obvious choice to enter a conservative institution in a conservative state. He calls it a leap of faith for his sport.
"My freshman year I swam sore and I swam tired. The jump from high school swimming to college swimming was intense and physically demanding," Fonua says. "Over the long term, my swimming benefitted from the extra muscle I added from two-a-day practices, weight training and dryland."
While he was at Texas A&M, New Zealand began passing him over for national teams and international travel. His Tongan heritage had been an important part of his upbringing and a family trip to Tonga in 2009 brought a new direction.
"My father had been whispering in my ear, 'Swim for Tonga,'" Fonua says. "There were no water safety programs or swim lessons being offered at the time in Tonga. The Tonga Swimming Association was established in 2010 and I was cleared to swim for them internationally."
He became the first Tongan swimmer to win a gold medal in international competition when he won the 50 meter breaststroke at the 2010 Oceania Swimming Championships in Samoa.
Fonua served as Tonga's flag-bearer in the 2012 Summer Olympics Parade of Nations in London and competed in the 100 meter breaststroke. He was not out publicly at the time.
"It was a very memorable experience as my mom is from England," Fonua says. "I was so well versed in my Tongan heritage — it was nice to experience my mother's culture as a family."
After graduating from Texas A&M in 2013, Fonua came out publicly and returned to New Zealand where he began training with his childhood coach. His first meet back after a break from competing was the 2014 Gay Games in Cleveland where he represented Team New York Aquatics.
"I really missed the sport and found new inspiration at the Gay Games," Fonua says. "There is a huge community out there that is passionate about gay sports and swimming."
His path to the 2016 Rio Olympics included a stop at the 2015 Pacific Games in Papua New Guinea where he won gold medals in the 50-, 100- and 200-meter breaststroke events breaking two Games records.
When Fonua arrived at the 2016 Rio Olympics he was one of a handful of out athletes competing.
"Rio was a lot more fun, happy and freeing for me whereas London was shrouded with guilt and shame," Fonua says. "There were plenty of gay athletes and coaches in Rio, but they were not a loud bunch. Many of them are in situations where they can't share their sexuality on the world stage."
He gained international attention in Rio when he publicly criticized a Daily Beast article that outed fellow Olympians, including some from homophobic countries.
"I spoke out against the dangers of outing and published a series of tweets that went viral, followed up by a number of media interviews that helped to get the story retracted, with an apology," Fonua says. "The International Olympic Committee ultimately deemed the article "unacceptable," which was actually the first time the IOC had ever acknowledged any LGBTQ presence."
In his quest for a third Olympics, Fonua says that this time it is with a sense of purpose that includes being an LGBTQ representative. He recently signed on as an athlete ambassador with Athlete Ally, an LGBTQ sports advocacy group.
He kicked off his Tokyo campaign by competing at the International Gay & Lesbian Aquatics World Championships last summer which were held during Stonewall 50: World Pride NYC.
"Having the power of presence, showing up and doing your best are important when you are representing your community," Fonua says. "There are many members of the LGBTQ community that are out, proud and successful in the workplace. We need more in the sports community."
Fonua was disappointed with his 100 breaststroke race at the 2016 Rio Olympics. He says his attitude was one of "bubbling resentment" over not being given the tools and access that other athletes received from their governing bodies.
He is not going to let that happen this time around and has adopted the mantra, "We are the hero of our own story."
"I want to change the narrative on policy, community support and funding in Tonga. For now, I can't depend on their support and I have to engage whatever resources are available to me," Fonua says. "No one is going to swoop in and save me and I owe it to myself to have the best lead up to Tokyo. It is my own responsibility."
Tonga has never censored Fonua and he takes pride in representing the country. He spent a month last September training in Japan and has a few tune-up meets coming up this year on the road to Tokyo. Included will be the 2020 Oceania Championships in Fiji this June where he is a five-time medalist.
To fund his training camps and competitions, Fonua has set up a GoFundMe page. It isn't something he is happy about, but it is necessary to complete the purpose of this Olympic cycle.
"I want to be a role model for anyone coming to terms with who they are as a person. It's important to share this journey with the LGBTQ community and show that you can be your authentic self and achieve a lot of success," Fonua says. "It's going to be a big grind to get there and I hope that it ends with that one perfect race."
Out Olympian Kenworthy & Paralympian Dunkin on Tokyo & LGBTQ Sports
"The fact that LGBTQ youth drop out of sports at twice the rate of their heterosexual & gender counterparts, it doesn't have to be that way."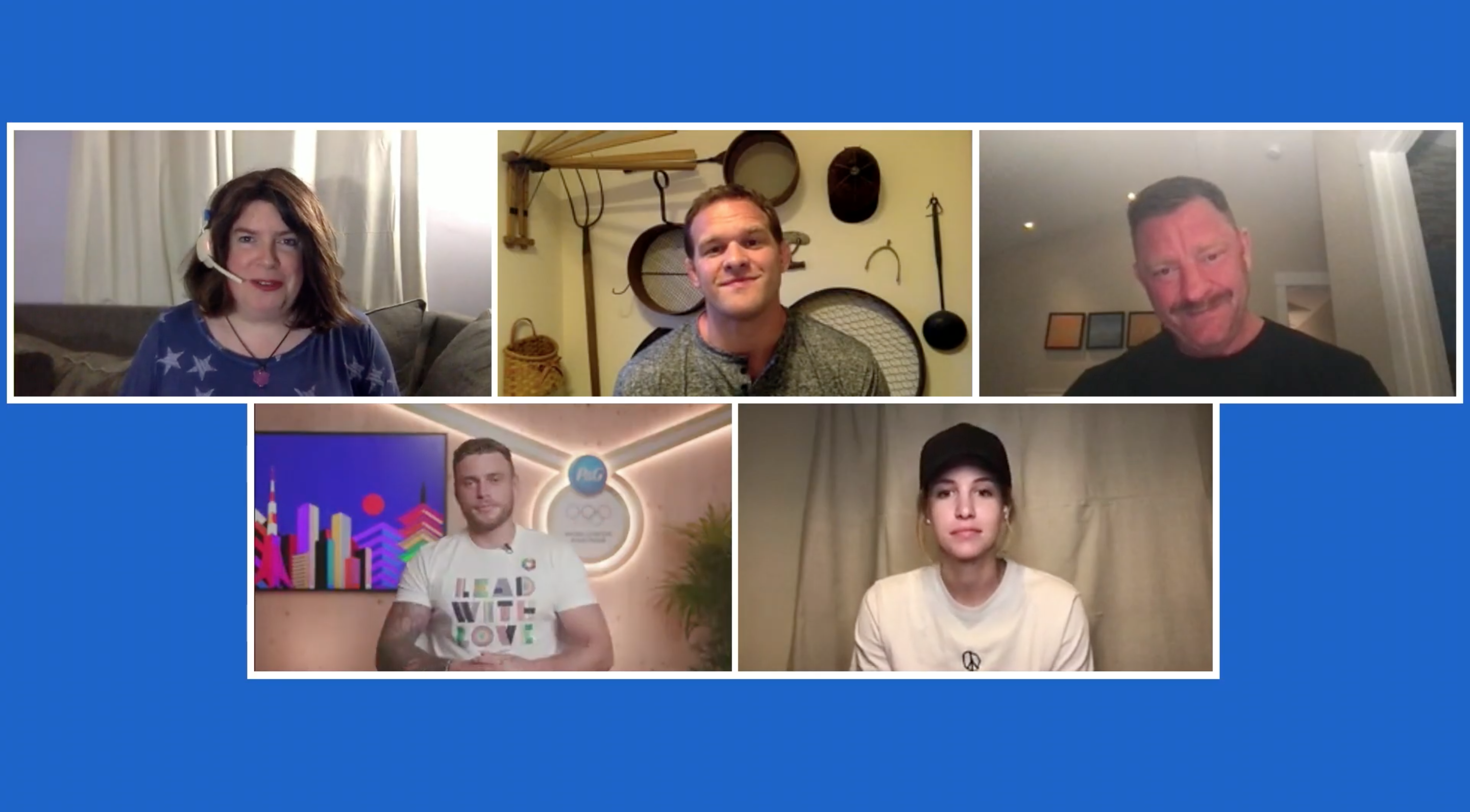 TOKYO – Gus Kenworthy is in Tokyo for the Summer Games, but not to compete. The Olympic Gold Medalist recently joined Paralympian Gold Medalist Abby Dunkin in a Zoom conversation with Athlete Ally founder and executive director Hudson Taylor and the head of LGBTQ+ equality and inclusion for Procter & Gamble, Brent Miller.
"I felt like I knew that if I came out, there must be someone else," Kenworthy said. "I was like, there's someone else in skiing or an action sports or another kid who is going to resonate with my story. And if I can even help one person, then it will be worth it."
This group of athletes and allies tackled the difficult issues of coming out in sports, fears of rejection, suicide attempts and competing authentically as well as the controversy over transgender inclusion in sports, both at the Olympics and in high schools and colleges across the U.S.
"Only 24% of LGBTQ youth participate in sports," noted Taylor. "The fact that LGBTQ youth drop out of sports at twice the rate of their heterosexual and gender counterparts, it doesn't have to be that way."
Dunkin credited Paralympian gold medalist Stephanie Wheeler as an inspiration both on the court and in everyday life as an out lesbian.
"Stephanie really creates such a great environment for me and other athletes and also our staff, too, that were out at the time," said Dunkin. "And that really impacted me to come out and be myself." Wheeler is also head coach of the Univ. of Illinois women's wheelchair basketball team.
As the Los Angeles Blade has reported, there are more than 142 out LGBTQ athletes competing in Tokyo, a record for any Olympic Games. And with trans nonbinary soccer player Quinn on their way to a potential gold medal, making history with out trans woman Laurel Hubbard and out trans BMX competitor Chelsea Wolfe in Tokyo, Miller says their first steps are inspiring to people all around the world, no matter what their gender identity or sexual orientation is.
"It's about bringing people together, supporting people, creating mutual understanding, and really celebrating all of humanity," Miller said. "And now for us, bringing those LGBTQ+ stories forward is critically important because we see the value of what sport can bring."
Watch their conversation with sports editor Dawn Ennis by clicking here.
Equal Representation in Sports: Why LGBTQ+ Visibility Matters
IOC: 'Trans Women Are Women' Laurel Hubbard set to make sports history
Laurel Hubbard is set to make sports history on Monday and the International Olympic Committee clearly has her back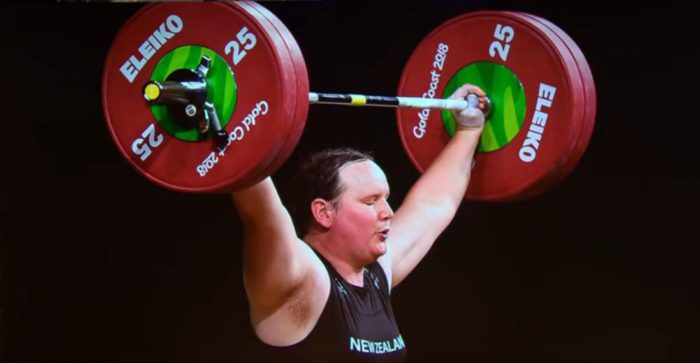 TOKYO – The director of medicine and science for the International Olympic Committee praised weightlifter Laurel Hubbard's "courage and tenacity" as she prepares for her upcoming competition as the world's first out transgender woman Olympian.
In speaking to reporters in Tokyo Thursday, Dr. Richard Budgett directly addressed those who have attacked and mocked the 43-year-old New Zealander and claimed she shouldn't be competing with cisgender women, saying "everyone agrees that trans women are women."
"To put it in a nutshell," he said, "the IOC had a scientific consensus back in 2015. There are no IOC rules or regulations around transgender participation. That depends on each international federation. So Laurel Hubbard is a woman, is competing under the rules of her federation and we have to pay tribute to her courage and tenacity in actually competing and qualifying for the Games."
Hubbard herself has not made any public comments except for a statement following her qualifying for the Summer Games, saying she was "humbled" by the support which had helped her "through the darkness" following a near career-ending injury in Australia in 2018.
Reports around the world have claimed Hubbard is the first trans Olympic athlete, which is actually not the case. As the Los Angeles Blade has reported, Quinn, a trans nonbinary soccer midfielder for Team Canada, last Wednesday became the first out trans athlete ever to complete in the Olympic Games. They posted about it on Instagram, saying, "I feel proud seeing 'Quinn' up on the lineup and on my accreditation. I feel sad knowing there were Olympians before me unable to live their truth because of the world."
The IOC is expected to review and likely revise its policies on transgender participation following Tokyo. Trans athlete and researcher Joanna Harper, who has advised the organization and other sports policy groups, told the Los Angeles Blade her recommendation will be for the IOC to continue to regulate trans athletes sport-by-sport. "There shouldn't be a one-size fits all policy," said Harper.
She also noted how the mainstream cisgender media is consumed with coverage of Hubbard and missing out on the bigger picture, and what it will mean for the next generation watching on TV and online.
"The lack of attention paid to Quinn and to Chelsea Wolfe has been interesting," said Harper.
"A few news outlets have commented on their presence in Tokyo and in Quinn's case the comments have been mostly favorable. On the other hand, the storm of mostly negative press heaped on Laurel Hubbard has been disappointing, although predictable. I hope that the negative press that Laurel has gotten won't dissuade young trans athletes from following their dreams. I think that the next trans woman to compete in the games will get less negative press, and eventually (although probably not in my life) there will come a time when trans women in sport generate little or no controversy."
Hubbard issued a statement Friday via the New Zealand Olympic Committee in which she said: "The Olympic Games are a global celebration of our hopes, our ideals and our values. I commend the IOC for its commitment to making sport inclusive and accessible."
According to a French news outlet, NZOC spokesperson Ashley Abbott told reporters the committee had seen a "particularly high level of interest" in Hubbard's Olympic debut, and much of it has been negative.
"Certainly we have seen a groundswell of comment about it and a lot of it is inappropriate," Abbott said. "Our view is that we've got a culture of manaaki (inclusion) and it's our role to support all eligible athletes on our team. In terms of social media, we won't be engaging in any kind of negative debate."
Abbott reminded the media that the NZOC's job was to support its athletes, including Hubbard. "We all need to remember that there's a person behind all these technical questions," she said. "As an organization we would look to shield our athlete, or any athlete, from anything negative in the social media space. We don't condone cyberbullying in any way."
RELATED: CBS This Morning from 22 Jun 2021
Non-binary Olympian leaves games without a medal but still a winner
For the first time in my entire life, I'm proud of the person I've worked to become. I chose my happiness over medaling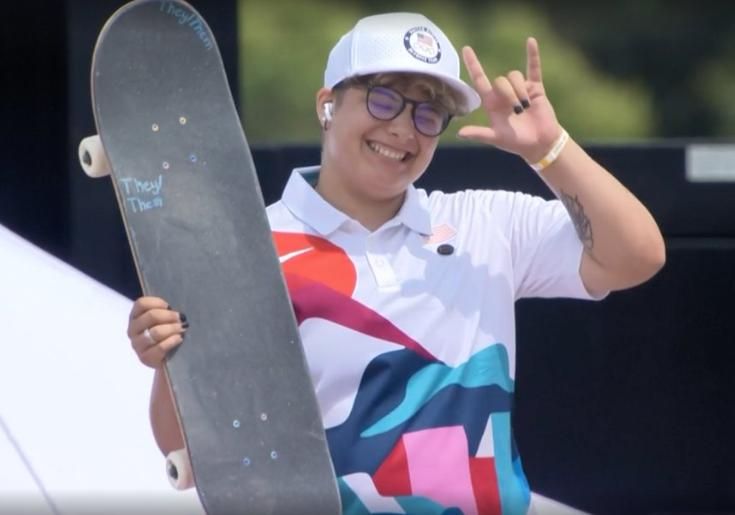 TOKYO – In a series of firsts for the Summer Olympic Games, Alana Smith left the Tokyo games with a sense of accomplishment and a couple of firsts. The 20-year-old non-binary skateboarder competing in the debut of their sport noted on their Instagram account, "My goal coming into this was to be happy and be a visual representation for humans like me."
Smith wrote: 'What a wild f***ing ride…My goal coming into this was to be happy and be a visual representation for humans like me. For the first time in my entire life, Im proud of the person I've worked to become. I chose my happiness over medaling. Out of everything I've done, I wanted to walk out of this knowing I UNAPOLOGETICALLY was myself and was genuinely smiling.
The feeling in my heart says I did that. Last night I had a moment on the balcony, I'm not religious or have anyone/anything I talk to. Last night I thanked whoever it was out there that gave me the chance to not leave this world the night I laid in the middle of the road. I feel happy to be alive and feel like I'm meant to be here for possibly the first time in a extremely long time. On or off day, I walked out of this happy and alive… Thats all I have ever asked for.
Thank you to all the incredible humans that have supported me through so many waves of life. I can't wait to skate for the love of it again, not only for a contest. Which is wild considering a contest helped me find my love for it again. 💛🤍💜🖤"
Smith's Olympic debut was slightly marred by their being misgendered during news coverage of their events by BBC commentators misgendering Smith discussing their performance, which led to protests from LGBTQ+ groups and allies including British LGBTQ+ advocacy group Stonewall UK.
Alana Smith (they/them), American pro-skater in the #Tokyo2020 Olympics has been repeatedly misgendered by journalists. We hope there will be swift corrections. All athletes deserve to be respected & celebrated as part of the games.#OlympicsForAll https://t.co/EO1JiHZOgT 💛🤍💜🖤

— Stonewall (@stonewalluk) July 27, 2021
During the competition, Smith proudly held up their skateboard, which featured their pronouns they/them written across the top. The misgendering was addressed by NBC Sports which issued an apology Tuesday for streaming coverage that misgendered Smith.
"NBC Sports is committed to—and understands the importance of—using correct pronouns for everyone across our platforms," the network said. "While our commentators used the correct pronouns in our coverage, we streamed an international feed that was not produced by NBCUniversal which misgendered Olympian Alana Smith. We regret this error and apologize to Alana and our viewers."
Alana Smith slaps, and I gotta say it was so incredibly cool to see someone so much like me thriving and expressing so much joy at the Olympics. pic.twitter.com/tA9bWWDcj4

— Mel Woods 🌾🌈 (@intothemelwoods) July 26, 2021
NBC also reported that this is the first Olympics in history that has featured skateboarding, with 16 athletes traveling to Tokyo to represent the United States. Smith qualified for the third Olympic spot in the women's street category after competing at the World Skate World Championships in 2019, according to Dew Tour, which hosts international skateboarding competitions.
According to Outsports, the online LGBTQ+ Sports magazine and NBC Sports, Smith is one of more than 160 openly LGBTQ athletes competing at this year's Tokyo Olympics and one of at least three openly nonbinary or Trans athletes.
Quinn, a midfielder for the Canadian women's soccer team who goes by only their first name, is the first openly Trans athlete and nonbinary athlete to compete in the games. Laurel Hubbard, a Trans woman from New Zealand will compete in the super heavyweight 87 kilogram-plus (192 pound-plus) weightlifting category on August 2.