Musical adventurer Rufus Wainwright returns to touring, plays D.C. Sept. 28
From Judy to Shakespeare to opera, gay wunderkind embraces it all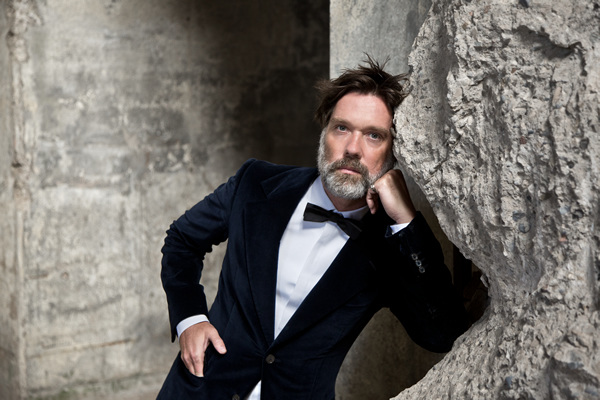 Rufus Wainwright and Jose Gonzalez
Unfollow the Rules in the Local Valley Tour
The Anthem
901 Wharf St., S.W.
Tuesday, Sept. 28
8 p.m. (doors: 630)
$55-75
ticketsonsale.com
theanthemdc.com
rufuswainright.com
After some artistic detours — in 2018, a second opera; before that, an album of songs based on Shakespearean sonnets in 2016 — Rufus Wainwright returned to his "regular" music in July 2020 with the release of his 10th studio album "Unfollow the Rules," which was critically embraced and nominated for a Grammy.
A live album of the "Unfollow" material dubbed "The Paramour Sessions" was released Sept. 10.
Wainwright, 48, spoke to the Blade by phone on Sept. 1 from Nashville where he had a City Winery show that night as part of his "Unfollow the Rules Tour." He joins Jose Gonzalez for the "Unfollow the Rules in the Local Valley Tour," a co-headlining, 10-city mini-tour, next week. They play The Anthem on Sept. 28. Then Wainwright, who's been publicly out since his eponymous debut album dropped in 1998, will resume his solo tour next month in the U.K. His comments have been slightly edited.
WASHINGTON BLADE: You're back on the road. What have the audiences been like?
RUFUS WAINWRIGHT: Well, they're very excited. … There's definitely a palpable sense of appreciation and excitement. And it's good to be back.
BLADE: Do you feel safer singing more of the new album now that it's been out a year and people have had time to absorb it? Is that easier than trying to sing more of it when it's just out?
WAINWRIGHT: I definitely enjoy the whole kind of common knowledge thing now that exists with this album. And certainly having this other record, "The Paramour Sessions," to promote as well, which is just another take on some of the same material. One can also go on a bit of a deeper dive. You know, this album actually did very well critically, it was nominated for a Grammy and a lot of people consider it a seminal work for me. I think it can handle that stretch.
BLADE: Do the new songs dovetail fairly naturally with your older songs in a set?
WAINWRIGHT: Yeah, I mean, this album is very much related to my first album. I'm not going to be doing my first album in the show, but it's kind of a return to my California roots. You know, where I began my career over 20 years ago. The songs are answers in a way to some of the questions raised on the first album. … I'm not singing them back to back or anything, but a lot of my fans have followed me from the beginning so we all get it.
BLADE: How did "Unfollow the Rules: The Paramour Sessions" come about?
WAINWRIGHT: When the album was released, we still wanted to do something special online so we made this film doing a lot of the songs with a smaller ensemble at this incredible Hollywood mansion. This was at the height of the pandemic, possibly slightly illegally in the sense that we weren't necessarily supposed to be working. But people needed to do something, you know, to get their heads out of the chaos. This was last summer during the Black Lives Matter protests and just the heat of those fires that were about to ignite, there was a very intense atmosphere and I do feel strongly that some of that drama is possibly on the recording. At least I think there's this sort of depth there that can only come out of something like that.
BLADE: Did it seem relatively easy returning to quote-unquote pop music after writing opera?
WAINWRIGHT: Yeah. One of the great gifts of me writing opera, which I will continue to do intermittently, is that it gave me a whole new appreciation of where I came from and all the freedoms I have in the pop world. I'm very grateful for my work in the songwriting universe and all the freedom that comes with it.
BLADE: Are you co-headlining this tour with Jose Gonzalez?
WAINWRIGHT: Yes. It will be nice to be out with a brilliant songwriter and singer. It's been a while since I've done this sort of thing. When I began my career, it was more the norm to be part of a lineup.
BLADE: Do you know him? Will you sing anything together?
WAINWRIGHT: We haven't met but I think it will be a very emotional meeting in a way, because it's been a long time coming.
BLADE: What was it like revisiting the Judy (Garland) album last summer and on her birthday no less? (Wainwright recreated Garland's famous live Carnegie Hall album in 2007.)
WAINWRIGHT: It was a thrill. How many people can claim to have sang the same songs in the same room where she recorded a lot of them and on the actual microphone that she used with Renee Zellweger (who won an Oscar for the 2019 biopic "Judy") as a captive audience. So yeah, I just felt a lot of gratitude and felt very privileged to be able to go on that journey. So yes, in honor of Judy, but the main thread that I'm actually worshipping is the material itself whether it's Gershwin or Berlin. They inspire me, as a songwriter myself, to keep the bar fairly high.
BLADE: You've hinted in other interviews that you want to write a Broadway musical and perhaps a ballet. You've written two operas. Where does this drive come from to conquer such ambitious and disparate art forms?
WAINWRIGHT: Well obviously with COVID, touring was suspended for a while, so it was a chance to try to advance the Broadway jalopy, which I've been trying to do for a while. There are about three or four projects that I have in the works that unfortunately I can't talk about too much, but what I can say is that there is a wholehearted effort going on to, you know, secure my place on the Great White Way one way or another. It's something people have been after me to do over the years because they say my music already has that sensibility. So I'm finally kind of doing my homework now.
BLADE: And whether it's Broadway or opera, what are the gatekeepers like in those arenas? Since you're a known entity, is it easy to at least get a pitch meeting? How does it work?
WAINWRIGHT: Well they're very different. I'm happy that I went into the opera world first. My first opera has been done seven times all over the world and my second one has other productions coming, so it's been a success. Not everybody adores my work, but it made an impact and it seems to be continuing on so that's all you can ask for anyway. I'm happy I did it, but it's a very, very tough battle. The standards are very, very high, which is actually a good thing. With Broadway, I think there's a whole financial element to it where people are looking to make a fortune off of these shows, so that's kind of new for me and something I have to be cognitive of.
BLADE: You said in another interview that the classical world could be poisonous at times. How so?
WAINWRIGHT: I meant it was the opposite of what I believed it was going to be. I had a very nice view of the classical world, and I've adored opera for most of my life. I thought I would be able to unleash my talents and it would be accepted and appreciated and I would be, you know, brought into the fold when in fact, it was the opposite. They were very, very dubious to me and very protective of their sacred cows, so it was a real rude awakening. It's a very cliquish environment and everybody kind of knows everybody. So if somebody wanted to poison the well, they can and then it spreads to this massive disease about you and they're able to spread it very easily. So the happy story is that it survived and thrived and I guess what doesn't kill you makes you stronger.
BLADE: Whether they're fans or not, most people would concur your songs are fairly intelligent. Are art and culture and society in general getting dumbed down a little more each year?
WAINWRIGHT: I think there are some aspects that need some attending to for sure. I mean in the pop songwriting world, I'd say lyrics are really under threat. When you look at the generation that's about to exit — people like Bob Dylan, Joni Mitchell, and the ones who have left us, like Bowie, and so forth, lyrics were really kind of the most brilliant jewel in the art form and now they're just so throwaway. I don't profess to be the world's greatest lyricist or anything, but I do try very hard and I wouldn't say the age we're in is a golden age of the word. But maybe there are other art forms, like fashion or something perhaps, that are at their peak now, who knows?
BLADE: Was it hard to maintain sobriety during lockdown last year?
WAINWRIGHT: No. My wonderful husband (Jorn Weisbrodt, whom Wainwright married in 2012), he's not about alcohol at all. He doesn't drink because he just doesn't need to. And I do Zoom meetings here and there. So I thank my lucky stars it wasn't. It would have been hard to contend with alcohol as well as COVID.
BLADE: How's your daughter? What's she excited about these days? (Wainwright's daughter Viva is 10)
WAINWRIGHT: Oh, she's into horseback riding. She loves Tina Turner. She loves to draw. She's actually really happy to be back in school and hanging out with her friends.
BLADE: How often do you talk to your dad on average? (Wainwright is the son of Loudon Wainwright III, an acclaimed singer/songwriter.)
WAINWRIGHT: We try to talk once a week. We've kind of made it into this calendar item and it works really well that way. Just to touch base and see how we're doing. Other times we'll get into more sensitive territory. I think especially since losing my mother, I'm just aware that it's a finite amount of time these people are going to be around, so you might as well spend time with them while you can.
BLADE: How closely do you follow current pop music? Is there anybody who particularly excites you?
WAINWRIGHT: I do. I like Perfume Genius and Lana Del Rey. And I like The Weeknd. When those songs come on, I'm like, "Wow, that's a real hit." I admire that because I've never been able to crack that nut, nor do I think I probably ever will.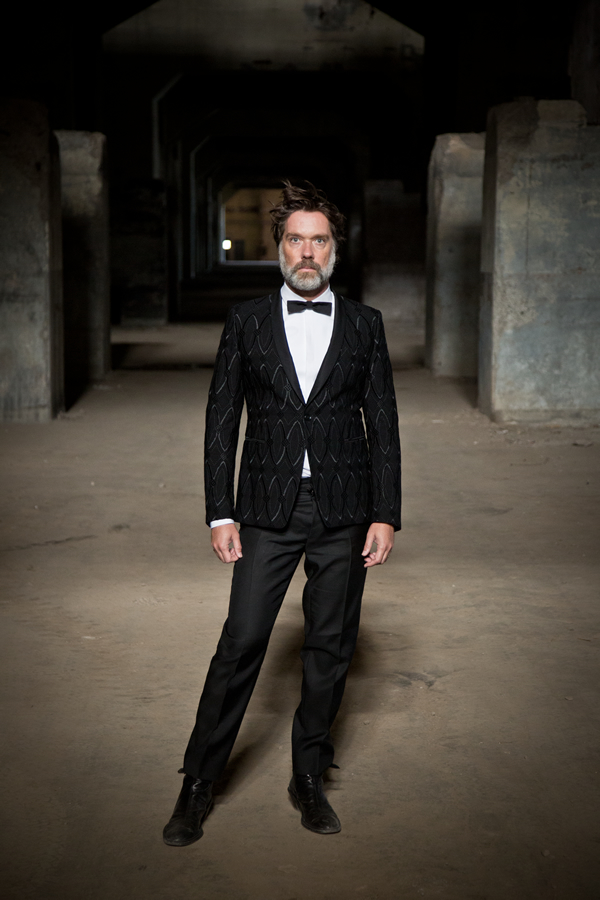 Tori Amos spins magic at Sunday night D.C.-area concert
First show in the area since '17 finds Gen X icon vocally subdued but musically energized
As with many veteran rock stars, it's sometimes hard to get a handle on how hot or cold Tori Amos's 30-year-old solo career is at the moment. It sometimes seems like she's moving past the take-her-for-granted-because-she's-never-away-for-long phase, and there certainly was that sense in the air Sunday night for her D.C.-area stop of her current "Ocean to Ocean Tour," her first show here since 2017, which, with COVID, feels like a lifetime ago.
But there are also signs that it's never been chillier for Amos in the overall pop culture landscape. It's been a decade since she charted a single on any chart and there were no videos or singles from her "Ocean to Ocean" album last fall. It landed just outside the top 100 on the U.S. Billboard 200 album sales chart altogether, a new low that would have been unthinkable even a few years ago when her "regular" (i.e. non-specialty/concept) albums were almost guaranteed a top 10 debut.
The slide has been swift, too: 2014's "Unrepentant Geraldines" hit No. 7, the next album (2017's polarizing "Native Invader") only made it to 39, then came "Ocean's" thud at no. 104. There's a lot you could point to to explain it — streaming, her aging Gen X fan base, the endless undulations of the music industry itself — but in some ways it has started to feel like she's getting less and less return on her artistic dollar than one would expect.
Yeah, that always happens with veteran female pop stars once they hit their 50s and beyond, but Amos and her small but mighty fan base, who for decades exhibited a devotion of Grateful Dead-like proportions, outran the trend for so long, to see it finally catching up is a bit bewildering.
But then you go hear her live at a decent-size venue like The Theater at MGM National Harbor (which seats 3,000 and was about 97 percent full), and it feels nearly like old times. Sure, some of the excitement was just that we're all gagging at being at concerts at all and having mask restrictions and vaccine requirements paused, but there was an electricity that, while mellower than it was at Amos concerts in the '90s, still felt magical. I've never in my life seen so long a line for the merch table.
The concert itself was, for the most part, sublime. It was the first time since 2009 she's toured with a band and while her solo shows are great too, there was pent-up yearning to hear her unleash full-on with a solid rhythm section (Jon Evans on bass, Ash Soan on drums) again. Beat-heavy songs like "Raspberry Swirl" and "Cornflake Girl" sounded tepid with canned beats the last few times out, so to hear everything truly live (save a few BGVs and effects) last night was heavenly.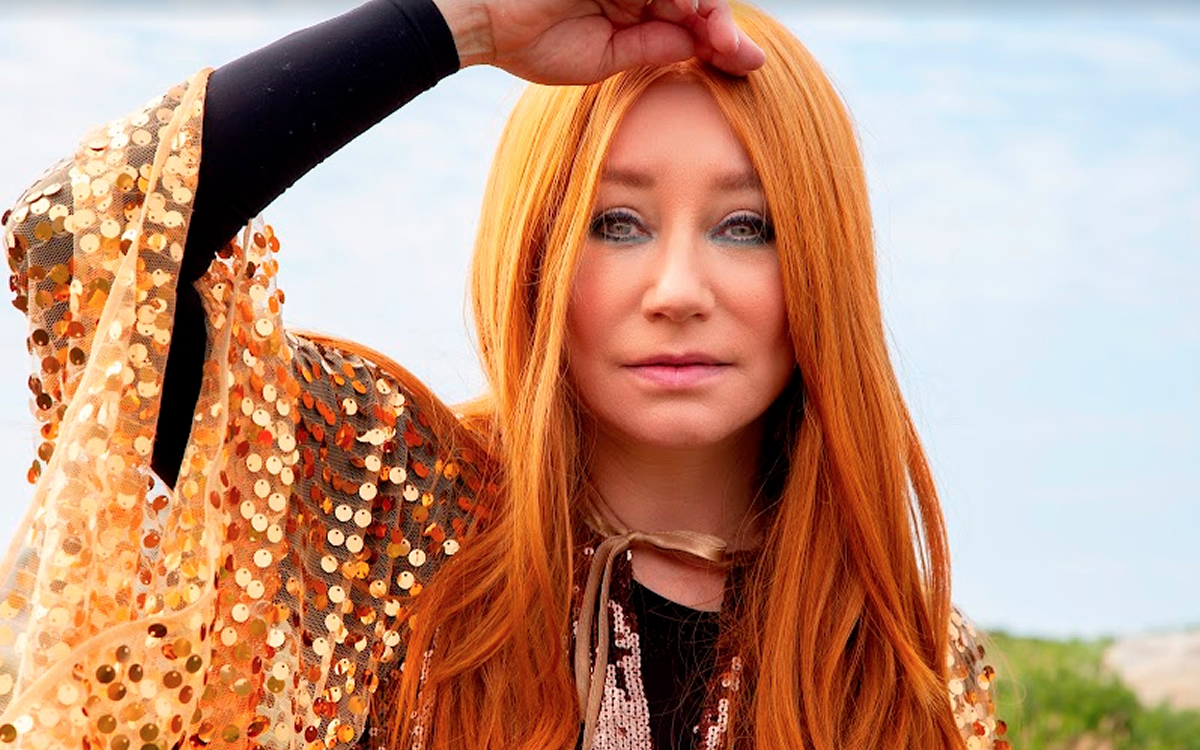 The show had special poignancy too, as Amos grew up in the region. She has written and commented heavily on the immense toll her mother's 2019 death took on her personally and artistically, so that the date happened to be Mother's Day gave the proceedings added gravitas. "Mother Revolution" and "Jackie's Strength" spoke, of course, to the holiday, though (and this is quibbling) I would have vastly preferred "Mother" from "Little Earthquakes," a deep cut we haven't heard live in eons.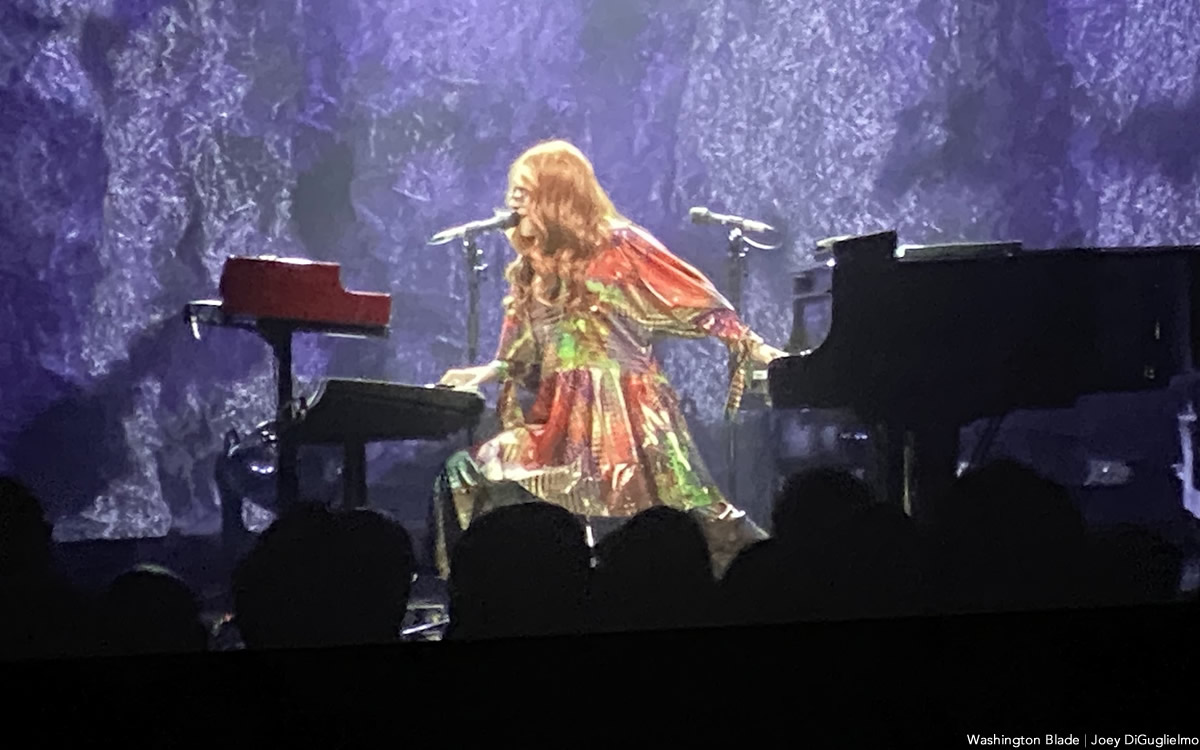 Highlights included the slinky, rhythm-loopy opener "Juarez"; "Ocean to Ocean," one of three cuts performed from the new record, which shimmered with Philip Glass-like piano arpeggios; the vampy, slinky interplay between the three musicians on "Mother Revolution"; and unexpected fan favorite "Spring Haze." Amos, overall, is varying up the set list quite a bit less than is her norm, so it was one of the few surprises of the evening. 
The lengths of several of the songs were drawn out considerably. At times — "A Sorta Fairytale," the aforementioned "Revolution" — that worked well and gave the band time to languidly jam. At other points, it felt a bit self-indulgent and even slightly boring — as on "Sweet Sangria" and "Liquid Diamonds."
"Russia," a bonus cut from the last album, sounded just how it did when Amos performed it here in 2017, but took on added resonance because of current events. Closing line "Is Stalin on your shoulder" was chilling.
Overall, the show — lighting, pacing, everything — largely worked. The sound mix, which fans have said has been muddy at some venues recently on the tour, was pristine. Pacing only lagged a few times in some of the mid-tempo cuts from later albums, but just when you felt some were zoning — the flow of those entering and exiting is a good barometer — Amos whipped things back together with a fan favorite like "Past the Mission" or "Spring Haze."
It all came to a satisfying, audience-friendly climax with "Cornflake Girl," then the two encore cuts, "Precious Things" and "Tear in Your Hand," both from the first album.
Vocally, the range was there and sounded lovely, but the oomph was considerably held back. Vocal preservation for the many dates ahead? Probably. It's understandable. Amos, at 58, may lack the stamina she had 20 years ago, but it did feel underwhelming in passages that in years past would have been full on, balls out like the "Bliss" bridge or the "nine-inch nails" passage from "Precious Things."
Not one acknowledgment or mention by Amos of the female folk duo openers Companion. I'd have invited them out for a few numbers to sing BGVs. I mean, heck, they're in the house, why not? And other than the welcome, a brief soliloquy on Mother's Day was the only Amos comment of the entire night.
Still Amos never came off as aloof. She seemed genuinely excited to be playing live again and the queer-heavy crowd responded in kind.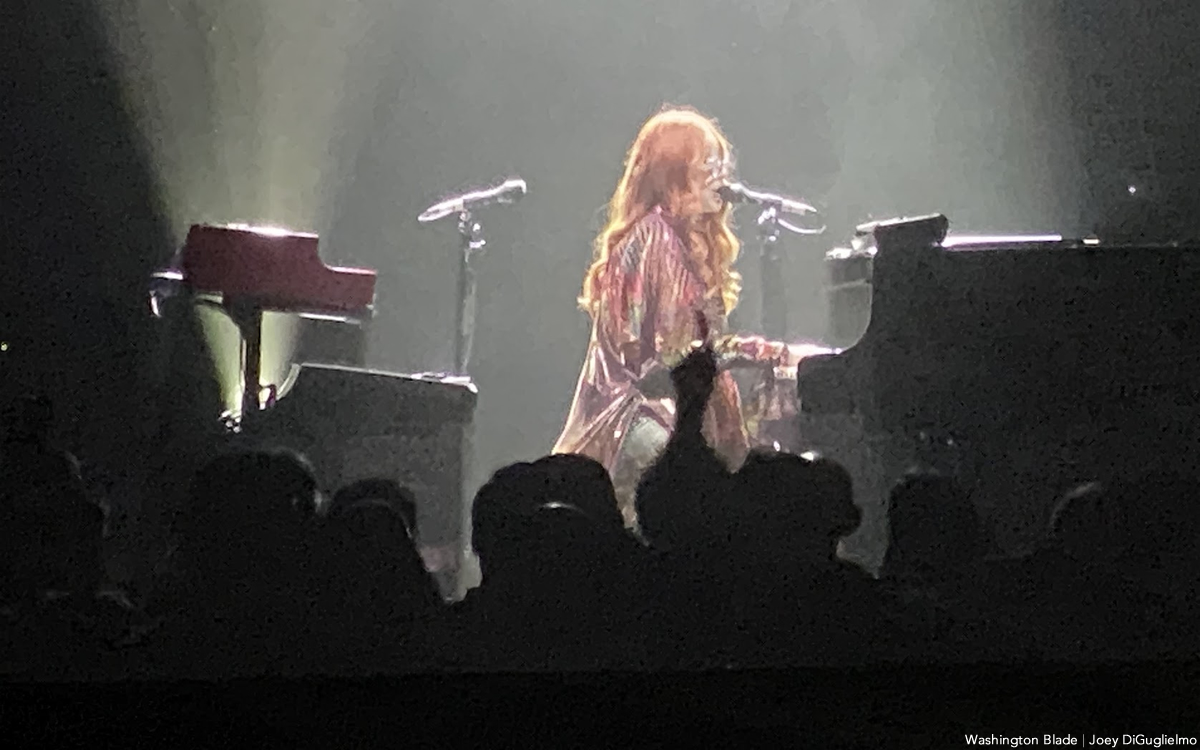 Dance festival to feature electronic music acts
DJ Diplo, Martin Garrix, Alan Walker and Meduza entertain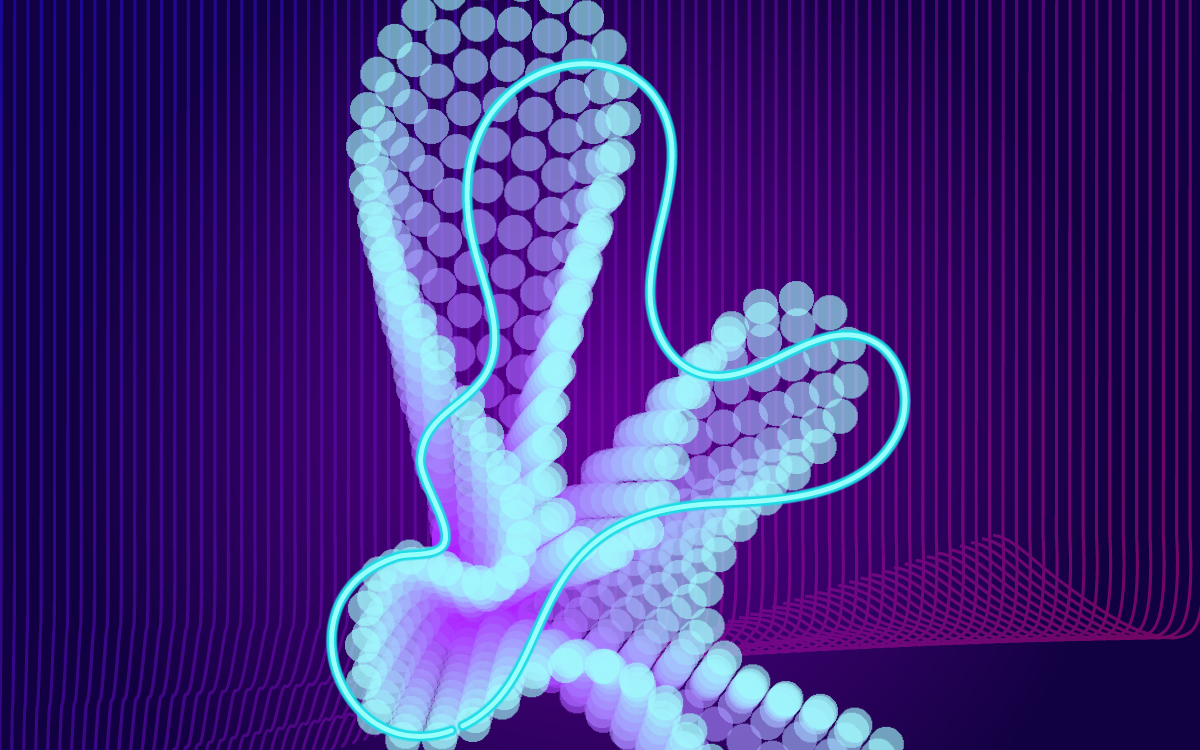 Insomniac and Club Glow will host the inaugural edition of the Project GLOW music festival on Saturday, April 30 and Sunday, May 1 at the RFK Festival Grounds.
This festival will feature internationally acclaimed top electronic music acts such as DJ Diplo, Martin Garrix, Alan Walker and Meduza among many others. There will also be three curated stages of music, food and beverage offerings.
Project GLOW will platform its homegrown nonprofits GOODProjects and DC Vote. To Write Love On Her Arms, a nonprofit movement dedicated to presenting hope and finding help for people struggling with depression, addiction, self-injury, and suicide, will also offer their resources to those in need during the festival.
For more information, visit the festival's website.
Melissa Etheridge shares Q&A in advance of April 26 Tysons tour stop
Rock pioneer finds inspiration in the past — from revisiting old demos to reconnecting with celeb pals like Ellen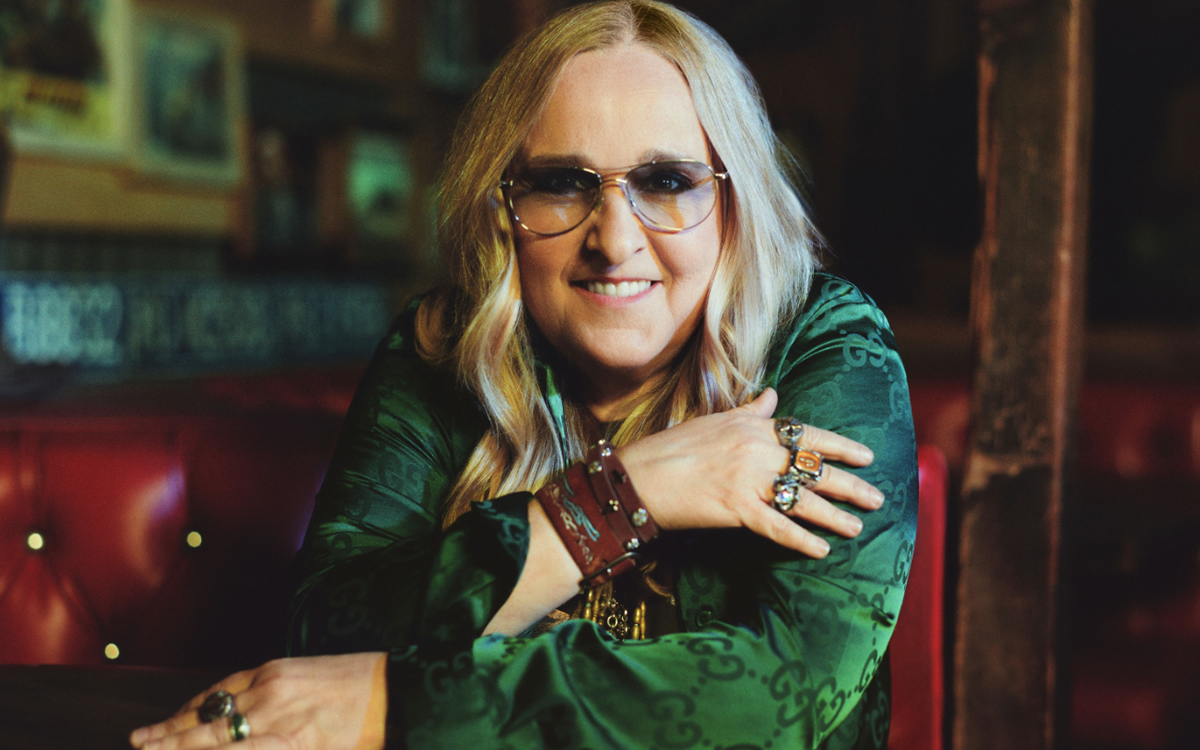 Melissa Etheridge
'One Way Out Tour'
Tuesday, April 26
Capital One Hall
7750 Capital One Tower Rd.
Tysons, VA
7:30 p.m.
Tickets: $55
ticketmaster.com
capitalonehall.com
melissaetheridge.com
We caught up with rock legend Melissa Etheridge on April 8 by phone from Snoqualmie, Wash. — it's about 26 miles east of Seattle —where she was playing the Snoqualmie Casino on her "One Way Out Tour," which plays our region on Tuesday, April 26.
It's named after her latest album, released last fall, which found Etheridge, who's been out since '93, revisiting demos from early in her career.
Her comments have been slightly edited for length.
WASHINGTON BLADE: "One Way Out" sounds like such a cool project. Was it all re-recorded stuff of old songs or were some of those vintage takes on the record as well?
MELISSA ETHERIDGE: The last two songs, the live songs, were from where? From 2002? OK, but the other songs were newly recorded.
BLADE: And how many of them did you remember?
ETHERIDGE: You know, when I found them again, they all came back very clearly. And I was like, "Oh, this is — why did I throw that away? That's weird." And I really enjoyed, you know, hearing them, they were just old demos. I'd never done full-blown recordings. So I thought, "This is great, I want to do these songs."
BLADE: We have a relatively new venue you're going to be playing, Capital One Hall. I've only been there once. You excited?
ETHERIDGE: Yeah, it's always fun. I love the D.C.-area crowd. It's just really, really nice.
BLADE: And how do you decide where you'll be? Or do you have any say in it?
ETHERIDGE: Well, it's not necessarily me. I do have a say in it, in what I want the whole tour to look like. But it is really up to William Morris, my agent, to find the right venue that understands what we need and the kind of atmosphere we're looking for that and the amount of people and, you know, that sort of thing.
BLADE: Tell me about Etheridge TV. I just wonder, when we were in that acute phase of the pandemic, wasn't it even remotely tempting to you to just take a break?
ETHERIDGE: No, because since I was 12 years old, I sang all the time for people, like five days a week and it's just been what I do. And so when it was like, I was looking at a massive, cavernous amount of time that I was going to be home, I still needed a way to pay the bills, so we put our heads together — I've got one of the greatest television minds with me, you know, my wife (TV producer Linda Wallem), so I had the space and I had the equipment, and I was like, "Let's do it." And it was really fun to learn new things. It was fun to learn about computers and sound and streaming and lights and cameras and all these things that I didn't know. … I feel a little smarter.
BLADE: When did you start back on the road?
ETHERIDGE: We went out last fall. We went out September, October, right around there. And you know, it was a little different, Now things are things are loosening up … but some places still require masks. But people are starting to get back out and it feels good. It's not the overwhelming thing that it was a few months ago.
BLADE: And what was it like being on 'Ellen' again for her final season?
ETHERIDGE: Oh, I love her. She's such an old friend. You know, I say that about myself, too. (chuckles) But, you know, she's just a relationship in my life that I have treasured. We've watched each other grow and the changes we've made and the successes and what we've gone through and I love that she had me on and just it was just a really — she's a dear friend. And she showed an old photo there, and we both said, "Oh, that was before we were so busy."
BLADE: Do you talk to her often?
ETHERIDGE: I would say we see each other socially once or twice a year. It just seemed like once we started having children, all my friends from my 20s and 30s when we were not as busy — it just gets harder to stay in touch and life got crazy.
BLADE: So when you were hanging out back in the day with Ellen and Rosie and everybody, how was it that Brad Pitt was in that group too?
ETHERIDGE: Well, my girlfriend (Julie Cypher) had been married to Lou Diamond Phillips and we were all very good friends with Dermot Mulroney and Catherine Keener and Catherine Keener did a movie with Brad, like a movie nobody saw, like Johnny Dangerously or something (1991's "Johnny Suede"), some really weird movie. So I met Brad before he was terribly famous. He was a part of that group. There was a whole group of all of us that just hung out, and we were all totally different. We were just like young, hungry Hollywood and we'd talk about, "Oh, I had this audition," or "I went and did this," and we were just all trying to make it in that town. So we'd get together and have fun.
BLADE: I was so terribly sorry to hear about Beckett (Etheridge's son, who died in 2020 at age 21 after struggling with opioid addiction). How are you and the rest of the family, especially (Beckett's twin) Bailey, dealing with it now?
ETHERIDGE: There are many, many families like us that deal with a loss like that. It just blows a family sideways. But we have a deep love and connection, all of us. We all knew he had a problem and it's a problem that starts way before he actually passes, so it was not a surprise. So now we're just living with the missing aspect. You try not to think about what could have been and you try to think about him in a happier place and that he's out of pain, so that helps us.
BLADE: Had he and Bailey been as close in recent years?
ETHERIDGE: They were very close, but in the last couple of years as he made worse and worse choices, we couldn't support that, so they were less close, but of course in her heart, it was her brother, he was very dear to her.
BLADE: Did you watch the Grammys? Was there anybody you were particularly rooting for?
ETHERIDGE: I watched bits and pieces of it. I had a show that night, so I didn't get to see the main thing, but I have seen pieces and I just love the crazy diversity and you know, the TikTok people winning stuff, it's like, "Wow, this is so not the Grammys I remember from the '80s," but that was what, 30 years ago? So it's all good.
BLADE: You were such a perennial favorite back in the day in the best rock female category. Were you pissed when they eliminated it?
ETHERIDGE: It's sad because I felt like the criteria they were using to judge what is female rock, they just really dropped the ball. I still think there are some amazing musicians that could be considered, you know, rock, but it feels like we're having a hard time even defining what rock and roll is now anyway. There's a whole bunch of strong women out there playing, rocking, you know, playing guitar, being excellent musicians and songwriters. If you can't call it best rock female, OK, call it something else.
BLADE: I remember so vividly when you were on the Grammys in 2005, in the midst of chemo, when you sang "Piece of My Heart." I remember you saying you were wondering how people would react to seeing you bald. Having been through that, any thoughts on the Will/Jada Oscars situation since her baldness, too, was due to a medical condition?
ETHERIDGE: You know, it's funny, I did feel a little remembrance of (thinking), "I just hope people don't make fun of me." That was kind of the first thing because to go out there bald, that was so different for me as an artist whose hair had kind of defined her. I was thinking, "How am I gonna rock without my hair?" I thought people might make fun of me, but I got over that. I just thought, "Well, if somebody makes fun of me, that just makes them look bad." So I just walked through it. And you know, it's hard to draw the line between what's funny and what's painful and how to look at something. I feel for all parties involved.
BLADE: When you go on these cruises, do fans give you some space or do they swarm around the minute you walk out? Is it even enjoyable for you?
ETHERIDGE: Yeah, it is. You know, we did our last one, now we're doing Etheridge Island, we now have a destination in Mexico, outside of Cancun, it's just this island that we're going to that is really fantastic. But I do I make myself available, I don't run away. When I have to be somewhere, I have a great company we work with called Sixthman that knows how to get me from point A to point B without being bogged down. But I do my make myself available. Everyone gets a picture with me. It's my work, but I love it. I try to make myself available but also have some time just for myself too.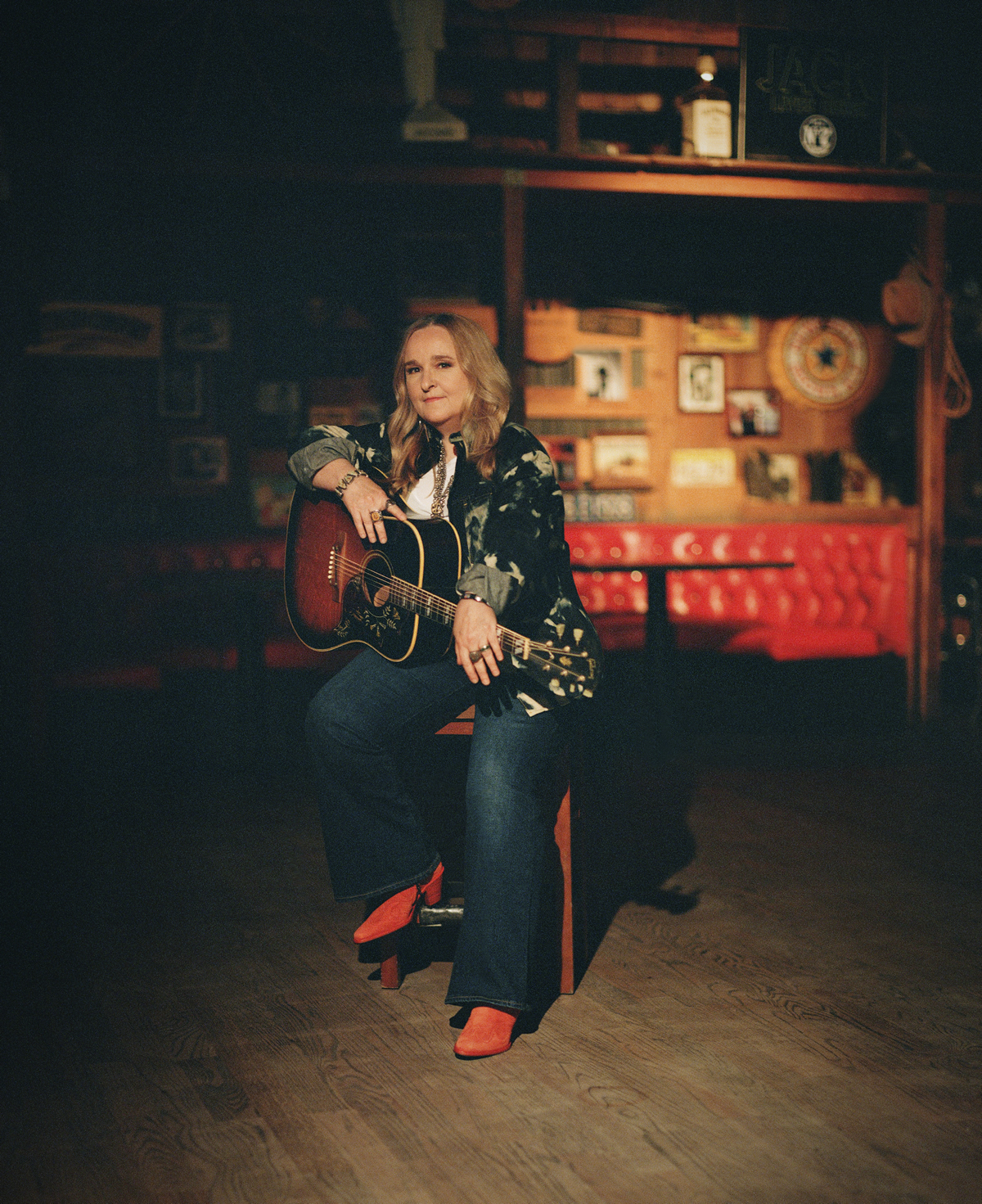 BLADE: You Tweeted a few nights ago about having a tight curfew of just 90 minutes at a casino but then it worked out and you got to do a full set. Why are the curfews so tight at casinos?
ETHERIDGE: Why do you think? They want people at the tables. Like for tonight, we we settled on 100 minutes. They're giving me 10 extra minutes. I don't like it, but in some areas, the only really good venue is a casino, so if you want to reach your folks there, you kind of have to meet them half way.
BLADE: Yeah, but it seems like in concert halls, the curfews can sometimes be really tight too. Even Madonna got her lights shut off a couple years ago. Of course, she's notoriously late, but why are they so strict with these things nowadays?
ETHERIDGE: There are all different situations — concert halls often have union crews that will absolutely shut you down if you go one second over. There are also sound curfews, noise curfews, mostly with outdoor venues, but sometimes indoor as well. They have an agreement with the neighborhood. So you have people in the neighborhood standing by with their phones ready to pounce the minute it goes over one minute, they're gonna call the police. As a performer, you just realize, "OK, it's not just about me." When I don't have a curfew, I usually land at about two hours and some change. That seems comfortable to everyone. Any longer and I think I'm wearing my audience out. When I'm at a place with a shorter show, I just do my best.
BLADE: I know you're a big Chiefs fan. Did you watch that game back in January all the way to the end?
ETHERIDGE: Well, at the end of it, I was on the floor. My wife was like, "Honey, honey, there's still 13 seconds," and I was moaning and sort of getting my feet on the floor and, you know, laying down and throwing a fit. And she's like, "No, there's still 13 seconds." I dragged myself back to the television. And I couldn't believe it. I was like, "Wait a minute. Did we just win?" You know, just really crazy, really crazy stuff. … When you're a fan like that, it's a ride you can't fully explain.
BLADE: Are you in a cordial or good place with your exes? Does it get easier when the kids are starting to grow up?
ETHERIDGE: Oh, yeah. Oh, yeah. And you realize that it's best for the kids if you can really get along and that any sort of conflict that can't get resolved, that gets emotional, does no good for anyone. And absolutely, I have, I've gotten better at that as the years have gone by.
BLADE: Do you have the slightest inkling yet what the next studio album might be like?
ETHERIDGE: Well, I've got some interesting projects that I'm not ready to talk about just yet. But they have to do with my life story. There's a lot of digging up of my past and really telling the story. So I imagine the next series of music you'll get from me is going to be very focused on my journey.