New films feature gay superhero, Tammy Faye, and feel-good drag
Cumberbatch takes on another gay role in 'Power of the Dog'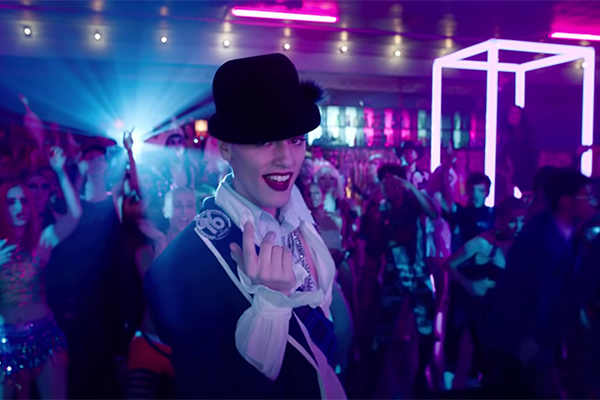 It's fall again, and that means it's time to look forward to the things we love about this time of the year – and no, I'm not talking about pumpkin spice. I'm referring, of course, to the new movies headed our way, and there are quite a few this year that should be of interest to LGBTQ+ viewers. Fortunately, as usual, the Blade is here to help you plan your own must-see list for the season with the help of our handy guide below.
Giddy Stratospheres (Sept.14): If you're a movie fan who also has a taste for musical nostalgia, this gritty love letter to the indie music scene of the 2000s from writer/director Laura Jean Marsh is definitely for you. Shot entirely during lockdown in the UK, it follows a pair of indie kids and best friends (Jamal Franklin and Marsh herself) as they party their nights away on a quest for the ultimate in hedonistic euphoria and excitement. If memories of donning boots, ripped tights, and eyeliner for a night at the club aren't enough, there's also a fabulously queer leading character and soundtrack featuring a smorgasbord of retro hits from the likes of Franz Ferdinand, The Futureheads, The Walkmen, Le Tigre, The Rapture, Art Brut, The Cribs, Black Wire, The Rocks, Theoretical Girl, Pink Grease and more. Available via VOD now.
Everybody's Talking About Jamie (Sept. 17): Delayed due to COVID but finally here is this bubbling and buzzy film version of the hit West End musical by Tom MacRae, inspired by a 2011 television documentary, in which a gay 16-year-old named Jamie New (Max Harwood) overcomes teasing, bullying, and a complicated home life to realize his dream of becoming a drag queen – with help from a loyal best friend (Lauren Patel), a supportive mom (Sarah Lancashire), and an aging drag mentor named Loco Chanel (Richard E. Grant). Translated to the screen by original stage director Jonathan Butterell and adapted into a screenplay by MacRae himself, it's won early praise by critics for its "infectious" spirit and is probably the odds-on favorite to be the feel-good queer movie of the season. With Shobna Gulati, Ralph Ineson, Samuel Bottomley, Sharon Horgan, and Charlotte Salt, it also features a cameo from Roy Haylock (better known as Bianca Del Rio, of course), who played the role of Loco Chanel onstage. VOD and streaming on Amazon Prime.
The Eyes of Tammy Faye (Sept. 17): Like the now-classic documentary of the same name, this much-anticipated biopic is an intimate look at the extraordinary rise, fall and redemption of televangelist Tammy Faye Bakker, who with her husband Jim Bakker created the world's largest religious broadcasting network before financial improprieties, scheming rivals, and scandal toppled their carefully constructed empire. Legendary for her indelible eyelashes, her idiosyncratic singing, and her eagerness to embrace people from all walks of life, she went on to become an unlikely but beloved LGBTQ icon, vocally supporting the community and helping to reduce stigma around AIDS through the platform afforded by her celebrity. Directed by Michael Showalter, it stars Jessica Chastain as Tammy Faye, with Andrew Garfield as Jim and a supporting cast including Cherry Jones, Fredric Lehne, Louis Cancelmi, Sam Jaeger, Gabriel Olds, Mark Wystrach, and Vincent D'Onofrio. In Theaters.
On the Fringe of Wild (Oct. 13)
In this Canadian import set in the early 2000s, a sensitive and shy small town teen named Peter runs away from his homophobic father during a hunting trip designed to "make him a man." Lost in the cold Ontario wilderness, he meets Jack – another teen on the run from his toxic family – and a romance buds between them as they hide away in a secluded cabin; when they are inevitably pulled back into the real world, they're forced to confront their sexuality, their mental health, and the oppressive home life that threatens to drive them apart. Directed by Emma Caralfamo from a bleak but hopeful screenplay by Sorelle Doucet, it features trans actor Harrison Browne as Peter and Cameron Stewart as Jack, with Mikael Melo, Andrew Bee, Audrey Nesbitt, Bernadette Medhurst, Andrea Pavlovic, and Adam Jenner in support. VOD.
Eternals (Nov. 5)
Marvel Studios gets a jump on the holiday blockbuster rush with the long-awaited (and long-delayed) release of this new addition to their comics-to-screen franchise, an epic and ensemble-centered action fantasy that introduces, among other characters, Brian Tyree Henry's Phastos – the first openly gay superhero to be depicted in a Marvel film. It even promises an onscreen kiss between Tyree and Haaz Sleiman, who portrays Phastos' husband. We'll take a wait-and-see attitude on whether or not it's a blink-and-you'll-miss-it moment. Directed by Oscar winner Chloé Zhao, it has an all-star cast that includes Gemma Chan, Richard Madden, Kit Harrington, Salma Hayak, Kumail Nanjiani, Lauren Ridloff, Barry Keoghan, Don Lee, and Angelina Jolie.
Isaac (Nov. 16):
Coming from Spain is this debut feature from writer/directors Angeles Hernández and David Matamoros, adapted from a stage play by Antonio Hernández Centeno and centered on two friends named Nacho and Isaac, who had an intense relationship as teens and meet again by chance after 20 years. Nacho, now financially successful and trying to have a baby with his wife Marta, proposes an arrangement with struggling entrepreneur Denis and his partner Carmen: If they will provide the "surrogate belly" for Marta's pregnancy, he will give them the money they need to open their gourmet restaurant. The deal, of course, opens the door for a lot of resurfaced feelings that forces the two men to discover themselves at the risk of losing the apparent stability they now have. Starring Pepe Ocio and Iván Sánchez (who won the Best Actor prize for his performance as Nacho at the 2020 Malaga Film Festival), it also features Maria Ribera, Erika Bleda, and Nacho San José. VOD.
The Power of the Dog (Nov. 17):
Squeaking in just before the holiday season is this adaptation of the 1967 Thomas Savage novel by the same name, directed by renowned filmmaker Jane Campion and starring screen heavyweights Benedict Cumberbatch and Kirsten Dunst. Set in 1925 Montana, it's a character-driven drama in which a brutal but charismatic rancher (Cumberbatch) finds his life disrupted when his brother (Jesse Plemons) brings a new wife (Dunst) and son (Kodi Smit-McPhee) home to the ranch. At first cold and cruel, he begins to take his new step-nephew under his wing, and a relationship begins to form that opens up memories of a buried past and awakens him to the possibilities of love. On the one hand, it's garnered predictable controversy over the casting of the straight-identifying Cumberbatch in a high-profile queer role (his second after playing Alan Turing in "The Imitation Game") – but on the other, it's one of the best-reviewed upcoming films on the slate so far. In addition, Campion is a cinematic master whose work here won her the Silver Lion for directing at this year's Venice Film Festival, so it's worth taking that into consideration before you decide to give this one a pass. In theaters.
Amy Schneider becomes first woman $1M Jeopardy! winner
Schneider, 42, commenced her winning streak in November hitting the million mark during her 28th game this past Friday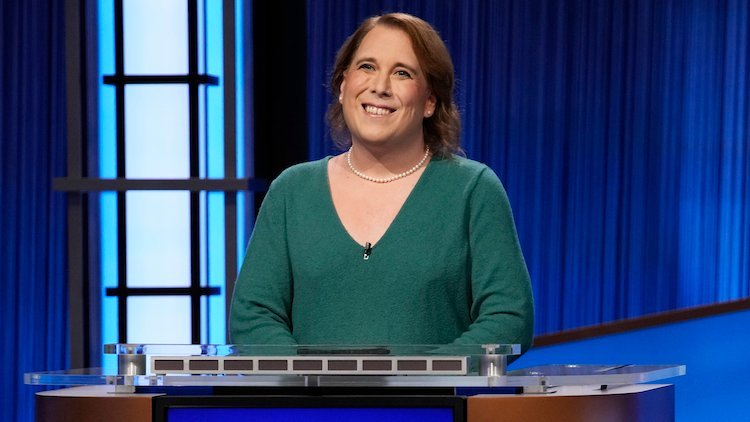 Amy Schneider, the Transwoman software engineering manager from Oakland, became the first woman and fourth $1 million Jeopardy! winner since the game show first aired on March 30, 1964.
Schneider, 42, commenced her winning streak in November hitting the million mark during her 28th game this past Friday. "It's not a sum of money I ever anticipated would be associated with my name," Schneider said. "To be good at Jeopardy!," Schneider added; "you just have to live a life where you're learning stuff all the time."
The New York Times reported that the other three $1 million Jeopardy! winners, Ken Jennings who went on to compete in a record 74-game run, won in 2004 after his 30th game. In 2019 the distinction was also won by James Holzhauern and this past Fall, 2021 by Matt Amodio.
GLAAD's director of transgender representation, Nick Adams, in an emailed statement said; "Amy Schneider's incredible run on Jeopardy! allows families all over the country to get to know her as someone who is great at word puzzles, has in-depth knowledge on a range of topics, and who also happens to be a transgender woman. Amy is using her history-making appearances and new platform to raise awareness of transgender issues and share a bit of her personal story too."
After her early successes last November, Schneider told Newsweek that she had been trying to get on the show for over a decade.
"I'm not sure quite how long [ago I first applied], but I remember trying out when I still lived in Ohio, and I've lived in Oakland since 2009, so it has to have been at least that amount of time," she said.
Schneider also explained how her transition in 2017 might have helped her finally get a spot on the show.
"The reality is that for the first few years of that, when I was trying out, I was, as far as any of us knew, a standard white guy," she told the magazine. "And there's just more competition for those slots on Jeopardy! They're making a TV show, they don't want everybody to look the same, and I looked a lot like many of the other contestants, and I think that definitely made it a little tougher for me at that time. I would have got on eventually — I was never gonna stop trying!"
In the post-Alex Trebek era, multiple trans contestants have appeared on the show, including Kate Freeman, who became the first out trans champion in "Jeopardy!" history last December.
Schneider, who became the first trans contestant to qualify for the Tournament of Champions in November, was robbed at gunpoint over the New Year's weekend in her home city of Oakland.
"Hi all! So, first off: I'm fine. But I got robbed yesterday, lost my ID, credit cards, and phone," she said. "I then couldn't really sleep last night, and have been dragging myself around all day trying to replace everything," she wrote in a tweet about the incident.
Hi all! So, first off: I'm fine. But I got robbed yesterday, lost my ID, credit cards, and phone. I then couldn't really sleep last night, and have been dragging myself around all day trying to replace everything.

— Amy Schneider (@Jeopardamy) January 4, 2022
According to the Associated Press, Oakland police said they are investigating the armed robbery that occurred on Sunday afternoon. No arrests have been made.
The robbery took place just days after Schneider won her 21st consecutive game, surpassing Julia Collins as the most winning woman in the show's history.
In an email statement to NBC News, a "Jeopardy!" spokesperson said, "We were deeply saddened to hear about this incident, and we reached out to Amy privately to offer our help in any capacity."
Schneider, an engineering manager from Oakland, has been an inspiration to many during her historic run on the show.
"Seeing trans people anywhere in society that you haven't seen them before is so valuable for the kids right now that are seeing it," she told ABC affiliate KGO-TV in November, adding: "I'm so grateful that I am giving some nerdy little trans kid somewhere the realization that this is something they could do, too."
Musicians Jim & Sasha Allen on the 'Perfect' timing to tell their story
Jim & Sasha Allen, a father/son duo who made history on "The Voice" as Sasha became the first openly Trans person to compete on the show.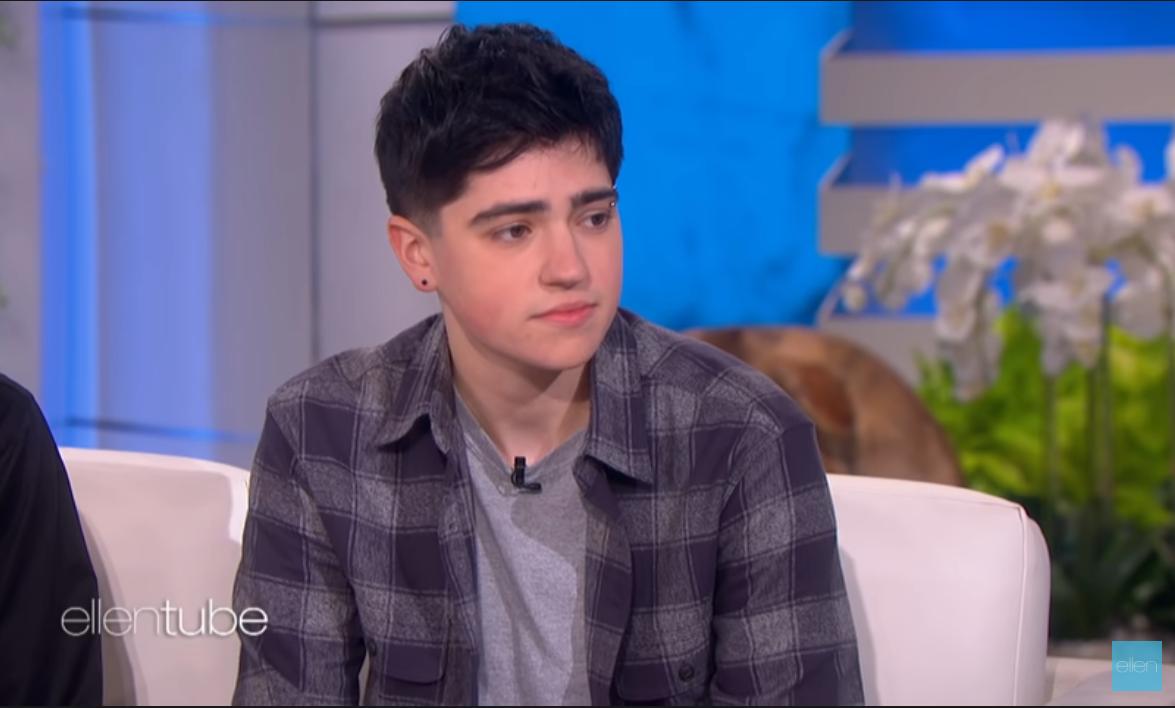 Ellen welcomed musicians Jim & Sasha Allen, a father/son duo who made history on "The Voice" as Sasha became the first openly Trans person to compete on the show. Sasha talked about how he hopes his story can help others going through a similar situation, and Jim shared his important role as the parent, and how now was the perfect time for Sasha to tell his story.
Smithers gets a boyfriend on episode of 'The Simpsons'
"And what I think I was really excited about, with this episode, we get to see of how gay people date, how they meet, what it's like"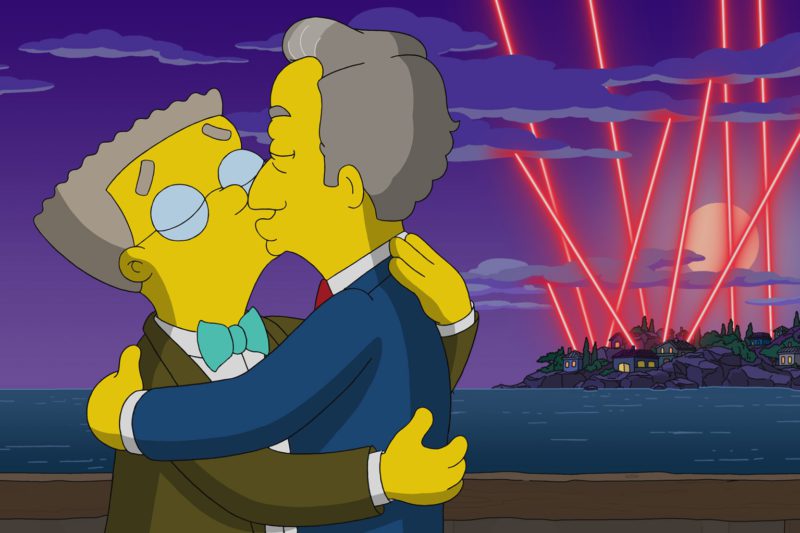 HOLLYWOOD – Rob LaZebnik, 59, one of the creative writers and co-executive producer of the longest running cartoon comedy in American television history, 'The Simpsons,' teamed up with his son Johnny, 27, also a television creative writer to produce an episode that gives the character of Waylon Smithers a boyfriend.
The episode set to air on Sunday, November 21 the start of the Thanksgiving holiday week is titled 'Portrait Of A Lackey On Fire.' The synopsis for the episode reads: "Smithers finds true love with a famous fashion designer, but will his new relationship destroy Springfield?"
The long-suffering assistant to the show's Über wealthy and twisted maniacal character of Montgomery Burns, falls in love with fashion designer Michael De Graaf, voiced by four time Tony award and six time Emmy award nominated Out actor Victor Garber. Smithers is voiced by Emmy award winner Harry Shearer.
The 2016 season episode of 'Tom Collins', had Smithers come out as gay after years of speculation. For the elder LaZebnik, who wrote that episode, his inspiration was his son Johnny who is gay. For the writing duo, this up coming episode brings the storyline full circle as they explore a gay relationship.
i can finally come out of the closet as a d'ohmosexual. watch a very gay episode of @TheSimpsons on november 21, written by me and my dad 😭😭😭 pic.twitter.com/RqlMcetIUv

— Johnny LaZebnik (@jlazebnik) October 30, 2021
In an interview with the New York Post published Thursday, the elder LaZebnik told the paper; "To be able to work with Johnny on this was, like, such a dream and to be able to see how truly funny and talented he is was just, you know, super fun and rewarding."
His son noted, "I know my dad is a comedy writer. I grew up with him — obviously, I know he's a funny guy," Johnny, 27, told The Post. "But actually getting to sit down and write jokes with him was so much fun. And there were some moments where I was like, 'Dad, that's disgusting — we can't put that on television,' which I didn't expect to be saying because I'm usually the disgusting one."
"We now have this piece of content that we put into the world together that is a combined brainpower of the two of us."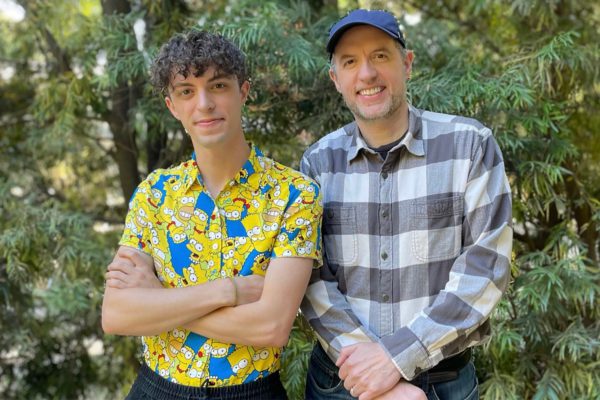 The younger LaZebnik also told the Post; "So often, gay romances are a subplot or alluded to or shown in some kind of montage or as a punchline.
"And what I think I was really excited about, with this episode, we get to see – without spoiling too much – the beginning, middle and who knows how it ends of a gay relationship, of really getting into the nitty-gritty of how gay people date, how they meet, what it's like."
He added: "That was really special to me to get to highlight characters who are not punchlines, who are fully formed."