Thousands participate in Kyiv Pride march
Event took place without violence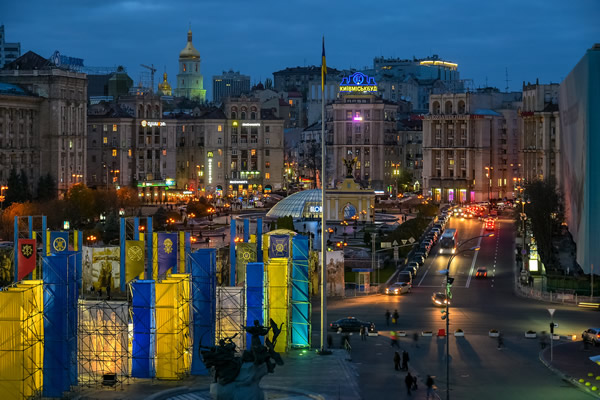 Upwards of 7,000 people on Sunday took part in the Ukrainian capital's annual Pride march.
The Associated Press reported Kyiv Pride participants, among other things, demanded the country's lawmakers allow civil partnerships for same-sex couples and create a law against hate crimes based on sexual orientation and gender identity.
The Ukrainian Cabinet of Ministers has introduced a measure that would make the country's hate crimes law LGBTQ inclusive.
НАС БУЛО 7000! pic.twitter.com/gL91I61RBW

— KyivPride (@KyivPride) September 19, 2021
"We've grown tired of waiting for change and enduring systematic intimidation, pressure, disruption of peaceful events, attacks on activists and the LGBT community," said Kyiv Pride in a statement to the Associated Press. "We demand changes here and now, as we want to live freely in our own country."
The march took place less than a month after President Volodymyr Zelenskyy publicly said his government will continue to fight discrimination based on sexual orientation and gender identity.
"With U.S. support, Ukraine will continue to advance respect for human rights, civil liberties and fundamental freedoms in accordance with international standards and obligations, as well as to fight racism, xenophobia, anti-Semitism and discrimination against the LGBTQI+ community," reads a joint statement the White House released on Sept. 1 after Zelenskyy met with President Biden. "Ukraine plans to strengthen accountability for violence against all persons regardless of gender, race, ethnicity, religion, sexual orientation, or political views, including through legislation."
Far-right extremists in 2019 attacked several people who attended Kyiv Pride. Members of a Ukrainian nationalist group in 2015 injured nine police officers who had been deployed to an LGBTQ rights march that coincided with Kyiv Pride.  
Sunday's march took place without violence.
Kenya seeks to ban LGBTQ movies on Netflix
Prohibition expected to take effect by end of year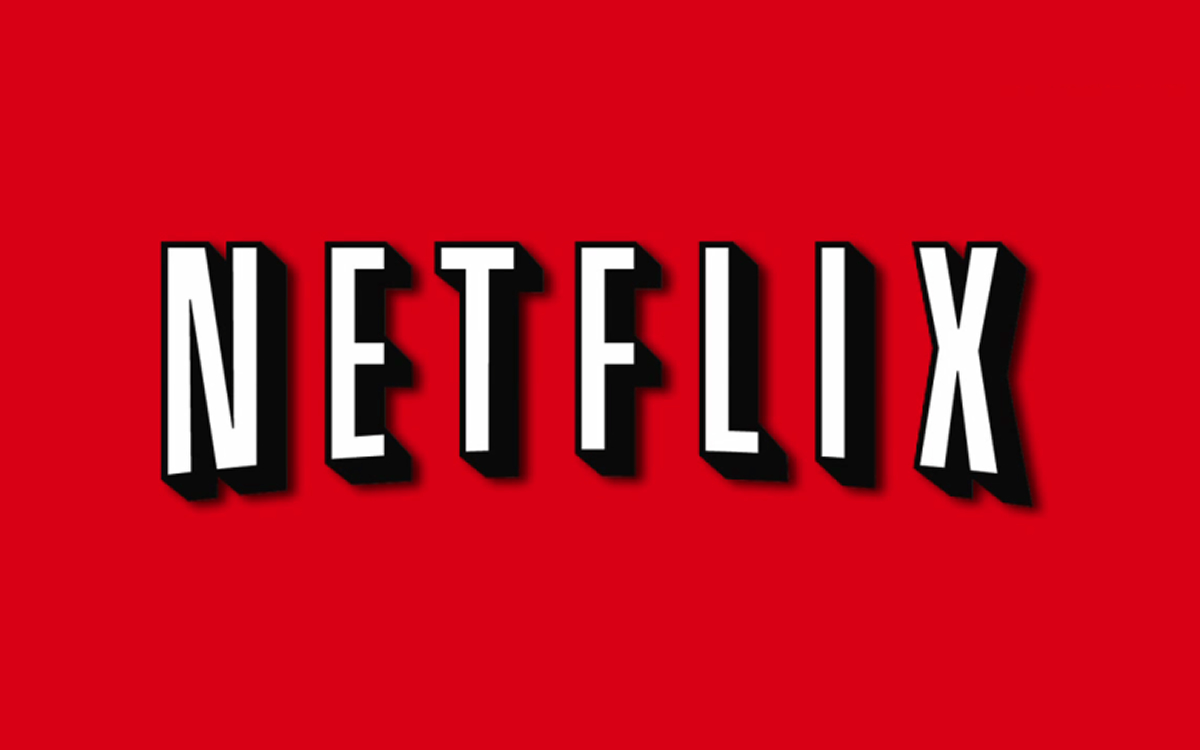 The streaming of LGBTQ movies on Netflix in Kenya is set to be restricted as the country tightens the noose on same-sex sexual activity.
The Kenya Film Classification Board, which is charged with the classification and regulations of films for public consumption, is in final talks with Netflix to restrict same-sex content that violates the country's laws.
Acting Kenya Film Classification Board CEO Christopher Wambua confirmed that official discussions with Netflix Africa began in October 2021, while noting that access to LGBTQ movies will be restricted before the end of this year.
"Already we have developed a draft agreement that defines how to conduct their (Netflix) operations in the country after another discussion in April this year," Wambua said.
The Kenya Film Classification Board is supposed to share the agreement with Netflix Africa this week for further scrutiny of its provisions before implementing it. The company's content manager for the continent is a Kenyan based in Nairobi.
The board has classified LGBTQ content under the "restricted category," meaning it is not allowed for broadcast, exhibition and distribution to the public.
The agreement allows Netflix to self-classify movies streamed in Kenya by limiting offensive content that glorifies, normalizes, promotes and propagates homosexuality.
Consensual same-sex sexual relations are criminalized under Section 165 of Kenya's Penal Code while the Films and Stage Plays Act gives the board the power to regulate the exhibition, distribution, possession, or broadcasting of content to the public. Its content classification exempts live programming and news.
"Netflix will have to develop an intelligence safety-worth classification pool that is consistent with the film classification guidelines for Kenya so that the system's output is aligned with our local laws and regulatory provisions concerning content classification," stated Wambua.
The move to permit Netflix and other streaming services to self-classy movies for Kenya will only allow the board to monitor compliance.
"Netflix has indicated a commitment to operate in the country within the purview of the existing laws," he said. "By the end of October this year we should have finalized the agreement so that by November we pilot the new framework."
Kenya is the second African country to demand Netfilx ban the streaming of LGBTQ movies.
Egypt's media regulator this month warned Netflix, Disney+, and other streaming services against broadcasting content that breaches its "societal values" and threatened to take action if not curbed.
The first Netflix film, "Perfect Strangers," released earlier this year targeting the Arabic audience sparked criticism in Egypt and the Middle East for having scenes that depict homosexuality. One Egyptian lawmaker even called for Netflix to be banned in the country.
Egypt is among the countries in the Arab World that do not condone homosexuality.
Egyptian authorities usually prosecute gay men on charges of "immorality" or "debauchery." Police regularly raid private parties, restaurants and bars to arrest them.
Egypt's warning on Sept. 7 came a day after Saudi Arabia, Kuwait, the United Arab Emirates, Qatar, Bahrain and Oman demanded Netflix to drop "offensive content" from its local streaming platforms as it "contradicts Islamic and societal values and principles."
Egypt and Kenya have the highest number of Netflix subscriptions in Africa.
Kenya in September 2021 banned a gay documentary, "I Am Samuel," produced by a local filmmaker.
The Kenya Film Classification Board said was "blasphemous" because it promoted "values that are in dissonance with our constitution, culture, values and norms." The same film, however, has been screened at more than 25 film festivals globally and streamed on iTunes, Vimeo and other international platforms. 
Filmmakers and groups opposed to the government's LGBTQ films restriction criticized the decision as an abuse of the freedom of expression the Kenyan Constitution guarantees. Courts have dismissed challenges to it.
Apart from the Kenya Film Classification Board reaching a deal with Netflix to restrict LGBTQ content, Wambua disclosed that a new law has already been approved by the outgoing Cabinet to help the board effectively classify and regulate content in this digital era.
"The new digital platforms allowing streaming of movies make it difficult hence need to do some readjustments in the law to give companies powers to self-classify their videos-on-demand films that apply on auto-visual content. The existing law was for the analogue era," he noted.
The proposed law, dubbed the Kenya Film Bill 2021, has yet to be introduced in the Kenyan Parliament, which reconvened on Wednesday after August's general election.
The bill would recognize Kenya Film Classification Board key mandates of regulating the creation, broadcasting, distribution, possession and exhibition of films through the issuance of licenses to filmmakers, distributors and exhibitors. The bill would also recognize the Kenya Film Classification Board's role in classifying films under various categories such as films that are either restricted or prohibited.  
The Kenya Film Classification Board is engaging with other regulatory government agencies to have minimal adjustments on self-classifications through miscellaneous amendments to restrict LGBTQ content to avoid any delay in enacting the proposed law.
"If this is done even before we overhaul the existing law, we would have the requisite provisions that are necessary to allow us to accommodate the business model of videos-on-demand (VODs) which are on digital demand," Wambua said.
The Washington Blade has reached out to Netflix for comment.
Anti-LGBTQ party leader poised to become next Italy prime minister
Giorgia Meloni is chair of far-right Brothers of Italy party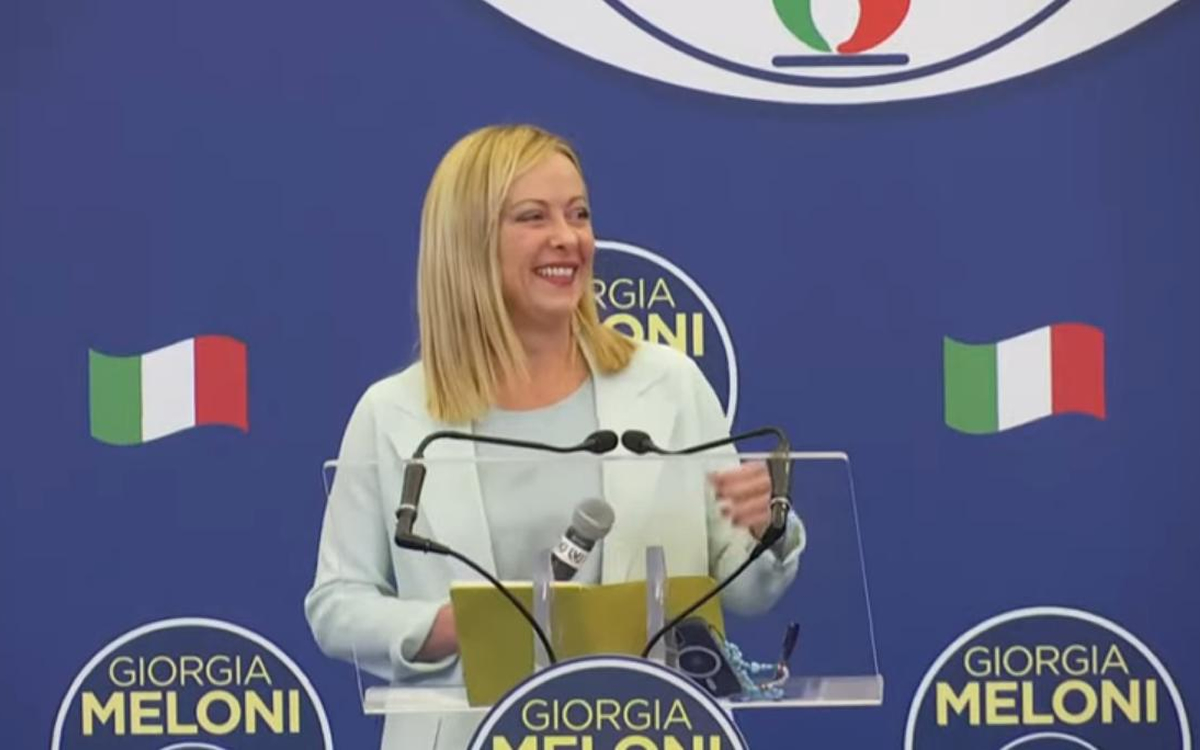 Italy's far-right leader Giorgia Meloni, head of the Brothers of Italy party, appeared to have won in Sunday's snap general elections according to exit polling. In a coalition with other right wing parties, Meloni's right-wing alliance now looks to have control of both houses, with a projected 42.2 percent of the Senate vote.
This will lead to her forming Italy's most right-wing government since World War II and Meloni is now set to be Italy's first female prime minister. However, the final say will rest with Italian President Sergio Mattarella, a decision that is expected to take some time according to political observers in Rome familiar with the inner workings of the Italian government.
Turnout for Sunday's elections was dramatically low — 63.82 percent by the time polls closed — said Italy's interior ministry, almost 10 points down on 2018. Voting levels were especially poor in southern regions including Sicily.
Meloni's Facebook post made after the results had been announced translates to:
History we made today.
This victory is dedicated to all the militants, managers, supporters and every single person who – in these years — has contributed to the realization of our dream, offering soul and heart spontaneously and selflessly.
To those who, despite the difficulties and the most complex moments, have remained in their place, with conviction and generosity. But, above all, it's dedicated to those who believe and have always believed in us.
We won't betray your trust. We are ready to lift Italy up.
THANK YOU !
Meloni is seen as polarizing figure with some of her political stances and rhetoric on the European Union aligning her close to Hungary's nationalist leader Viktor Orban. However, Professor Gianluca Passarrelli of Rome's Sapienza University told the BBC he thought she would avoid rocking the boat on Europe and focus on other policies: "I think we will see more restrictions on civil rights and policies on LGBT and immigrants."
Meloni has long displayed antagonism and intolerance towards the LGBTQ community. She has stated that she perceives sees LGBTQ as menacing and threatening Western civilization.
The BBC noted that earlier this year she outlined her priorities in a raucous speech to Spain's far-right Vox party: "Yes to the natural family, no to the LGBT lobby, yes to sexual identity, no to gender ideology … no to Islamist violence, yes to secure borders, no to mass migration … no to big international finance … no to the bureaucrats of Brussels!"
As LGBTQ equity and equality rights are foundational to the European Union and its governing commission, some see Meloni as combatting the EU over LGBTQ issues in the same vein as Orban.
On other issues Meloni doesn't claim to "oppose" Europe, but rather she outlines a model of integration that may or may not go down well in Brussels, euronews reported.
"If we had an EU more like the one we imagine, we would have developed a more effective defense policy, invested in energy security and maintained short value chains to avoid reliance on third — often untrustworthy — countries for gas, raw materials, commodities, chips and other goods," she stated.
Cubans approve marriage equality-inclusive family code
Referendum took place amid continued government persecution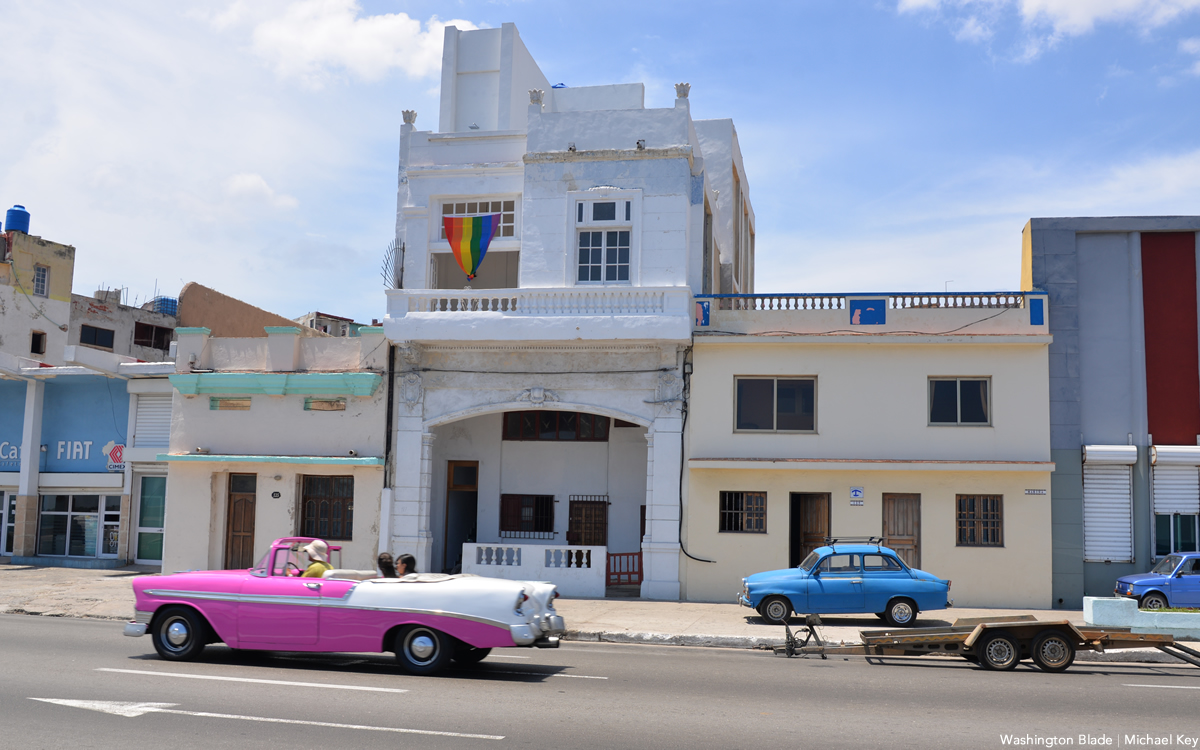 Cubans on Sunday approved a new family code that extends marriage and adoption rights to same-sex couples.
Gramna, the official newspaper of the Cuban Communist Party, on Monday reported 66.9 percent of Cubans who participated in the referendum voted in favor of the new family code.
"Sept. 25, 2022, is already a historic day," said Gramna. "The island has once again demonstrated that the revolution will never stop in its quest for more justice, independent of its adversaries. The road has never been easy, but it is very worthy."
Mariela Castro, the daughter of former President Raúl Castro who spearheads LGBTQ and intersex issues in Cuba as director of the country's National Center for Sexual Education, is among those who support the new family code. Mariela Castro on Sunday posted to her Facebook page a picture of her voting for it in Havana, the Cuban capital.
"I voted yes for Cuban families, for a socialist Cuba, for the world's most revolutionary and humanist family code, for a socialist state built upon rights and social justice that recognizes and protects all families," said Mariela Castro after she voted.
The Cuban government in the years after the 1959 revolution that brought Mariela Castro's uncle, Fidel Castro, to power, sent gay men and others to work camps. Cubans with AIDS were forcibly quarantined in state-run sanitaria until 1993.
Cuba joins Costa Rica, Colombia, Ecuador, Brazil, Argentina, Uruguay, Chile, Mexico City and several Mexican states that have extended marriage rights to same-sex couples. Puerto Rico, the U.S. Virgin Islands, Aruba, Curaçao, Bonaire, French Guiana, Guadeloupe, Martinique, St. Barthélemy, St. Martin, Sint Maarten, Sint Eustatius and Saba also have marriage equality.
Cuban government critics face harassment, arrest
Sunday's referendum took place nearly four years after Cuban voters overwhelmingly approved their country's new constitution. The government's decision to remove a marriage equality amendment that religious groups had publicly criticized sparked outrage among independent LGBTQ and intersex activists.
LGBTQ and intersex Cubans and others who publicly criticize the Cuban government also continue to face harassment, discrimination and arrest.
Maykel González Vivero, editor of Tremenda Nota, the Washington Blade's media partner in Cuba, is among the hundreds of people who were arrested during anti-government protests that took place across the country on July 11, 2021. The U.S. in 2019 granted asylum to Yariel Valdés González, a Blade contributor who suffered persecution in Cuba because he is a journalist.
Yoan de la Cruz, a gay man who used Facebook Live to livestream the first July 11 protest that took place in San Antonio de los Baños in Artemisa province. De La Cruz subsequently received a 6-year prison sentence, but he was released on house arrest in May.
Brenda Díaz, a transgender woman with HIV who participated in a July 11 protest in Güira de Melena in Artemisa province, has been sentenced to 14 years in prison. The State Department has said it is "very concerned" about Díaz's health and well-being and urged the Cuban government to release her.