LGBTQ Venezuelan migrants in Colombia struggle to survive
People with HIV again suffering from Kaposi's sarcoma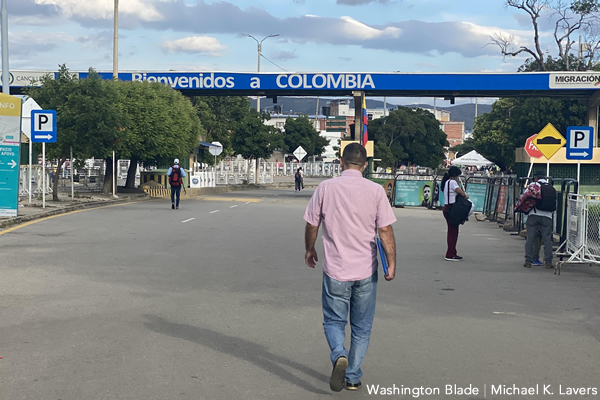 BOGOTÁ, Colombia — Edgar García and his partner, Dannys Torres, on Oct. 3, 2018, used a canoe to cross the Arauca River that marks the Venezuela-Colombia border.
García was a member of the board of directors of Alianza Lambda de Venezuela, a Venezuelan LGBTQ rights group, before he fled Venezuela. Torres worked as a hairdresser in Caracas, the Venezuelan capital.
The couple now lives in Rafael Uribe Uribe, a working-class neighborhood in Bogotá, the Colombian capital.
Torres continues to work as a hairdresser. García most recently worked for a telecommunications company.
"We are settled here in Bogotá," García told the Washington Blade on Sept. 21 during an interview with him and Torres that took place at a shopping mall near their home. "You have your life here."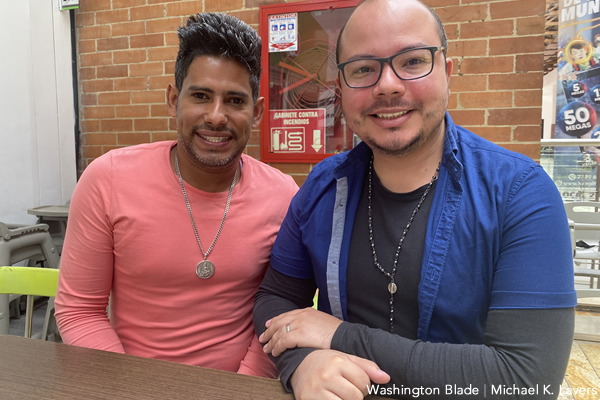 García and Torres are two of the more than 5.4 million Venezuelans who the Coordination Platform for Migrants and Refugees from Venezuela say have left their country as of November 2020 because of its ongoing economic and political crises.
Statistics from the Colombian government indicate there are currently more than 1.7 million Venezuelans in the country. More than 50 percent of them live in Bogotá and the departments of Norte de Santander, Atlántico and Antioquia.
Colombian President Iván Duque in February announced the country would legally recognize Venezuelan migrants who are registered with the government.
Sources in Colombia with whom the Blade has spoken say there are likely many more Venezuelan migrants in the country than official statistics indicate. Venezuelan migrants who are LGBTQ and/or living with HIV remain disproportionately vulnerable to discrimination and violence and often lack access to health care and formal employment.
A report the Red de Movilidad Humana LGBTI+—a network of advocacy groups in Venezuela, Colombia, Ecuador, Peru, Chile, Brazil, Argentina, Guatemala and Mexico—published with the support of the U.N. Refugee Agency notes sex trafficking and even death are among the myriad threats that LGBTQ migrants from Venezuela face once they enter Colombia. The report indicates they also face discrimination in shelters because of their sexual orientation and gender identity, sexual violence and a lack of access to the Colombian judicial system.
Trans woman left Venezuela 'in search of a better quality of life'
Vanesa, a 25-year-old transgender woman from the Venezuelan city of Maracaibo, came to Colombia eight years ago "in search of a better quality of life."
She told the Blade on Sept. 14 during an interview at Fundación de Atención Inclusiva, Social y Humana (FUVADIS)—an organization in Barranquilla, a city in Atlántico department that is near the mouth of the Magdalena River in northern Colombia, that serves Venezuelan migrants—she entered Colombia near Maicao, a city in La Guajira department via an informal border crossing known as a "trocha." Vanesa said she was nearly kidnapped.
"The people who were standing on the sides (of the "trocha") who ask you for money were supposedly security," she said. "There was no security. They left me there because I was trans. They said a lot of ugly things. They assaulted me, including one (man) who was not going to let me go. They wanted me to kidnap me or have me there to do whatever they wanted to me."
Vanesa said a woman helped her escape.
"The experience was horrible," she said.
Vanesa traveled to Cartagena, a popular tourist destination that is less than two hours southwest of Barranquilla, and began to work at her friend's hair salon. Vanesa told the Blade that her friend's mother "never liked me because … she is a Christian."
Vanesa now lives in Barranquilla and supports herself through video chats. Vanesa also competes in local beauty pageants and is able to send money to her mother in Venezuela.
"I work here," she said. "I am relatively well off."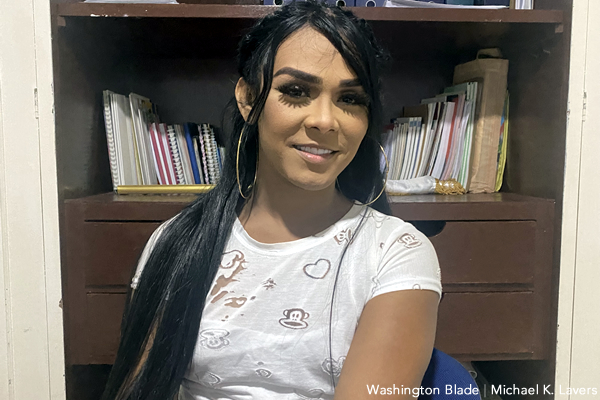 Andy, a trans man from Venezuela's Maracay state, left Venezuela four years ago with his partner and their daughter. Andy, like Vanesa, entered Colombia via a "trocha" near Maicao.
"I migrated because the situation was becoming worse and worse each day," Andy told the Blade on Sept. 14 as he attended a workshop that Caribe Afirmativo, an LGBTQ group in northern Colombia, organized at a Barranquilla hotel.
Caribe Afirmativo has opened three "Casas Afirmativos" in Barranquilla, Maicao and Medellín that provide access to health care and other services to Venezuelan migrants who are LGBTQ and/or living with HIV/AIDS. Caribe Afirmativo also operates several "Casas de Paz" throughout northern Colombia that support the implementation of an LGBTQ-inclusive peace agreement between the government and the Revolutionary Armed Forces of Colombia that came into force in 2016.
Andy said his work in Venezuela allowed him to learn how "to sell whatever product," but he told the Blade he struggled to find a job once he arrived in Colombia.
Andy told the Blade that he, his partner and their daughter now have stable housing in Barranquilla. Andy said he also has received a job offer in Medellín, the country's second-largest city that is the capital of Antioquia department.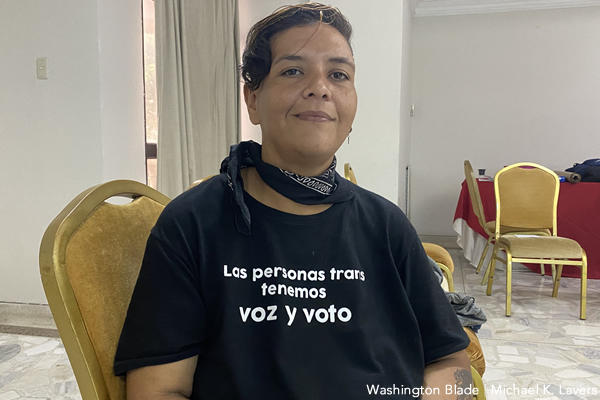 Jesús Gómez is a 33-year-old gay man from Venezuela's Trujillo state in the Venezuelan Andes that are close to the country's border with Colombia.
He previously worked with Venezuela Diversa, a Venezuelan LGBTQ advocacy group, and accepted a position with the municipality of Chacao that is part of Caracas. Gómez, whose mother was born in Colombia, also joined a student protest movement against the government.
Gómez fled to Colombia and is pursuing his asylum case with the help of UNHCR.
"I feel bad emotionally, but I am well-off compared to other people," he told the Blade on Sept. 16 during an interview at a hotel in Cúcuta, a city in Norte de Santander department that is a few miles from the country's border with Venezuela. "I am working to help other people who are in the same situation."
Gómez in December is scheduled to graduate from nursing school. He also works with Fundación Censurados, a Cúcuta-based HIV/AIDS service organization that works with Venezuelan migrants, and has supported other organizations in the area that serve them.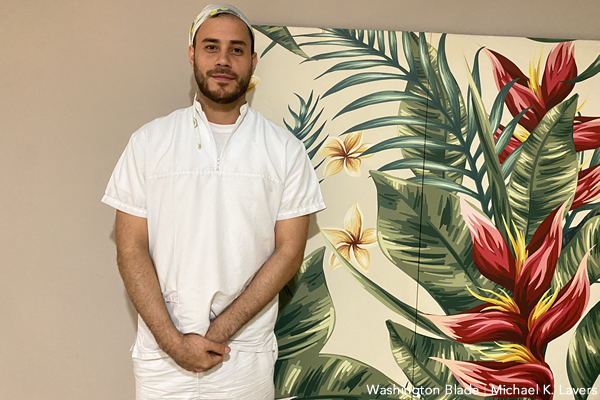 FUVADIS Executive Director Luis Meneses, like Gómez, was an LGBTQ activist in Venezuela.
Meneses, who is from Venezuela's Zulia state, in 2010 unsuccessfully ran for Venezuela's National Assembly. Meneses in February 2018 fled to Colombia because of the "political persecution" he said he suffered.
"Discrimination and prejudice against me began when I came out to defend LGBTI rights," Meneses told the Blade on Sept. 14 during an interview at his office.
Meneses in August 2018 launched FUVADIS, which receives support from groups that includes UNHCR and the International Organization for Migration. FUVADIS provides health care, antiretroviral drugs and a host of other services to Venezuelan migrants with HIV/AIDS and other populations that include sex workers. Vanessa and nearly 900 other FUVADIS clients are LGBTQ.
"We cannot work for the migrant population by only giving them humanitarian assistance," said Meneses. "It's also about guaranteeing access to their rights."
Venezuelans with HIV/AIDS die because of lack of medications
The New York-based Aid for AIDS International estimates more than 10,000 Venezuelans with HIV have left the country in recent years. Activists and health care service providers in Venezuela with whom the Blade has spoken in recent years have said people with HIV/AIDS in the country have died because of a lack of antiretroviral drugs.
The Venezuelan government has also targeted HIV/AIDS service organizations.
Members of Venezuela's General Directorate of Military Counterintelligence in January raided the offices of Azul Positivo, an HIV/AIDS service organization and arrested President Johan León Reyes and five other staff members. Venezuelan police on Feb. 15, 2019, raided the offices of Fundación Mavid, another HIV/AIDS service organization in Valencia, a city in Carabobo state, and arrested three staffers after they confiscated donated infant formula and medications for people with HIV/AIDS
Deyvi Galvis Vásquez, a doctor who is the manager of prevention and testing for AIDS Healthcare Foundation Colombia on Sept. 17 during an interview at AHF's Cúcuta clinic showed the Blade pictures of Venezuelans with HIV/AIDS in Colombia who had cases of Kaposi's sarcoma.
"The conditions are of extreme vulnerability," said Galvis.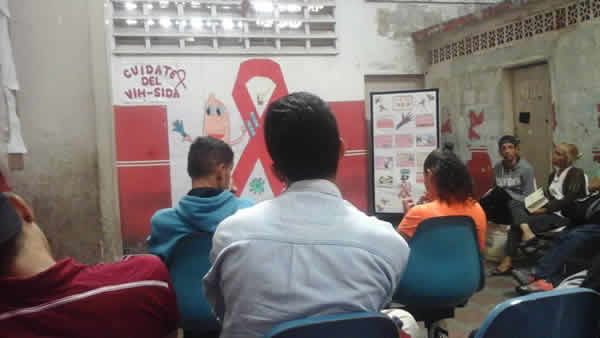 Andrés Cardona, director of Fundación Ancla, a Medellín-based group that works with migrants and other vulnerable groups, during a Sept. 13 interview with the Blade in his office echoed Galvis. Cardona added stigma specifically against Venezuelans with HIV/AIDS is one of the myriad issues he and his colleagues confront.
"The issue of the elimination of HIV also implies not only an issue of communication and prevention, but also an issue of effective attention," said Cardona. "We have our conservative culture, an idea that the Venezuelans who are coming are going to give us HIV."
"This is totally discriminatory," he added.
Cardona, like those inside Venezuela with whom the Blade has spoken, said there are no services in the country for people with HIV/AIDS.
"There are many Venezuelan migrants with HIV who enter Colombia, because they are going to die if they don't," he said.
AHF operates clinics throughout Colombia
AHF operates other facilities in Bogotá and in the cities of Bucaramanga, Yopal, Valledupar and Ríohacha. The organization, along with the Colombian Red Cross and the government of Santander department, in March began to distribute condoms, food and water and offer rapid HIV tests to Venezuelan migrants who travel through Páramo de Berlín, a high plateau in the Colombian Andes through which a highway between Cúcuta and Bucaramanga passes.
AHF, among other things, offers migrants rapid HIV and syphilis tests and counseling for people who test positive. AHF also provides lab tests, formula for children of mothers with HIV and health care with an "interdisciplinary health care team."
AHF Colombia Country Program Manager Liliana Andrade Forero and AHF Colombia Data Manager Sandra Avila Mira on Sept. 20 noted to the Blade during an interview at AHF's Bogotá clinic that upwards of 2,000 migrants currently receive care from the organization. They also pointed out that 1,952 of them are taking antiretroviral drugs the Brazilian government donates.
Galvis noted to the Blade that many of AHF's patients also have access to mental health care and social workers.
"AHF's policy is to reach out to everyone," he said.
Pandemic has made migrants even more vulnerable
Galvis, Fundación Censurados Director Juan Carlos Archila and other Colombian HIV/AIDS service providers with whom the Blade spoke say the pandemic has made Venezuelan migrants with HIV/AIDS in the country even more vulnerable.
Lockdowns prevented sex workers and others who work in the informal economy from earning money. A "pico y género" rule implemented by Bogotá Mayor Claudia López that allowed women to leave their homes on even days and men to leave their homes on odd days sparked criticism among trans activists.
Archila, who is a nurse, on Sept. 16 told the Blade during an interview at a Cúcuta hotel the pandemic has also left Censurados in a precarious situation.
"We endured practically two years with the doors closed, with expenses increasing," he said. "The need of people who come to us for the issue of HIV remains, and yet we are all trying to cope with the situation."
Andrade noted AHF's Bogotá was closed for several months at the beginning of the pandemic because of the city's strict lockdown.
The pandemic also forced FUVADIS to close its offices in March 2020, but Meneses told the Blade the organization was able to see a handful of patients at a time. He said "basic humanitarian assistance" that included hygiene kits and food were among the things that FUVADIS was able to provide its patients during the pandemic.
"Understanding how the situation for the LGBTI community, people with HIV, the migrant population and the refugee population is, we could not allow (our services) to shut down," Meneses told the Blade.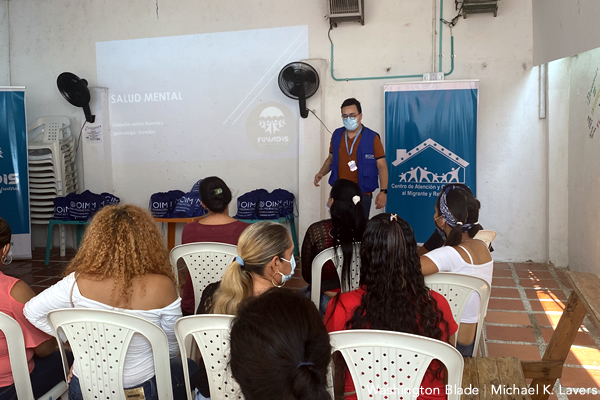 Pan Africa ILGA urges authorities to investigate anti-LGBTQ, anti-intersex murders
Sheila Lumumba's death in Kenya in April among cases cited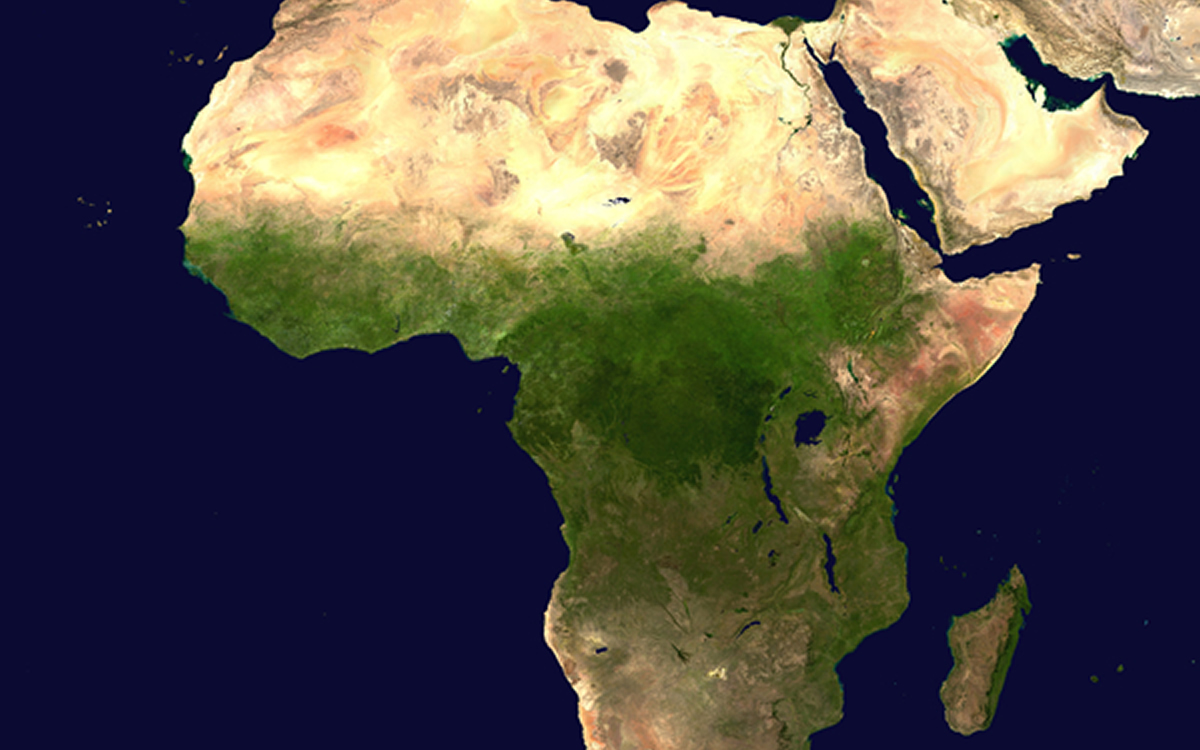 Pan Africa ILGA once again urged authorities across the continent to investigate the murders of LGBTQ and intersex people and to work to reduce violence based on sexual orientation and gender identity.
The organization — which comprises 268 groups that work for LGBTQ and intersex rights across Africa — in a report it issued in July noted a number of high profile murders that have taken place this year. They include Sheila Lumumba, a 25-year-old Kenyan woman who was murdered in April, Pinky Shongwe, a 32-year-old South African who was stabbed to death in March, and Obisike Donald Ibe, a 31-year-old doctor in Nigeria who was slain in January.
Lumumba, a lesbian who was reportedly targeted because of her sexual orientation, was raped before her murder. A South African court in April sentenced two men to life in prison for raping a 19-year-old lesbian woman in 2020
"LGBTIQ+ persons deserve to thrive without fear of being persecuted," said Pan Africa ILGA Executive Director Nate Brown. "The recent murder of Sheila in Kenya reflects the realities of the LGBTIQ+ community in Africa. It bears mentioning that unfortunately, these are not isolated incidents. They are part of a pattern of attacks, violence and murders against LGBTIQ+ persons across the continent."
Pan Africa ILGA board co-chairs Star Rugori and Barbra Wangere at the same time said the organization is in the process of developing a crisis reporting center that will document human rights violations against LGBTQ and intersex people in Africa and advocate for increased protections and respect for them.
"The inhumane violations and slaughter of LGBTIQ+ persons should prompt thorough investigations, aimed at prosecuting those responsible," said Rugori and Wangere in a joint statement. "Government needs to protect activists and the greater LGBTIQ+ community and to call a halt to the impunity that links this chain of vicious murders. LGBTIQ+ lives matter and should be protected at all costs just like the rest of our African citizens."
Bishop Sithembele Sipuka of the Catholic Diocese of Mthatha in South Africa during an interview with the Catholic Information Service for Africa said people who identify as LGBTQ or intersex should be treated with dignity.
"The most we can do, for now, is to grapple with it, to try and understand, and to see how to continue treating these people with the dignity that they have because, despite their sexual orientation, they are still children of God, they have the same dignity," said Sipuka. "I have known people, credible people, authentic people who are gay or lesbian, very intelligent, very integral people, very committed people, very loving people, and so it is difficult to say that there's something wrong with this one, you know because some of them really are in terms of integrity full of admiration, the way they are as a person that is difficult for me to condemn them, and say that there is something wrong with them."
Sipuka also touched the issue of marriage equality, which is usually a catalyst for homophobic statements.
"The process and teaching of the church so far is still that marriage is between a man and a woman, but on the other hand, it does not mean at all that we should despise or think of people who are gay and lesbian as any less than heterosexual people," said Sipuka.
I cannot say you can go ahead and get married because I don't have the mandate to do that. I do things on the mandate of the church. I am open to hearing more on how pastorally to deal with this matter. I am also open for it to be discussed theologically. In the end, the teachings about the church are always about love even exactly everything that they touch is about love," added Sipuka.
Colombia's first leftist president takes office
Gustavo Petro has pledged to support LGBTQ, intersex rights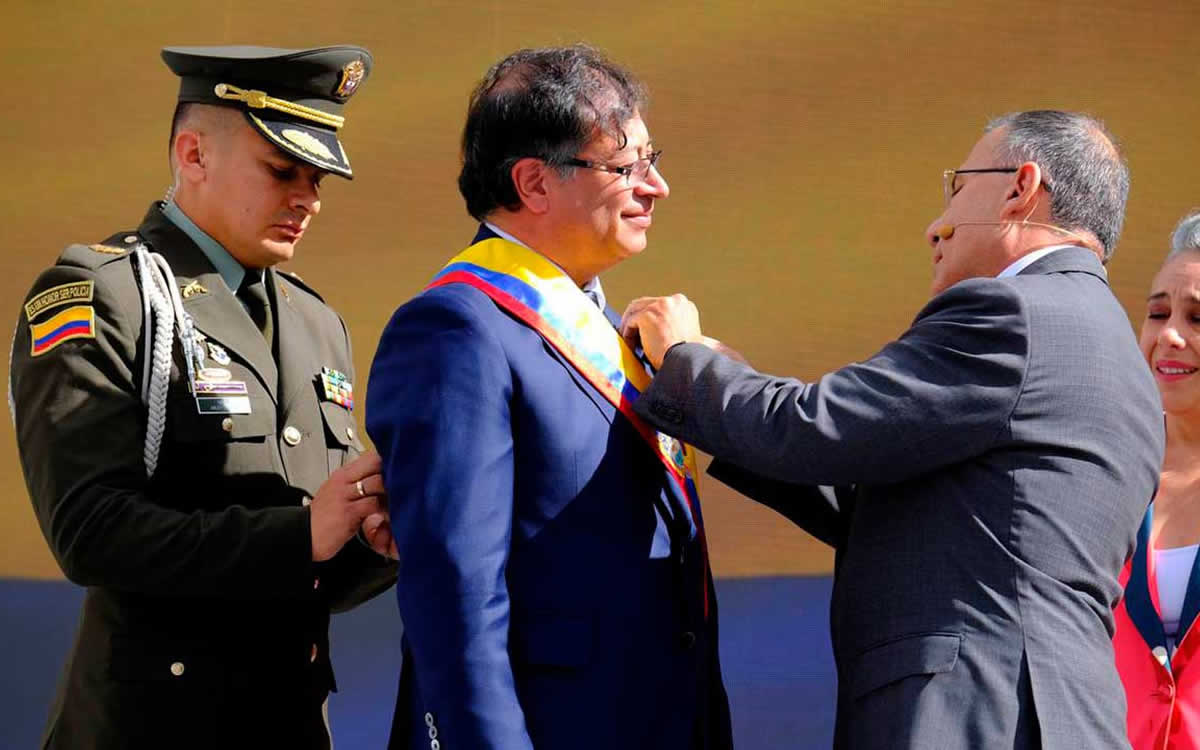 Former Bogotá Mayor Gustavo Petro on Sunday took office as Colombia's first leftist president.
The former Colombian senator who was once a member of the M-19 guerrilla movement that disbanded in the 1990s, in June defeated former Bucaramanga Mayor Rodolfo Hernández in the second round of the country's presidential election. Petro's running mate, Francia Márquez, on Sunday took office as Colombia's first female vice president of African descent.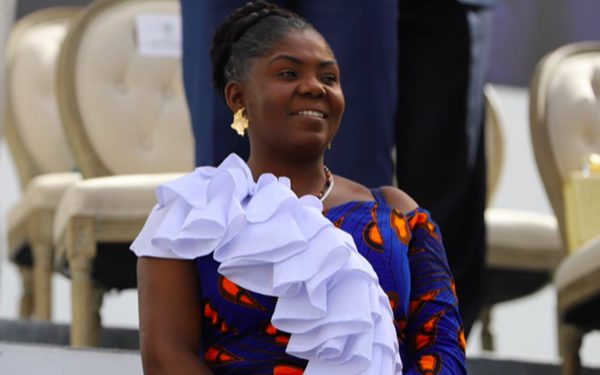 Petro before his inauguration named Néstor Osuna, an openly gay man, as the country's new justice minister.
"I am honored and thankful to President Gustavo Petro for the appointment as Colombia's justice minister," tweeted Osuna on Sunday. "I commit myself to working with your team to achieve the change for which so many of our compatriots yearn."
Me siento muy honrado y agradecido con el Presidente @petrogustavo por el nombramiento como @MinjusticiaCo. Asumo el compromiso de trabajar en su equipo para lograr el cambio que anhelan tantos millones de compatriotas.

— Néstor Osuna (@osunanestor) August 7, 2022
Petro in his inaugural speech did not specifically reference LGBTQ and intersex Colombians, but OrgulloLGBT.co, the Washington Blade's media partner in the country, published pictures that show LGBTQ and intersex people were among those who attended the inauguration.
#Historico Por primera vez vídeo Himno Oficial de la República de Colombia 🇨🇴 incluye escenas de activismo LGBTIQ 🏳️‍⚧️ 🏳️‍🌈

Imágenes quedaron en minuto 1:29 aproximadamente, fueron grabadas en #MarchaLGBTBogota https://t.co/1hux0BDRCk @MesaLGBT pic.twitter.com/ZSaUpQ06wT

— OrgulloLGBT® 🏳️‍🌈🏳️‍⚧️ (@OrgulloLGBT) August 8, 2022
Petro during the campaign pledged to fight violence and discrimination based on sexual orientation and gender identity and to implement policies "for the reaffirmation of gender and sexual orientation identities without barriers for all nonbinary and transgender people in Colombia." Márquez noted LGBTQ and intersex Colombians after she and Petro won the election.
Wilson Castañeda, director of Caribe Afirmativo, an LGBTQ and intersex rights group in northern Colombia, told the Blade after Petro and Márquez won the election that the campaign held "various meetings" with advocacy groups. Castañeda also noted that Petro, among other things, named Tatiana Piñeros, a transgender woman, to run Bogotá's social welfare and tourism office when he was mayor.
Castañeda and U.S. Agency for International Development Administrator Samantha Power are among those who attended Sunday's inauguration that took place in Bogotá's Bolívar Square.
"Full squares; happy faces; the flags of Colombia, Bogotá; rural, indigenous and LGBTI communities received the president and the vice president in an emotive and historic act that inaugurated the first popular and leftist Colombian government," tweeted Bogotá Mayor Claudia López on Sunday.
López is married to Angélica Lózano, a bisexual woman who in 2018 became the first LGBTQ and intersex person elected to the Colombian Senate.
Plazas llenas, caras felices, las banderas de Colombia, Bogotá, las comunidades campesinas, indígenas y lgbti, recibieron al Presidente y la Vicepresidenta en un acto emotivo e histórico para inaugurar el primer gobierno popular y de izquierda de Colombia!#ComienzaTuGobierno pic.twitter.com/qF6Ho5bGNp

— Claudia López Hernández (@ClaudiaLopez) August 8, 2022
Lozano in March won re-election in the country's national elections. Colombians also elected five openly LGBTQ and intersex people to the country's House of Representatives.
Tamara Argote in March became the first non-binary person elected to the Colombian Congress.
Landmark intersex rights law takes effect in Kenya
Activists praise Children Act 2022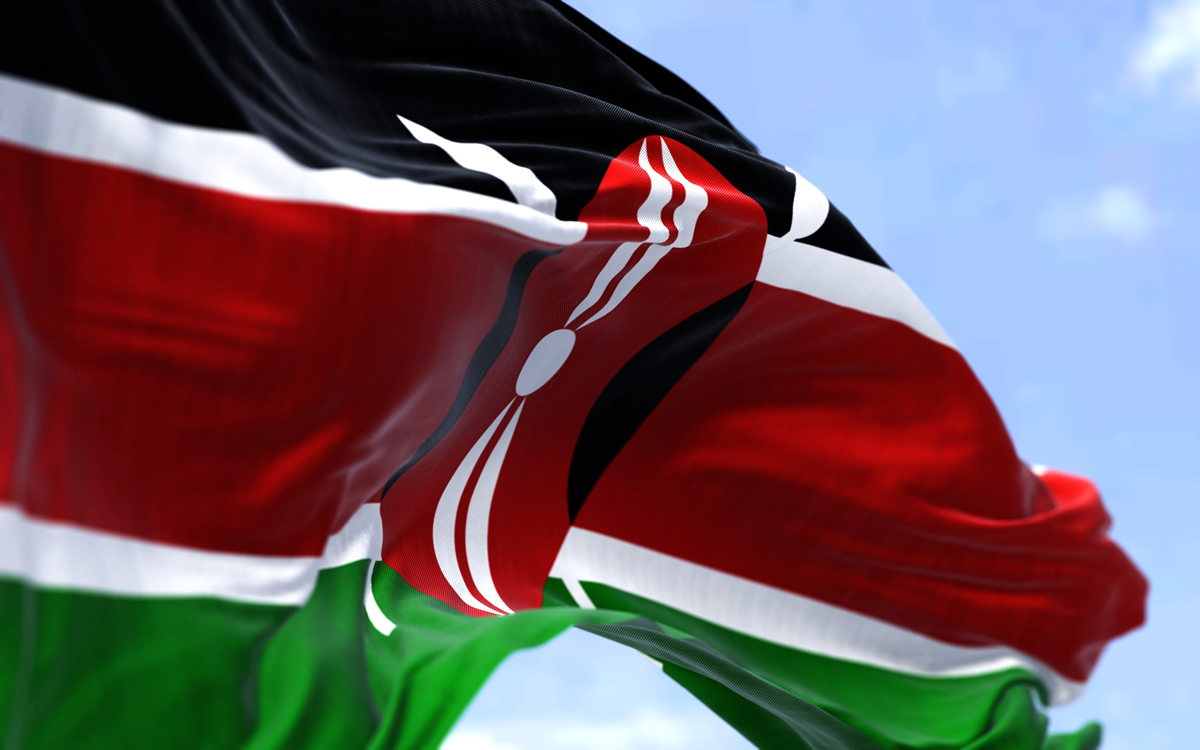 A new law that took effect late last month in Kenya has granted equal rights and recognition to intersex people
Intersex people are now recognized as Kenya's third gender with an 'I' gender marker in response to the Children Act 2022. Kenya is the first African country that has granted the intersex community this universal right.
The new law requires intersex children to be treated with dignity and have equal access to basic services like medical treatment and education, in addition to social protection services as a special need. It also requires the accomodation of intersex children in child protection centers and other facilities.
Courts are also required to consider the needs of intersex children who are on trial — including the calling of an expert witness — before they issue any ruling. The law further stipulates that anyone can be a foster parent without restrictions of gender, age or marital status.
It also protects intersex children from so-called sex normalization surgeries, and such procedures will only be done with a doctor's recommendation. Those who violate the law will face at least three years in jail and a fine of at least $5,000.
"This is a great and major milestone globally for Kenya. We are now way ahead and can teach our neighbors and the whole globe good practices," said Jedidah Wakonyo, a human rights lawyer and former chair of the Intersex Persons Society of Kenya.
The long journey for recognition started dramatically in 2006 when some human rights organizations petitioned courts about a detainee who had been accused of a violent robbery.
Authorities perceived the suspect was a man after police strip-searched him before he entered prison.
This followed numerous court battles by intersex people who demanded the right to recognition as another gender in their birth certificates.
Being denied birth certificates from the discriminatiory law that only recognized male and female genders further limited their access to national identity cards, passports and other crucial documents and government services.
The Births and Deaths Registration Act under the new law's Section 7 (3) "shall take measures to ensure correct documentation and registration of intersex children at birth."
Intersex people commonly have a combination of male and female gonads (ovaries or testicles) or ambiguous genitalia.
Wakonyo, who also chaired the Intersex Persons Implementation Coordination Committee and was named the International Court of Justice's 2020 jurist of the year, describes the law's enactment as a historic moment because of its comprehensive definition of an intersex person.
It defines an intersex child as "a child with a congenital condition in which the biological sex characteristics cannot be exclusively categorized in the common binary of female or male due to inherent and mixed anatomical, hormonal, gonadal or chromosomal patterns which could be apparent before, at birth, in childhood, puberty or adulthood."
Kenyan law considers anyone under 17 to be a child.
"Defining an intersex from a child's perspective while taking care of many aspects and not just the physical notion of being intersex is the best practice because in future they don't find themselves in the state of gender confusion between males and females like the current situation," stated Wakonyo.
This provision essentially protects intersex persons from being deprived of their constitutional rights of gender recognition under the country's Bill of Rights.
Veronica Mwangi, the deputy director at Kenya's National Commission on Human Rights, that helped secure the law's implementation, said it addresses issues for which the intersex community has been fighting for years.
"It is very progressive and we are glad about the gains because it provides for the existence of the intersex which all state actors have to accept. Full implementation is what we now need to focus on," she said.
The law took effect roughly five years after Kenya became the first African nation and the second country in the world after Australia to count intersex people in a Census. The 2019 survey showed 1,524 Kenyans were intersex.
Intersex rights groups had initially petitioned the courts for a total ban of surgeries on intersex children unless they were a medical emergency.
Wakonyo backs the provision for a doctor's approval on grounds that the surgeries will only be done "in the best interest of the intersex child, informed consent of the parents and the participation of the child depending on the age." Wakonyo and other activists say the relaxation of the requirements for adopting intersex children not only seeks to end the problem of neglect and abandonment but also the stigma that has left some to die by suicide.
The law safeguards adoptive parents' rights and parental responsibility and intersex children from child labor, online expuse and other forms of exploitation.
"Intersex children who are just like other children will no longer be killed at birth because of their gender ambiguity," said Wakonyo.
Despite the law's huge benefits for the intersex community, Wakonyo notes it is a "very significant foundation" for the group because gender-specific accommodations in social gatherings and facilities remain needed.
Another historic win for intersex Kenyans this year was the Kenyan National Commission on Human Rights' decision to hire an intersex commissioner.
"Dr. Dennis Wamalwa applied as an intersex (person), interviewed as an intersex (person), and the shortlist comprised male, female, and 'I' gender for intersex. He emerged (at the) top and his intersex friends and associates came to witness his swearing," stated Wakonyo, who also served as a Kenyan National Commission on Human Rights commissioner.