Pete Buttigieg calls out Tucker Carlson over attack
Fox News host mocked transportation secretary over paternity leave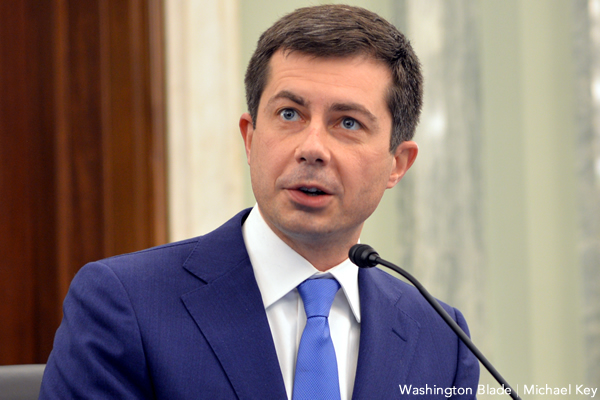 Appearing remotely on MSNBC's Nicolle Wallace's politics program Friday, U.S. Transportation Secretary Pete Buttigieg called out Fox News host Tucker Carlson for the attack on his parental leave.
"This attack is coming from a guy who has yet to explain his apparent approval for the assassination of Harvey Milk, " Buttigieg said.
During his Thursday evening program Carlson said, "Pete Buttigieg has been on leave from his job since August after adopting a child—paternity leave, they call it—trying to figure out how to breastfeed. No word on how that went. But now he's back in office as the transportation secretary and he's deeply amused, he says, to see that dozens of container ships can't get into this country."
Sec. Pete Buttigieg calls out Tucker Carlson for the attack on his parental leave, "This attack is coming from a guy who has yet to explain his apparent approval for the assassination of Harvey Milk, " pic.twitter.com/DsyQgCyUNO

— Sarah Reese Jones (@PoliticusSarah) October 15, 2021
Tucker Carlson mocks Pete Buttigieg for taking paternity leave: "Paternity leave, they call it, trying to figure out how to breastfeed, no word on how that went." pic.twitter.com/zFnp6uSser

— nikki mccann screamírez 👻 (@NikkiMcR) October 15, 2021
Amendment to weaken Respect for Marriage Act targets D.C.
Norton calls measure by Utah Sen. Lee 'attack' on LGBTQ residents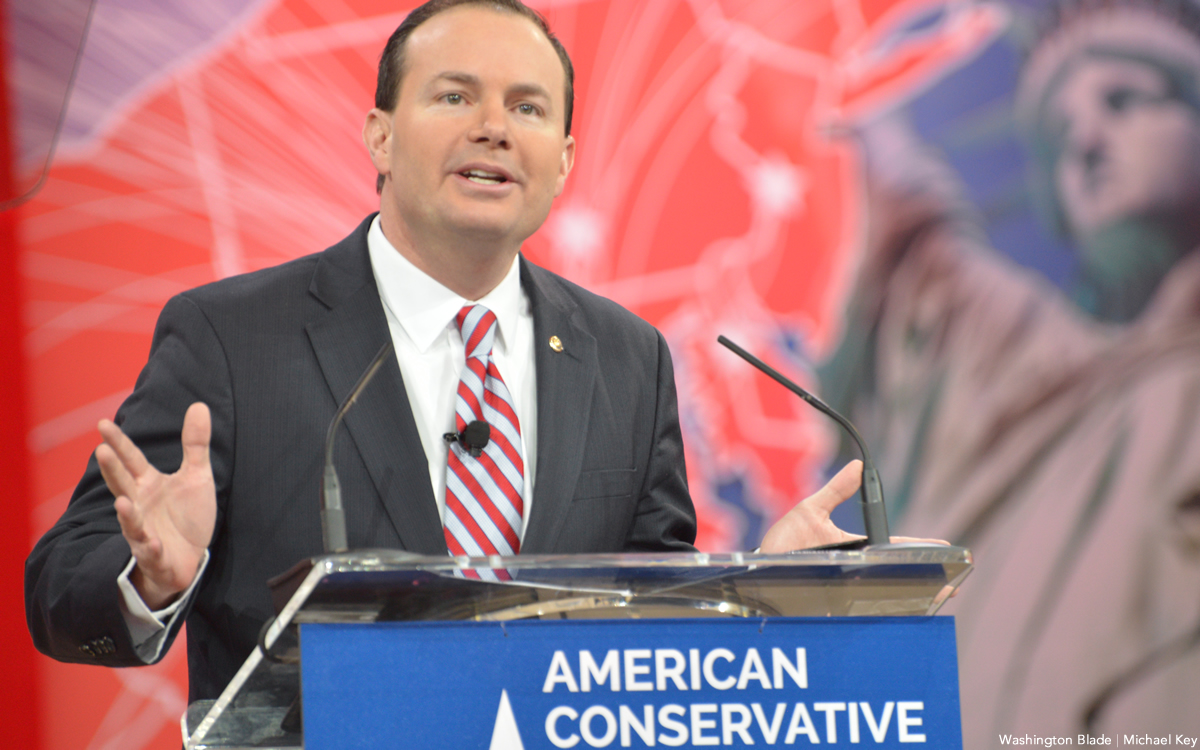 D.C. congressional Delegate Eleanor Holmes Norton released a statement on Thursday disclosing that an amendment introduced by U.S. Sen. Mike Lee (R-Utah) to weaken the Respect for Marriage Act includes little-noticed language that would prohibit D.C. from enforcing laws protecting same-sex couples from discrimination.
Norton's statement came one day after 12 GOP senators joined all 50 Democratic senators to approve a procedural motion known as cloture to block a filibuster and allow the Respect for Marriage Act to come up for a full Senate vote.
The act, which was passed by the House of Representatives earlier this year, would enshrine marriage equality into federal law, preventing states from banning same-sex marriage if the U.S. Supreme Court reverses its historic 2015 Obergefell decision legalizing same-sex marriage in all 50 states.
Lee, who is among the Republican senators who opposes the Respect for Marriage Act, introduced his amendment on Nov. 16 shortly before the cloture motion was approved by a 62 to 37 vote. He was expected to introduce it again at the time the Respect for Marriage Act came up for a final vote on the Senate floor, which Capitol Hill observers say could take place this week.
Norton said she has called on the Senate to reject the Lee amendment. A spokesperson for Sen. Tammy Baldwin (D-Wisc.), one of the lead sponsors of the Respect for Marriage Act, said no action was taken on the amendment on Wednesday, Nov. 16, and it was expected to receive little or no support if Lee were to introduce it again.
"Specifically, the amendment would prohibit D.C. from taking certain adverse actions, such as denying grants or contracts, against individuals and entities that otherwise unlawfully discriminate against same-sex couples if such individuals or entities have a sincerely held religious belief or moral conviction that marriage is a union of individuals of the opposite sex," Norton said in her statement.
"While the amendment is framed as prohibiting the federal government from taking adverse action for violations of federal law, it defines the term federal government and federal law to include the D.C. government and D.C. law, respectively," Norton said.
"This amendment is an attack on all LGBTQ+ Americans, but it also uniquely attacks D.C.'s LGBTQ+ residents," said Norton in her statement. "Senator Mike Lee, who professes to support local control of local affairs, regularly tries to use Congress' undemocratic power over D.C. to interfere in D.C.'s local affairs," she said. "I have defeated all his prior attempts to interfere in D.C.'s local affairs, and I will defeat this one, too."
In his own statement released on Nov. 16, Lee says the religious protections added to the Respect for Marriage Act as a bipartisan compromise among Senate Democrats and several key Republican senators, including Mitt Romney (R-Utah) and Susan Collins (R-Maine), were "severely anemic and largely illusory."
Lee said in his statement that supporters of the bill were misleading the public by claiming it would merely codify in federal law the Obergefell Supreme Court ruling.
"Religious Americans will be subject to potentially ruinous litigation, while the tax-exempt status of certain charitable organizations, educational institutions, and non-profits will be threatened," his statement says. "My amendment would have shored up these vulnerabilities. It is a shame it wasn't included," he said, referring to lack of support for a vote to take it up on Nov. 16.
Eli Rosen, a spokesperson for Baldwin, told the Blade on Thursday that a bipartisan coalition of both Democratic and Republican senators as well as religious leaders strongly dispute Lee's claim that the current Senate version of the Respect for Marriage Act will be harmful to religious organizations.
Rosen points out that religious universities and the Mormon Church are part of the coalition that supports the Senate's changed version of the act, which was expected to be voted on Thursday or possibly shortly after the Thanksgiving holiday if the vote doesn't take place this week. He noted that upon approval by the Senate, the measure would go back to the House, which was expected to approve the changes made to the House bill through the Senate compromise language.
Cicilline joins clergy for rally in support of Respect for Marriage Act
Final U.S. Senate vote could take place Thursday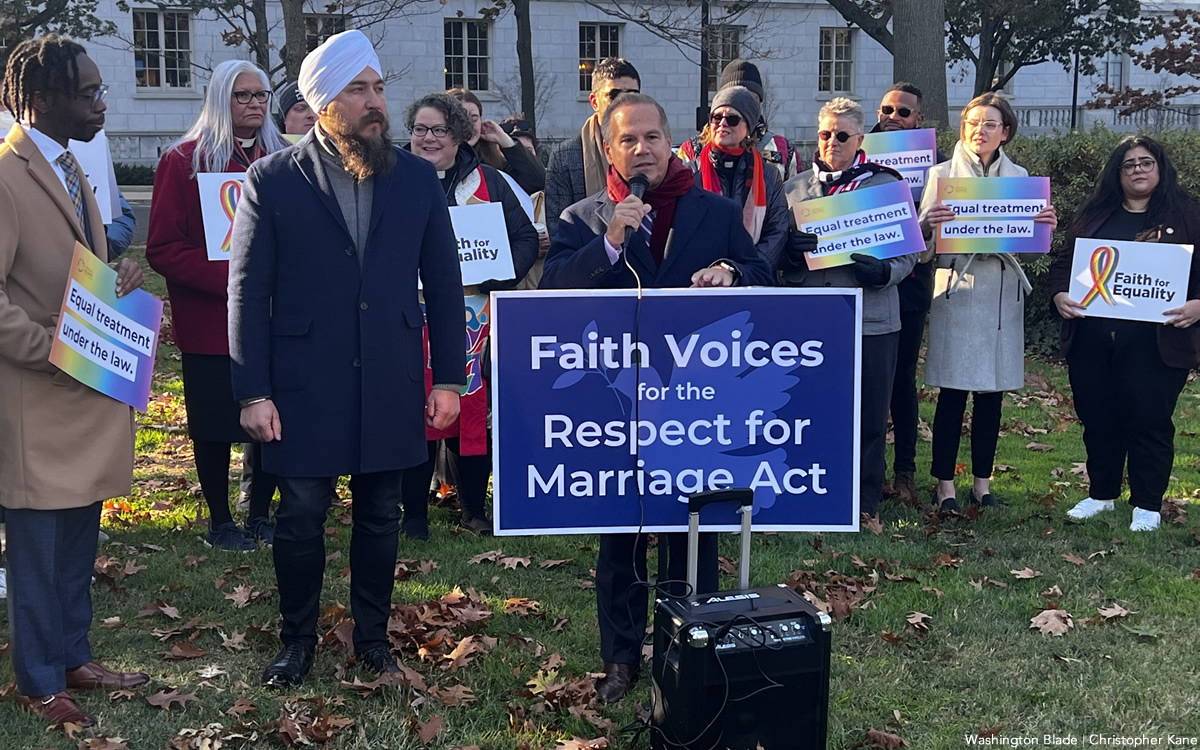 Rhode Island Congressman David Cicilline, chair of the Congressional LGBTQ+ Equality Caucus and member of the House Judiciary and Foreign Affairs Committees, joined multi-faith clergy for a rally on Thursday at the Lower Senate Park in support of the Respect for Marriage Act.
Cicilline, a Rhode Island Democrat who co-sponsored the U.S. House of Representative's version of the legislation, which the lower chamber passed this summer, celebrated the U.S. Senate's expected vote today to send the bill to President Joe Biden's desk.
The congressman said that while faith has sometimes been misused as a cudgel to argue against same-sex marriage, "many people support marriage equality not despite their religious beliefs but rather because of them."
"As a proud Jew, it's part of my religious community and tradition," Cicilline said. "We're taught to heal the world and repair the broken world. I'm proud as a member of Congress and chair of the LGBTQ+ Equality Caucus to follow our Biblical command to pursue justice."
Cicilline's message about the personal significance of the protections offered by the Respect for Marriage Act was echoed by, among other speakers, Revs. Nicole Garcia, faith work director of the National LGBTQ Task Force, and Paul Raushenbush, president of the Interfaith Alliance.
Yesterday, a dozen Senate Republicans joined their 50 Democratic colleagues to support a procedural cloture vote, which advanced the Respect for Marriage Act to a floor vote by the full chamber.
Biden and a chorus of LGBTQ, civil rights, and legal advocacy organizations celebrated the GOP members' support of the bill, which leadership in the House and Senate have made a major priority for Congress's lame duck session.
The Respect for Marriage Act presents a rare area on which the deeply divided legislature has struck an agreement to pass a significant bipartisan bill.
The impetus behind the legislation was the U.S. Supreme Court's decision in Dobbs v. Jackson Women's Health Organization, which saw a concurring opinion from Justice Clarence Thomas in which he pledged to revisit the high court's precedent-making rulings on other matters, including same-sex marriage.
Republicans gain control of the U.S. House
Narrow GOP majority could bode well for blocking anti-LGBTQ bills.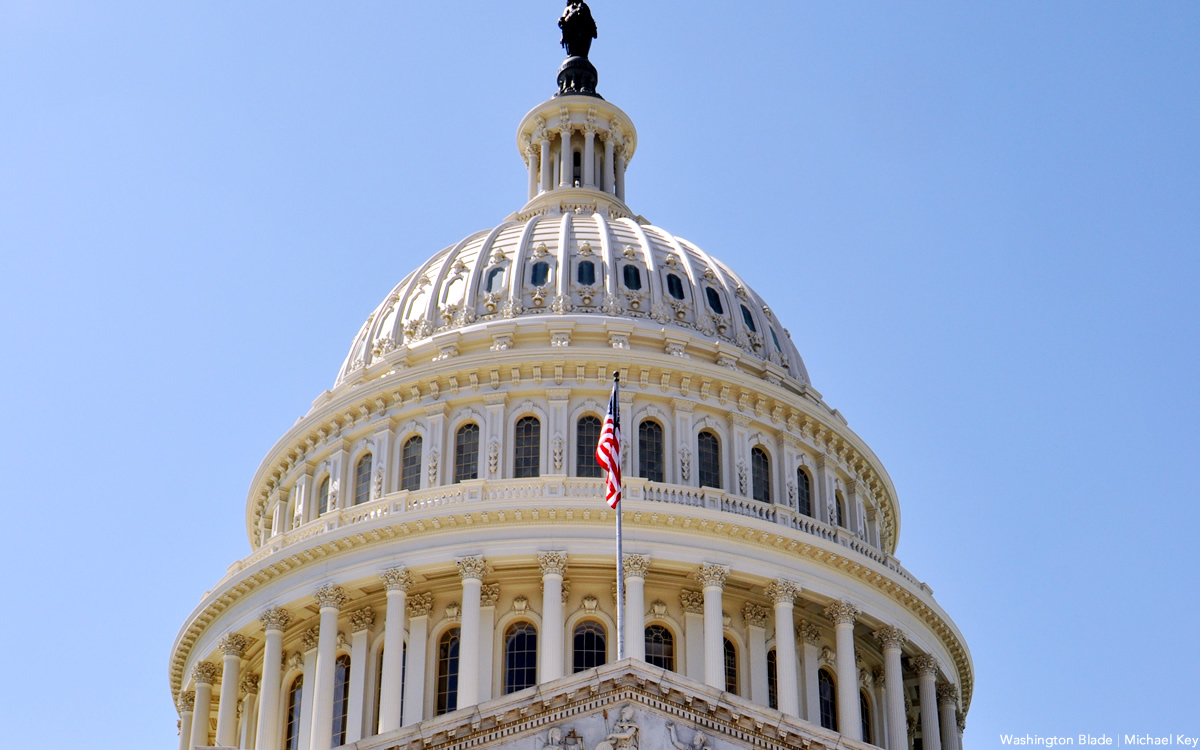 Certainty over Republicans' control of the U.S. House of Representatives crystalized on Tuesday, while Senate Minority Leader Mitch McConnell (R-Ky.) fended off a bid for his position by fellow GOP Sen. Rick Scott (Fla.).
As the final votes from last week's midterm elections continue to trickle in, by Wednesday evening it became clear that when the 118th Congress is seated in January, the legislature will be divided between the House and the U.S. Senate, where Democrats will either retain their 50-vote majority or win an extra seat, pending the results of Georgia's runoff election in December.
It is the House, too, that will be divided, as the majority's shift from blue to red was narrowly won, with only seven races whose results have not yet been tallied. Republicans' control of the chamber comes with 218 seats, a feat they accomplished today. By 7:40 p.m. ET, Democrats had won 210 seats.
Leadership in both chambers has also been decided. House Minority Leader Kevin McCarthy (R-Calif.) is poised to take over as House Speaker in January when the new Congress meets. McConnell, meanwhile, prevailed over a challenge for his Senate leadership by Scott, his Republican colleague.
"With a small Republican majority, we think there's a greater chance of blocking anti-gay and anti-trans bills, which may now not even be brought up for a vote," Geoff Wetrosky, campaign director for the Human Rights Campaign, told the Washington Blade by phone on Tuesday.
"Not only because of the composition of Congress, but also because last week's election made clear that voters do not support this kind of extremism," Wetrosky said.
Annise Parker, president of the LGBTQ Victory Fund, told the Blade by phone on Tuesday that "the first six months will be spent in internal warfare, but it's clear that there won't be anything positive coming out of the House for our community."
There "very well may be negative bills," Parker added, noting that with a slim majority in the lower chamber, there is unlikely to be much legislation, period.