Bob Dole dies at 98; anti-LGBTQ record is part of his legacy
Opposition to LGBTQ rights a part of former Senate majority leader's legacy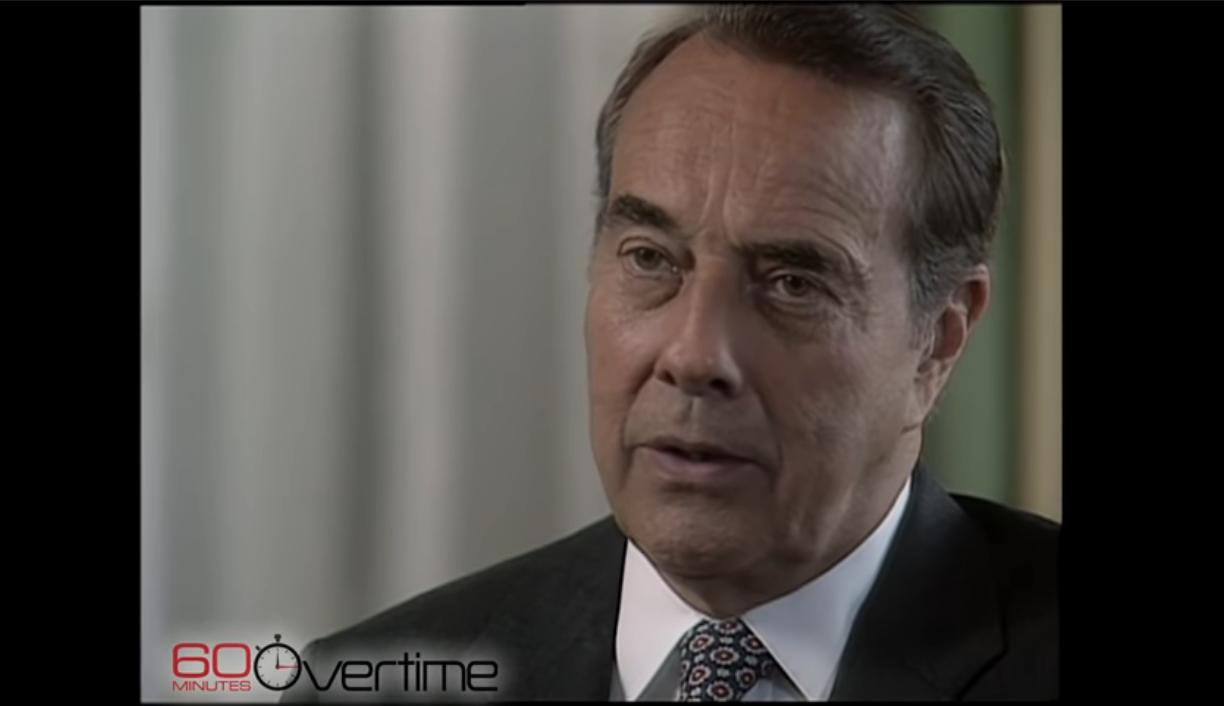 In a tweet Sunday morning the Elizabeth Dole Foundation announced the death of former U.S. Sen. Bob Dole (R-Kan.) at the age of 98. Reaction was immediate from longtime friends, political allies of the Senator and others including President Biden who served with him in the U.S. Senate.
In a statement released by the White House, the president said of his friend and former Senate colleague; "Bob was an American statesman like few in our history. A war hero and among the greatest of the Greatest Generation. And to me, he was also a friend whom I could look to for trusted guidance, or a humorous line at just the right moment to settle frayed nerves. […] Bob was a man to be admired by Americans. He had an unerring sense of integrity and honor. May God bless him, and may our nation draw upon his legacy of decency, dignity, good humor, and patriotism for all time."
It is with heavy hearts we announce that Senator Robert Joseph Dole died early this morning in his sleep. At his death, at age 98, he had served the United States of America faithfully for 79 years. More information coming soon. #RememberingBobDole pic.twitter.com/57NtGfqtmL

— Elizabeth Dole Foundation (@DoleFoundation) December 5, 2021
The tributes to Dole that poured in Sunday from every segment of government, political, public and personal reflected his lifelong career of public service to Americans including his championing the rights of disabled Americans playing a key role in the passage of the Americans with Disabilities Act (ADA) in 1990. Dole himself was disabled, having been grievously wounded in combat while serving in the U.S. Army in the Italian campaign during World War II.
Dole earned two Purple Hearts and was awarded the Bronze Star for his service, but doctors weren't sure he'd survive. He was hospitalized for three years. He suffered infections, grueling therapy, several operations and in one instance developed a blood clot that nearly killed him.
He spent the rest of his life struggling with disabilities caused by his war injuries, most noticeably loss of the use of his right arm.
After his recovery and convalescence he enrolled at the University of Arizona in Tucson on the GI Bill, and later transferred to Washburn University in his home state of Kansas. He graduated in 1952.
After college and while still in law school, Dole became active in local politics in his hometown of Russell, Kan. In his first run for elected office he won a seat in the Kansas House of Representatives. He served from 1951 to 1953 until he ran and was elected Russell County Attorney. He remained in that position until 1961, when he was first elected to Congress as a Republican.
In what he later said publicly were the two most important votes while serving in Congress, in 1964 he voted in favor of the Civil Rights Act, and in 1965 voted in favor of the Voting Rights Act.
During the turbulent era of the 1960's marked by the Civil Rights movement and opposition to America's involvement in the Vietnam conflict, Dole ran for the U.S. Senate in 1969 and was was elected after defeating his fellow Republican, former Kansas Gov. Bill Avery, in the primary race.
From Jan. 3, 1969, until his departure from the Senate on June 11, 1996, Dole built a career that established his place as a power broker and deal maker in Republican politics with considerable influence across both parties garnering the respect of Democratic leaders including the late-U.S. Sen. Ted Kennedy (D-Mass.).
In the early 1970s, Dole served as chairman of the Republican National Committee from 1971 to 1973 including during the 1972 election and Watergate break-in and he resided at the Watergate apartments at the time of the break-in.
An ardent supporter of then-President Richard Nixon, Dole stood by him during the Watergate scandal often clashing with other Republicans leaders who ultimately convinced Nixon to resign the office. In later years Dole still praised Nixon's record as president, serving as a eulogist at the former president's state funeral in 1994.
In a commentary for Politico magazine on April 27, 2017, Dole wrote; "I can say with confidence that the beginning of the 21st century is still the Age of Nixon; we're still living in a world he played a role in shaping. Though our country has changed in many ways in the 43 years since Nixon's resignation and 23 years since his death, the basic domestic policies and international order that he brought to fruition remain in place."
While Dole was often seen as a moderate by some, in practice he was a hard nosed partisan Republican sometimes echoing Nixon's attack impulses. In 1976, then-President Gerald Ford selected him as his running mate at the Republican National Convention.
During the Ford-Dole campaign run he blamed the deaths and injuries of 1.7 million American soldiers on "Democrat wars," and derided the Democratic Party challenger, Georgia Gov. Jimmy Carter, as no more than a "Southern-fried McGovern."
"I figured up the other day, if we added up the killed and wounded in Democrat wars in this century, it would be about 1.6 million Americans, enough to fill the city of Detroit," Dole said.
In a bit of political irony, he had partnered with U.S. Sen. George McGovern (D-S.D.), who Nixon defeated in a landslide election in 1972, to help pass legislation making food stamps more accessible.
In 1980 he made a run for the White House on his own, ultimately deciding to withdraw after a poor showing in the Republican primary in New Hampshire against former California Gov. Ronald Reagan. Dole was re-elected to his third term as senator that year.
Dole went on to serve as chairman of the Senate Finance Committee from 1981 to 1985, and in November of 1984, he was elected Senate majority leader. He then made another attempt for the Republican presidential nomination in 1988, during that campaign his reputation as a political hardliner was cemented during an interview with then-NBC News anchor Tom Brokaw.
Dole exploded in apparent anger over a question posed about a television advert being run by the campaign of then Vice President George H.W. Bush, his Republican challenger for the nomination, that accused Dole of "straddling" on taxes. He snapped at Brokaw, saying Bush should "stop lying about my record." He beat Bush in Iowa, but fell short again in New Hampshire and again he withdrew from the race.
During that campaign, the New York Times reported Dole strongly disagreed today with Congressman Jack Kemp on AIDS testing and urged that the issue of AIDS be kept out of the 1988 presidential race.
"To try to make this a Democratic or Republican issue is a loser," said Dole. "It's a loser for the people involved, and it's a loser for the people we're trying to protect."
On Feb. 22, 1989, during the session of the 101st Congress, the Hate Crimes Statistics Act was reintroduced in the U.S. House of Representatives. It had previously been introduced in the 99th and 100th Congresses. The act would require the Justice Department to collect and publish data about crimes motivated by hatred based on race, religion, ethnicity and sexual orientation.
Then on June 27, 1989, the House passed the act by a 368-47 vote. It moved on to the Senate where as the then-minority leader, Dole signed on as a co-sponsor.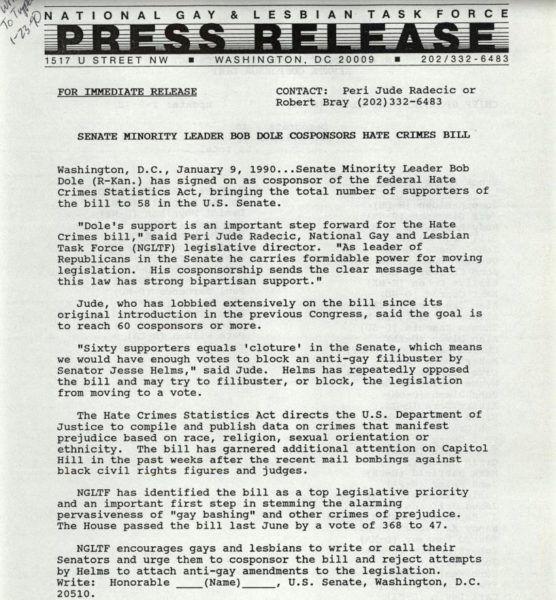 On Feb. 8, 1990, the Senate passed the Act by a 92-4 vote and sent it to President George H.W. Bush who signed the bill into law on April 23, 1990.
The 1994 mid-term elections gave Republicans control of both the Senate and the House, mainly due to the fallout from President Bill Clinton's policies and Dole became the senate majority leader for a second time.
Dole again decided to make another run for the presidency in 1995 and it was in the lead-in to that campaign his anti-LGBTQ positions on military service by gay and lesbians and same-sex marriage became clear.
In the Fall of 1995, Dole returned a $1,000 dollar campaign contribution from the Log Cabin Club, a pro-gay Republican organization that is now known as Log Cabin Republicans. That caused Congress' only openly gay Republican member, U.S. Rep. Steve Gunderson (R-Wis.), to castigate Dole publicly in a letter that read; "One need not be anti-gay just to prove you are pro-family," Gunderson wrote. "I know of no gay Republican (and frankly few gay Democrats) who seek any special class or privileges. All we seek is the end to blatant discrimination in America."
Dole's campaign returned the money, saying the Republican presidential contender was "100 percent" opposed to the Log Cabin Club's agenda.
Gunderson, in his letter, also noted he had supported Dole's past presidential efforts and had endorsed him before being asked. When first told of the donation controversy, Gunderson said he assumed his friends had mistaken Dole's campaign for that of "other decidedly bigoted candidates. I was embarrassed to learn I was wrong," he said.
Gunderson questioned whether Dole would reject the support of anyone who was gay. "If this is so, do you intend to now reject my support and request those on your staff who happen to be gay to resign?"
Eight months later in early May of 1996, in an effort to shore up support of his campaign from the Christian conservative movement within the Republican party, Dole signed on as the first co-sponsor of the Senate version of the Defense of Marriage Act. The legislation barred federal benefits for same-sex couples while allowing states the right to refuse recognition of such marriages that are recognized in other states.
In no small bit of irony one of the responses to Dole's actions came from the Log Cabin Republicans. "The intolerant wing of the Republican Party is rearing it's ugly head again," said Richard Tafel, executive director of Log Cabin Republicans. "What Dole is missing here is that he already has deep support among religious conservatives. There is a growing perception of the GOP Congress as intolerant, and Dole's action yesterday only enhances such a view."
Dole's position on same-sex marriage was later derided by the Human Rights Campaign in an advert campaign, run only in the San Diego market during the GOP convention, that took aim at prominent Republicans who opposed same-sex marriages, but whose own marriages were not always accepted by mainstream society.
The HRC ads called out presidential nominee Dole and other Republicans for "wasting our time" and "trying to score political points by attacking gay Americans."
One spot featured pictures of Dole with Elizabeth, his second wife, and U.S. Sen. Phil Gramm (R-Texas) with his Asian American wife, Wendy. The ad notes that divorced people and couples of different ethnicities have not always been accepted wholly by society.
In the discussions and the political back and forth leading up to what ultimately became the ban on gays and lesbians serving in the U.S. military, colloquially referred to as "Don't Ask-Don't Tell," "Serving is not a right," Dole said. "It is a privilege in the United States. And there are certain restrictions."
Dole, who had resigned from the Senate on June 11, 1996 to run his presidential campaign lost that fall. Clinton who was an incumbent, won in a 379–159 Electoral College landslide, capturing 49.2 percent of the vote against Dole's 40.7 percent and Ross Perot's 8.4 percent.
Dole at age 73 was the last World War II veteran to have been the presidential nominee of a major party. In 1997, months after losing the election Dole was presented with the Presidential Medal of Freedom by Clinton.
"Through it, we honor not just his individual achievement but his clear embodiment in the common values and beliefs that join us as a people," Clinton said. "Values and beliefs that he has spent his life advancing. Sen. Dole, a grateful nation presents this award, with respect for the example you have set for Americans today and for Americans and generations yet to come."
In the years that followed his political career Dole served as national chairman of the World War II Memorial raising funds for its construction. He was a popular spokesperson for Viagra, Visa, Dunkin' Donuts and along with pop singer, Britney Spears, Pepsi-Cola. He continued to speak out for disabled Americans, and also established The Robert J. Dole Institute of Politics, housed on the University of Kansas campus in Lawrence, Kan.
In 2007, President George W. Bush appointed him to help lead a bipartisan commission to investigate a neglect scandal at Walter Reed Army Medical Center. Then alongside his wife Elizabeth Dole, in 2012, established the Elizabeth Dole Foundation, which is designed to empower, support and honor the nation's 5.5 million military caregivers.
Despite his many accomplishments, in 2014 he still attacked the rights of LGBTQ Americans to be married. Dole suggested that fellow Republican, U.S. Sen. Rob Portman of Ohio, didn't support ratifying the Convention on the Rights of Persons with Disabilities because Portman, who had a gay son, had come out in favor of gay marriage, the Daily Beast and other media outlets reported in July of 2014.
Dole also supported former President Donald Trump and endorsed Trump in both the 2016 and 2020 campaigns. In an interview with USA Today conducted for his 98th Birthday, Dole said he was "Trumped out", and that Trump had lost the 2020 election despite his claims to the contrary. "He lost the election, and I regret that he did, but they did", Dole stated, adding that Trump "never had one bit of fraud in all those lawsuits he filed and statements he made."
********************
60 Minutes Archive: Bob Dole (Steve Kroft, 1993)
Grenell emails reveal internal talk on Trump era policy against Pride flag
U.S. embassies barred from rainbow flag on official poles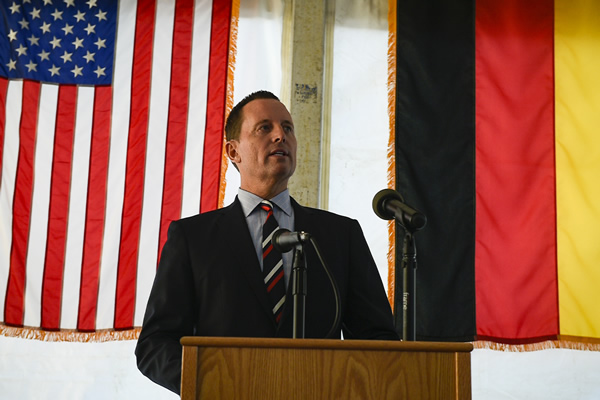 The latest emails from the State Department obtained by the Washington Blade via its lawsuit under the Freedom of Information Act reveal internal deliberation in the Trump administration over news reports about the prohibition of displaying Pride flags on the official pole at U.S. embassies.
Former U.S. Ambassador Richard Grenell, whose emails the Blade is seeking as the public face of a global initiative that pledged to decriminalize homosexuality, is repeatedly shown in the communications instructing his aides at the embassy in Berlin to give no comment to the media, including in response to an inquiry at the time from the Blade, on the flag policy for embassies.
"Thanks. Say nothing. I'm working it internally," Grenell responds in an email chain after being updated on the latest media inquiries, which included requests from ABC's Conor Finnegan, the Huffington Post, Buzzfeed, and CBS.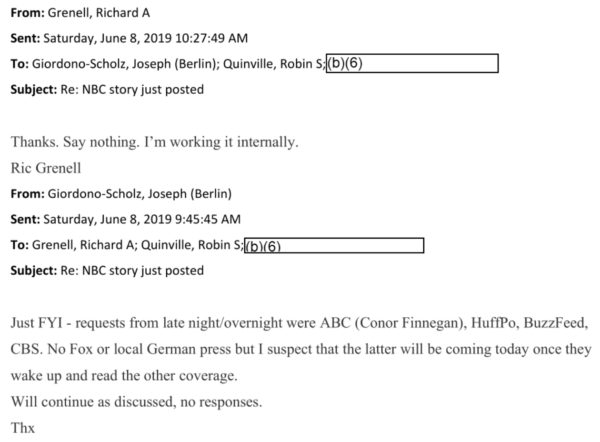 It's unclear what, if anything, Grenell was doing as part of "working it internally" as news broke that embassies were barred from flying Pride flags on the official pole, or even whether he was seeking a substantive change as opposed to crafting talking points to mitigate the appearance of the Trump administration being anti-LGBTQ.
"No Fox or local German press but I suspect that the latter will be coming today once they wake up and read other coverage," writes Joseph Giordono-Scholz, who was handling media relations for the embassy. "Will continue as discussed, no responses."
In 2019, shortly after Grenell announced he'd spearhead a global initiative to decriminalize homosexuality on behalf of the Trump administration, U.S. embassies that had sought to raise the rainbow flag in recognition of June as Pride month were barred from doing so under guidance from the State Department.
Critics at the time jumped on the policy as further evidence the Trump administration was anti-LGBTQ, despite having recently launched the decriminalization initiative. Trump defenders pointed out the prohibition was limited to the official pole, was a general ban of flying any flag other than the U.S. flag, and embassies found other ways to display the Pride flag on their grounds.
Grenell didn't respond Tuesday to the Blade's request for comment on the meaning of "working it internally," but Log Cabin Republicans, an organization close to Grenell, volunteered a message shortly after the Blade sent its inquiry to him.
Charles Moran, managing director of Log Cabin Republicans, said in the email the conception the Trump administration banned Pride flags at embassies is erroneous.
"We were very pleased that President Trump made it clear that pride flags could continue to be flown at embassies around the globe, despite logistical discussions internally being had at the State Department," Moran said.
Attached in the email is an image of Moran standing below a pole with both a U.S. flag and a rainbow flag, which Moran said was taken at the U.S. Embassy Berlin on July 26, 2019, when he was en route to a decriminalization discussion forum being hosted there.
Asked by the Blade whether that was the official pole, Moran replied, "I don't know what an 'official pole' is. It was a professionally installed flag pole, on the embassy next to the front door." Moran didn't respond to an additional follow up question on what he meant by Trump making it clear Pride flags would be allowed at embassies.
Morgan Ortagus, then-spokesperson for the State Department, defended former Secretary of State Mike Pompeo's policy against Pride flags on as she acknowledged "Pride Month that we're in right now celebrated around the world by many State Department employees, by many embassies."
"The secretary has the position that, as it related to the flag pole, that only the American flag should be flown there," Ortagus said.
The email chain within the U.S. embassy in Berlin on the news development began with Giordono-Scholz forwarding Grenell a link to a story from NBC News's Josh Lederman, who broke the story on U.S. embassies being unable to fly Pride flags, followed by a subsequent email with the text of his article. The immediacy with which the aide sends the link in an email first before the story itself in a subsequent message suggests a sense of urgency in distribution and awareness the article would be forthcoming.
Other news outlets were quick to follow up, including the Blade, as evidenced by Giordono-Scholz's follow up question to Grenell after sharing the initial NBC News story.
"CNN (Michelle Kosinski) just called, asked if we had anything to add," Giordono-Scholz writes. "Wash Blade also just emailed. How would like me to respond to these and coming inquiries — just point them to the NBC statement you gave and refer back to DC on questions about the Dept?"
Grenell was succinct in response: "Say nothing. Right now don't respond."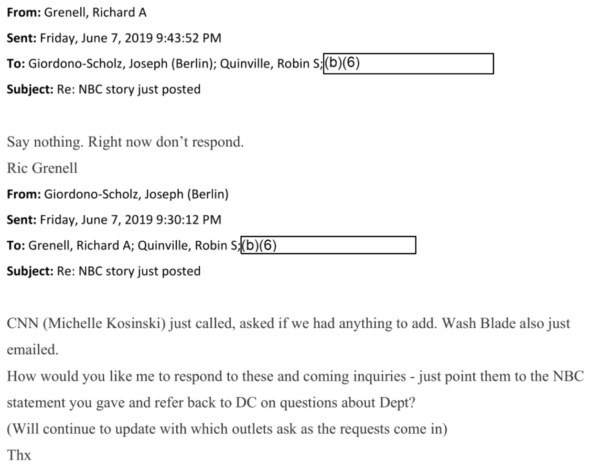 Giordono-Scholz acknowledges the instructions from Grenell in a subsequent email, which also notifies him of an inquiry from the Washington Post's Carol Morello.
"Will continue to let you know about inquires but not respond to any," Giordono-Scholz writes.
The emails were obtained in a FOIA production from the State Department this week as a result of a lawsuit filed by the Blade with attorneys at the law firm Davis Wright Tremaine LLP. The litigation was filed in August 2021 after interminable delays in production of communications, which the Blade initially sought by a FOIA request in September 2020.
The State Department has identified tens of thousands of emails potentially responsive to the Blade's request and is expected to release those it deems to be responsive periodically as a result of an agreement in the litigation.
Also ensnared in the latest email dump are communications on other foreign policy topics, including the Nord Strom 2 pipeline and Iran's seizure of oil tankers. Many of these emails reveal a preoccupation with using tweets as a tool to convey foreign policy messages with little else mentioned in terms of engagement.
"I'm watching. Already tweeted about it ;)" Grenell responds when an aide informs him that Iran has seized oil tankers.
Evyenia Sidereas, political minister-counselor at the U.S. embassy in Berlin, responds: "My twitter alerts can't keep up :)," which prompts Grenell to reply: "I've been a little busy today. Lol."
The emphasis on Twitter is also seen after an aide in May 2019 brings to Grenell's attention the Kenya high court has affirmed the country's law against homosexuality. An aide (whose name the State Department redacted in the email) informs him then-U.S. Ambassador Kyle McCarter is set to have a meeting with staff "to discuss whether he'll issue a statement" and the embassy in Nairobi had updated the State Department while awaiting further guidance.
"I'll tweet about this one, too," Grenell says. "Can you make a suggestion and I'll tweet Hungary today. Kenya tomorrow." (It's unclear what the reference to Hungary was regarding.)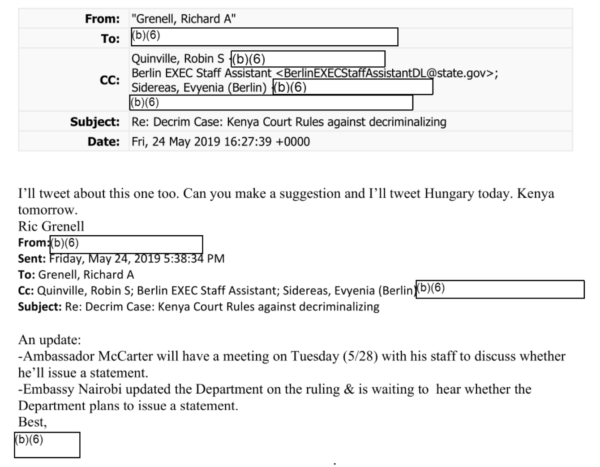 In terms of discussion at the U.S. embassy on the Kenya decision, whatever was considered apparently didn't bear fruit. The Blade couldn't immediately find any public statement on the Kenya decision from McCarter in his capacity as a U.S. ambassador during the Trump administration. McCarter didn't respond to the Blade's request to comment for this article.
In 2018, McCarter was grilled during his Senate confirmation hearing on his record as an Illinois state legislator who opposed LGBTQ rights, including his vote against an anti-bullying measure after stating he believed it would promote homosexuality. McCarter also had a history of misogynistic tweets and in 2016 tweeted: "Hillary for Prison. No, really."
Much of the focus on the Trump administration's global initiative appeared to be Iran, which has been an antagonist on the global stage and more so after Trump withdrew from the Iran deal. Iran is also one of the countries where homosexuality is not only criminalized, but punishable by death.
Although Grenell has publicly disputed Iran was the focus, he was quick to provide a quote to his assistant seeking a response from him after the country's foreign minister affirmed its anti-gay policy in response to questions from a reporter with a German newspaper.
"The UN's Declaration of Human Rights makes clear that these answers from the Iranian regime are violating basic UN principles," Grenell writes. "UN members should agree with the Declaration in order to be members. Criminalizing homosexuality violates the Declaration, plain and simple."
Grenell's response was later found online in an article in The Jerusalem Post, which covered reaction to the news in an article titled, "Iran's FM affirms right to execute gays and blasts U.S. and Israel."
Biden puts his weight on changing Senate rules to pass voting rights
President says changes need to 'protect our democracy'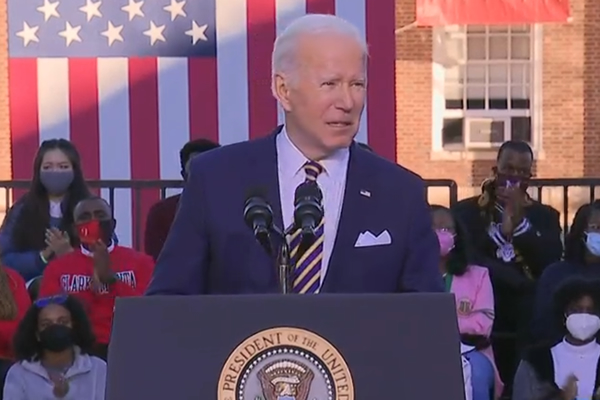 President Biden, after paying tribute to civil rights pioneer Dr. Martin Luther King Jr. by leaving a wreath on his grave, brought the strength of his presidency to bear in a speech Tuesday in an effort to reform U.S. Senate rules to enact voting rights legislation.
"I'm making it clear, to protect our democracy, I support changing Senate rules whichever way they need to changed to prevent a minority of senators from blocking basic voting rights," Biden said.
Biden has indicated before he supports changes to longstanding rules the Senate requiring 60 votes to end a filibuster and proceed with debate on legislation, but the speech marks an elevation of viewpoint in a more formal way and increases the pressure on fellow Democrats like Joe Manchin (W.Va.) and Kyrsten Sinema (Ariz.), who oppose such a change.
Based on his words, Biden's position on filibuster reform appears limited to voting rights legislation, which like so much other legislation has passed in the House and has stalled out in the Senate. The Washington Blade has placed a request in with the White House seeking comment on why, if Biden supports changing the filibuster for voting rights, why hasn't he made the case for other issues, such as police reform or LGBTQ civil rights.
A major reason cited by Biden to bring the force of his presidency down on this issue: The attack on U.S. Capitol on Jan. 6, 2021 instigated by President Trump, who falsely claimed he won the 2020 election against Biden.
Biden conjured images of the long road in the civil rights journey in the United States and a "violet riot" at the Capitol that Biden said undermined the process.
The recently enacted voter law in Georgia, which makes mail-in voting illegal, limits hours and locations for ballot drop boxes and bars the delivery of food and water to persons waiting in line to vote, was another major focus for Biden, who pointed out Republican lawmakers in Georgia put it in place after he won the state in 2020 and Trump pressured officials there to find more votes for him.
As a result, Biden said the "threat to democracy is so grave" he supports changes to the filibuster, which came about in use in the Senate from senators seeking to block civili rights legislation.
"If that bare minimum is blocked, we have no choice but change the Senate rules, including getting rid of the filibuster for this," Biden said.
Biden identified two bills in his speech: the John Lewis Voting Rights Act, which seeks to rectify a U.S. Supreme Court decision undermining the Voting Rights Act and the Freedom of the Vote Act, which would dramatically reform voting process, including the expansion of voting by mail and early voting.
Joining Biden in Atlanta in favor of changing rules to advance voting rights was Vice President Kamala Harris, who said "nowhere — nowhere — does the Constitution give a minority the right to unilaterally block legislation."
"Over the past few years, we have seen so many anti-voter laws, that there is a danger of becoming accustomed to these laws, a danger of adjusting to these laws as though they are normal, a danger of becoming complacent, complicit," Harris said. "Anti-voter laws are not new in our nation, but we must not be deceived into thinking they are normal."
Second time the charm? Clay Aiken announces another bid for Congress
'American Idol' runner-up pursues seat in N.C.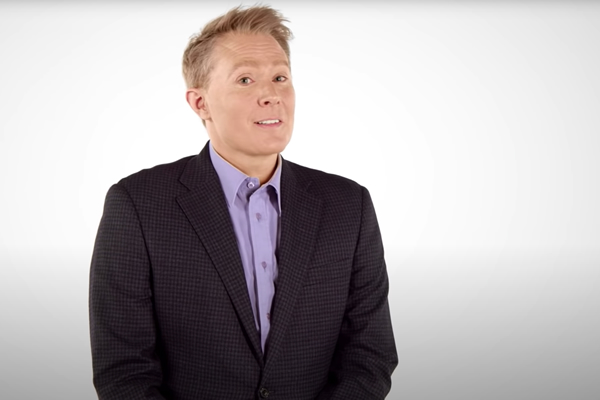 Clay Aiken, following an unsuccessful bid to represent North Carolina as a member of Congress in 2014, declared his bid on Monday for another shot in an effort to reverse his state's "backwards ass policies."
The singer-turned-politician announced in a video he'd pursue the Democratic nomination for North Carolina's 6th congressional district, which is being vacated by the retirement of Rep. David Price (D-N.C.).
"For decades, North Carolina was actually the progressive beacon in the South," Aiken says in the video. "But then things changed, and the progressives lost power, and we started getting backwards ass policies, like the voter suppression bills and the bigoted bathroom bill."
Aiken became known as the most successful runner-up on "American Idol" after taking second place in the 2003. He came out as gay in 2008.
Taking a knock at other politicians in his own state, Aiken says "the loudest voices in North Carolina politics are white nationalists like this guy" before a clip plays of Rep. Madison Cawthorn (R-N.C.) at the Jan. 6 "Stop the Steal" rally.
Aiken goes on to denounce homophobes before a clip plays of North Carolina Lt. Gov. Mark Robinson, who has unapologetically denounced LGBTQ people. Robinson is shown in the middle of a thunderous speech as he questions, "What is the purpose of homosexuality?"
Other images follow of GOP Reps. Marjorie Taylor Green (R-Ga.) and Lauren Boebert (R-Colo.), conservative members of Congress who have earned the ire of progressives.
Aiken in 2013 came up short as he pursued a seat in a Republican-leaning district, but may stand a better chance in North Carolina's 6th congressional district, which encompasses the urban areas of Winston-Salem and Greensboro. According to the Charlotte-based News & Observer, the district shape, however, is subject to change in ongoing court challenges to the maps. Observers are predicting the election will be favorable to Republicans.