Biden's update to HIV strategy hailed for recognizing racism as health issue
New blueprint outlines plan from 2022 to 2025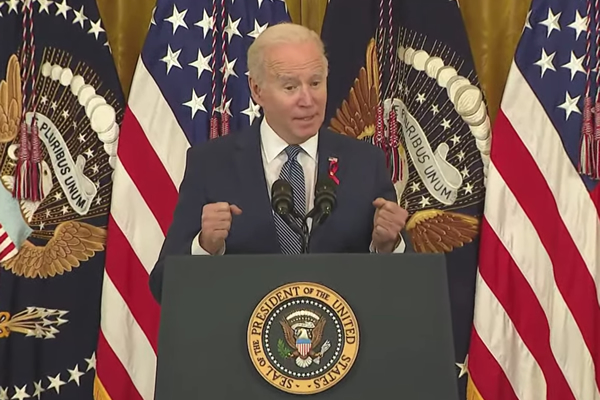 A recent update to the National HIV Strategy by the Biden administration is getting good reviews from advocates in the fight against HIV/AIDS, who are praising the new blueprint for recognizing challenges in the epidemic and racism as a public health issue.
Carl Schmid, executive director of the HIV & Hepatitis Policy Institute and member of the President's Advisory Council on HIV/AIDS, assessed the update as "very, very positive," saying it built on components of a previous iteration of the strategy issued during the Trump administration and made new ones.
"I think the community is extremely pleased," Schmid said. "There's a new component…racism is a public health issue. So, all these positive — the disparities, which is just so big. Anytime you're addressing HIV, you're always addressing disparities."
Schmid also said the updated blueprint — which articulates a plan from 2022 through 2025 and was issued last week to coincide with the first World AIDS Day during the Biden administration — makes outreach to the private sector.
"I think that's good because it's the people who influence society like technology companies, people who have high gay and bisexual employees, like [the] travel industry, get them all involved," Schmid said. "So, and that, I think should help with the stigma."
Schmid also hailed the strategy for its promotion of the Affordable Care Act as a tool to fight HIV/AIDS, which he said was absent in the iteration of the report under former President Trump.
President Biden, in remarks on World AIDS Day last week before advocates in the fight against HIV/AIDS in the East Room the White House, said the uptrend strategy is "a roadmap for how we're going to put our foot on the gas and accelerate our efforts to end the HIV epidemic in the United States by the year 2030."
"That's the goal," Biden added. "And it centers on the kind of innovative, community solutions — community-driven solutions that we know will work."
Consistent with his administration's stated commitment to racial equity and recognizing disparities among diverse groups, including LGBTQ people, Biden said the plan ensures "the latest advances in HIV prevention, diagnosis and treatment are available to everyone, regardless of their age, race, gender identity, sexual orientation, disability, or other factors."
"Critically, this strategy takes on racial and gender disparities in our health system that for much too long have affected HIV outcomes in our country — to ensure that our national response is a truly equitable response," Biden said.
The updated blueprint is the fourth iteration of the National HIV Strategy, which was first issued during the Obama administration, then updated during the Obama years and again during the Trump administration before the Biden administration unveiled the version last week.
The 93-page strategy makes recognition of racism as a public health issue a key component of the plan to fight HIV/AIDS, calling it a "serious public health threat that directly affects the well-being of millions of Americans."
"Racism is not only the discrimination against one group based on the color of their skin or their race or ethnicity, but also the structural barriers that impact racial and ethnic groups differently to influence where a person lives, where they work, where they play, and where they gather as a community," the strategy says. "Over generations, these structural inequities have resulted in racial and ethnic health disparities that are severe, far-reaching, and unacceptable."
Data shows racial disparities remain a significant obstacle in thwarting the HIV/AIDS epidemic. According to the Centers for Disease Control & Prevention, new HIV infections in the United States declined by 8 percent between 2015 and 2019, with much of the progress due to larger declines among young gay and bisexual men in recent years.
But although HIV infections among young gay and bisexual men have dropped 33 percent overall, with declines in young men among all races, the CDC finds "African Americans and Hispanics/Latinos continue to be severely and disproportionately affected."
A senior Biden administration official, speaking last week on background in a conference call with reporters to promote the HIV strategy, said in response to a question from the Washington Blade the recognition of racism "as a serious public health threat" was a key difference from previous iterations of the blueprint.
"There are several updates in this," the official said. "And some of those new features or new areas of focus have come about from both community input as well as sitting down with our federal partners and thinking about also the priorities of this administration, where there is a focus on equity, there is a focus on addressing stigma and discrimination and ensuring that also marginalized populations have access to healthcare, and that we are also working to ensure that the voices of those with lived experience are part of our response."
Jennifer Kates, director of global health & HIV policy for the Kaiser Family Foundation, said the recognition of social and racial disparities is a key component of the updated strategy.
"One area in which the updated strategy stakes out new and stronger ground is in its explicit focus on the social/structural determinants of health," Kates said. "The strategy doesn't just mention them but seeks to address them through a variety of objectives. This is a departure and an important one."
Kates, however,.cautioned: "Of course, the devil will be in the details and there will always be a tension between what the federal government itself can do and the power that state and local jurisdictions actually have."
One aspect of note during Biden's remarks on World AIDS Day was his articulation of 2030 as the target date to beat HIV, with the goal of reducing new infection rates by 90 percent in that year. That 2030 goal was established by health officials during the Trump administration, but Biden had campaigned on 2025 — much to the skepticism of some observers.
The Department of Health & Human Services, in response an inquiry from the Blade on whether a decision was made to forgo 2025 and stick with 2030 as the target date, deferred comment to the White House, which didn't immediately respond.
Schmid, who was among those during the election who expressed skepticism of the 2025 target date, said he spoke to the White House after an initial Blade report on the changed target date and was told the administration determined 2025 was "not feasible."
"That was a campaign statement," Schmid said. "I said then that it was not realistic, and I think others agreed with me particularly because of COVID, and we were during the campaign, but he said it and sometimes people say things during the campaign that they might not always live up to because it was unrealistic."
Schmid, however, downplayed the importance of Biden articulating a different target date to beat HIV/AIDS compared to the one he promised during the presidential campaign, saying the initial date had demonstrated his "strong commitment" on the issue.
Now that the Biden administration has issued the new strategy, the work turns toward implementation, which would mean acting on the blueprint in conjunction with the Ending the HIV Epidemic initiative already underway.
Schmid said the next step in the process is making sure funding is robust, HIV testing continues despite the coronavirus pandemic — and working to make PrEP more accessible.
Key to the effort, Schmid said, would be new legislation introduced before Congress to set up a national PrEP program, one introduced by Rep. Bonnie Watson Coleman (D-N.J.), another by Rep. Adam Schiff (D-Calif.) and another by Sen. Tina Smith (D-Minn.). Those bills, Schmid said, would ensure the uninsured have access to PrEP and health plans cover them without cost.
"I've been focusing a lot on that," Schmid said. "It would be great to get the administration's support for these as well, and money in the budget to implement these national PrEP programs."
Anti-LGBTQ group claims Va. marriage amendment repeal will legalize polygamy
State Sen. Adam Ebbin rejected claim during committee hearing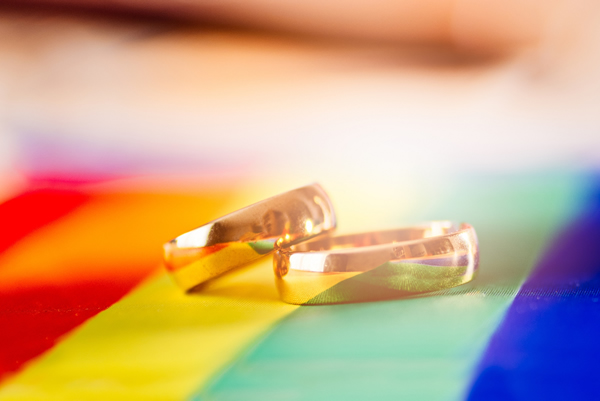 A representative of an anti-LGBTQ group on Tuesday said the repeal of Virginia's constitutional amendment that defines marriage as between a man and a woman would pave the way for the legalization of polygamy in the state.
"There are some, at least, very legitimate concerns about whether this would actually legalize polygamy, among other forms of marriage," said Family Foundation of Virginia Legal Counsel Josh Hetzler.
Hetzler made the comment during a Virginia Senate Privileges and Elections Committee hearing on state Sen. Adam Ebbin (D-Alexandria)'s resolution to repeal the Marshall-Newman Amendment. Ebbin, who is the only openly gay member of the Virginia Senate, in response to the claim noted polygamy is a crime under Virginia and federal law.
"I take offense to the Family Foundation's characterization that this would allow polygamy," said Ebbin. "This has nothing to do with polygamy, what this has to do with is equality."
Carol Schall, who, along with her wife, Mary Townley, joined a federal lawsuit that paved the way for marriage equality in Virginia, and outgoing Equality Virginia Executive Director Vee Lamneck are among those who testified in support of the resolution. The committee approved it by a 10-5 vote margin.
Virginia voters approved the Marshall-Newman Amendment in 2006.
Same-sex couples have been able to legally marry in Virginia since 2014.
The General Assembly last year approved a resolution that seeks to repeal the Marshall-Newman Amendment. It must pass in two successive legislatures before it can go to the ballot.
Ebbin earlier this month told the Washington Blade he remains "hopeful" the resolution will pass in the Democratic-controlled state Senate. Prospects that the resolution will pass in the Republican-controlled state House of Delegates are far less certain.
Republican Gov. Glenn Youngkin before his election reiterated his opposition to marriage equality. Youngkin, however, stressed it is "legally acceptable" in Virginia and he would "support that" as governor.
Jim Obergefell announces bid for seat in Ohio state legislature
Marriage plaintiff moves on to new endeavor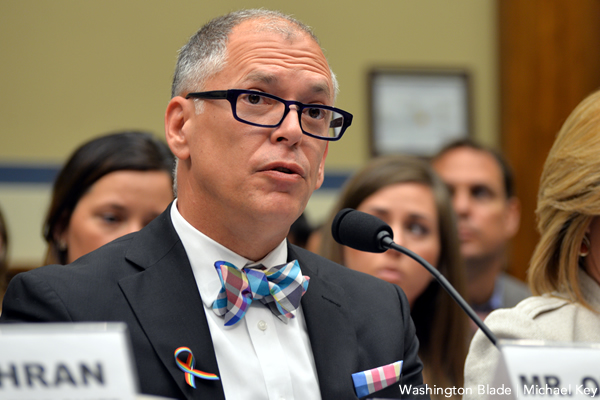 Jim Obergefell, the lead plaintiff in the litigation that ensured same-sex couples have the right to marry nationwide, announced on Tuesday he'd pursue a new endeavor and run for a seat in the state legislature in his home state of Ohio.
"You deserve a representative who does the right thing, no matter what. You deserve a representative who fights to make things better for everyone," Obergefell said. "I've been part of a national civil rights case that made life better for millions of Americans. Simply put, I fight for what's right and just."
Obergefell, who claims residency in Sandusky, Ohio, is seeking a seat to represent 89th Ohio District, which comprises Erie and Ottawa Counties. A key portion of his announcement was devoted to vowing to protect the Great Lakes adjacent to Ohio.
"We need to invest in our Great Lake, protect our Great Lake, and make the nation envious that Ohio has smartly invested in one of the greatest freshwater assets in the world," Obergefell said.
Obergefell was the named plaintiff in the consolidated litigation of plaintiffs seeking marriage rights that led the U.S. Supreme Court to rule in 2015 for same-sex marriage nationwide. Obergefell was widower to John Arthur, who died of amyotrophic lateral sclerosis, and was seeking the right to be recognized as his spouse on his death certificate. The ruling in the consolidated cases ensured same-sex couples would enjoy the full benefits and responsibilities of marriage.
"We should all be able to participate fully in society and the economy, living in strong communities with great public schools, access to quality healthcare, and with well-paying jobs that allow us to stay in the community we love, with the family we care about," Obergefell said in a statement on his candidacy.
FDA-funded blood donation study recruiting gay, bi men
D.C.'s Whitman-Walker, L.A. LGBT Center working on study to ease restrictions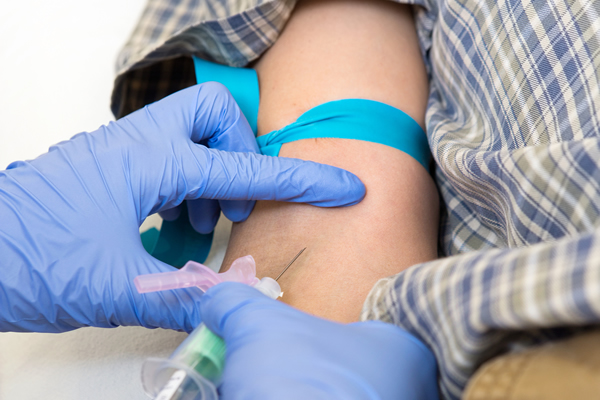 D.C.'s Whitman-Walker Institute and the Los Angeles LGBT Center are among LGBTQ supportive organizations in eight U.S. cities working with the nation's three largest blood donation centers on a study to find a way to significantly ease blood donation eligibility for men who have sex with men or MSM.
The study, which is funded by the U.S. Food and Drug Administration, calls for recruiting a total of 2,000 gay and bisexual men in eight U.S. cities selected for the study to test the reliability of a detailed donor history questionnaire aimed at assessing the individual risk of a gay or bisexual man transmitting HIV if they donate blood.
A statement released by the study organizers says the questionnaire, which could be given to a gay or bisexual person showing up at a blood donation site, could be a replacement for the FDA's current policy of banning men who have had sex with another man within the previous three months from donating blood.
In the early years of the AIDS epidemic in the 1980s, the FDA put in place a permanent ban on blood donations by men who have sex with men. In 2015, with advanced HIV testing and screening techniques readily available, the FDA lifted its permanent ban on MSM blood donations and replaced it with a 12-month restriction for sexual activity between MSM.
The FDA further reduced the time of sexual abstinence for MSM to three months in 2020.
LGBTQ rights organizations and others advocating for a change in the current FDA restriction point out that at a time when the nation is facing a severe shortage of blood donations due to the COVID pandemic, the three-month donation deferral requirement for MSM is preventing a large number of blood donations from men whose risk of HIV infection is low to nonexistent.
Under the FDA-funded and initiated study, the American Red Cross, Vitalant, and OneBlood — the nation's three largest blood donation centers — have been conducting the questionnaire testing since the study was launched in March 2021.
"To gather the necessary data, the blood centers will partner with LGBTQ+ Centers in Washington, D.C., San Francisco, Orlando, New Orleans/Baton Rouge, Miami, Memphis, Los Angeles, and Atlanta," the study organizers say in a statement on a website launched to help recruit volunteers for the study.
"The study will enroll a total of 2,000 gay and bisexual men (250 – 300 from each area) who meet the study eligibility criteria," the statement says.
Among the criteria for being eligible, the statement says, is the person must be between 18 and 39 years old, have expressed an interest in donating blood, must have had sex with at least one other man in the three months before joining the study, and must agree to an HIV test. A negative test result is also required for acceptance into the study.
The study is officially named ADVANCE, which stands for Assessing Donor Variability And New Concepts in Eligibility.
"The ADVANCE study is a first step in providing data that will help the FDA determine if a donor history questionnaire based on individual risk would be as effective as time-based deferral, in reducing the risk of HIV in the blood supply," the study organizers statement says.
"If the scientific evidence supports the use of the different questions, it could mean men who have sex with men who present to donate would be assessed based upon their own individual risk for HIV infection and not according to when their last sexual contact with another man occurred," the statement continues. "The ADVANCE study is groundbreaking because it's the first time a study is being conducted that could result in individual risk assessment for men who have sex with men to donate blood," the statement says.
The Whitman-Walker Institute, which is among the community-based organizations involved in helping organize and conduct the study, is an arm of Whitman-Walker Health, the LGBTQ supportive D.C. health center.
Christopher Cannon, director of Research Operations for Whitman-Walker Institute, said that since the D.C.-based part of the study was launched early last year prior to the official announcement of the study on March 20, D.C. has surpassed the original city goal of recruiting 250 participants for the study.
"We are currently at 276 as of last Friday's report," Cannon told the Blade in a Jan. 13 interview. "And the current goal is now 300," he said. "So, we're hoping to push this over that goal line in the coming days and weeks.
Cannon said that like the community organizations involved in the study in other cities, Whitman-Walker Institute's role has been focused on recruiting gay and bisexual men to participate in the study and to send them to the American Red Cross headquarters building at 430 17th St., N.W. near the White House. That site, which serves as a blood donation center, is also serving as the site where study participants are screened, interviewed, and presented with a detailed questionnaire.
"We promote the study within Whitman-Walker," Cannon said. "We promote it to our networks. We did social media promotions across the city.'
Although Whitman-Walker doesn't have the final draft of the questionnaire being presented to study participants, Cannon said he has seen "bits and pieces" of it.  
"They ask very direct questions about the person's sex life, sexual partners, sex acts, numbers of partners," Cannon said. "There are questions about condom use, PrEP use, drug use. How recently have you had sex? Lots of related questions," he said.
"It's really about trying to figure out effectively which are the best questions," according to Cannon. "The hope is by analyzing the questions and identifying maybe the best 10 to 12 questions that can be universally used…to get the best answers that identify the individuals that may have the highest risk," he said. Doing that, he points, out can help determine which men who have sex with men should be eligible to safely donate blood.
A statement released by Whitman-Walker last March calls the study a "monumental research effort" that has the potential to lift the stigma imposed on gay and bisexual men whose ability to donate blood is currently based on their sexual orientation.
"The ADVANCE study is designed to understand if, by asking carefully crafted and research-informed research questions, blood collectors can screen potential blood donors for their individual HIV risk factors rather than applying a ban against sexually active gay and bisexual men," the statement says.
"The goal is to move away from overly broad questions that exclude potential donors and spread stigmatizing messages about MSM and their HIV risks," it says.
Cannon said that as of last week, study organizers had recruited a total of 879 study participants nationwide out of the goal of 2,000 participants needed to complete the study. He said issues related to the COVID pandemic created delays in the recruitment efforts, but study organizers were hopeful the study could be completed by this summer.
Information about participating in the study or learning more about it can be obtained at advancestudy.org.