LGBTQ Democrats greeted by D.C. elected officials at holiday party
'Celebrating our accomplishments over the past year'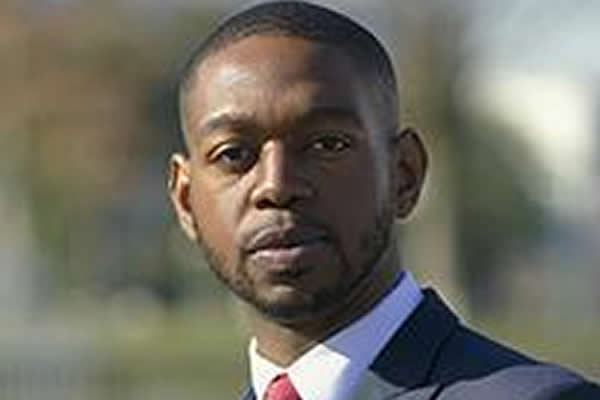 Four members of the D.C. Council, two members of the city's Board of Education, and two of D.C.'s "shadow" members of Congress were among the public officials who turned out on Dec. 13 for the Capital Stonewall Democrats' annual holiday party.
The LGBTQ Democratic group, formerly known as the Gertrude Stein Democratic Club, is the city's largest local LGBTQ political organization.
Jatarious Frazier, the group's president, said he decided this year to invite all the city's elected officials, including Mayor Muriel Bowser and members of the D.C. Council, to attend the holiday event, which was held at Shaw's Tavern on Florida Avenue, N.W.
Mayor Bowser did not attend the event, but Japer Bowles, director of the Mayor's Office of LGBTQ Affairs, attended the gathering.
"This was just another opportunity this year for us to engage elected officials and candidates and also really celebrate our accomplishments over the past year and really an opportunity to bring everyone in our community together with our elected leaders," Frazier told the Blade during the event.
Frazier praised Shaw's Tavern as a "gracious" host for the event, in which close to 100 people attended.
The elected officials attending the event included D.C. Council members Robert White (D-At-Large), Brianne Nadeau (D-Ward 1), Janeese Lewis (D-Ward 4), and Kenyan McDuffie (D-Ward 5); D.C. Board of Education members Allister Chang (Ward 2) and Eboni-Rose Thompson (Ward 7). Also attending the event were D.C. Shadow Senator Paul Strauss (D) and D.C. Shadow U.S. House member Adeoye Owolewa (D).
Earlier this year, White announced his candidacy for mayor in 2022, where he will challenge Mayor Bowser, who announced her candidacy for re-election, in the city's June Democratic primary.
McDuffie announced he is not running for re-election to his Council seat and instead is running for the position of D.C. Attorney General. Incumbent Attorney General Karl Racine has announced he is not seeking re-election to that position in 2022.
All of the elected officials attending the Capital Stonewall Democrats' holiday party have been strong supporters of the LGBTQ community.
Drag performers join Gays Against Guns to decry nationwide attacks
'We're tired and we're angry and we're scared'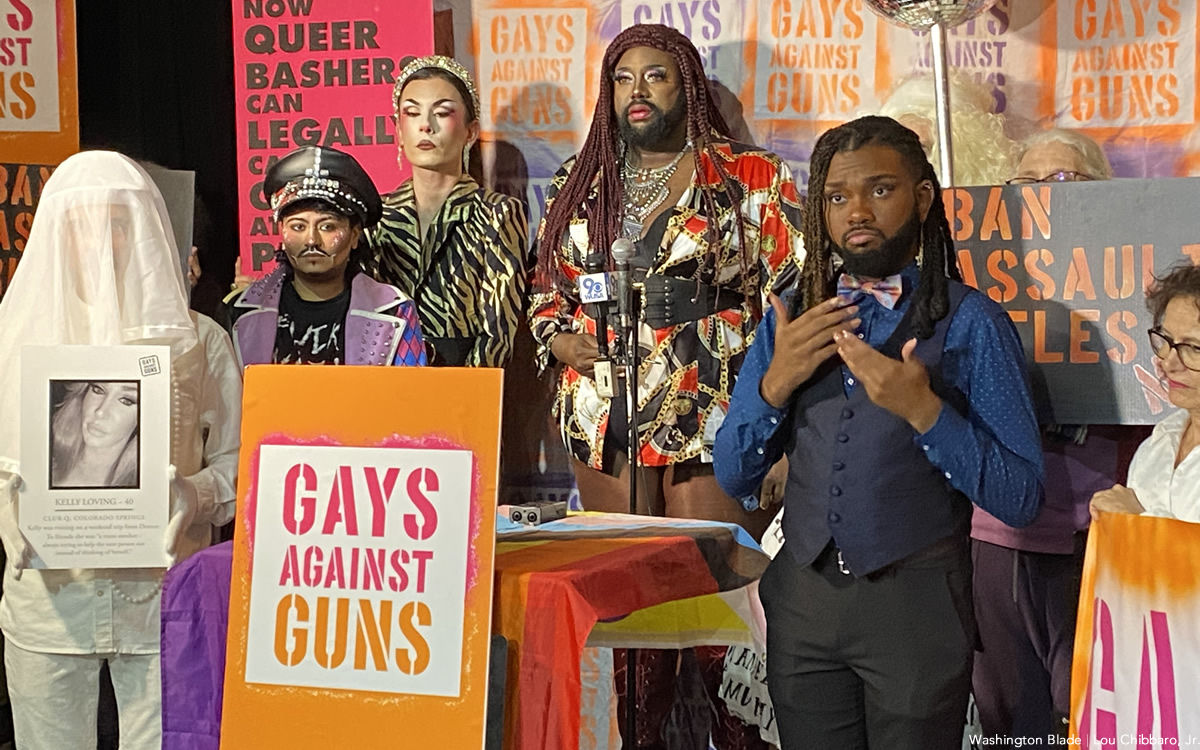 Three D.C.-area drag performers joined members of the New York City-based group Gays Against Guns at a news conference and gathering at As You Are bar on Dec. 7 to speak out against what they say has been an escalating and alarming number of threats against the LGBTQ community and against drag shows in particular across the country.
The Gays Against Guns members along with local supporters came to D.C. to attend the 10th Annual National Vigil for All Victims of Gun Violence, which took placed that evening at nearby St. Mark's Episcopal Church. President Joe Biden attended and spoke at the vigil.
Among those present at the press conference and who attended the vigil were Gays Against Guns members wearing white robes and hoods and carrying photos of people who died from gun violence, including victims of the Pulse LGBTQ nightclub mass shooting in Orlando, Fla. in 2016.
Fresh on their minds, they said, was the shooting at the Club Q LGBTQ bar on Nov. 19 that took the lives of five people and injured at least another 17 before the lone gunman was wrestled to the floor by one of the customers and held until police arrived.
"We will represent members of the LGBTQI+ community with these human beings," said Gays Against Guns organizer Ti Cersely at the press conference, referring to the group members wearing white robes and hoods "They are silent protesters donned in white, holding space for a person that has been killed by gun violence," he said. "And we're here to ensure the nation sees these lives and honors and respects them as we do."
Another speaker at the news conference was D.C.-based drag performer Vagenesis.
"I perform all over the country. And it's been a privilege to be able to be an artist on this platform as I have been over the past five years," Vagenesis said, acknowledging two other drag performers standing behind them.
"And we're tired and we're angry and we're scared," Vagenesis told the gathering. "And I have to be scared walking out of my apartment building. I had to put on a hoodie and sweatpants to get to this event because I was afraid someone would hurt me or bash me for looking like me."
Added Vagenesis, "As a queer person, as a Black person, as a drag artist, my body has a big target on it. And I can't feel safe walking anywhere when all I want to do is bring happiness to people."
The other two drag performers appearing at the press conference and gathering identify as Citrine and Rico Pico, who won the 2021 title of Best Drag King in the Washington Blade's Best of LGBTQ contest.
"I'm very tired of our community just continuing to be sad in mourning," Pico Rico told the Blade. "It's not just our effort but a collective effort from our allies as well," he said. "Everyone needs to be on the same page to fight what led people to get killed."
Jay Walker, one of the founding members of Gays Against Guns, said the attacks on drag shows appear to be orchestrated by the same far-right groups and individuals that have long targeted LGBTQ people.
"And there has been, if my estimates are not mistaken, at least 300 separate verbal, physical, intimidation attacks on drag performances, and drag story-telling over the course of the last year," Walker said.
"Our LGBTQIA2s+ communities are under siege," he said. "And our federal government and our law enforcement have been ignoring us," he told the gathering, adding that the sometimes inaction by law enforcement officials "emboldens" groups such as the Proud Boys, Patriot Hunters, and Three Percenters that have been harassing drag shows.
Walker expressed concern that people not directly impacted by the attacks against drag shows or shootings like those at Pulse nightclub or Club Q in Colorado Springs appear to have the mistaken impression that these anti-LGBTQ attacks won't put them in danger.
"They need to know that these weak-minded angry small men who commit these atrocities across our country are only going to expand their attacks, believe me," he said. "It is not going to remain with sexual minorities or performers who wear makeup. It is always going to end up attacking the general public," he said. "and our law enforcement and our government know that."
Walker was among those who joined the Gays Against Guns contingent, including the members in white robes, who walked from the As You Are to St. Mark's Episcopal Church to attend the National Vigil for All Victims of Gun Violence, which began at 7 p.m. Wednesday, Dec. 7.
DC Center, Capital Pride sign joint lease for new offices
LGBTQ groups to operate in historic Shaw neighborhood building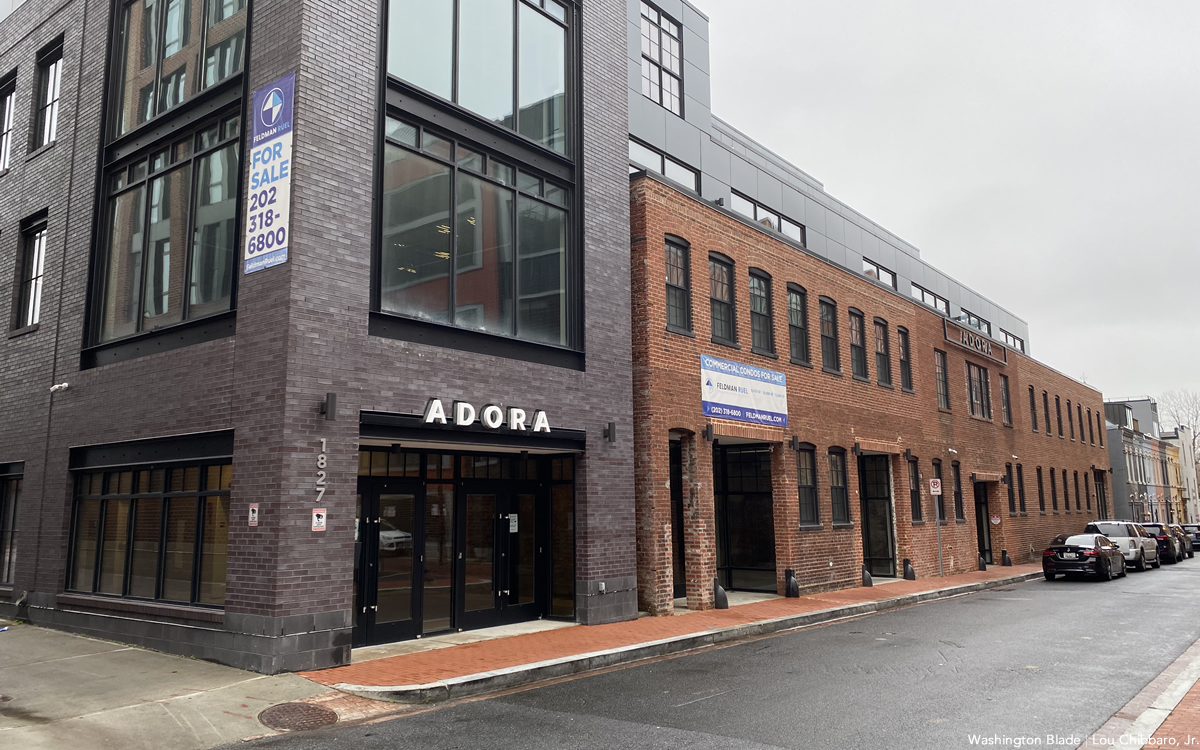 The DC Center for the LGBT Community and the Capital Pride Alliance, which organizes D.C.'s annual LGBTQ Pride events, announced on Wednesday that they have signed a joint lease to move their operations into a renovated warehouse building in the city's Shaw neighborhood.
In a Dec. 7 statement, the two organizations said the lease is for a 6,671-square-foot space on the entire first floor of a five-story building at 1827 Wiltberger St., N.W. called The Adora. The building is located steps away from the Howard Theatre and a little over a block from the Shaw-Howard University Metro station.
The new space is more than double the 2,400-square-foot offices the D.C. Center and Capital Pride currently occupy in the city's Reeves Center municipal building at 2000 14th St., N.W. The Reeves building is slated to be demolished as part of a new development project that will require all its tenants, including the D.C. Center, to move.
The sprawling building, which takes up about half of the narrow, one-block long Wiltberger Street, was built in 1891 as the home of the Holzbeierlein Bakery, according to the online publication Commercial Observer.
Online real estate listings show it was redeveloped about two years ago with an extension and now includes commercial condominium space on the second and third floors and nine luxury residential condominium units on the fourth and fifth floors.
The statement released by the D.C. Center and Capital Pride Alliance says the first-floor space in the building that the two groups leased currently is un-renovated warehouse space. The statement says the space is being designed for a build out renovation by an architectural firm "with the D.C. Center's specific needs in mind." It will include 10 offices and multiple workstations, the statement says.
According to the statement, the renovation is being funded in part by a $1 million grant approved by D.C. Mayor Muriel Bowser through the Office of the Deputy Mayor for Planning and Economic Development and the Mayor's Office of LGBTQ Affairs.
Rehana Mohammed, who serves as vice chair of the D.C. Center's Board of Directors, told the Washington Blade the renovation work was scheduled to be completed by mid-2023. She said D.C. Center officials were hopeful that the Center and Capital Pride would be able to move into the new space in June or early July.
The statement says the new, larger space will enable the D.C. Center to expand its services to include "dedicated therapy rooms, a larger food pantry for the community food distribution program, and dedicated wellness spaces for meditation, yoga, and counseling."
It says there will also be an expanded state-of-the-art cyber lounge, a larger Community Closet program, which provides free apparel, and that will incorporate a designated dressing area, and individual lockers providing temporary storage for "unhoused/displaced community members."
"This is an extraordinary opportunity for the D.C. Center to more fully expand our support offerings and provide vital and integral wraparound care to and for our LGBTQIA2s+ siblings," D.C. Center Executive Director Kimberley Bush said in the statement.
"When community members come to this new space, they'll see a broader range of support being offered and an enhanced experience for increasing their health, wellness, and personal security," Bush said.
"We are very excited to support this opportunity and come together in a new space with fellow nonprofits," said Ryan Bos, the Capital Pride Alliance executive director. "Collectively and collaboratively, we will better serve the LGBTQ+ community and combine resources to provide a much-needed safe space to gather," Bos said in the statement.
The statement by the two groups says the new larger space will also allow the D.C. Center to sublease office and desk space to other LGBTQ+ nonprofit organizations. As of this week, the Wanda Alston Foundation, Rainbow Families and G3 Associates, an organization operated by local gay activist George Kerr, have confirmed arrangements to sublease space in the new building, the statement says.
"We are proud to reaffirm our support for D.C.'s LGBTQ+ community," said Mayor Bowser in a statement referring to her office's awarding a $1 million grant to help fund the D.C. Center's build out in the new space. "This investment is a reflection of our D.C. values," the mayor said.
"We know that when we foster community, and when we support organizations that invest in the community, D.C. is stronger and our residents have more and better opportunities to reach their full potential and live happy, healthy lives," the mayor said.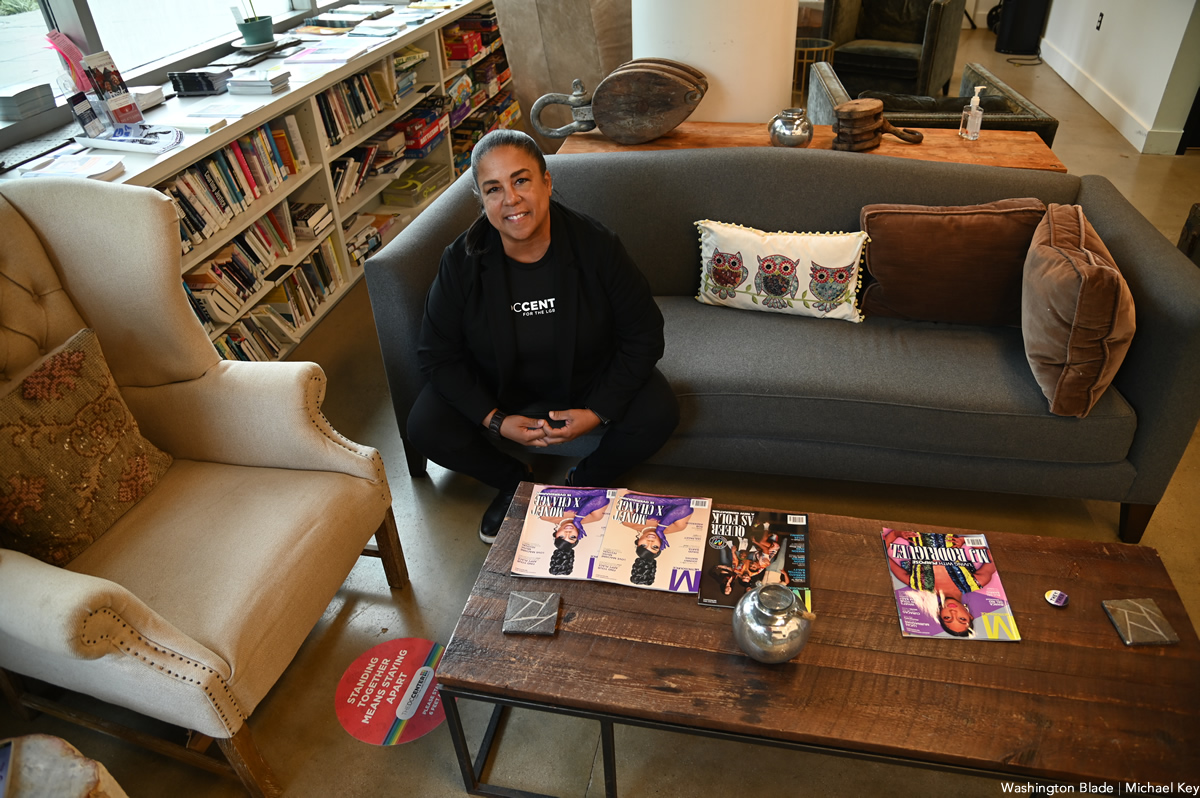 LGBTQ contingent to join National Vigil for gun violence victims in D.C.
Gays Against Guns plans Capitol Hill procession to honor those lost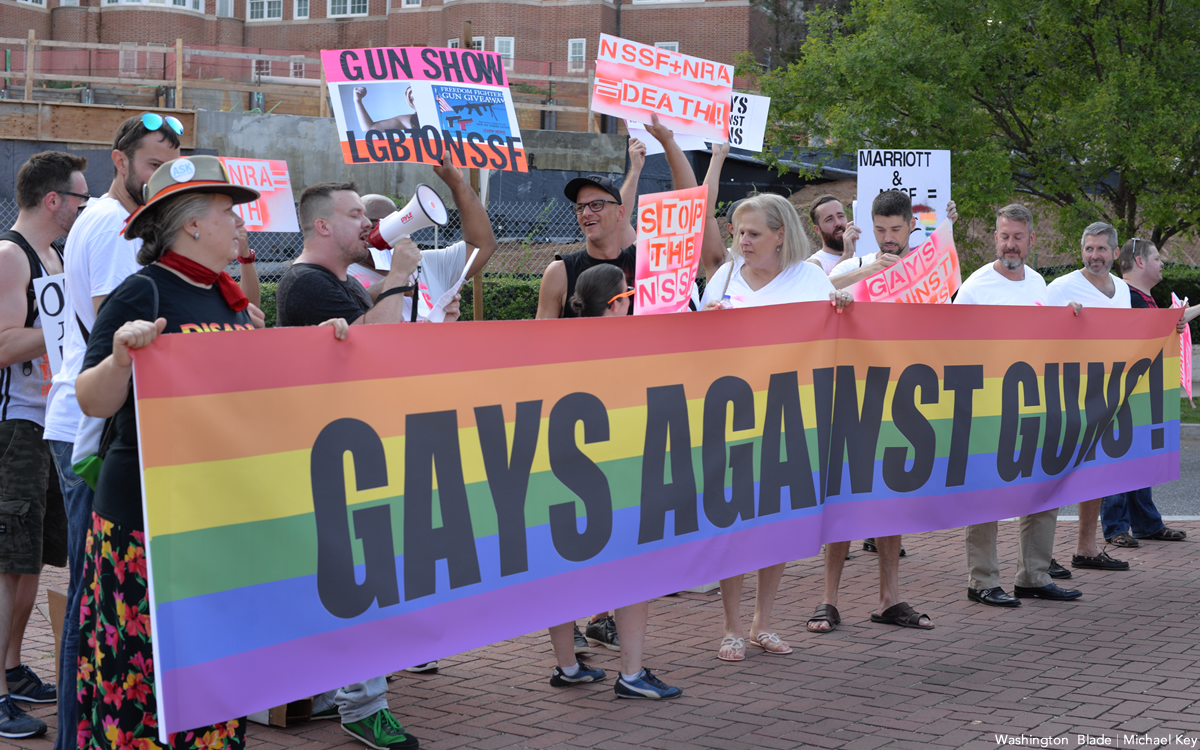 As many as several dozen LGBTQ activists wearing white robes and carrying photos of victims of gun violence were planning a procession along city streets from the As You Are LGBTQ bar on Capitol Hill on Wednesday afternoon, Dec. 7, to the nearby St. Mark's Episcopal Church.
The church, located at 301 A St., S.E., was scheduled to host the 10th annual National Vigil for All Victims of Gun Violence beginning at 7 p.m. on Wednesday.
The New York City-based group Gays Against Guns, which is organizing the LGBTQ contingent, released a statement saying its members would be meeting at As You Are at 500 8th St., S.E. with LGBTQ "political, community based, nightlife, and gun violence prevention allies" to finalize plans for the procession a few hours before the start of the vigil.
Jay Walker, one of the Gays Against Guns leaders, told the Washington Blade the group and its supporters have scheduled a press conference at As You Are on Wednesday at 3 p.m. to draw attention, among other things, to threats and anti-LGBTQ protests against drag shows over the past two weeks in cities across the country.
Walker pointed to news reports of hostile protesters, some armed with guns, assembling outside bars or clubs holding drag shows in Columbus, Ohio; Lakeland and Ft. Lauderdale, Fla.; Aurora, Ill.; and Manhattan, Staten Island, and Oceanside, N.Y. within the past two weeks.
Most of these reported attempts to intimidate people patronizing or participating in drag performances took place after the Nov. 19 shooting at the Club Q gay bar in Colorado Springs, Colo., in which a gunman shot and killed five people and injured at least 17 more.
That shooting took place shortly before a drag show was scheduled to take place at the Club Q.
The National Vigil for All Victims of Gun Violence, set for 7 p.m. Wednesday at St. Mark's Episcopal Church, was to take place shortly after speculation has surfaced that opposition to a drag show was the motive that prompted one or more as yet unidentified suspects to fire multiple gunshots at electrical power substations in Moore County, N.C., causing a blackout affecting 45,000 residents.
Law enforcement officials investigating what they have said was a targeted attack aimed at knocking out the electric power substations also said they have no evidence yet as to what the motive was for the crime.
But in its statement released this week, Gays Against Guns said the attack on the power substations took place shortly after a drag event was held in the town of Southern Pines in Moore County that drew opposition and protests from far-right activists and anti-LGBTQ community members.
"Enough is enough!" the Gays Against Guns statement says. "Our communities must take a stand and issue demands of our elected leaders, law enforcement, and the greater polity to take action on this threat to all Americans."
The latest incidents targeting drag shows have taken place after D.C. police announced shortly after the Club Q shooting in Colorado Springs that they were stepping up police patrols around D.C. LGBTQ establishments, including gay bars.
"At this time, there are no known threats to any events or locations in the District," a Nov. 23 police statement says. "MPD will continue to monitor the developments in Colorado Springs and share information with our local, regional and federal law enforcement partners," the statement says.
But a short time later, on Nov. 30, the U.S. Department of Homeland Security issued a terrorism threat bulletin warning that domestic extremists have posted online praise for the Club Q shooting suspect and have called for copycat attacks.
"Targets of potential violence include public gatherings, faith-based institutions, the LGBTQI+ community, schools, racial and religious minorities, government facilities and personnel, U.S. critical infrastructure, the media, and perceived ideological opponents," the bulletin states.
"Some domestic violent extremists who have conducted attacks have cited previous attacks and attackers as inspiration," the DHS bulletin continues. "Following the late November shooting at an LGBTQI+ bar in Colorado Springs, Colorado — which remains under investigation — we have observed actors on forums known to post racially or ethnically motivated violent extremist content praising the alleged attacker," the bulletin says.
Mark Lee, coordinator of the D.C. Nightlife Council, a group representing bars, restaurants, nightclubs, and entertainment establishments, said the community nightlife businesses welcome the increased police patrols of these establishments.
"The local nightlife association has offered periodic security and active shooter training sessions for venue operators, managers, and staff for a number of years, most recently on Nov. 1 in conjunction with the restaurant association," Lee said. "These specialized trainings feature presentations by both a nationally recognized training firm and DCNC affiliate member Nightlife Security Consultants and the D.C. Metropolitan Police Department," Lee told the Blade.
"Nightlife hospitality establishments understand the importance of being constantly vigilant about, and prepared for, any and all incidents that could occur whenever people are gathered," he said.
Walker of Gays Against Guns said participants in the planned LGBTQ procession from As You Are bar to St. Mark's Church would be carrying photos or signs commemorating the LGBTQ victims of gun violence, including victims of the Pulse LGBTQ nightclub shooting in Orlando, Fla. in June 2016 in which 49 mostly LGBTQ patrons of the club were shot to death by lone gunman.
The Wednesday night vigil at St. Mark's Episcopal Church, among other things, will commemorate the 10th anniversary of the Sandy Hook, Conn., school shooting incident in which 26 people were shot to death, 20 of whom were children, according to a statement released by organizers.
"By this December, over one million Americans will be killed or injured by guns since the Sandy Hook shooting tragedy," the statement says. "We urge you to join the gun violence prevention community in our collective effort to continue to shine a light on the devastating epidemic of gun violence in our nation until these gun deaths and injuries are reduced."