Shooting of gay man highlights concern over rising D.C. gun violence
'A sense of growing lawlessness, increasing crime'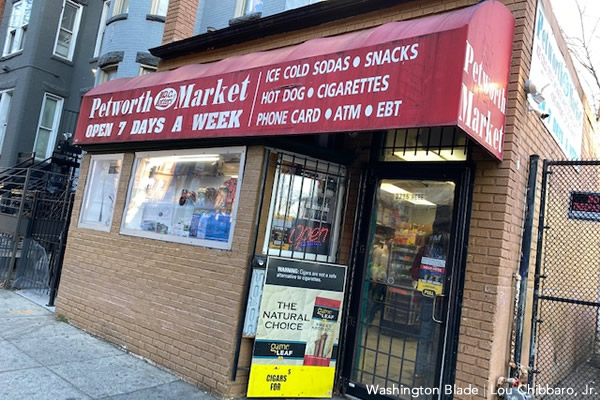 A gay man was shot twice in the hip and upper leg on Saturday morning, Dec. 11, while standing in front of a store next to the Georgia Avenue-Petworth Metro station in a development that his boyfriend says makes him yet another victim of an alarming rise in gun violence in the nation's capital.
A D.C. police incident report says Larry Darnell Henderson, 36, was "hit twice in the lower extremities" by shots fired by an unidentified male suspect who fired nine shots into a crowd where Henderson was standing on Georgia Avenue, N.W., just before 10 a.m. on Dec. 11.
"Suspect 1 fled the scene northbound on the 3700 block of Georgia Ave. N.W., then turning eastbound into the 6700 block of Quincy St., N.W. where he was last seen," the police report says.
Kevin McDonnell, who said he and Henderson are a couple, told the Blade that Henderson told him the male shooter initially pointed his gun at Henderson's groin, prompting Henderson to turn his body around, which resulted in his being struck by bullets in the hip and leg.
According to McDonnell, Henderson told him the shooter did not say anything and did not attempt to rob him. But because the two men frequently patronize the stores and shops surrounding that Metro station and sometimes exhibit affection toward one another, McDonnell said he believes the shooter may have perceived Henderson to be a partner in a gay relationship and targeted him for a hate crime.
"It's no accident that that guy pointed his gun at his genitalia," McDonnell said. "And had LD not pivoted it would be a different story," said McDonnell, who refers to Henderson by his nickname LD.
The police report specifically says the incident is not listed as a suspected hate crime. McDonnell disputes that designation.
When asked by the Blade if police investigators were looking for a possible video of the shooting incident from nearby surveillance cameras, a police spokesperson said if a photo of the suspect is obtained from a video camera and if police seek the public's help in identifying and locating the suspect "we will release it."
McDonnell said Henderson was taken by ambulance to MedStar Washington Hospital Center, where he underwent surgery. He remained at the hospital under treatment as of late Tuesday.
LGBTQ activists, meanwhile, have said they are not aware of any information to indicate that LGBTQ people are being singled out for gun violence or other types of crime to a degree greater than the general public.
A D.C. police spokesperson and the supervisor of the department's LGBT Liaison Unit, Sgt. Nicole Brown, didn't immediately respond to a message from the Blade asking whether officers assigned to the LGBT Liaison Unit have noticed an increase in crimes against LGBTQ people in the District during the past two years compared to previous years.
A police source familiar with the LGBT Liaison Unit, who spoke on condition of not being identified because the source was not authorized to speak to the media, said there was no "clear indication that LGBT people are being targeted any more than anyone else."
D.C. police statistics for hate crimes posted on the police website show that for 2021, as of Sept. 30, there were a total of 29 reported hate crimes based on the victim's sexual orientation and eight hate crimes reported based on the victim's gender identity or expression.
Those figures compare to a total of 38 sexual orientation or anti-gay hate crimes reported in the full year of 2020 and 60 in 2019. The police data show that in 2020 there were 27 reported hate crimes based on the victim's gender identity or status as a transgender person and the same number of 27 for that category reported in 2019.
Law enforcement observers have pointed out that the rise in violent crime in most of the nation's large cities, including D.C., has occurred during the COVID pandemic and the COVID-related public health restrictions placed on many businesses and citizens across the country.
D.C. police data show that there was a 19 percent increase in homicides in the District in 2020 compared to 2019 – a jump from 166 to 198. As of Dec. 14, of this year, the D.C. police data show homicides rose so far in 2021 by 9 percent to a total of 212 cases as of Dec. 14.
This year's homicide total of 212 as of Dec. 14 marked the first time the number of murders in the city has surpassed 200 since 2003, a development that has alarmed city officials and prompted D.C. Mayor Muriel Bowser last week to announce the city will expand its violence prevention and mitigation programs. Earlier this year, the mayor declared gun violence in the city a "public health crisis."
As of that same Dec. 14, 2021, date, the D.C. police data show the crime of assault with a dangerous weapon rose by 3 percent over 2020 – from 1,581 to 1,605, robberies rose by 1 percent – 1,913 to 1,930, and the combined number of "violent crime" rose by 2 percent over 2020 from 3,855 to 3,919.
The 2021 data show that the number of burglaries declined by 4 percent so far in 2021 compared to 2020 from 1,136 to 1,094. The number of motor vehicle thefts rose by 9 percent from 3,068 in 2020 to 3,348 as of Dec. 14, 2021. The crime of "theft from auto" rose by 5 percent so far this year, from 7,897 to 8,307.
And the crime listed by D.C. police as "Theft/Other," which is the second highest category of crime in the city, remained statistically the same but rose slightly from 10,409 in 2020 to 10,430 in 2021.
The police data show that the combined total of "property crime" in the city rose by 3 percent from 22,523 in 2020 to 23,182 as of Dec. 14, 2021.
The combined total of all instances of crime, the police data show, rose by 3 percent from 26,378 to 27,101 in 2021.
Although D.C.'s overall crime rate has not increased as much as it has in other cities, several high-profile incidents in parts of the city not accustomed to the shootings that residents of other parts of the city say they are accustomed to have alarmed businesses and nearby residents.
In July, two men were shot and wounded outside the popular strip of restaurants on 14th Street, N.W., where offices for Whitman-Walker Health are located and close to the Washington Blade's former office. A short time later, a shooting outside Washington Nationals Stadium prompted fans inside the stadium to duck for cover and prompted demands for police and the city to do more to address gun violence.
The two high-profile shootings also drew attention to disagreements between Bowser and several members of the D.C. Council over whether or how much the fiscal year 2022 budget for the police department should be increased. Bowser and many community activists, including those in Wards 7 and 8, where the murder rate is highest, expressed concern that the number of police officers in the city is currently the lowest it has been in nearly 20 years due to retirements and attrition.
The Council in August voted to raise the police budget by $5 million, a little less than half of the $11 million that Bowser requested. The mayor has said the additional funds were needed to hire more officers to address the gun violence "crisis."
Representatives of many of the city's nightlife businesses, including restaurants and bars, have also expressed concern that legislation approved by the D.C. Council in recent years to place restrictions on how police make arrests of juveniles and people suffering from mental health problems have resulted in small businesses receiving less police protection against crimes targeting their customers and employees.
One law that some have objected to is the Neighborhood Engagement Achieves Results Amendment, or NEAR Act, of 2016. The law, among other things, requires that D.C. police coordinate with the city's Department of Behavioral Health and Department of Human Services to arrange for civilian mental health clinicians and outreach specialists to join police officers in responding to crimes or disturbances caused by individuals identified as having mental illness, being homeless, or having substance abuse issues.
Although those raising concerns over the NEAR Act say they fully support providing mental health services for people who need those services, they say police in some cases have declined to respond to calls for "less serious" crimes such as "snatch-and-grab" purse and cell phone snatchings from people seated in outdoor dining areas at restaurants.
Some of the businesses have said police have expressed reluctance to respond if the suspected perpetrator has a mental health problem during evening hours when the civilian mental health experts from the Department of Behavioral Health or other city agencies are not working evening hours.
"A sense of growing lawlessness, increasing crime, and random violence is a much-discussed concern among local small business restaurant, bar, and retail store operators and workers throughout the city," said Mark Lee, coordinator of the D.C. Nightlife Council, a local trade association representing nightlife, hospitality, and entertainment businesses in D.C.
Lee said representatives of these businesses have met recently with D.C. Council members and D.C. Police Chief Robert Contee to inform them that safety concerns by employees have begun to harm businesses and negatively impact commercial sections of the city.
"MPD leadership and rank-and-file officers, I think it's fair to say, are as frustrated as many city residents and local enterprises have become about a D.C. Council majority that pretends it is reassigning parts of public safety and law enforcement to other government entities that are understaffed, undertrained, and largely unavailable to respond to incidents and problems," Lee said.
He noted that because the D.C. police force is the smallest it has been in 20 years, despite population increases, "officers are stretched thin working overtime shifts."
D.C. Council member Robert White (D-At-Large), who is running for mayor in the 2022 Democratic primary, is among the Council members who have said addressing the underlying causes of crime in the city is the only way the city can succeed in ending gun violence and other serious crimes.
"The reality is unless we start to solve these underlying issues more, crime is going to go up," White told the Blade at a holiday event sponsored by the LGBTQ group Capital Stonewall Democrats on Monday night. "But also, once people are incarcerated, if we rehabilitate them better, crime is going to go down," White said.
"So, being a police officer is an incredibly difficult job," he said. "And I guess they believe – some believe – that if we lock up more people for longer periods of time, that's going to make us safe," White said. "And I think that fundamentally isn't true. There has to be consequences when people commit crimes. But we can do a better job rehabilitating people," he said.
"We can do a better job of getting to the people before they get engaged in crime. And we can do a better job of restoring the relationship between communities and the police," White said.
Bowser and city officials working in her administration have said both approaches are needed to address the gun violence problem, including at this time the hiring of more police officers. On Dec. 9, the mayor announced plans to significantly increase the city's ongoing violence prevention and interruption programs. Among other things, Bowser said the city will award $1.1 million in grants to community-based organizations working on violence interruption programs, especially those targeting young people.
Del McFadden, director of the D.C.Office of Neighborhood Safety and Engagement, which coordinates violence prevention efforts, said the number of "interrupters" will increase from 30 to 80. He said their work would expand to more neighborhoods, including Shaw in Ward 2, Congress Park in Ward 8, and Edgewood in Ward 5 for a total of 25 "priority" neighborhoods where gun violence has occurred.
Bowser's highest-level adviser resigns after sexual harassment allegation
Female staffer accuses John Falcicchio of longstanding abuse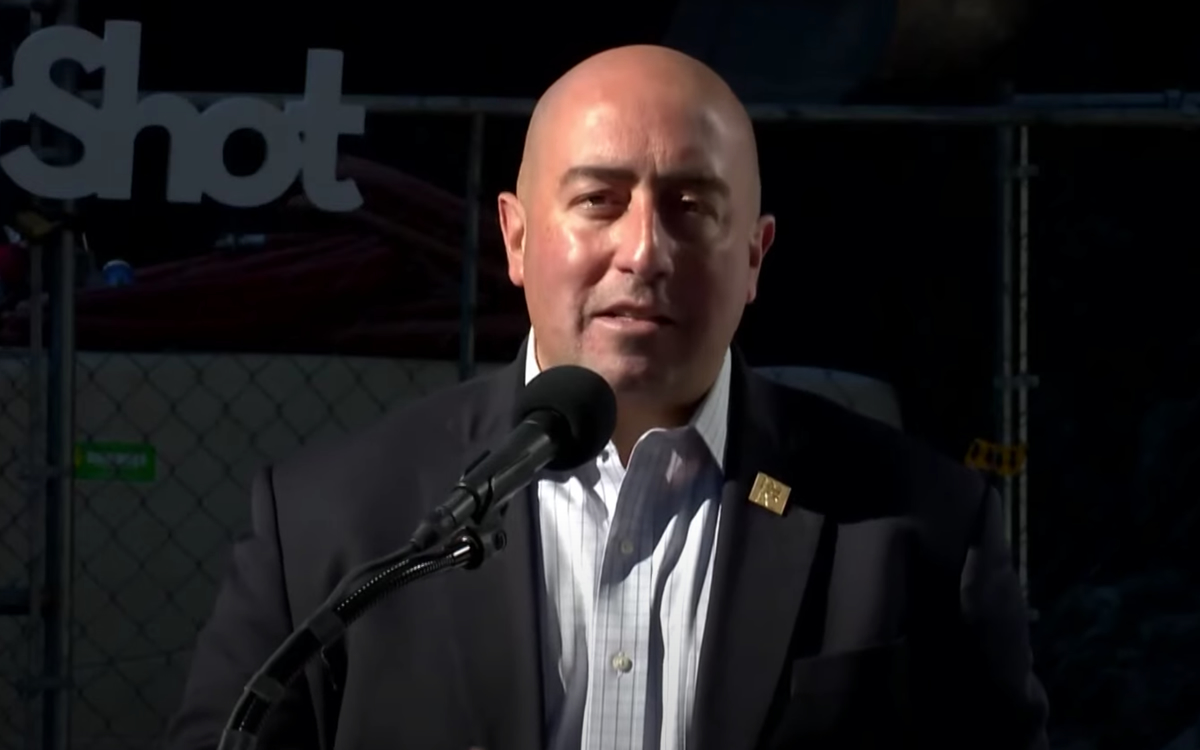 Lawyers representing a D.C. government employee shook up the city's political establishment on Monday when they announced that the employee filed a sexual harassment complaint against John Falcicchio, the now former D.C. Deputy Mayor for Planning and Economic Development and Mayor Muriel Bowser's longtime chief of staff.
The attorneys, Debra Katz and Kayla Morin, did not identify the city employee.
The announcement by Katz and Morin in a press release came shortly after Mayor Bowser issued her own announcement at a news conference on the same day. The mayor confirmed that Falcicchio's sudden resignation last Friday, March 17, followed her decision to launch an investigation into allegations against Falcicchio.
But Bowser said issues surrounding her longtime adviser's departure amounted to "a sensitive matter that includes privacy concerns" that prevented her from disclosing why she initiated the investigation and why Falcicchio abruptly resigned.
She said the investigation was being conducted by the city's Office of Legal Counsel, which is "following established policies and procedures" and that all relevant D.C. government staff members were fully cooperating with the investigation.
"I can also tell you that this investigation does not involve any allegations of improprieties related to business transactions," Bowser told reporters attending the news conference, which was initially called to celebrate the completion of the city's 9th Street, N.W. protected bike lane project and to discuss updates on the Capital Bikeshare program.
"I have every confidence in my new chief of staff, Lindsey Parker, and in our new Interim Deputy Mayor for Planning and Economic Development, Keith Anderson," Bowser said at the news conference. "And I have immense confidence in the 37,000 employees of the D.C. government who will keep us moving forward," she said.
Parker has served as the city's chief technology officer since 2019 and as assistant city administrator since 2022. Anderson has served as director of the D.C. Department of General Services, which oversees the city's buildings and properties.
"We represent an employee of the District of Columbia who came forward to report serious allegations of sexual harassment by former Chief of Staff and Deputy Mayor for Planning and Economic Development John Falcicchio," the statement released by attorneys Katz and Morin says.
"It is our understanding that this behavior is longstanding, and our client is cooperating fully with the investigation, which Mayor Bowser initiated immediately," the statement continues. "Our client is courageous. She came forward to ensure accountability and protect other women," it says. "Given the gravity of our client's allegations – which involve unwelcome advances and sexual contact – we ask the media to respect her privacy," the statement says.
It concludes by encouraging "everyone affected" to contact Maia Ellis, the Associate Director of the Mayor's Office of Legal Counsel, who's leading the investigation, at [email protected].
Katz is a founding partner and Morin is an associate of the D.C. law firm Katz Banks Kumin, which specializes in sexual harassment law, whistleblower law, and employment law, according to a write-up on its website.
Capital Pride reveals 2023 Pride theme
This year will focus on 'peace, love, revolution'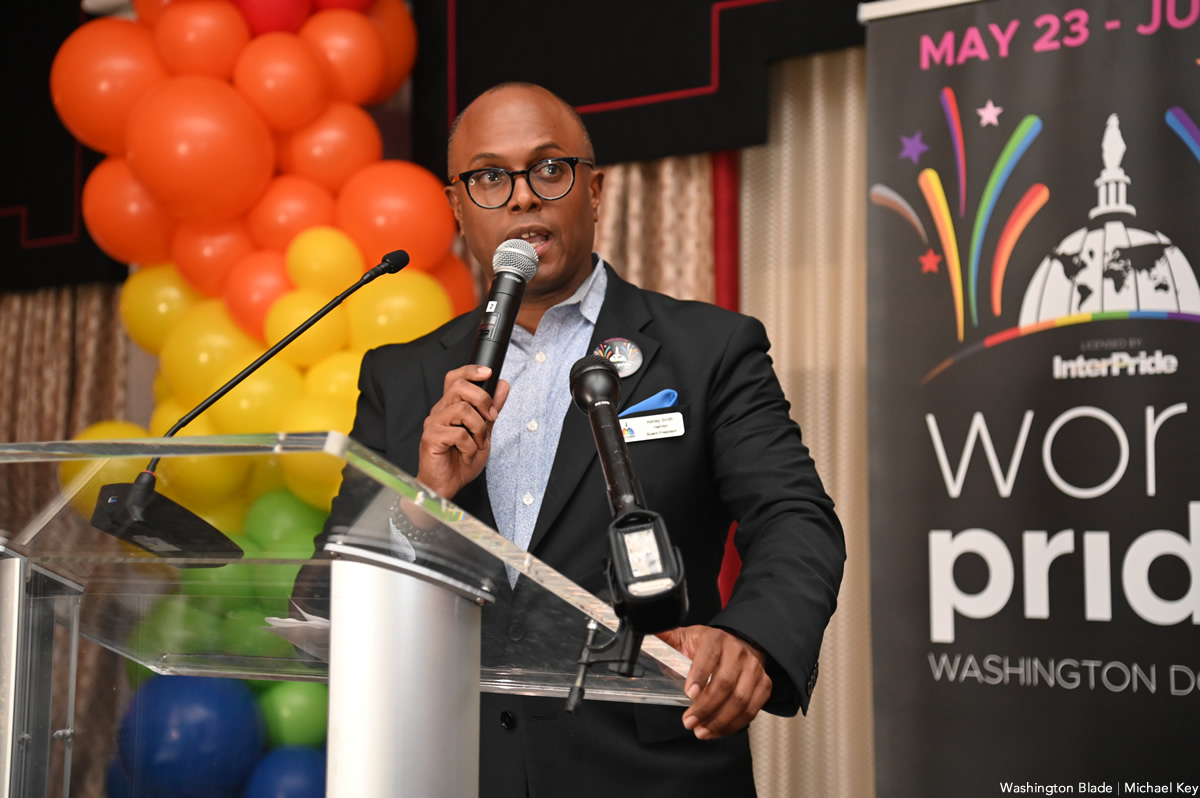 Over 300 people turned out Thursday night, March 16, for the annual D.C. Capital Pride Reveal celebration, which organizers say served as the official kick-off of the LGBTQ Pride events for 2023 in the nation's capital.
Among other plans for the 2023 Pride events, including the annual Pride parade and festival, organizers announced this year's theme for the Pride festivities will be "peace, love, revolution."
The event took place in one of the large ballrooms at D.C.'s Kimpton Hotel Monaco at 700 F St., N.W.
Officials with Capital Pride Alliance, the group that organizes D.C.'s annual Pride events, also announced at the Reveal celebration that the 2023 Pride events will set the stage for 2025, when D.C. will serve as the host city for World Pride 2025.
World Pride is an international LGBTQ event that takes place over a period of several days that usually draws a million or more visitors from countries throughout the world to the host city.
Organizers of the World Pride celebration announced last year that they had accepted D.C.'s bid to host World Pride 2025. The bid was prepared by the Capital Pride Alliance and D.C. government officials, including officials from the office of Mayor Muriel Bowser and the city's convention and visitor's bureau.
"We are thrilled to introduce our theme for Capital Pride 2023 as we gear up to welcome the world to D.C. in 2025, which is also the 50th anniversary of Pride in D.C.," said Capital Pride Alliance Executive Director Ryan Bos in a statement released on Friday. "This year's theme kicks off a three-year campaign leading into the message that we want to share with the world in 2025," Bos said.
In the statement it released on Friday, Capital Pride explained its rationale for selecting its theme, saying it was based in part on the LGBTQ rights movement's history.
"Social justice issues, including those involving the LGBTQ+ community, were shaped by moments that turned into movements beginning in the 1950s and in the years that followed," the statement says. "These movements created a REVOLUTION of change that sparked the beginning of newfound freedoms," it says.
"The fight for these liberties instilled a sense of Pride in members of the LGBTQ+ community in the decades since," the statement continues. "PEACE and LOVE motivated many of these pioneers to be brave and inspired others to fight for human rights for years to come," it says.
The statement points out that "recent challenges" have arisen in state legislatures and in Congress that have once again placed the LGBTQ community "under fire from those who would deny us our basic civil rights." It says these challenges will require a continuation of the fight for freedom "through direct action in the streets and the halls of government."
Among those who spoke at the Reveal event, in addition to Bos, were Capital Pride Board President Ashley Smith, and Capital Pride's public affairs director, Marquia Parnell.
Also speaking was Japer Bowles, director of the D.C. Mayor's Office of LGBTQ Affairs, who told the gathering that the city government, especially Bowser, will be working diligently to provide full city support for WorldPride 2025.
D.C. drag performer Shi-Queeta-Lee drew loud applause from the crowd that filled the hotel ballroom for a drag performance after the speakers addressed the crowd.
"We're going to be focused on peace, love, and revolution over the course of this next year," Smith told the Washington Blade at the conclusion of the Reveal event. "We're super excited about it because this is a part of the movement that adds to the historical pieces as we approach 2025 and World Pride in 2025," he said.
In its statement released on Friday, the Capital Pride Alliance announced the 2023 Capital Pride Parade will take place June 10, and will travel the same route as last year's D.C. Pride Parade. A Pride block party will also take place this year in a two-block section of 17th Street, N.W., near Dupont Circle in the same location as last year, the Capital Pride announcement says.
And it says the annual Capital Pride Festival and concert will take place on June 11, also at the same location as last year — along a stretch of Pennsylvania Ave., N.W., with the U.S. Capitol as a backdrop.
"Through the events of Capital Pride and its many partnerships, last year Capital Pride Alliance was able to raise over $200,000 for the Pride 365 Fund," according to the Capital Pride statement.
"The success of last year allowed CPA to invest and partner with the D.C. Center for the LGBT Community to establish a new LGBTQ+ community center for Washington, D.C., and continue the support of partner organizations that organize events such as DC Black Pride, Trans Pride, Youth Pride, Silver Pride, Latinx Pride and Asian and Pacific Islander Pride," the statement says.
Further details of plans for Capital Pride 2023 can be access at www.CapitalPride.org.
Casa Ruby board members deny responsibility for org's collapse
Civil complaints filed against officials to be discussed at March 17 hearing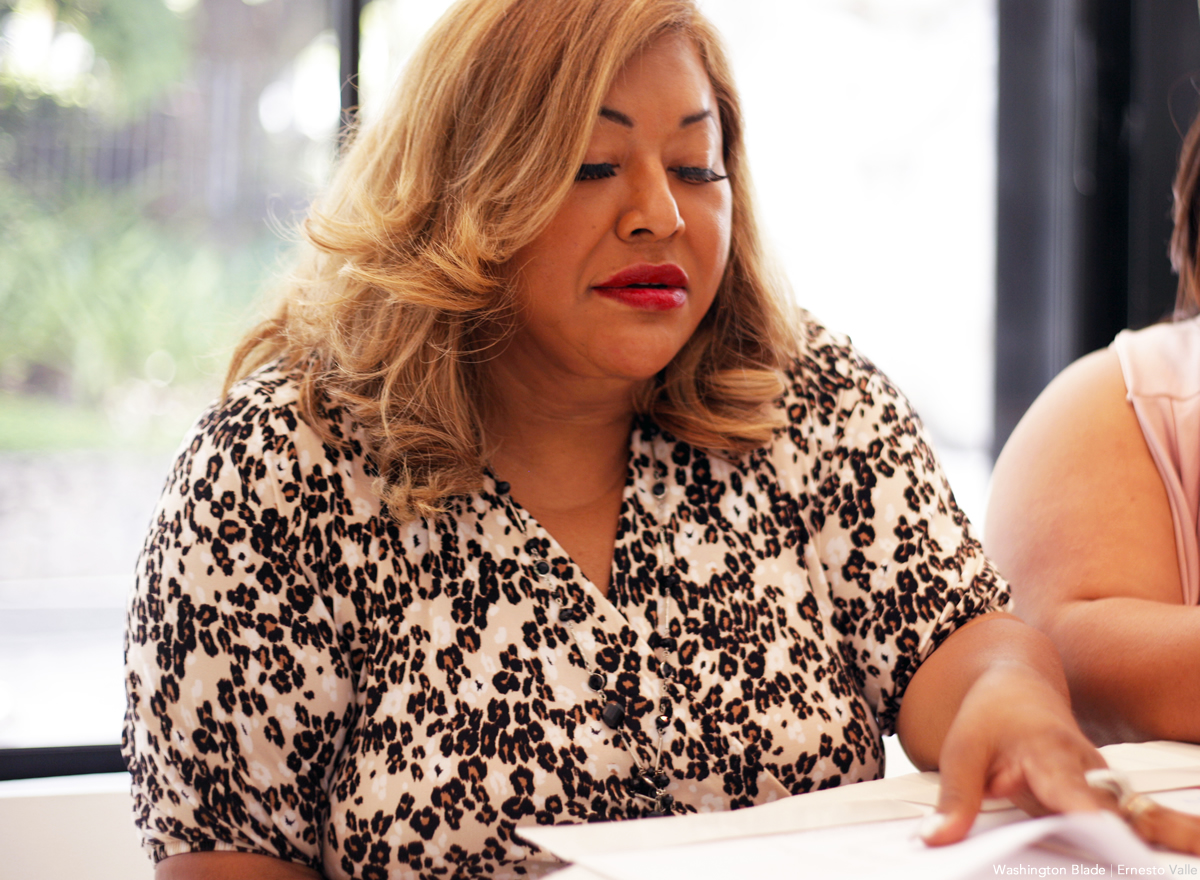 At least five of the eight former members of the Casa Ruby board of directors who are named in a civil complaint charging them with failing to adequately oversee the organization's finances and practices by its former director Ruby Corado have filed court papers disputing the allegations against them.
Details of their response to a third-party civil complaint filed against them by the Wanda Alston Foundation in its role as the court-appointed receiver of the now-defunct Casa Ruby LGBTQ community services center were expected to surface at a March 17 D.C. Superior Court virtual hearing on the Casa Ruby case.
The Alston Foundation's complaint was filed on Dec. 23, several months after the Office of the D.C. Attorney General filed its own civil complaint against Casa Ruby and Ruby Corado. The Attorney General's complaint, among other things, alleges that Corado and the organization violated the city's Nonprofit Corporations Act in connection with its financial dealings. An amended version of the original complaint charges that Corado withdrew more than $400,000 of Casa Ruby's funds for unauthorized use in El Salvador, where Corado currently lives.
The Alston Foundation complaint, which also names Corado as a defendant, identifies each of the eight former board members as defendants and "respectfully requests restitution, compensatory damages, punitive damages, receivership fees and expenses, court costs, attorneys fees and expenses, and any other relief the court deems necessary and proper."
According to the complaint, each of the board members failed to exercise their legally required oversight of Casa Ruby's operations and of practices by Corado that allegedly resulted in the financial collapse of Casa Ruby, forcing it to close its operations.
Miguel Rivera, one of the former board members who is an attorney, states in his response to the complaint that it "fails and/or may be barred, in whole or in part, because a bona fide fiduciary relationship did not exist between Third-Party Plaintiff [Alston Foundation on behalf of Casa Ruby] and Third-Party Defendant Miguel Rivera."
Rivera's response adds that the complaint should be dismissed on a wide range of grounds, including his assertion that he as a board member "has not engaged in (a) willful misconduct; (b) crimes; (c) transactions that resulted in improper personal benefits of money, property, or service; and (d) acts or omissions that are not in good faith and are beyond the scope of authority of the corporation."
The responses filed by the former board members are not included in the current online D.C. Superior Court case docket for the Casa Ruby case. At the request of the Washington Blade, Douglas Buchanan, the court's public information officer, provided the Blade with the responses by Rivera and former board members Meredith Zoltick and Carlos Gonzales.
Similar to Rivera's response, the response filed by Zoltick and Gonzales also disputes the validity of the complaint and asks the judge to dismiss the case against them.
Nick Harrison, the attorney representing the Alston Foundation in its role as Casa Ruby Receiver, said he has learned that another two former Casa Ruby board members have filed some form of a response to the complaint against them.
In a separate motion filed in court on Jan. 21, Harrison states on behalf of the Alston Foundation that it has taken the legally required steps needed to properly serve each of the eight former board members with court papers informing them they have been named as defendants in the complaint. He said he expects Superior Court Judge Danya Dayson, who is presiding over the Casa Ruby case, to rule that the legally required efforts to serve each of the defendants have been met.
Court records show that Corado, who has appeared in previous virtual court hearings through a phone hookup, has yet to retain an attorney to represent her.
Corado has denied engaging in any improper financial actions and has insisted the Casa Ruby board approved her actions, including her decision to open a Casa Ruby operation in El Salvador. In a December interview with the Blade's El Salvador correspondent, Corado said the allegations that D.C. officials have made against her amount to "persecution."
At a Jan. 6 court hearing held virtually, Corado reiterated her earlier claims that the D.C. government was responsible for Casa Ruby's closing in July 2022 by withholding hundreds of thousands of dollars that Corado says the city owed Casa Ruby for services it provided under city grants.
City officials have disputed those claims, saying the funds were withheld or discontinued because Casa Ruby did not provide the required documentation or reports showing that it performed the work associated with the city grants.
The March 17 court hearing is scheduled to begin at 12 p.m. and will be broadcast through the court's Webex system.