Referee resigns, calls for work stoppage over Trans swimmer
"Millen is now calling on officials to refuse to work races where transgender swimmers are to race against biological females"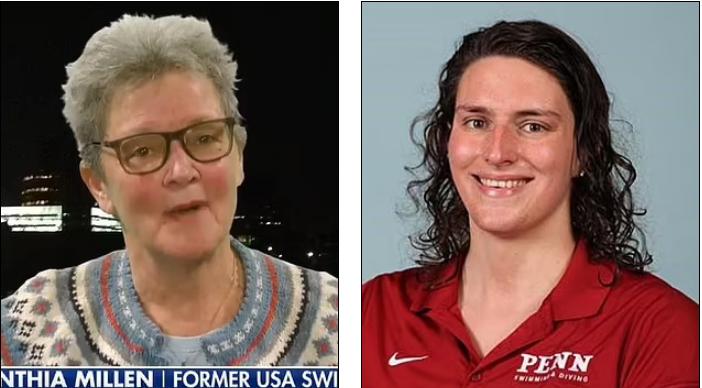 COLORADO SPRINGS – A 30 year veteran referee who has officiated for USA Swimming quit in protest over the inclusion of 22-year-old University of Pennsylvania Transgender swimmer Lia Thomas in women's swimming competitions.
In separate interviews with Fox News, its subsidiary right-wing anti-LGBTQ online sports outlet OutKick and the right-wing conservative newspaper The Washington Times, Cynthia Millen said that she felt compelled to quit as she was opposed to biological men competing against women.
In a December 17 letter to USA Swimming headquarters in Colorado Springs, Millen announced she was quitting in protest.
"I can't do this, I can't support this," Millen said in her letter. "I told my fellow officials that I can no longer participate in a sport which allows biological men to compete against women," Millen wrote adding, "Everything fair about swimming is being destroyed."
On December 22, Millen appeared on Fox News' Tucker Carlson stating that "bodies compete against bodies. Gender identities don't swim."
Thomas began competing with the women's swim team as a transgender athlete after competing for three years on the men's swim team and more than two-and-a-half years on hormone replacement therapy (HRT). She ranks first in the NCAA among women in the 200 and 500 freestyles this season and 6th in the 1650 free – a race she won by 38 seconds at the Zippy Invite according to the online publication SwimSwam.
In the interview with The Washington Times, Millen said that if she officiated at a meet that included Thomas, that she would rule Thomas ineligible to compete against female swimmers, according to the Times, even though Thomas has met the NCAA-established criteria to compete in women's races.
"I don't mean to be critical of Lia — whatever's going on, Lia's a child of God, a precious person — but bodies swim against bodies," she said her letter that she shared with The Washington Times . "That's a male body swimming against females. And that male body can never change. That male body will always be a male body."
"If Lia came on my deck as a referee, I would pull the coach aside and say, 'Lia can swim, but Lia can swim exhibition or a time trial. Lia cannot compete against those women because that's not fair,'" Millen told The Washington Times.
Millen is now calling on officials to refuse to work races where transgender swimmers are to race against biological females, the paper reported.
USA swimming CEO Tim Hinchey said in a podcast with Brett Hawke last week that Thomas is not a member of USA Swimming, nor was she a participant at the U.S. Paralympic National Championships.
NCAA requires transgender athletes to undergo, for transgender women, a year of testosterone-suppression treatment. Thomas has fulfilled the requirement, and neither the NCAA nor USA Swimming has commented on her season. Thomas has only swum at meets as part NCAA's Division I, but her times could help her qualify and compete at Olympic Trials, a USA Swimming meet, SwimSwam noted.
Millen's resignation is just the latest in a growing chorus of anti-Trans critics outraged over Thomas being included on the roster and competing for the University of Pennsylvania women's swim team.
At the beginning of the month, a member of the University of Pennsylvania Women's swim team spoke to OutKick, and proceeded to anonymously attack Thomas.
The swimmer who said she feared for her ability to find employment after graduating from college for sharing her honest opinion about her Trans teammate, was given anonymity according to OutKick for that reason.
In the OutKick article the unnamed female swimmer alleges that most members of the team have expressed displeasure over the situation [Thomas on the team] to their coach, Mike Schnur.
"Pretty much everyone individually has spoken to our coaches about not liking this. Our coach [Mike Schnur] just really likes winning. He's like most coaches. I think secretly everyone just knows it's the wrong thing to do," the female Penn swimmer said during a phone interview.
"When the whole team is together, we have to be like, 'Oh my gosh, go Lia, that's great, you're amazing.' It's very fake," she added.
USA Swimming Official and SHERO Cynthia Millen said enough is enough and resigned!
How can you take a stand against the erasure of women's sports?
The time to act is NOW! #SaveWomensSports https://t.co/2VHXZzW7O0

— Save Women's Sports (@SaveWomensSport) December 28, 2021
Carl Nassib returns to Tampa
Former Las Vegas Raiders defensive end came out as gay in June 2021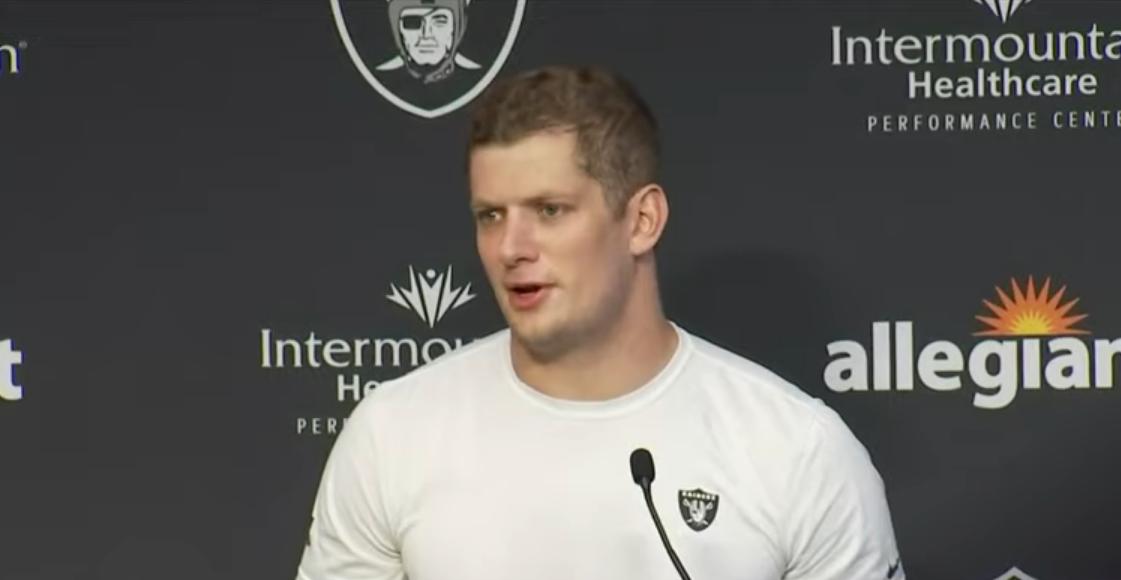 Carl Nassib, who made headlines in June 2021 when he became the NFL's first out gay active player, reportedly has signed a one-year contract with his former team, the Tampa Bay Buccaneers.
The 29-year-old defensive end was released by the Las Vegas Raiders in March, and became a free agent. NFL sources said that was due to his contracted salary amount — $7.75 million — and not any reflection on his sexual orientation.
ESPN's Adam Schefter broke the news with a tweet.
Buccaneers reached agreement on a one-year deal with former Raiders' DE Carl Nassib, per source.

— Adam Schefter (@AdamSchefter) August 15, 2022
When Nassib came out last summer, he announced he was donating $100,000 to the Trevor Project, and for Pride Month this year he made a new pledge to help LGBTQ youth. He promised to match donations to the Trevor Project, dollar for dollar, up to $100,000.
Will Buccaneers quarterback Tom Brady welcome Nassib?
As Outsports reported, he's never made any comments about playing with someone gay. Brady's former New England Patriots teammate Ryan O'Callaghan recalled that before he came out in 2017, following his retirement, there was one time that he missed the team bus and Brady gave him a ride in his car to that day's practice.
O'Callaghan told Outsports he believes Brady would have "absolutely" accepted him if he had come out at that time.
"Being married to a super model I'm sure he's met a few gay people in his life," said O'Callaghan.
Brady wed Brazilian fashion model Gisele Bündchen in 2009.
Legendary Boston sports columnist Steve Buckley of the Athletic came out as gay in 2011 while at the Boston Herald. He told Outsports that Brady has always been friendly and cooperative, even after Buckley came out.
This is the second time around at Raymond James Stadium for Nassib. He played for the Buccaneers for two seasons prior to joining the Raiders in 2020. His NFL career began in 2016 with the Cleveland Browns.
As Jason Owens reported for Yahoo! Sports, Nassib was far more productive in Tampa as a part-time starter, recording 6.5 sacks in 2018 and six sacks in 2019. The NFL's website shows he played just 242 defensive snaps and earned 1.5 sacks last season.
In 86 games including 37 starts, Nassib's recorded 22 career sacks, 164 tackles, 53 quarterback hits and four forced fumbles.
In addition to Brady, Nassib's new teammates are Akiem Hicks and William Gholston at defensive end and outside linebackers Shaquil Barrett and Joe Tryon-Shoyinka. Given that the Buccaneers finished seventh in the NFL in sacks last season with 47, Nassib will be expected to improve Tampa Bay's chances when their season begins on Sept. 11 in Dallas.
Federal judge temporarily blocks anti-trans youth sports law in Indiana
The injunction requires that A.M., a 10 -year-old trans girl, must be allowed to rejoin her school's all-girls softball team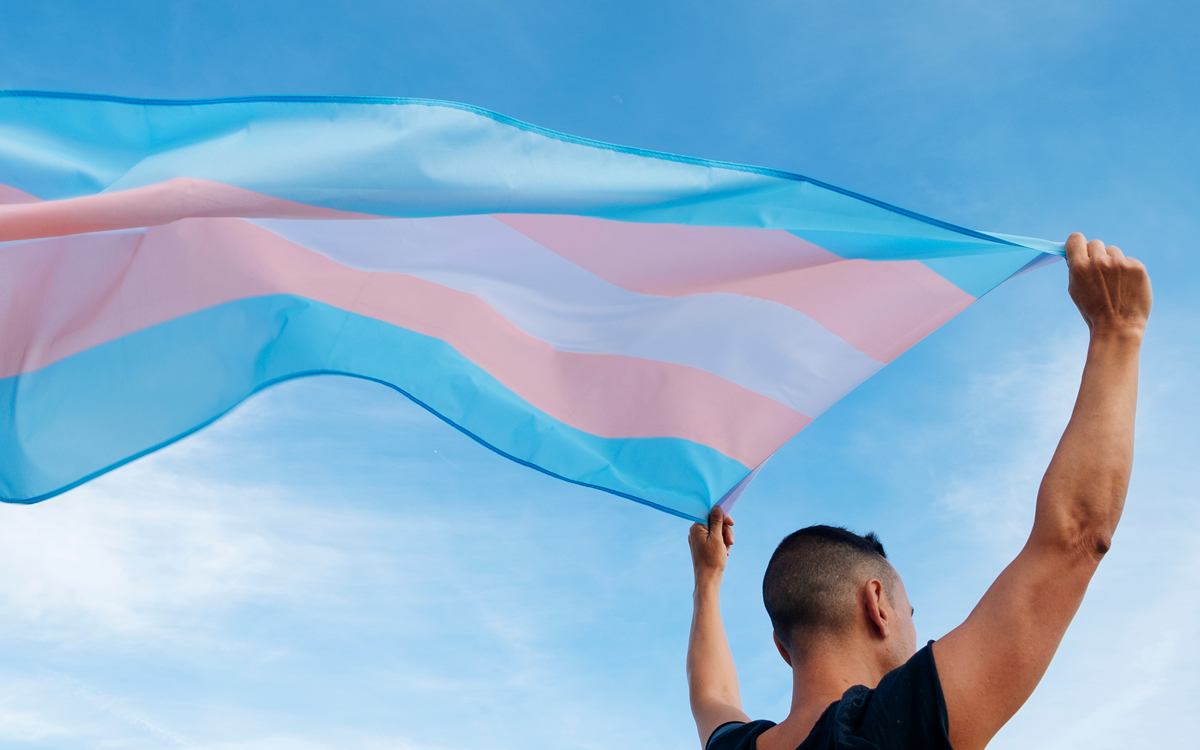 On Tuesday Judge Jane Magnus-Stinson of the United States District Court for the Southern District of Indiana issued an preliminary injunction that blocked an Indiana law that prevents trans youth from playing on sports teams that match their gender identity.
The injunction requires that A.M., a 10 -year-old trans girl, must be allowed to rejoin her school's all-girls softball team while litigation continues.
The American Civil Liberties Union of Indiana filed a lawsuit in April, on behalf of A.M., challenging House Enrolled Act 1041, which bans transgender girls from participating in school sports.
Ken Falk, legal director at the ACLU of Indiana, issued the following statement:
"When misinformation about biology and gender is used to bar transgender girls from school sports it amounts to the same form of sex discrimination that has long been prohibited under Title IX, a law that protects all students – including trans people – on the basis of sex.
"We are pleased that Judge Magnus-Stinson has recognized this and required that A.M. be allowed to play on her school's softball team.
"If other students are being denied the right to join a sports team at their school due to their transgender status, we encourage them to contact the ACLU of Indiana immediately."
This past May, the Indiana Legislature had voted to overturn Republican Governor Eric Holcomb's March veto of HB 1041, a measure that bans transgender girls from competing on girls' K-12 sports teams in the state.
The vote to override the veto means that this law makes Indiana the 8th state to ban trans youth from playing sports in 2022 by legislative action — and the 16th in the country.
In his veto message sent to House Speaker Todd Huston's office, Holcomb said the bill presumed a problem already existed that required the state to intervene and it implied the goals of consistency and fairness in girls' sports were not being met.
"After thorough review, I find no evidence to support either claim even if I support the overall goal," Holcomb wrote.
"Governor Holcomb was the second governor this year to uphold the dignity of transgender and nonbinary youth, and veto an attempt by lawmakers to write them out of existence. While those young people continue to face unrelenting political attacks, the Indiana legislature voted to override his act of courage and compassion, pushing these marginalized youth even further to the sidelines," said Sam Ames, Director of Advocacy and Government Affairs at The Trevor Project.
"This bill claimed to solve a problem of 'fairness' in school sports in Indiana that didn't exist, but its negative impacts on the mental health and well-being of trans and nonbinary youth — young people who already face disproportionate rates of bullying, depression, and suicide — are very real. To the young people in Indiana watching tonight: you are stronger than they know. We are here for you, we will fight for you, and we are not going anywhere."
DC Commanders notch Pride Bowl victory
Local teams 'overcome some difficulties' to score wins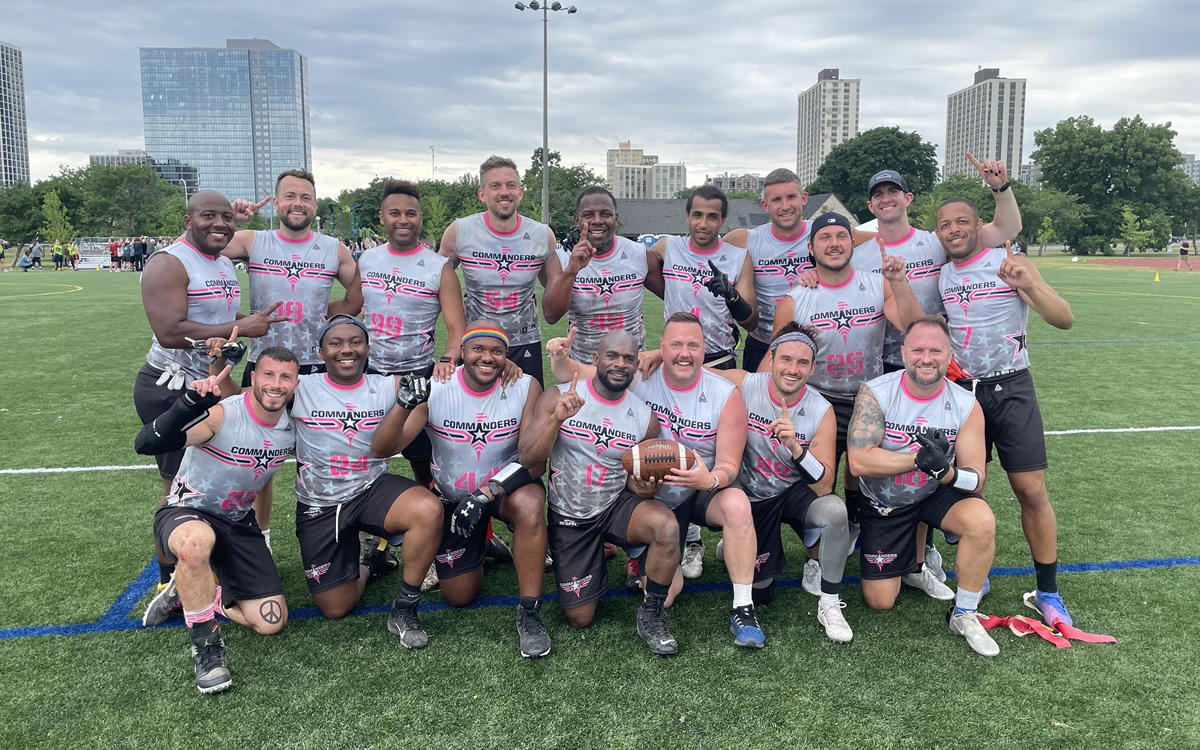 Pride Bowl XIV was contested in Chicago in late June drawing more than 800 players from across the country. The annual tournament featured 32 teams in the Open Division and 12 teams in the Women's Division.
For the DC Gay Flag Football League (DCGFFL) travel teams, it marked their second tournament of the year having previously competed in the Florida Sunshine Cup XI in February.
The DCGFFL sent five travel teams consisting of more than 80 athletes to Chicago – three teams in the Open Division and two teams in the Women's Division.
Each team was guaranteed four games in bracket play with the winners moving on to the semifinals. The DC Admirals, Washington Generals, DC Commanders, and DC Senators Black all advanced to compete in the final four.
The DC Commanders would go on to win their championship game 8-0, defeating the Austin Capitals in the Open B2 Bracket. They scored early in the game and held off their opponent over two 30-minute halves in a tough defensive battle.
Three players from the DCGFFL travel teams were selected to the Pride Bowl All-Tournament Team – Drew Crane of the Washington Generals, Matan Showstack of the DC Commanders, and Derrick Johnson of the Washington Generals.
Clay Arnold has been on the DC Commanders' travel team for six years and has captained since 2018. This year will mark the first full travel season post-COVID for the players who will also be traveling to Honolulu for Gay Bowl XXII in October.
"We have overcome some difficulties to get back to taking the majority of our players to tournaments, including securing enough money to pay for jerseys," says Arnold. "The Commanders brought five players who had never traveled and it's great having new talent."
There was a special meaning for Arnold in the win, as it brought reflections of his teammate, John Boyd, who passed in 2020.
"We played on the same field where John threw his first touchdown pass as a quarterback," Arnold says. "It was a great punctuation mark, and I was joyous for many reasons."
Arnold points to the travel experience as a tight-knit community filled with amazing people, lifelong friends, and an elevated level of competition.
"Several years ago we didn't compete well and ended up skipping the closing events to lick our wounds at a local dive bar in Chicago," Arnold says. "We have returned to that same bar every year and are welcomed with open arms. Sharing that quality time with your teammates and the next generation of players is what keeps me coming back."
Nikki Kasparek founded the DCGFFL's first women's travel team, DC Senators, in 2014 with Gay Bowl XIV being their first tournament.
Pride Bowl marked another first for the players as two DCGFFL women's travel teams competed in the tournament – DC Senators Black and DC Senators Red.
"It was exciting having a second team there and it gave us a built-in cheering section," says Kasparek. "The group of women on our second team energized all of us and everyone put in significant playing time. The Red team was captained by two veterans and the rest of the players were all rookies."
The DCGFFL has experienced significant growth in women's players over the past two seasons with 35 women currently playing in the leagues.
Kasparek, who has a wife and two kids at home, says she is very tied to the Senators and the DCGFFL and is excited about all of the new players.
"I am incredibly competitive and the DCGFFL leagues and travel tournaments allow me to scratch that itch," Kasparek says. "I am going to enjoy all of it – the friendships, the seasons, the tournaments, the moments – until I can't flex that muscle anymore."
Along with the increase in women's players, the DCGFFL has picked up over 100 new players in the past two seasons. Logan Dawson was recently elected as the new commissioner and also played for the Commanders at Pride Bowl.
"Traveling is a great opportunity to bond with your teammates and compete with the best players from all the cities in attendance," says Dawson. "It is a higher level of competition than our league play and offers our players an experience that will improve their skill set."
The DCGFFL has been using the DC Commanders name for many years and have no plans to change it because of the recent name change of the NFL's Washington Commanders.
"We like the connection and for the first time ever, members of the DC Commanders and the DCGFFL marched side-by-side with members of the Washington Commanders' organization in the Capital Pride parade this year," Dawson says. "We will also have interaction with them at their Pride Night this September."
Registration is now open for Season XXIII of the DCGFFL. Coming up for their travel teams are Beach Bowl 2022 and Gay Bowl XXII.