Grenell emails hint at initial steps in Trump effort to decriminalize homosexuality
State Dept. identified 10 countries for int'l efforts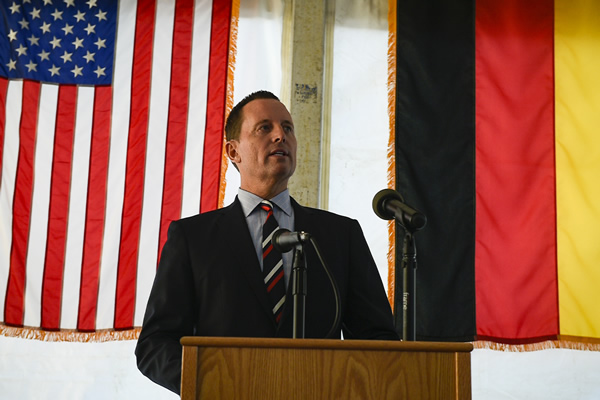 Emails from the State Department — obtained by the Washington Blade from a lawsuit filed under the Freedom of Information Act — reveal the Trump administration had at least laid the preliminary groundwork for a global campaign to decriminalize homosexuality to the extent of identifying 10 countries where it was thought most possible.
The initial seven-page batch of emails, obtained by the FOIA lawsuit seeking communications from former U.S. Ambassador Richard Grenell in his capacity as leader of the initiative to decriminalize homosexuality, was delivered to the Blade last month and hints at initial steps toward a plan shortly after the announcement of the initiative.
It's unclear from the initial production what further efforts, if any, sprang from the identification of these 10 countries. Critics at the time said the campaign was nothing but window-dressing to cover up for anti-LGBTQ policies during the Trump administration.
In an exchange dated Aug. 23, 2019, an assistant to Grenell forwards an email from an individual whose identity is redacted on an edited list of 10 countries where "we believe decriminalization is possible." Copied on the email is Robin Quinville, who was deputy chief of mission in Berlin.
"Per your request, attached and edited below is the list of 10 countries where LGBTI decriminalization is possible — with your and Robin's edits incorporated," the email is redacted.
The names of the 10 countries, however, are redacted in the exchange provided to the Blade, as is an apparent Word document attached in the exchange with a short justification for each of the countries. Also redacted are the names of two agencies an assistant in the email identifies as having "cleared" the list.
The assistant tells Grenell the State Department's Bureau of Democracy, Human Rights and Labor hasn't yet responded, but the embassy "will forward their list when we receive it."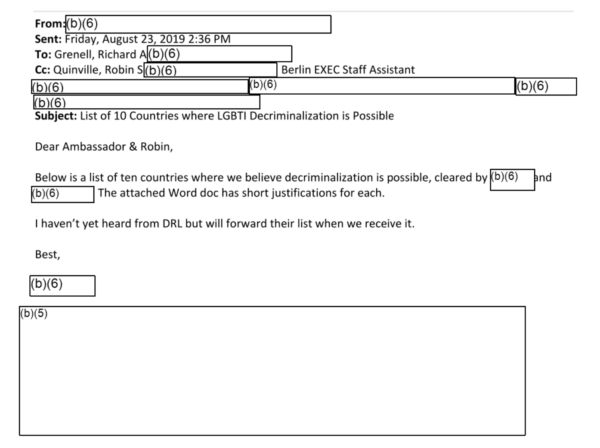 As a result of the redactions, the identity of the 10 countries is unknown at this time. The early production given the Blade in response to a FOIA request filed in September 2020 offers no indication on the extent to which the State Department conducted further efforts to change the law in these countries, or whether there was any engagement after identifying them.
Grenell didn't respond to the Blade's request for comment for this article on how the identification of these 10 countries informed efforts to decriminalize homosexuality. Quinville couldn't be reached for comment.
The initial FOIA production also includes an earlier exchange between an assistant and Grenell dated June 11, 2019, shortly after Botswana became the latest country to decriminalize homosexuality, forwarding a link to a Washington Post article on that news. The name of the assistant is redacted and may or may not be the same as the one in the other exchange.
"Some good news coming out of Botswana! Their High Court ruled today that parts of the penal code criminalizing same-sex conduct are unconstitutional," the unidentified assistant writes.
Grenell is short in his reply: "I just tweeted about it." It's not clear whether or not Grenell contributed to the decriminalization efforts in Botswana other than the tweet he references. The assistant goes on to share a link from a tweet from the State Department spokesperson congratulating Botswana.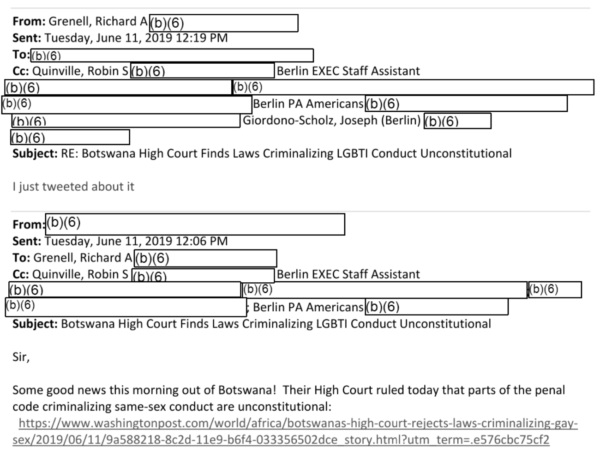 Other countries addressing the criminalization of homosexuality after the Trump administration's initiative was announced were Gabon, which became one of the few countries in sub-Saharan Africa to decriminalize homosexuality, and Sudan, which eliminated the death penalty as punishment for homosexual conduct (although the punishment remains prison time from five years to life).
There's no evidence those changes happened as a result of the global initiative Grenell led. One of the aims of the Blade's FOIA lawsuit is to shed light on any activity from the U.S. government during the Trump administration in assisting with efforts, successful or otherwise, to decriminalize homosexuality.
The redactions on the production in the FOIA lawsuit may not be the last word. FOIA was amended in 2016 to clarify federal agencies cannot redact deliberative language without demonstrating revealing that information would cause "foreseeable harm." The Blade, represented by attorneys at Davis Wright Tremaine, LLP, will have the opportunity to challenge these redactions once the FOIA production is complete.
At the time the lawsuit was filed, the State Department cited a "sizable universe of potentially responsive records" numbering in the thousands of pages as a reason for being unable to produce the records in a more timely manner. The initial seven pages produced by the State Department are an extremely small percentage of that total.
An unnamed State Department official, in response to an inquiry submitted by the Blade's attorneys on the reasons for the initial limited production, fell back on the ongoing coronavirus pandemic and overwhelming nature of the work, citing a need to consult "subject matter experts" before disclosing potentially sensitive material.
"That process can take considerable time, particularly given the substantial constraints that have been imposed by the ongoing COVID-19 pandemic," the State Department response says. "Thus, it's not necessarily the case that the size of the potentially responsive universe returned by your client's request should dictate the size of State's first production. Similarly, a small production set does not necessarily entail that State has not processed a sizeable number of records during the preceding processing cycle."
The Blade, through its attorneys, has asked the State Department to determine how much of the "sizable universe" has been reviewed and determined to be responsive or non-responsive ("fully processed") and how long would the process involving subject matter experts take.
Daniel Fiedler, representing the Blade in the FOIA lawsuit as an attorney with Davis Wright Tremaine LLP, said the initial production from the State Department was unsatisfactory.
"In December, the Department of State made its first production in response to the FOIA request submitted by the Washington Blade over a year ago," Fiedler said. "This nominal production consisted of two email records, both heavily redacted. Such a token response after so much time is truly disheartening, and we will continue to push to ensure that the Department satisfies its obligations under FOIA."
Fiedler concluded: "The American public is entitled access to the records sought, and every additional day without that access causes further harm."
Lesbian mother from El Salvador released from ICE custody
Jessica Barahona-Martinez arrested on June 26, 2017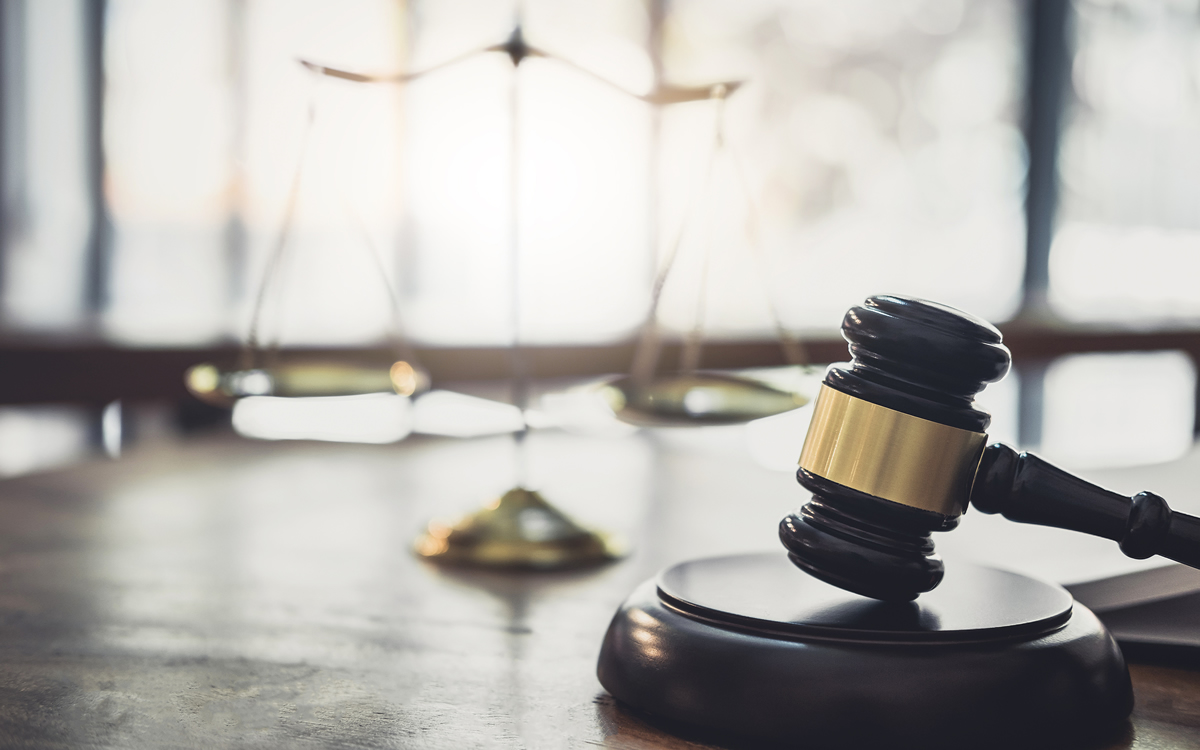 A federal judge last week ordered the release of a lesbian mother from El Salvador who had been in U.S. Immigration and Customs Enforcement custody since June 2017.
Jessica Patricia Barahona-Martinez and her three children entered the U.S. on May 31, 2016. A court filing notes she fled "persecution she faced in El Salvador as a lesbian, and because the government had falsely identified her as a gang member."
Barahona-Martinez lived with her sister and other relatives in Woodbridge, Va., until ICE arrested and detained her on June 26, 2017. She was housed at two ICE detention centers in Virginia until her transfer to the South Louisiana ICE Processing Center, a privately-run facility the GEO Group, a Florida-based company, operates in Basile, La., in October 2020.
An immigration judge in November 2019 granted Barahona-Martinez asylum for the second time. The government appealed the decision and the Board of Immigration Appeals, which the Justice Department oversees, ruled in their favor.
The American Civil Liberties Union and the ACLU of Louisiana last month filed a writ for habeas corpus petition in the U.S. District Court for the Western District of Louisiana's Lafayette Division that asked for Barahona-Martinez's release. U.S. District Judge Terry A. Doughty on Sept. 27 ruled in her favor.
"Petitioner (Barahona-Martinez) ultimately argues that her prolonged detention violates due process; she moves that this court issues a temporary restraining order, requests release, a bond hearing, an expedited hearing and costs and attorney fees," wrote Doughty.
"This court finds that petitioner has plausibly alleged her prolonged detention violates due process," added Doughty.
An ACLU spokesperson on Monday told the Blade that ICE has released Barahona-Martinez and she is once again in Virginia with her children and sister.
Anti-transgender heckler interrupts Danica Roem during debate
Trans lawmaker is running for the Va. state Senate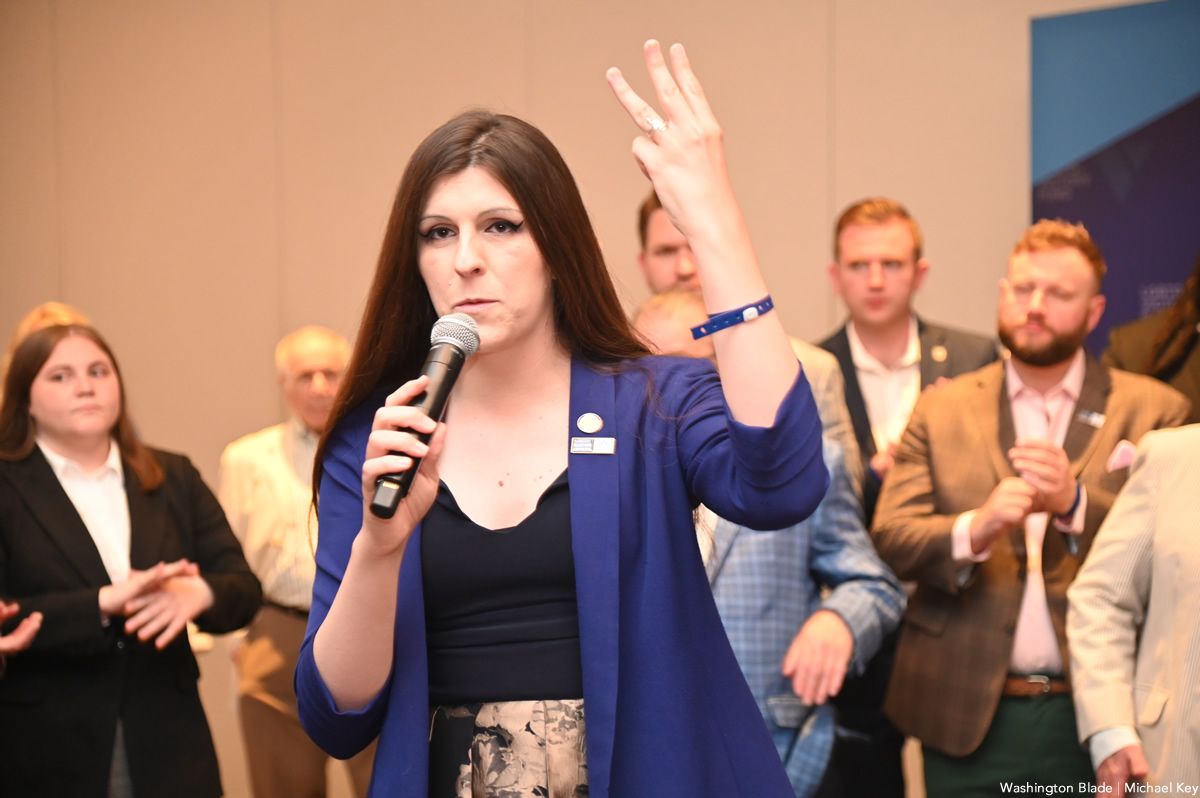 An anti-transgender heckler interrupted Virginia state Del. Danica Roem (D-Manassas) on Sept. 28 during a debate with her Republican opponent for the state Senate.
The woman heckled Roem during the Prince William Committee of 100-organized debate between her and Bill Woolf that took place at Metz Middle School in Manassas. 
"Thank you for reminding me why I won three elections in this district in Prince William County, which is the most diverse county in all of Virginia and the 10th most nationally where we welcome everyone because of who they are, not despite it, no matter what you look like, where you come from how you worship, if you do, or who you love because you should be able to thrive here because of who you are, never despite it," said Roem.
Audience members applauded Roem after she responded to the heckler who was eventually removed from the auditorium.
Roem in 2017 defeated then-state Del. Bob Marshall, a vocal LGBTQ rights opponent who co-wrote Virginia's constitutional amendment defining marriage as between a man and a woman that voters approved 11 years earlier. Roem subsequently became the first openly transgender person seated in a state legislature in the U.S.
Roem in 2019 became the first out trans state legislator to win re-election. Roem in May 2022 announced she is running to represent the newly redistricted Senate District 30, which includes western Prince William County and the cities of Manassas and Manassas Park.
Woolf during the Sept. 28 debate did not say whether he would support the repeal of the marriage amendment. Woolf also reiterated his support of a bill that would require school personnel to out trans students to their parents.
Laphonza Butler appointed as California's first openly LGBTQ U.S. senator
Dianne Feinstein died in D.C. on Sept. 28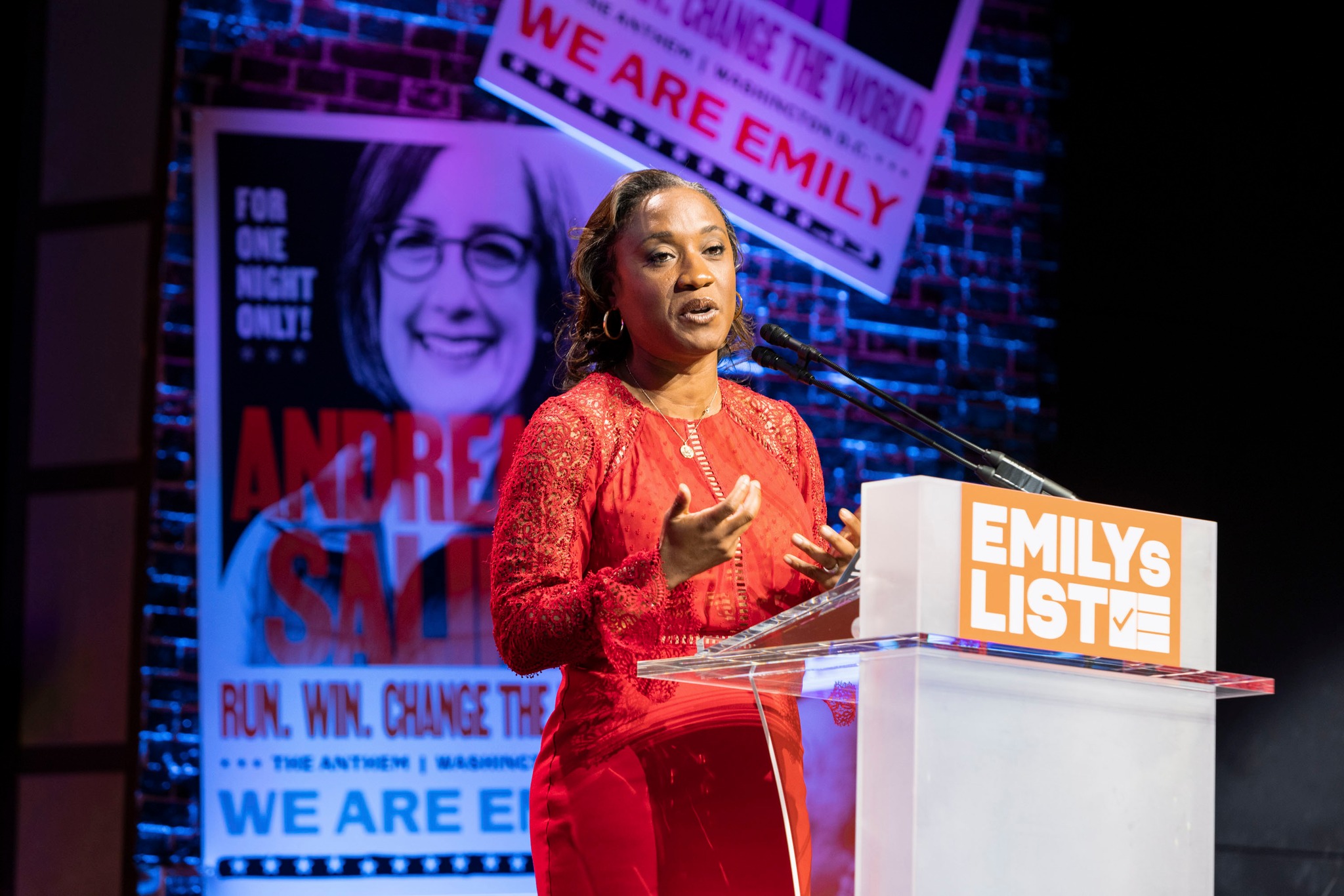 On Sunday evening, California Gov. Gavin Newsom announced he is appointing Black openly lesbian EMILY's List President, Laphonza Butler, to the vacant seat of the late U.S. Sen. Dianne Feinstein who died Friday at age 90.
Butler's wife is Neneki Lee, the D.C.-based director for labor union SEIU's Public Services Division.
News of Butler's selection by Newsom was first reported by Politico's California Bureau Chief Christopher Cadelago. A source knowledgeable on the governor's team told Politico there were no preconditions about whether she could run in 2024.
Newsom's office confirmed that he has picked Butler, a Democratic strategist who rose to prominence in the labor movement, to fill Feinstein's seat.
In an emailed statement, Newsom said:
"An advocate for women and girls, a second-generation fighter for working people, and a trusted adviser to Vice President Harris, Laphonza Butler represents the best of California, and she'll represent us proudly in the U.S. Senate. As we mourn the enormous loss of Senator Feinstein, the very freedoms she fought for — reproductive freedom, equal protection, and safety from gun violence — have never been under greater assault. Laphonza will carry the baton left by Senator Feinstein, continue to break glass ceilings, and fight for all Californians in Washington D.C."
SCOOP: Gavin Newsom will appoint EMILY's List President Laphonza Butler to fill the seat of the late Sen. Dianne Feinstein, elevating the head of a fundraising juggernaut that works to elect Dem women who support abortion rights, per a person familiar.https://t.co/FtOv4fneAk

— Christopher Cadelago (@ccadelago) October 2, 2023
Equality California tweeted a statement praising Newsom's action:
Executive Director @TonyHoang on Governor @GavinNewsom's selection of @LaphonzaB to serve as the next U.S. Senator from California: pic.twitter.com/6RYB1SUyEr

— Equality California (@eqca) October 2, 2023
Democrat Alex Padilla, now serving as California's senior U.S. senator, released the following statement after Newsom appointed Butler to fill the vacancy created by the late Senator Feinstein:
"Throughout her career, Laphonza Butler has been a strong voice for working families, LGBTQ rights, and a champion for increasing women's representation in politics. I'm honored to welcome her to the United States Senate.
"Governor Newsom's swift action ensures that Californians maintain full representation in the Senate as we navigate a narrow Democratic majority. I look forward to working together to deliver for the people of California."
Butler is a longtime leader in Democratic politics in California and beyond. She has been involved in campaign strategy, and the labor movement for two decades, and according to her official biography she has dedicated her life to empowering women and supporting them in finding their voice, and using it to make meaningful change.
Newsom's office noted in its statement:
"Butler, a longtime senior adviser to Vice President Kamala Harris, labor leader and advocate for women and working people, will be the first openly LGBTQ person to represent California in the Senate. She will also be the first Black lesbian to openly serve in Congress in American history and the second Black woman to represent California in the Senate following Vice President Kamala Harris."
Prior to joining EMILYs List, Butler served as Director of Public Policy and Campaigns in North America for Airbnb. She also was a partner at SCRB Strategies, a political consulting firm where she was a strategist for candidates running up and down the ballot and a senior advisor to Vice President Kamala Harris' presidential campaign.
With nearly 20 years in the labor movement, Butler has served as the president of the biggest union in California, and the nation's largest home care workers union, SEIU Local 2015. She was elected to this position at just 30 years old, one of the youngest to take on this role. As president, Butler was the leading voice, strategist, and architect of efforts to address pay inequity for women in California and a top advocate for raising the state's minimum wage to $15 an hour — the first state in the nation to do so, benefiting millions of working women in low wage jobs. That effort also gave hundreds of thousands of home workers access to paid time off. She also served as an SEIU International Vice President and President of the SEIU California State Council.
Throughout her career, Butler has been highly regarded as a strategist working to elect Democratic women candidates in political offices across California and nationally. A long-time supporter of Kamala Harris in her California runs, Butler was a key leader in Vice President Harris' presidential campaign. She served as a senior advisor to Hillary Clinton's presidential campaign in California during the primary and general elections. Most recently, Butler was a campaign operative behind the campaign to make the Los Angeles Board of Supervisors all-women for the first time in its history with the election of Supervisor Holly Mitchell.
She has been a member of the University of California Board of Regents and a member of the board of directors for the Children's Defense Fund and BLACK PAC.
Laphonza grew up in Magnolia, Miss., and attended one of the country's premier HBCUs, Jackson State University. She lives in Maryland with her wife, Neneki, and together they have a daughter, Nylah.
EMILY's List is an American political action committee that aims to help elect Democratic female candidates in favor of abortion rights to office. It was founded by Ellen Malcolm in 1985. The group's name is an acronym for "Early Money Is Like Yeast." Malcolm commented that "it makes the dough rise."
Related:
Newsom appoints Laphonza Butler to the U.S. Senate: