In 'Trans Am,' a trans person telling a trans story
Lisa Stephen Friday shines in Keegan one-woman show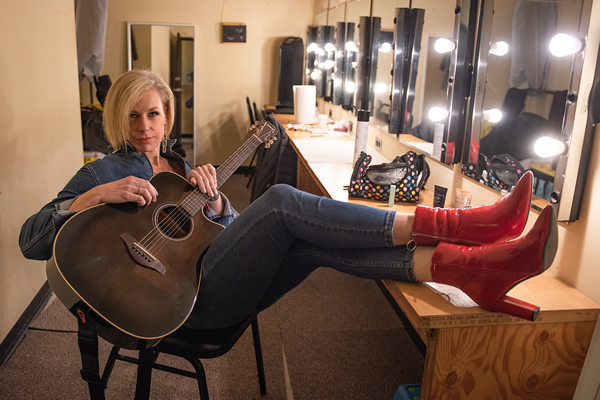 TRANS AM
Jan. 29-Feb. 26
Keegan Theatre
1742 Church St. N.W.
$55-$65
Keegantheatre.com
In the fall of 2020, Lisa Stephen Friday's one-woman show "Trans Am" premiered virtually at Keegan Theatre. "Honestly, streaming a dozen shows isn't something I want to do again. I was thrilled to do it but performing a live musical with no audience was daunting. Like performing to a black hole. Exhausting."
But now the trans woman performer is back at Keegan with a live world premiere of the same piece. "Trans Am" is 90 minutes of uninterrupted autobiographical stories and the music of Friday's cult-favorite NYC glam rock band Lisa Jackson & Girl Friday.
Her transition hasn't been easy and that's reflected in the work, but so is a happy default setting – Friday likes to laugh and make people laugh. The meat of the story is the intensity of time spent in the band, but also her youth in Georgia, other aspects of New York, and her move to D.C. "For me as a trans woman that story involves a very laborious journey to self-actualization. We live in a world that doesn't allow space for trans people. So, it's a lot," she says.
Work as a project manager for Barbizon, a leading provider of entertainment lighting systems, brought Friday to the DMV, specifically Dupont (Trump's election prompted a move from Alexandria to the gayborhood). She's currently dating a chef: "He's great at what he does and he's thrilled to see the show," she says.
BLADE: Was it tough writing a deeply personal show like Trans Am?
LISA STEPHEN FRIDAY: I wrote my story over five weekends. It was incredibly cathartic. There are fun memories with downtown queens, but also the time I went to the pharmacy and the pharmacist totally read me about getting hormones. That was jarring. It was definitely time for me to acknowledge the enormity of what it means to be trans in this country.
BLADE: Would you describe your professional experience as unique?
FRIDAY: Before transitioning, I went through the world as your typical 25-year-old cishetero male. Oblivious. I was a theater actor in New York, chasing roles like Chris in "Miss Saigon" or Marius in "Les Miz." These were my life goals. I look back and think how trite.
Coming out and transitioning meant I was no longer cast. The last time I went on an audition for musical theater was in 2003 for "Taboo" to play Boy George's friend Marilyn. The part went to a soap star. Instead, I found the downtown queer rock and roll scene. That's where I needed to be.
It took me a while to find clarity about who I was. A lot of what I talk about in the show is about finding that East Village crowd who said "honey, you're a woman." Surrounding yourself with community is the way to reach that.
BLADE: What's your history with "Hedwig and the Angry Inch."
FRIDAY: In the late '90s I asked to audition to replace Hedwig. In New York, they knew me as Steve Friday, a good rock and roll singer. I remember thinking I can't do this shit. No one knows that I sit around my house wearing women's clothes.
I cancelled those auditions because I was living in fear. For a while, I really regretted that. Then 20 some years later, I had an opportunity to do it at Keegan. But the pandemic stopped that.
The truth is I no longer feel that I need or want to play Hedwig. There is trauma in that story attached to medical transition. I'm a trans woman who has gone through all confirmation surgeries. I feel really uncomfortable standing on stage singing about an angry inch.
I know Hedwig's creators wrote that show from a loving place but it was written in 1998 and it's very dated. That said, it opened the door to a queer space in theater that didn't exist before.
Now with "Trans Am," Keegan can do something different. A trans person telling a trans story, which is a step forward from "Hedwig."
BLADE: With productions shutting down due to the Omicron surge, do you feel any trepidation about getting through the run?
FRIDAY: That fear is always there. For me it would be really disappointing. My life has been in the theater – performing or production. I'm hyper aware of everything the Keegan and all theaters are risking financially. So, I'm excited and grateful, but kind of walking on eggshells.
'one in two' lets audience choose which parts actors must play
'Pose' actor Ryan Jamaal Swain says approach 'keeps you on your toes'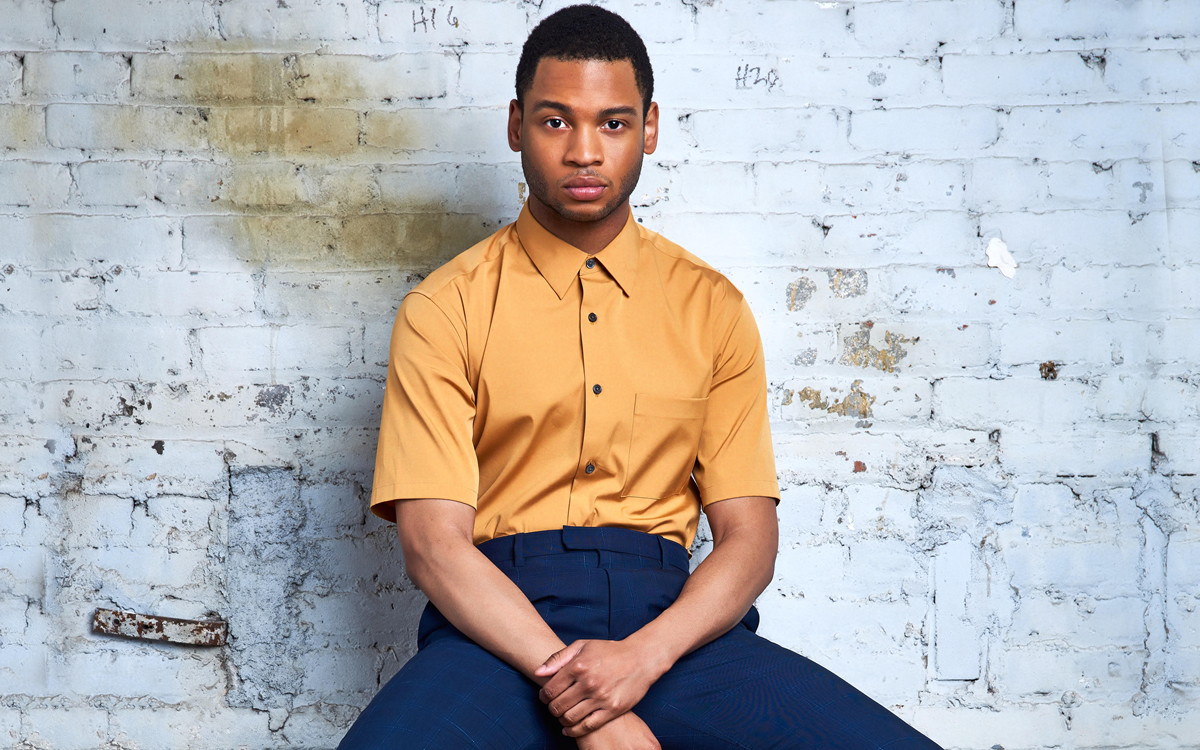 'one in two' 
June 1-25 
Mosaic Theater Company at Atlas Performing Arts Center
1333 H St., N.E.
$29-$64
Mosaictheatre.org
Out actor Ryan Jamaal Swain is best known for having played homeless dancer Damon, on FX's "Pose," the popular queer series revolving around ball culture in late 1980s New York. Along with television, Swain has a great love for theater. And now in a homecoming of sorts, the Howard University graduate is at Mosaic Theater for the area premiere of "one in two," playwright Donja R. Love's play inspired by his own HIV diagnosis and the resilience of the LGBTQ community.
In addition to Swain, 29, the cast features queer actors Justin Weaks and Michael Kevin Darnall (both of whom recently a finished Arena's production of "Angels in America"). Raymond O. Caldwell directs.
The audience is invited to choose which of three parts each actor must play for each performance.
WASHINGTON BLADE: A different part every night! That's a lot.
SWAIN: Yes, honey. But learning three tracks keeps you on your toes. It's one of those things. When I first sawthe world premiere in New York, I thought it was a gimmick but it's not. For me, I'm always looking for the next challenge. What will expand my prowess. With "one in two," the work kept coming across my desk so when the opportunity came up to come back to D.C. [Swain's currently based in New York] with a director I knew, I took it.
BLADE: Where and when does "one in two" take place?
SWAIN: Different places: bar, home, doctor's waiting room. Time wise, it's set in "now/until." The central character is a gay man who anchors the play and the others are various characters he finds on his hero journey. I won't tell you who they are, you'll need to come to the show to learn that.
BLADE: With "Pose," the time and place were very specific.
SWAIN: Yes, the end of the '80s in New York.With any type of queer stories, especially when you want to tell them with love and integrity there's a lot of conversation when you acknowledge a generation of unsung heroes. I stand on their shoulders to be able to do what I do.
BLADE: After graduating from Howard, your journey out of D.C. was swift.
SWAIN: Yes, it was. I left D.C. immediately following my graduation from Howard. I graduated May 7, 2016, went back home to Birmingham, Ala., exhausted my graduation money, and decided to make my own hero's journey and moved to New York. After three or four months, "Pose" came knocking on my door. I booked it and pretty much got started.
BLADE Did TV change your life?
SWAIN TV and film ask you to juggle more than just being a good actor. Publicity, image, etc. There are so many more eyes on you.
BLADE: And how did you handle it?
SWAIN: I come from a family that's not afraid to show when you've made a mistake. I was brought up to look at failures as lessons. It was a lot. I was just 22 at that time. Taught me a lot about who I am and who I will become. How to focus and work under duress.
I like TV and film but I will always make space for theater in my career. Makes me anchor back into self.
BLADE: When did you come out?
SWAIN: I came out to a friend at Howard. I sat her down in the cafeteria and invited her into my life. I don't believe in coming out per se. I think it's your right to fully welcome people into your life. She already knew, of course.
Also, while studying acting in Britain, I did a one-man show about queer poet Langston Hughes. Moving through his journey gave me the strength to have my own voice. Finding other queer folks gave me the strength to live my own story.
BLADE: How has your experience at Mosaic been?
SWAIN: Great. When deciding to do the part I had deep conversation with Reginald Douglas and Serge Seiden [Mosaic's artistic and managing directors, respectively]. I'm hungry about communication, collaboration and community. Mosaic does that. And they do it wrapped up in integrity and love.
A preview of this year's Helen Hayes Awards
Strong queer representation among diverse nominees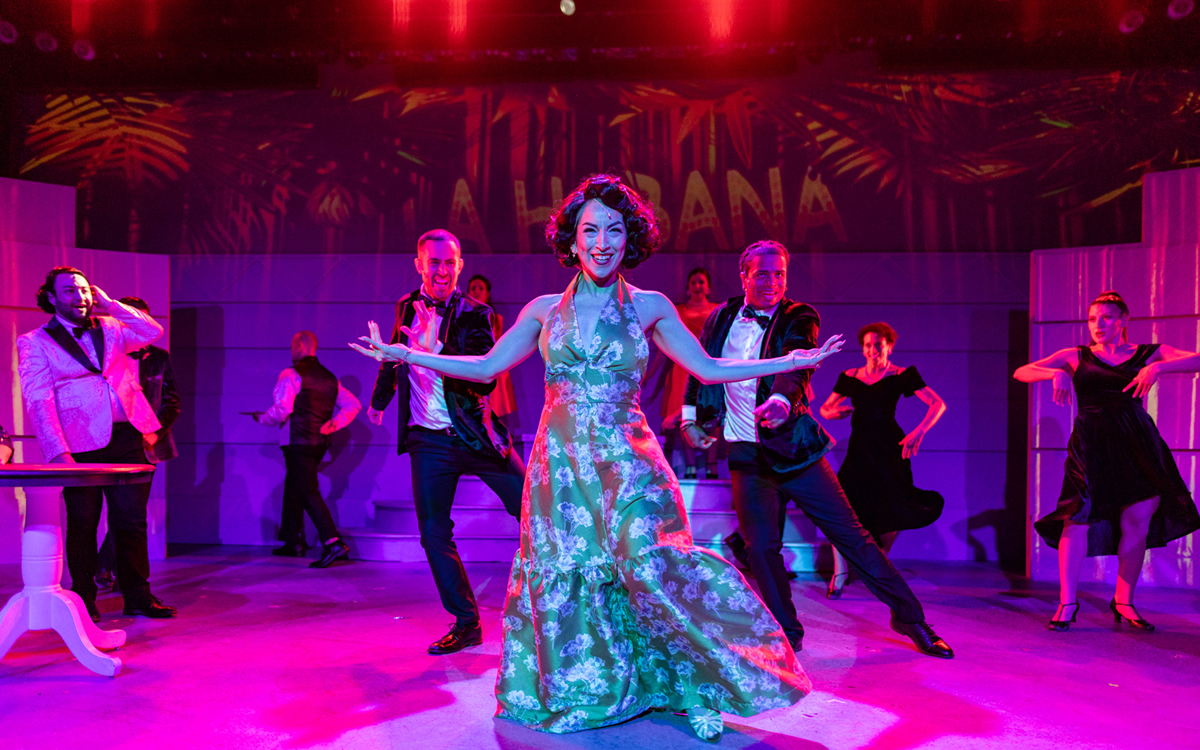 2023 Helen Hayes Awards
May 22, 2023
For tickets go to theatrewashington.org
After three years of varying and virtual approaches, this year's Helen Hayes Awards will be more familiar with the honors being doled out live and in person on Monday night at the Anthem. 
Integral in making the 37th awards both fun and sufficiently formal is delightful actor/director Holly Twyford who's been tapped to both co-host and co-direct the annual ceremony. "For me, it's not as hard as it sounds," she explains modestly. "Will Gartshore [co-director and celebrated Washington actor] has done the lion's share of the work. He'd already written an entire script by the time I stepped in. He's really smart and knows music."
Undeniably, Twyford brings a lot of experience to the gig. She's been attending the awards since the early '90s, and remembers meeting the late "first lady of American theater" for whom the Awards are named, and shaking her hand. She's also the recipient of multiple Helen Hayes Awards and so many nominations it's been written into Monday night's show. And while Twyford understands the show's inherent excitement and spontaneity, she's also aware of the challenges involved in creating a successful evening.
"I was just saying to my wife, these kinds of things are not easy to orchestrate," Twyford continues. "It's great and amazing to celebrate our community and its artistry, but it's tricky to have everyone heard and appreciated. It's a lot to do in one night, but we have to remember it's more than giving out awards, it's an opportunity to stop and look at the community.
"For instance, we have non-gendered acting categories. When you divide between men and women, some members of the theater community are left out. It's that simple."
This year, the music-filled awards ceremony is divided into two parts. Twyford shares hosting duties with local favorites Naomi Jacobson, Erika Rose, and Christopher Michael Richardson. Also on board in a guest spot is Broadway star Michael Urie who's currently finishing up a run of "Spamalot" at the Kennedy Center. Urie enjoys a long connection to Washington's Shakespeare Theatre Company where he played the title prince in Michael Kahn's 2018 "Hamlet," and last summer co-starred with husband Ryan Spahn in Talene Monahon's wonderful plague-set comedy "Jane Anger."
The awards selection process is arduous. Recognizing work from 131 eligible productions presented in the 2022 calendar year, nominations were made in 41 categories and grouped in "Helen" or "Hayes" cohorts, depending on the number of Equity members involved in the production with Hayes counting more.
Nominations are the result of 40 carefully vetted judges considering 2,146 individual pieces of work, such as design, direction, choreography, performances, and more. Productions under consideration in 2022 included 39 musicals, 97 plays, and 38 world premieres.
Many of this year's sensational nominees (actors, designers, directors, writers, etc.) come from the queer community. Here's a sampling.
Rising director Henery Wyand is nominated for Outstanding Direction in a Play for Perisphere Theater's production of Tanya Barfield's "Blue Door," the striking tale of a contemporary black professional who comes face to face with 19th century ancestors. In addition to directing, Wyand also designed the lighting, set, and costumes.
After graduating from Vassar, he came to D.C. for Shakespeare Theatre Company's prestigious fellowship program. About directing, Wyand says, "there aren't a lot of specifically young queer Black directors out there. It gives me a sense of urgency to make sure underrepresented stories are shared. And if I don't do that who will?"
And regarding his nomination, his sentiment is sweet: "Awards are a way to give flowers to people who are creating things. Living artists don't always receive appreciation for their work."
When Emily Sucher learned she'd been nominated for a Helen Hayes Award (Outstanding Choreography in a Play) for "To Fall in Love" with Nu Sass Productions, she seriously thought she was being punked.
"I got the news in a text from an unfamiliar number. I didn't believe it at first," she says. As an intimacy choreographer, Sucher is called on to stage stories with content of an intimate nature, and she just wasn't sure it was something that Helen Hayes' judges were looking to recognize. Clearly, they were.
Sucher adds, "Being queer shapes who I am as an intimacy choreographer and fuels my passion to tell all kinds of stories, and to show what sex and intimacy can look like. It's not always the same."
Out Chilean actor Fran Tapia is nominated for Outstanding Supporting Performer in a Musical for her work in GALA Hispanic Theatre's world premiere Spanish-language production of "On Your Feet! The Story of Emilio and Gloria Estefan en Español" (the production leads the nominee pack with fifteen nods including Outstanding Ensemble for a Musical).
As Gloria Fajardo, pop star Gloria Estefan's embittered mother, Tapia garnered rave reviews.
"Singing my character's song — 'If I Never Got to Tell You — breaks my heart, and that it was translated into Spanish by Gloria Estefan and her daughter Emily Estefan who is gay makes it ever more significant to me. I had the honor of introducing this version of the song to the world."
Tapia left her native Santiago, Chile, for Washington when her wife was posted at the Chilean Embassy. It was in the thick of the pandemic, and there weren't a lot of theater opportunities, so she thew herself into Divino Tesoro, a podcast where children and adolescents can discuss gender identity, and she also worked as director of GALA's youth program. It was the GALA job that led to an audition to play Gloria.
She's currently touring as Gloria Fajardo in the original English version of "On Your Feet!" During its June and July break, she'll appear in Lin-Manuel Miranda's musical "In the Heights" at the Pennsylvania Shakespeare Festival, and then in August it's back to playing Gloria at the pretty seaside Ogunquit Playhouse in Maine.
Despite her intense work schedule, Tapia isn't missing Monday's event: ""I'm honored to be nominated, yes. But I definitely want to win!"
Talented local actor Michael Kevin Darnall is vying for Outstanding Supporting Performer in a Play for his memorable comic turn as wonderfully flamboyant Isom in Studio Theatre's production of Katori Hall's "The Hot Wing King," a layered dramedy about Black men loving Black men, and yes, a hot wing competition.
This is Darnall's seventh Helen Hayes Award nomination prompting him to dub himself the DMV's Susan Lucci, (after the soap star who was nominated 19 times before finally winning an Emmy). Typically cast as the brooding young man, the biracial and bisexual actor fought hard to play Isom. "There's a lot of my mom in the character," he says, "so in part, all of this is a tribute to her."
The first time Darnall read for a Black role was five or six years into his professional career: "Playing Black men has been few and far between for me, so to play Isom as part of a cast of Black men whose skin tone ran the spectrum was very reaffirming, and those other actors became my brothers."
The cast became a tight-knit group on and offstage, collectively spending a lot of money at Le Diplomate, a trendy bistro a few blocks from Studio, where they indulged in escargot and gimlets. That close camaraderie and sense of fun was reflected in the work. They're now nominated for Outstanding Ensemble Performance in a Play.
Good luck to all the nominees.
A full list of award recipients will be available @theatrewashington.org on Tuesday, May 23. 
Actors radiate chemistry in Constellation's delightful 'School for Lies'
Reinvigorating a revered work with lots of new laughs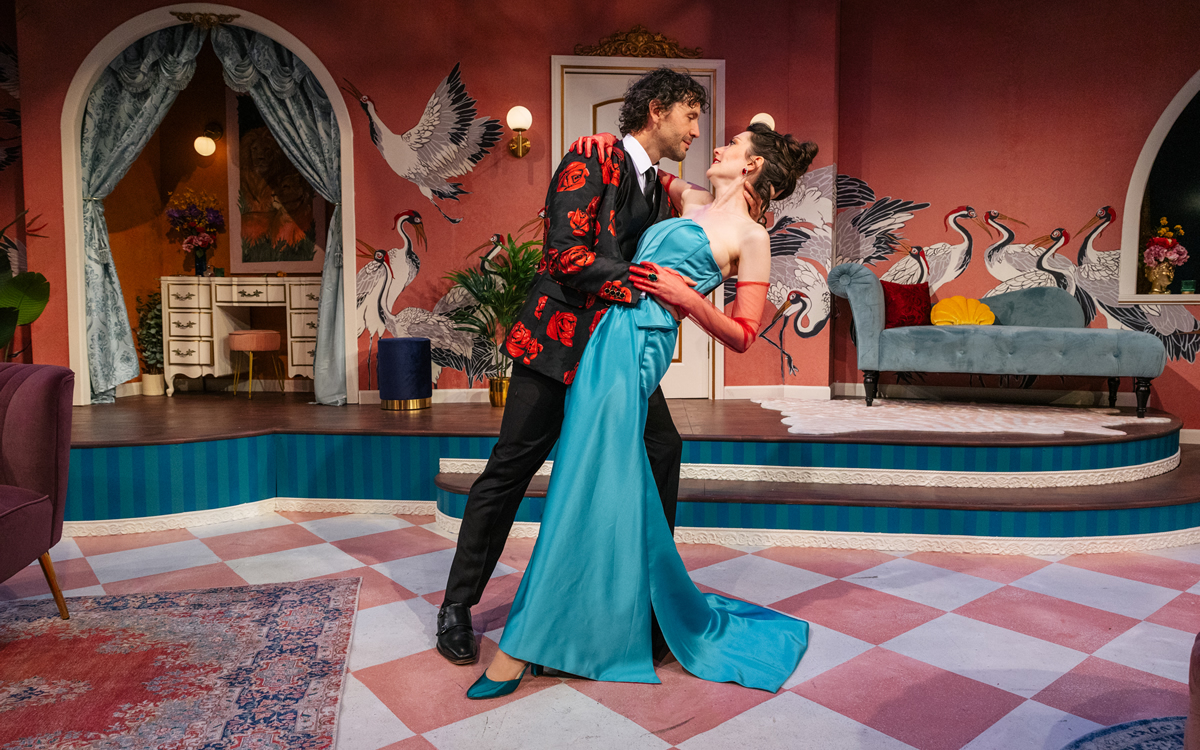 'The School for Lies'
Through May 28
Constellation Theatre Company in residence at Source
1835 14th St., N.W.
$20 – 55
Constellationtheatre.org
A lot can happen in a Parisian drawing room. 
With David Ives' "The School for Lies" (now at Constellation Theatre Company), 100 minutes of nonstop amusement unfold solely in the busy salon of popular young society widow Célimène archly assayed by Natalie Cutcher.
Ives's play is a "translaptation" (transaction + adaptation) of Molière's 1666 "The Misanthrope," a classic comedy of manners in verse. And while at the top of the show, the playwright credits Molière with having mixed "the batter for tonight's soufflé," he's crammed his play with his own elegantly constructed, often funny, and sometimes raunchy verse, reinvigorating a revered work with lots of new laughs and contemporary references.
Now back to Célimène's crib. Rife with fops and frenemies, the widow's posh playpen is ordinarily a whirlwind of gossip, fashion, and sometimes scandal, but on this day it's a little different.
Today, Frank (Constellation vet Drew Kopas), a dourly dressed Frenchman returning from England, finds his way to the party. And as his name suggests, Frank (all other characters retain the names that Molière originally gave them) is a stickler for candor and truth. Unlike le tout Paris, he's averse to frivolous talk, bad poetry, and the vicissitudes of the demimonde.
For kicks, Frank's pal and crossdressing scenester Philinte (Dylan Arredondo) puts out a spicy rumor about Frank and Célimène involving romance and social status. Alas, even sharp-witted Frank, not immune to the prospect of true love, is taken in (as evidenced by a new dreamy demeanor and sartorial switch from bland duds to something infinitely snazzier).
Others in the house, including the comely widow's ragtag suitors: the aptly named Clitander (Jamil Joseph); Oronte (Jacob Yeh), a litigious poet; and Acaste, a leopard-print wearing, most contentedly self-involved aristo played by Ryan Sellers. Also darting about are Éliante (Ría Simpkins), Célimène's cordial relation who's both naïve and amorous, and Arsinoё (Gwen Grastorf), a hypocritical scold eager to assist in her friend's ruin.
And memorably, there's Dubois (Matthew Pauli), Célimène's poker-faced footman who's assigned the thankless job of serving canapés to his boss' bumptious and clumsy guests. Pauli doubles as Frank's uncouth valet.
Director Allison Arkell Stockman delivers a fast-paced, well-timed and delectably camp entertainment. At times, the cast is at odds – while some actors are chewing the scenery, others allow Ives' astonishing dialogue to do the heavy lifting.
The best scenes are those featuring Cutcher and Kopas as Célimène and Frank. They are a well-matched pair seemingly equal in both barbs and curiosity. What's more, the actors radiate chemistry.
While Ives' play might be set in the time of Louis XIV, Constellation's delightfully designed production isn't moored to an era. The widow's showy digs compliments of Sarah Reed are salmon-colored, festooned with outsized flying cranes and lit by a pink feathered fixture, simultaneously reading both Harlow than DuBarry. The minimal seating includes a purple chaise and big pink pouf. There are upstage nooks for the requisite vanity and bunches of floral tributes. Frank Labovitz's wildly colorful, pitch perfect costumes give a nod to a period, but just a nod.
With its dizzying onslaught of clever rhyming couplets, Ives' script is a marvel. (And it's worth noting, the matinee I attended, the admirable cast didn't flub a single line.) It makes you wonder about the writing process. Did the playwright wrack his brain in pursuit of the next smart rhyme or in a state of artistic fecundity, did the words readily flow? Whatever the case, it's a good time. And it's here to be enjoyed.