Va. Senate committee approves bill to require parent notification of 'sexually explicit materials'
Advocates fear Republican-led efforts to limit student access to LGBTQ materials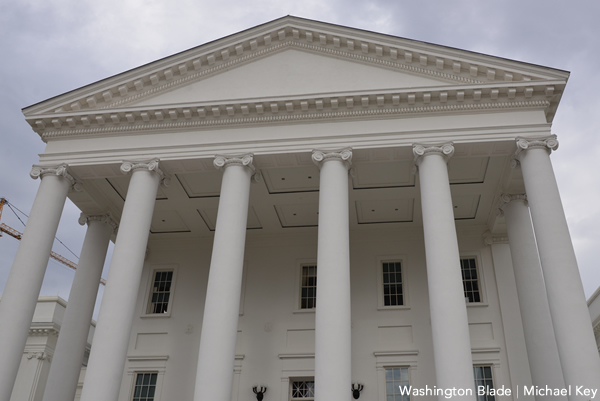 A Virginia Senate committee on Thursday approved a bill that would require local school boards to notify parents about "sexually explicit materials" in the classroom.
The Senate Health and Education Committee approved Senate Bill 656 with state Sens. J. Chapman Petersen (D-Fairfax City) and Lynwood Lewis (D-Accomack) voting for it. The measure, which state Sen. Siobhan Dunnavant (R-Henrico County) introduced, does not specifically define "sexually explicit content."
The committee approved SB 656 amid concerns that Republican lawmakers in the wake of Republican Gov. Glenn Youngkin's election and the GOP regaining control of the Virginia House of Delegates would try to limit public school students' access to LGBTQ-specific information. Democrats control the Senate by a 21-19 margin.
The Loudoun County School Board last month upheld Superintendent Scott Zigler's decision to remove "Gender Queer: A Memoir" from the system's high school libraries.
The Fairfax County School Board last fall removed "Gender Queer: A Memoir" and another LGBTQ-themed book, "Lawn Boy," from the district's high school libraries after a group of parents complained. Officials later returned the books to the shelves.
Youngkin has named Elizabeth Schultz, a former member of the Fairfax County School Board who vocally opposed LGBTQ rights, as the Virginia Department of Education's Assistant Superintendent of Public Instruction.
The Republican governor's first executive order after he took office on Jan. 15 ended the "use of so-called critical race theory" (which is not taught in Virginia schools) and other "divisive concepts" in Virginia public schools. The same Senate committee that approved SB 656 on Thursday also tabled a bill that would have codified the directive into law.
Va. students stage mass walkout over anti-LGBTQ policies
Activists from more than 90 schools across state hold rallies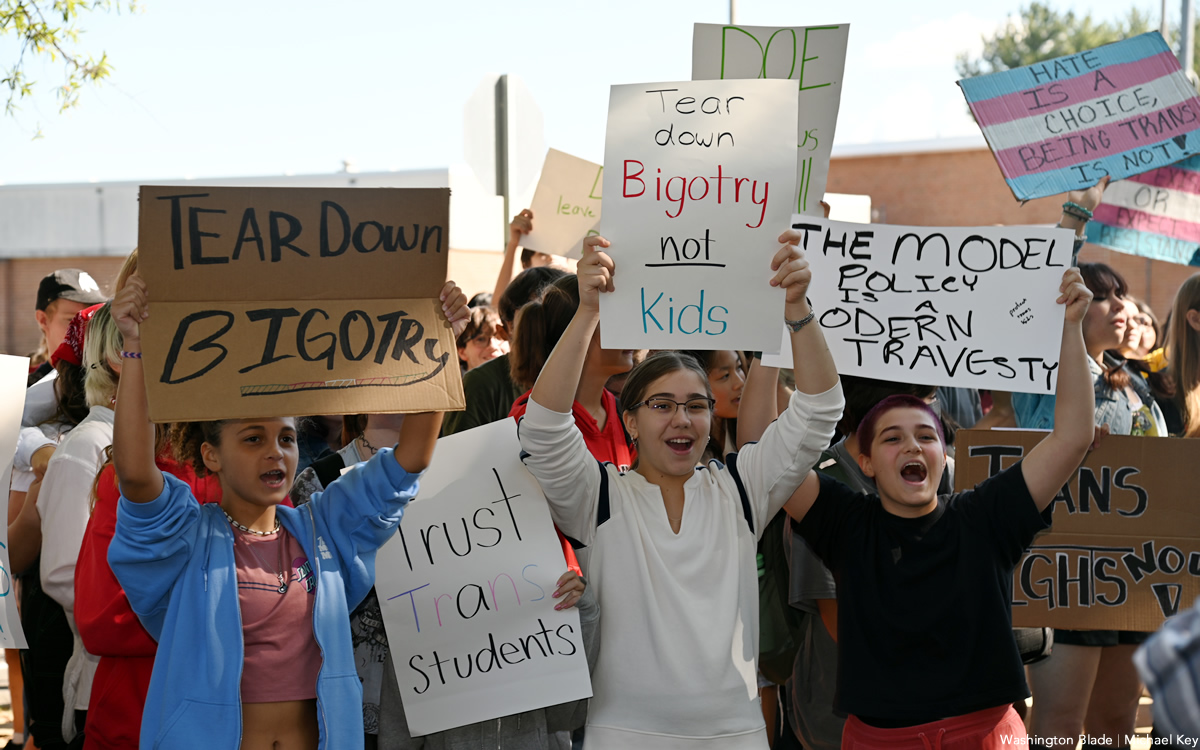 Thousands of students in schools across Virginia participated in walkouts and rallies on Tuesday to oppose the revised "model policies" on transgender students released by the Virginia Department of Education.
VDOE policy revisions were released on Sept. 16 and differ substantially from the policies passed into law in 2020.
The original policies on the treatment of trans students were intended to protect LGBTQ students; but the revised "model policies" have been criticized by activists, educators and legislators for mandating students use school facilities for the sex they were assigned at birth and bars students from changing their names and pronouns without parental permission. Further, the policies direct teachers and staff not to conceal a student's gender identity from parents, even when a student asks to keep that information private.
The student-led Virginia-based Pride Liberation Project responded to these policy changes by organizing mass walkouts and rallies in more than 90 schools from Alexandria to Williamsburg.
"These proposed guidelines are essentially taking that cornerstone and using it to undermine our rights. If these guidelines are implemented, it will be the single biggest loss for queer rights in Virginia in years," Natasha Sanghvi, a student organizer with the Pride Liberation Project, said in a statement.
Openly gay Virginia state Sen. Adam Ebbin (D-Alexandria) in a statement said "these new model policies, which are in flagrant violation of Virginia law, will do serious harm to transgender students. They are not based in science or compassion and will lead to students being outed before they are ready, increased bullying and harassment of marginalized youth, and will require students to jump through legal hoops just to be referred to with their proper name."
Ebbin joined several hundred students at West Potomac High School in Alexandria in a rally opposing the model policies proposed by Republican Gov. Glenn Youngkin.
"The new policy drafts are only going to do more harm to trans students who are already at risk for being outed, harassed and harmed," Jules Lombardi, a Fairfax County high school senior, told the Washington Blade. "These drafts will take schools, which are supposed to be safe environments for students, and make them spaces where students have to hide themselves for fear of their parents finding out about their identities."
"This isn't a matter of 'parental rights,' it's a matter of human rights and we deserve to be treated with the same respect as cis students," Lombardi added.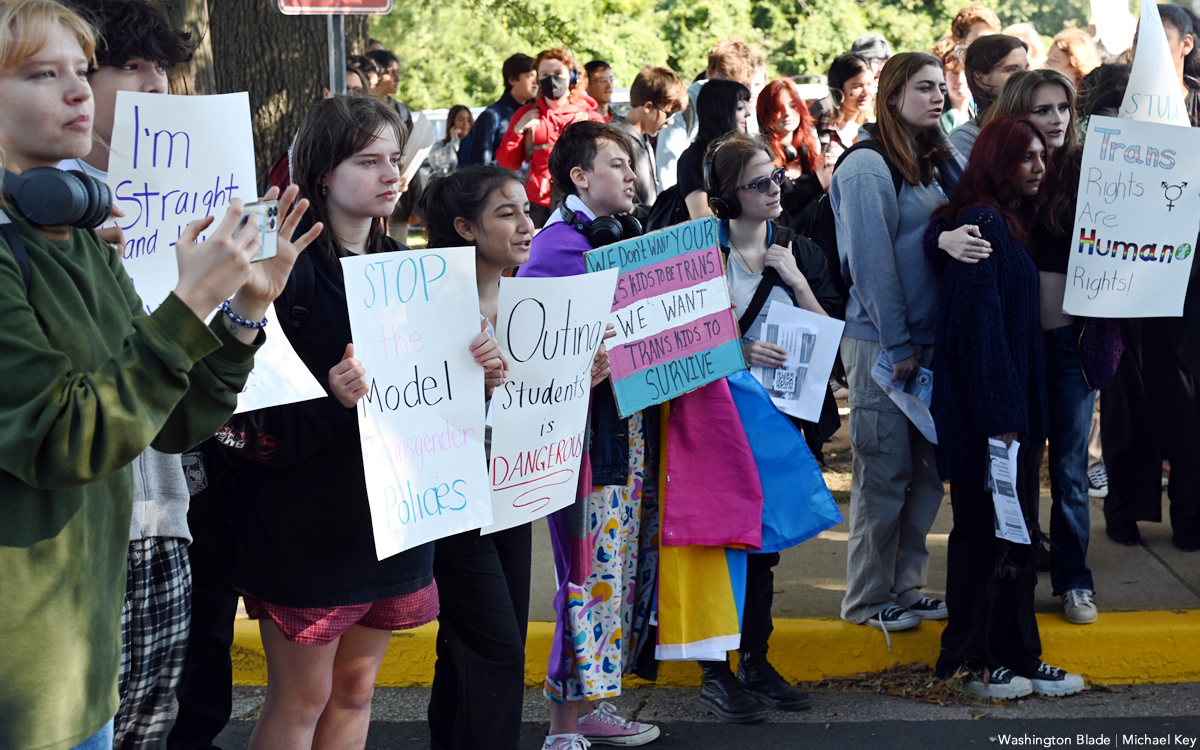 Andrea-Grace Mukuna, a senior at John R. Lewis High School in Springfield, told the Blade that "gender affirmation matters. Something so easily given to cisgender people is a right that our trans and gender non conforming youth deserve. I am walking out because schools will no longer be a safe place for queer students to be in if these policies get passed."
"Requirements for teachers to refer to students by their birth name and pronouns aligning with their sex, rather than trusting our students to know themselves and who they are best, reinforces the idea that we as students have no power, no control and no knowledge over anything in our lives. Gender queer youth exist, and no policy can change that," Mukuna said.
Mukuna continued, "making an attempt at denying them their ability to be who they are is a malicious attack on vulnerable students that could cause deathly harm."
"I walk out for my queer community — there is no erasing us," Mukuna said.
Several hundred students walked out of McLean High School. The walkout was lead by members of the school's GSA and organizers from the Pride Liberation Project including McLean High School senior Casey Calabia.
Calibia asked the crowd, "Do we want Gov. Youngkin to understand that this is not what Virginia looks like?"
The crowd roared, "yes!"
"Virginia stands for trans kids. Trans and queer people are a fact of humanity. We will be accepted one way or another and to see everybody here today is another step toward that change," said Calibia through a bull horn.
Calibia told the Blade in a pre-walkout statement said "to call these policies in favor of respecting trans students' rights and privacy is to call an apple an orange. The 2022 Transgender Model policies, even as a draft, have begun to actively hurt my community's mental health."
"Instead of focusing on academics and our future, we have to sit in class and wonder if we will be safe in school," Calibia concluded. "To not only take away the 2021 policies, a cornerstone in LGBTQIA+ rights for Virginia, but to mock them with these replacements, is a devastating blow to myself, trans students, queer students, and the whole of Virginia's public school student body. How can we be safe, if we can be taken out of school-provided counseling, maliciously misgendered, and denied opportunities given to other students simply because of our gender? Accepting queer students in class does not indoctrinate or brainwash kids. It tells queer students like me that it is okay and safe to be ourselves in school."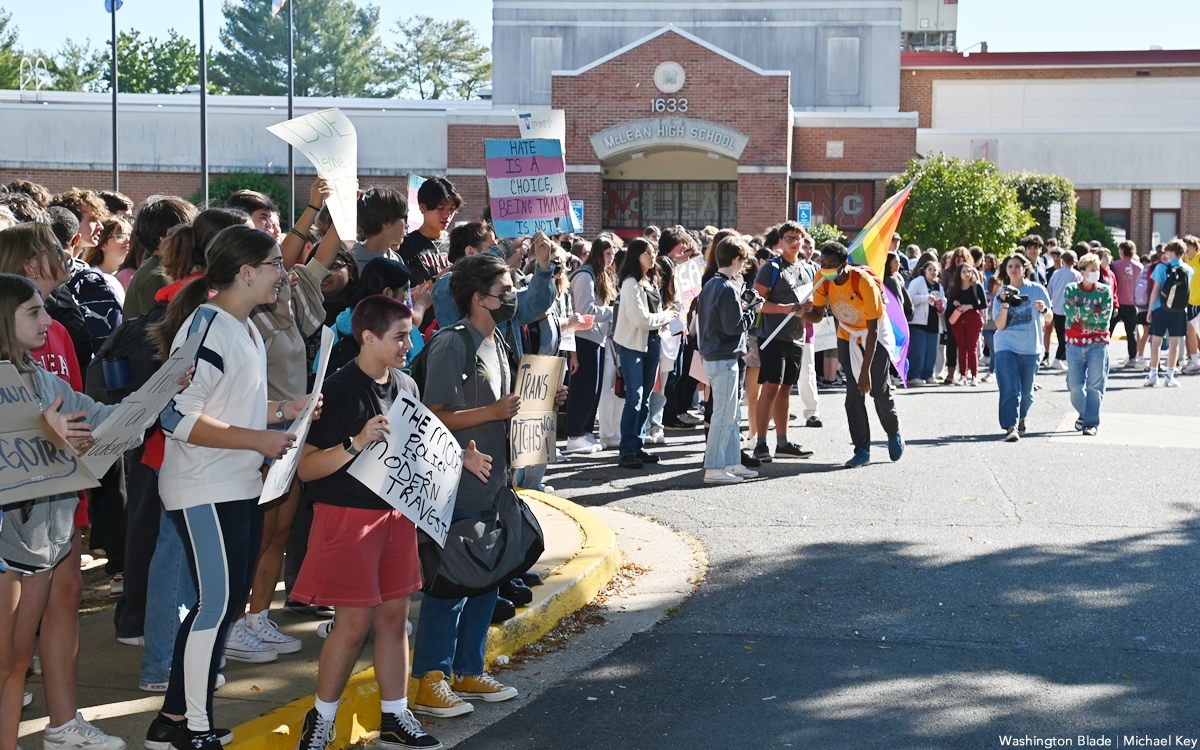 The student protests in Virginia have made national news.
"This is a president who supports the LGBTQI+ community and has been supporting that community for some time now as a vice president, as senator, and certainly as president now," said White House Press Secretary Karine Jean-Pierre in response to a question about the protests during her daily press briefing. "And he . . . always is proud to speak out against the mistreatment of that community … We believe and he believes transgender youth should be allowed to be able to go to school freely, to be able to express themselves freely, to be able to have the protections that they need to be who they are."
"When it comes to this community, he is a partner, and he is a strong ally, as well as the vice president," Jean-Pierre stated.
Walkouts and rallies were held at middle and high schools in Arlington, Bedford, Buchanan, Chesterfield, Culpeper, Fairfax, Fauquier, Frederick, Henrico, James City, Loudoun, Louisa, Montgomery, Powhatan, Prince George's, Prince William, Spotsylvania, Stafford, Warren and York Counties as well as in the cities of Alexandria, Chesapeake, Newport News, Portsmouth, Richmond, Williamsburg and Winchester.
"Every parent wants Virginia's laws to ensure children's safety, freedom, and to encourage a vibrant and engaging learning experience. But the Virginia Department of Education is rejecting those shared values by advancing policies that will target LGBTQ kids for harassment and mistreatment simply because of who they are," said Ebbin.
Arlington candidates greet LGBTQ voters at 'Ice Cream Social'
150 turn out at home of gay bar owner Freddie Lutz
About a dozen elected officials or candidates running for public office this year in Arlington, Va. and surrounding Northern Virginia areas expressed strong support for LGBTQ rights at an event organized by the Arlington Gay & Lesbian Alliance (AGLA) that drew more than 150 LGBTQ and allied residents of Northern Virginia.
The event, billed as an Ice Cream Social, took place on Sunday, Sept. 25 at the Arlington home of Freddie Lutz, the owner of the Arlington gay bar Freddie's Beach Bar and the nearby restaurant Federico's, and Lutz's husband Johnny Cervantes. The two served as hosts for an event that appeared more like a meet-and-greet for local politicians.
Throughout the event attendees had access to unlimited free servings of ice cream from a commercial ice cream vendors truck parked in the driveway of Lutz and Cervante's house.
Among those who spoke at the event was gay Virginia State Sen. Adam Ebbin (D), whose district includes parts of Arlington, Alexandria, and Fairfax County. Ebbin, along with several of the other speakers, expressed strong opposition to Virginia Gov. Glenn Youngkin's recently proposed policy guidelines for transgender students in the state's public schools.
The proposed policy, which Youngkin says will take effect after a 30-day period of public comment, rescinds the trans supportive school policies put in place by former Gov. Ralph Northam's administration that allowed trans students to use the bathrooms, changing rooms and other facilities that match their gender identity.
Under the new policy guidelines released by the state's Department of Education, whose leaders were appointed by Youngkin, the state's 133 school districts must require transgender students to access school facilities and programs that match their biological gender. They also require teachers and school officials to inform parents if their child attempts to present as transgender in school, a development that critics say is the equivalent of "outing" trans kids in a way that could create mental health issues.
"We want to be clear that we value our transgender students," Ebbin told the gathering. "The governor is bullying and endangering students for cheap political points," he said. "And his new guidelines are in violation of not just federal court rulings but of the Virginia Human Rights Act, which explicitly states that there shall be no discrimination against transgender people, including in public schools," Ebbin said.
Others who expressed similar views along with general support for LGBTQ rights, including marriage equality, were State Sen. Barbara Favola (D-Arlington), and Virginia House of Delegates members Alfonso Lopez (D-Arlington/Fairfax Counties), Patrick Hope (D-Arlington), and Elizabeth Bennett-Parker (D-Arlington/Alexandria/Fairfax). 
Bennett-Parker defeated gay House of Delegates member Mark Levine in the June 2021 Democratic primary. Like others who spoke at the AGLA event, Bennett-Parker urged LGBTQ residents of Northern Virginia to do all they can to support state, local, and congressional Democrats in this year's election and in 2023, when the entire Virginia General Assembly is up for election.
"We need your help to make sure we maintain a commonwealth that will be safe and welcoming and inclusive towards all," she said.
Arlington County Board members Matt de Ferranti and Kattie Cristol said they and their colleagues on the Arlington Board, which serves as the county's legislative body, would continue their strong support for the LGBTQ community. De Ferranti noted that the board's recent legislative actions in support of LGBTQ rights prompted the Human Rights Campaign, the nation's largest LGBTQ rights organization, to award Arlington a 100 percent rating among municipalities nationwide on LGBTQ-related issues.
AGLA Treasurer Daniel Hays, who served as moderator for the part of the event in which the candidates or public officials spoke, said the LGBTQ group invited all candidates and elected officials representing Arlington to attend and speak at the event, including Republicans and independents as well as Democrats.
Among those who spoke were Karina Lipsman, the Republican candidate running against incumbent U.S. Rep. Don Beyer (D-Arlington), a longtime supporter of LGBTQ rights.
"I am pro-marriage equality," said Lipsman, who identified herself as "the only Ukrainian born refugee immigrant running for Congress in the entire country."
Also speaking was Matthew Hurtt, communications director for the Arlington County Republican Committee.
The LGBTQ attendees, which local activists say was reflective of the largely Democratic electorate of Arlington and Northern Virginia in general, responded with polite applause for Lipsman and Hurtt as well as for Adam Theo, a candidate for the Arlington County Board who described himself as a progressive libertarian running as an independent.
One of the final speakers was gay D.C. Advisory Neighborhood Commissioner Travis Swanson of ANC 7B03 in Ward 7, who thanked the speakers for their support of the LGBTQ community and called on those attending the event to urge their members of Congress to support D.C. statehood.
"AGLA is not endorsing any of the candidates you heard today," Hays told the gathering in closing remarks, noting that it is a nonpartisan group.
"However, what we strongly endorse is that you go out and make sure you are fully aware of what the individuals who are asking for your vote to be able to have another two years or four years or six years in office, that you know exactly what they've done or what they're going to do," he said.
New Va. guidelines stipulates parental input on transgender kids
State Department of Education released them on Friday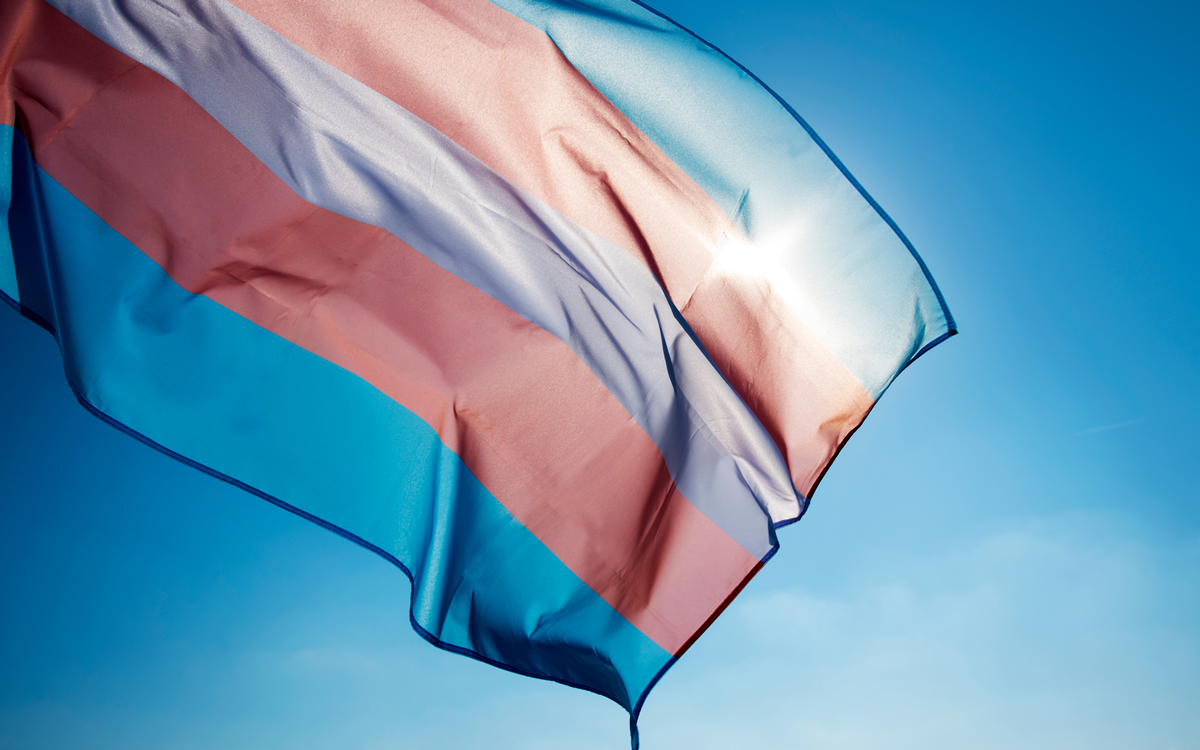 Virginia's Department of Education released its new guidelines Friday that require school administrators, faculty and staff receive written permission from parents regarding embracing or recognizing a transgender student's gender identity.
With the release, the Department of Education's Model Policies for the Treatment of Transgender Students in Virginia's Public Schools (the "2021 Model Policies,") adopted on March 4, 2021, was effectively repealed and replaced. The emphasis in Friday's document was centered on "parental rights." The new set of guidelines also took aim at the 2021 guidance noting:
"The 2021 Model Policies promoted a specific viewpoint aimed at achieving cultural and
social transformation in schools. The 2021 Model Policies also disregarded the rights of parents and ignored other legal and constitutional principles that significantly impact how schools educate students, including transgender students. With the publication of these 2022 Model Policies on the Privacy, Dignity, and Respect for All Students and Parents in Virginia's Public Schools (the "2022 Model Policies,") the department hereby withdraws the 2021 Model Policies, which shall have no further force and effect."
The language reflects a campaign promise by Republican Gov. Glenn Youngkin to respect parental rights in public education. LGBTQ advocates however, expressed alarm over the section reading:
"The phrase 'transgender student' shall mean a public school student whose parent has requested in writing, due to their child's persistent and sincere belief that his or her gender differs with his or her sex, that their child be so identified while at school," the guidelines read.
"Parents are in the best position to work with their children … to determine (a) what names, nicknames, and/or pronouns, if any, shall be used for their child by teachers and school staff while their child is at school, (b) whether their child engages in any counseling or social transition at school that encourages a gender that differs from their child's sex, or (c) whether their child expresses a gender that differs with their child's sex while at school," the policy continues."
A trans activist who has children enrolled in the Fairfax County School District, the state's largest school system and who asked to not be identified, told the Washington Blade that in effect, a trans youth who is not openly out to family effectively would be forcibly outed which would cause serious harm in most cases.
The other aspect the activist noted that the guidelines effectively require school staff and faculty to misgender trans students.
[School Division] personnel shall refer to each student using only (i) the name that appears in the student's official record, or (ii) if the student prefers, using any nickname commonly associated with the name that appears in the student's official record.
[School Division] personnel shall refer to each student using only the pronouns appropriate to the sex appearing in the student's official record – that is, male pronouns for a student whose legal sex is male, and female pronouns for a student whose legal sex is female.
Notwithstanding the provisions of paragraphs (2) and (3) of this section, [School Division] personnel shall refer to a student by a name other than one in the student's official record, or by pronouns other than those appropriate to the sex appearing in the student's official record, only if an eligible student or a student's parent has instructed [School Division] in writing that such other name or other pronouns be used because of the student's persistent and sincere
belief that the student's gender differs from his or her sex.
Any written instruction from a parent or eligible student under paragraph (4) of this section shall be memorialized in the student's official record and subject to the same retention, disclosure, and confidentiality requirements as the official record itself. The legal name and sex of a student shall not be changed, even upon the written instruction of a parent or eligible student.
Youngkin's critics continue to accuse him of waging war on the LGBTQ community, focused especially on trans youth.
At the beginning of September at a rally in Annandale; Youngkin called for schools to out trans and gender nonconforming students to their parents and guardians, prompting a rebuke from GLSEN. 
GLSEN Executive Director Melanie Willingham-Jaggers condemned the governor's comments in an exclusive emailed statement to the Blade, writing: "It's devastating to see politically motivated attempts to break trust between students and educators and to force educators to violate students' privacy by outing them to guardians." 
They added, "This kind of hostile school climate puts trans youth at greater risk of harassment, mental health challenges or discrimination. Transgender and nonbinary students need respect and autonomy, not additional scrutiny and policing of their gender identity in school."g
"What's their name? What pronoun will they use? How are they going to express their gender? This is a decision that bureaucrats in Fairfax County believe that they should be able to make without telling parents," Youngkin said. 
Protecting students' privacy is a core element of "A Guide for Transgender and Gender Nonconforming Students," published by GLSEN and the American Civil Liberties Union. 
Equality Virginia on Thursday announced it will track whether school boards have implemented the Virginia Department of Education's guidelines for trans and nonbinary students.
Equality Virginia Executive Director Narissa S. Rahaman in a press release notes "almost half of Virginia's K-12 students attend schools in divisions that have fully adopted VDOE's model policies for the treatment of transgender students" since their issuance in 2020.
"These policies, developed in accordance with evidence-based best practices, give teachers and administrators critical tools to create safe, inclusive and learning environments for all students," said Rahaman. "School boards in every corner of our commonwealth have a unique and urgent opportunity to protect transgender students by adopting the model policies."
Equality Virginia in its press release further noted the School Board Policy and Meeting Tracker will "provide parents, advocates and students information on local school board meetings, potential agenda items and opportunity for public comment, and whether the school district has adopted" the guidelines.
The other issue within the new set of guidelines the activist told the Blade, is that the language almost nullifies the 4th U.S. Circuit Court of Appeals in the case of then-high school student Gavin Grimm who fought against his school policy on use of school restrooms and changing rooms.
The 4th Circuit found that the Gloucester County School District's policies that prohibited students from using bathrooms and locker rooms that did not correspond with their "biological gender" and denied them transcripts that correspond to their gender identity was unconstitutional.
The U.S. Supreme Court in June 2021 declined to hear the case upholding the 4th Circuit ruling.
Additionally reporting by Christopher Kane and Michael K. Lavers