LGBTQ activist, journalist murdered in Azerbaijan
Avaz Shikhmammadov-Hafizli victim of a so-called honor killing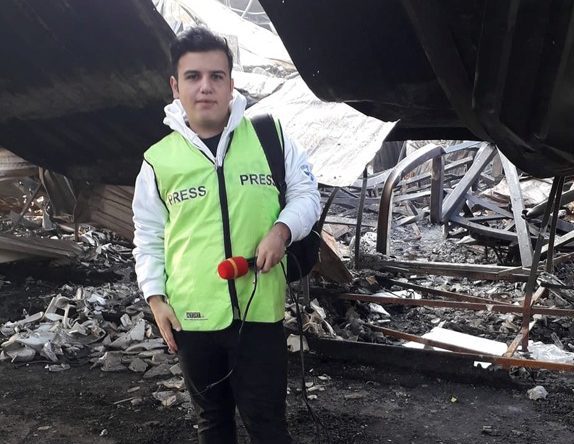 Avaz Shikhmammadov-Hafizli, a 24-year-old journalist and LGBTQ activist was found stabbed to death last week near the capital, Baku, according to a spokesperson for the Azerbaijan Attorney General's Office and Ministry of Internal Affairs.
In a joint statement released by the Ministry of Internal Affairs in conjunction with the Attorney General's Office, Amrulla Gulaliyev, Shikhmammadov-Hafizli's cousin was arrested for his killing.
"Initial investigation shows that Gulaliyev was drunk when he committed the crime and has admitted to killing his cousin as a result of a dispute," the statement said.
Neither Gulaliyev nor his attorney has yet issued a comment.
Other LGBTQ Azerbaijani sources are disputing the official narrative saying that Gulaliyev murdered his cousin as a so-called family honor killing.
JAMnews, a media outlet which covers different regions of the Caucasus, noted that the Azerbaijani media not only regularly covers "honor crimes," but gives voice to those who support this primitive idea of justice.
According to ILGA Europe, an international non-governmental organization advocating for LGBTQ rights and freedoms, Azerbaijan occupies the last place among 49 countries on the organization's Rainbow Index.
Arzu Geybullayeva, a journalist with Global Voices reported that in September 2021 Hafizli chained himself to a fence outside the Prosecutor General Office to protest the institution's lack of swift action against blogger Sevinj Huseynova, who openly called for violence against queer citizens in the country. Huseynova also targeted Hafizli after which, according to the journalist's own accounts, his family disowned him. Hafizli also attempted to die by suicide after being targeted by the blogger.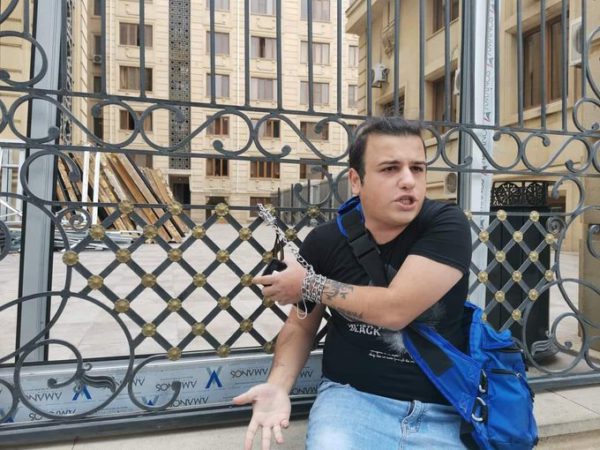 In recent years, the Azerbaijan government intensified crackdowns against the LGBTQ community. In 2017, at least 83 people were detained by the police for being gay or transgender. The detainees reported being tortured and blackmailed. The same year, at least four Azerbaijani citizens who identified as LGBTQ died by suicide.
In March 2021, Minority Magazine reported a new movement calling itself "Pure Blood" which was mobilizing via Telegram to target LGBTQ people in Azerbaijan.
Then in the summer of 2021, during Pride month, Minority Magazine documented more attacks against LGBTQ people.
For many who face discrimination and violence, there is little recourse through the police or any official judicial channels. For instance, in November of last year, a trans woman and her partner were attacked on the street in Baku. Knowing the police's poor track record with queer citizens, they decided not to file an official complaint, fearing reprisals and potential privacy violations.
The anti-LGBTQ narrative in Azerbaijan is pervasive among politicians, celebrities, and public figures, according to OC Media research that focused on the extent of homophobic hate speech in the country by analyzing media reports.
According to this research, LGBTQ members also face discrimination in military service. In Azerbaijan those who identify as LGBTQ are exempted from compulsory military service under Article 18, paragraph b of the Regulation on Military Medical Examinations, which states a person is considered unfit or partially fit for military service on the basis of personality disorders and under Article 17/b, which indicates reactive psychoses and neurotic disorders.
Blogger Sevinj Huseynova is not the only one who has made open calls for violence against the LGBTQ community.
According to Minority Magazine, in January 2022, a religious cleric Haji Tayyar Huseynli, described members of LGBTQ community as "filth" and said same-sex couples engaging in intercourse should be sentenced to death.
"That is, according to religious rules, those who commit this heinous act must be killed. This is the demand of religion," Huseynli told a local news platform in an interview.
According to the statement issued by the Prosecutor General Office, Hafizli was killed by his cousin who was under the influence of alcohol, after the two had an argument. The office said an investigation has been launched.
However, activists in Azerbaijan fear not much will come out of it. Writing on her Facebook page, civic activist, Gulnara Mehdiyeva said, "LGBTQ people are of no importance to Azerbaijani law. They are not considered human beings, and neither the prosecutor's office, nor the State Security Service, nor any other body wants to move a finger to prevent mass killings. The Azerbaijani government is directly guilty of legitimizing the killing of LGBTQ people at all levels."
********************
Additional reporting by Arzu Geybullayeva, Global Voices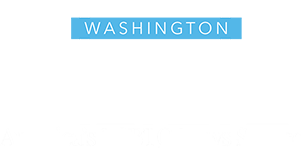 Far right-wing nationalists attack Pride festival in Georgian capital
Country's president condemned those who disrupted event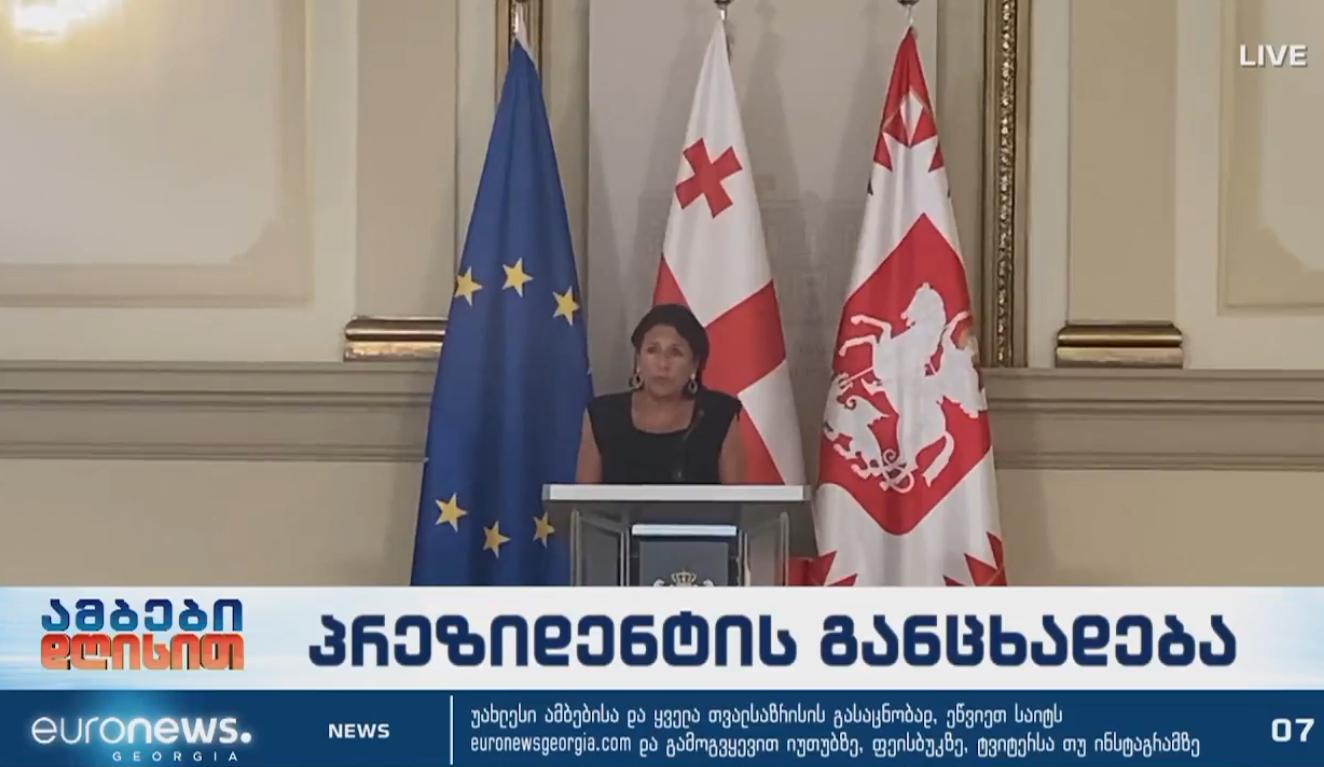 Upwards of 2,000 plus anti-LGBTQ protesters violently disrupted the LGBTQ Pride festival in the Georgian capital of Tbilisi on Saturday, scuffling with police and destroying rainbow flags, signs, festival banners and placards in what Georgian President Salome Zurabishvili labeled as "a shame for a country, which has for centuries considered tolerance as its identity."
Russian freelance journalist Sergei Dimitrov spoke with the Washington Blade by phone late Saturday afternoon from Tbilisi and said that a vast majority of the anti-LGBTQ nationalists he spoke with claimed membership with the group Alt-Info.
The right-wing, anti-Western group rose to prominence for leading anti-queer pogroms in Georgia in 2022 last year, had registered was registered by the National Public Registry Agency on Dec. 7, 2021, as political party with a pro-Russian sentiment, in part Dimitrov noted due to Putin's war on Ukraine.
According to a spokesperson for Tbilisi Pride, the group and Pride participants were forced had to leave the area where the event was being held. On social media the group posted a warning: "Please do not come to the festival territory! We had to evacuated. The Ministry of Interior could not ensure the safety of the festival." The group noted that police and failed to protect the event, forcing the evacuation, which was carried out by bus and taxi cabs.
Speaking to reporters, Deputy Interior Minister Alexander Darakhvelidze noted that despite best efforts of the police, "The protesters managed to find … ways to enter the area of the event, but we were able to evacuate the Pride participants and organizers," he said.
"Nobody was harmed during the incident and police are now taking measures to stabilise the situation."
Later, Tbilisi Pride accused the Ministry of Internal Affairs, based on public statements by the nationalistic extremists, which indicated that the attack was pre-coordinated and agreed between the Ministry of Internal Affairs and Alt-info.
Dimitrov told the Blade that another Alt-info leader, Shota Martynenko, told reporters present before the event: "Our plan is simple, under no circumstances will they be allowed to hold the festival. Now the roads will be closed and the area will be besieged. Whatever resistance we meet on the ground, we will respond accordingly."
Georgian news service JAM News, which covers the Caucasus: Georgia, Armenia, Azerbaijan and other parts of the Caucasus region, had reported that in June 2022, the Georgian Interior Ministry detained 26 members of Alt-Info, including its leaders Zurab Makharadze and Irakli Martynenko, as well as Guram and Alexander Palavandishvili. That detention took place as a cautionary measure to prevent violence by the group at the LGBTQ Pride festival week organized by Tbilisi Pride ending on July 2 of last year.
Mariam Kvaratskhelia, the director of Tbilisi Pride, told reporters that Alt-Info and other groups had made public statements and social media posts to incite violence against LGBTQ activists and her organization in the week leading up to Saturday's Pride events and that the police and Ministry of Internal Affairs declined to investigate.
"I definitely think this (disruption) was a preplanned, coordinated action between the government and the radical groups. We think this operation was planned in order to sabotage the EU candidacy of Georgia," she said.
"People were not given the opportunity to hold their own event in a closed space that was planned in advance, agreed with the law enforcement officers, which the law enforcement structures had promised to protect," Zurabishvili said in a press briefing after the event was cancelled. "I want to call on the Ministry of Internal Affairs to actually prevent all violent acts — this is their duty and it is called law enforcement," she added.
Later on Twitter, Zourabichvili expressed her outrage regarding the cancellation of Pride and the president also took aim at the Ministry of Internal Affairs for what she termed a failure to protect the event and its participants.
Today, freedoms of expression and assembly guaranteed by our constitution were both violated!

Law enforcement representatives failed to protect the Pride Fest Event, did not prevent disruptive actions, and by exfiltrating organizers, de facto cancelled the event

🧵 1/3

— Salome Zourabichvili (@Zourabichvili_S) July 8, 2023
The ministry blamed what it alleged was excessive turnout at the anti-LGBTQ rally against the "Pride Festival" which in turn made it difficult for police to effectively manage the crowd, resulting in the evacuation of the festival's organizers and participants.
Dimitrov told the Blade his impression witnessing the events unfold was that the police were intentionally holding back deployment of additional officers to counter the far-right extremists, instead he noted, the police seemed focused on evacuation of the Pride participants.
Tbilisi Pride released a statement regarding Saturday's events:
"Today we clearly saw that the attack on LGBTQ+ activists and on the territory of Tbilisi Pride Festival was a joint, well-planned operation against human rights and democracy by the Ministry of Internal Affairs and Alt Info.
"Our tax-funded police who 'guarded' the festival grounds assured us that far-right groups couldn't come close, while media and social networks saw footage of police and violent groups coming unabatedly towards the area.
"Members of Alt-info put us in trouble, and the police, instead of disrupting them, made us leave our premises with pre-prepared transport.
"It is clear from the statements of the Ministry of Internal Affairs that they considered this shameful 'evacuation' as a victory, and in fact, it was a pre-planned step and a proof of their inaction.
"Ministry of Internal Affairs and Deputy Minister Alexander Darakhvelidze were giving us guarantees of protection during the preparation period, for weeks and even on the festival day, and in return, the police allowed Alt-info members to enter the private, closed area of the festival, attack civilians and cause irreparable emotional trauma.
"Police didn't block the road leading to the festival grounds to interfere with a violent group; police didn't use proportional force against the attackers.
"The government did not arrest the organizers of the July 5 violence;
"The authorities did not arrest the organizers of the July 5 violence even when the July 8 violence was announced;
"The government encouraged and supported the violence.
"It was an attack on democracy, human rights and innocent people organized by the Georgian authorities, together with the Putinist violent group, who wanted to use the constitutionally guaranteed fundamental rights.
"We hope that all those who are not allowed to violence, who want democratic and European development of Georgia, will condemn the development developed today.
"Will make things happen and confirm solidarity."
The leadership of the far-right group saw the evacuation and cancellation as a victory. Zurab Makharadze told reporters that he had assessed the incident as a "victory" saying: "Now the most important thing for our people is not to be arrested."
The socially conservative South Caucasus nation has passed laws against discrimination and hate crimes, but LGBTQ rights groups say there is a lack of adequate protection by law enforcement officials and homophobia remains widespread.
In 2021, during a regular press briefing, then-U.S. State Department spokesman Ned Price told reporters that the situation in Georgia was being closely monitored after violent protests against a LGBTQ Pride parade erupted resulting in the death of a TV cameraman.
Protests and violence have marked attempts by the LGBTQ community to rally for Pride month. The first Tbilisi Pride march was to have taken place in June 2019, but organizers postponed it amid protests against a Russian MP who spoke at the Georgian Parliament. A small Pride demonstration took place a few weeks later.
In early July 2021, a violent mob forced the cancellation of a Pride march that was to have taken place. "They declared war against civil society, democratic values and the European course of the country," said Tbilisi Pride in a statement it released after it officially cancelled the march.