Senate confirms first Black woman to Supreme Court
Vice president presided over Ketanji Brown Jackson vote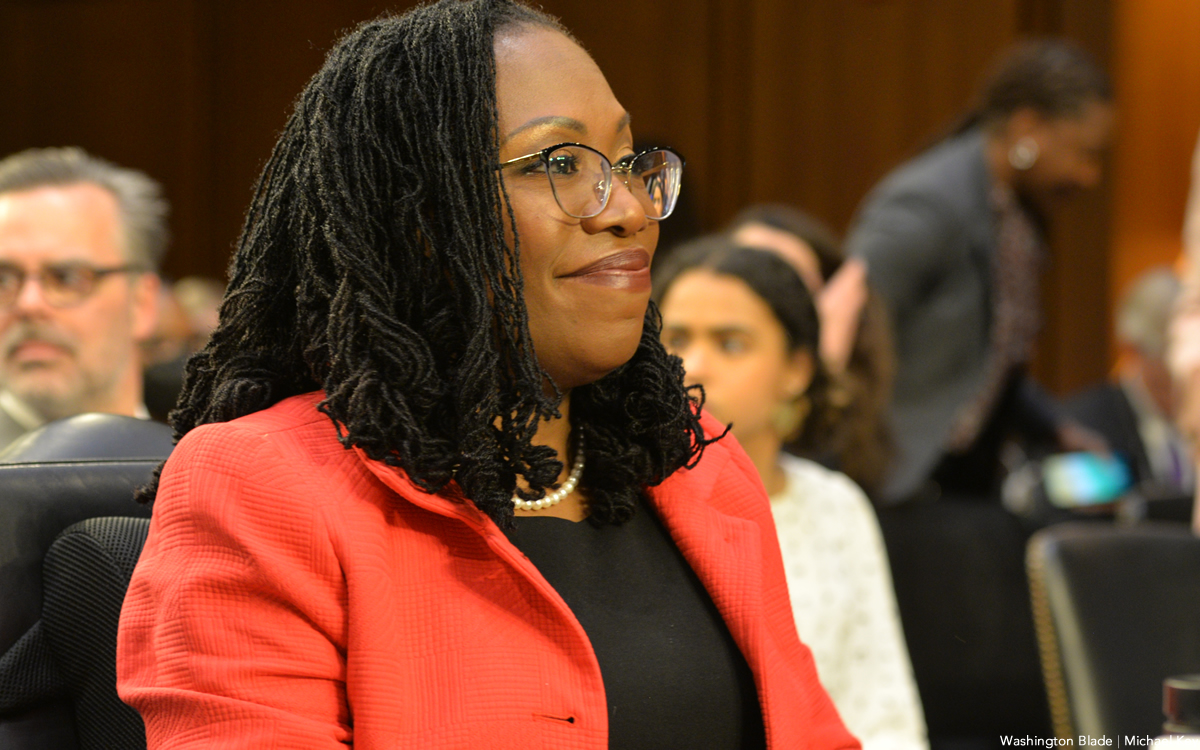 In a historic session presided over by the first Black female vice president of the United States, Kamala Harris, the U.S. Senate voted 53-47 in favor of confirming Ketanji Brown Jackson's nomination as the first Black woman associate justice to the U.S. Supreme Court.
The White House noted that Jackson joined President Biden and other senior White House staff in the Roosevelt Room to watch the results of the Senate vote on her nomination to the Supreme Court.
On Friday, the president, the vice president and Jackson will deliver remarks at the White House on the Senate's historic, bipartisan confirmation of Jackson's nomination to be an associate justice of the Supreme Court.
"Today's vote to confirm Ketanji Brown Jackson as an associate justice of the U.S. Supreme Court by a bipartisan Senate is an important Constitutional and cultural step. PFLAG families know all too well that when our courts reflect the makeup of the nation, the chances for all of us to benefit from equal protections improve, no matter our race, our genders, or where we're from. For all the Black and brown kids who dream of one day reaching the highest levels of law or government, those dreams got a little closer. Congratulations to Justice Brown Jackson," said PFLAG National Executive Director Brian K. Bond.
"Judge Ketanji Brown Jackson's confirmation is a pivotal step toward a Supreme Court that reflects our nation's diversity. This is a moment of celebration, as an exceptionally qualified Black woman will serve on the high court for the first time in history," said Equality California Executive Director Tony Hoang.
"Throughout her confirmation process, Judge Jackson has demonstrated exactly why President Biden nominated her to serve a lifetime appointment on the court. She showed the country her deep respect for and knowledge of the Constitution, her commitment to equal justice and her unwavering fair-mindedness. And she showed young people across the country that no dream is too big, and no obstacle is too high," he added.
"Judge Jackson's presence on the high bench will inspire generations of Americans to come."
HISTORY MADE: The Senate erupts in cheers after a 53-47 vote in favor of confirming Ketanji Brown Jackson's nomination to the Supreme Court pic.twitter.com/x09WaHNrtq

— NowThis (@nowthisnews) April 7, 2022
Calif. Congress members introduce bill to decrease LGBTQ surrogacy costs
Measure has 17 Democratic co-sponsors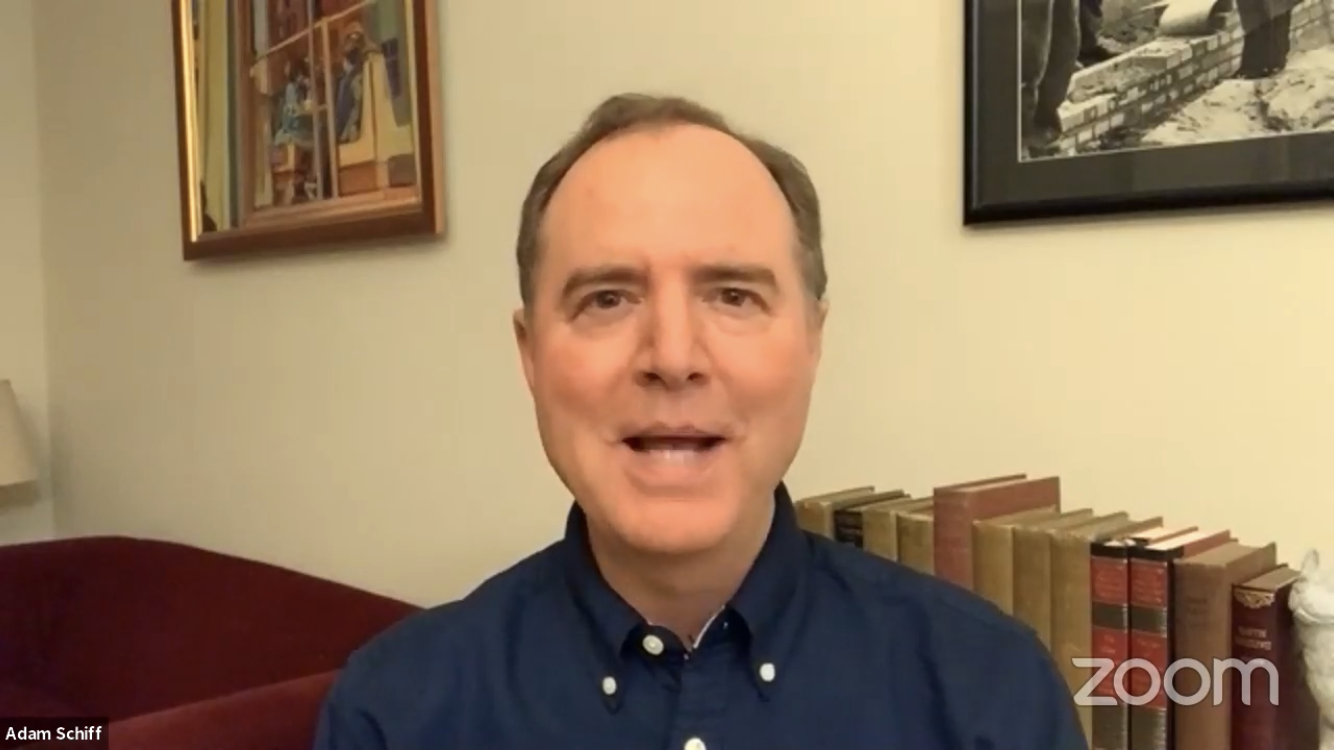 As the future of reproductive rights in the U.S. remain uncertain, U.S. Reps. Adam Schiff (D-Calif.) and Judy Chu (D-Calif.) introduced a bill on Wednesday aimed at equalizing healthcare access and lowering the costs for LGBTQ people and couples who want to have children.
The Equal Access to Reproductive Care Act, co-sponsored by 17 other Democratic members of the U.S. House of Representatives and endorsed by multiple reproductive rights groups and LGBTQ advocacy organizations, would seek to reform the nation's tax system in order to crack down on certain inequities in reproductive healthcare for same-sex families.
The bill would require the Internal Revenue Service to allow LGBTQ people and couples to claim assisted reproductive treatments as deductions, which decrease one's net income that determines how much they must pay in taxes to the federal government.
Schiff has asserted that the current tax system, which already often allows heterosexual couples to claim assisted reproductive treatments as deductions, must be changed.
"Every person regardless of their sexual orientation, gender identity, ability, or relationship status deserves the same opportunity to start and expand a family," Schiff said in a statement introducing the bill. "But right now, our tax code is sorely outdated and makes it harder for LGBTQ+ individuals and couples to afford treatments to bring children into their families, such as [in vitro fertilization]."
According to the language of the bill, assisted reproductive treatments that would be made more financially accessible would include "any methods, treatments, procedures, and services for the purpose of effectuating a pregnancy and carrying it to term, including gamete and embryo donation, intrauterine insemination, in vitro fertilization, intracervical insemination, traditional reproductive surrogacy and gestational reproductive surgery."
The IRS has, in the past, asserted that tax deductions for in vitro fertilization and other surrogacy-related costs can be classified as such due to the patient's own medical conditions that cause infertility. While IVF treatment is included in IRS policy as an expense that could count as deductible, the policy includes it only as a treatment for an inability to have children. In the instance of same-sex couples or LGBTQ individuals, the IRS has argued that surrogacy and IVF are not needed as a result of a medical condition causing infertility, but rather a choice not to have one's own children.
In a private letter ruling released in April 2021, the IRS detailed its reasoning for denying such deduction requests.
"Only costs and fees directly attributable to medical care for diagnosis, cure, mitigation, treatment, or prevention of disease, or for the purpose of affecting any structure or function of the body of the taxpayer, the taxpayer's spouse, or taxpayer's dependent qualify as eligible medical expenses," the IRS wrote. "Expenses involving egg donation, IVF procedures, and gestational surrogacy incurred for third parties are not incurred for treatment of disease nor are they for the purpose of affecting any structure or function of taxpayers' bodies."
Past attempts to challenge the IRS's policy have been unsuccessful in the court system.
A 2016 lawsuit brought by Joseph Morrissey, a gay man seeking to have children with his partner via a surrogate, argued that the IRS violated the Constitution in denying his request to count the medical costs of surrogacy as a deduction. The U.S. Court of Appeals for the 11th Circuit later found that the IRS had not violated Morrissey's constitutional rights, as the IVF-related care did not pertain to Morrissey's biological ability to have children.
But in order to provide equitable healthcare to all Americans, Chu believes that passing her bill is necessary.
"Every American deserves access to quality reproductive care and the Equal Access to Reproductive Care Act will even the grounds for taxpaying families seeking deductions on reproductive expenses — regardless of sexual orientation, gender identity, ability status or marital status — and will ensure greater access and affordability for critical family planning care," Chu said.
The lawmakers' push to secure such equity in healthcare comes amid one of the most tumultuous times in the last half-century for such freedoms. As the nation awaits the U.S. Supreme Court's decision in Dobbs v. Jackson Women's Health Organization, many are skeptical of the court's willingness to uphold any nationwide right to abortion and fear the broader affects such a decision could have on rights established by other past cases.
In stressing what he sees as the importance of ensuring reproductive freedoms, Schiff appeared to make a veiled reference to the impending decision in his statement.
"Now more than ever, we must do everything we can to make sure everyone has access to affordable family planning care, and to protect people's rights to make health care decisions for themselves and their families," Schiff said.
Victory Fund notes increase in out LGBTQ congressional candidates in 2022
Victory Fund notes lack of equitable representation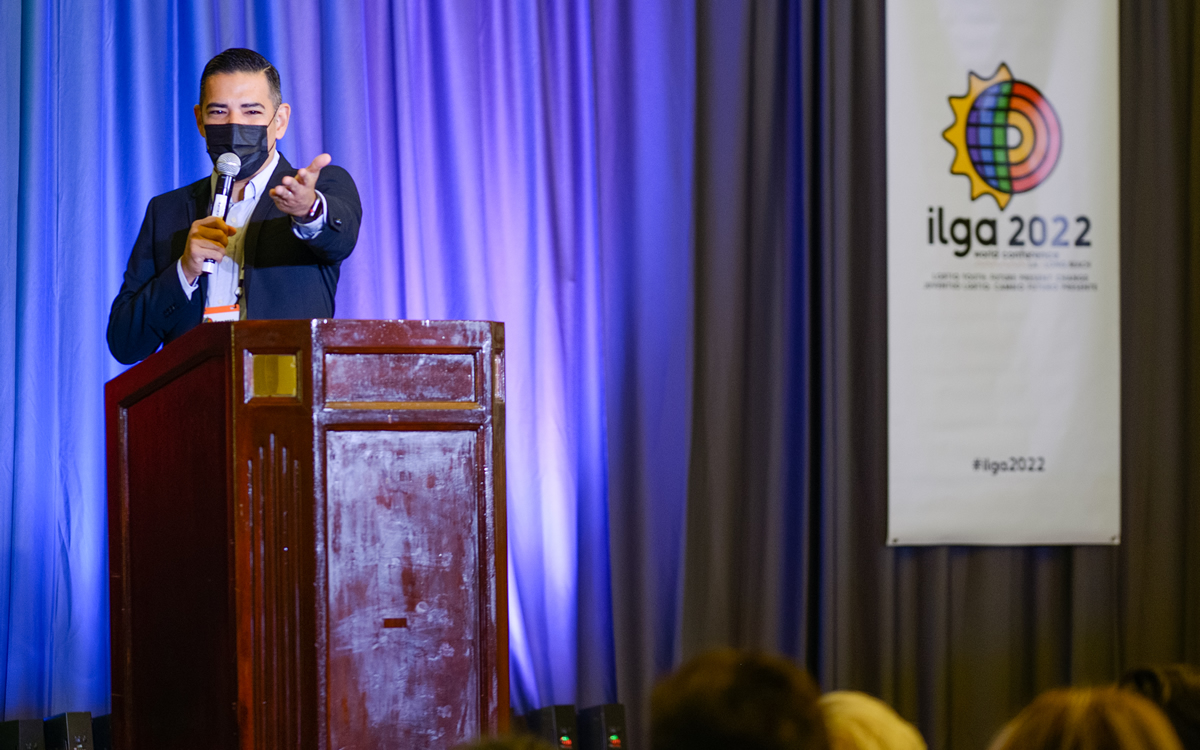 As the 2022 midterm elections draw near, a record number of LGBTQ candidates have been running for Congress. But while some segments of the community have made gains in political presence, other metrics are falling short when it comes representation that is reflective of the U.S. population.
New data from the LGBTQ Victory Fund notes 104 openly LGBTQ people have run or are currently running for congressional seats this cycle. This figure is up from 87 candidates who ran for such offices in 2020.
There are currently nine LGBTQ members of the U.S. House of Representatives and two out U.S. senators. In order to reach equitable representation with the 7 percent of Americans who identify as LGBTQ, 22 additional LGBTQ representatives and five additional LGBTQ senators would need to be elected.
Victory Fund Press Secretary Albert Fujii told the Washington Blade that, in the face of threats such as recent and impending U.S. Supreme Court decisions that could have wide-ranging implications for LGBTQ rights, achieving such representation is of paramount importance.
"The 11 LGBTQ members of Congress currently serving punch way above their weight and have delivered meaningful results for our community time and time again, despite being woefully outnumbered," Fujii said. "But with a Supreme Court hell bent on choosing politics over precedent, our congressional champions desperately need backup to ensure our fundamental human rights are not rolled back to a time when bigotry was the law of the land."
As races now stand, 57 LGBTQ candidates remain on the ballot for congressional seats in November.
The mounting presence of LGBTQ people who are running for office is mirrored by a growing share of community members participating in the national electorate.
In 2018, an election cycle that was dubbed by many as a "rainbow wave" for LGBTQ representation in government offices, a record number of out candidates were elected to positions across the country. LGBTQ voters similarly reached a new height of electoral visibility, making up 6 percent of the overall electorate. Just two years later, the share of LGBTQ voters rose to seven percent of all Americans who voted in 2020.
"In 2018 and 2020, millions of people of all backgrounds and races showed up to cast their votes in record numbers, electing a historic number of women, people of color and LGBTQ+ leaders," Human Rights Campaign Interim President Joni Madison said in a statement endorsing re-election for the nine current LGBTQ House members. "We must once again mobilize in even larger numbers to re-elect these members of Congress that will champion equality."
The Victory Fund data also notes racial diversity of LGBTQ congressional candidates is also on the rise.
Nearly 45 percent of LGBTQ congressional candidates still running in the 2022 cycle are people of color, reflecting national movements in recent years to push back against suppression of voters and voices of both people of color as well as intersectional communities. The number also reflects 2019 data from the University of California, Los Angeles, that found 42 percent of people who identify as LGBTQ in the U.S. are people of color.
In other ways, however, the current field of LGBTQ candidates falls short of relative representation for certain segments of the community.
In a Congress that has not seen any member of the transgender community be elected to either chamber, the Victory Fund's data shows that only about four percent of LGBTQ candidates still running identify as trans. The number falls under the 10 percent of LGBTQ adults in the U.S. that identified as trans in a February Gallup poll and comes amid legislative attacks on trans youth across the country.
But as midterm primaries approach throughout the coming months, groups like the Victory Fund remain persistent in their efforts to reach what they see as adequate levels of congressional representation for LGBTQ Americans.
"Gaining equitable representation in Congress would not only increase our political power and increase the odds our rights are finally codified into federal law, it would send a crystal clear message that anti-LGBTQ vitriol will not prevail," Fujii said. "Until then, we are proud to keep building a bench of highly qualified LGBTQ leaders."
Democratic lawmakers reintroduce 'lavender scare' firings review bill
Thousands of LGBTQ federal government employees lost jobs during anti-communist purge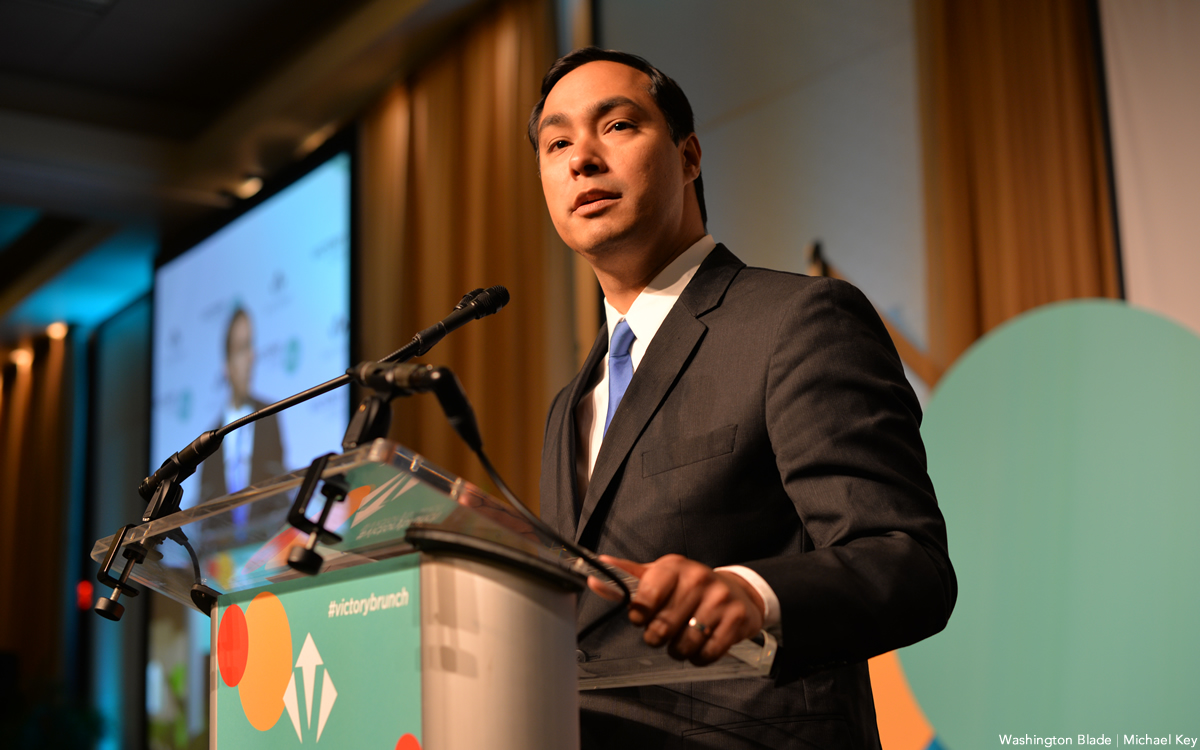 Three Democratic lawmakers on Thursday introduced a bill that seeks to rectify the harm caused to LGBTQ federal government employees who were fired during the so-called "lavender scare."
"Today, as the United States confronts renewed threats to LGBTQI+ rights at home and abroad, we need to remember the far-reaching consequences of institutionalized homophobia," said U.S. Rep. Joaquín Castro (D-Texas) in the statement that announced he and U.S. Reps. David Cicilline (D-R.I.) and Dina Titus (D-Nev.) introduced the Lavender Offense Victim Exoneration (LOVE) Act in the U.S. House of Representatives. "The so-called 'lavender scare' handed power to blackmailers and homophobes, stripped thousands of hard-working Americans of their jobs, and weakened our national security." 
The 'lavender scare', as it was called, saw the firing of thousands of gay employees throughout the federal government — particularly the State Department — from the 1940s to the 1960s as anti-communist sentiment raised suspicion toward certain minority groups in multiple spheres of American society.
The LOVE Act has been introduced before previous Congresses, including in both 2019 and 2020. While the bill in 2020 was also authored by Castro and Cicilline, U.S. Sen. Bob Menendez (D-N.J.) introduced the 2019 measure.
"It is long past time for the U.S. government to recognize the stories of the LGBTQI members of the State Department who were treated unfairly during the 'lavender scare,' and to offer them and their families a measure of justice," Menendez said in a statement after introducing the 2019 bill.
In addressing what its sponsors identified as harm done to the LGBTQ community as a result of the 'lavender scare,' the newest LOVE Act proposes measures to be implemented within the State Department similar to those in previous forms of the bill.
Among its provisions, the bill would mandate the investigation of cases of those in the State Department targeted by the 'lavender scare' decades ago. In addition, the legislation would require the creation of an Advancement Board within the State Department to aid LGBTQ diplomats and their spouses both within the department as well as in their interactions with foreign countries.
On the congressional front, the bill would call for Congress to issue a formal apology for the role it played in the propagation of the 'lavender scare.'
Subsequent bans on employment under the federal government for members of the LGBTQ community have made resurgences in the decades since the 'lavender scare.'
The Obama administration in 2016 ended a ban on transgender Americans serving in the military that had been in place since the 1960s. The Trump administration reinstated the policy, but President Biden again reversed the ban within days of his inauguration.
"And what I'm doing is enabling all qualified Americans to serve their country in uniform, and essentially restoring the situation as it existed before, with transgender personnel, if qualified in every other way, can serve their government in the United States military," Biden said.
Castro framed the proposed legislation as an important step toward both ensuring both reparation for the events of the 'lavender scare' as well as preventing such discrimination from occurring in the future.
"As we celebrate Pride Month, I'm proud to introduce the LOVE Act, which is an important step forward to address the harms of the 'lavender scare' and protect today's State Department employees from discrimination," Castro said.