Tori Amos spins magic at Sunday night D.C.-area concert
First show in the area since '17 finds Gen X icon vocally subdued but musically energized
As with many veteran rock stars, it's sometimes hard to get a handle on how hot or cold Tori Amos's 30-year-old solo career is at the moment. It sometimes seems like she's moving past the take-her-for-granted-because-she's-never-away-for-long phase, and there certainly was that sense in the air Sunday night for her D.C.-area stop of her current "Ocean to Ocean Tour," her first show here since 2017, which, with COVID, feels like a lifetime ago.
But there are also signs that it's never been chillier for Amos in the overall pop culture landscape. It's been a decade since she charted a single on any chart and there were no videos or singles from her "Ocean to Ocean" album last fall. It landed just outside the top 100 on the U.S. Billboard 200 album sales chart altogether, a new low that would have been unthinkable even a few years ago when her "regular" (i.e. non-specialty/concept) albums were almost guaranteed a top 10 debut.
The slide has been swift, too: 2014's "Unrepentant Geraldines" hit No. 7, the next album (2017's polarizing "Native Invader") only made it to 39, then came "Ocean's" thud at no. 104. There's a lot you could point to to explain it — streaming, her aging Gen X fan base, the endless undulations of the music industry itself — but in some ways it has started to feel like she's getting less and less return on her artistic dollar than one would expect.
Yeah, that always happens with veteran female pop stars once they hit their 50s and beyond, but Amos and her small but mighty fan base, who for decades exhibited a devotion of Grateful Dead-like proportions, outran the trend for so long, to see it finally catching up is a bit bewildering.
But then you go hear her live at a decent-size venue like The Theater at MGM National Harbor (which seats 3,000 and was about 97 percent full), and it feels nearly like old times. Sure, some of the excitement was just that we're all gagging at being at concerts at all and having mask restrictions and vaccine requirements paused, but there was an electricity that, while mellower than it was at Amos concerts in the '90s, still felt magical. I've never in my life seen so long a line for the merch table.
The concert itself was, for the most part, sublime. It was the first time since 2009 she's toured with a band and while her solo shows are great too, there was pent-up yearning to hear her unleash full-on with a solid rhythm section (Jon Evans on bass, Ash Soan on drums) again. Beat-heavy songs like "Raspberry Swirl" and "Cornflake Girl" sounded tepid with canned beats the last few times out, so to hear everything truly live (save a few BGVs and effects) last night was heavenly.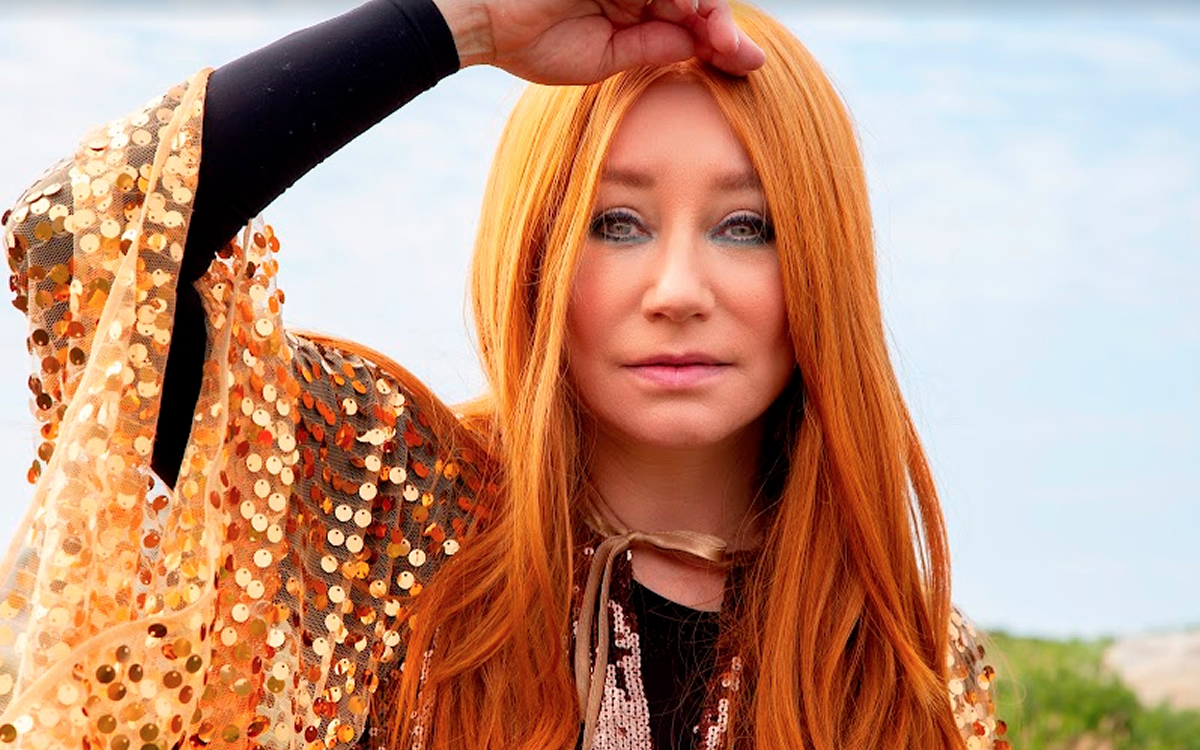 The show had special poignancy too, as Amos grew up in the region. She has written and commented heavily on the immense toll her mother's 2019 death took on her personally and artistically, so that the date happened to be Mother's Day gave the proceedings added gravitas. "Mother Revolution" and "Jackie's Strength" spoke, of course, to the holiday, though (and this is quibbling) I would have vastly preferred "Mother" from "Little Earthquakes," a deep cut we haven't heard live in eons.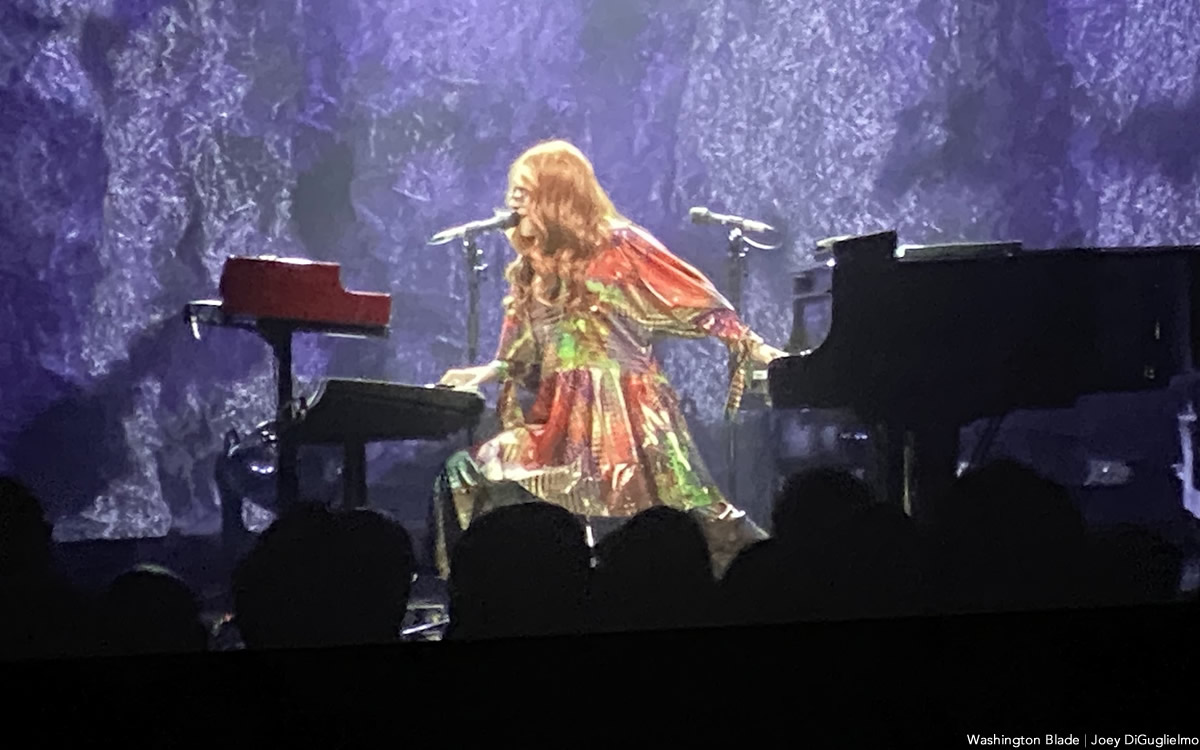 Highlights included the slinky, rhythm-loopy opener "Juarez"; "Ocean to Ocean," one of three cuts performed from the new record, which shimmered with Philip Glass-like piano arpeggios; the vampy, slinky interplay between the three musicians on "Mother Revolution"; and unexpected fan favorite "Spring Haze." Amos, overall, is varying up the set list quite a bit less than is her norm, so it was one of the few surprises of the evening. 
The lengths of several of the songs were drawn out considerably. At times — "A Sorta Fairytale," the aforementioned "Revolution" — that worked well and gave the band time to languidly jam. At other points, it felt a bit self-indulgent and even slightly boring — as on "Sweet Sangria" and "Liquid Diamonds."
"Russia," a bonus cut from the last album, sounded just how it did when Amos performed it here in 2017, but took on added resonance because of current events. Closing line "Is Stalin on your shoulder" was chilling.
Overall, the show — lighting, pacing, everything — largely worked. The sound mix, which fans have said has been muddy at some venues recently on the tour, was pristine. Pacing only lagged a few times in some of the mid-tempo cuts from later albums, but just when you felt some were zoning — the flow of those entering and exiting is a good barometer — Amos whipped things back together with a fan favorite like "Past the Mission" or "Spring Haze."
It all came to a satisfying, audience-friendly climax with "Cornflake Girl," then the two encore cuts, "Precious Things" and "Tear in Your Hand," both from the first album.
Vocally, the range was there and sounded lovely, but the oomph was considerably held back. Vocal preservation for the many dates ahead? Probably. It's understandable. Amos, at 58, may lack the stamina she had 20 years ago, but it did feel underwhelming in passages that in years past would have been full on, balls out like the "Bliss" bridge or the "nine-inch nails" passage from "Precious Things."
Not one acknowledgment or mention by Amos of the female folk duo openers Companion. I'd have invited them out for a few numbers to sing BGVs. I mean, heck, they're in the house, why not? And other than the welcome, a brief soliloquy on Mother's Day was the only Amos comment of the entire night.
Still Amos never came off as aloof. She seemed genuinely excited to be playing live again and the queer-heavy crowd responded in kind.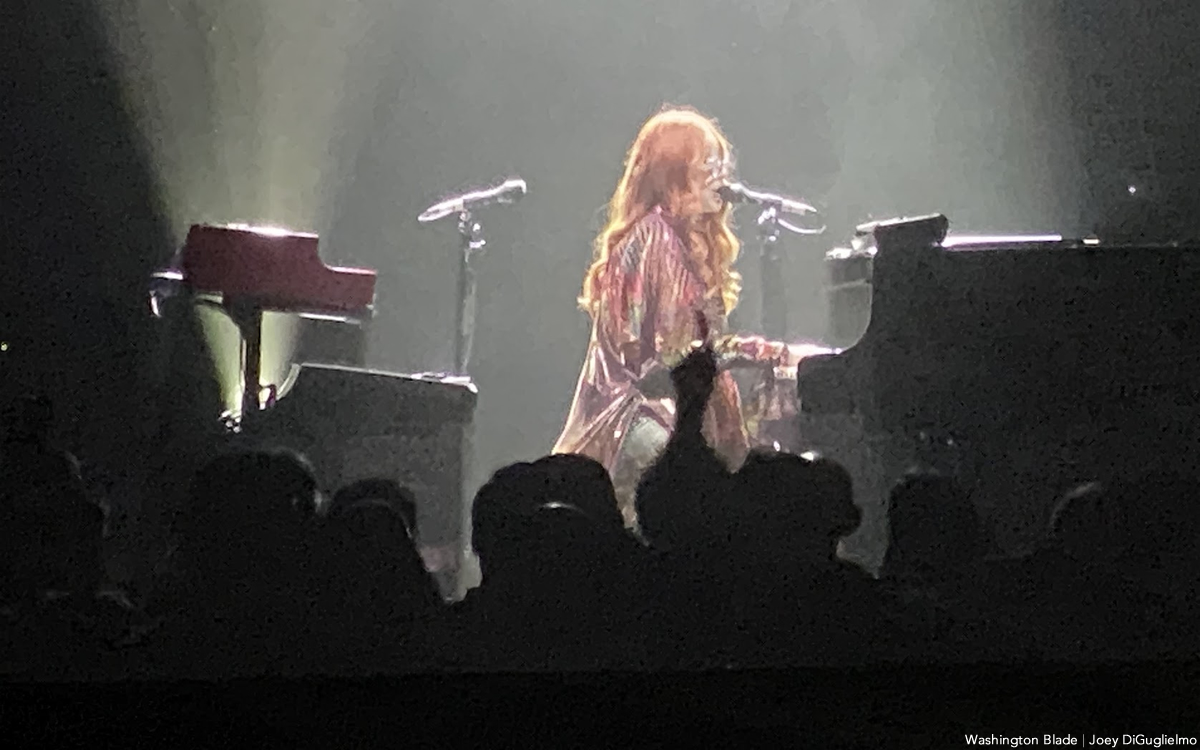 Trans soprano leads glorious 18th century 'Christmas Oratorio'
Misgivings about fitting into music world prove unwarranted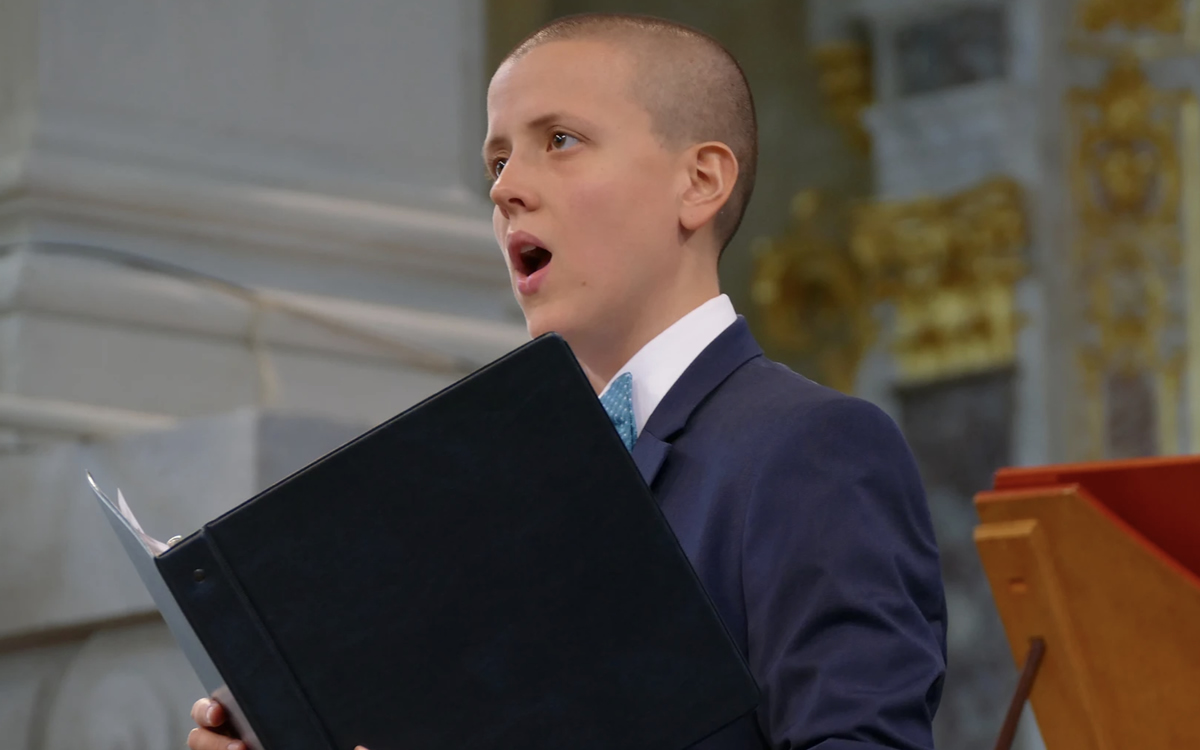 Washington Bach Consort presents
Bach's Christmas Oratorio
Saturday Dec. 10 at 7 p.m.
Music Center at Strathmore
5301 Tuckerman Lane
North Bethesda, Md.
$25 – $89
Strathmore.org
When it comes to opera, Elijah McCormack, 28, is typically cast as children. The talented trans male soprano looks young and sings high, so outside of an educational setting where he's played adult parts, playing extreme youths has become a sort of musical niche.
"It would be really cool to do a baroque opera and actually sing the primary male lead," he opines good naturedly before avowing a passion for both opera and his other work – singing sacred music as a grownup at far-flung concerts and festivals.
On Saturday, McCormack joins the Washington Bach Consort at Strathmore as the soprano soloist in Bach's Christmas Oratorio, a glorious 18th century Baroque telling of the Nativity, sometimes billed as Germany's "seasonal equivalent to the English-speaking world's "Messiah."
"The oratorio is lovely. There are two soprano arias: one is bouncy and exciting and the other meditative. I like them both," he says.
While this is his first time performing at Strathmore, he's sung with the Washington Bach Consort before. The consort's artistic director Dana Marsh met McCormack at Indiana University's Historical Performance Institute (where Marsh is a professor and McCormack graduated in 2019 with a master's of music) In recent years, Marsh has invited him to sing with the consort as both soloist and ensemble member. McCormack cites Marsh as a formative influence and great help.
McCormack grew up in Connecticut (where he's currently based) surrounded by classical music. In addition to a lawyer father passionate about the Romantics (Mahler, Strauss, Wagner), there were many choir practices and performances at the local Episcopalian church, and some pre-transition musical theater parts in high school including Grandma Tzeitel in "Fiddler on the Roof."
"I liked musical theater; it didn't like me," he says wryly.
During his undergrad years at Skidmore, a liberal arts college in upstate New York, McCormack was a studio art major with a concentration in painting who did loads of singing too. Still, as a trans male soprano, he wasn't sure there would be a place for him in the professional musical performance world.
In 2016, near the end of his senior year, something rare and wonderful happened. Skidmore uncharacteristically staged a fully produced Baroque opera, "Serse" by Handel, and McCormack was cast as the secondary male lead, a role originally written for a castrato: "That experience of singing was really affirming for me. I suddenly knew there were roles for me and music that suited my voice."
He had realized he was trans at 17 and transitioned socially at Skidmore. "For me personally, it was a fairly uncomfortable way for me to spend my first years in college. At one point, I'd thought about hormone therapy and figured that "Serse" would be the last hurrah of my soprano voice. But because I loved singing soprano so much, I didn't do it."
Other changes were made without regret, however. He credits top surgery in 2014 with improving both his general quality of life as well as his singing abilities. No longer having to bind his chest, like many trans men and trans masculine people do, his singing markedly improved.
Also, misgivings about fitting into the music world have proved unwarranted.
"Always, walking into an audition room is the hardest part. I tend to think they know I'm queer but maybe they're unsure exactly what flavor of the rainbow I am," says the prize-winning singer. "So far, being visibly gender nonconforming, especially in a traditional space like you typically find with classical music, hasn't elicited negative reactions. People don't understand everything, but I'd say the world is catching up in terms of how to talk to and about people of various gender experiences."
At over two hours is Bach's Christmas Oratorio too heavy for the casual listener?
"Depends on attention span," he says. "But as things go, it's accessible — fun, joyful, and a good time. And it's not one of the usual holiday things you're likely to have already seen a million times."
Streisand's 'Live at the Bon Soir': Birth of a diva
Album finally released 50 years after being recorded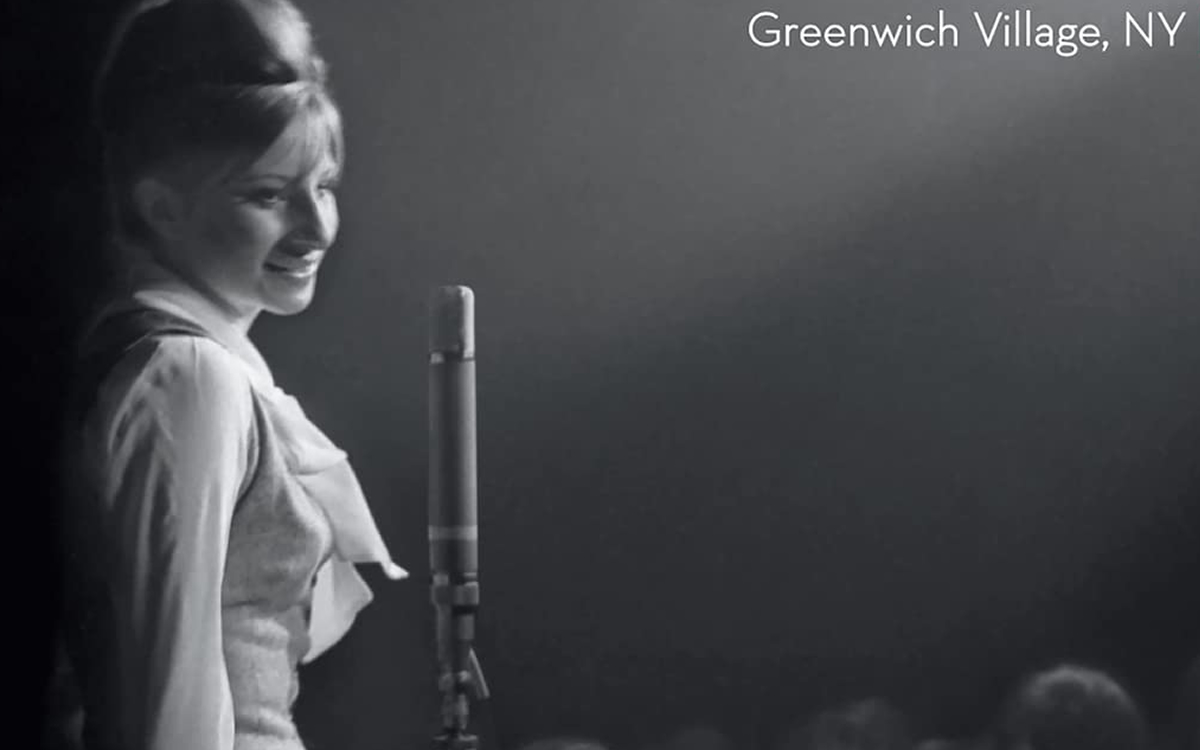 Happy days are here again!
Sixty years ago, for three nights in November 1962, Columbia Records recorded a young (20-year-old) singer as she performed at the Bon Soir, a small nightclub in Greenwich Village. The singer's name was Barbra Streisand, and the recording was slated to be her debut album. Streisand wasn't that widely known then. But as (the character) Miss Marmelstein, Streisand was stopping the show nightly in the Broadway production "I Can Get It for You Wholesale." After the show's curtain call, she took a cab to perform at the Bon Soir club, according to the website barbra-archives.info.
But though the recording of Streisand live at the Village club was talked about the way you'd chat about an awesome legend, the album was shelved for more than half a century. Instead of releasing the "Live at the Bon Soir," Columbia in 1963 released "The Barbra Streisand Album" (which was recorded in a studio) as Streisand's debut album.
If you're queer, you know Streisand rules! To the delight of critics, fans and mid-century history aficionados, on Nov. 4, six decades after it was recorded, "Live at the Bon Soir," wonderfully remastered, was released on vinyl and SACD. It is also available on streaming services.
If you've fantasized about spending an intimate evening with Streisand (Barbra singing and engaging in witty repartee for just you and your intimates), "Live at the Bon Soir" is a dream come true. When Streisand says, "I wish there were another word for thank you…I mean, like, anything, you know" and introduces the club audience to her "boyfriend's suit," you feel that she's talking directly to you.
Streisand's voice is at its youthful, gorgeous best and her one-of-a-spectacular-kind personality comes through in her banter between songs. Listening to the album is an immersive experience. You're witnessing the birth of a diva.
The album's 24 tracks range from an indelible version of the torch song "Cry Me a River" to a playful rendition of "Who's Afraid of the Big Bad Wolf?"
One of the best things about "Live at the Bon Soir" is its comprehensive, illuminating liner notes. Produced by Streisand, Martin Erlichman and Jay Landers, the CD of the album is packaged in a hardcover book with 32 pages of historical notes, photos and a message from Streisand. The vinyl version comes with a 12-page booklet. The notes provide insight into not only the making of the album, but of most interest to Streisand devotees, what it was like to perform live at the beginning of her career.
"I had never even been in a nightclub until I sang in one," Streisand writes in the album's liner notes about performing at and recording "Live at the Bon Soir."
"I sang two songs in a talent contest at a little club called the Lion and won," Streisand adds, "which led to being hired at a more sophisticated supper club around the corner called the Bon Soir, with an actual stage and a spotlight."
The sound on the restored version of "Live at the Bon Soir" is much better than it was on the original recording.
"The science of recording has made quantum leaps since 1962," writes Landers on the album's liner notes, "Grammy Award winning engineer, Jochem van der Saag, has subtly solved audio issues in ways his predecessors could hardly have fathomed."
Streisand has recorded albums with political and contemporary songs. These recordings are often superb. (Is anything by Streisand ever remotely bad?)
But "Live at the Bon Soir" is a gift to anyone who loves standards from the American song-book – from "I Hate Music" (Leonard Bernstein) to "Right as the Rain" (Harold Arlen/E.Y. Harburg) to "Come To The Supermarket (in Old Peking)" (Cole Porter) to "Happy Days Are Here Again" (Jack Yellen/Milton Ager).
Even if you're allergic to show tunes, you'll be entranced by "Live at the Bon Soir."
The Blade may receive commissions from qualifying purchases made via this post.
Riding the joy train with Amy Ray
New solo project 'If It All Goes South' focuses on healing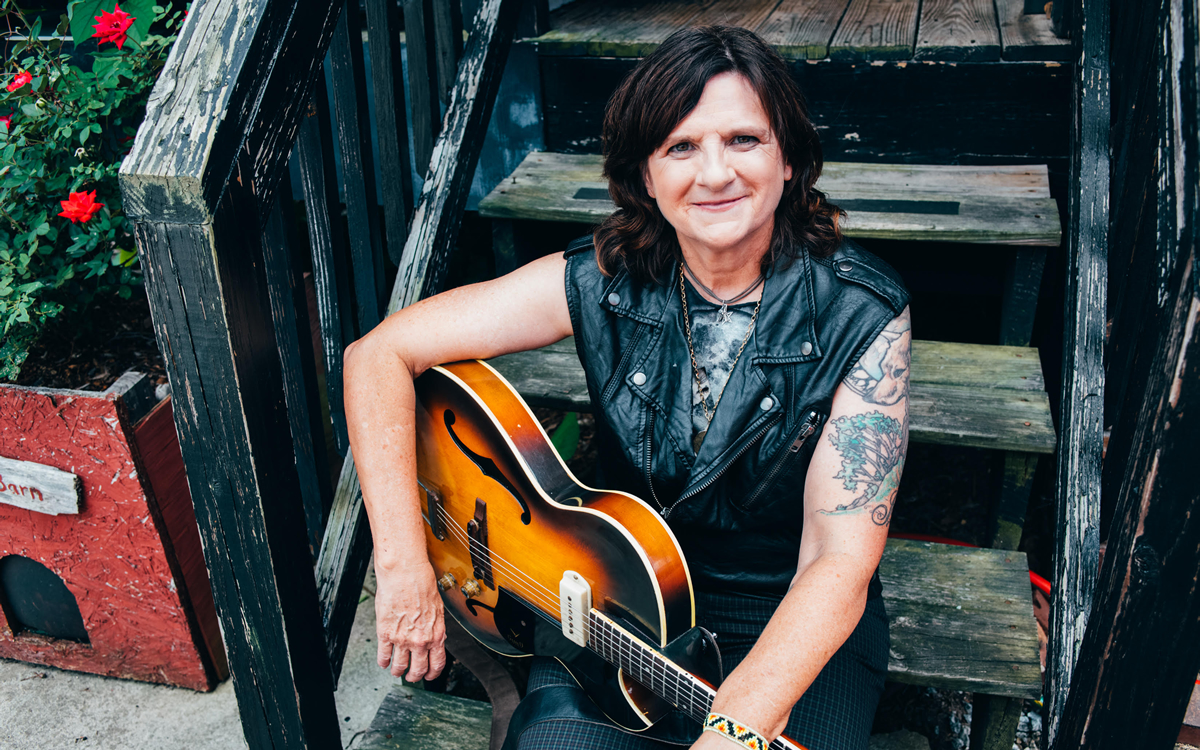 Whether out singer/songwriter Amy Ray is performing with longtime musical partner Emily Saliers as one half of the Indigo Girls, as she has since the mid-1980s, or going solo as she did with her solo debut "Stag" in 2001, you recognize her instantly. Her distinctive vocal style, which suits whatever genre she's performing – folk, punk, Americana, or gospel – has become as much her trademark as the outspokenness of her lyrics.
"If It All Goes South" (Daemon), Ray's exceptional seventh solo album is a welcome addition to her singular output, touching on themes of queerness and social issues, all performed in her warm and welcoming manner. Amy was gracious enough to make time to talk about the new album around the time of its release.
BLADE: Before we get to your new album "If It All Goes South," I wanted to go back in time a little bit. Your 2001 solo debut album "Stag" and its 2005 follow-up "Prom" are firmly rooted in a punk rock/riot grrrl aesthetic. While the Indigo Girls are more than capable of rocking out, did you feel that the songs on those albums wouldn't have been a good fit for what you do with Emily (Saliers)?
AMY RAY: Yes. I think it was because of two things. One was the collaborators. Those were people I'm a fan of, most of them are people that Daemon Records (Ray's record label) had an association with, in some way or another. It was kind of like this other camp of people that were different from the collaborators that the Indigos would typically play with. It tended to be more studio accurate, in some ways. As opposed to that punk rock ethic which is music being from a different place, and accuracy maybe being less important than technical prowess.
BLADE: A little more DIY.
RAY: Yeah! And I also think the subject matter, the songs were just a little more singular in a way that was hard to do them as the Indigo Girls and not dilute the message. As soon as you get us together, we really shift the other person's song, it becomes a duet. The subject matter to me was so specific and gender queer and punk rock edge that it didn't feel like it would work. At that time, when I wrote (the song) "Lucy Stoners," Emily wasn't interested in doing some of those songs. She wasn't down with the attitude. Now, she would say, I'm sure just knowing her, that [laughs] she'd do it now. Because her attitude has changed. I was hanging out with and influenced by people that were from that DIY movement, and there was lots of gender queer conversation. It was a different place than Emily was in as a gay person. Now, I look back on all of it and I think I was, all the time, reaching around to different collaborations because I love collaborating with different kinds of people. It always teaches me something. It's also a different itch that I get scratch.
BLADE: In terms of trajectory, to my ear, your most recent three solo albums – 2014's "Goodnight Tender," 2018's "Holler," and the new one, "If It All Goes South" (Daemon) – in addition to being alphabetically titled, feel like an Americana trilogy. Do you consider them to be linked?
RAY: Yeah. I mean I didn't say to myself, "This is the third one and then I'll stop." But "If It All Goes South" was definitely a record where there was a thread from the other ones and some things that I wanted to achieve that I didn't feel like I was able to do on the other ones. I think I didn't even know that until we started making this one. This is more successful at combining a few of my punk-abilly influences into an Americana world. Also, some of that spontaneity we were starting to get on "Holler." Now that we've played together as long as we have as a band, it was at its peak on this record. I think we just needed to make a couple of records to get to that place. I like them all, but for different reasons. They do different things for me. This one gathers up all the loose ends of "Holler" and "Goodnight Tender" musically and ties them up and puts them in a different context, and almost raises the bar. Lyrically, I wanted to have songs that were about healing, a "you're not alone" kind of vibe, because of the time period that we had just been through. It's also the same producer (Brian Speiser) on all three, and we've worked together on projects. It started off casually – "Hey, I've been wanting to do this country record with these songs. Let's do this together."
BLADE: Am I reading too much into the album's title "If It All Goes South," or is it a play on words, as in "goes south" as a direction and as deterioration?
RAY: You're not reading too much into it. There's even more you can read into it, politically. When I was writing (the song) "Chuck Will's Widow," Georgia was the epicenter of some big political movement. When Warnock got elected and Abrams declared running for governor again, I was like, "Oh man, I'm in the right place for once." But we knew it wasn't always going to be easy. My perspective in that song was a couple things. "If it all goes South, count it as a blessing, that's where you are." Yes, it's directional, and also like, if things get really shitty, try to make the best of it, of course, it's what you tell your kids all the time.
BLADE: As any Indigo Girls fan or follower of your solo output knows, you have a history of playing well with others, in addition to Emily (Saliers), "If It All Goes South" is no exception with guest vocalists including Brandi Carlile ("Subway"), H.C. McEntire ("Muscadine)," Allison Russell ("Tear It Down"), Natalie Hemby ("From This Room"), and the trio I'm With Her ("Chuck Witt's Widow"). When you begin the recording process for an album do you have a wish list of musical guests or how does that work?
RAY: I usually have a wish list when I'm writing the song. Alison Brown, she's part of the band, so I always think about her banjo playing when I'm writing. She doesn't tour with us, but she's in the band. I started writing "From This Room" a long time ago, and I started writing it as a duet. I didn't have anybody in mind at that point, but I hadn't finished it yet. When I was finishing it for the record, I had just seen Natalie Hemby with The Highwomen and had also just had met her and Emily writes with her sometimes. So, I knew her and I was thinking about her voice. When I wrote "Subway," in part, in tribute to (the late DJ) Rita Houston, who had been so crucial. She and Brandi Carlile were super close. She really helped develop Brandi's career in being such an indicator station, getting other people on board. So, I was thinking about Brandi and the chorus vocals that would be there because I was writing kind of an ambitious chorus for me [laughs]. I'm like, "I'm gonna have to have Brandi in here!" For "North Star," that kind of gospel song at the end, when I wrote it and Jeff Fielder, the guitar player, and I were demoing it, I was like, "This is not right. There's another ingredient. I don't know enough about the kind of music I'm trying to write to do it." I got Phil Cook to come in, as a co-writer really, to finish the song musically. Fill out the chords and make it the gospel song I was trying to write. The only person I wanted to do this was Phil Cook. I am just very specific. Like Sarah Jarosz, on this record in particular I wanted to get a mandolin player and I wanted Sarah to play mandolin. We're always covering the parts ourselves. Jeff's a great mandolin player, but Sarah Jarosz is a fucking prodigy [laughs]. … It's never like a wish list of, "Who's famous? Who can we get?" It's more a case of who are these songs geared towards, so that when they come into the studio, you don't tell them anything, really. They just do what they do great, and it works.
BLADE: You mentioned the late, queer, influential WFUV DJ Rita Houston, and I was wondering what you think the loss of Houston means for new artists?
RAY: It's a huge hole in the universe of people that would take a new artist and sort of help develop them, take chances at radio, and give people that space. She also was a mentor to artists. She wasn't ever judging your art by whether you were gay or not, or what color your skin was. … She was a mentor in shared musicality. Being able to trust her and understanding how that taught you about the terrain that you're in and who you can and can't trust in that way.
BLADE: "Subway" ends with the line "This Georgia girl has got it bad for New York." With that in mind, could there be an Amy Ray or Indigo Girls musical on Broadway at some point in the future?
RAY: [Big laugh] That's Emily's territory. She's working on some things. A couple of different musicals, and I'm not working on them with her. She's developing two different ones, and I think one of them has actually gotten some traction and some workshopping that's pretty important. There is a musical that a friend of mine from high school has been writing that's really interesting and it's gotten a lot of workshops. It's still in the early stages. It uses Michelle Malone's music and my solo music. Then there's a movie coming out called "Glitter and Doom" which is a movie musical that's just Indigo Girls music. It's coming out next year, I think. We're still working on the final credits song.
BLADE: After the current Indigo Girls tour wraps up, is there a possibility of an Amy Ray solo tour?
RAY: Yeah. We're booking dates in February for the South. I've tried touring in cold places in February, and it's hard [laughs]. We'll head up to the North in May.