Capital Pride honors local LGBTQ trailblazers
Rieger receives posthumous Presidential Award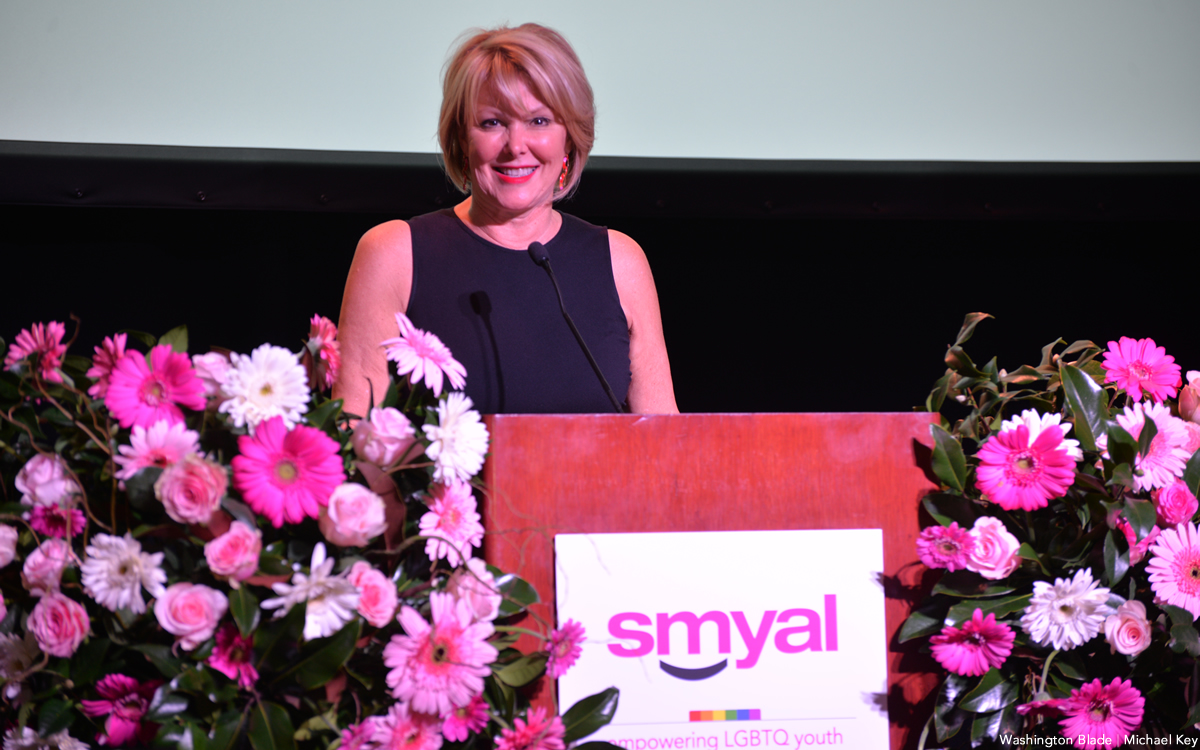 Capital Pride Alliance last week hosted its annual Pride Honors awards ceremony where it recognizes outstanding individuals, leaders, and activists in the National Capital Region who have furthered causes important to the LGBTQ community.
Among those honored, six individuals were named "heroes" including Karl Frisch, who became in 2019 the first openly LGBTQ member of the Fairfax County School Board and the only out school board member in Virginia.
Capital Pride volunteer Deborah McQueen was awarded the Bill Miles Award for Outstanding Volunteer Service for 17 years of helping the organization with its yearly summer festivities.
The organization also posthumously named television veteran Wendy Rieger recipient of the Presidential Award. The former anchor was an established reporter in the D.C. area, won four Emmy Awards, and was well known and beloved for her acts of service to the LGBTQ community such as joining her NBC4 colleagues in participating in three D.C. AIDS Rides, returning year after year to emcee events SMYAL and the Gay Men's Chorus of Washington.
"We wanted to make sure her community involvement was recognized," said Anthony Musa, vice president of board engagement and a member of Capital Pride's board of directors.
Musa, who helped select this year's nominees, highlighted that this year's nominees were dynamic and that he liked how involved in the LGBTQ community they are. He and other board members selected the winners after issuing an open call that yielded them more than 150 applications.
"The nominees have a range of activities outside of just their [normal] jobs," he said. "One of our nominees [is involved] in immigration advocacy while also working to support trans women of color."
Diana Fitz, who was one of the six "heroes," immigrated to the U.S. from Guatemala when she was 9 years old, and received her bachelor's degree in government administration from Christopher Newport University and her master's in government with a concentration in public policy from Regent University.
She worked as director of Latinx Affairs at Casa Ruby, an organization that provides social services to immigrant transgender women of color, and is the first transgender person to work at Ayuda, which provides legal, language, and social services to low-income immigrants in the D.C. area.
When selecting award nominees, Musa and the Capital Pride board considered how the LGBTQ community has evolved since the start of the COVID-19 pandemic. They selected individuals who had worked in different arenas such providing healthcare, politics, community advocacy, and education.
Additionally, the board was conscious to select a group that was racially, ethnically and geographically diverse.
Out of a total of eight honorees, six were people of color — five of whom were Black.
A nominee who was not native to the D.C. area was Rev. Aaron B. Wade, a Chicago native who founded and is a senior pastor at the Community Church of Washington, DC – United Church of Christ. Wade is well known for his messages of love, hope, and community empowerment that he imparts through his companies Empowerment Enterprise Group, LLC and Empowerment Enterprise II, Inc.
"These organizations are the extension of his vision to empower communities and facilitate change in the world by helping to empower people to change their communities," according to Capital Pride's website.
When reflecting on this year's event, in addition to savoring entertainment from musician Inaya Day and DJ Edward, Musa focused on the honorees.
"I enjoyed seeing the honorees, working with them, and talking to them as vice president," he said.
Capital Pride reveals 2023 Pride theme
This year will focus on 'peace, love, revolution'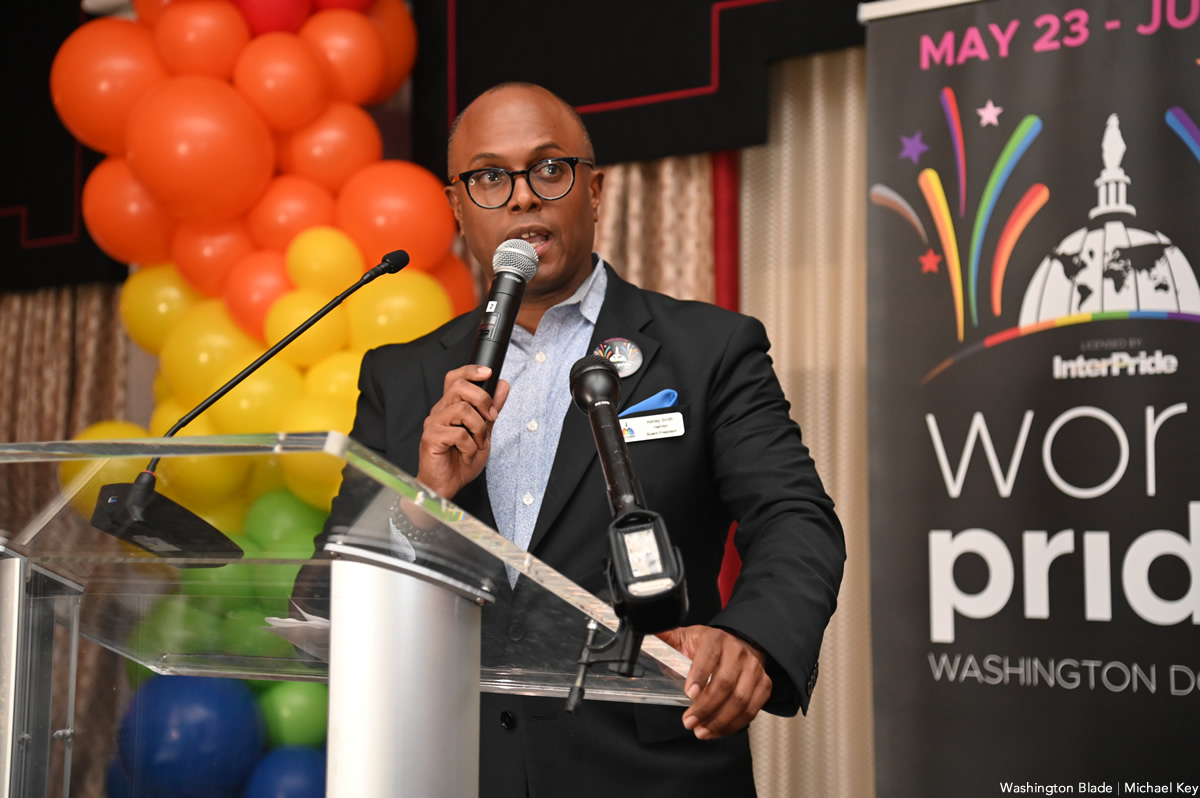 Over 300 people turned out Thursday night, March 16, for the annual D.C. Capital Pride Reveal celebration, which organizers say served as the official kick-off of the LGBTQ Pride events for 2023 in the nation's capital.
Among other plans for the 2023 Pride events, including the annual Pride parade and festival, organizers announced this year's theme for the Pride festivities will be "peace, love, revolution."
The event took place in one of the large ballrooms at D.C.'s Kimpton Hotel Monaco at 700 F St., N.W.
Officials with Capital Pride Alliance, the group that organizes D.C.'s annual Pride events, also announced at the Reveal celebration that the 2023 Pride events will set the stage for 2025, when D.C. will serve as the host city for World Pride 2025.
World Pride is an international LGBTQ event that takes place over a period of several days that usually draws a million or more visitors from countries throughout the world to the host city.
Organizers of the World Pride celebration announced last year that they had accepted D.C.'s bid to host World Pride 2025. The bid was prepared by the Capital Pride Alliance and D.C. government officials, including officials from the office of Mayor Muriel Bowser and the city's convention and visitor's bureau.
"We are thrilled to introduce our theme for Capital Pride 2023 as we gear up to welcome the world to D.C. in 2025, which is also the 50th anniversary of Pride in D.C.," said Capital Pride Alliance Executive Director Ryan Bos in a statement released on Friday. "This year's theme kicks off a three-year campaign leading into the message that we want to share with the world in 2025," Bos said.
In the statement it released on Friday, Capital Pride explained its rationale for selecting its theme, saying it was based in part on the LGBTQ rights movement's history.
"Social justice issues, including those involving the LGBTQ+ community, were shaped by moments that turned into movements beginning in the 1950s and in the years that followed," the statement says. "These movements created a REVOLUTION of change that sparked the beginning of newfound freedoms," it says.
"The fight for these liberties instilled a sense of Pride in members of the LGBTQ+ community in the decades since," the statement continues. "PEACE and LOVE motivated many of these pioneers to be brave and inspired others to fight for human rights for years to come," it says.
The statement points out that "recent challenges" have arisen in state legislatures and in Congress that have once again placed the LGBTQ community "under fire from those who would deny us our basic civil rights." It says these challenges will require a continuation of the fight for freedom "through direct action in the streets and the halls of government."
Among those who spoke at the Reveal event, in addition to Bos, were Capital Pride Board President Ashley Smith, and Capital Pride's public affairs director, Marquia Parnell.
Also speaking was Japer Bowles, director of the D.C. Mayor's Office of LGBTQ Affairs, who told the gathering that the city government, especially Bowser, will be working diligently to provide full city support for WorldPride 2025.
D.C. drag performer Shi-Queeta-Lee drew loud applause from the crowd that filled the hotel ballroom for a drag performance after the speakers addressed the crowd.
"We're going to be focused on peace, love, and revolution over the course of this next year," Smith told the Washington Blade at the conclusion of the Reveal event. "We're super excited about it because this is a part of the movement that adds to the historical pieces as we approach 2025 and World Pride in 2025," he said.
In its statement released on Friday, the Capital Pride Alliance announced the 2023 Capital Pride Parade will take place June 10, and will travel the same route as last year's D.C. Pride Parade. A Pride block party will also take place this year in a two-block section of 17th Street, N.W., near Dupont Circle in the same location as last year, the Capital Pride announcement says.
And it says the annual Capital Pride Festival and concert will take place on June 11, also at the same location as last year — along a stretch of Pennsylvania Ave., N.W., with the U.S. Capitol as a backdrop.
"Through the events of Capital Pride and its many partnerships, last year Capital Pride Alliance was able to raise over $200,000 for the Pride 365 Fund," according to the Capital Pride statement.
"The success of last year allowed CPA to invest and partner with the D.C. Center for the LGBT Community to establish a new LGBTQ+ community center for Washington, D.C., and continue the support of partner organizations that organize events such as DC Black Pride, Trans Pride, Youth Pride, Silver Pride, Latinx Pride and Asian and Pacific Islander Pride," the statement says.
Further details of plans for Capital Pride 2023 can be access at www.CapitalPride.org.
Casa Ruby board members deny responsibility for org's collapse
Civil complaints filed against officials to be discussed at March 17 hearing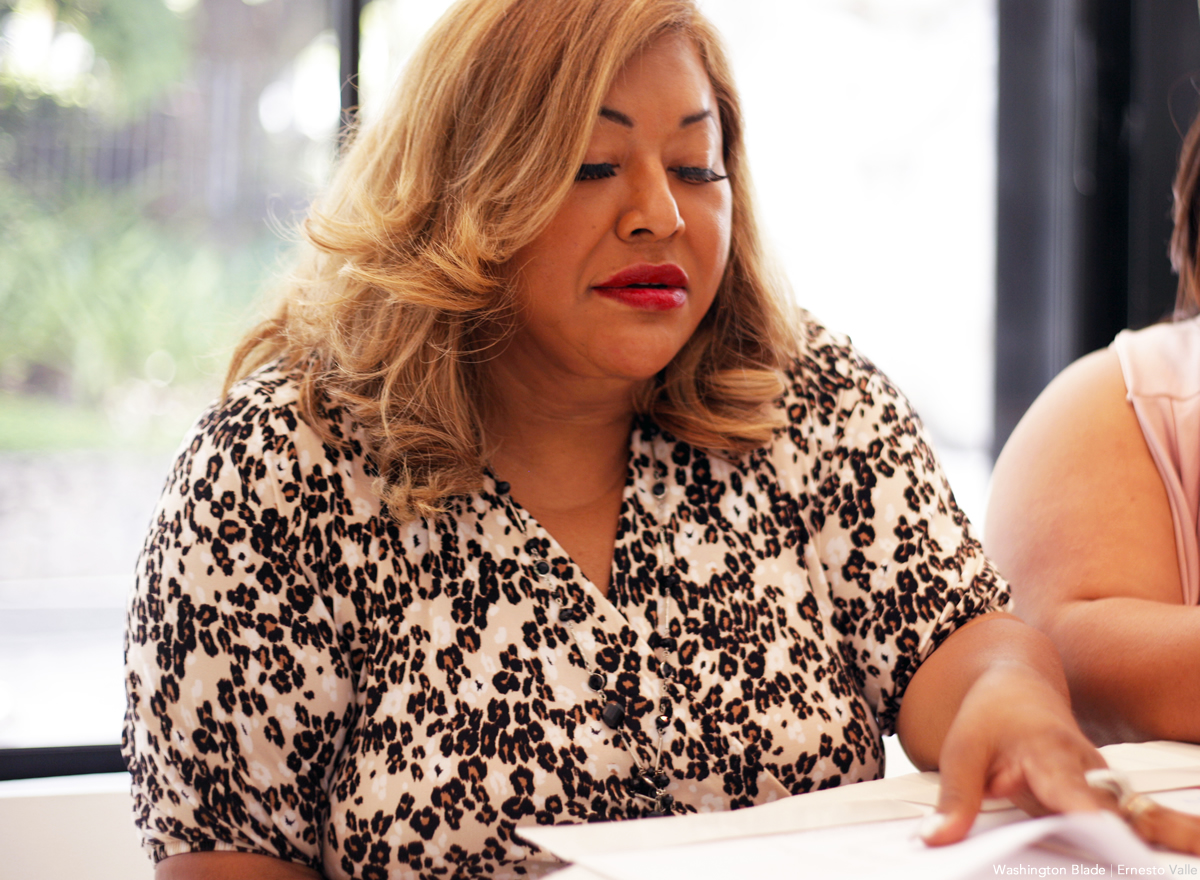 At least five of the eight former members of the Casa Ruby board of directors who are named in a civil complaint charging them with failing to adequately oversee the organization's finances and practices by its former director Ruby Corado have filed court papers disputing the allegations against them.
Details of their response to a third-party civil complaint filed against them by the Wanda Alston Foundation in its role as the court-appointed receiver of the now-defunct Casa Ruby LGBTQ community services center were expected to surface at a March 17 D.C. Superior Court virtual hearing on the Casa Ruby case.
The Alston Foundation's complaint was filed on Dec. 23, several months after the Office of the D.C. Attorney General filed its own civil complaint against Casa Ruby and Ruby Corado. The Attorney General's complaint, among other things, alleges that Corado and the organization violated the city's Nonprofit Corporations Act in connection with its financial dealings. An amended version of the original complaint charges that Corado withdrew more than $400,000 of Casa Ruby's funds for unauthorized use in El Salvador, where Corado currently lives.
The Alston Foundation complaint, which also names Corado as a defendant, identifies each of the eight former board members as defendants and "respectfully requests restitution, compensatory damages, punitive damages, receivership fees and expenses, court costs, attorneys fees and expenses, and any other relief the court deems necessary and proper."
According to the complaint, each of the board members failed to exercise their legally required oversight of Casa Ruby's operations and of practices by Corado that allegedly resulted in the financial collapse of Casa Ruby, forcing it to close its operations.
Miguel Rivera, one of the former board members who is an attorney, states in his response to the complaint that it "fails and/or may be barred, in whole or in part, because a bona fide fiduciary relationship did not exist between Third-Party Plaintiff [Alston Foundation on behalf of Casa Ruby] and Third-Party Defendant Miguel Rivera."
Rivera's response adds that the complaint should be dismissed on a wide range of grounds, including his assertion that he as a board member "has not engaged in (a) willful misconduct; (b) crimes; (c) transactions that resulted in improper personal benefits of money, property, or service; and (d) acts or omissions that are not in good faith and are beyond the scope of authority of the corporation."
The responses filed by the former board members are not included in the current online D.C. Superior Court case docket for the Casa Ruby case. At the request of the Washington Blade, Douglas Buchanan, the court's public information officer, provided the Blade with the responses by Rivera and former board members Meredith Zoltick and Carlos Gonzales.
Similar to Rivera's response, the response filed by Zoltick and Gonzales also disputes the validity of the complaint and asks the judge to dismiss the case against them.
Nick Harrison, the attorney representing the Alston Foundation in its role as Casa Ruby Receiver, said he has learned that another two former Casa Ruby board members have filed some form of a response to the complaint against them.
In a separate motion filed in court on Jan. 21, Harrison states on behalf of the Alston Foundation that it has taken the legally required steps needed to properly serve each of the eight former board members with court papers informing them they have been named as defendants in the complaint. He said he expects Superior Court Judge Danya Dayson, who is presiding over the Casa Ruby case, to rule that the legally required efforts to serve each of the defendants have been met.
Court records show that Corado, who has appeared in previous virtual court hearings through a phone hookup, has yet to retain an attorney to represent her.
Corado has denied engaging in any improper financial actions and has insisted the Casa Ruby board approved her actions, including her decision to open a Casa Ruby operation in El Salvador. In a December interview with the Blade's El Salvador correspondent, Corado said the allegations that D.C. officials have made against her amount to "persecution."
At a Jan. 6 court hearing held virtually, Corado reiterated her earlier claims that the D.C. government was responsible for Casa Ruby's closing in July 2022 by withholding hundreds of thousands of dollars that Corado says the city owed Casa Ruby for services it provided under city grants.
City officials have disputed those claims, saying the funds were withheld or discontinued because Casa Ruby did not provide the required documentation or reports showing that it performed the work associated with the city grants.
The March 17 court hearing is scheduled to begin at 12 p.m. and will be broadcast through the court's Webex system.
Protesters show up at D.C. Gospel Drag Brunch
Monthly event at Capitol Hill restaurant continued uninterrupted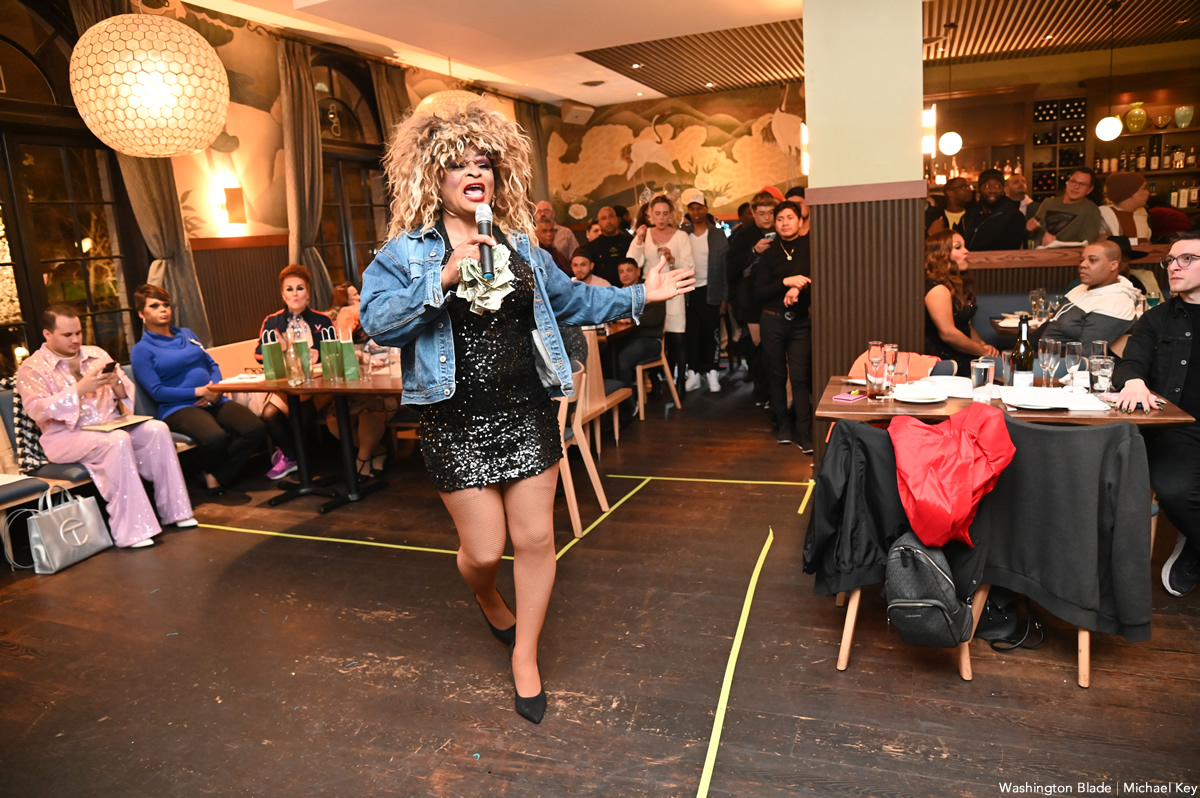 About four or five men showed up Saturday morning, March 11, outside the Crazy Aunt Helen's restaurant in the Barracks Row section of Capitol Hill to protest the restaurant's monthly Gospel Drag Brunch.
According to drag performer Shi-Queeta-Lee, who performs at the event, and the restaurant's owner, Shane Mason, the small group of protesters displayed a large sign saying, "Pride Is of The Devil" and recited biblical passages from a bullhorn.
But Lee and Mason said the Gospel Drag Brunch, which sells out each time it is held, took place uninterrupted by the protesters, who were told by a D.C. police officer not to interfere with customers entering or leaving the restaurant.
The mini protest took place two weeks after D.C. police turned out in full force at the same restaurant after news surfaced that the far-right group Proud Boys planned to stage a potentially violent protest against a Drag Story Hour event scheduled to take place at the restaurant on Feb. 25.
As it happened, the Proud Boys did not show up to protest, according to D.C. police. Instead, dozens of supporters of the drag event turned out along with members of Parasol Patrol, a group of Drag Story Hour supporters that have supported similar events in other parts of the country.
The Drag Story Hour events, held in bookstores, libraries, and other places around the country, consist of drag queens reading children's stories to children accompanied by their parents. Mason said Crazy Aunt Helen's restaurant hosts the Drag Story Hour twice a month.
The March 11 protest outside Crazy Aunt Helen's against the Gospel Drag Brunch appeared to attract far less attention than the cancelled protest by the Proud Boys.
In a video recording of Shi-Queeta-Lee speaking to the protesters before she began her Gospel Drag Brunch performance, which was taken by one of the participants in her show, at least one of the protesters appeared to be surprised when Lee challenged their opposition to the drag event on religious grounds.
"I grew up in the church," Lee told the Washington Blade. "I'm from the South and so I know where these people are coming from," Lee said, adding that her response to the protesters in her brief exchange with them was, "Who are you to judge me and how I live my life or what I choose to do with my life?"
On the video, one of the protesters can be heard saying he is an "ex-transgender" person who followed God's will and chose to leave a life of sin.
Mason said he, too, was raised in a religious family and is the son of a Pentecostal preacher.
"So, I understand how these folks think," he said. He told the Blade he hired Shi-Queeta-Lee to be the host of his restaurant's Gospel Drag Brunch to provide a unique show with a supportive, nonjudgmental religious theme. He said the show includes a gospel piano player who plays gospel music to which Lee sings and three other drag performers lip sync as they join Lee in putting on the show.
"We had people showing up for brunch who weren't even planning on coming to brunch because they heard there was a commotion and they wanted to come over and support us," Mason said in discussing the March 11 protest.
Meanwhile, with the next twice monthly Drag Story Hour scheduled for Saturday, March 18, Mason said he has not heard any reports of yet another protest and was hopeful the children's event will take place in a calm and pleasant way similar to past events.