Idaho police arrest armed extremists protesting Pride event
Panhandle Patriots Riding Club planned Coeur d'Alene protest
Heavily armed Coeur d'Alene police officers and Kootenai County Sheriff's deputies in riot gear arrested half a dozen armed protestors, and a few self-labeled "street preachers" who were attempting to disrupt the "Pride in the Park" in Coeur d'Alene City Park which returned after a two-year hiatus caused by the pandemic.
Creating concern for law enforcement and the Pride Alliance which sponsored the event was the counter-Pride rally held by the North Idaho motorcycle club, Panhandle Patriots Riding Club, which had announced the rally last month on the group's Facebook page.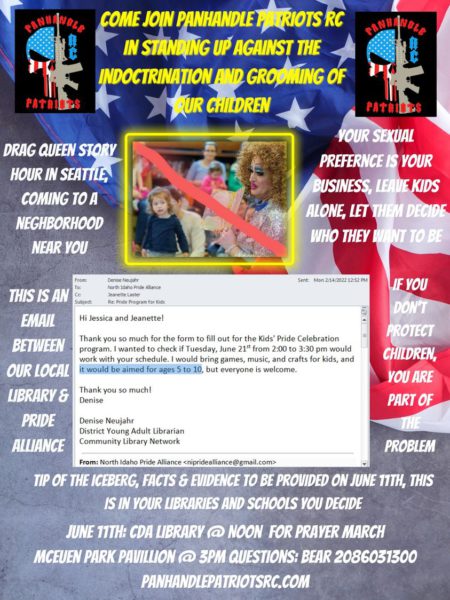 Elenee Dao, a reporter from KXLY in Spokane, Wash., retweeted images of those detained by law enforcement from her colleague Aodhan Brown.
By looking up insignias and attire it looks like these men are all fascist Patriot Front members. @kxly4news https://t.co/T9CiQ0HH1W pic.twitter.com/QsqYwJwQao

— Aodhan Brown (@_ab_photojourn) June 11, 2022
BREAKING: Several people are in handcuffs here on the corner of Northwest Blvd and Garden Ave in Coeur d'Alene. There are sheriff SWAT members.

Working on getting more info. @kxly4news pic.twitter.com/h8PBLldSEQ

— Elenee Dao KXLY (@Elenee_Dao) June 11, 2022
One mom I spoke says she's trying to enjoy the event with her kids.

She says it's important to be here, given today's climate & the laws politicians are trying to pass re: LGBTQ+ rights.

To see those walking around with rifles with kids around is unsettling for her. @kxly4news pic.twitter.com/GghI6mTALS

— Elenee Dao KXLY (@Elenee_Dao) June 11, 2022
People are enjoying themselves out here, regardless of the protesters.

A few people I talked with say this is their first pride festival because of COVID. They're happy to celebrate their beliefs with others and don't feel so alone. @kxly4news pic.twitter.com/a1b4JspBNT

— Elenee Dao KXLY (@Elenee_Dao) June 11, 2022
Freelance journalist Ford Fischer recorded some of the protestors as they moved through downtown Coeur d'Alene:
Live: Protesters, some armed, rally against pride event in Coeur d'Alene https://t.co/MSnv6bcrRH

— Ford Fischer (@FordFischer) June 11, 2022
Media reports indicate 31 people were arrested in total.
Idaho Senate GOP kill bill banning trans medical care
Major medical groups, like the American Medical Association, generally oppose legislation that bans or criminalizes gender-affirming care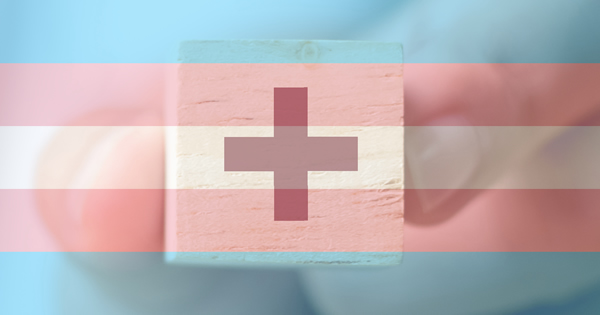 Senate Republicans in Idaho Tuesday killed a bill that would have made gender-affirming care a felony, with those convicted having to serve up to a life sentence. 
In a statement, Idaho Senate Republicans said they "stongly" oppose "any and all gender reassignment and surgical manipulation of the natural sex" on minors. But they also wrote that the controversial legislation "undermines" a parent's right to make medical decisions for their children.
"We believe in parents' rights and that the best decisions regarding medical treatment options for children are made by parents, with the benefit of their physician's advice and expertise," the senators wrote.
H.B. 675, which passed the Idaho House of Representatives by a nearly party-line vote of 55-13, would have made it a felony — punishable by up to life in prison — to provide minors with hormones, puberty blockers or gender-affirming surgery – though surgeries generally aren't performed on Trans and nonbinary youth. It would build on an existing Idaho law, established in 2019, that banned "female genital mutilation," targetting rituals in some faiths.
The legislation included some exceptions, including when a procedure is deemed "necessary to the health of the person on whom it is performed." There was also a carve-out for performing surgeries on intersex individuals, even as intersex people advocate to end such procedures on infants.
In their statement, the senators also said that the bill was "counterindicated" by the Idaho Medical Association (IMA), which confirmed that gender-affirming surgeries on youth do not occur in Idaho. Major medical groups, like the American Medical Association, generally oppose legislation that bans or criminalizes gender-affirming care.
The statement also cited the measure's vague language, saying that its current form "could be interpreted to extend into the realm of medically necessary care for kids that is in no way related to transgender therapy." It added: "The bill worked to carve out this area of care, unfortunately it falls short by limiting it to verifiable genetic disorders."
Republican Rep. Bruce Skaug, who sponsored the legislation, did not immediately return the Blade's request for comment.
The bill was one of several efforts from GOP politicians to keep Trans and nonbinary youth from receiving gender-affirming care.
In Texas, Republican Gov. Greg Abbott issued a directive that required the Texas Department of Family and Protective Services (DFPS) to investigate gender-affirming care as "child abuse," while also mandating licensed professionals and general citizens report the procedures or face "criminal penalties." A spokesperson for the Texas DFPS confirmed to CNN last week that the state has opened nine alleged "abuse" investigations of minors receiving gender-affirming care.
Meanwhile, Alabama lawmakers are considering a similar bill that would make it illegal to provide minors with gender-affirming puberty-blockers, hormones or surgeries. It cleared the Senate in a 24-6 vote and is set to be debated in the House this week.