U.S. Supreme Court overturns Roe v. Wade
Justices issued 6-3 ruling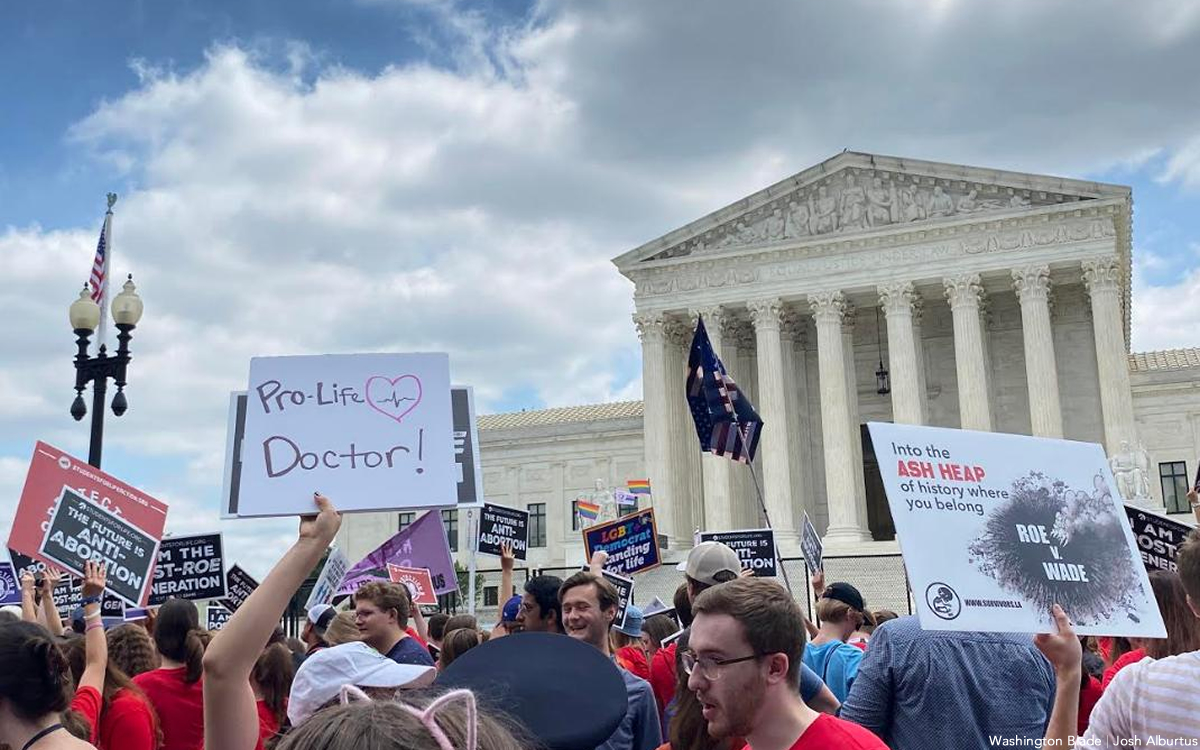 The U.S. Supreme Court on Friday in a 6-3 ruling overturned Roe v. Wade.
Justice Clarence Thomas in the decision said the Supreme Court should also reconsider the decisions in the Obergefell and Lawrence cases that extended marriage equality to same-sex couples and the right to private, consensual sex.
LGBTQ rights groups were quick to condemn the ruling.
"Today the Supreme Court issued a devastating ruling in Jackson Women's Health Organization v. Dobbs — a huge setback to our long-standing fundamental right to bodily autonomy," said National LGBTQ Task Force Executive Director Kierra Johnson. "This decision by the conservative majority on the bench also marks the beginning of the vital work to re-establish our constitutional foundation for reproductive justice and freedom. We must redouble our work to protect access to abortion and reproductive justice at the state and national levels. We will never give up."
"When the Supreme Court is willing to throw 50 years of precedent out the window, it proves that we are at an exceedingly dangerous, unprecedented moment. The court's majority opinion does not reflect the will of our nation — two thirds of whom support Roe v. Wade —but instead fulfills an extreme, out of step, ideological agenda. And it shows that all of our rights are on the line right now, as state lawmakers will be further emboldened to test the limits of our hard-won civil rights," added interim Human Rights Campaign President Joni Madison. "Women are under attack, LGBTQ+ people are under attack, BIPOC people are under attack, and we are justifiably outraged. We cannot relent — we must fight back."
Jim Obergefell, a candidate for the Ohio House and the lead plaintiff in the landmark Supreme Court case that affirmed marriage equality as the law of the land, issued the following statement today following news that the Supreme Court overturned Roe v. Wade.
"It's a sad day for womens' rights. This U.S. Supreme Court continues to erode the rights of citizens at an alarming rate. We are facing a health and human rights crisis in this country and as a result countless lives will be at risk. Women deserve responsive leaders who support reproductive justice. Leaders who respect their basic right to have control over their own body. The reality is that women today will have less rights than their own mothers. We are going backwards and it's both enraging and terrifying to see the excessive government overreach that this court is imposing on our country."
In his remarks on the Supreme Court ruling, President Joe Biden speaking live from the Great Cross Hall in the White House said at one point, "It just stuns me," adding that poor women would be hit the hardest by the decision. "This is a sad day for the country in my view but it does not mean the fight is over."
He called on Congress to restore abortion protections into law and pointed to the November midterm elections, saying, "this fall, Roe is on the ballot."
He urged protests to be conducted peacefully and said violence is never acceptable.
"This decision must not be the final word," Biden said.
Biden's remarks ended at 12:49 p.m. EST after speaking for nearly 12 minutes. He did not respond to shouted questions from reporters about the ruling and the future of the Supreme Court.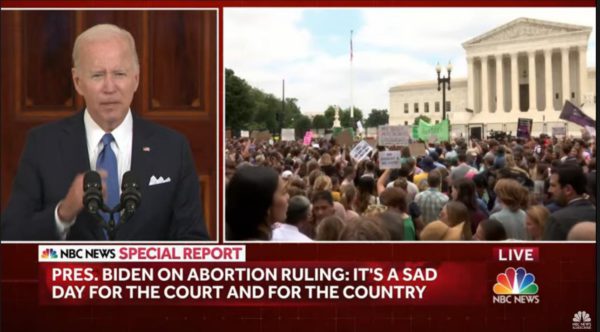 U. S. Attorney General Merrick Garland released a statement condemning the high court's ruling.
"The Supreme Court has eliminated an established right that has been an essential component of women's liberty for half a century — a right that has safeguarded women's ability to participate fully and equally in society. And in renouncing this fundamental right, which it had repeatedly recognized and reaffirmed, the court has upended the doctrine of stare decisis, a key pillar of the rule of law.
"The Justice Department strongly disagrees with the court's decision. This decision deals a devastating blow to reproductive freedom in the United States. It will have an immediate and irreversible impact on the lives of people across the country. And it will be greatly disproportionate in its effect — with the greatest burdens felt by people of color and those of limited financial means. "
The attorney general went on to warn that acts of violence in the wake of today's ruling will not be tolerated.
"Advocates with different views on this issue have the right to, and will, voice their opinions. Peacefully expressing a view is protected by the First Amendment. But we must be clear that violence and threats of violence are not. The Justice Department will not tolerate such acts."
Shannon Minter, the legal director for the National Center for Lesbian Rights told the Washington Blade in an email that "Justice Thomas's concurrence is an open assault on the landmark precedents that have transformed the place of LGBTQ people in our society. Historically, the Supreme Court has relied on substantive due process to protect essential liberties such as the freedom to decide whether to conceive a child, to marry or be in an intimate relationship with the person of one's choice, to raise children as one sees fit, and to travel or move anywhere in the country."
"These are among our most basic and cherished freedoms, and Justice Thomas is urging the court to scrap them all. While the majority opinion does not go that far, it is full of landmines that appear to lay a foundation for future decisions that may cast these fundamental rights into question or eliminate them altogether. Today's decision is even more alarming than the leaked opinion and strongly suggests that this is only the beginning of a radical campaign to undo decades of precedent. The question is no longer if this court is willing to jettison other fundamental freedoms, but how quickly they are likely to do so, and which ones are likely to be on the chopping block first," Minter added.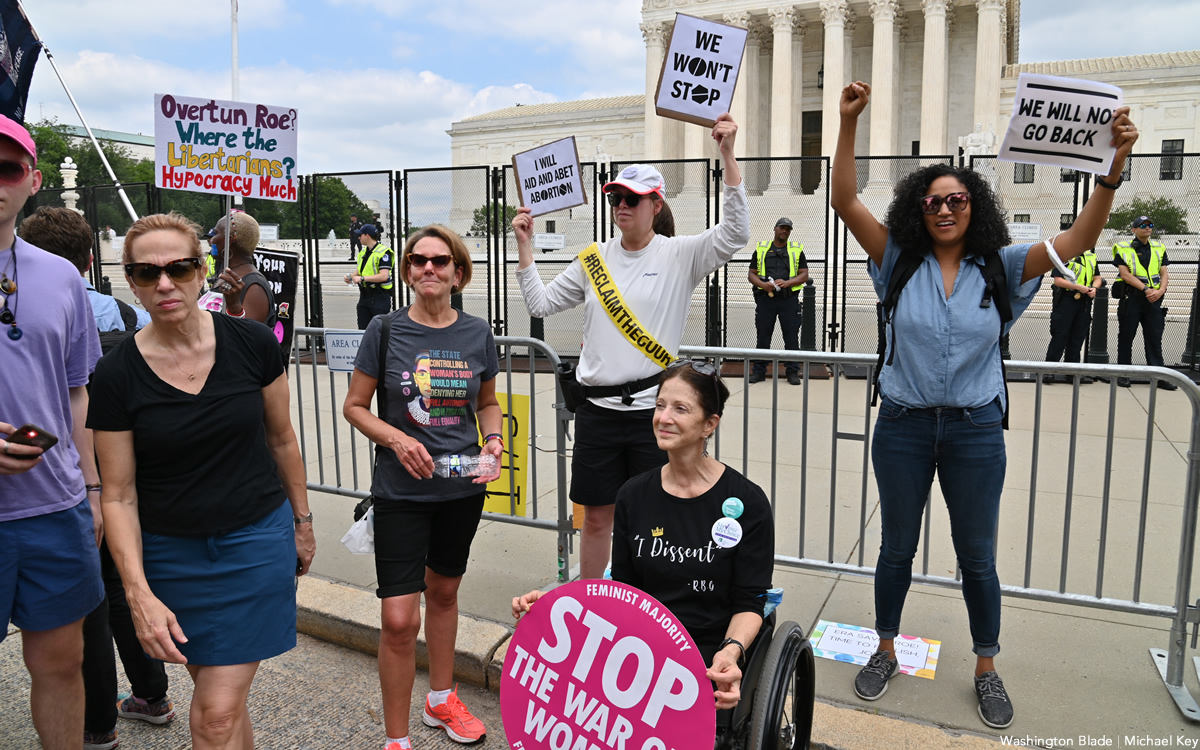 Read the Supreme Court's opinion: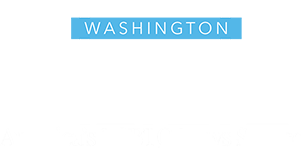 Obergefell lawyer discusses post-Roe fate of marriage equality
Dan Canon represented Ky. plaintiffs in landmark case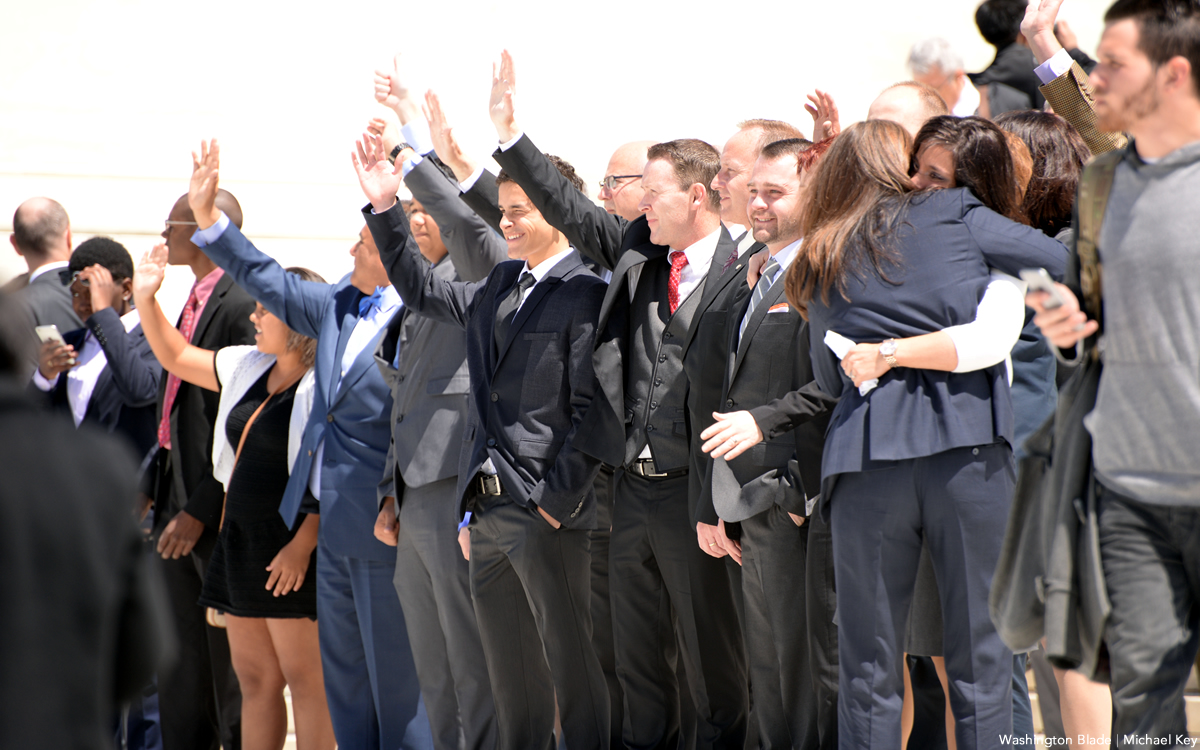 Faced with the likely possibility that the U.S. Supreme Court is poised to take away the constitutional right to marry for same-sex couples', Congressional Democrats this week reintroduced legislation designed to forestall potential fallout of a reversal of the court's landmark 2015 Obergefell v. Hodges ruling.
The Respect for Marriage Act sailed through the U.S. House of Representatives on Tuesday with support from a quarter of the Republican caucus totaling 47 members. A companion bill in the U.S. Senate introduced by U.S. Sens. Tammy Baldwin (D-Wis.) and Dianne Feinstein (D-Calif.), with co-sponsors U.S. Sens. Rob Portman (R-Ohio) and Susan Collins (R-Maine), now stands a realistic chance of securing the endorsement of 10 Senate Republicans, which is necessary to reach the 60-vote bipartisan threshold majority to break a filibuster.
The prospect of a floor vote on the bill inched closer, possibly as early as next week with U.S. Sen. Ron Johnson's (R-Wis.) commitment on Thursday to not oppose the bill. Another sign of tepid support among the Senate Republicans this week came from U.S. Sen. Thom Tillis (R-N.C.), who said he "probably would" vote for the legislation, while U.S. Sen. Lisa Murkowski (R-Alaska)'s endorsement was more enthusiastic.
"Not only would I like to see Roe, Casey, and Griswold on contraception codified," said the Alaska senator, "but I've also made clear my support … for gay marriage years ago."
Last month, when the High Court overturned Roe v. Wade, Justice Clarence Thomas wrote in his concurring opinion that he saw a valid interest in revisiting other rulings where the court had established legal precedent with other constitutional privacy rights issues to include Obergefell.
Scrambling to protect reproductive rights after the Dobbs v. Jackson ruling, Congressional Democrats introduced an ambitious bill to codify the right to abortion nationwide, which earned only seven votes from House GOP members and was doomed to fail in the Senate (despite Murkowski's stance on the matter.) 
With the Respect for Marriage Act, Democrats have opted for a more modest approach to mitigate some of the consequences resulting from a decision overturning marriage equality, betting that its limited scope would win over enough Senate Republicans to pass it. Ahead of the 2022 midterm elections, Democrats also hope to demonstrate their commitment to protecting marriage equality support which reached 71 percent of Americans according to a Gallup poll in June.
In an emailed statement to the Los Angeles Blade, U.S. Rep. Barbara Lee (D-Calif.) discussed how Congressional Democrats are gearing up to battle the Supreme Court's looming threat of taking away rights from same-sex couples:
"As we've seen with the Dobbs decision, this far-right, Republican-appointed court has demonstrated clearly they won't hesitate to undermine the will of the people and revoke long-established constitutional protections. If they overturned 50 years of the right to an abortion with Roe, they'll overturn a decade of marriage equality with Obergefell. Make no mistake: Democrats are the party fighting for fundamental rights and bodily autonomy, and we proved that this week with passage of the Respect for Marriage Act."
By effectively neutralizing the Clinton-era Defense of Marriage Act, the legislation would recognize same-sex marriage at the federal level, adding additional protections to safeguard against the possibility that the constitutional right to marriage equality would be revoked by a court ruling.
Should the Supreme Court issue a ruling allowing states to ban same-sex marriage, civil rights lawyer Dan Canon, who represented the Kentucky plaintiffs in the Obergefell case, told the Blade the Respect for Marriage Act would require states to recognize marriages of gay and lesbian couples performed in places where they are legal. At least, that is, in states where officials would follow the federal law.
"Unless and until the federal courts say it's a violation of a government actor's free exercise rights to have to recognize a marriage — which is a radical, batshit-crazy legal position, but still a possible outcome — marriages in places with halfway sane judges and/or executive branch officials should be fine," Canon said.
"The RFMA (Respect for Marriage Act) gives the attorney general and private citizens a civil enforcement mechanism," Canon said, but state government employees may nevertheless refuse to recognize the legal marriages of same-sex couples, and conservative courts could decide their religious objections and free exercise rights supersede laws like the Respect for Marriage Act.
Additionally, Canon said despite the absence of any solid legal argument against it, one can imagine a case directly challenging the Respect for Marriage Act might be blessed by conservative federal district and circuit court judges, ultimately reaching the High Court whose conservative majority might rule, for example, that "this application of RFMA violates the free exercise rights of the clerk" or whomever is challenging the law.
Such an outcome would spell "utter chaos," Canon said, throwing into question not just whether a state — but also whether a county or town — will recognize same-sex marriages. Alternatively, a governor, without objection from conservative federal courts, could issue an executive order barring officials from recognizing legal same-sex marriages, and the Supreme Court could decline to weigh in on the matter, Canon said.
A case challenging same-sex marriage could chart a similar path
Seven years ago, a Kentucky county clerk named Kim Davis denied marriage licenses to same-sex couples in violation of a federal court order pursuant to the Supreme Court's ruling in Obergefell. When she was sued, Canon represented parties in the highly publicized litigation, which the Supreme Court declined to hear on appeal.
Thomas and Justice Samuel Alito objected to the court's refusal to consider Davis's case, issuing statements in which they called her a "victim." Canon said challenges to Obergefell are likely to turn on the same legal question at issue then: whether the free exercise of religion trumps marriage equality.
And it's not just the Supreme Court, with its 6-3 conservative supermajority, that would be more receptive to such arguments than it might have been in 2015, Canon said.
"When we litigated that [Kim Davis] case, we were pretty sure that no court in America would say that Davis's right to impose her religion on her constituents was somehow superior to anyone's right to a marriage license," he said. "Now? I'm not so sure."
GOP lawmakers and the conservative legal movement have moved so far to the right in recent years Canon said that he expects Congressional Republicans, should they secure a majority in both chambers, will try to ban marriage equality in all 50 states, while the Supreme Court may well take a case challenging Obergefell regardless of how shaky its footing.
"It is hard to imagine an 'injury' sufficient to confer standing in a way that would present a halfway decent case for the Court to revisit Obergefell based on an interpretation of the 14th Amendment," Canon said. Still, the conservative majority justices are "advancing an ideological agenda" and "none of this has to make sense according to the playbook we're used to."
A successful case would most likely begin with "a Christian nationalist attorney general or governor saying, 'we won't recognize marriage equality,'" and the Supreme Court might rule their refusal is lawful per the First Amendment, Canon said.
U.S. Supreme Court ruling allows Biden administration to end MPP
Trump-era policy placed LGBTQ asylum seekers at increased risk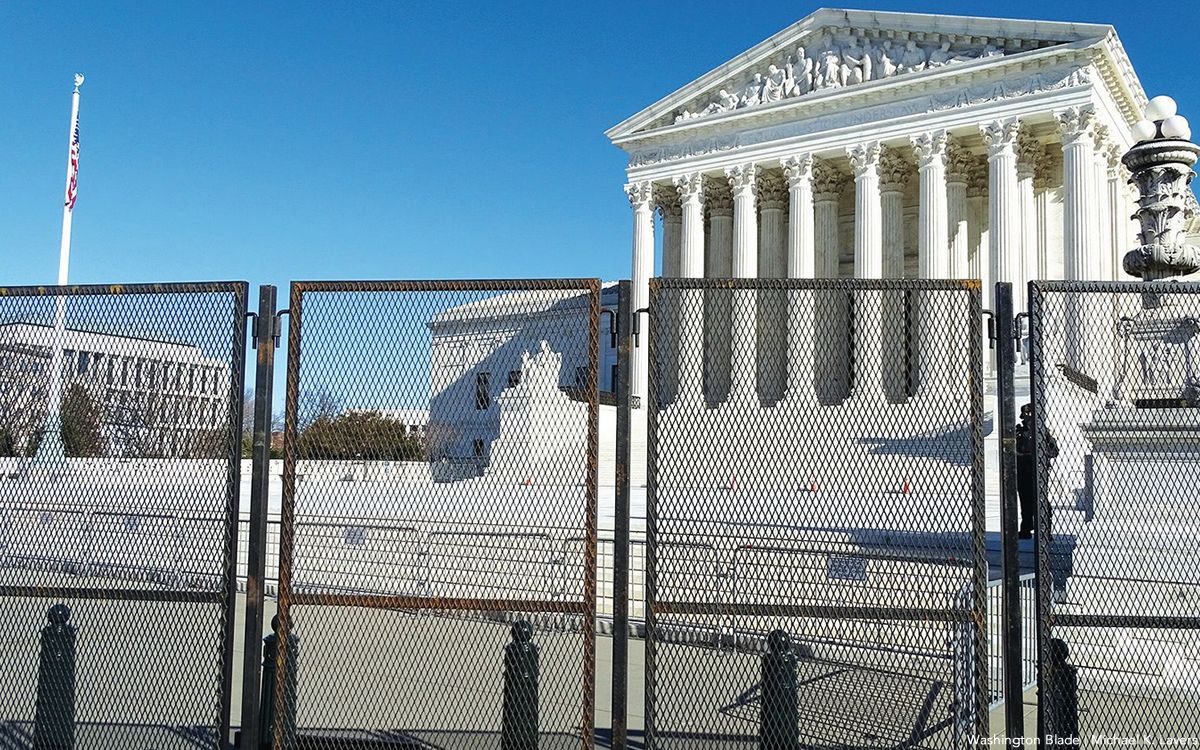 The U.S. Supreme Court on Thursday in a 5-4 ruling said the Biden administration can end a policy that forced asylum seekers to pursue their cases in Mexico.
The previous White House's Migrant Protection Protocols program, which became known as the "Remain in Mexico" policy, took effect in 2019.
The Biden administration suspended MPP enrollment shortly after it took office in January 2021. The program was to have ended six months later, but a federal judge in Texas ordered MPP's reinstatement after the state and Missouri filed suit against the Biden administration.
Thursday's ruling sends the Texas and Missouri case back to lower courts.
"As Secretary Mayorkas concluded in October 2021 after a thorough review, the prior administration's Migrant Protection Protocols (MPP) has endemic flaws, imposes unjustifiable human costs and pulls resources and personnel away from other priority efforts to secure our border," said the Department of Homeland Security in a statement. "We welcome the Supreme Court's decision affirming that the Secretary has the discretionary authority to terminate the program, and we will continue our efforts to terminate the program as soon as legally permissible."
U.S. Sen. Alex Padilla (D-Calif.) also welcomed the ruling.
"Today's Supreme Court decision correctly acknowledges the Biden administration's authority to end the unlawful and cruel 'Remain in Mexico' program," he said in a statement. "For more than three years, this horrifying policy has denied asylum seekers their right to due process and subjected them to crimes like rape, kidnapping and torture in northern Mexican border cities while they await their court hearings."
Advocates sharply criticized MPP, in part, because it made LGBTQ and intersex asylum seekers who were forced to live in Tijuana, Ciudad Juárez, Reynosa, Matamoros and other Mexican border cities even more vulnerable to violence and persecution based on their sexual orientation and gender identity.
[email protected] Coalition President Bamby Salcedo on Thursday told the Washington Blade the Supreme Court ruling "will certainly impact our community in a positive way."
"We know that people who have to remain in Mexico to wait continue to be victims of violence," said Salcedo. "This is definitely a step in the right direction and we're grateful that this happened in this way."
Emilio Vicente, communications and policy director of Familia: TQLM, an organization that advocates on behalf of transgender and gender non-conforming immigrants, echoed Salcedo.
"We're glad to finally have some good news from the Supreme Court after horrible rulings on abortions, climate change, Native American rights," said Vicente. "Ending 'Remain in Mexico' will allow LGBTQ+ asylum seekers who face increased discrimination and abuse during the journey to the U.S., to be able to seek asylum here."
Abdiel Echevarría-Cabán is a South Texas-based immigration attorney and human rights law and policy expert who the LGBTQ+ Bar in 2021 recognized as one of its 40 best LGBTQ lawyers who are under 40.
He told the Blade on Thursday the Supreme Court ruling is "a victory we must celebrate." Echevarría-Cabán also said MPP placed LGBTQ and intersex asylum seekers at increased risk.
"Refugees in general, but especially LGBT refugees, are extremely vulnerable to other type of harms such as kidnappings by cartel members, extortion, physical and psychological abuses from Mexican law enforcement authorities and third parties given the high levels of discrimination for LGBT refugees in Mexico," said Echevarría-Cabán.
The Supreme Court issued its ruling a day after the Justice Department filed charges against four people in connection with the deaths of 53 migrants who were found in the back of a tractor trailer truck in San Antonio.
The Biden administration in April announced its plans to terminate Title 42, a Centers for Disease Control and Prevention rule that closed the Southern border to most asylum seekers and migrants because of the pandemic. Title 42 was to have ended on May 23, but a federal judge ruled against the White House.
"This decision isn't the end of the fight for ensuring that people seeking asylum get asylum but it's an important step in protecting vulnerable people," Vicente told the Blade after Thursday's ruling. "President Biden must follow through on his commitment to end MPP and protect all asylum seekers."
Salcedo noted to the Blade the "system, as it is, particularly when it comes to trans women, needs to be completely changed so that we can be at a better place as a community." Padilla in his statement urged the Biden administration "to do everything in its power to swiftly end 'Remain in Mexico' once and for all."
"Misguided and inhumane Trump-era policies like 'Remain in Mexico' and Title 42 have only decimated an already broken immigration system," he said. "We must keep working to restore the lawful processing of asylum seekers at the border, in keeping with America's most deeply held values as a nation of immigrants."
The Department of Homeland Security in its statement notes Title 42 remains in place.
"The department also continues to enforce our immigration laws at the border and administer consequences for those who enter unlawfully, and will continue the court-mandated enforcement of the Centers for Disease Control and Prevention's Title 42 public health order," it reads.
Ketanji Brown Jackson sworn in as first Black woman Supreme Court justice
Roe v. Wade struck down last Friday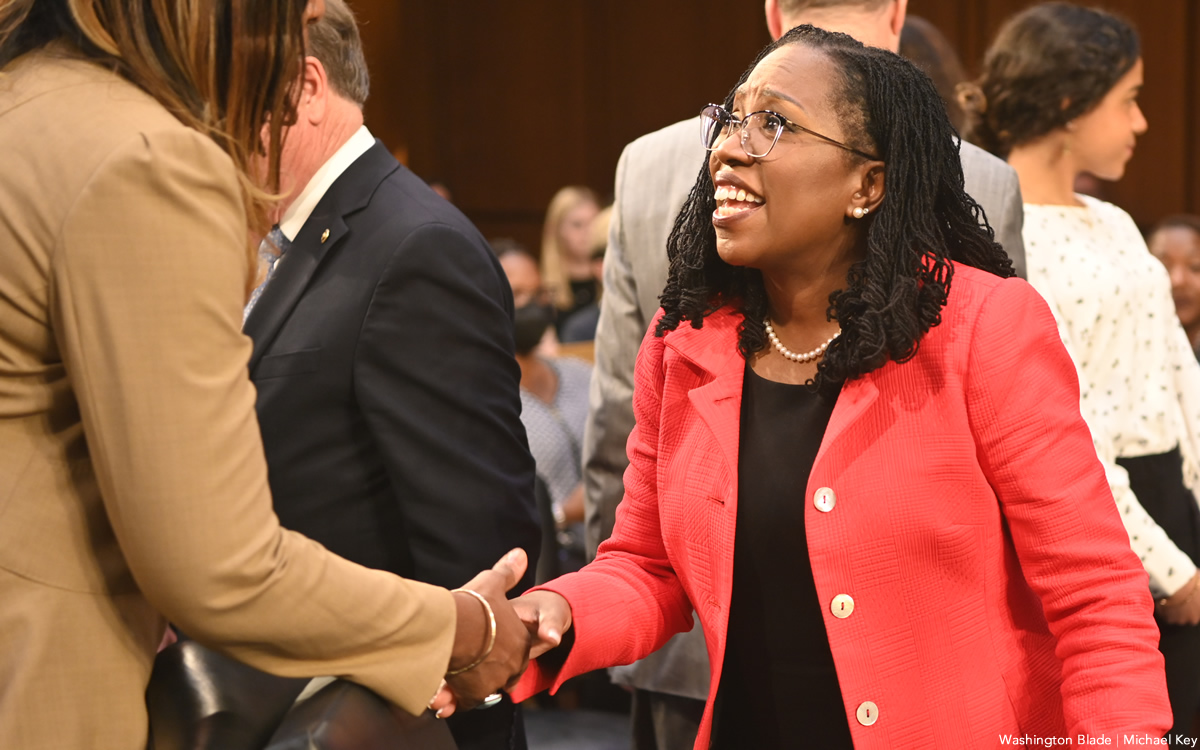 Ketanji Brown Jackson was sworn in Thursday as the newest member of the U.S. Supreme Court, representing a welcome change on the bench for progressives who are still outraged after the decision last week overturning the right to abortion found in Roe v. Wade.
Jackson, who's now the first Black woman to serve on the high court, has replaced Justice Stephen Breyer, a Clinton appointee who is retiring upon the end of the Supreme Court's term. Breyer announced his forthcoming departure months ago as progressives urged him to stop to ensure a replacement appointed a Democratic president and confirmed by a Democratic Senate.
The briefing swearing-in was conducted by Chief Justice John Roberts, who administered the oath of office for Brown before a small gathering of Jackson's family, including her two daughters, according to a report in the New York Times.
GLAAD CEO Sarah Kate Ellis said in a statement the beginning of Jackson's tenure on the Supreme Court "will bring long-needed representation to the Supreme Court at a critical juncture in our nation's history, and after the court's disastrous term dismantling personal liberty."
"It bears repeating the obvious that women, people of color and LGBTQ people are Americans deserving of equal protection under law," Ellis said. "Justice Jackson will be a visible and inspiring presence on a court currently dominated by extremists, reminding all that America should always be moving forward to expand freedom."