Ron Johnson changes tune on gay marriage bill: 'Completely unnecessary'
Republican lawmaker wants religious accommodations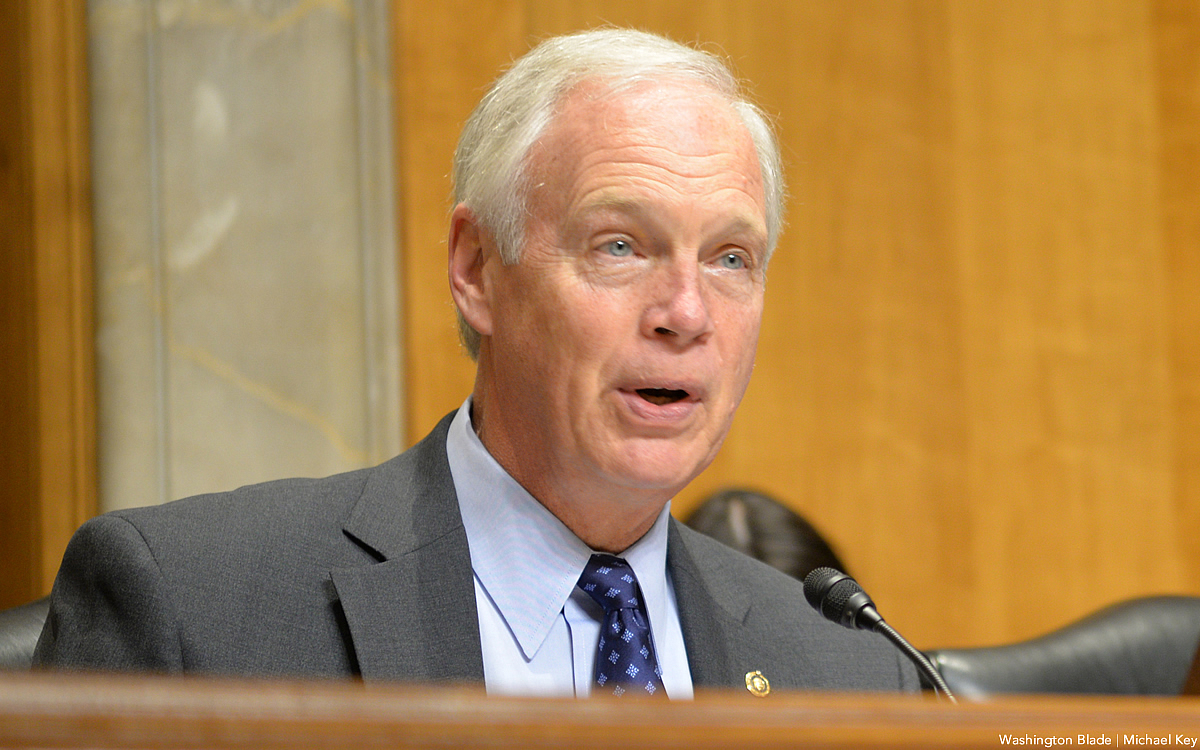 A conservative Republican in the U.S. Senate who previously indicated he sees "no reason to oppose" legislation seeking to codify same-sex marriage is changing his tune, calling it "completely unnecessary" in remarks that could undermine efforts to pass the bill.
Sen. Ron Johnson (R-Wis.) made the remarks Sunday during an interview with Wisconsin TV station WISN, saying the Respect for Marriage Act, was simply a political ploy from congressional Democrats about an issue that has already been resolved.
"This is just Democrats opening up a wound that had really healed," Johnson said. "I have always been supportive of civil unions, and the Supreme Court ruled on gay marriage and I said, 'OK, that's the decision, let's move on.'"
Johnson, speaking to WISN at the Kenosha County Fair, predicted he think the U.S. Supreme Court won't overturn same-sex marriage as it did abortion rights in the recent Dobbs decision, which forms the basis for him calling the measure "completely unnecesary."
"The decision on gay marriage will never be overturned," Johnson said. "it's completely different than Roe v. Wade and the Dobbs decision. This is where stare decisis would be decisive. I do not see the Supreme Court overturning that because they would impact millions of people that acted on that."
Religious objections were key issue for Johnson. Asked about a potential amendment for religious objections proposed by the bill's supporters, Johnson said that issue was a "legitimate concern" and would need to see any proposed fix. Johnson said he's working on his own amendment to address the issue.
Johnson, however, never said during outright the interview he would vote "no" on the Respect for Marriage Act.
The new comments from Johnson are consistent with a report in Axios where he sought to clarify his earlier statement: "I've never said I would support it," Johnson was quoted as saying. "I said I didn't see a reason to oppose it."
The Respect for Marriage Act was introduced and passed in the U.S. House after U.S. Associate Justice Clarence Thomas wrote his in concurring opinion overturning Roe v. Wade he'd like to revisit other decisions, including the 2015 decision by the U.S. Supreme Court in favor of same-sex marriage. Although the legislation wouldn't codify same-sex marriage at the federal level per se, it would repeal from the books the now defunct anti-gay Defense of Marriage Act and require states to recognize same-sex marriage performed elsewhere.
The latest from Johnson gives credence to fears among supporters of the legislation that a prolonged wait on a vote on the measure of the Senate would making it passing more difficult as groups against LGBTQ rights campaign against it. Johnson, for example, was the target of messaging from social conservatives who objected to his earlier comments against opposing the legislation.
Doctor, transgender spouse indicted for passing information to Russia
Jamie Lee Henry first active-duty Army officer to come out as trans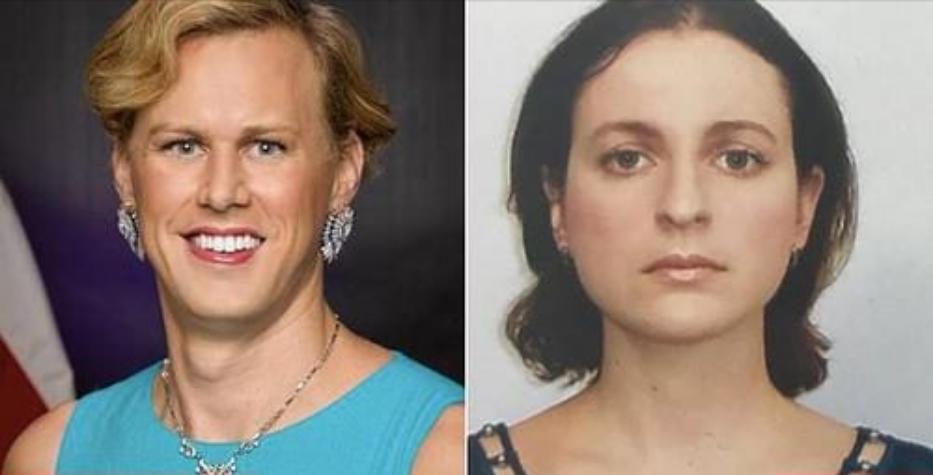 A federal grand jury on Wednesday handed down an indictment of a Johns Hopkins anesthesiologist and her spouse, a doctor and major in the U.S. Army, with conspiracy and for the disclosure of individually identifiable health information related to their efforts to assist Russia in connection with the conflict in Ukraine.
The office of the U.S. Attorney for the District of Maryland in a press release stated Anna Gabrielian, 36, and her spouse, Jamie Lee Henry, 39, both of Rockville, Md., both of whom had secret clearances, were attempting to provide medical information about members of the military to the Russian government.
Gabrielian and Henry met with an individual they believed to be associated with the Russian government, but who was, in fact, an Federal Bureau of Investigation Undercover Agent.
Court documents indicate Gabrielian told the FBI agent posing as a Russian operative that she had previously reached out to the Russian Embassy by email and phone, offering Russia her and her spouses' assistance.
According to the U.S. Attorney's office, Gabrielian told the FBI agent that, although Henry knew of Gabrielian's interaction with the Russian Embassy, she never mentioned Henry's name to the Russian Embassy.
In the narrative released by the U.S. Attorney's office, on Aug. 17, 2022, Gabrielian met with the FBI at a hotel in Baltimore. During that meeting, Gabrielian told the FBI she was motivated by patriotism toward Russia to provide any assistance she could to Russia, even if it meant being fired or going to jail.
She proposed potential cover stories for her meeting with the "Russians" and stressed the need for "plausible deniability" in the event she was confronted by American authorities. Gabrielian also told the FBI that, as a military officer, Henry was currently a more important source for Russia than she was, because they had more helpful information, including how the U.S. military establishes an army hospital in war conditions and information about previous training provided by the U.S. military to Ukrainian military personnel. 
Henry identifies as a "transgender military physician" on their Twitter account.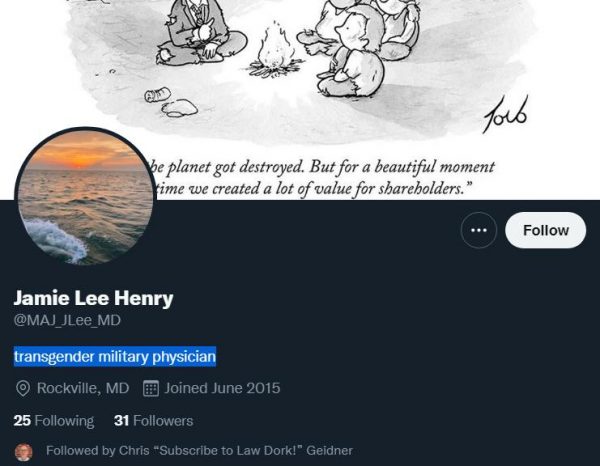 Henry received public attention in 2015 after becoming the first known active-duty Army officer to come out as trans.
Henry was at one point a member of SPARTA, the nation's largest nonprofit representing actively-serving trans U.S. servicemembers. A spokesperson for SPARTA, in an emailed statement commenting on the announcement of the arrest and indictment of Henry and their spouse told the Washington Blade:
"Transgender people are as diverse as the societies to which they belong. One's gender identity neither increases nor decreases a propensity towards alleged criminal activity."
As stated in the indictment, Gabrielian is an anesthesiologist and worked at Medical Institution 1 in Baltimore.
Henry, a major in the U.S. Army who held a secret-level security clearance, is Gabrielian's spouse and a doctor. During the time of the alleged conspiracy, Henry worked as a staff internist stationed at Fort Bragg, the home of the Army's XVIII Airborne Corps, headquarters of the U.S. Army Special Operations Command and the Womack Army Medical Center.
Gabrielian was scheduled to have initial appearance at 11:30 a.m. on Thursday in U.S. District Court in Baltimore before U.S. Magistrate Judge Brendan A. Hurson. Henry is also expected to have an initial appearance today, although a time has not yet been set.
Full statement from SPARTA:
"SPARTA, a non-profit advocacy organization representing transgender Service members in the United States, is saddened to learn of the arrest and indictment of Jamie Lee Henry, an officer in the U.S. Army and a medical doctor.
SPARTA has long advocated for the inclusion and total equity for transgender persons throughout the United States uniformed services. Today, thousands are serving honorably and authentically at home stations worldwide.
The actions alleged in the indictment do not reflect Henry's identity as transgender. Their alleged actions are those of an individual and should not be taken as a representation of transgender people broadly or transgender members of the military specifically.
All people in the United States are entitled to the same rights, including due process and the presumption of innocence in this case. SPARTA does not condone any actions alleged in the indictment and expects the process to play out fairly and equitably as it would for anyone accused of a crime."
Kenya seeks to ban LGBTQ movies on Netflix
Prohibition expected to take effect by end of year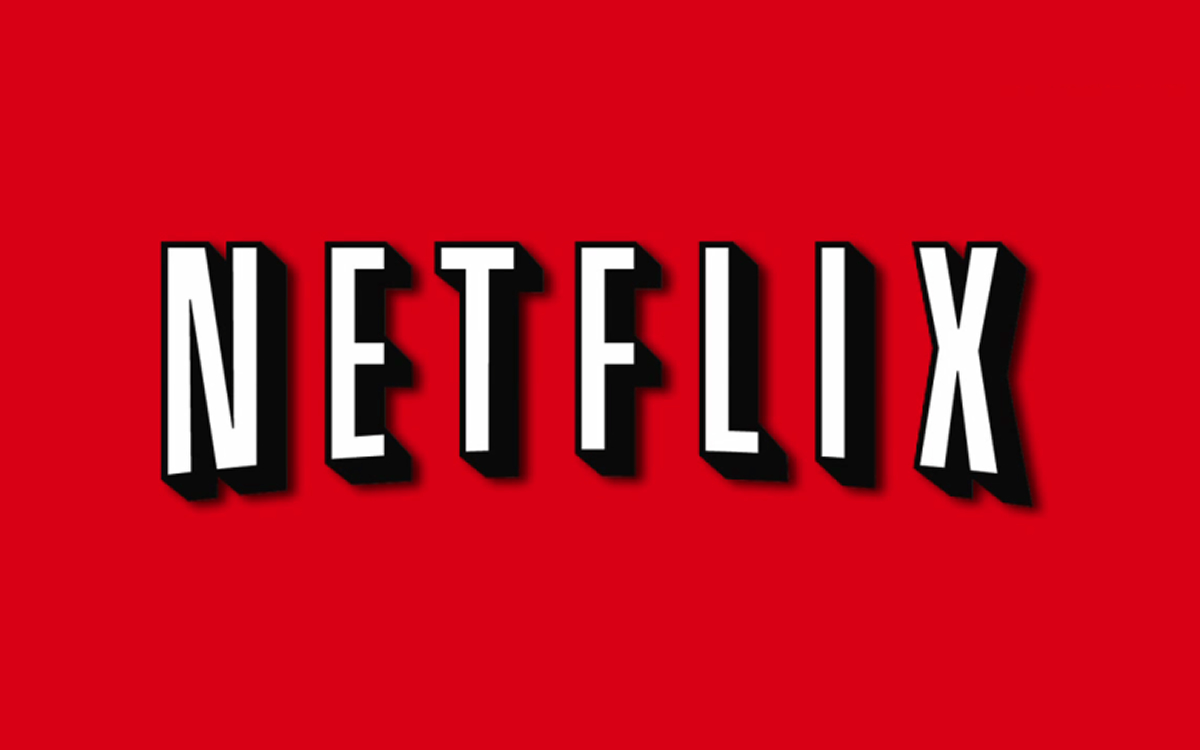 The streaming of LGBTQ movies on Netflix in Kenya is set to be restricted as the country tightens the noose on same-sex sexual activity.
The Kenya Film Classification Board, which is charged with the classification and regulations of films for public consumption, is in final talks with Netflix to restrict same-sex content that violates the country's laws.
Acting Kenya Film Classification Board CEO Christopher Wambua confirmed that official discussions with Netflix Africa began in October 2021, while noting that access to LGBTQ movies will be restricted before the end of this year.
"Already we have developed a draft agreement that defines how to conduct their (Netflix) operations in the country after another discussion in April this year," Wambua said.
The Kenya Film Classification Board is supposed to share the agreement with Netflix Africa this week for further scrutiny of its provisions before implementing it. The company's content manager for the continent is a Kenyan based in Nairobi.
The board has classified LGBTQ content under the "restricted category," meaning it is not allowed for broadcast, exhibition and distribution to the public.
The agreement allows Netflix to self-classify movies streamed in Kenya by limiting offensive content that glorifies, normalizes, promotes and propagates homosexuality.
Consensual same-sex sexual relations are criminalized under Section 165 of Kenya's Penal Code while the Films and Stage Plays Act gives the board the power to regulate the exhibition, distribution, possession, or broadcasting of content to the public. Its content classification exempts live programming and news.
"Netflix will have to develop an intelligence safety-worth classification pool that is consistent with the film classification guidelines for Kenya so that the system's output is aligned with our local laws and regulatory provisions concerning content classification," stated Wambua.
The move to permit Netflix and other streaming services to self-classy movies for Kenya will only allow the board to monitor compliance.
"Netflix has indicated a commitment to operate in the country within the purview of the existing laws," he said. "By the end of October this year we should have finalized the agreement so that by November we pilot the new framework."
Kenya is the second African country to demand Netfilx ban the streaming of LGBTQ movies.
Egypt's media regulator this month warned Netflix, Disney+, and other streaming services against broadcasting content that breaches its "societal values" and threatened to take action if not curbed.
The first Netflix film, "Perfect Strangers," released earlier this year targeting the Arabic audience sparked criticism in Egypt and the Middle East for having scenes that depict homosexuality. One Egyptian lawmaker even called for Netflix to be banned in the country.
Egypt is among the countries in the Arab World that do not condone homosexuality.
Egyptian authorities usually prosecute gay men on charges of "immorality" or "debauchery." Police regularly raid private parties, restaurants and bars to arrest them.
Egypt's warning on Sept. 7 came a day after Saudi Arabia, Kuwait, the United Arab Emirates, Qatar, Bahrain and Oman demanded Netflix to drop "offensive content" from its local streaming platforms as it "contradicts Islamic and societal values and principles."
Egypt and Kenya have the highest number of Netflix subscriptions in Africa.
Kenya in September 2021 banned a gay documentary, "I Am Samuel," produced by a local filmmaker.
The Kenya Film Classification Board said was "blasphemous" because it promoted "values that are in dissonance with our constitution, culture, values and norms." The same film, however, has been screened at more than 25 film festivals globally and streamed on iTunes, Vimeo and other international platforms. 
Filmmakers and groups opposed to the government's LGBTQ films restriction criticized the decision as an abuse of the freedom of expression the Kenyan Constitution guarantees. Courts have dismissed challenges to it.
Apart from the Kenya Film Classification Board reaching a deal with Netflix to restrict LGBTQ content, Wambua disclosed that a new law has already been approved by the outgoing Cabinet to help the board effectively classify and regulate content in this digital era.
"The new digital platforms allowing streaming of movies make it difficult hence need to do some readjustments in the law to give companies powers to self-classify their videos-on-demand films that apply on auto-visual content. The existing law was for the analogue era," he noted.
The proposed law, dubbed the Kenya Film Bill 2021, has yet to be introduced in the Kenyan Parliament, which reconvened on Wednesday after August's general election.
The bill would recognize Kenya Film Classification Board key mandates of regulating the creation, broadcasting, distribution, possession and exhibition of films through the issuance of licenses to filmmakers, distributors and exhibitors. The bill would also recognize the Kenya Film Classification Board's role in classifying films under various categories such as films that are either restricted or prohibited.  
The Kenya Film Classification Board is engaging with other regulatory government agencies to have minimal adjustments on self-classifications through miscellaneous amendments to restrict LGBTQ content to avoid any delay in enacting the proposed law.
"If this is done even before we overhaul the existing law, we would have the requisite provisions that are necessary to allow us to accommodate the business model of videos-on-demand (VODs) which are on digital demand," Wambua said.
The Washington Blade has reached out to Netflix for comment.
Longtime D.C. LGBTQ rights advocate, event promoter Jacob Pring dies at 47
Popular events included parties for people with HIV and 'Gay Day' at National Zoo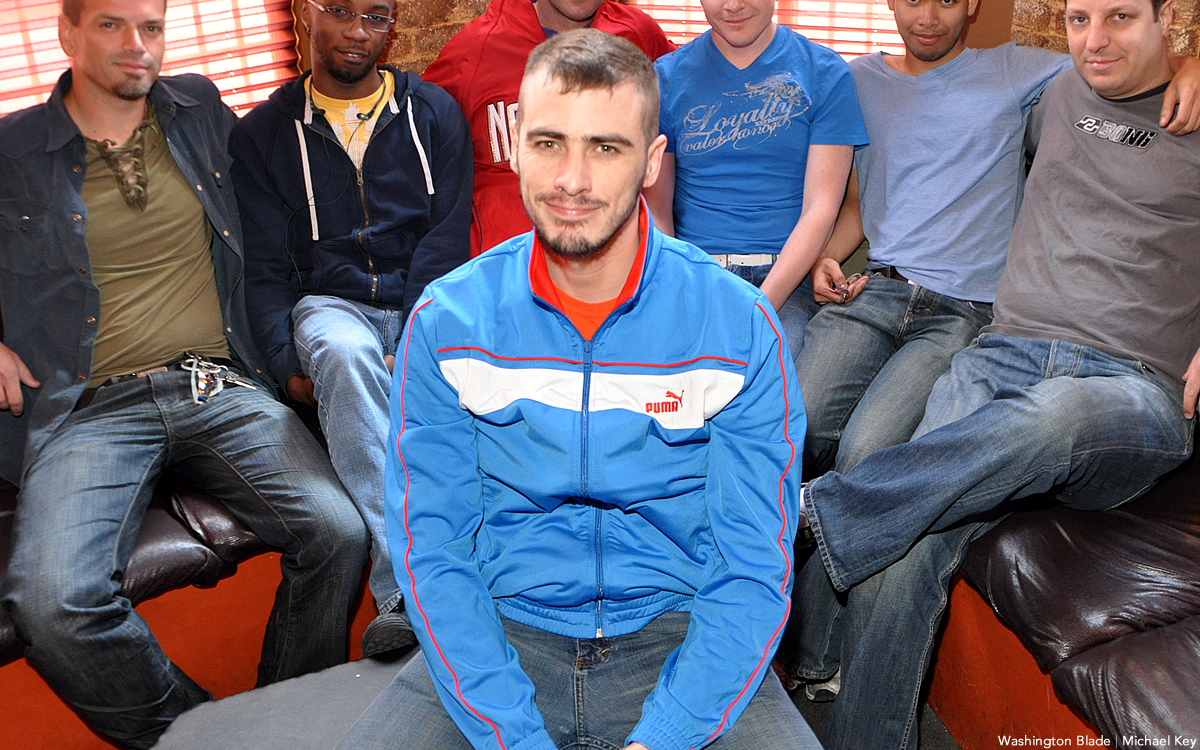 Jacob Nathaniel Pring, a D.C.-area LGBTQ rights advocate whose career included working as a mortgage loan officer and Lyft driver by day while organizing social events and parties at night and on weekends at D.C. gay bars and other venues, including "Gay Day" at the National Zoo, died Sept. 26, at his home in Springfield, Va. He was 47.
His longtime friend Nicholas DiBlasio said another friend and housemate at the group home where Pring lived found him deceased in his room. DiBlasio said Pring's passing was sudden and unexpected and friends and family members were awaiting the results of toxicology tests associated with an autopsy performed by the Virginia Office of the Chief Medical Examiner to determine the cause of death.
"Jacob was a good man, and he had an engaging personality and a marvelous smile," according to Sasha Chijoku, one of his housemates who posted a tribute to Pring on Facebook. "Above all, Jacob's personality was big, and the only thing that was perhaps bigger was his smile," she wrote.
DiBlasio and others who knew him and posted messages on social media said Pring for many years organized and promoted weekly leather-oriented events at gay clubs and other LGBTQ supportive clubs. Among them were the events held at the D.C. gay bar Green Lantern and the LGBTQ-friendly nightclub Crucible called CODE and XXX parties.
In a January 2013 interview with the Washington Blade, Pring said between 100 and 150 mostly gay men turned out for those events.
"There's always new people coming in," he said. "People bring their friends. It's fun. No attitude, no drama."
DiBlasio said Pring was born and raised in Pennsylvania. Pring's Facebook page says his hometown was Levittown, Pa. Pring's LinkedIn page says he studied computer engineering at Temple University in Philadelphia from 1998-1999 and studied biology at the University of the District of Columbia from 2014-2017, where DiBlasio says he believes Pring received his bachelor's degree.
"I served in the U.S. Air Force and the Air National Guard," Pring stated in a September 2020 Facebook posting. "I chose to do my part to keep our country safe," he wrote, adding, "This stuff about Trump saying crazy things he has said makes me so angry! Please vote that asshole out! Please!"
Pring, an outspoken supporter of LGBTQ rights, makes it clear in his social media postings that he was a staunch Democrat.
While a student at UDC in 2015, Pring created a student military veterans group called VIRTUES, which he said stood for "Values, Integrity Readiness, Tenacity, Unity, Excellence, and Service."
In his LinkedIn page, Pring says he worked from 2003 to 2006 as a Senior Mortgage Consultant for the firm Preferred Service Mortgage and in the following year, he held a similar position with Access National Mortgage. It says that beginning in 2020 he served as a loan officer with Intercostal Mortgage LLC.
DiBlasio said about a year later in 2021 Pring switched jobs to resume working as a Lyft driver, which he had been doing periodically in earlier years.
David Mariner, former executive director of the D.C. Center for the LGBT Community, praised Pring for creating yet another important event – Gay Day at the Zoo – which Mariner said served and continues to serve as a fundraising event for the D.C. Center
"He was out as an HIV-positive person and created social spaces for poz men," Mariner said in a Facebook posting this week.
Mariner was referring to Pring's launching of a series of "Poz" events for both people with HIV and their friends and loved ones.
"The Poz events bring faces to the disease & helps eliminate the STIGMA surrounding people with HIV/AIDS," Pring stated in a Facebook message. "The DJs are HIV+ & Jacob Nathaniel Pring himself has been Poz for 7 years!" his message states.
Pring's friends have pointed to other social media postings by Pring discussing his own struggles with substance abuse and depression. But in recent years, Pring's postings have said the support he received from counseling and support groups helped him "walk away" from drug use.
"I have had a blessed life," he wrote in a Sept. 7, 2020, Facebook posting. "Walking away from the drugs for good has me sitting here reminiscing of younger days," he wrote. "We don't get to go back but we sure do get to live an older life. I switched gears," he continued.
"Sex ran my life for 30 years. Now, I feel like a retired older elder," he stated. "I have lived life to the fullest. I can't imagine what life has left in store for me. But I have reached a new mental frontier. I feel lucky and blessed to have made it to this new age of living!!!"
But DiBlasio said about one year later the death of Pring's mother, to whom he was very close, took an emotional toll on him. "That was about a year ago and that hit him pretty hard," DiBlasio said.
Another one of Pring's friends, who identifies himself on Facebook as Mike Di, appeared to sum up Pring's life as he was known to many of his friends and loved ones in a posting on the day he learned of Pring's passing.
"Jacob, I am so sad to hear the news of your passing tonight. The progress you made over the past 10+ years putting yourself through school, tackling the demons, living clean, etc. It was all remarkable and I'm so proud of you," he wrote.
"I'm grateful that you left about a thousand pics of yourself (& with friends) here on your Facebook," Di said. "It's a gift really…you can never be forgotten, nor the highs and lows of the last 15 years of your life that are documented in the pics."
Chijoku added in her tribute to Pring, "He was a fine man, and certainly Heaven is being greeted right now with the toothiest grin I've ever had the pleasure to know!"
No immediate plans could be found for funeral arrangements or a memorial service.
DiBlasio said Pring was predeceased by his mother and is survived by his father, at least one brother and one sister, and many friends. Among the friends are Nicholas DiBlasio, Sasha Chijoku, Todd Westberg, Babak Movahedi, John Madej, and Tommy Sanders.