Meet Argentina's special envoy for LGBTQ and intersex rights
Alba Rueda is a transgender woman, long-time activist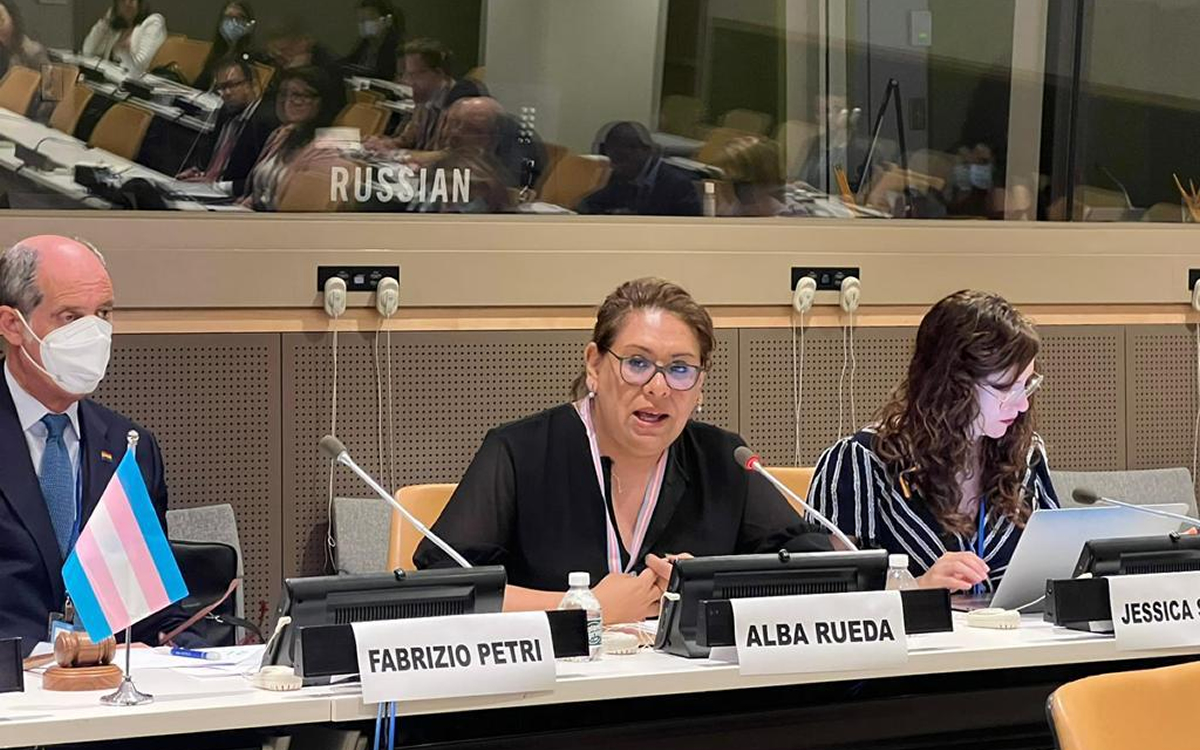 Editor's note: The Washington Blade interviewed Alba Rueda before the murder of Alejandra Ironici, a prominent transgender activist, in Santa Fe on Aug. 22 and the attempted assassination of Vice President Cristina Fernández de Kirchner in Buenos Aires on Sept. 1.
Argentina is a pioneer in the implementation of laws and public policies that support LGBTQ and intersex rights.
The country in 2010 became the first in South America to extend marriage rights to same-sex couples. Argentina in 2021 became the second country in the Americas to offer nonbinary national ID cards.
A transgender rights law and a labor quota for trans people, among other things, have been implemented since then. These initiatives, in most cases, have inspired neighboring countries to recognize LGBTQ and intersex people.
Argentina this year created a position within the country's Foreign Affairs Ministry that focuses exclusively on the promotion of LGBTQ and intersex rights abroad.
Alba Rueda, a well-known queer activist, on May 2 became Argentina's first-ever Special Representative on Sexual Orientation and Gender Identity. The U.S., the U.K., Italy and Germany are the four other countries with people in their respective governments who specifically promote LGBTQ and intersex rights abroad.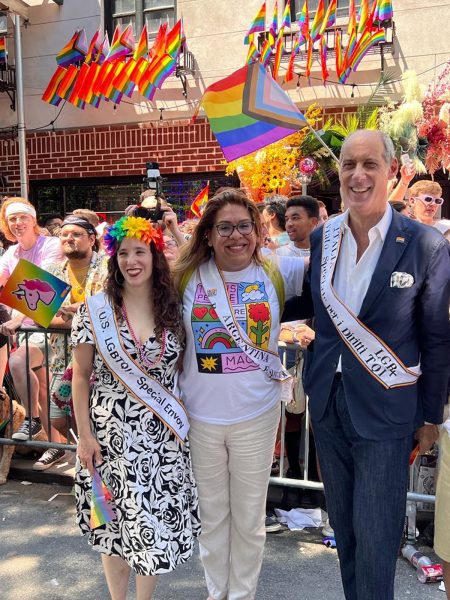 Rueda, 46, is a trans woman who was born in Salta province in northern Argentina.
She moved to Buenos Aires with her family when she was a teenager. Rueda became an activist at an early age and has held various public positions over the last two decades.
Rueda was previously Argentina's first undersecretary of diversity policies in the Women, Gender and Diversity Ministry. She is the first trans woman to hold a senior position in the country's government.
Rueda explained to the Washington Blade that her position is one "that deals exclusively with foreign policy regarding diversity policies."
"We are within the State's structure," she said. "We are in a very unique position within this ministry's political agenda."
For her, the advances in LGBTQ and intersex rights in Argentina have great relevance because activists and the movements of which they are a part had good strategies that influenced the political arena.
"The trasvestí and transgender community knew how to anchor (themselves) in the militancy of human rights," she said. "The 2012 gender identity law is undoubtedly a milestone for all of Latin America because of its content. [It is] one of the first laws that set very high standards of rights in the world and that were really developed by the trans community in the sociopolitical organizations in which we participate."
Rueda recalled that in 2006, before any legislation in favor of sexual and gender diversity took effect, the trans population won a legal battle when the Supreme Court ruled Asociación Lucha por la Identidad Travesti (ALITT), a trans advocacy group, could obtain legal status.
"This was a fundamental step within the political agenda and from then on a whole process of decriminalization began," Rueda recalled to the Blade.
The advancement of LGBTQ and intersex rights in Argentina since then has not stopped, and that is why Rueda wants to replicate this work in countries across South America and around the world. Argentina, in fact, over the last year has hosted a variety of Global Equality Caucus-led workshops that have focused on the elimination of so-called conversion therapy.
"We are a team under my leadership, where we are working integrally with the Ministry of Foreign Affairs, carrying out different lines of work to strengthen the multilateral policies that our country has around certain agendas, as in the United Nations, for example," she emphasized.
Regarding her efforts with other Latin American countries, Rueda said she will work to improve the quality of life of LGBTQ and intersex people based on efforts in Argentina.
"We are going for a coordination of State policy around LGBT rights, around living conditions; not only the promotion of rights, but of public policies that modify the structure of that inequality around living conditions," Rueda stressed.
"There are several countries in Latin America and the Caribbean that do not have a gender identity law. With equal marriage, with a trans labor quota law and what we have here is not only an experience around public policies, but the evidence that this really strengthens and prevents other types of violence," she added. "This is basically Argentina's contribution to Latin American cooperation."
Finally, she stressed that "it has to do precisely with the strengthening of a line of work which is to demonstrate the evidence that the greater the rights and recognition, the better not only the quality of democracy, but also the better the living conditions of our community and the reduction of violence."
Advocacy group urges Chileans to vote against proposed constitution
Fundación Iguales says proposal does not sufficiently protect LGBTQ people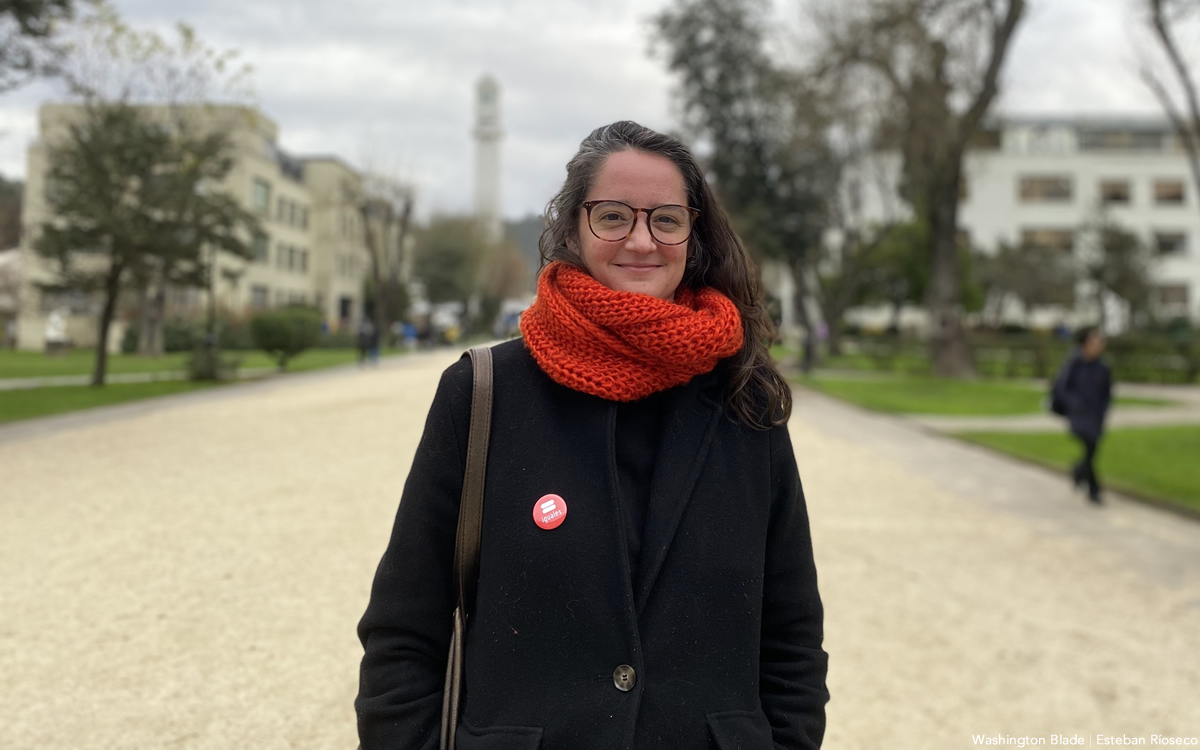 Chile's proposed new constitution has generated concern and criticism among the country's LGBTQ activists who say it would not sufficiently protect the rights of sexual and gender minorities.
Fundación Iguales, one of the country's most prominent LGBTQ rights organizations, has urged Chileans to vote against the proposed constitution in the referendum that will take place on Dec. 17.
The plebiscite is the second attempt in less than three years to change Chile's constitution in the wake of widespread protests and social arrests that took place in October 2019. 
Chileans on Sept. 4, 2022, rejected the Constitutional Convention's proposed constitution. This rejection initiated the 2023 process in which the ultra-right won the majority of seats in the Constitutional Council, the body that wrote the new text on which Chileans will vote in December.
Fundación Iguales Executive Director María José Cumplido explained the reasons behind her organization's position. 
"Our position as a foundation is to vote against this proposal because of the conscientious objection without limits, the lack of a robust nondiscrimination principle, a misconception of the best interests of children and adolescents and the weakness in the sexual and reproductive rights of women and pregnant women," she told the Washington Blade.
Cumplido warned the lack of a nondiscrimination principle in the proposed constitution could lead to a State that does not focus on implementing public policies to prevent discrimination. Cumplido said this omission could translate into a lack of training for civil servants, insufficient sex education and obstacles to access to justice, among other consequences.
Paloma Zúñiga, a former constitutional counselor for the leftist Democratic Revolution party who participated in the constitution drafting process and is an LGBTQ ally, told the Blade there are serious problems with the draft in regards to queer issues.
"First, (there is) an overly broad conscientious objection could allow discrimination on religious grounds in education, health care, commerce, among others," she said. "For example, a restaurant could expel a lesbian couple for kissing, a hospital could refuse to treat a trans person or not allow LGBTQ students in classrooms."
Zúñiga added a second concern is "the absence of a nondiscrimination principle robust enough to oblige the state to prevent discrimination considering that violence against queer people has increased." The final issue, according to Zúñiga, is "the weakness of the rights of children and adolescents, especially in terms of their autonomy and free development of personality, which could directly affect trans children."
Cumplido agrees with Zúñiga regarding the problems the enshrining of conscientious objection in the new constitution could bring. The activist highlighted international examples, such as the Burwell v. Hobby Lobby Stores case in the U.S., where conscientious objection was used to reopen debates on rights already democratically resolved. This legal precedent could be replicated in various situations in Chile, especially given the breadth of the amendment.
Zúñiga, who belongs to a political party that supports President Gabriel Boric, said "we must vote against it because it is a great risk and setback for LGBTQ people and the rights conquered in recent years."
"As a left sector we did everything possible to eliminate the amendments that harmed LGBTQ+, and even improve their quality of life through a new constitution, but the Republican Party with its majority blocked all our attempts," she explained.
Javier Milei elected Argentina's next president
Libertarian economist's lack of clarity over LGBTQ rights has sparked concern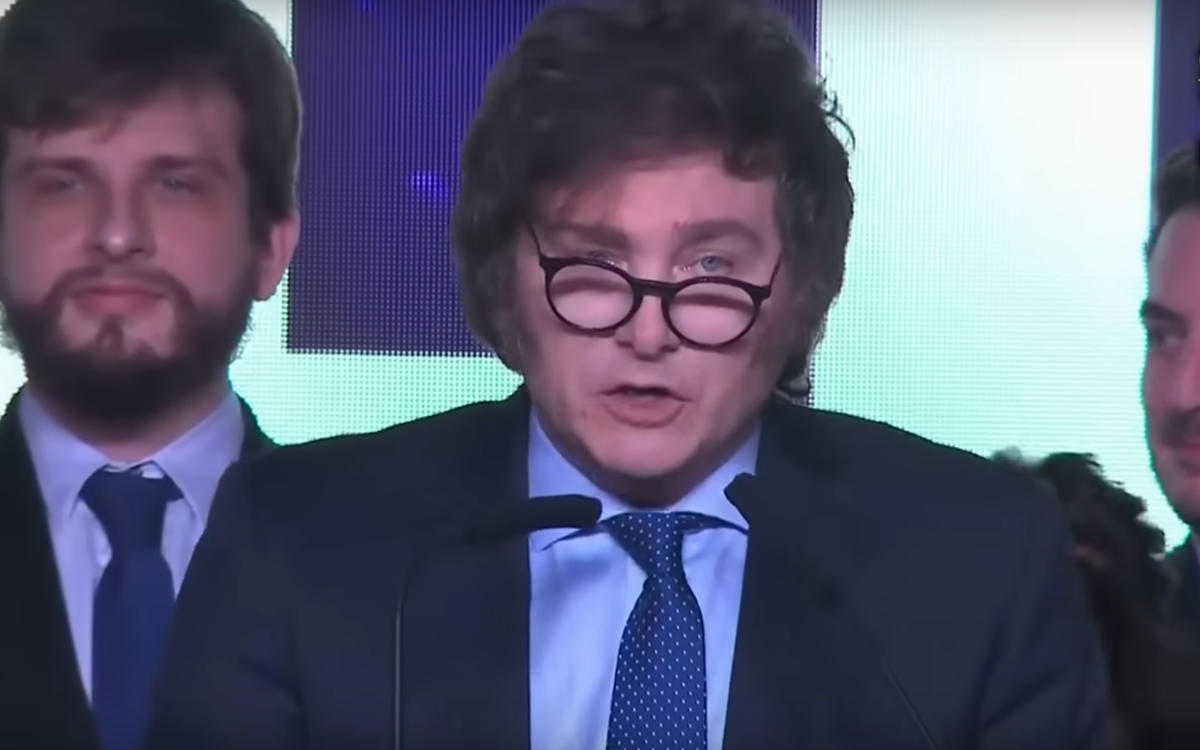 Libertarian economist Javier Milei's victory in the second round of Argentina's presidential election on Sunday came as a blow to the country's LGBTQ community.
Milei defied expectations with his victory over the ruling party's candidate, Economy Minister Sergio Massa, by a 56-44 percent margin. This result indicates significant support for Milei's ideas, which include liberal economic policies and limited government.
LGBTQ activists, however, have expressed apprehension over Milei's controversial positions in the past and others he articulated during the campaign. They did not specifically include issues related to sexual and gender identity, but activists nevertheless remain concerned.
Milei, for example, said he would eliminate the Ministry of Women, Gender and Diversity and the National Institute Against Discrimination, Xenophobia and Racism. (Alba Rueda is Argentina's first-ever Special Representative on Sexual Orientation and Gender Identity. She was previously the country's first undersecretary of diversity policies in the Women, Gender and Diversity Ministry. Rueda is the first transgender woman to hold a senior position in the Argentine government.)
"The people's vote has had a clear message, which was to get Peronism and Kirchnerism out of the government, all the anti-Peronist vote was gathered and concentrated in Milei," Esteban Paulón, a prominent LGBTQ activist who won a seat in the country's Congress last month, told the Washington Blade. "Peronism suffered the worst election in history in many of the provinces it even governs, some like the province of Buenos Aires where it barely won by 100,000 votes, by 1 percent, and that evidently shows an exhaustion of the political proposal of Peronism's political proposal for the country."
Paulón said Argentines "without a doubt … voted for an option of deep, radical change, after the failure of the political proposals that have governed the country in the last 20 years." Paulón said voters focused more on economic issues as opposed to Milei's "social agenda linked to the reduction of rights, opposition to equal marriage, feminism, etc. and gender laws."
"It is true that this result legitimizes many of these positions," he said. "We will surely see in the coming weeks and months an increase in this type of statements."
Milei during the campaign spoke in favor of more limited government and economic policies that would encourage individual freedom. His critics have noted a lack of clarity over his positions that could have implications on the progress that Argentina has made on LGBTQ rights over the last several years.
"Now, it is also true that even though people did not vote for Milei because of his anti-rights proposal," said Paulón. "Yes, many anti-rights people come to the government, led by Vice President-elect Victoria Villarroel, who is a negationist who vindicates the military dictatorship and vindicates illegal repression."
The LGBTQ community is now cautiously awaiting how policies will develop under Milei's leadership. Activists are urging the president-elect to address and ensure the continued protection of the rights based on gender identity and sexual orientation and to promote inclusion and diversity in all spheres of Argentine society.
"Now it is time to organize as a collective," said Paulón. "We must obviously be mobilized and attentive to the different situations that may arise and in my case as congressman, to dialogue a lot with related, transversal sectors from different political forces … [and] to resist within the framework of democracy."
"A period of much resistance, of intense work in the case of Congress is coming," he added.
Prominent Chilean activist Luis Larraín dies at 42
Former congressional candidate diagnosed with Non-Hodgkin's lymphoma in January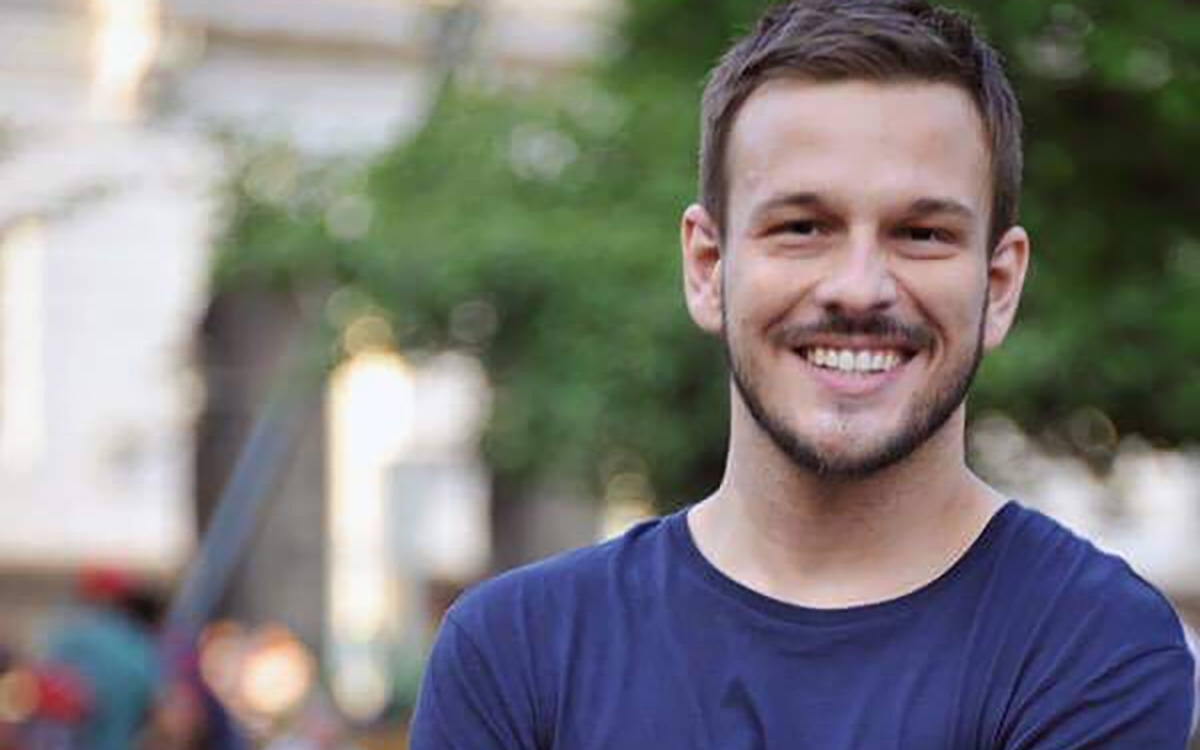 Luis Larraín, a prominent LGBTQ rights activist in Chile, died on Saturday after a battle with blood cancer. He was 42.
Larraín, along with writer Pablo Simonetti, in 2013 co-founded Fundación Iguales. Larraín was the group's president until he stepped down in 2017 to run for the Chilean Congress.
Larraín in January announced doctors had diagnosed him with an "aggressive" form of Non-Hodgkin's lymphoma. His family on Friday released a video in which Larraín said he had not responded to the third treatment he had undergone.
"They gave me the first three doses and they unfortunately did not show any results," he said. "Given that there are no more treatments available and thinking about my quality of life, talking a lot with my family and friends, I have decided to be sedated to spend this last moment in peace, without feeling the effects of cancer destroying my body."
"I wanted to say goodbye to everyone, thank you for being aware of what was happening to me," added Larraín. "I hope that you continue with your fight, whether in health, in sexual diversity or in any field."
Sus palabras de despedida las dejó registradas en este video, momentos antes de partir. Gracias Luis por todo lo que nos entregaste. Tu trabajo y tu corazón nos inspirarán siempre. pic.twitter.com/iaZDkatFaS

— Fundación Iguales (@IgualesChile) November 18, 2023
"Luis's legacy will endure in this country's history today and always," tweeted Fundación Iguales. "Rest in peace."
Chilean politicians and activists in the country and elsewhere in Latin America also mourned Larraín.
The Movement for Homosexual Integration and Liberation, another Chilean advocacy group, in a statement said Larraín's "contribution to nondiscrimination and to the causes of sexual and gender diversity shine like a star." President Gabriel Boric retweeted a statement from Camila Vallejo, his government's general secretary minister, in which she said she met Larraín in Congress when he was urging lawmakers to support LGBTQ rights "in this conservative country where he grew up."
"I remember your bravery in those days," said Vallejo. "I mourn your passing and I extend my deepest condolences to your loved ones and those with whom you were close. Thank you Luis."
Larraín's wake will take place in Santiago, the Chilean capital, on Saturday. His funeral will take place on Sunday.