Va. students stage mass walkout over anti-LGBTQ policies
Activists from more than 90 schools across state hold rallies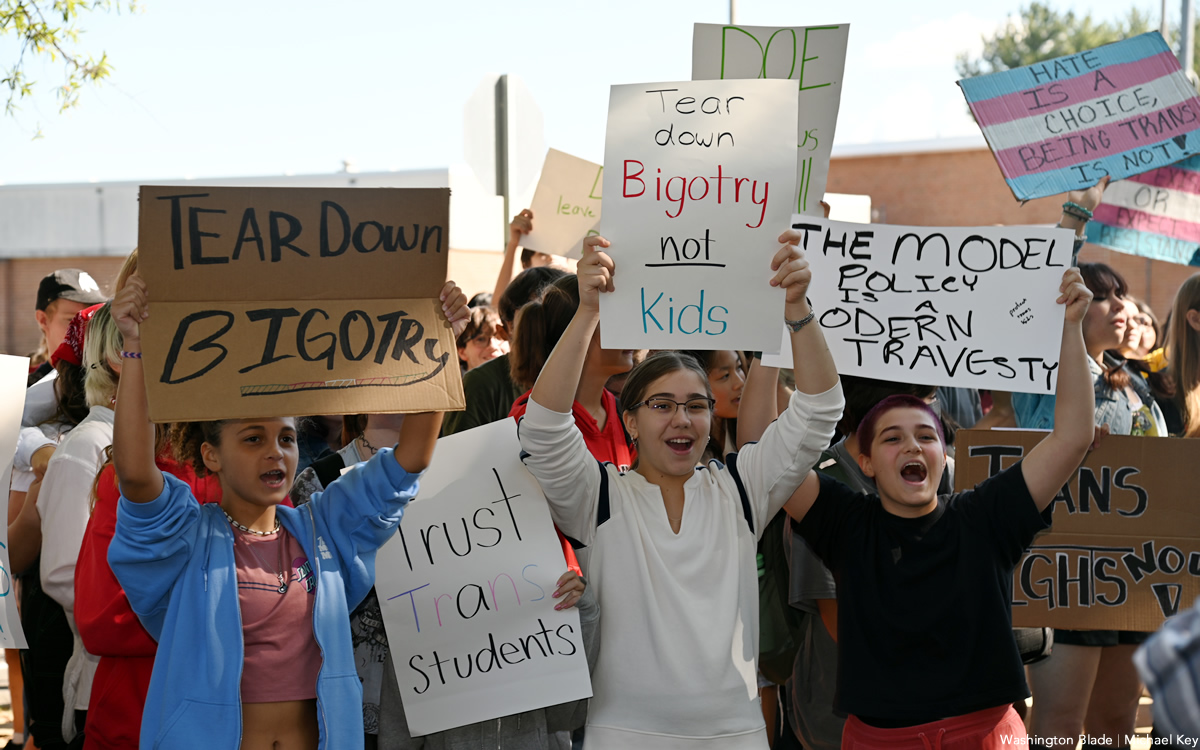 Thousands of students in schools across Virginia participated in walkouts and rallies on Tuesday to oppose the revised "model policies" on transgender students released by the Virginia Department of Education.
VDOE policy revisions were released on Sept. 16 and differ substantially from the policies passed into law in 2020.
The original policies on the treatment of trans students were intended to protect LGBTQ students; but the revised "model policies" have been criticized by activists, educators and legislators for mandating students use school facilities for the sex they were assigned at birth and bars students from changing their names and pronouns without parental permission. Further, the policies direct teachers and staff not to conceal a student's gender identity from parents, even when a student asks to keep that information private.
The student-led Virginia-based Pride Liberation Project responded to these policy changes by organizing mass walkouts and rallies in more than 90 schools from Alexandria to Williamsburg.
"These proposed guidelines are essentially taking that cornerstone and using it to undermine our rights. If these guidelines are implemented, it will be the single biggest loss for queer rights in Virginia in years," Natasha Sanghvi, a student organizer with the Pride Liberation Project, said in a statement.
Openly gay Virginia state Sen. Adam Ebbin (D-Alexandria) in a statement said "these new model policies, which are in flagrant violation of Virginia law, will do serious harm to transgender students. They are not based in science or compassion and will lead to students being outed before they are ready, increased bullying and harassment of marginalized youth, and will require students to jump through legal hoops just to be referred to with their proper name."
Ebbin joined several hundred students at West Potomac High School in Alexandria in a rally opposing the model policies proposed by Republican Gov. Glenn Youngkin.
"The new policy drafts are only going to do more harm to trans students who are already at risk for being outed, harassed and harmed," Jules Lombardi, a Fairfax County high school senior, told the Washington Blade. "These drafts will take schools, which are supposed to be safe environments for students, and make them spaces where students have to hide themselves for fear of their parents finding out about their identities."
"This isn't a matter of 'parental rights,' it's a matter of human rights and we deserve to be treated with the same respect as cis students," Lombardi added.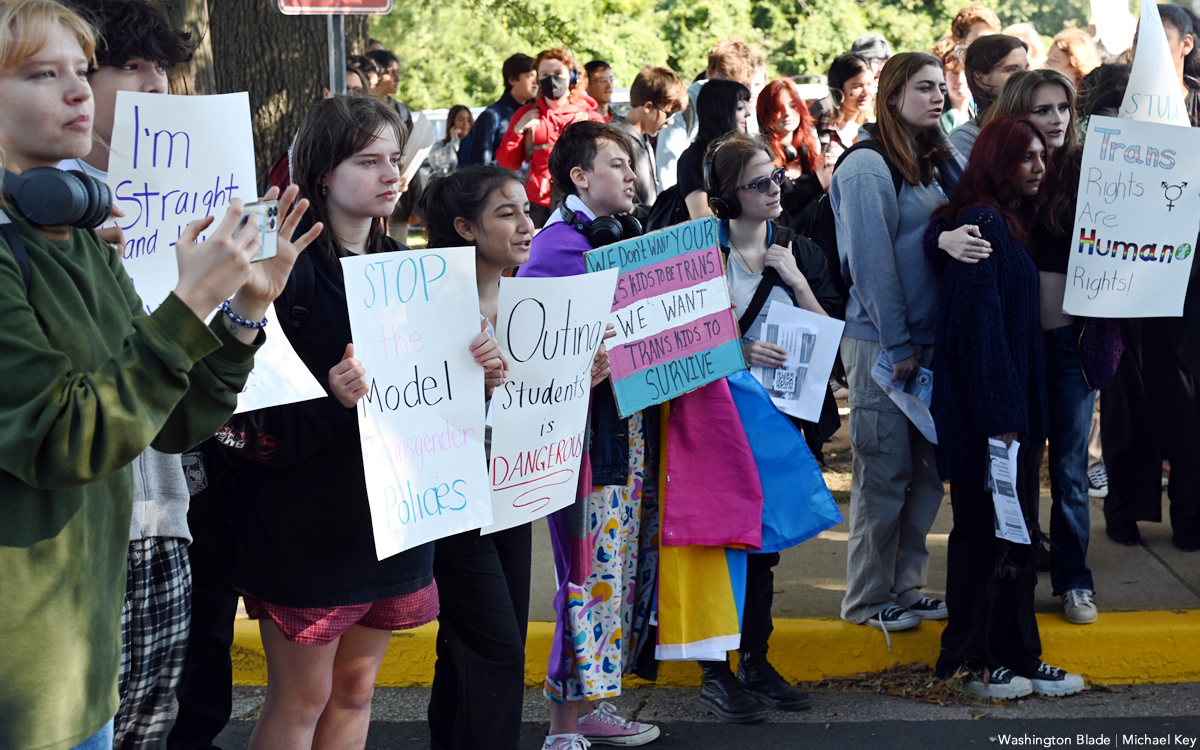 Andrea-Grace Mukuna, a senior at John R. Lewis High School in Springfield, told the Blade that "gender affirmation matters. Something so easily given to cisgender people is a right that our trans and gender non conforming youth deserve. I am walking out because schools will no longer be a safe place for queer students to be in if these policies get passed."
"Requirements for teachers to refer to students by their birth name and pronouns aligning with their sex, rather than trusting our students to know themselves and who they are best, reinforces the idea that we as students have no power, no control and no knowledge over anything in our lives. Gender queer youth exist, and no policy can change that," Mukuna said.
Mukuna continued, "making an attempt at denying them their ability to be who they are is a malicious attack on vulnerable students that could cause deathly harm."
"I walk out for my queer community — there is no erasing us," Mukuna said.
Several hundred students walked out of McLean High School. The walkout was lead by members of the school's GSA and organizers from the Pride Liberation Project including McLean High School senior Casey Calabia.
Calibia asked the crowd, "Do we want Gov. Youngkin to understand that this is not what Virginia looks like?"
The crowd roared, "yes!"
"Virginia stands for trans kids. Trans and queer people are a fact of humanity. We will be accepted one way or another and to see everybody here today is another step toward that change," said Calibia through a bull horn.
Calibia told the Blade in a pre-walkout statement said "to call these policies in favor of respecting trans students' rights and privacy is to call an apple an orange. The 2022 Transgender Model policies, even as a draft, have begun to actively hurt my community's mental health."
"Instead of focusing on academics and our future, we have to sit in class and wonder if we will be safe in school," Calibia concluded. "To not only take away the 2021 policies, a cornerstone in LGBTQIA+ rights for Virginia, but to mock them with these replacements, is a devastating blow to myself, trans students, queer students, and the whole of Virginia's public school student body. How can we be safe, if we can be taken out of school-provided counseling, maliciously misgendered, and denied opportunities given to other students simply because of our gender? Accepting queer students in class does not indoctrinate or brainwash kids. It tells queer students like me that it is okay and safe to be ourselves in school."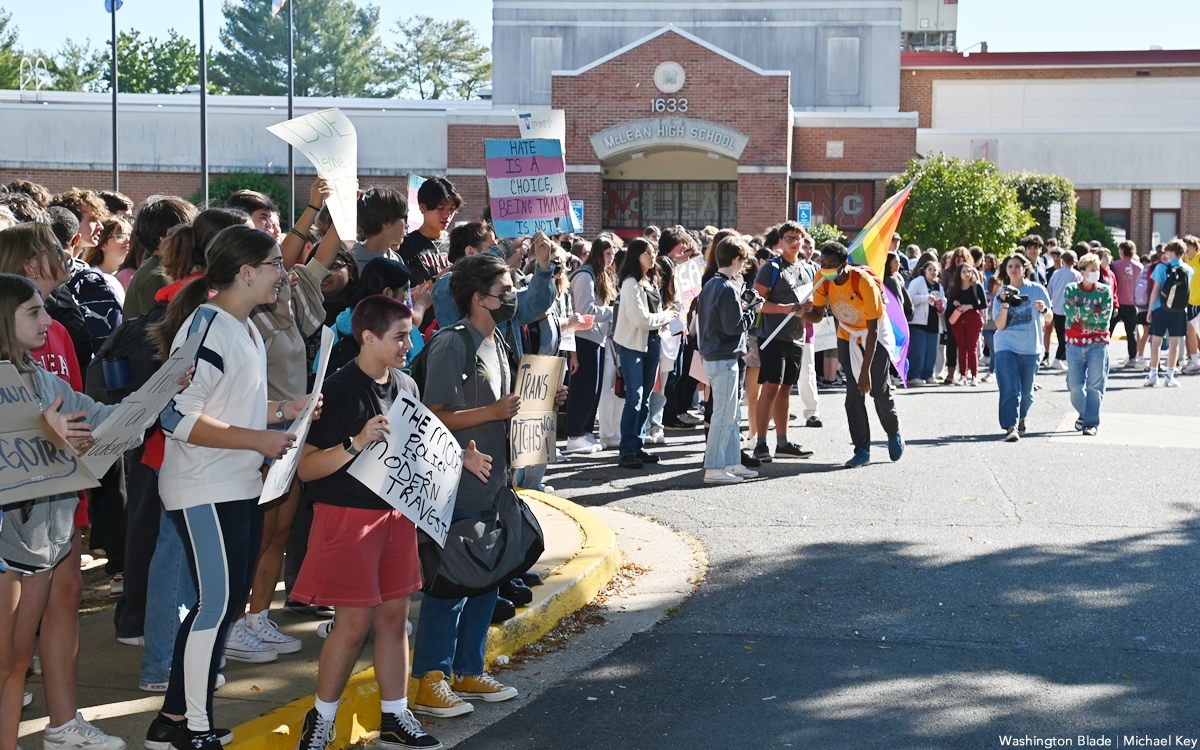 The student protests in Virginia have made national news.
"This is a president who supports the LGBTQI+ community and has been supporting that community for some time now as a vice president, as senator, and certainly as president now," said White House Press Secretary Karine Jean-Pierre in response to a question about the protests during her daily press briefing. "And he . . . always is proud to speak out against the mistreatment of that community … We believe and he believes transgender youth should be allowed to be able to go to school freely, to be able to express themselves freely, to be able to have the protections that they need to be who they are."
"When it comes to this community, he is a partner, and he is a strong ally, as well as the vice president," Jean-Pierre stated.
Walkouts and rallies were held at middle and high schools in Arlington, Bedford, Buchanan, Chesterfield, Culpeper, Fairfax, Fauquier, Frederick, Henrico, James City, Loudoun, Louisa, Montgomery, Powhatan, Prince George's, Prince William, Spotsylvania, Stafford, Warren and York Counties as well as in the cities of Alexandria, Chesapeake, Newport News, Portsmouth, Richmond, Williamsburg and Winchester.
"Every parent wants Virginia's laws to ensure children's safety, freedom, and to encourage a vibrant and engaging learning experience. But the Virginia Department of Education is rejecting those shared values by advancing policies that will target LGBTQ kids for harassment and mistreatment simply because of who they are," said Ebbin.
Loudoun County shopping center hit with homophobic, racist graffiti
Sheriff's Office seeks help from public to identify suspects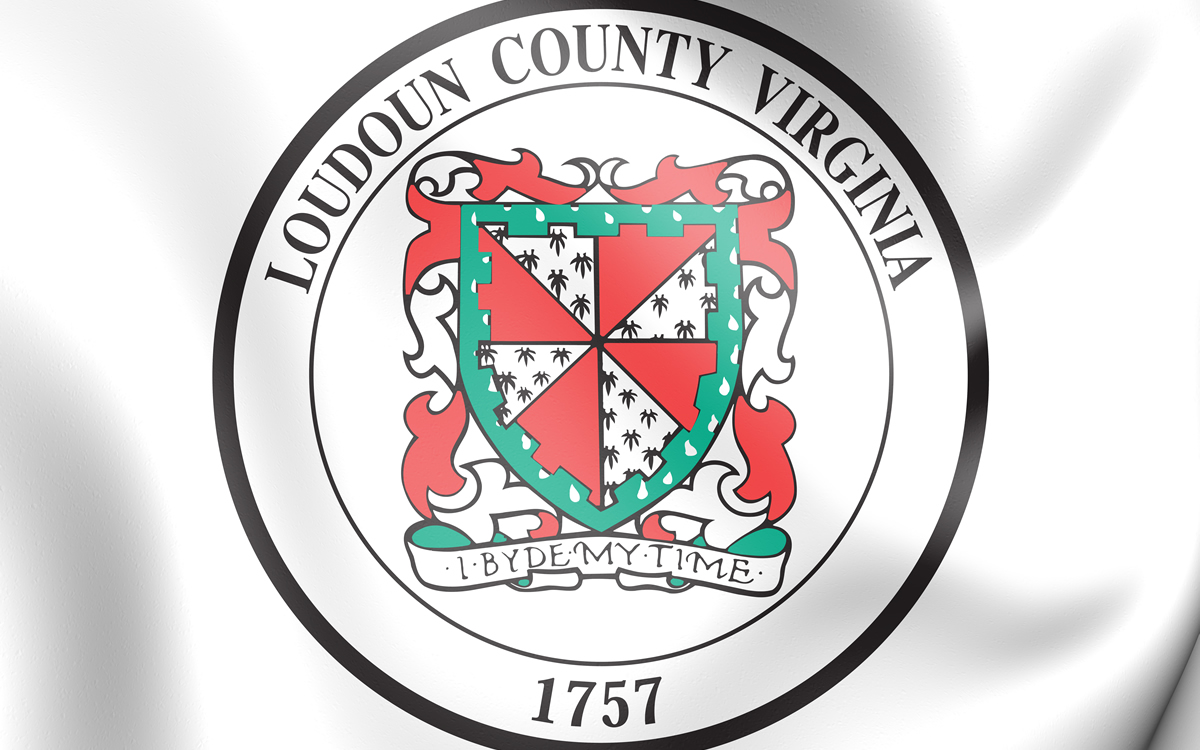 The Loudoun County, Va., Sheriff's Office is seeking help from the public for its investigation into an incident on Friday, Dec. 2, in which an unidentified suspect or suspects spray-painted anti-LGBTQ, racist, and anti-Semitic graffiti at a shopping center.
A spokesperson for the Sheriff's office told the Washington Blade the graffiti, which is considered an act of vandalism and is being investigated as a possible hate crime, was found painted on the side of a building that once housed a Food Lion supermarket at the South Riding Town Center in Chantilly.
The Sheriff's Office did not disclose the exact wording of the graffiti. But news media reports, including a report by WTOP News, said the graffiti included Nazi swastikas, racial slurs, and the phrase "stop white genocide."
Among the graffiti messages was the symbol "1488," which indicates "the perpetrator's endorsement of white supremacy and its beliefs," according to a statement from the Jewish Federation of Greater Washington as reported by the local publication Inside NOVA.
Sheriff's Office spokesperson Michele Bowman said another, similar display of hate graffiti was found on Saturday behind the Bed Bath & Beyond building at the nearby Dulles Landing shopping center. Bowman said the Sheriff's Office is also investigating that incident.
"There is no place in society for this behavior," a statement released by the Sheriff's Office on Facebook says.
"The LCSO takes this very seriously and is working with our station detectives, School Resource Officers, and our FBI Task Force member, and is reviewing social media and other potential leads to determine who is responsible for this vile act," the statement says.
"We are asking the public for their assistance as well," it says. "If anyone has information that may be helpful, please call Detective Fornwalt at 703-777-1021," the statement says.
Loudoun4All, which describes itself as an advocacy organization that supports equality, announced on Facebook that it organized a rally on Sunday, Dec. 4, at the site of the graffiti at South Riding Town Center to speak out against hate.
The announcement says the group also arranged for volunteers to help remove the graffiti after learning that the Sheriff's Office does not have authority to remove such graffiti on private property.
"About 50 local residents joined the rally, which took place along the side of Tall Cedars Parkway where the graffiti had been painted," the group said in its Facebook posting. "Rally goers held signs with inclusive and supportive messages and waved at cars driving by," the posting says.
It says that local resident Quante Timbers, the owner of Timbers Landscaping Care, LLC, volunteered his services by bringing a power washer to the site to remove most of the graffiti.
"Where his hoses wouldn't reach, local kids converted the spray-painted message of hate into chalked messages of love," the Loudoun4All statement says.
Loudoun Sheriff's spokesperson Bowman said there were no updates to report on the investigation as of Monday, Dec. 5.
Va. lawmaker introduces bill to ban trans athletes from school sports teams
State Del. Karen Greenhalgh introduced HB 1387 on Tuesday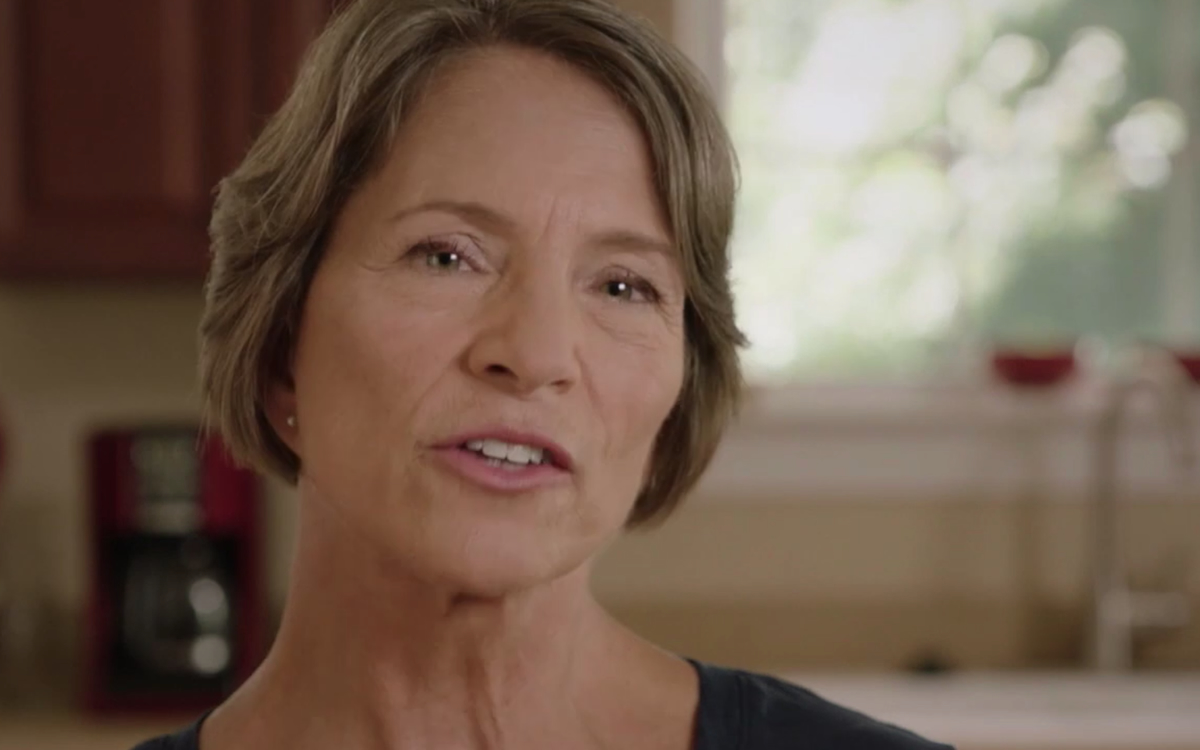 A Virginia lawmaker has introduced a bill that would ban transgender athletes from school sports teams that correspond with their gender identity.
State Del. Karen Greenhalgh (R-Virginia Beach) introduced House Bill 1387 on Tuesday
An HB 1387 summary notes it would require "each interscholastic, intercollegiate, intramural or club athletic team or sport sponsored by a public elementary or secondary school or by a public institution of higher education to be expressly designated as one of the following based on biological sex: (i) males, men or boys; (ii) females, women or girls; or (iii) coed or mixed if participation on such team or sport is open to both (a) males, men or boys and (b) females, women or girls."
"The bill requires identification of the student's biological sex on an athletics eligibility form signed by a licensed physician, nurse practitioner or physician assistant to be submitted by any such student who desires to try out for or participate in an interscholastic, intercollegiate, intramural or club athletic team or sport. The bill prohibits any such team or sport that is expressly designated for females, women or girls from being open to students whose biological sex is male," reads the summary. "The bill further prohibits any interscholastic, intercollegiate, intramural or club athletic team or sport sponsored by a public elementary or secondary school or a public institution of higher education from competing against any interscholastic, intercollegiate, intramural or club athletic team or sport sponsored by a private elementary or secondary school or private institution of higher education unless such private school or institution complies with the applicable provisions of the bill."
Republican Gov. Glenn Youngkin is among those who have said they do not support allowing trans children to play on sports teams that are consistent with their gender identity.
Youngkin in September announced his plans to revise guidelines designed to protect trans and nonbinary students that his predecessor, Democrat Ralph Northam, signed into law in 2020. The Virginia Department of Education has announced the proposed revisions will not take effect until at least Nov. 26.
The Virginia General Assembly's 2023 legislative session is scheduled to begin on Jan. 11.
Spanberger defeats Vega in Va.
Democratic congresswoman won with 51.92 percent of vote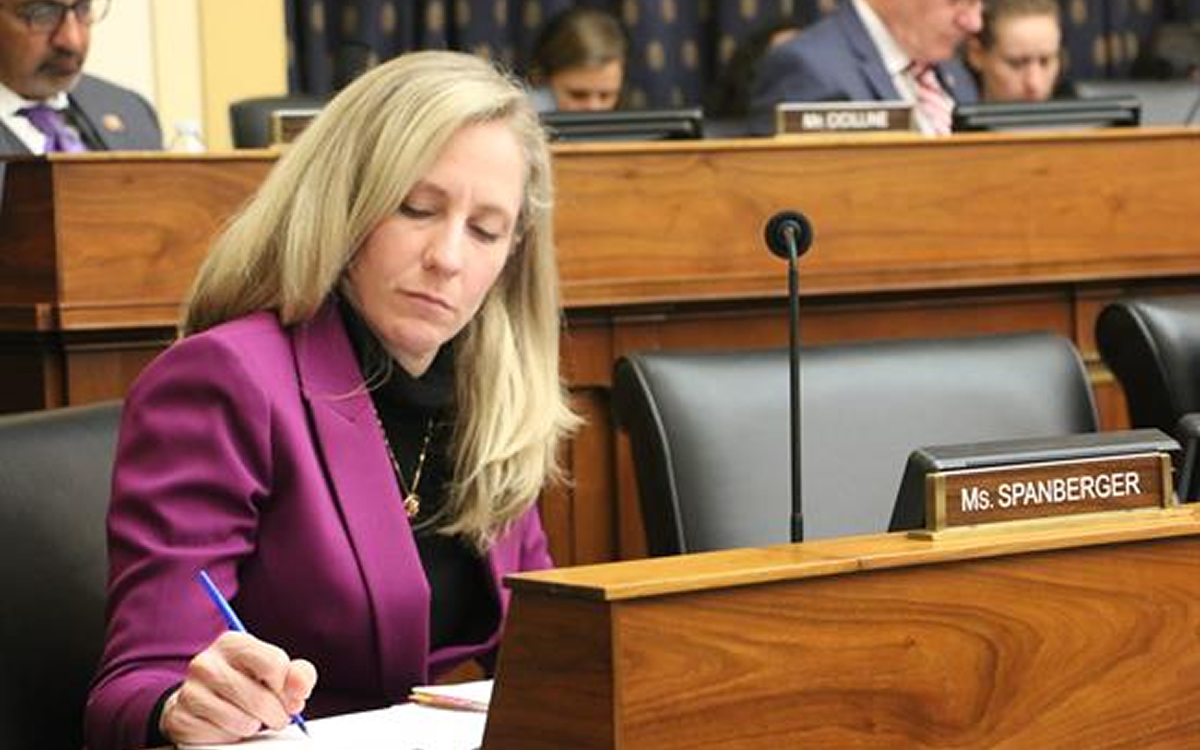 Democratic Congresswoman Abigail Spanberger on Tuesday defeated Republican Yesli Vega in Virginia's 7th Congressional District.
Spanberger was ahead of Vega by a 51.92-47.85 percent margin with 214 of 226 precincts reporting.