Sen. Sinema changes party affiliation from Democrat to independent
Lawmaker made history in 2018, becoming first bi member to serve in Senate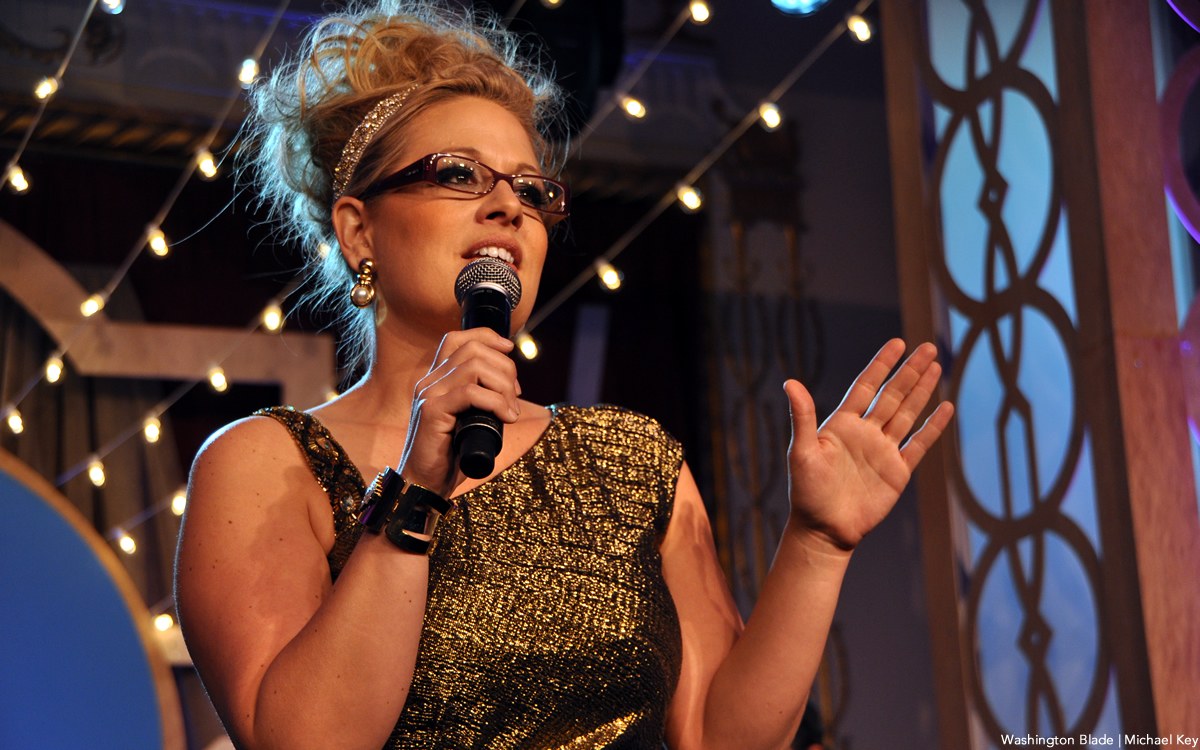 Sen. Kyrsten Sinema of Arizona said during an interview with POLITICO on Friday that she will switch her party affiliation from Democrat to independent but pledged not to change the way she has voted over the past four years in the Senate.
Sinema's announcement comes just two days after Democratic Sen. Raphael Warnock of Georgia prevailed in a runoff election against Republican challenger Herschel Walker, widening Democrats' razor thin majority in the upper chamber.
"I don't anticipate that anything will change about the Senate structure," Sinema told POLITICO. "I intend to show up to work, do the same work that I always do. I just intend to show up to work as an independent."
Human Rights Campaign President Kelley Robinson told the Washington Blade in a statement:
"The issues of the LGBTQ+ community are beyond partisanship. We at the Human Rights Campaign will be looking for Sen. Sinema to show us her continued advocacy and support for the community regardless of her party affiliation."
White House Press Secretary Karine Jean-Pierre released a statement on her decision:
"Senator Sinema has been a key partner on some of the historic legislation President Biden has championed over the last 20 months, from the American Rescue Plan to the Bipartisan Infrastructure Law, from the Inflation Reduction Act to the CHIPS and Science Act, from the PACT Act to the Gun Safety Act to the Respect for Marriage Act, and more.
"We understand that her decision to register as an independent in Arizona does not change the new Democratic majority control of the Senate, and we have every reason to expect that we will continue to work successfully with her."
Sinema's reputation as an iconoclast has occasionally frustrated her Democratic colleagues in the chamber as well as progressives more broadly. Critics were puzzled by what they saw as the Arizona Senator's fealty to multinational pharmaceutical companies, hedge funds, and venture capital firms.
More recently, however, Sinema was credited for her instrumental work earning her GOP colleagues' support for the Respect for Marriage Act, which earned a filibuster proof majority and is now on its way to be signed into law.
Sinema made history with her election to the Senate in 2018, becoming the first bisexual and second LGBTQ person (behind Democratic Sen. Tammy Baldwin of Wisconsin) to serve in the upper chamber.
McCarthy dealt another blow by far-right members seeking to replace him
Rep. Emmer denies he's interested in becoming next Speaker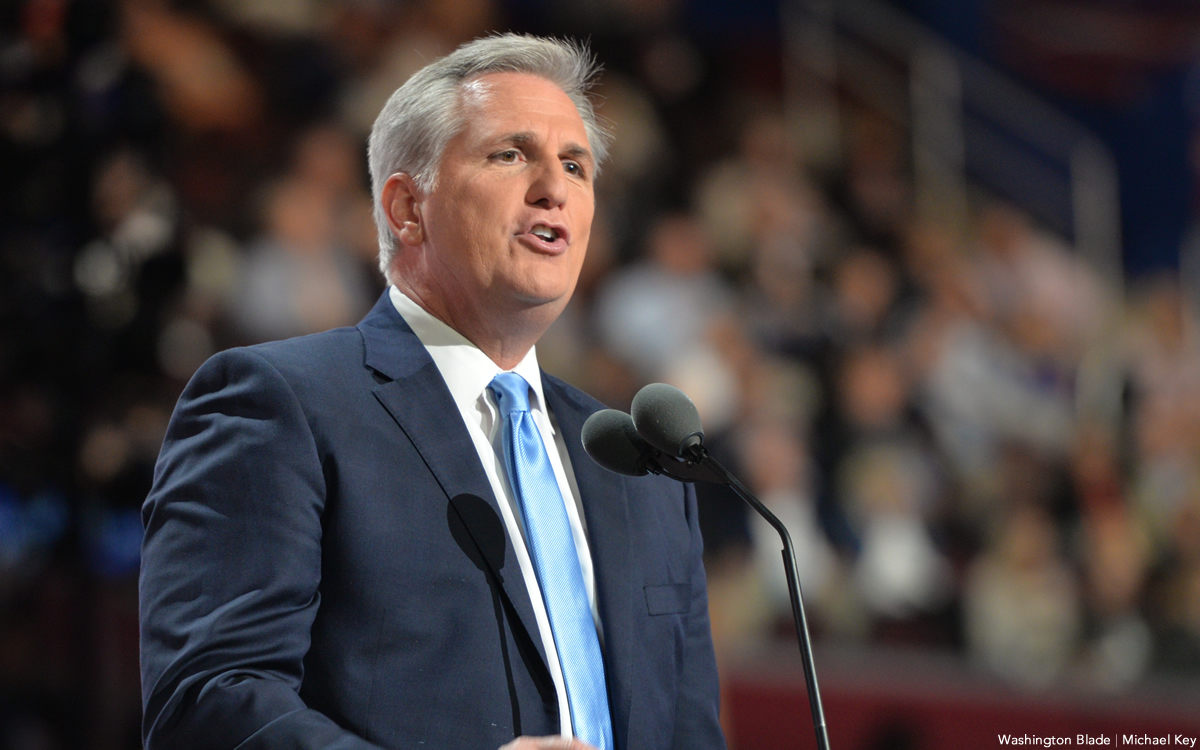 After joining with the Democrats on Friday to sabotage House Speaker Kevin McCarthy's (Calif.) plan to forestall a government shutdown with a last-ditch spending package, a group of far-right members are now focused on replacing him.
The stop-gap funding bill was defeated 232-198 with more than 20 Republicans voting against the measure.
House GOP sources tell the Washington Blade that removing McCarthy from the speaker's chair is now a top priority, along with resisting pressure from Senate Republicans seeking to broker a deal to avoid allowing funding to lapse.
These sources confirmed reporting in the Washington Post about discussions of tapping U.S. Rep. Tom Emmer (Minn.) to become the chamber's top Republican, though the congressman told CBS Minnesota/WCCO News, "I fully support Speaker McCarthy. He knows that and I know that. I have zero interest in palace intrigue. End of discussion."
While Emmer was among the 39 House Republicans who voted with the Democrats in support of the Respect for Marriage Act, which protects the rights of couples in same-sex marriages, in April he was among the more vocal members pushing for a federal ban to prohibit transgender women and girls from competing on sports teams consistent with their gender identity.
In January, McCarthy narrowly secured his bid for the speakership after an unprecedented 15 votes from his caucus. Many of the same members now calling for his replacement demanded concessions, including conditioning their votes on McCarthy's agreement to allow any member to call for a motion to vacate the chair at any time.
During the votes, which were held over a period of five days, other members like U.S. Rep. Byron Donalds (R-Fla.) were nominated for the position.
House passes Boebert's amendment targeting LGBTQ workers at USDA
Democrats call measure 'blatantly homophobic'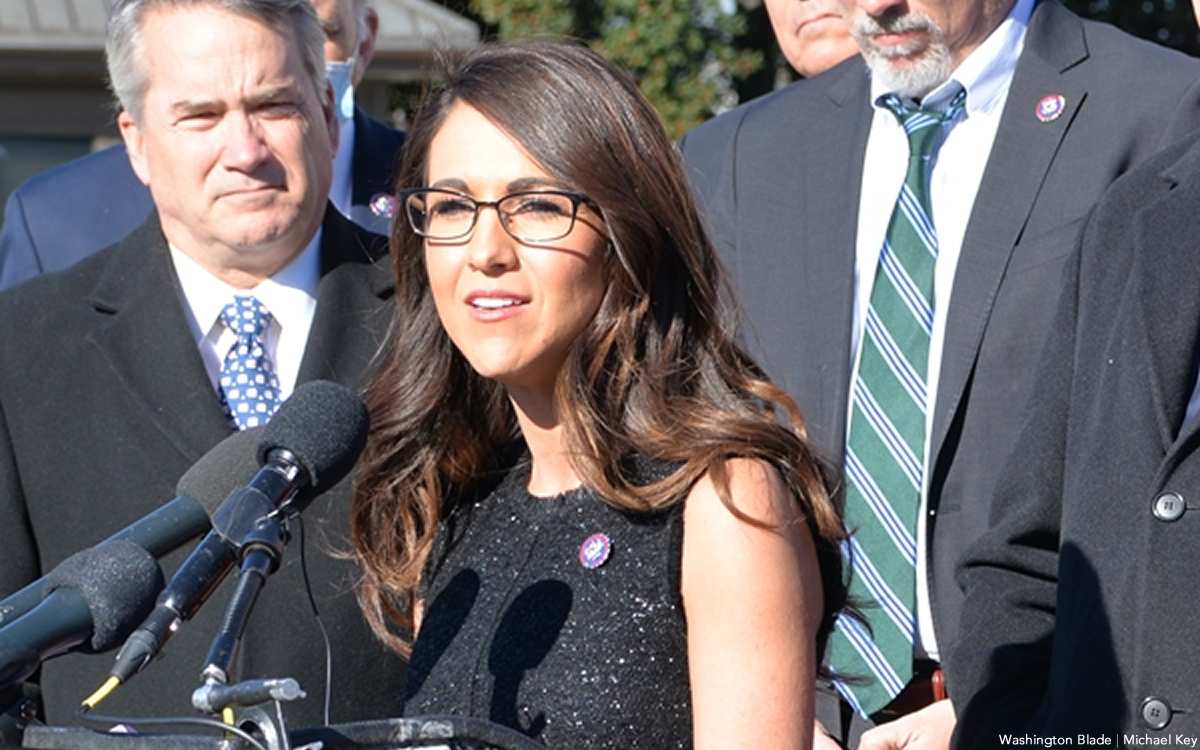 House Republicans on Wednesday pushed through a proposal by U.S. Rep. Lauren Boebert (R-Colo.) that would prohibit the U.S. Department of Agriculture from using federally appropriated funds for materials supporting the agency's LGBTQ employees.
Passing by just three votes in the face of unified opposition from Democrats, along with one GOP member, U.S. Rep. Brian Fitzpatrick (Pa.), the measure will never be signed into law amid Democratic control of the Senate and White House.
For weeks, Boebert and her ideological allies in the lower chamber have dashed hopes of forestalling a government shutdown by insisting on ladening must-pass spending bills with far-right demands, often targeting the LGBTQ community and initiatives promoting diversity, equity, and inclusion.
Even so, the aim and scope of the Colorado congresswoman's amendment to the agriculture appropriations bill was striking.
Among the 17 types of "courses, books, or study guides" circumscribed in the measure are those concerning "approaching LGBT issues in the workplace," "understanding and supporting LGBTQ+ employees," "becoming an ally to all," "conversations with LGBTQ+ leaders on the power of identity," and "creating an inclusive work community" for transgender employees.
Democratic Congressional Campaign Committee Spokesperson Viet Shelton condemned House Republicans' passage of the amendment in a statement shared with the Washington Blade:
"In a clear indication that so-called moderate Republicans are now completely controlled by their extreme fringes, they are now passing such blatantly homophobic legislation that mandates federal employees be discriminated against in the workplace," he said. "Their focus on these hateful policies while ignoring middle class families struggling with rising costs is why they will lose their majority in Congress next year."
The USDA did not immediately respond to a request for comment.
Boebert denigrates, misgenders trans Pentagon official
Comments targeted Assistant Secretary of Defense Shawn Skelly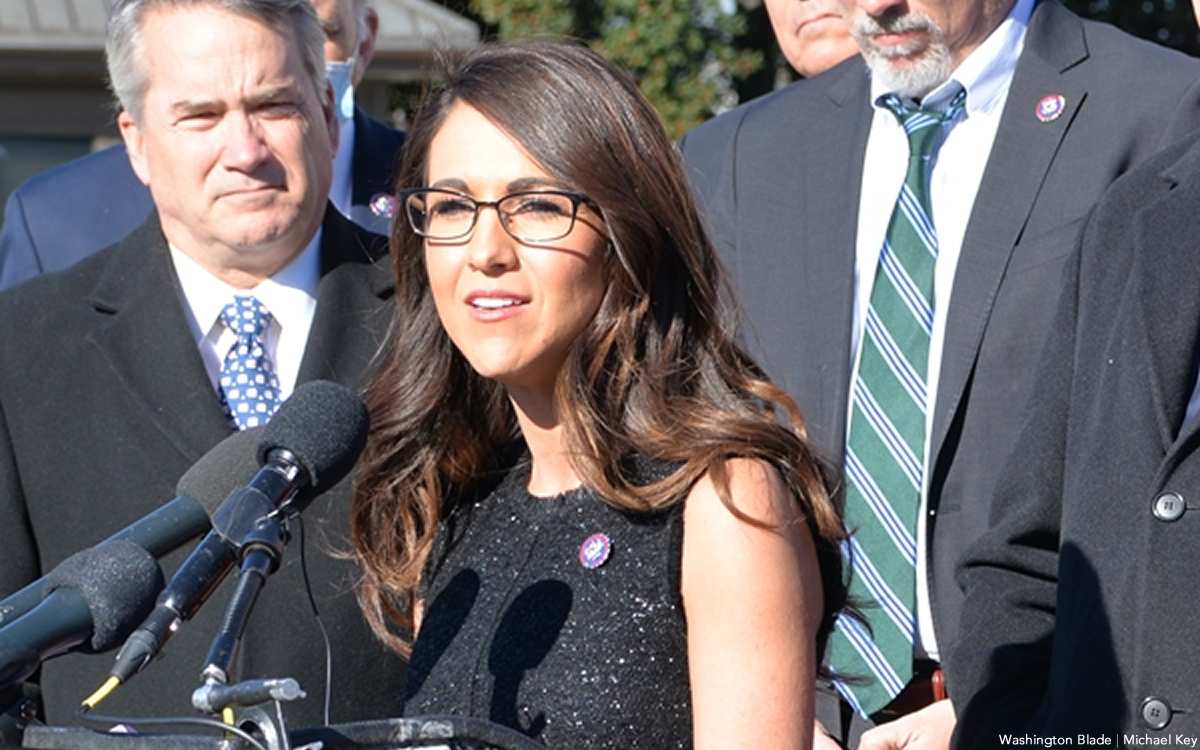 U.S. Rep. Lauren Boebert (R-Colo.) denigrated and deliberately misgendered Assistant Secretary of Defense for Readiness Shawn Skelly, the Pentagon's highest ranked transgender official, during a debate Wednesday over amendments to a defense appropriations bill.
In remarks that stirred outrage from her Democratic colleagues, the congresswoman called Skelly a "delusional man thinking he is a woman" and the embodiment of "woke-ism" before proposing an amendment that would reduce her salary to a dollar.
Skelly served on active duty in the U.S. Navy for 20 years as a naval flight officer before retiring with the rank of commander. Her record of service includes senior positions with the Defense and Transportation Departments during the Obama administration.
"Assistant Secretary Skelly has served in her role admirably, as she has done as her time as a naval officer," responded U.S. Rep. Betty McCollum (D-Minn.), stressing each of the feminine pronouns as she spoke.
The second-term Colorado representative countered with more transphobic comments: "if you want to call Mr. Skelly a her, his chromosomes are still XY, and we trust the science over here rather than delusion and playing dress up and imaginary games with our military readiness."
Boebert is among the more vocal members of an ultraconservative cohort of House Republicans who, in recent weeks, have sabotaged efforts to clear must-pass appropriations spending packages before Oct. 1 to forestall a government shutdown.
Members of the far-right faction have attached to these bills controversial, partisan, and often anti-LGBTQ amendments — effectively dooming their chances of passage by the U.S. Senate amid Democratic control of the chamber.
With respect to the Defense Department spending bill, for example, GOP members have advanced proposals that would defund healthcare services for transgender service members and ban Pride flags from military bases.
On X, U.S. Rep. Mark Pocan (D-Wis.), chair of the Congressional Equality Caucus, wrote that "Republicans claim to support the military but Rep. Boebert, just spent five minutes misgendering and attacking our Assistant Secretary of Defense for Readiness — just because she's trans. Ms. Skelly serves our country with honor. I can't say the same for Boebert."
The caucus added, "It's disgusting that a Member of Congress would use their platform on the House Floor to misgender and attack a top-ranking @DeptofDefense official and veteran just because she's a trans woman."
It's disgusting that a Member of Congress would use their platform on the House Floor to misgender & attack a top-ranking @DeptofDefense official and veteran just because she's a trans woman.

We stand with Ms. Skelly & thank her for her service and commitment to this country. https://t.co/J6wId22rGC

— Congressional Equality Caucus (@EqualityCaucus) September 27, 2023