Meet the non-binary star of Dan Levy's 'The Big Brunch'
Catie Randazzo inspiring others to speak out, be themselves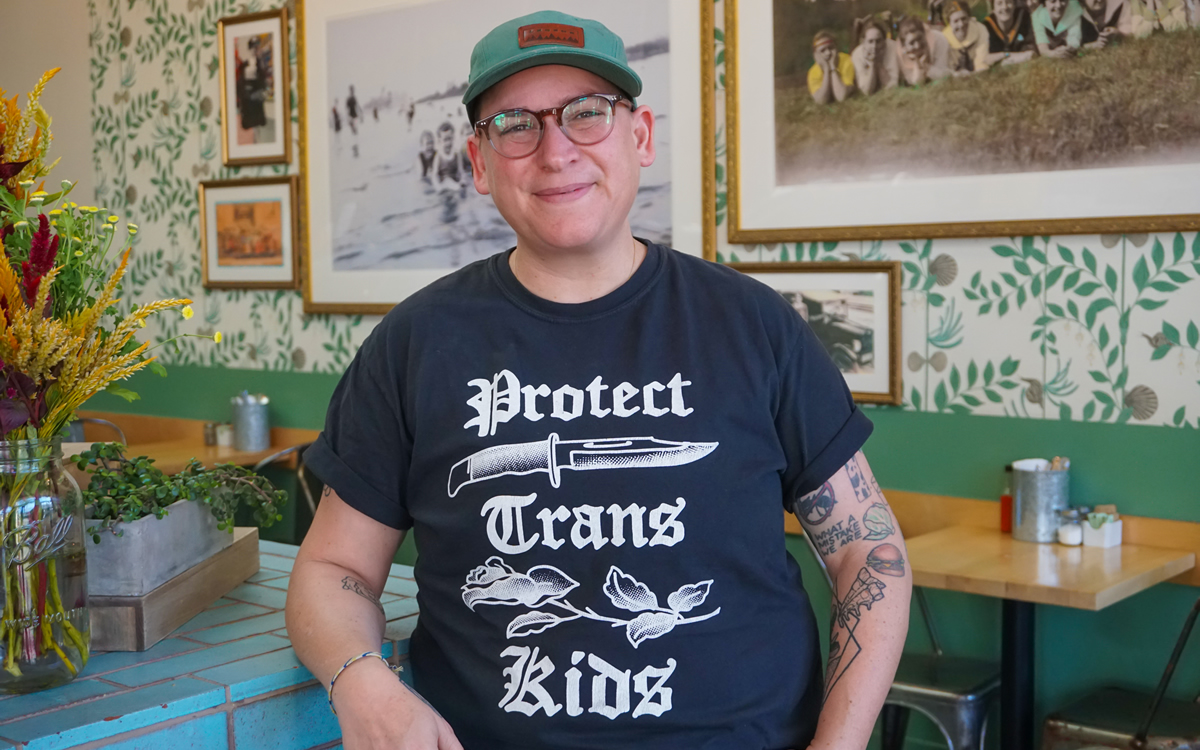 Just as a meal is more than a sum of its ingredients, restaurants are more than just furniture, fire, and food.
For Catie Randazzo, working in restaurants was "the first place that I felt I could be my true authentic queer self. Randazzo, who uses they/them pronouns, went from staffing the local Dairy Queen in Columbus, Ohio at 16 to starring in HBO's recent "The Big Brunch," hosted by Dan Levy (it aired in November). Randazzo, who now calls Los Angeles home, has taken the spotlight in stride: a chef, leader, and role model in equal parts.
Randazzo, who began in the service industry in several chain restaurants, says that "growing up in a Pentecostal household, it's where I finally felt free. The chains provided consistency, efficiency, and the meaning of a restaurant family." After graduating from culinary school, they worked in Portland and New York City before returning home to Columbus to open their own food truck.
"I moved home in 2013 to open my first solo venture, a food truck called Challah! that did riffs on classic Jewish street food. I fell in love with Jewish food and culture while living in New York," they say. "I wanted to celebrate it. It is still an influence in my cooking today, and it always will be. It's kind of funny though, former Pentecostal, a queer kid, does Jewish food, but it works."
Randazzo then opened and gained acclaim for their first brick and mortar restaurant, Ambrose and Eve, a modern American restaurant. It closed in 2020 due to complications from the pandemic. Yet it was there at Ambrose and Eve that Randazzo earned the titles Best Chef 2019 and 2020 from The Columbus Underground, Best New Restaurant 2019 from Columbus Monthly, and recognition from the New York Times and Chicago Tribune. Randazzo was being seen for cooking prowess, and leadership outside the kitchen.
"Ambrose was magical. I was able to create a safe space for my staff, where they could be themselves, and insert their ideas to grow as bartenders, cooks, and servers," Randazzo notes.
As the pandemic shuttered restaurants everywhere in 2020, Catie became a trusted fixture in Columbus, lending support to local nonprofits including Star House, a drop-in center for displaced youth; and helped establish Service!, alongside other local chefs focused on feeding and supporting service industry staff. Randazzo also volunteered mentoring queer children who wanted to become chefs, and at youth drop-in shelters.
When a friend sent Randazzo a note about applying for "The Big Brunch," "I was still mentally recovering from the loss of my restaurant. But the more I read about the premise of the show, the more I thought I should apply. I also had only been out as non-binary for a few months and was nervous to put myself out there like that. Also, it's Dan Fucking Levy. Like, come on."
On "The Big Brunch," 10 chefs from diverse backgrounds fought to win $300,000 from the judges: Levy, chef Sohla El-Waylly and restaurateur Will Guidara. Through the show, Randazzo dug deep, and made major life changes – moving to Los Angeles and taking up the mantle as executive chef of Huckleberry Bakery & Café in Santa Monica.
"That show, my castmates, the whole experience changed my life. I feel confident again. I got sober. I found a new version of myself that I am in love with. I met a girl. I moved to LA. I got a fucking kick-ass job doing what I love. I had been lost for so long, and it feels like I am home. I hope that through the show, people can hear my story, and it may help and guide them to stand up, speak out, and be themselves."
Today in LA, diners at Huckleberry can get a taste of how Randazzo sparkled in The Big Brunch – their signature approach to unique, seasonally inspired food, and their penchant for telling stories through nostalgia. A couple dish highlights: a veggie quiche from the farmer's market, and cereal milk pancakes inspired by weekend breakfasts made by their father.
Randazzo promises to continue their trajectory. "I think my work supports the need for queer safe spaces just by being visible. Sometimes, just having someone see you can make all the difference."
5 of the biggest stories in the 2022 D.C. food and drink scene
Liquor license drama, Ukrainian fundraisers, and more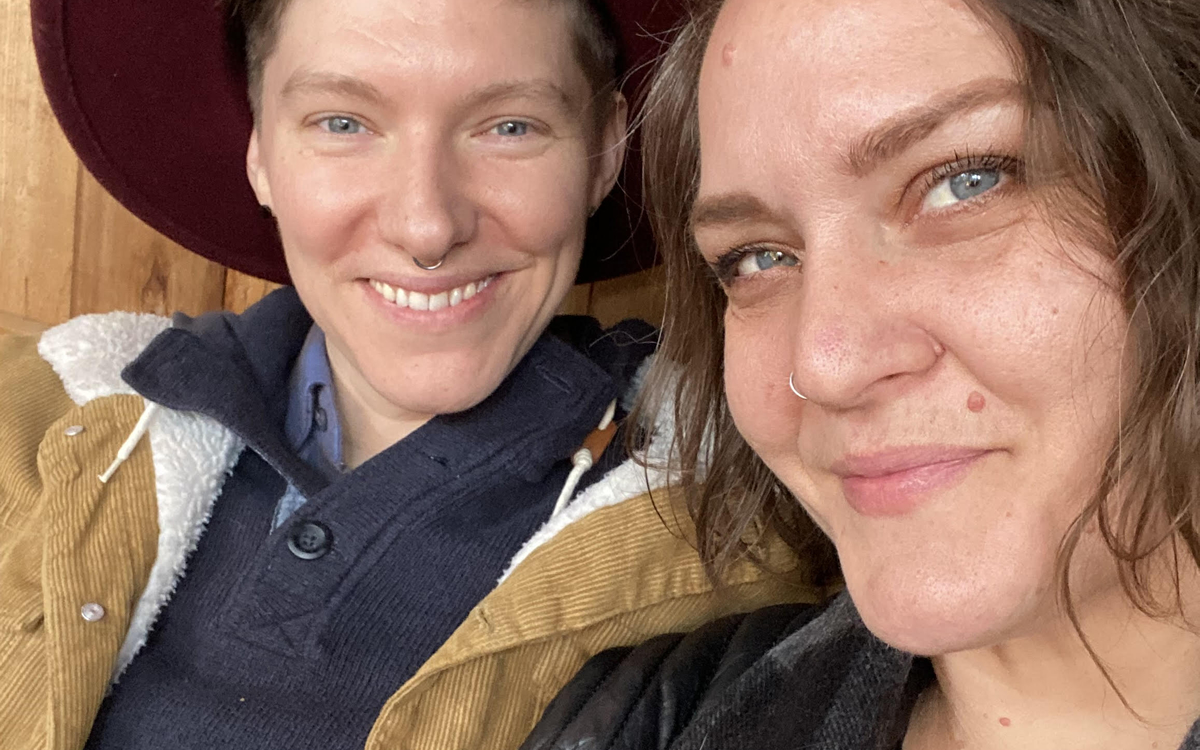 Has dining in D.C. returned? The city has seen a wildly dynamic year, punctured by several high-profile restaurant closings, but buoyed by exciting new openings. In no particular order of importance, and in a highly subjective list, these are five of the biggest stories in the DC food and drink scene for the Blade community.
The As You Are Bar Saga
The opening of As You Are Bar was a long time coming. Started virtually in 2019, AYA (as it's informally known) finally opened its doors to the public in early 2022. Owners Jo McDaniel and Rachel Pike, a duo with more than two decades of combined service in the industry, were highly intentional in building a space that serves D.C.'s LGBTQ community – and every part of that community. As You Are exists to hold and cultivate a safe and celebratory space for the LGBTQ community, they say. Café by day, bar and dance lounge by night, As You Are welcomes everyone. Its food offerings mirror that mantra too: It has plenty of vegan and vegetarian options at lunch and dinner, and lots of non-alcoholic drinks at the bar.
But opening was not easy. AYA, which initially applied for its liquor license in November 2021, couldn't open for several months, facing both construction delays and fierce resistance from some neighbors and the local ANC, concerned about noise and trash. Undeterred, the two mounted a support campaign with friends and other neighbors, and today has become a mainstay in its neighborhood that once held several LGBTQ bars. Today, AYA is the only one. It counts Pete and Chasten Buttigieg as customers (they also live nearby). Last month, the Human Rights Campaign awarded As You Are a $10,000 grant from its "Queer to Stay" small business campaign. AYA's impact as a bar with a mission is here to stay.
Peruvian in Blagden Alley
Blagden Alley has been a hotbed of innovative cuisine, and the new Causa is no exception. Chef, co-owner, and Peruvian native opened his two-part, bi-level restaurant in Blagden as an ode to his home country. Service Bar's Glendon Hartley and Chad Spangler are also co-owners. Upstairs, dubbed Amazonia, is a casual, a la carte restaurant lush with greenery and calming, loungey atmosphere that opened in April. Downstairs is an airy, minimalist, set-menu space that opened in September. It has received local and national accolades: The Washington Post's Tom Sietsema placed Causa on his seven favorite restaurants list for November 2022, and Eater national named it as one of the country's best new restaurants in 2022.
In just over 20 seats and across six courses, Causa plates a wide swath of the country, from the Pacific coast to the Andean highlands. The namesake dish (causa) features prominently, made from potatoes (native to the Andean region). In contrast to the formal, seafood-forward dinner downstairs, upstairs is a riot of color and sound, serving shareables and street food like friend plantains with hunks of pork. The massive pisco list is impressive, and the Pisco sours, among the many cocktails Hartley pours, are a frothy delight.
Enrique Limardo's Growing Empire
Limardo has been bringing decadence to D.C.'s dining scene for years – and with the opening of Joy, his successes continue. Joy, in Chevy Chase, opened in October.  Born in Caracas, Venezuela, Chef Enrique Limardo came to D.C. after cooking in Baltimore to open Seven Reasons on 14th Street, which was named  #1 Best New Restaurant in America in Esquire's November 2019 restaurant issue, and Washington D.C.'s #1 restaurant by Washington Post's Tom Sietsema. He also runs the new Imperfecto, a Mediterranean-Latin blend, is the culinary director at Chick + Whiskey, and runs Immigrant Food, a fast-casual restaurant with a cause, dedicated to immigrants who have made and remade America and its food. Joy is a relaxed version of the upscale Seven Reasons, offering diners a more affordable taste of Limardo's Latin creations. Limardo isn't done: his restaurant group has other planned openings in 2023 and beyond.
Move Over Vodka Soda: Here's the Espresso Martini
Beyond the supreme meme-ification of the infamous "Negroni sbagliato with Champagne in it," the espresso martini has truly dominated the cocktail chatter. CNN named 2022 the Year of the Espresso Martini, and the drink has found its way into the top 10 most-ordered drinks list. It almost seems like a no-brainer: coffee plus liquor plus nostalgia, results in the most zeitgeisty of cocktails. A mix of vodka, coffee liqueur, and espresso (or some variation thereof), the espresso martini most commonly arrives in a martini glass, topped with a bit of froth and an espresso bean or two floating on top. Espresso martinis can now be found in can form, on brunch tables, ordered at last call, and with intriguing substitutions like whiskey or tequila for the vodka. Seven Reasons, mentioned above, even has its own riff with crème de cacao.
Dining for Ukraine
In a city as politically oriented as this, it is no surprise that its restaurant industry sprang into action to support Ukrainian causes after the Russian unprovoked invasion earlier this year. One of the biggest organizations was World Central Kitchen, from D.C.'s own Jose Andres. WCK started prepping meals for refugees in Poland within days, and still has an enormous operation inside and outside of Ukraine. D.C.-based Paola Velez set up the Bake for Ukraine campaign (she had also started Bakers Against Racism) to support WCK and other nonprofits. On Ukrainian Independence Day in August, restaurants and bars again showed up with classes and fundraisers. Dacha, a German beer garden run by Russian-Americans, held a huge fundraiser in April. Ted's Bulletin crafted a pop-tart, bakeries made Ukrainian-flag cookies, cocktails got names like the Spicy Zelensky (at Tabla), and many more operations announced fundraisers and donations to benefit various Ukrainian causes. D Light Bakery, a Ukrainian café in Adams Morgan, received an outpouring of support. As the invasion creeps toward nearly a year, D.C. showed how it can stand in solidarity.
Queer Wino's William Ferguson on a mission to queer wine
Educational website elevates stories of LGBTQ figures in the industry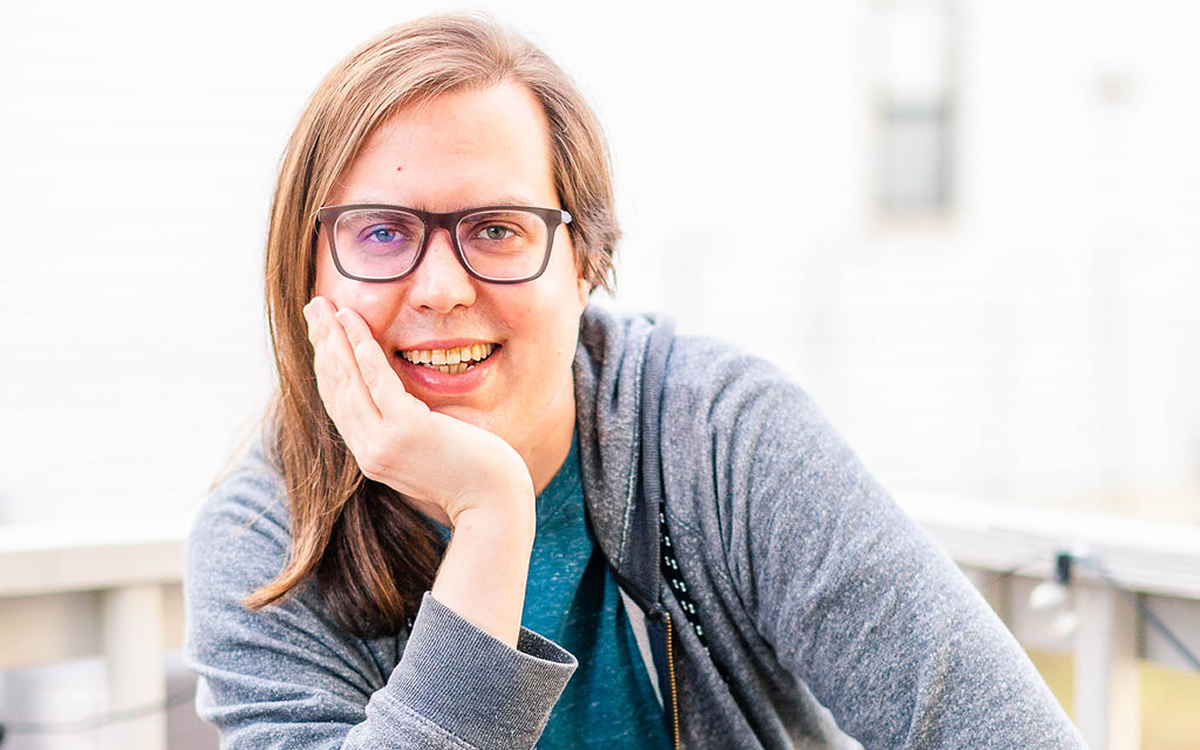 William Ferguson likes talking about wine. His mission: queering wine. Ferguson, who uses he/they pronouns, runs Queer Wino, a wine sales and education website.
When Ferguson began in the industry, he stood in the face of discrimination for his sexuality and gender identity. In search of support and community, he set out to forge his own path of visibility and leadership for LGBTQ people in wine. He now holds a Level II certification from the Wine & Spirit Education Trust (WSET), but formal certifications and education were only the beginning.
With Queer Wino, his aim is simple: to raise awareness of the unique issues LGBTQ people face in the wine industry and to raise their profile. When buying wine, he endeavors to focus on smaller producers, unknown regions, and wines made by anyone outside of cis, straight, white men.
Ferguson's work is neither pedantic nor esoteric. Breaking down barriers, he focuses on presenting the idea of wine – buying, tasting, pairing – approachable and enjoyable. His Instagram and TikTok feeds are full of thoughtful, candid posts about wine.
"The idea that only red wine can age is false, however, the whole story is complicated. Before I explain, let's set the record straight — or gayly aligned — and acknowledge that there are age-worthy white wines, rosés, and sparkling wines," reads one.
In another, Ferguson is strolling down a street in a simple white T-shirt. He posts an image with text that reads, "Red wine is more complex than white wine." In the caption he states, "Ummmm. No. Just no. It's not true. Both can be equally complex or simple."
"Wine and food is a great way to create a space for people to connect," he notes. "When people share food and wine it increases their feeling of connection and community. I just want this to be available to everyone, not just an elite few. So, I think what we can learn is that the magic of food and wine doesn't have to be only one type of experience," but an experience for all, he says.
Ferguson's most impactful work began in 2020, when he launched a series titled, "Pride in Wine," which highlights LGBTQ "wine nerds and professionals." Pride in Wine is a series of profiles of queer people involved in the wine industry. Thus far, the series has profiled wine educators, vineyard managers, wine label owners, and more. The series is available on his website.
Wine is his profession, but also his passion. He looks for inspiration from people "who love it, and take it seriously, but still have a sense of humor about it." As for other wine inspiration, he looks to the likes of writer Jancis Robinson and the activism of Justin Trabue, Darwin Acosta, and Elaine Chukan Brown.
"There are countless situations where I just can't tell if someone is taking me seriously or not because of how they may be perceiving me. Then there's job-based discrimination. In a way, you can't win. If you're closeted on the job to protect yourself and seem to avoid things, people will think you're lying, and if you're out they may just not hire you or fire you or discriminate. I've even had an employer say there was just something about me at some point before firing me. It just makes you think and wonder.
"A big part of visibility and representation is getting more people to see who you are authentically while doing what you love," he says. Whether that's debunking wine myths on Instagram or highlighting and elevating the stories of other LGBTQ people in the wine field, Ferguson is ensuring that there will always be space for queers in wine.
An expansive vision leads D.C.'s Elcielo to a Michelin star
A conversation with Pedro Mendoza, Colombian restaurant's ambassador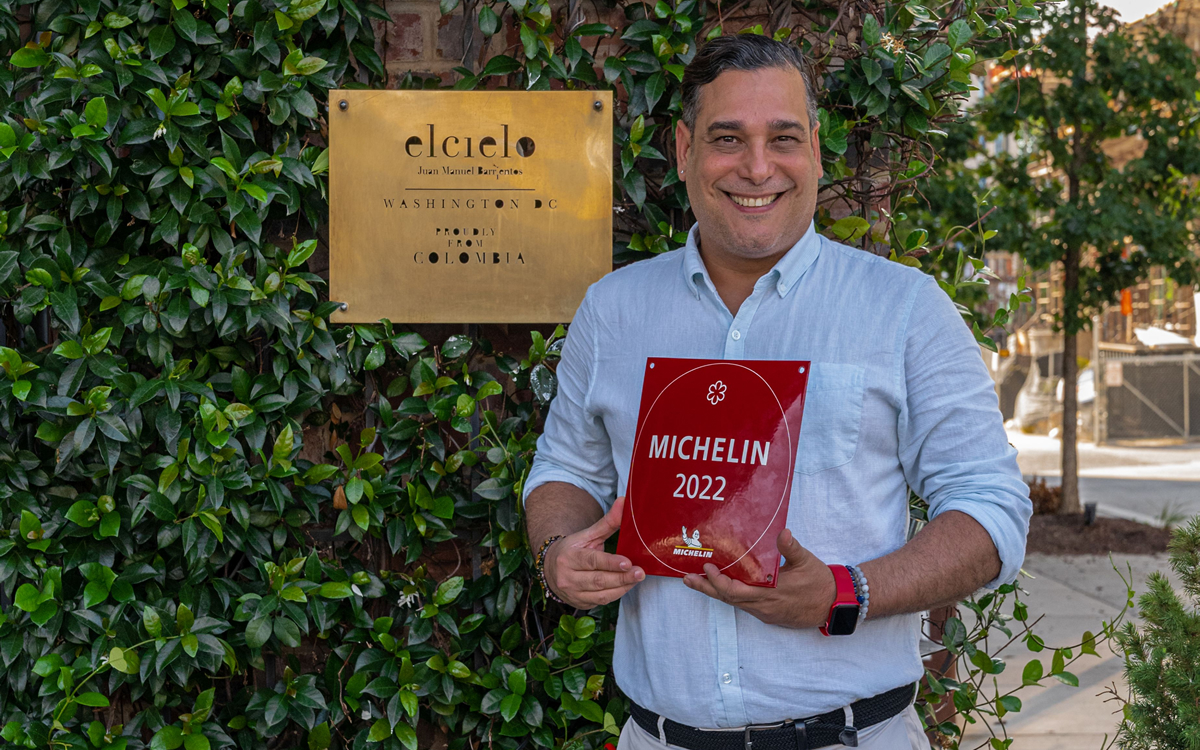 Behind the 22 courses of Elcielo, the Michelin-starred, transportive Colombian restaurant that anchors the far end of La Cosecha in Northeast is a jack-of-all-trades translator. He is Pedro Mendoza, officially the Corporate Communications Officer of the Elcielo group, but more of a charismatic conductor, ensuring that the restaurant hits all the right notes coming from the composer – JuanMa Barrientos, owner and head chef, with a dozen-plus restaurants and bars and a hotel.
Colombian-born Mendoza, a gay man, has worked with the Elcielo group since 2016 across its restaurants (Bogota, Medellin, Miami, and DC). He has been based in the D.C. outpost since its opening in 2021. While he works front of house many evenings at Elcielo, his day is filled with public relations and operational work for the other Elcielo spots and JuanMa's many other restaurants. He also works in outreach for the Elcielo Foundation, a nonprofit that supports victims of Colombia's civil war violence.
Mendoza has a long history in the culinary space. He has worked various events across Colombia, including the wine exposition Expovinos, the Bogotá Wine and Food Festival, and other performing arts, culture, and health fairs and festivals.
Through his writings and work, Mendoza connected with Barrientos, who had by then established himself in the lofty Medellin food scene. He had founded Elcielo, a multi-sensory restaurant using modern, avant-garde techniques enmeshed with Colombian flavors and ingredients. Elcielo was what may have been the first fine-dining restaurant in Medellin, a tasting menu influenced by the country's rich history but plated by JuanMa's international vision. "It's a fun luxury, not stuffy or rigid, it's a fluid luxury," says Mendoza.
When he moved to Elcielo full time in 2016, Mendoza was focused on producing editorial content and promoting the brand. In 2019, he moved to D.C. to open this local project, acting as everything from designer to waiter to press officer.
Mendoza also acts as ambassador of Colombia and Elcielo to D.C. and the world. "I am diplomatic and respectful, but also authentic and transparent," he says.
"As a gay man with 11 ethnic ancestors from four continents (my DNA test says so), I feel like a citizen of the world. My imprint is to do everything with passion and dedication."
Mendoza has seen plenty as an out Colombian who came of age during the terrors of its civil war. For that reason, working with the Foundation, which offers education and culinary training to wounded soldiers, ex-combatants, indigenous people, and other victims, is especially important.
"I love being a Colombian, succeeding in a market as demanding and cosmopolitan as D.C. is. Colombia is a special country whose inhabitants have suffered a lot from violence and the drug trade, which is a global problem, not just ours." He is as proud of his Colombian heritage, of its bounty of fruits and vegetables and biodiversity, as he is of his personal life. "I was a flight attendant, I sang opera in a professional choir, I served in the army of my country. I don't mind so much saying my sexual preference, because I think that belongs to people's privacy; however, I don't hide it, I show it with pride. If it is necessary to show myself as a 49-year-old gay man, I do."
After just a year in business, Elcielo in D.C. was awarded with one Michelin star: the very first Colombian restaurant to attain this achievement. Earlier this year, the Elcielo outpost in Miami was also awarded one star, as part of the Michelin Guide's first-ever selections for the Florida region. Michelin noted the expression of creativity and "serious culinary sorcery."
It's JuanMa's expansive vision, a reflection of Elcielo' s name (meaning "sky" or "heaven" in Spanish), "so we try to ensure that everyone is treated with special care," says Mendoza. This goes for the food, the customer, and the employee, Mendoza adds.
"Elcielo is a very inclusive company," says Mendoza. "I have had more diverse LGBTQ colleagues throughout the company: in administration, outreach, in the kitchen, and on the dining room floor, both in Colombia and in the U.S. I was able to start Elcielo DC from zero, and have now run communications and even visa logistics for other Colombian staff. This is an example of the company bringing opportunity to all types of people."