Congressional Republicans introduce ban on military service by trans Americans
White House condemned effort in exclusive statement to the Blade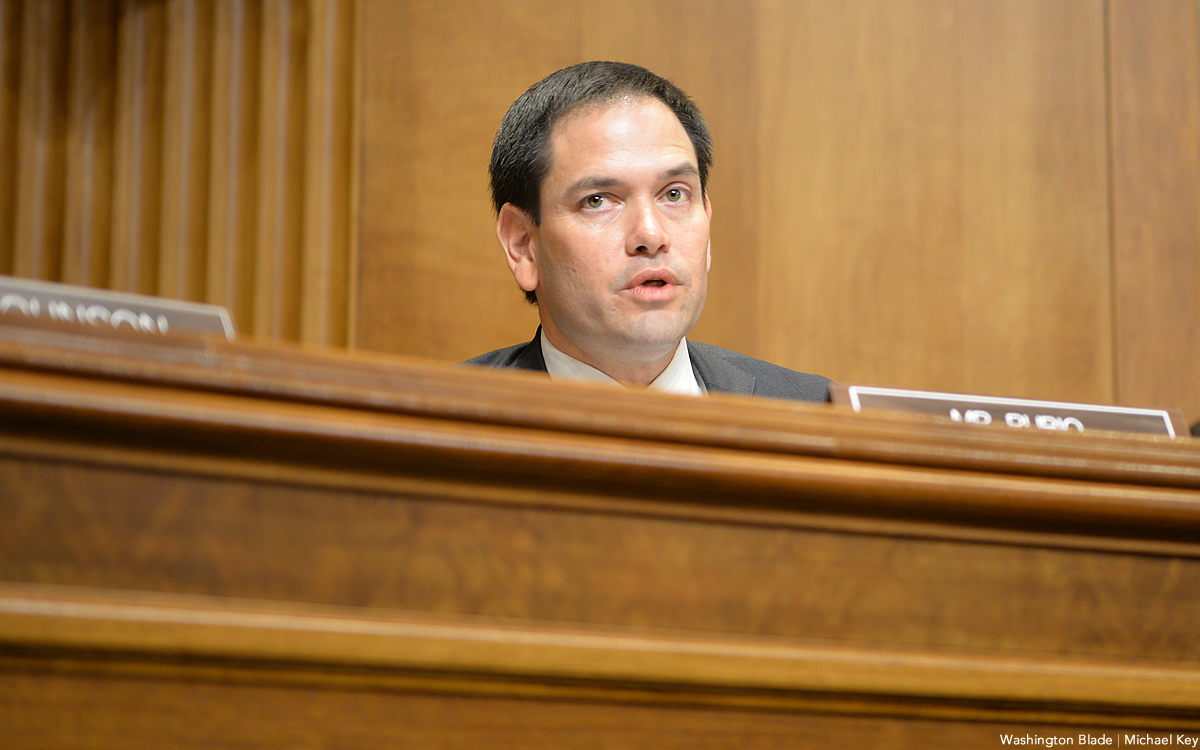 U.S. Sen. Marco Rubio (R-Fla.) and U.S. Rep. Jim Banks (R-Ind.) introduced a proposal on Thursday to ban Americans who have a history or diagnosis of gender dysphoria from serving in the U.S. Armed Forces.
The lawmakers' "Ensuring Military Readiness Act" would go further than the transgender military ban enacted in 2017 under former President Donald Trump that was revoked by President Joe Biden just five days after his inauguration in January 2021.
For example, according to a press release from Rubio's office announcing the legislation, the measure "adds more stringent requirements and revamps the Defense Enrollment Eligibility Reporting System (DEERS) to ensure all service members' gender markers match their biological sex."
Rubio and Banks characterized the Biden administration's revocation of the Trump era ban as, respectively, a move that "turned our military into a woke social experiment" and a "purely political" decision grounded in "far left ideology."
Republican U.S. Sens. Marsha Blackburn (Tenn.), Ted Budd (N.C.), Tommy Tuberville (Ala.) and Mike Braun (Ind.) are the original cosponsors for the bill, which has been endorsed by a coalition of right-wing organizations including the Family Research Council, which the Southern Poverty Law Center has designated a hate group.
Spokespeople for Rubio and Banks did not immediately respond to questions about whether efforts would be better spent helping service members and their families with real challenges like housing affordability and food insecurity, or whether they could provide evidence that Biden's reversal of the Trump-era ban negatively impacted the readiness or performance of the U.S. Armed Services.
The White House shared an exclusive statement to the Washington Blade on Friday afternoon:
"There are a lot of things Marco Rubio could be working on for the American people, including:
Keeping Americans safe from gun violence with common sense gun legislation
Lowering prescription drug prices for America's seniors, including a universal insulin cap
Protecting and strengthening Medicare and Social Security for America's seniors.
But at a time when recruiting is a critical priority for our military, Sen. Rubio is instead focusing on blocking patriotic transgender Americans who would die for the United States of America from serving our country. That says a lot more about his priorities than it does about the brave transgender Americans willing to fight and die for our country."
As Rubio and Banks announced their proposed ban on Thursday, a bipartisan group lawmakers on the Senate Armed Services Committee led by U.S. Sens. Tammy Duckworth (D-Ill.) and Lisa Murkowski (R-Alaska) reintroduced a bill that would aid service members and their families who are experiencing hunger and food insecurity.
Duckworth, a decorated combat veteran, responded to her Republican colleagues' bill in a statement shared with The Blade on Tuesday: "This proposed ban – like Donald Trump's transgender military ban before it – is as heartless as it is damaging to our military readiness," she said.
"If you are willing to sacrifice for our country in uniform and you can do the job, you should have that opportunity—no matter your gender identity or sexual orientation," Duckworth said. "Our military is the strongest in the world not in spite of its diversity, but because of it."
She added, "I'm focused on doing more to ensure our nation is developing the talented, healthy recruits we need to meet our goals, not prevent Americans who are willing and able to serve their country in uniform."
Other members of Congress and LGBTQ groups have come out against the Republicans' new proposed trans military ban.
"I oppose this bill," Democratic U.S. Sen. Tim Kaine (Va.) told the Blade in an emailed statement on Friday. "I serve on the Senate Armed Services Committee and see no reason for the military to discriminate against transgender Americans," the senator wrote.
In 2017, Kaine urged then-Defense Secretary Jim Mattis to halt the implementation of Trump's transgender military ban in a letter co-authored by Democratic U.S. Sens. Mark Warner (Va.) and Kirsten Gillibrand (N.Y.) that was signed by 42 of their colleagues in the chamber from both parties.
"Banning transgender people from the military is wrong and discriminatory, and it violates our national values by denying people the ability to serve simply because of who they are," said Rodrigo Heng-Lehtinen, executive director of the National Center for Transgender Equality, in a statement to the Blade.
"Transgender Americans, just like anyone else in this country, should be judged on whether or not they can get the job done, no more, no less," he said. "This legislation continues the harmful political attacks against our community that try to push us out of places where we live, learn and work."
Senate Majority Leader Chuck Schumer (D-N.Y.) addressed the GOP Senators' proposal for a new ban on transgender troops in a tweet published Friday afternoon: "President Biden stood up and undid this ridiculous MAGA Trump ban," the senator wrote. "Whether trans or otherwise, if you're qualified you should be permitted to serve. We honor everyone willing to risk their lives to serve our country."
President Biden stood up and undid this ridiculous MAGA Trump ban.

Whether trans or otherwise, if you're qualified you should be permitted to serve.

We honor everyone willing to risk their lives to serve our country.https://t.co/oPYSTcG1IP

— Chuck Schumer (@SenSchumer) February 17, 2023
The Congressional LGBTQ+ Equality Caucus also responded to Rubio and Banks's proposal on Twitter, writing: "Just two months into the new Congress, anti-LGBTQI+ Republicans are going after our troops. Our trans servicemembers support our country's military readiness and national security. This bill would effectively bar trans servicemembers from serving openly."
Just two months into the new Congress, anti-LGBTQI+ Republicans are going after our troops.

Our trans servicemembers support our country's military readiness & national security. This bill would effectively bar trans servicemembers from serving openly.https://t.co/htHIOaUDOM

— Congressional Equality Caucus (@EqualityCaucus) February 16, 2023
In addition to revoking the previous administration's ban on trans military service, the Biden-Harris White House has taken important steps toward LGBTQ equity and equality, particularly for trans Americans, on a variety of fronts.
Issued on Thursday, the White House's Executive Order to Strengthen Racial Equity and Support for Underserved Communities Across the Federal Government instructs the heads of U.S. federal agencies to submit Equity Action Plans pursuant to previous executive actions including Biden's June 2022's Executive Order on Advancing Equality for Lesbian, Gay, Bisexual, Transgender, Queer and Intersex Individuals.
The new executive order notes achievements over the past couple of years including policies "prohibiting discrimination based on sexual orientation, gender identity, and sex characteristics across Federal programs" and the establishment of a National Strategy on Gender Equity and Equality.
The administration has also been lauded for the record number of LGBTQ political appointees that have been nominated and confirmed.
Among them is Adm. Rachel Levine, who was appointed to the role of assistant secretary for health and human services under the Biden-Harris administration, became the first woman four-star admiral and the first transgender four-star officer in any uniformed service when she was tapped to lead the U.S. Public Health Service Commissioned Corps in 2021.
Bill would require US foreign policy to promote LGBTQ, intersex rights
U.S. Rep. Robert Garcia (D-Calif.) among measure's sponsors
Three lawmakers on Tuesday introduced a bill that would require the U.S. to promote LGBTQ and intersex rights abroad through its public policy.
U.S. Reps. Robert Garcia (D-Calif.) and Sara Jacobs (D-Calif.) introduced the International Human Rights Defense Act. U.S. Sen. Ed Markey (D-Mass.) has sponsored the bill in the U.S. Senate.
Garcia, the former mayor of Long Beach, Calif., of Peruvian descent who represents California's 42nd Congressional District, last November became the first openly gay immigrant elected to Congress. Garcia on Tuesday noted to the Washington Blade during a telephone interview the International Human Rights Defense Act is the first bill he has introduced.
"These issues around global human rights are ones that unfortunately, many aren't codified into law," he said.
Garcia said the U.S. has "different levels of global involvement," depending upon who is president. He added the bill is "a great way of codifying an important office for us at the State Department, but also a series of measures and reports that will ensure that we're promoting (LGBTQ rights) abroad."
President Joe Biden in 2021 signed a memorandum that committed the U.S. to promoting LGBTQ and intersex rights abroad as part of the Biden-Harris administration's overall foreign policy.
Then-Secretary of State John Kerry in 2015 announced the creation of the special envoy for the promotion of LGBTQ and intersex rights abroad. The White House in 2021 named Jessica Stern, who was previously the executive director of Outright International, a global LGBTQ and intersex rights group, to the position.
Former President Donald Trump tapped then-U.S. Ambassador to Germany Richard Grenell to lead an initiative that encouraged countries to decriminalize consensual same-sex sexual relations. Then-State Department spokesperson Ned Price during a 2021 interview with the Blade said the decriminalization of consensual same-sex sexual relations is one of the Biden-Harris administration's five priorities as it relates to the promotion of LGBTQ and intersex rights overseas.
Markey and then-California Congressman Alan Lowenthal introduced the International Human Rights Defense Act in 2021.
The Human Rights Campaign, the Council for Global Equality and Equality California are among the 111 organizations that signed a March 24 letter to U.S. Sen. Chris Coons (D-Del.), who chairs the Senate State, Foreign Operations and Related Programs Subcommittee, and U.S. Rep. Barbara Lee (D-Calif.), who is the ranking member of House State, Foreign Operations and Related Programs Subcommittee. The groups urged lawmakers to increase funding of the State Department's Global Equality Fund to $40 million and U.S. Agency for International Development's Inclusive Development Hub's Protection of LGBTQI+ Persons to $30 million in fiscal year 2024.
"We are grateful to you for your dedication to global LGBTQI+ rights programs over the last five fiscal years, including the additional $25 million increase to these programs within the Fiscal Year 2023 Consolidated Appropriations Act," reads the letter. "These investments have provided flexibility to the State Department and USAID to scale already existing programs and develop new mechanisms to quickly deploy funding to LGBTQI+ organizations across the globe."
"Even with these increases, the State Department and USAID continue to face significant funding gaps to address the needs of LGBTQI+ communities impacted by COVID-19, rising authoritarianism, and humanitarian crises," adds the letter.
The White House has sharply criticized last week's passage of a bill that would further criminalize homosexuality and LGBTQ and intersex people in Uganda. Vice President Kamala Harris on Monday spoke about her support of LGBTQ and intersex rights during a press conference with Ghanaian President Nana Afuko-Addo that took place in Accra, the Ghanaian capital.
Garcia described the Uganda bill to the Blade as "awful" and added "a big part of why we're having this discussion now is that there are countries across the world that are criminalizing same sex relationships."
Frost talks gun control with the Blade on anniversary of March for Our Lives
26-year-old congressman has been a gun violence prevention advocate since 2012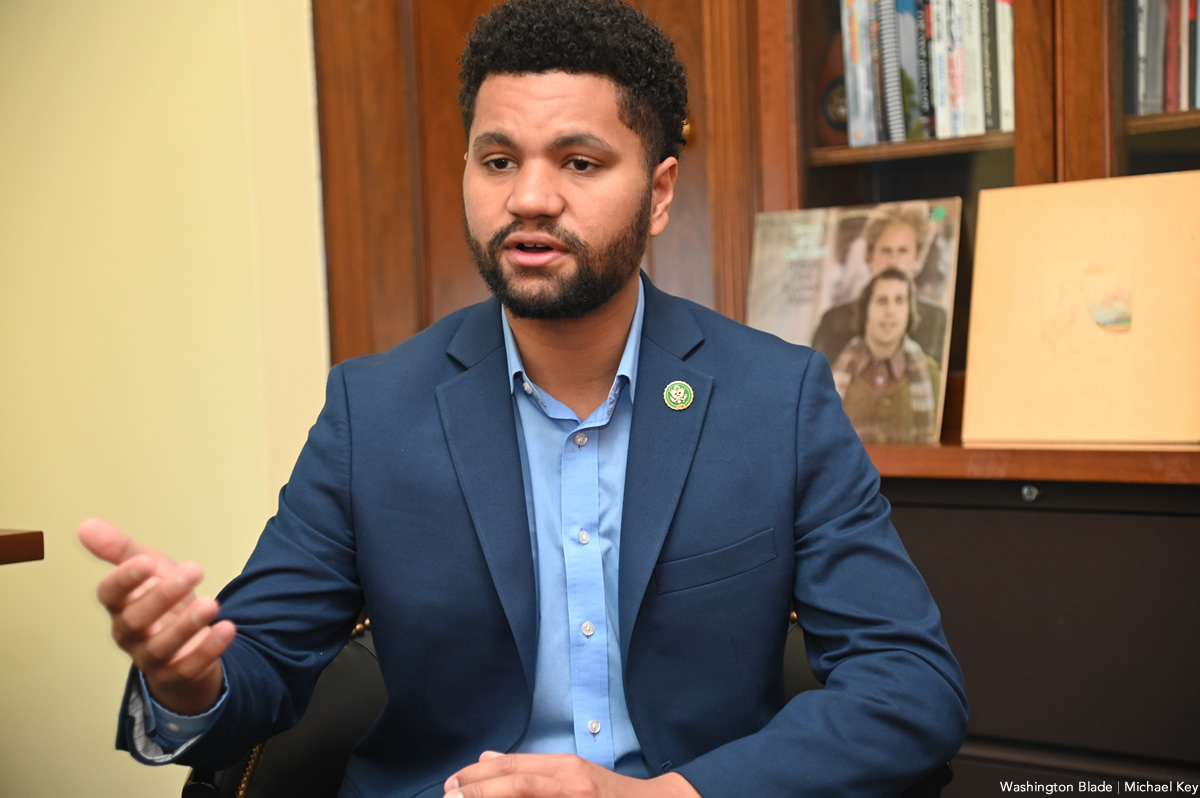 Author's note: The full interview with Congressman Frost will be published next week.
U.S. Rep. Maxwell Frost (D-Fla.), after a week of making headlines for his gun violence prevention advocacy, sat down with the Washington Blade for an exclusive interview on Friday, which marks the five-year anniversary of the founding of March for Our Lives.
The 26-year-old freshman congressman, who before his election was national organizing director for the student-led gun control group, had just introduced his first piece of legislation Tuesday with U.S. Sen. Chris Murphy (D-Conn. that would establish an Office of Gun Violence Prevention within the U.S. Department of Justice.
The proposal's aim, in part, is to better facilitate the implementation of last year's Bipartisan Safer Communities Act by establishing a singular office to coordinate that work.
And on Thursday, Frost captured and tweeted a video of a confrontation between U.S. Capitol Police and Patricia and Manuel Oliver, gun control advocates who lost their son Joaquin in the 2018 Parkland, Fla., high school shooting.
The couple had been removed by police from the House Oversight and House Judiciary Committees' gun rights hearing at the request of GOP Reps. Andy Biggs (Ariz.) and Pat Fallon (Texas).
Frost, who was in attendance, told the Blade the conflict started when Patricia Oliver "just stood up and she said, 'you took my son' and she sat down," but "instead of moving on, the Chair [Fallon] escalated things."
The congressman said the hearing itself was "a sham" convened for the purpose of attacking the Biden administration's Bureau of Alcohol, Tobacco, Firearms and Explosives (ATF), the entity within the U.S. Justice Department that investigates violations of laws governing the manufacture, possession, and use of guns.
"The real story here," said the congressman, "is the fact that there were two parents who lost their son who was in high school, because he was shot to death and died in a pool of his own blood, and now they're going to spend the rest of their lives fighting for a world where it doesn't happen to anybody else."
Frost noted the Olivers were joined at the hearing by other families, activists, and organizers – all of whom were gathered in Washington, D.C., to advance the mission established by the group of teenaged Parkland survivors who founded March for Our Lives five years ago.
Among these student activists were Cameron Kasky, who identifies as queer, and X González, who is bisexual and uses they/them pronouns.
Frost has repeatedly said he ran for Congress because of his involvement in the gun violence prevention advocacy movement, which began with his volunteering on behalf of the Newtown Action Alliance, a group formed in the wake of the 2012 Sandy Hook Elementary School shooting.
The congressman told NPR the 2016 shooting at Pulse, the gay nightclub in Orlando "where 49 angels were murdered right here because they're queer" marked one of the most significant moments of his life.
That same year and in that same city, Frost himself survived a gun violence incident.
During his congressional campaign, on the heels of last year's elementary school shooting in Uvalde, Texas, Frost tweeted: "10 years ago I became an Organizer because of Sandy Hook. 3 years later, I'd become a survivor myself. That same year, Pulse. Now I'm running for Congress and 15 lives were taken at another Elementary school. I will not stop until the endless shootings do."
House Republicans pass anti-LGBTQ Parents Bill of Rights Act
Measure passed by 213-208 vote margin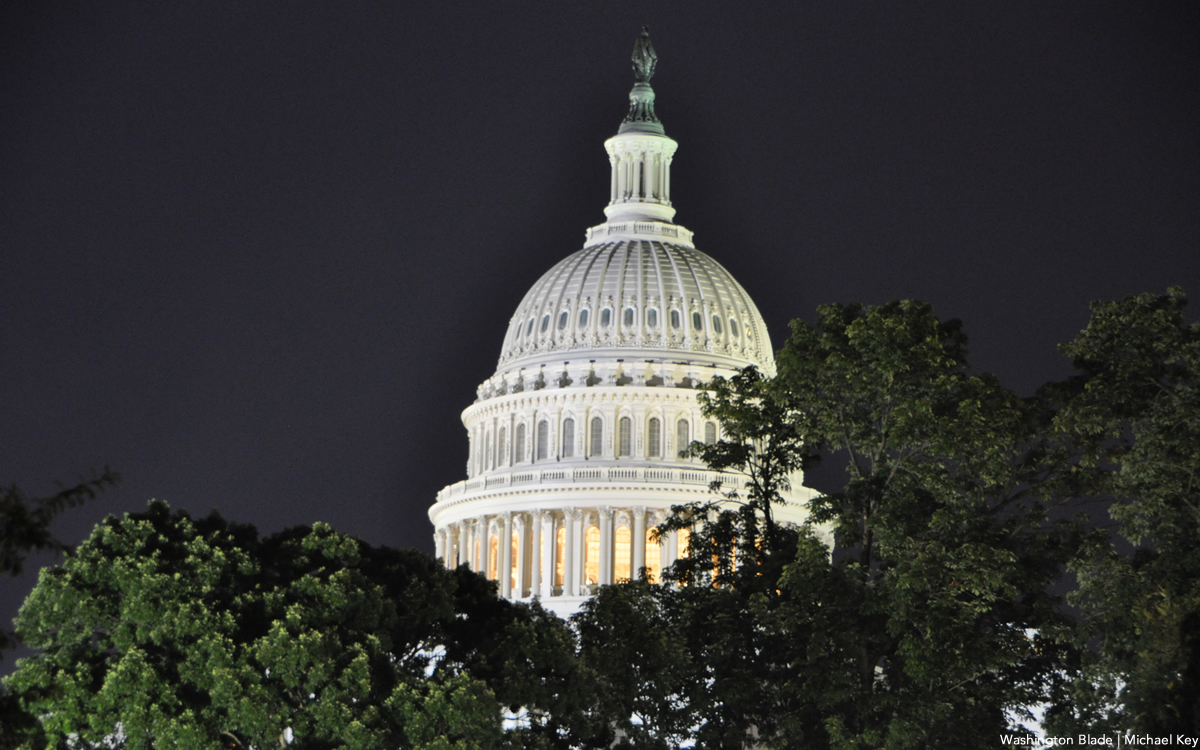 U.S. House Republicans on Friday passed the Parents Bill of Rights Act, a proposal that would require public schools to share educational materials with parents and also contains provisions that would trigger the outing of LGBTQ students without their consent.
Critics say the legislation's professed purpose, to equip parents with the information necessary for them to better engage with their children's educators, is a pretext for its ultimate goals: For schools to censor out content addressing race, or materials containing LGBTQ characters or themes, while also discouraging LGBTQ students from being out at school.
The Congressional Equality Caucus noted the likelihood of that outcome in a statement Friday denouncing the bill, which the group's chair, U.S. Rep. Mark Pocan (D-Wis.), called "dangerous" — pointing to its requirement for "schools to forcibly out transgender students, even if it puts those youth in harm's way."
"All children deserve access to a safe and affirming school environment," Pocan said in the statement. "Transgender youth have enough challenges already due to harassment, bullying, and anti-transgender state laws," he said, adding, "My colleagues who voted for this bill should be ashamed."
House members voted 213-208 for passage of the Parents Bill of Rights, or House Resolution 5, with Republican U.S. Reps. Andy Biggs (Ariz.), Ken Buck (Colo.), Matt Gaetz (Fla.), Mike Lawler (N.Y.) and Matt Rosendale (Mont.) voting against the legislation with every Democratic member. The bill was first introduced by GOP Rep. Julia Letlow (La.).
With Democrats' control of the U.S. Senate, movement on the bill will almost certainly be stopped once it reaches the upper chamber, but it may nevertheless still have a harmful impact on the country's LGBTQ youth.
For example, the National Institutes of Health published a peer reviewed study last year that found a link between anti-trans legislation and "suicide and depression-related Internet searches" using a dataset comprising 40 bills that were introduced and reached committee, of which three were passed and signed into law.
The caucus' statement noted HR 5 contains "two provisions that would require schools that take steps to respect a student's gender identity to forcibly out those transgender youth to their parents" along with another that would allow parents to access their children's answers to survey questions, answers that might include information about a student's sexual orientation or gender identity.
The risk that their parents will be able to see their answers will incentivize many students to lie about these and other questions, which the caucus said will undermine the federal government's ability to collect important demographic, statistical and survey data on America's LGBTQ youth.
Exacerbating that problem is another provision in the legislation, which requires parents to "opt-in" if their children would be asked to share their sexual orientation or gender identity.
America's largest LGBTQ advocacy organization, the Human Rights Campaign, also issued a statement Friday condemning HR 5.
"The bill, which picks and chooses which families have rights and which don't, has occupied the chamber's time while extremist House leaders continue neglecting the very real and urgent problems facing our schools, such as gun violence, teacher shortages and educational inequality," the group said in its statement.
HRC also noted the legislation's potential to trigger forcible outing of LGBTQ youth "would endanger students instead of fulfilling school officials' obligation to make judgments on a case-by-case basis in the best interests of the students under their supervision."
The organization said it expects House Republicans to move "in coming weeks" on House Resolution 734, "a bill to ban participation by transgender youth in school sports," and drew parallels between the Parents Bill of Rights Act and the "curriculum censorship seen in harmful, unnecessary bills passed in state legislatures recently."
U.S. Rep. Melanie Stanbury (D-N.M.), a member of the Equality Caucus, echoed that message in her statement Friday, writing that HR 5 was "modeled after bills passed at the state level, which have censored the teaching of American history, allowed book bans, and violated the safety and privacy of transgender and LGBTQ+ students."
The White House issued a Statement of Administration Policy on Monday addressing the bill, writing "the administration does not support HR 5 in its current form because the bill does not actually help parents support their children at school" and "moreover, instead of making LGBTQI+ students feel included in their school community, it puts them at higher risk."