Baltimore's state-of-the-art arena highlights spring arts scene
Lizzo, Janet, Bruce, Joan Jett and more to christen renovated space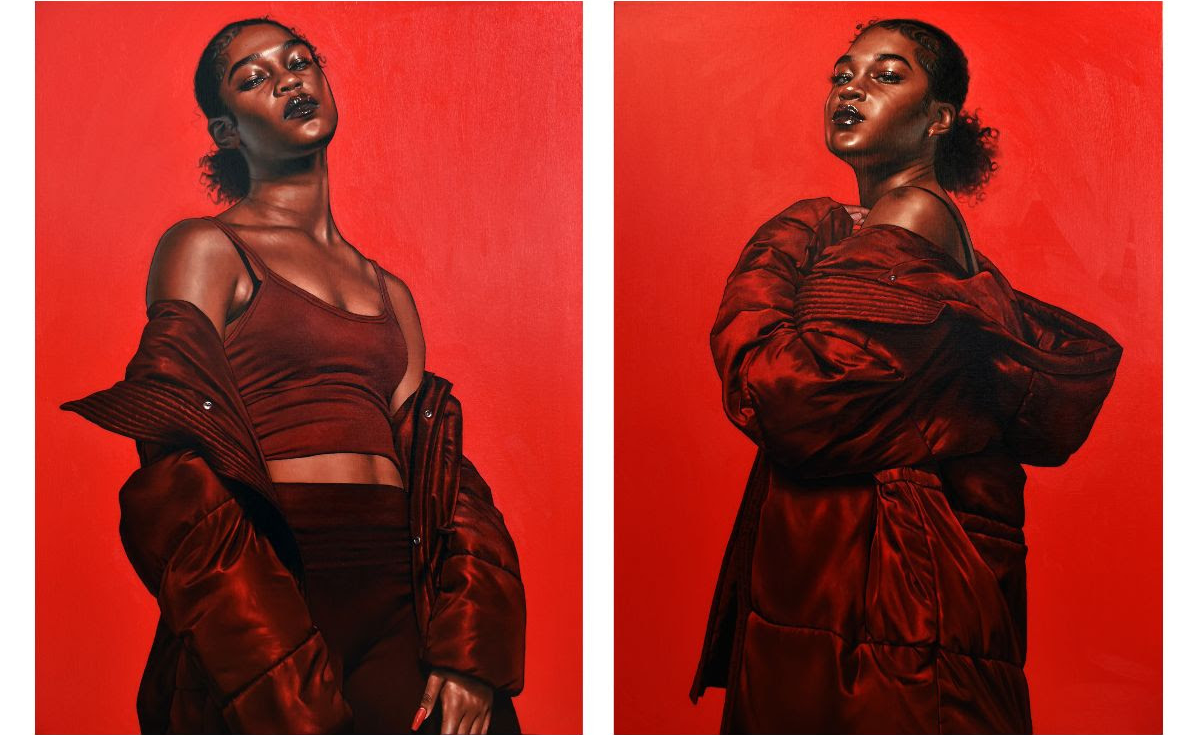 For years, Baltimore missed out on performances by big-name musicians, comedians and others because it didn't have a 14,000-seat arena capable of attracting them, but not anymore.
Starting in April, more than a dozen acts will be coming to town when the CFG Bank Arena at 201 West Baltimore St. — formerly known as the Royal Farms Arena — reopens following a $200-$250 million renovation designed to turn it into a state-of-the-art sports and entertainment venue.
The arena's reopening after more than a year of construction is one of the highlights of the spring arts season in Baltimore, along with new exhibits at the Baltimore Museum of Art; new shows at the Hippodrome and Lyric; a new book festival, a John Waters book signing and other events around town.
On April 7, Bruce Springsteen and The E Street Band will be the first performers to appear at the CFG Bank Arena, a concert that's being billed as opening night for the refurbished and rebranded hall.
The Boss will be followed by: Eagles Hotel California Tour, April 8; Straight Jokes No Chaser, April 14; Jeff Dunham Still Not Canceled, April 15; Adam Sandler, April 21; New Edition: Legacy Tour with Keith Sweat, Guy and Special Guest Tank, April 22; Monster Jam, April 28 to 30; AEW Dynamite, May 3; Lizzo, May 9; Janet Jackson: Together Again with Special Guest Ludacris, May 13; Anita Baker: The Songstress with the Legendary Babyface, May 14; blink-182 Tour 2023, May 26; Stars on Ice, June 2; Bryan Adams: So Happy It Hurts 2023 with Joan Jett and The Blackhearts, June 6, and Dude Perfect PandaMonium, June 25.
Performances scheduled for later in 2023: Chris Stapleton's All-American Road Show; Thomas Rhett, Lionel Richie and Earth, Wind & Fire, and Kiss – the End of the Road Tour. The CFG Bank Arena website is cfgbankarena.com.
Owned by the City of Baltimore, the arena opened in 1962 as the Baltimore Civic Center and later was renamed the 1st Mariner Arena (2003 to 2013) and the Royal Farms Arena (2014 to 2022). It was one of the first places The Beatles appeared during their augural trip to America in 1964, and Martin Luther King Jr. spoke there in 1966. The Baltimore Bullets and Baltimore Clippers played there for many years.
As the arena grew older, city officials contemplated constructing a replacement elsewhere but couldn't decide on a location. They eventually opted to keep the existing venue and bring in a new management team to upgrade it to be competitive with other East Coast arenas. The decision was part of a larger effort to revitalize the west side of downtown Baltimore, where a new building for the city's historic Lexington Market recently opened several blocks away.
The CFG Bank Arena team is led by the Oak View Group of Los Angeles, in association with Thirty Five Ventures, the investment company of NBA player Kevin Durant and his business partner, Rich Kleiman, and recording artist Pharrell Williams. The Oak View Group team funded the improvements in return for rights to manage and lease the facility, and it's offering seat leases as part of the ticketing options.
Renovation work began in early 2022 and included a revamped seating configuration; new concourses, restrooms, and concessions areas; updated mechanical systems and a redesigned exterior. The refurbished arena had a test run last month, when Baltimore hosted the Central Intercollegiate Athletic Association's Men's and Women's Basketball Tournaments, but there was still more work to finish. Starting in April, managers say, all the renovations will be complete and it will be ready for the entertainers.
Visual arts events
Baltimore Museum of Art, 10 Art Museum Drive (artbma.org): From April 5 to July 16, the BMA will present "The Culture: Hip Hop and Contemporary Art in the 21st Century." Coinciding with the 50th anniversary of the emergence of hip hop in the 1970s, the exhibit will examine the global phenomenon of hip hop and its impact on music, fashion, technology and the visual and performing arts.
More than 90 works of art and fashion, including many by LGBTQ artists, will show the many ways hip hop has influenced contemporary society. According to the BMA, queer artists with work in the exhibit include: Lauren Halsey; Rashaad Newsome; Mark Bradford; Julie Mehretu; Dapper Dan; Telfar Clemens; Tschabalala Self; Amani Lewis; John Edmonds; Nina Chanel Abney; Jonathan Lyndon Chase; Caitlin Cherry; Devan Shimoyama; Texas Isaiah; Shabez Jamal; Eric N. Mack and Rozeal. Non-cisgender artists include Isaiah, Chase, Lewis and Jamal.
The exhibit is co-organized by the BMA and the Saint Louis Art Museum. One of the curators is Asma Naeem, the BMA's new Dorothy Wagner Wallis Director. Other curators include Gamynne Guillotte, the BMA's chief education officer, and Hannah Klemm and Andrea Purnell, from the Saint Louis museum.
Also opening at the BMA this spring: "Histories Collide: Jackie Milad x Fred Wilson x Nekisha Durrett," April 26, 2023 to March 17, 2024: New works by Milad and Durrent in dialogue with Wilson's Artemis/Bast (1992); "Martha Jackson Jarvis: What the Trees Have Seen," May 7 to October 1, 2023, featuring mixed media works by Jarvis that imaginatively trace a free Black militiaman's journey from Virginia to South Carolina in the American Revolution; "Recasting Colonialism: Michelle Erickson Ceramics," May 7 to October 1, 2023; "The Matter of Bark Cloth," May 7 to October 1, 2023, and "Wild Forms: Fauve Woodcuts," May 14 to October 15, 2023.
American Visionary Art Museum, 800 Key Highway: The main exhibit is "ABUNDANCE: Too Much, Too Little, Just Right" (Championing good, honest work from the hand and the heart), curated by Gage Branda. Also: AVAM's Logan Visionary Conference 2023, March 19, 2 p.m. to 4 p.m.; Kinetic Sculpture Race, May 6.
Walters Art Museum: 600 North Charles St. (thewalters.org): "Quiet Beauty: The Watercolors of Leon Bonvin," opened in February; "Arts of the Medieval Mediterranean," is ongoing, and "Across Asia: Arts of Asia and the Islamic World," a new installation of the museum's Asian and Islamic collections, opens April 23.
The Peale, 225 Holliday St. (thepeale.org): "Compensation for Loss" exhibition, March 19 to April 30, and Submersive Productions Performances: Katalepsis, March 24 to April 30.
Maryland Center for History and Culture, 610 Park Avenue (mdhistory.org): "Claire/McCardell," an exhibit about Claire McCardell, an influential designer of women's clothing from the 1930s to the 1950s and beyond; "Discover Maryland;" "The Unfinished Revolution: Maryland in the Wars for Independence," and "Passion and Purpose: Voices of Maryland's Civil Rights Activists."
Baltimore Museum of Industry, 1415 Key Highway (thebmi.org): "Fire & Shadow: The Rise and Fall of Bethlehem Steel," documenting the 125-history of the Sparrows Point steel mill.
B&O Railroad Museum, 901 West Pratt Street (borail.org): New permanent exhibit: "Freedom Seekers on the B&O Railroad."
Waverly Book Festival (waverlymainstreet.org): A new book festival organized to replace the Baltimore Book Festival, 32nd and Barclay streets and other locations, April 28 to 30.
John Waters at Atomic Books, 3620 Falls Road (atomicbooks.com): As part of a book tour for the release of the paperback version of his novel, "Liarmouth: A Feel Bad Romance," writer and filmmaker John Waters will sign books on May 12 starting at 7 p.m.
Performing arts events
Hippodrome Theatre, 12 South Eutaw St., (Baltimore.broadway.com): Spring shows include: To Kill A Mockingbird, March 14 to 19; Respect – Aretha Franklin Tribute, March 23; Aziza, March 25; Lewis Black, April 2; Hadestown, April 12 to 22; Rock From The Heart, April 22; Shen Yun Performing Arts, April 28-30; Dino Ranch Live, May 6; Six the Musical, May 9 to 14, and Frozen, June 7 to 18.
The Lyric Baltimore, 140 West Mount Royal Ave., (lyric.baltimore.com): Royal Comedy 2023: Sommore, Bruce Bruce, Lavell Crawford and Special K, March 18; Hits! The Musical, March 19; Killer Queen, March 25; Bored Teacher Comedy Hour, March 31; Good Friday: Carl Thomas, Lyfe Jennings and Christopher Williams, April 7; Brit Floyd, April 15; Soul Marathon: Bloodstone, April 22; Yes Epics & Classics featuring Jon Anderson and The Band Geeks, May 6; Fortune Feimster, May 19; Boz Scaggs, May 20; Puscifer, June 1; John Mellencamp, June 2; Kansas – The Band, June 3; Luis Angel, June 4; Bad Friends Podcast: Andrew Santino and Bobby Lee, June 16; Stephen Sharer, June 17, and Les Claypool's Fearless Flying Frog Brigade and W.I.T.C.H.
Creative Alliance, 3134 Eastern Ave. (creativealliance.org): The High & Wides with Hannah Lee Thompson, March 31; 2023 Marquee Ball, April 22; Alison Crockett Presents Echoes of an Era: The Jazz Sides of Chaka Kahn, April 28, Ngaiire, May 5; Brandee Younger, June 22, and Madison McFerrin, June 23.
Baltimore Center Stage, 700 North Calvert St., (centerstage.org): Tiny Beautiful Things, March 9 to April 2.
Everyman Theatre, 315 West Fayette St. (everymantheatre.org): The Sound Inside, March 7 to April 2; Harvey, April 25 to May 21, and The World Goes Round, June 6 to July 2.
Arena Players, 801 McCulloh Street (arenaplayersinc.com): Open Admissions and When Men Reduce as Women Do, March 17, 18, 19, 24, 25, 26, 31 and April 1 and 3; Sizwe Banzi is Dead, April 21, 22, 23, 28, 29, 30, May 5, 6, and 7, and Nina, May 26, 27, 28, June 2, 3, 4, 9, 10, 11, 16, 17 and 18.
Live! Casino Hotel Maryland, 7002 Arundel Mills Circle, Hanover, Md., (maryland.livecasinohotel.com): Patti LaBelle, March 10; Air Supply, March 11; Hoops Fest Watch Parties, March 14; Lovers in the Night Spring Concert, March 19; Mixed Martial Arts: Shogun Fights, March 25; Jerry Seinfeld, May 19, and Kevin Hart, June 11.
Baltimore Soundstage, 124 Market Place, presents the Hell in the Harbor Festival over the Memorial Day weekend, May 27 and 28. Its complete spring lineup for March to June, with dozens of acts, is on its website, Baltimoresoundstage.com.
TikTok celebrates Pride with honoree list, online and in-person events
Inaugural LGBTQ Visionary Voices list recognizes creators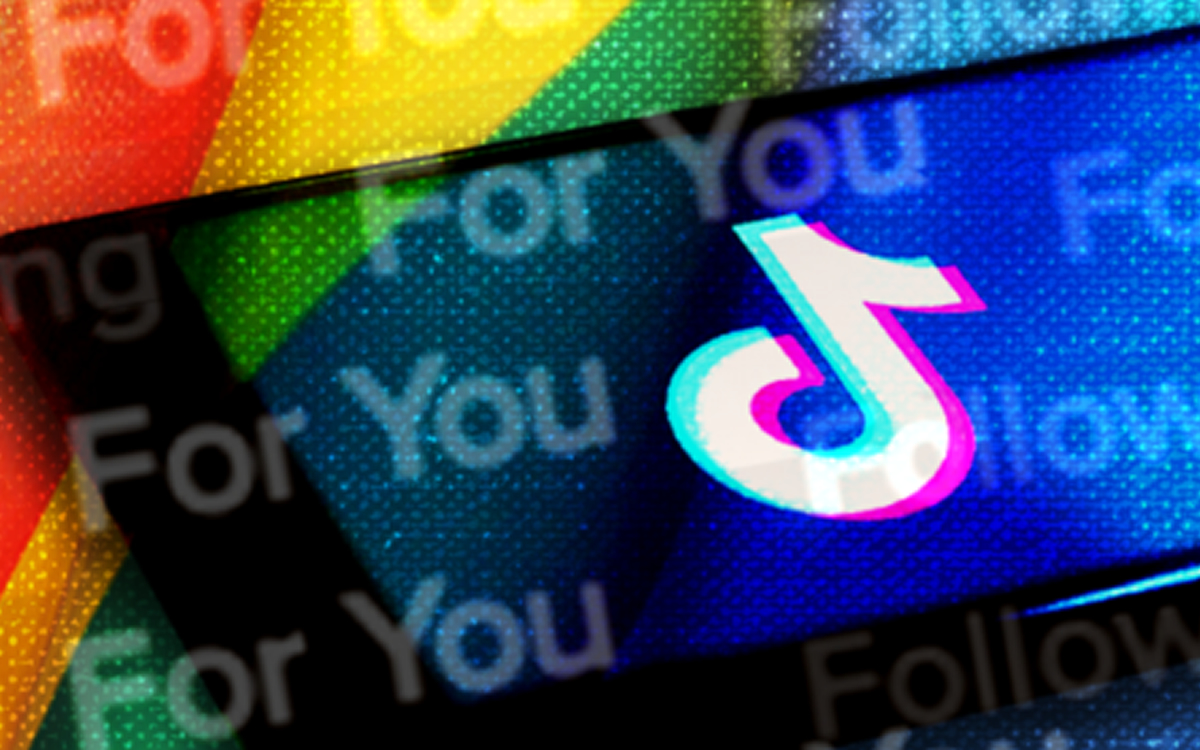 Social media giant TikTok will spotlight LGBTQ content creators and small business owners with an inaugural list of honorees to celebrate Pride month, according to a press release on the company's website. In addition, the company will embark on a campaign that includes webinars, community events and a ball in Los Angeles.
"We're thrilled to celebrate Pride month by honoring the history-making impact of our diverse queer community with this year's LGBTQ+ TikTok Visionary Voices List," said Shavone Charles, TikTok's head of diversity and inclusion communications.
The 2023 LGBTQ+ Visionary Voices list recognizes 15 queer TikTok creators who use the platform to "educate, entertain and advocate for the LGBTQ+ community," according to the release. Honorees on the list span three categories — creators, small-owned businesses and industry disruptors — and feature popular hitmakers Saucy Santana and Baby Tate and social media sensation The Old Gays.
Jae Gurley, another of the honorees, plans to use this recognition as an opportunity to promote lucid education about Pride and cultivate a deeper understanding behind it. Gurley is well-known for using performance and storytelling to create lifestyle content that highlights their journey to self-discovery as a Black femme nonbinary person and encourages users to live their "most confident Bougie B life."
"I feel like a lot of the time online, Pride is portrayed as this big gay party and it is, but it's also a protest and I want my community to understand why we still have to fight," they said "Why we need to continue to take up space, and not be satisfied with where we are, cause it can be taken away in a second."
TikTok's Pride month campaign, titled "You Belong Here," will celebrate the LGBTQ community through a series of in-app initiatives, LIVE events and special programming themed around hashtags including: #ForYourPride, #PrideAnthems and #LGBTQBusiness, according to the company's release.
One of the events, "TikTok Takeoff: Queer Inclusivity in Marketing Webinar," will be hosted on June 13. The online event will platform the stories of LGBTQ+ small and medium-sized businesses at a roundtable discussion. Business owners will discuss their journey taking off on TikTok and strategies they use on the application to engage with new diverse audiences and drive real-world success for their brands.
On the company-facing end, employees will get to participate in programming organized by its employee resource group including LGBTQ film screenings and Pride marches.
"You Belong Here is more than a campaign — it's our commitment to the LGBTQIA+ community on TikTok," read the company's release. "We believe that people should be able to connect with one another, express themselves authentically, and thrive on the platform. And we know that fostering an inclusive space requires prioritizing the needs of our community."
10 LGBTQ events today
Lady Camden performs at Pitchers tonight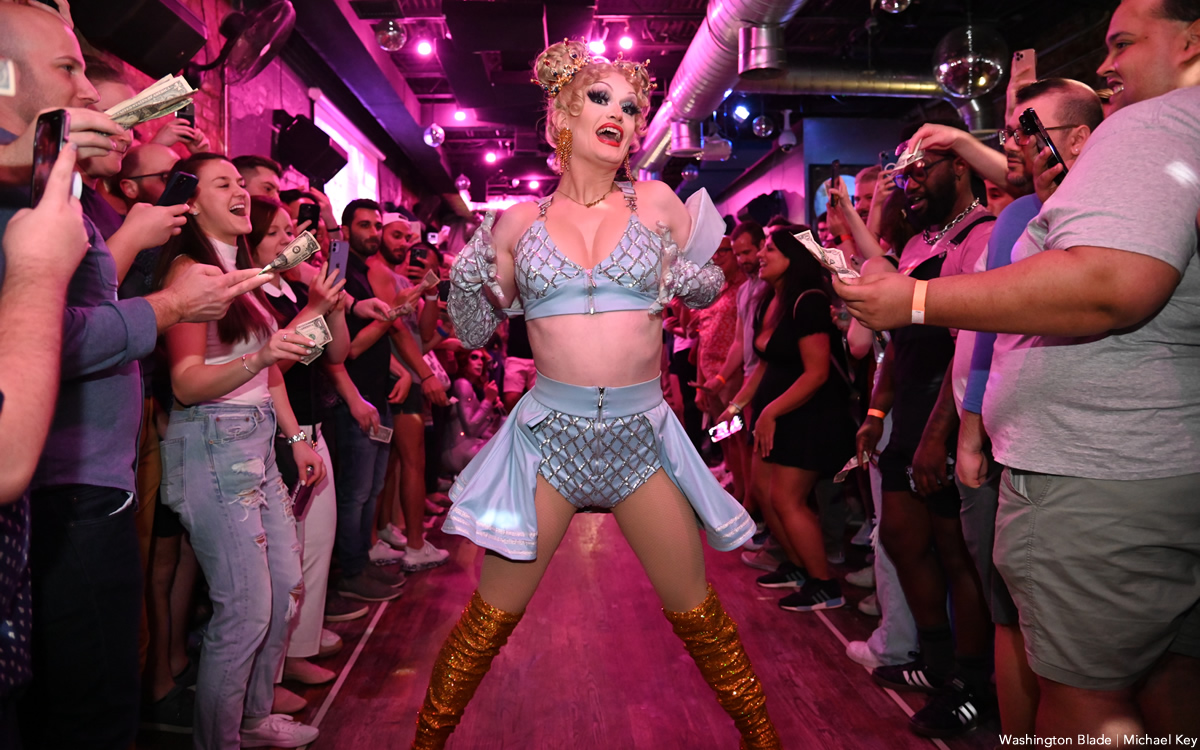 Below are our picks for some of the most fun and creative things to do today in the DMV that are of special interest to the LGBTQ community.
---
Love Out Loud: Tie-Dye Party for Pride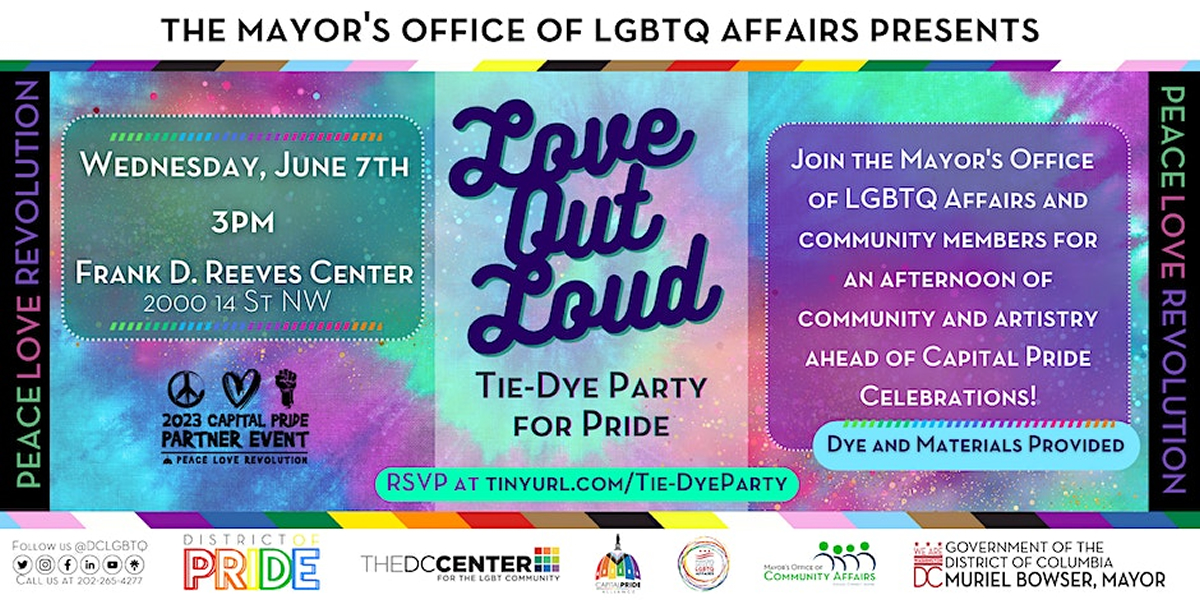 Wednesday, June 7
3 p.m.
Reeves Center for Municipal Affairs
2000 14th Street, N.W.
Eventbrite
The Mayor's Office of LGBTQ Affairs is hosting a tie-dye party for Pride at the Reeves Center at 3 p.m. Dye and materials are provided. RSVP at tinyurl.com/Tie-DyeParty.
---
Beer Club with DC Brau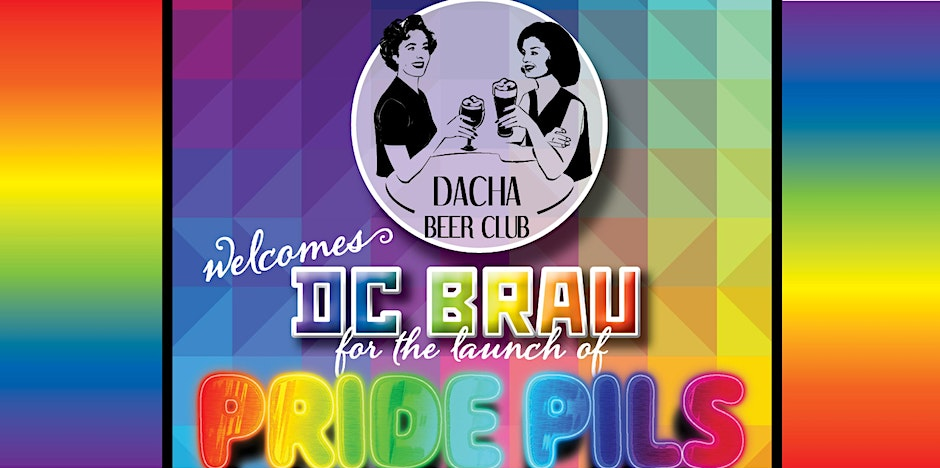 Wednesday, June 7
5-9 p.m.
Dacha Beer Garden (Navy Yard)
79 Potomac Avenue, S.E.
Free
Eventbrite
DC Brau is holding a launch party for Pride Pils at Dacha Beer Garden today at 5. Pick up your Pride-themed cans and hang out with the folks at DC Brau.
---
Rainbow History Project Logan Circle Panel Discussion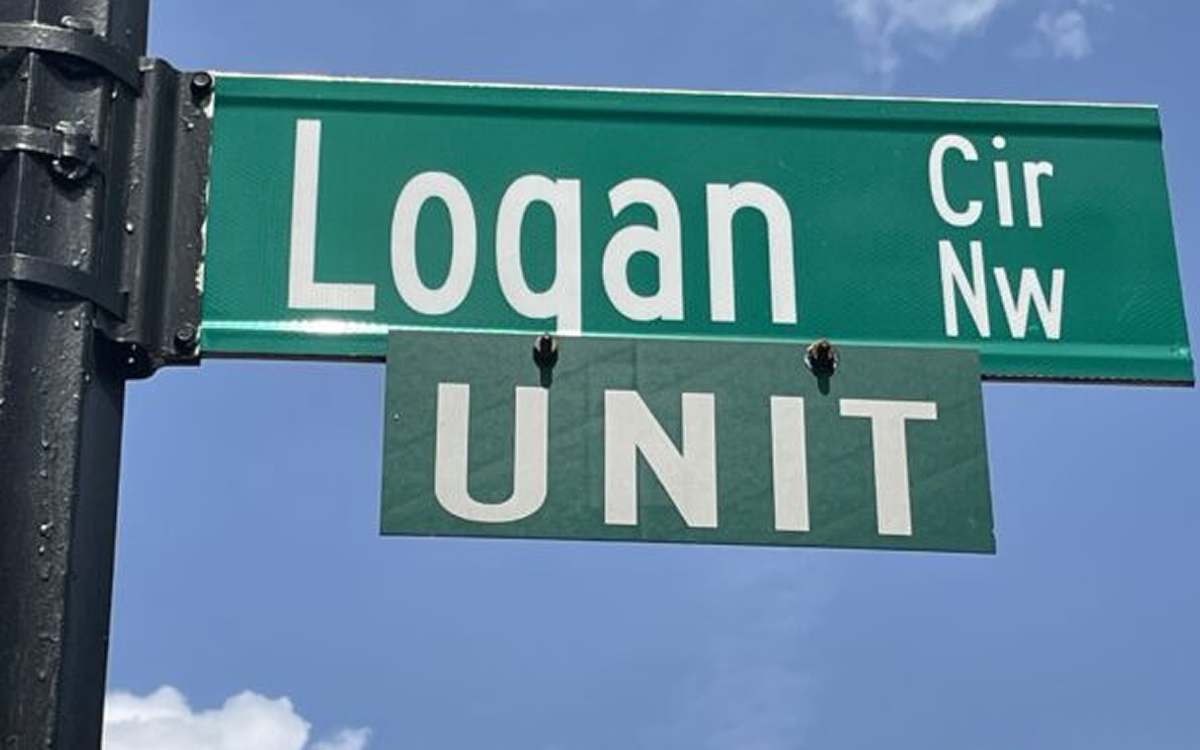 Wednesday, June 7
6 p.m.
The Corner
1701 14th Street, N.W.
Free
Website | Eventbrite
The Rainbow History Project is hosting a panel discussion at 6 at The Corner to discuss the history of the LGBTQ "gayborhood" of Logan Circle.
---
Revolution! The Work of Pride: A Discussion on Drag, Queer Culture, + Labor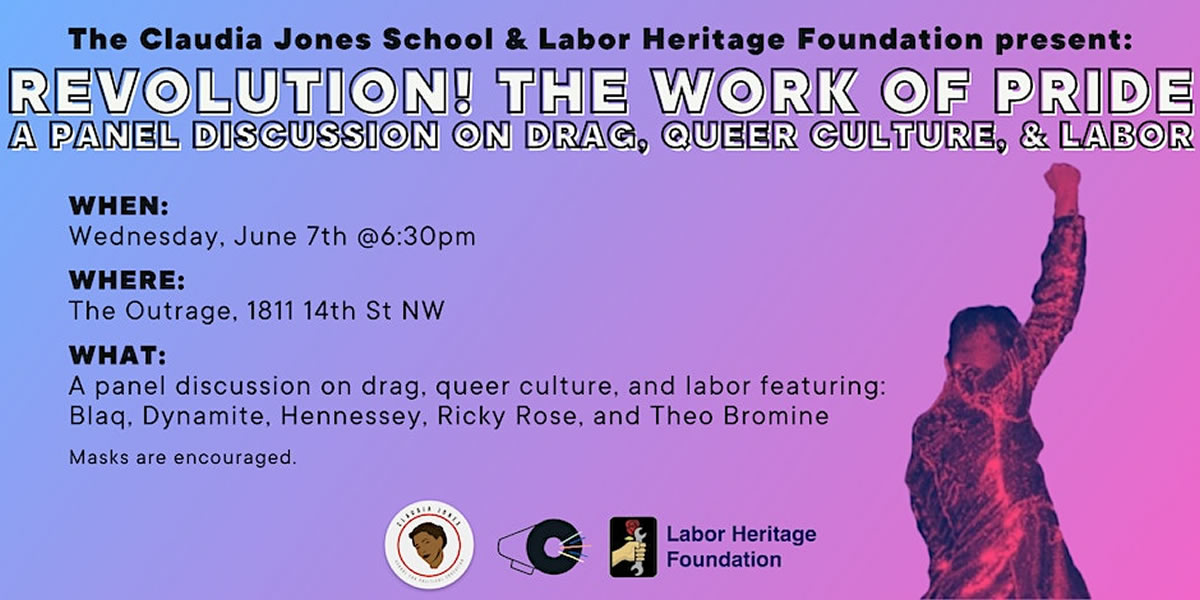 Wednesday, June 7
6:30 p.m.
The Outrage
1811 14th Street, N.W.
Free
Eventbrite
The Claudia Jones School and the Labor Heritage Foundation present, "Revolution! The Work of Pride" at 6:30 tonight at The Corner. Catch this panel discussion on drag, queer culture and labor featuring Blaq Dynamite, Hennessy, Ricky Rosé and Theo Bromine.
---
Miss-en-Place Pride Dinner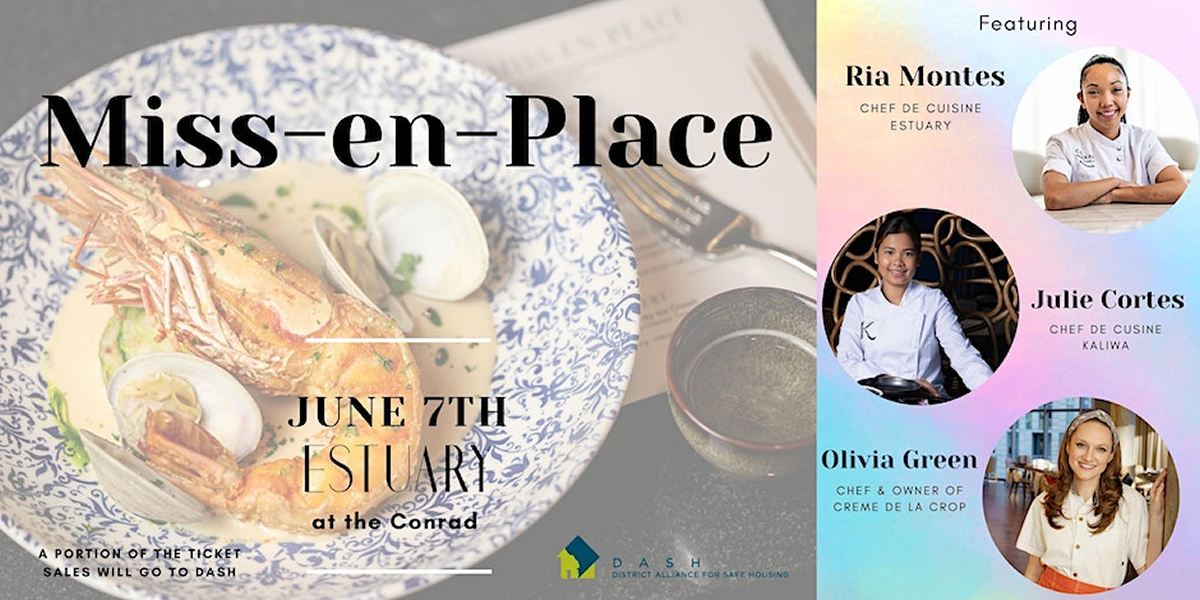 Wednesday, June 7
7-9 p.m.
Conrad Washington, D.C.
950 New York Avenue, N.W.
$85-$125
Eventbrite
Join Ria Montes, chef de cuisine at Estuary; Julie Cortes, chef de cuisine at Kaliwa; and Olivia Green, chef and owner of Creme de la Crop for "Miss-en-Place," a four-course dinner with curated beverage pairing at Estuary at the Conrad at 7 p.m. tonight. A portion of the proceeds are slated to go to DASH, a welcoming space for LGBTQ+ survivors of domestic and sexual violence.
---
Drag Trivia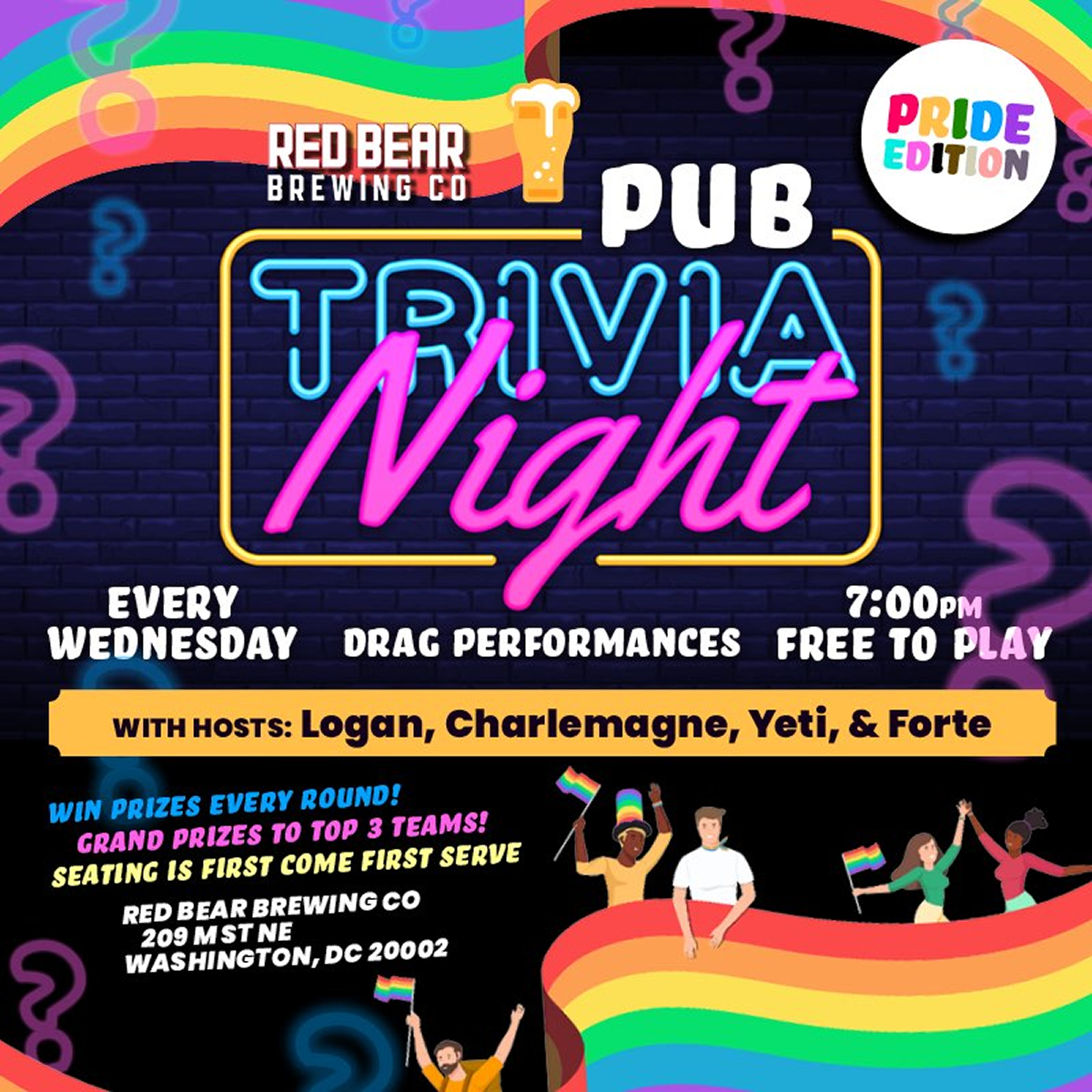 Wednesday, June 7
7 p.m.
Red Bear Brewing Company
209 M Street, N.E.
Free
Win prizes and hang out with friends at a Pride Edition game of pub trivia. Logan, Charlemagne, Yeti and Forte host.
---
Pride Kickoff Drag Show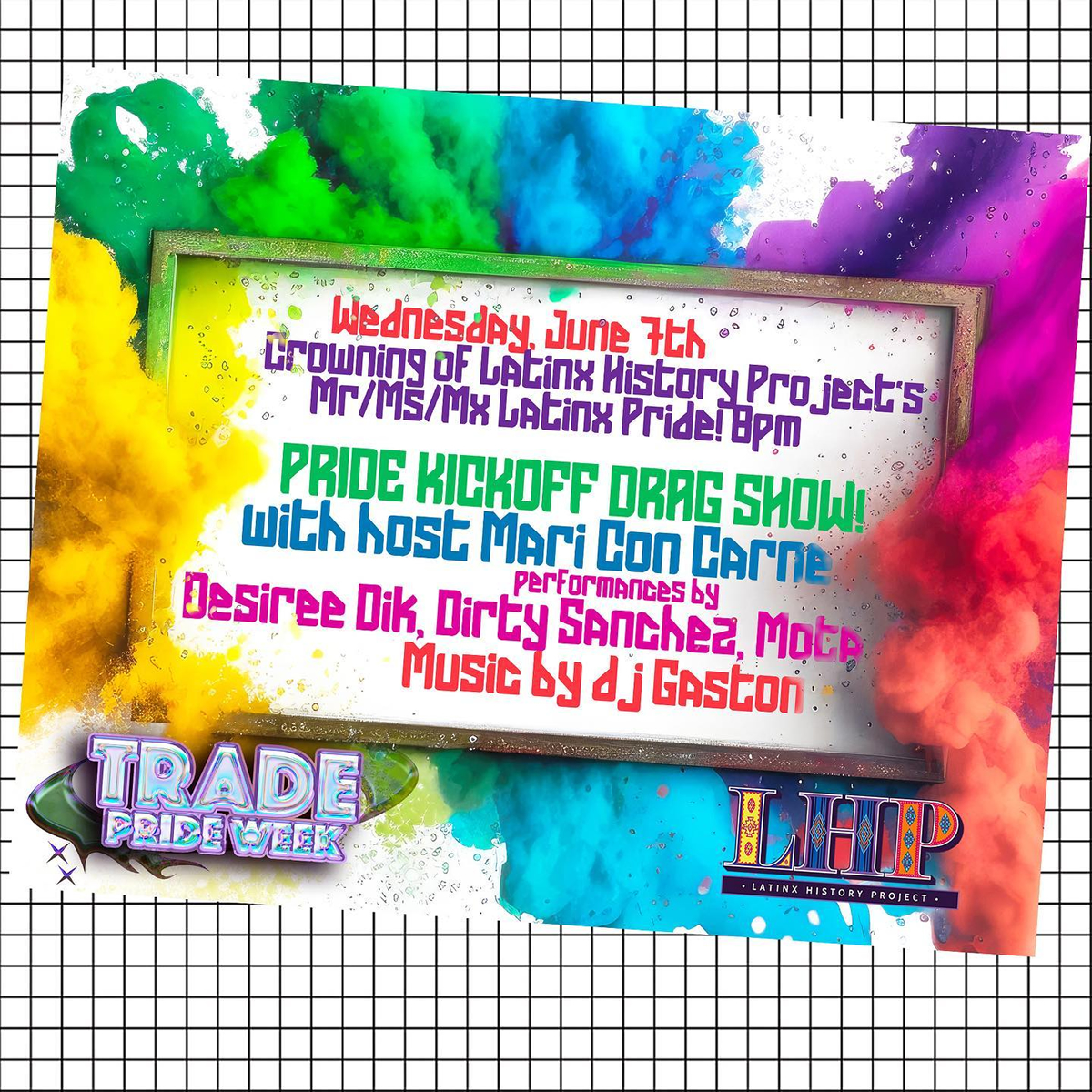 Wednesday, June 7
8 p.m.
Trade
1410 14th Street, N.W.
Instagram
Trade hosts a Pride Kickoff Drag Show with the Latinx History Project at 8 p.m. today. Don't miss the crowning of the Latinx Pride Court with host Mari con Carne and performances by Desiree Dik, Dirty Sanchez and Mota.
---
Beach Blanket Bingo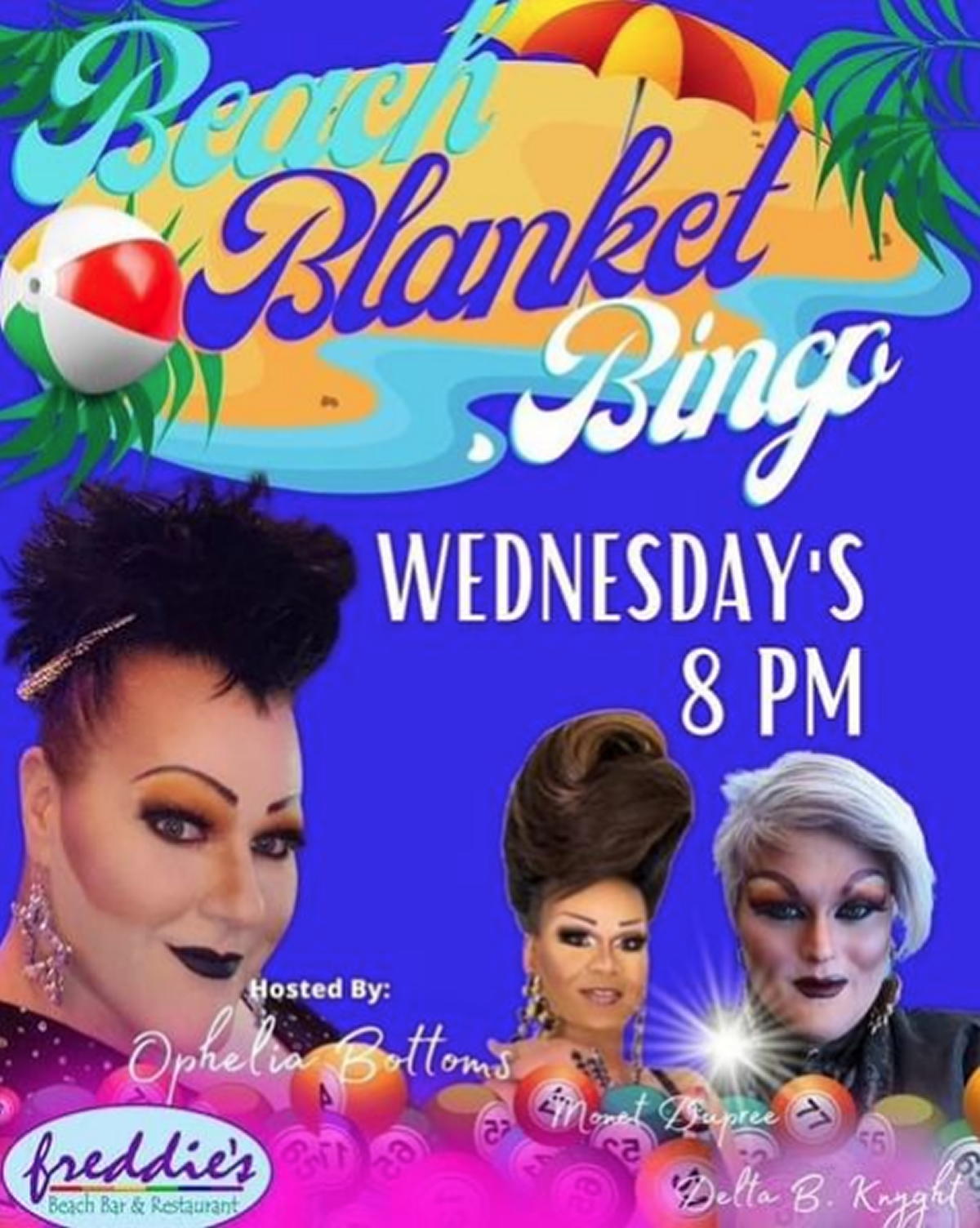 Wednesday, June 7
8 p.m.
Freddie's Beach Bar
555 23rd Street South
Arlington, Va.
Instagram | Reservations
Ophelia Bottoms hosts Beach Blanket Bingo with Monet Dupree and Delta B. Knyght at Freddie's Beach Bar in Arlington, Va. tonight at 8.
---
Daddy Issues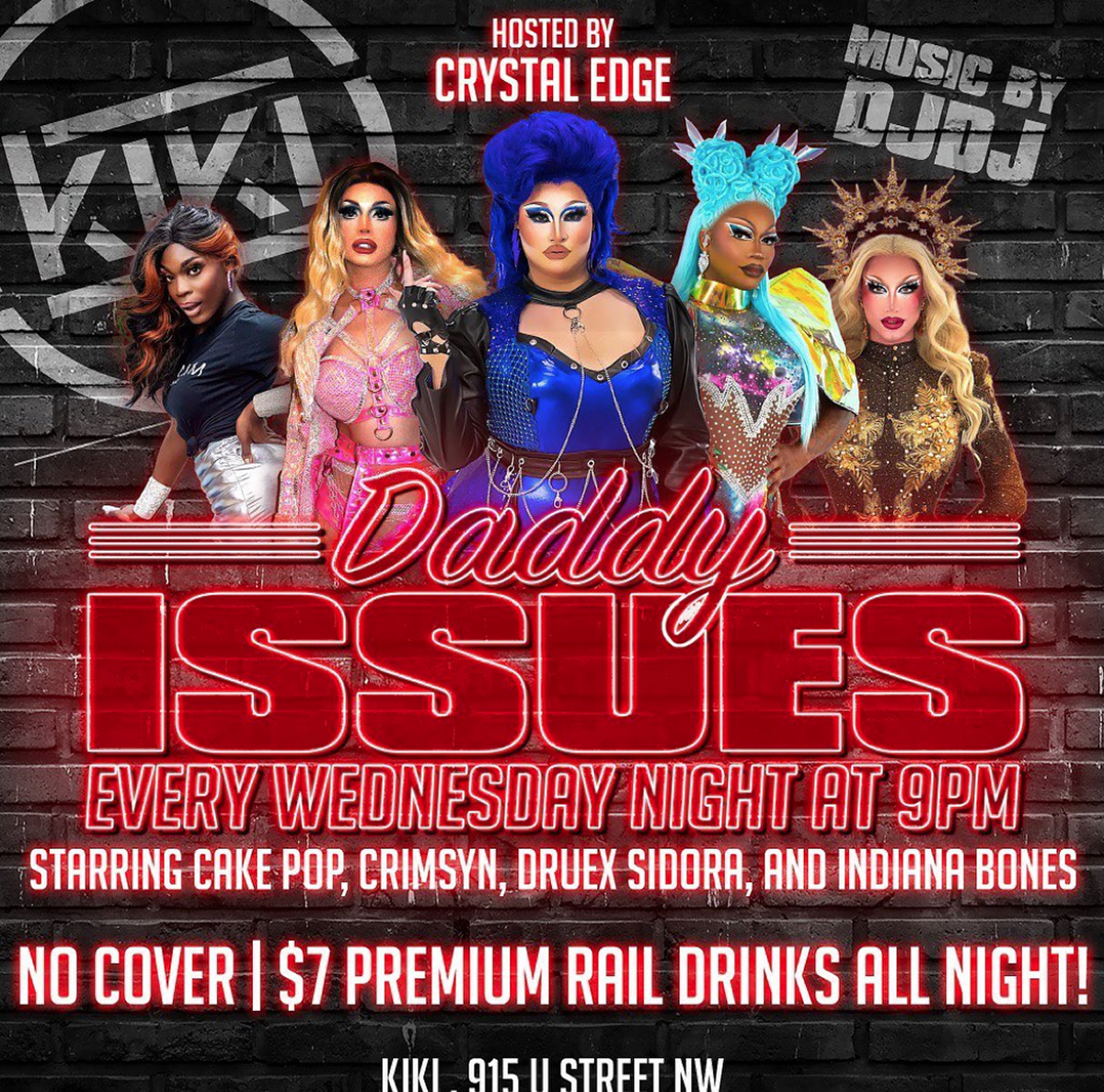 Wednesday, June 7
9 p.m.
Kiki
915 U Street, N.W.
Instagram
Crystal Edge leads this weekly drag show at Kiki tonight at 9.
---
Lady Camden at Pitchers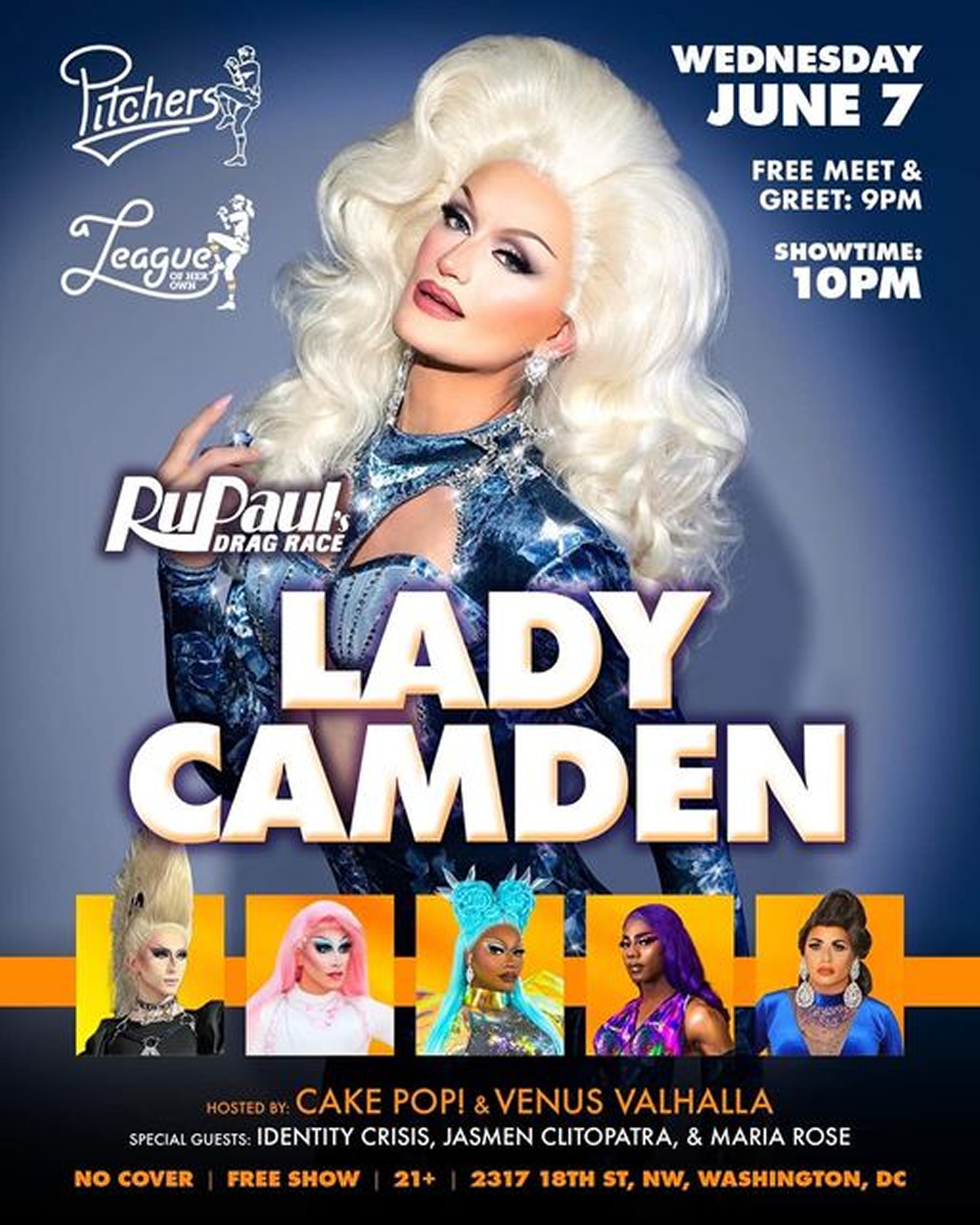 Wednesday, June 7
Meet & Greet at 9 p.m. / Showtime at 10 p.m.
Pitchers DC
2317 18th Street, N.W.
Free
Instagram
If you are a "RuPaul's Drag Race" fan, you have very little excuse not to go see a free drag show with Lady Camden at Pitchers tonight. The RuPaul's alum is joined by Cake Pop!, Venus Valhalla, Identity Crisis, Jasmen Clitopatra and Maria Rose in this evening's production.
---
PHOTOS: Night OUT at the Nationals
Pelosi throws first pitch at Nats game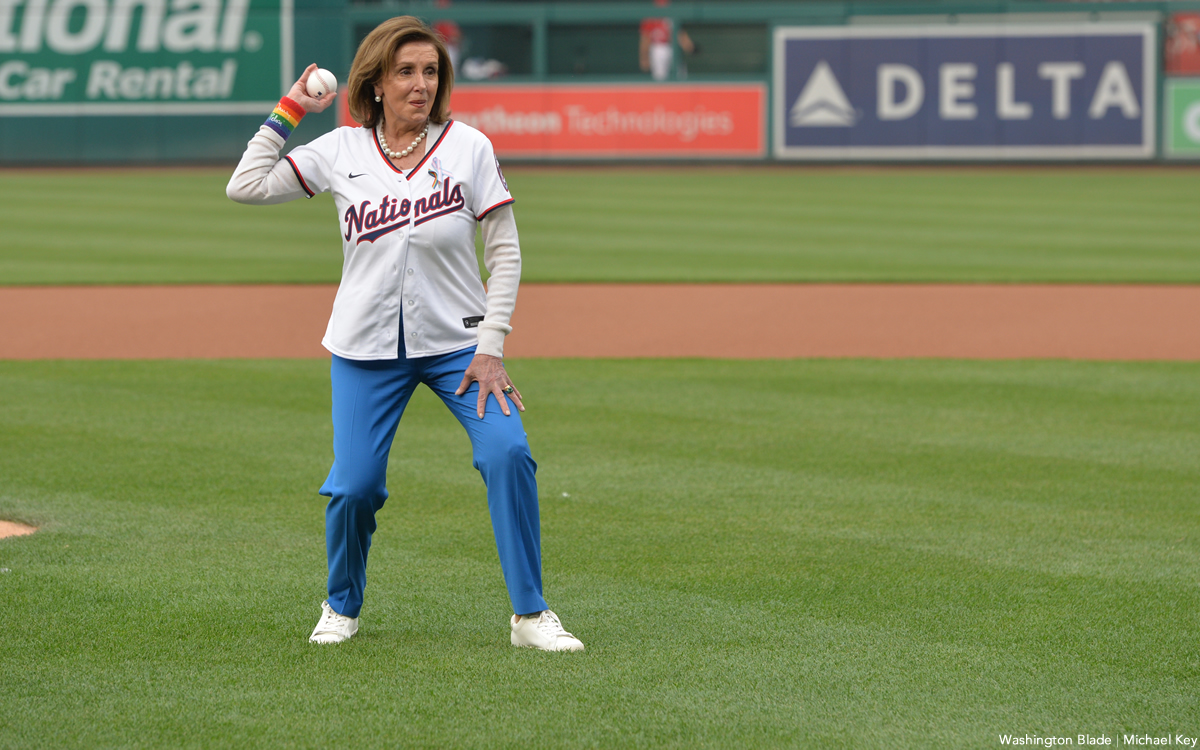 Former Speaker of the United States House of Representatives Nancy Pelosi (D-Calif.) threw out the first pitch at Nationals Stadium on Tuesday, June 6 for the Night OUT at the Nationals game. Team DC, the local LGBTQ umbrella sports organization, organized the LGBTQ night and sold 7,000 tickets. The Arizona Diamondbacks defeated the Washington Nationals 10-5.
(Washington Blade photos by Michael Key)