Trans people lost to drug overdose remembered at D.C. tribute
Citywide 'Celebration of Life' held at Metropolitan Community Church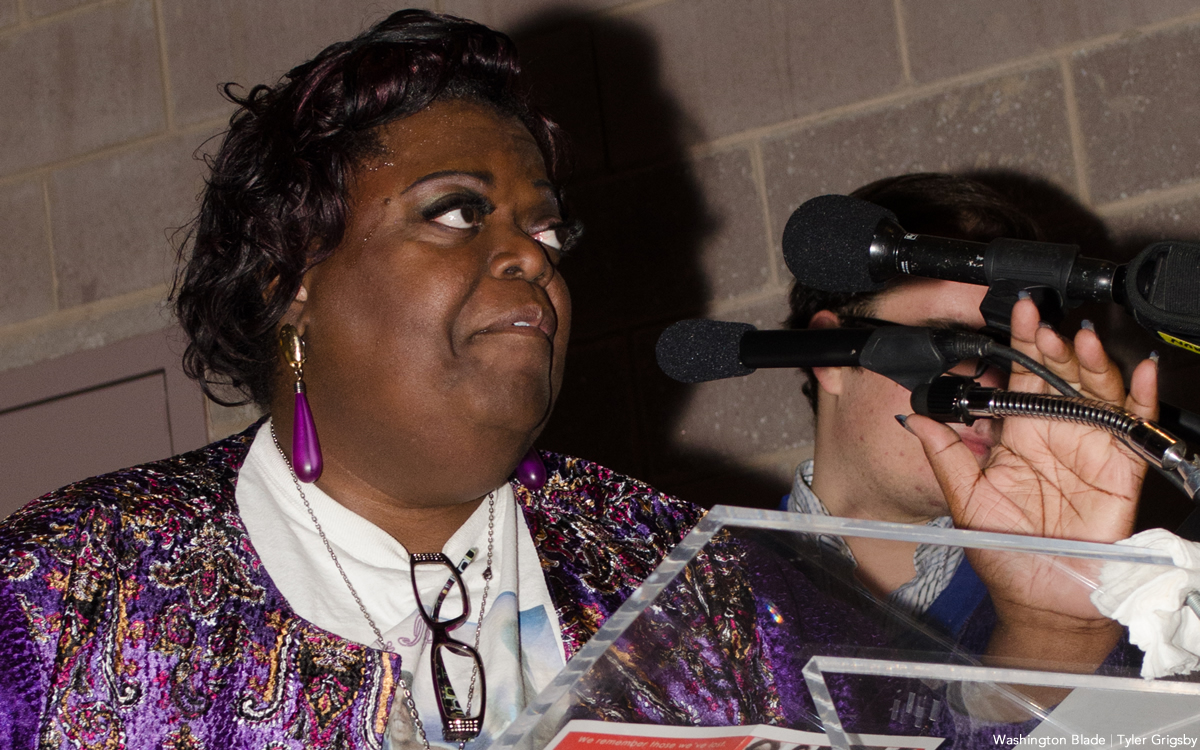 About 50 people turned out on Saturday, March 18, at D.C.'s Metropolitan Community Church for a Citywide Memorial Celebration of Life for at least seven local transgender people who lost their lives from a drug overdose within the past two months.
"We lifted up the lives of those who recently and before passed amongst the transgender community," said longtime D.C. transgender advocate Earline Budd, the lead organizer of the event.
"The goal was to send a clear message to D.C. officials that we will not sit by silently while members of the LGBTQ community are dying as a result of the OVERDOSE epidemic here in D.C. and around the country," Budd said in a Facebook post.
Budd told the Washington Blade this week that she and others involved in organizing the memorial celebration are planning a series of conversations with city officials and LGBTQ community stakeholders to push for strengthening the city's overdose prevention and response programs targeting LGBTQ people at risk for a drug overdose.
Among those participating in the March 18 celebration of life event were Rev. Elder Akosua McCray of Unity Fellowship Church of D.C.; Rev. D. Amina B. Butts of New Hope Baptist United Church of Christ of D.C.; and Rev. Cathy Alexander of D.C.'s Metropolitan Community Church.
Among those who spoke at the event was Tyler Edge, the associate director of D.C. Mayor Muriel Bowser's Office of LGBTQ Affairs.
The trans people who recently lost their lives to a drug overdose and whose names were listed in the program book handed out at the memorial tribute include Diva Chole Mason, Kenneth Isaac "Candy," Terri Holland, Lourica Potts, Cee Cee Creek, Tyneisha Phillips, and Danielle Pinkney.
Budd said among the plans by her and community supporters to address the overdose problem faced by some in the LGBTQ community include arranging for a more targeted approach to distribute and make accessible the lifesaving medication Narcan, which reverses an opioid overdose if administered quickly through a nasal spray device.
She said the plan also calls for pushing for a wider distribution of test kits for determining whether the deadly substance fentanyl, the cause of most drug overdose deaths, is present in recreational drugs such as cocaine, MDMA, and crystal meth.
"That's what our goal is, and we may end up saving some lives," Budd said.
Large crowds expected at Capital Pride parade, festival
Bowser says there are no credible threats to events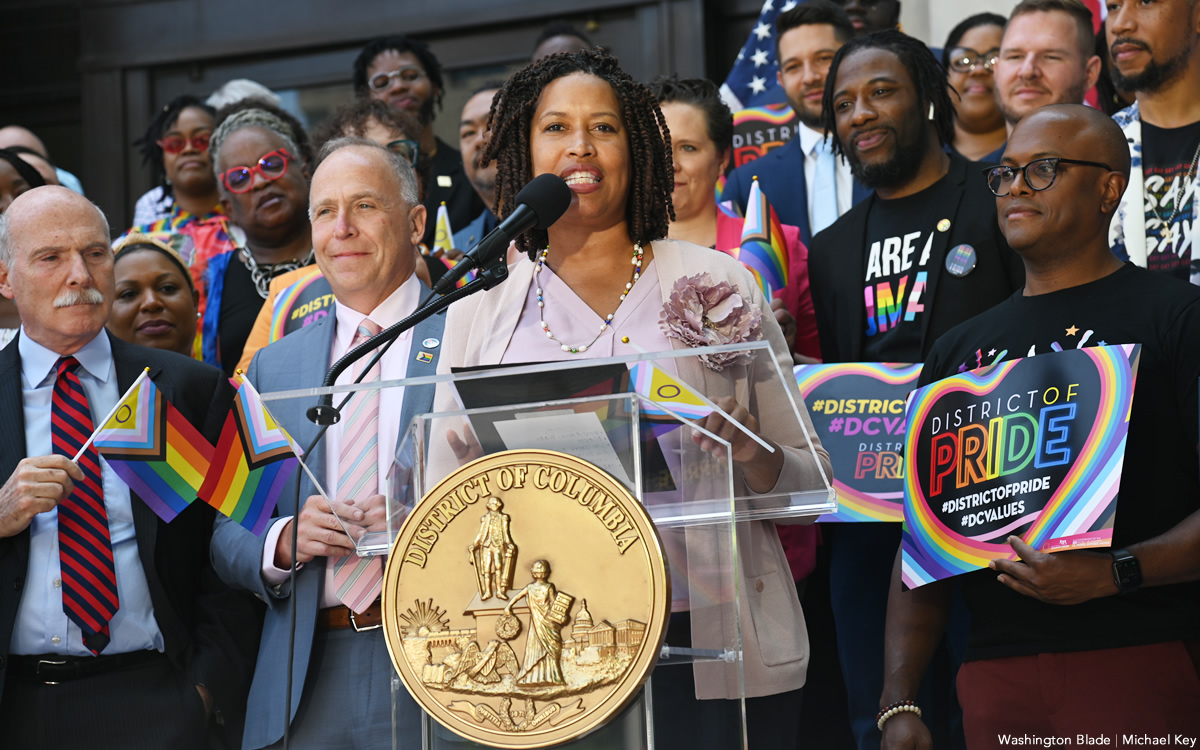 Hundreds of thousands of people are expected to attend the Capital Pride Parade on Saturday.
The parade will follow a 1.5-mile route that will step off on 14th Street at T Street, N.W., and finish on P Street at 21st Street, N.W. A map of the expected parade route can be found on the Capital Pride website. 
The Capital Block Party will take place at the intersection of Q and 17th Streets, N.W., during the parade. The party will feature local vendors, food trucks and a 21+ beverage garden and it will also have a designated viewing area for families with children to watch the parade, along with other children's activities.
The fourth annual Pride on the Pier will take place at the Wharf during the parade. The event, hosted by the Washington Blade, LURe DC and the Wharf, will have a fireworks show, a DJ and more.
The parade will be followed by the Capital Pride Festival on June 11. Taking place on Pennsylvania Avenue, N.W., the festival will feature more than 300 booths with local vendors, businesses and organizations. From 12-8 p.m., the Capital Pride Concert will host acts such as Broadway actress Idina Menzel and "RuPaul's Drag Race" winner Monét X Change.
D.C. Mayor Muriel Bowser last Thursday told the Washington Blade after she helped to raise the Progress Pride flag at the Wilson Building that there have been no credible threats to any upcoming Pride events in D.C. amid a rise in violence against the LGBTQ community. 
"MPD is constantly working with all of our agencies to make sure we have safe special events and we're going to keep going with our planning, like we do every year," Bowser said. "There's always a scan for any threats to the District."
The Metropolitan Police Department is investigating a bomb threat made on Twitter for the annual District Pride concert scheduled for June 29 at the Lincoln Theatre.
Temperatures are forecast to reach the mid-80s on Saturday and the low-90s on Sunday. Precipitation chances on both days are low.
With recent air quality issues, Alert DC is advising those with respiratory issues to wear masks, avoid strenuous activities and reduce time spent outdoors.
Further details and a full calendar of events can be found on the Capital Pride website.
Bowser: No credible threats to D.C. Pride events
Mayor spoke with the Blade after flag-raising ceremony at the Wilson Building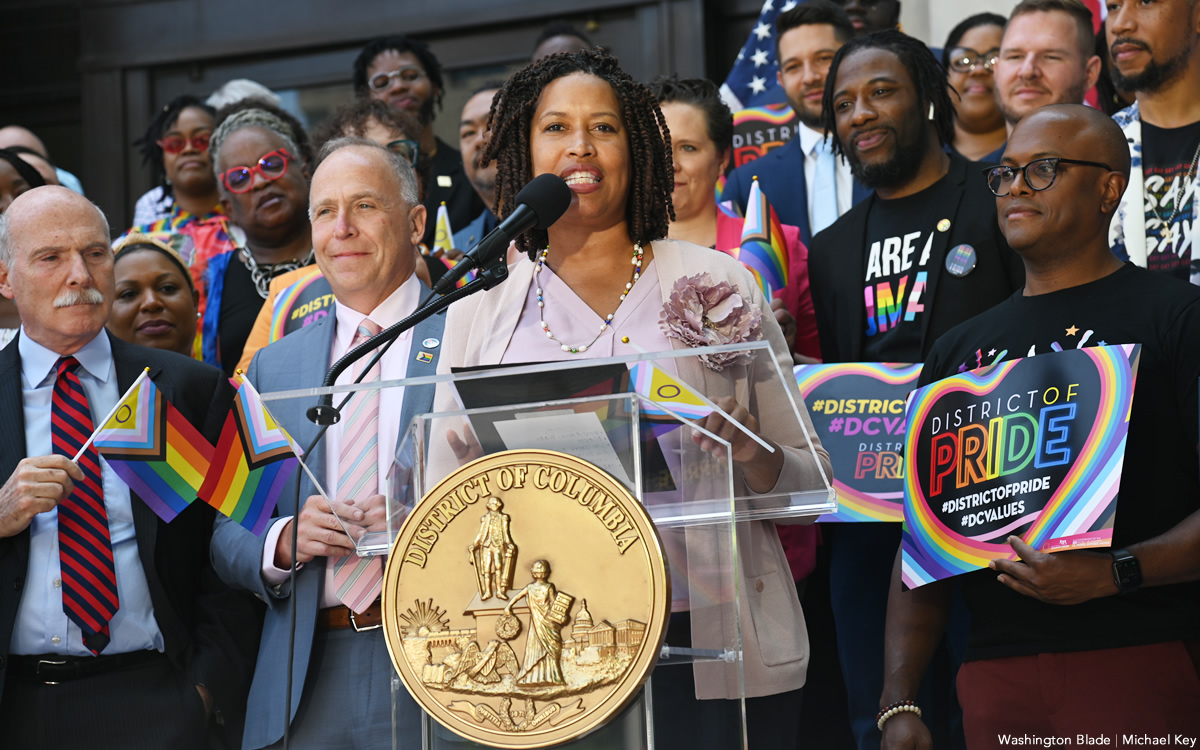 D.C. Mayor Muriel Bowser on Thursday said authorities have not received any credible threats to upcoming Pride events.
"We don't have any to report," she told the Washington Blade.
"MPD is constantly working with all of our agencies to make sure we have safe special events and we're going to keep going with our planning, like we do every year," added Bowser. "There's always a scan for any threats to the District."
Bowser spoke with the Blade after she joined D.C. Council Chair Phil Mendelson, Council members Anita Bonds, Charles Allen, Kenyon McDuffie and Zachary Parker, D.C. Attorney General Brian Schwalb, D.C. Mayor's LGBTQ Affairs Office Director Japer Bowles and other officials and activists in raising the Progress Pride flag in front of the Wilson Building.
The Blade last month reported D.C. police are investigating a bomb threat a Twitter user made against the annual District Pride concert that will take place at the Lincoln Theater on June 29. Bowles in a May 19 statement said his office reported the tweet, but further stressed that "no credible threat at this time has been made."
Point Foundation offers growing range of scholarships, support
'Resources to succeed and thrive rather than just make it through'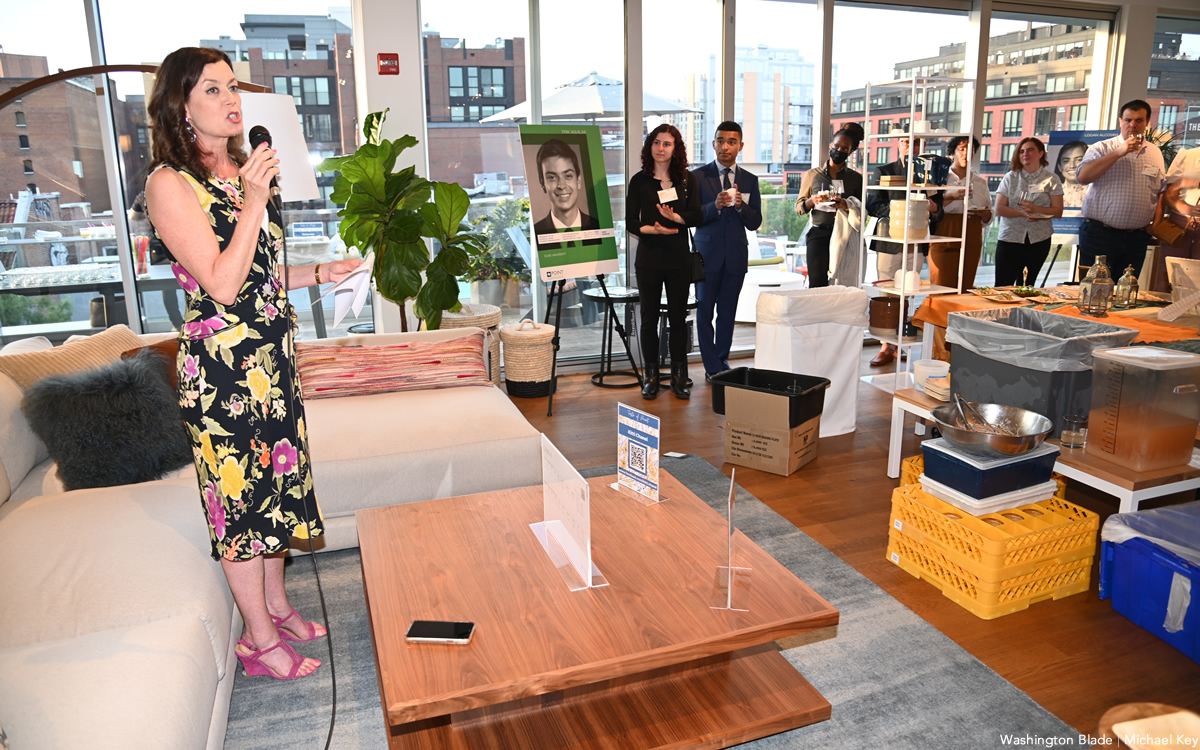 Many in D.C. know the Point Foundation for its longstanding scholarship program and its popular Taste of Point fundraiser each spring. But the nonprofit is offering a growing range of services to its young scholars, including mental health resources and social media support.
This year's Taste of Point brought mixologists, restaurateurs, and donors together on May 3 at Room and Board for the annual celebration. With a number of local businesses and organizations donating to the silent auction, the event both raised money for Point Foundation's scholarships while recognizing scholarship recipients and program alumni.
Among the lineup of featured speakers was one of the foundation's flagship scholarship recipients, Rio Dennis, a dual master's and law candidate at Georgetown University.
"I applied for the Point Foundation Flagship Scholarship because I believed in its mission of helping LGBTQ+ students achieve their academic goals while also providing training and resources so we can become better leaders within the LGBTQ community during school and long term," Dennis said in her speech.
The Taste of Point celebration began in 2013, born from another event called the Cornerstone Reception. Originally planned as a normal fundraiser with hor d'oeuvres, the foundation transformed it into the current Taste of Point celebration that facilitates partnerships with new, local restaurants.
Some restaurants, like Compass Rose and Hank's Oyster Bar, partnered with Point Foundation for their first celebration. They have been catering at the fundraiser ever since.
"It really gives you the sense of the amount of love and the amount of community that we have around the Point Foundation and mission," said Celina Gerbic, a member on the foundation's board of directors. "They really see, with hearing from the scholars, what the effects can be if we're raising money for those scholarships and mentoring opportunities."
The event also allows the foundation to showcase new offerings, such as the Community College Scholarship that was rolled out in 2016. The community college program gives scholars a financial scholarship to support their costs in community college as well as coaching and admissions counseling for students planning to transfer to a university. 
The foundation is expanding all of its programs. In the next academic year, Point will offer 574 scholarships and grants to students around the country. This includes scholars in its BIPOC scholarship, the newest and largest program at Point.
Omari Foote, one of the current BIPOC scholarship recipients, appreciates how the scholarship recognizes her as a Black queer student. She is even encouraging other queer students and friends to apply to receive similar assistance.
However, Point is even more than that, Dennis notes.
Before the school year started, the Point Foundation sent Dennis and all of the new flagship scholars to Los Angeles for a leadership development conference. Scholars discussed how to become active leaders on campus, how to ask for certain resources, what is offered by their campuses, and what tutoring programs are available.
Last year, Point also launched a joint partnership with an online therapy program to offer discounted prices for all scholars. 
"I have anxiety and depression and I struggled a lot in undergrad with trying to balance that with my having to support myself financially," Dennis said. "So I was definitely grateful that Georgetown did have a program that is specifically for people of color to get free therapy and Point definitely helped with… asking those questions because it is one of those programs that isn't as well publicized."
Point even provided Dennis with a mentor who was also a Point Scholar in law school. Meeting monthly on Zoom and texting all throughout the month, Dennis's mentor provides academic support that helps her use the right resources and make decisions about her career.
Foote finds the scholarship unique in other ways as well. As a recipient of a handful of other scholarships outside of Point, Foote's interactions with her scholarship programs mostly stop after they send instructions for writing donor thank you notes. But Point keeps reaching out to maintain a relationship with scholars long after that.
"They've reached out to me to spotlight me on Instagram," Foote said. "They reached out to me even for this dinner, paying for my transportation to and from the dinner … It's like they're not just there to give you the money. They're there to really help you navigate the college world and to be that caring supportive system that a lot of us just don't have anymore now that we are living by ourselves."
Last November, the foundation also held an Out in Higher Ed Week, wherein they teach scholars how to be LGBTQ+ advocates on campus. These resources help students navigate the ins and outs of discussing LGBTQ+ issues in university settings.
After graduation, Dennis has even thought about returning to the Point Foundation as a mentor to help future Black queer students, especially first generation law students, balance their mental health and financial situations.
"Point has connected me with fellow scholars who have become my friends. Point has provided me with resources and support to succeed and thrive rather than just make it through," Dennis said. "I definitely plan on continuing to be involved with Point."