D.C. government to hold 'LGBTQIA+ Emergency Training' event
Leaders, staff of nonprofits invited to learn how to assess threats of violence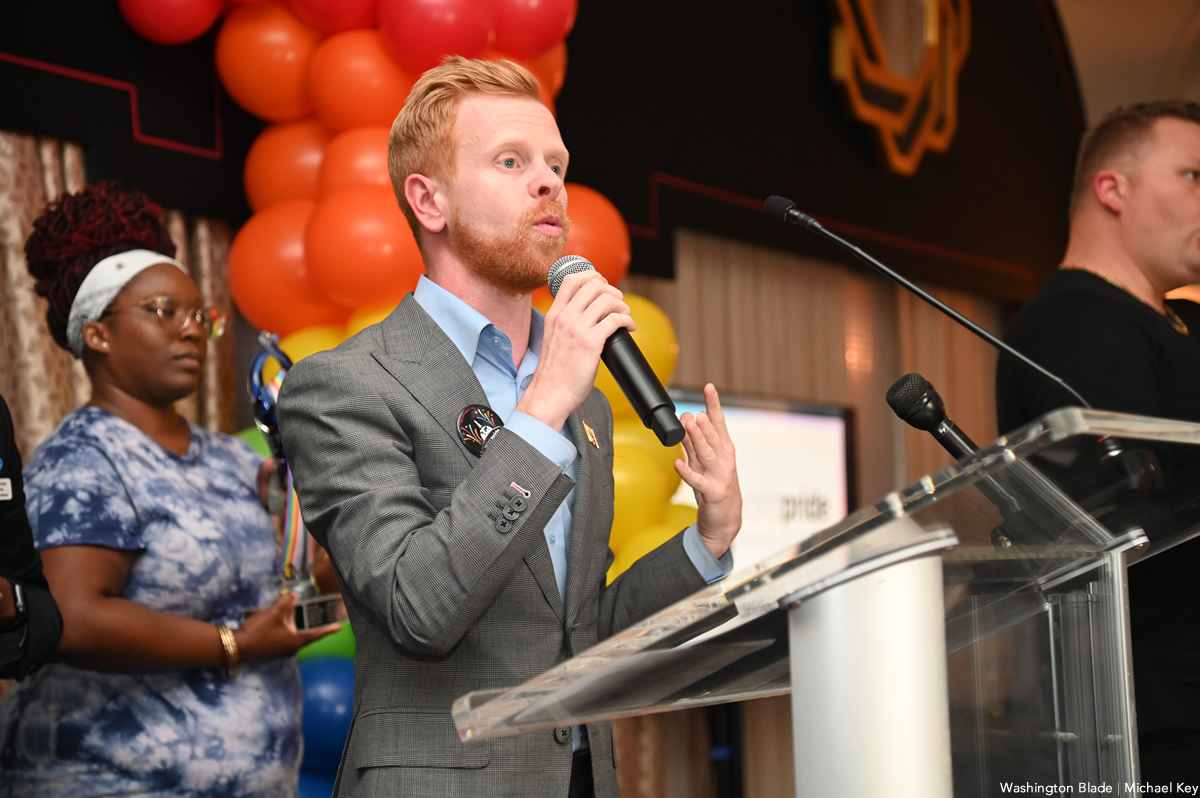 D.C. Mayor Muriel Bowser's Office of LGBTQ Affairs and the city's Homeland Security and Emergency Management Agency are inviting "all LGBTQIA+ non-profit leaders, management and event production staff" to attend a first-of-its-kind LGBTQ community Emergency Preparedness Event scheduled for April 5.
The event, officially called an LGBTQIA+ Emergency Preparedness Training, will be held at the headquarters of the D.C. Homeland Security and Emergency Management Agency at 1015 Half St., S.E.
"Non-profit partners will receive a special briefing on potential crime trends and threats," an announcement of the event issued by the mayor's office says. "The Preparedness Training will teach partners how to assess behavioral threats, manage risk factors such as warning signs of violence," the announcement continues.
"Partners will also hear more information about how to apply for non-profit security grant programs to support physical security enhancements," according to the announcement.
Japer Bowles, director of the Mayor's Office of LGBTQ Affairs, sent an email invitation on Tuesday, March 21, to various LGBTQ community leaders to attend the event. In his email message Bowles told of why an emergency preparedness training may be needed.
"We are a strong and diverse LGBTQIA+ community, even though we are increasingly under threat of violence for being who we are, for loving who we love, and for creating spaces for our community to do the same," Bowles wrote. "I commend you all; we must continue to support each other and share resources!"
The training session announced by Bowles and the mayor's office was scheduled to take place about four months after D.C. police announced they were stepping up police patrols around LGBTQ events and establishments, including gay bars, following the Nov. 19 shooting incident at a Colorado Springs gay nightclub called Club Q.
A 22-year-old lone gunman later identified as Anderson Lee Aldrich is charged with firing a rifle inside the club, killing five people, and injuring at least 25 others. One of the patrons of the club is credited with tackling Anderson and grabbing the barrel of the rifle and removing it from Aldrich's grip as horrified patrons attempted to flee from the club.
The incident, which prosecutors have listed as a hate crime, raised concern among LGBTQ clubs across the country and prompted some, including nightlife businesses in D.C., both gay and straight, to arrange for security and active shooter training sessions for their managers and employees.
"Nightlife hospitality establishments understand the importance of being constantly vigilant about, and prepared for, any and all incidents that could occur whenever people are gathered," said Mark Lee, the former coordinator of the D.C. Nightlife Council, a group representing bars, restaurants, nightclubs, and entertainment establishments.
DC Front Runners Pride 5K to take place as scheduled
Air quality improved overnight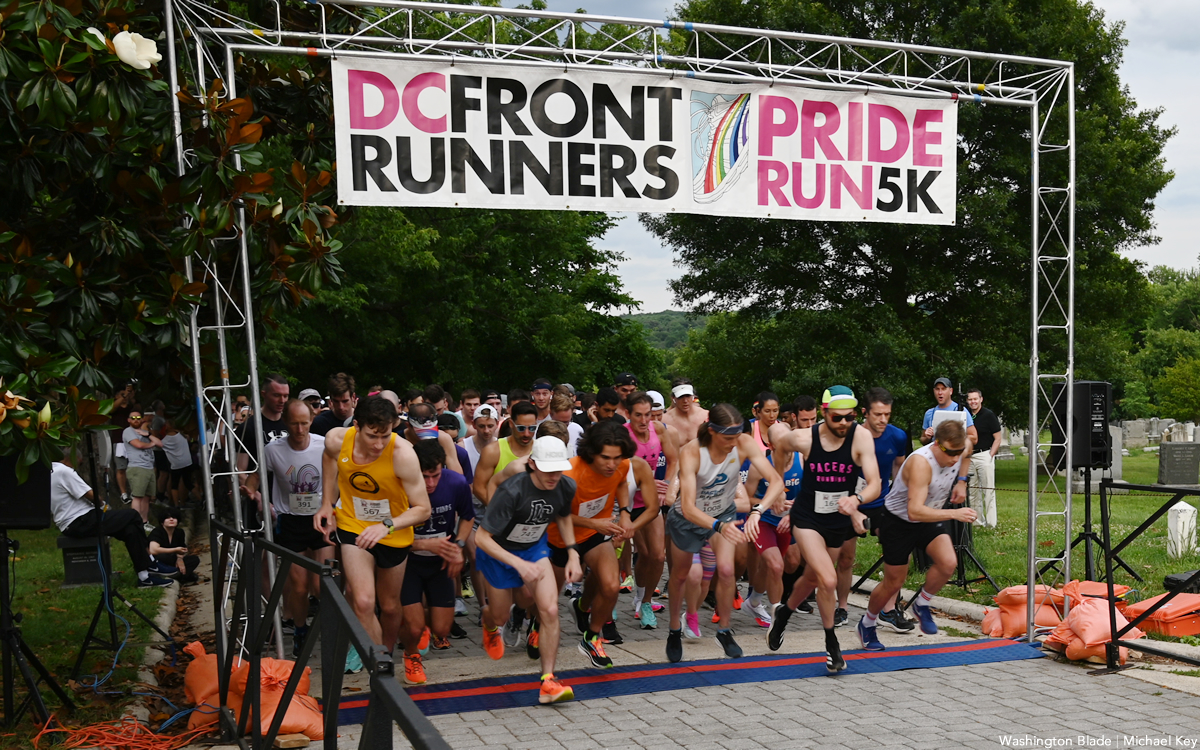 The D.C. Front Runners' annual Pride Run 5K will take place as scheduled at Congressional Cemetery on Friday.
The Blade Foundation, SMYAL, the Wanda Alston Foundation, Team DC, Teens Run DC, Pride 365 and Ainsley's Angels of America are among the race's beneficiaries. Wegmans, Shake Shack, Knead Hospitality and Design, Choice Hotels and Capital One Café are among the sponsors.
Rooftop Pool Party postponed
Capital Pride Alliance moves official event to June 22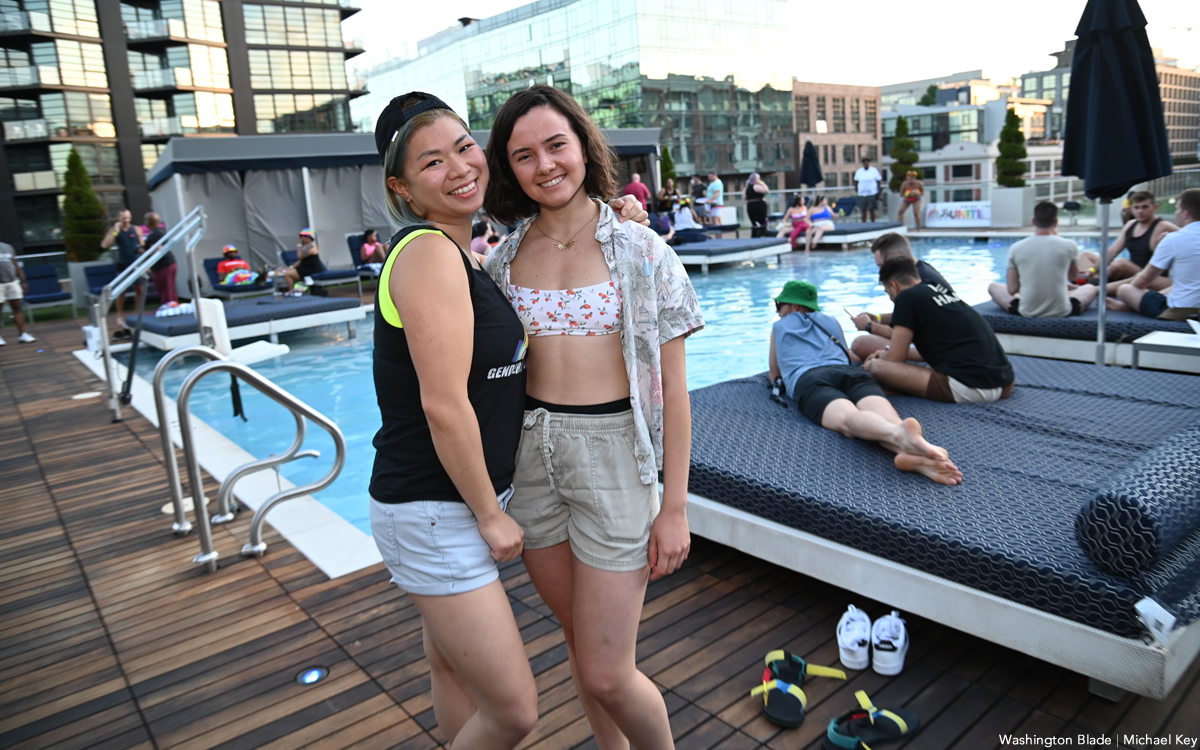 The Capital Pride Rooftop Pool Party, originally scheduled to begin at 8 p.m. tonight, has been postponed until Thursday, June 22, according to a statement released by the Capital Pride Alliance on Instagram. This action comes amid an international climate event created by the Canadian wildfire that has resulted locally in poor air quality and a haze around the region.
The Capital Pride Alliance Instagram account posted, "As with all concerns regarding health and safety issues, the Capital Pride Alliance will closely monitor the air quality situation resulting from Canadian wildfire smoke and take necessary precautions in consultation with our partners in the DC government."
"What does this mean for the pool party?" a question one private Instagram account user posed in the comment section.
"Important Update:" A representative of the Capital Pride Alliance responded through the group's official Instagram account. "Tonight's Capital Pride RoofTop Pool Party at VIDA The Yards is being postponed until Thursday, June 22 at 8:00 pm, due to the current air-quality situation resulting from the Canadian wildfires smoke. Please note that this postponement only applies to today's event."
The Capital Pride Alliance has yet to cancel or postpone any further events.
The White House earlier today rescheduled a large outdoor Pride reception planned for this evening to Saturday.
White House postpones Pride event due to wildfire smoke
Thousands expected for celebration bumped to Saturday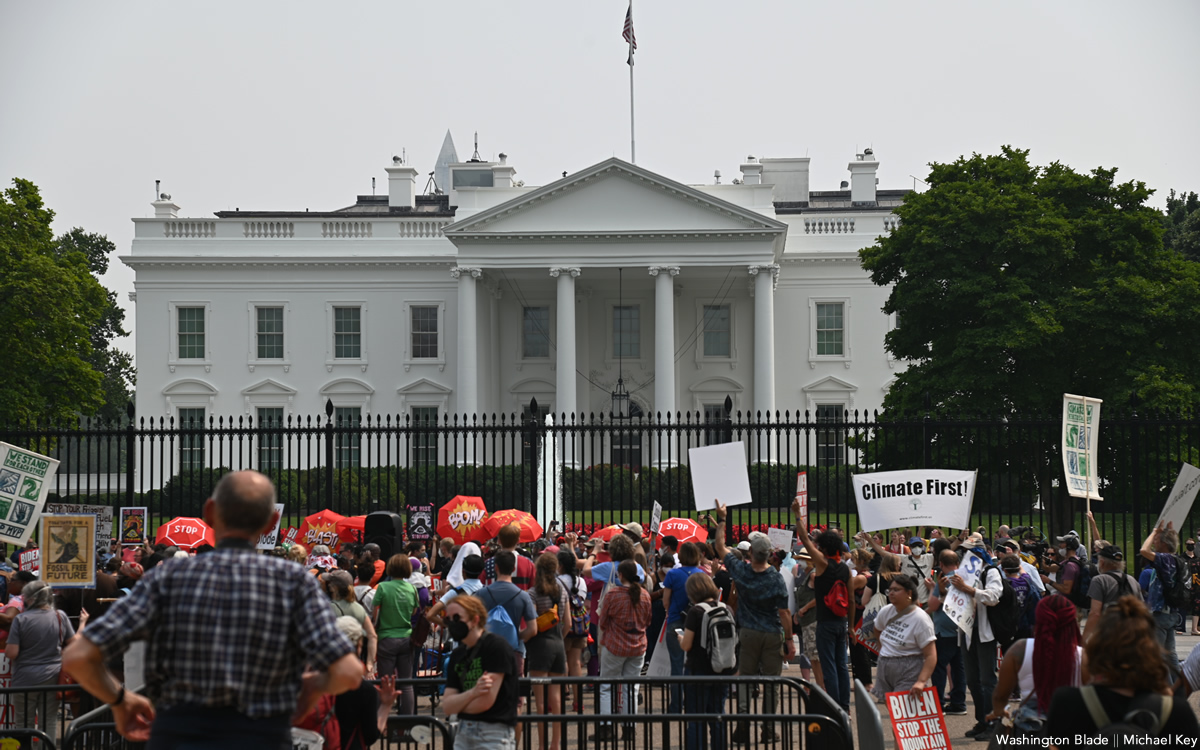 The White House announced Thursday that a Pride event scheduled for this evening has been postponed to Saturday due to the lingering Canadian wildfire smoke.
The smoke has enveloped D.C. in a dangerous haze that triggered a "purple alert" on Thursday, considered worse than a "red alert."
The event, expected to draw thousands of invited LGBTQ advocates and supporters to D.C., has been rescheduled for 1 p.m. on Saturday on the South Lawn of the White House, the same day as D.C.'s Capital Pride Parade, which kicks off at 3 p.m., and Pride on the Pier celebration, which starts at 2 p.m.