D.C. police investigating bomb threat targeting mayor's Pride event
In Tweet, user says 'I'm gonna bomb it'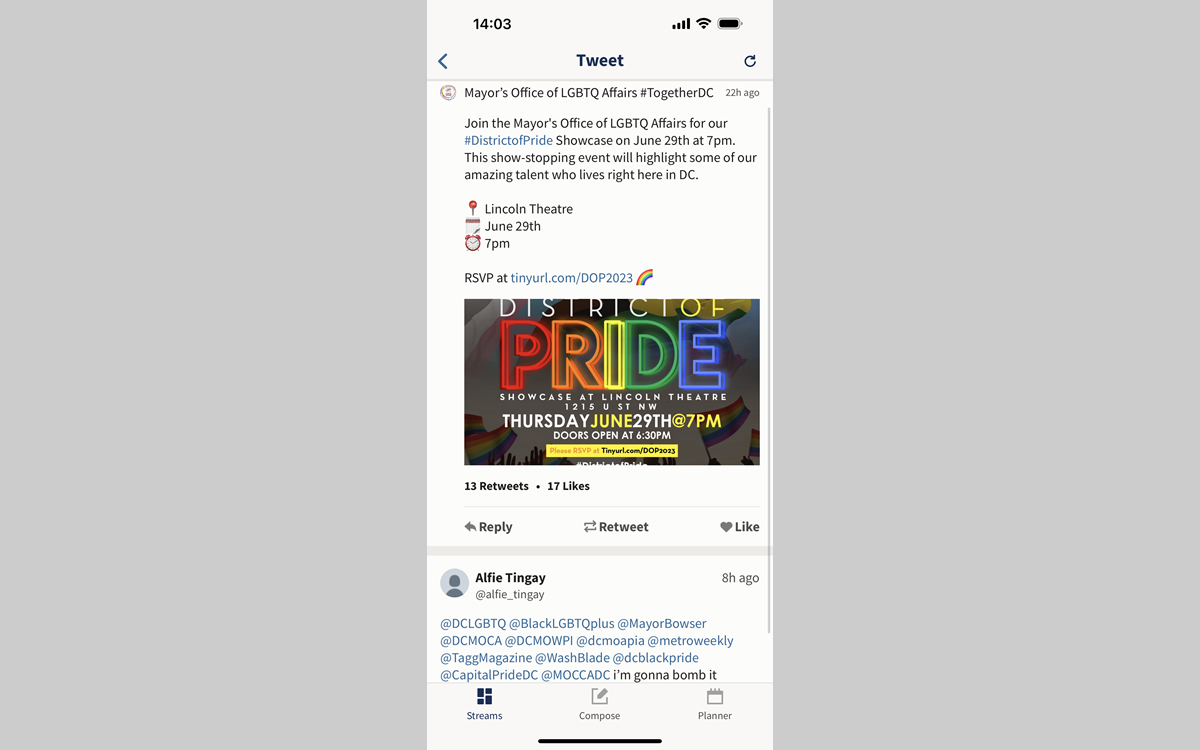 D.C. police are investigating a short message posted on the Twitter page of Mayor Muriel Bowser's Office of LGBTQ Affairs that appears to threaten to place a bomb at the annual District Pride concert scheduled to take place June 29 at the Lincoln Theatre.
A person who self-identifies as Alfie Tingay posted on the LGBTQ Affairs Office post, "i'm gonna bomb it." The person was referring to the District Pride event that the LGBTQ Affairs Office Twitter page was promoting.
"Join the Mayor's Office of LGBTQ Affairs for our #District of Pride Showcase on June 29th at 7 p.m.," the office's Tweet says. "This show-stopping event will highlight some of our amazing talent who live right here in DC," the Twitter message says.
The message includes a web address for people to RSVP to attend the event.
The person who self-identifies as Alfie Tingay @alfie_tingay on the mayor's Tweet posted the "I'm gonna bomb it" message underneath a printed ad in a box on the site promoting the District Of Pride event.
"Tingay" posted the message at the bottom of a list of Twitter addresses to which he sent his Twitter message. They include agencies in the mayor's office and LGBTQ organizations and media outlets, including the Washington Blade, Tagg magazine, Metro Weekly, D.C. Black Pride, and Capital Pride, the organization sponsoring the upcoming Capital Pride parade and festival on June 10 and 11.
The Blade forwarded the threatening Twitter post to the D.C. police Public Information Office and to the mayor's office for comment.
In a brief statement sent to the Blade on Friday, May 19, Japer Bowles, director of the Mayor's Office of LGBTQ Affairs, said his office "reported the tweet and account using Twitter's reporting system."
He said his office also reported the threatening tweet to D.C. police and the D.C. Homeland Security And Emergency Management Agency (HSEMA). "No credible threat at this time has been made," Bowles said in his statement.
"The Mayor's Office of LGBTQ Affairs, like many of the other community affairs offices that host events in this city, are proud to provide safe and inclusive spaces for our entire community," Bowles said. "We have and will continue to work with MPD, HSEMA, and our public safety agencies to ensure that we are protected as we celebrate almost 50 years of our strong and diverse LGBTQIA+ community," he told the Blade in his statement.
A spokesperson for the Lincoln Theatre couldn't immediately be reached for comment.
D.C. police spokesperson Sean Hicks responded with an email message.
"I have sent this to our Intel Unit and Special Liaison Branch to review," Hickman told the Blade in an email message. "We will get back to you once we've had a chance to look into it," he said. The Special Liaison Branch includes the department's LGBT Liaison Unit.
Hickman on Wednesday, May 17, sent the Blade a copy of the police incident report on the Twitter posting matter that the Blade had requested.
The report states, "R-1 [Respondent 1] reports that he observed a Tweet on Twitter that stated, 'I'm going to bomb it.' R-1 believes that the subject that posted the Tweet was targeting members and organizations that are a part of and support the LGBTQ community," the report concludes.
The report states that the identity of R-1 is "CONFIDENTIAL." Hickman told the Blade R-1 "wished to remain anonymous." Hickman said police investigators have a copy of the threatening Tweet. He did not say whether someone from the mayor's office reported the threatening Twitter post to police or whether the police first learned about it from the Blade's inquiry.
Pepco, Exelon announce $2.7 million in funding for four minority-owned businesses
'It's good business sense to bring more people to the table'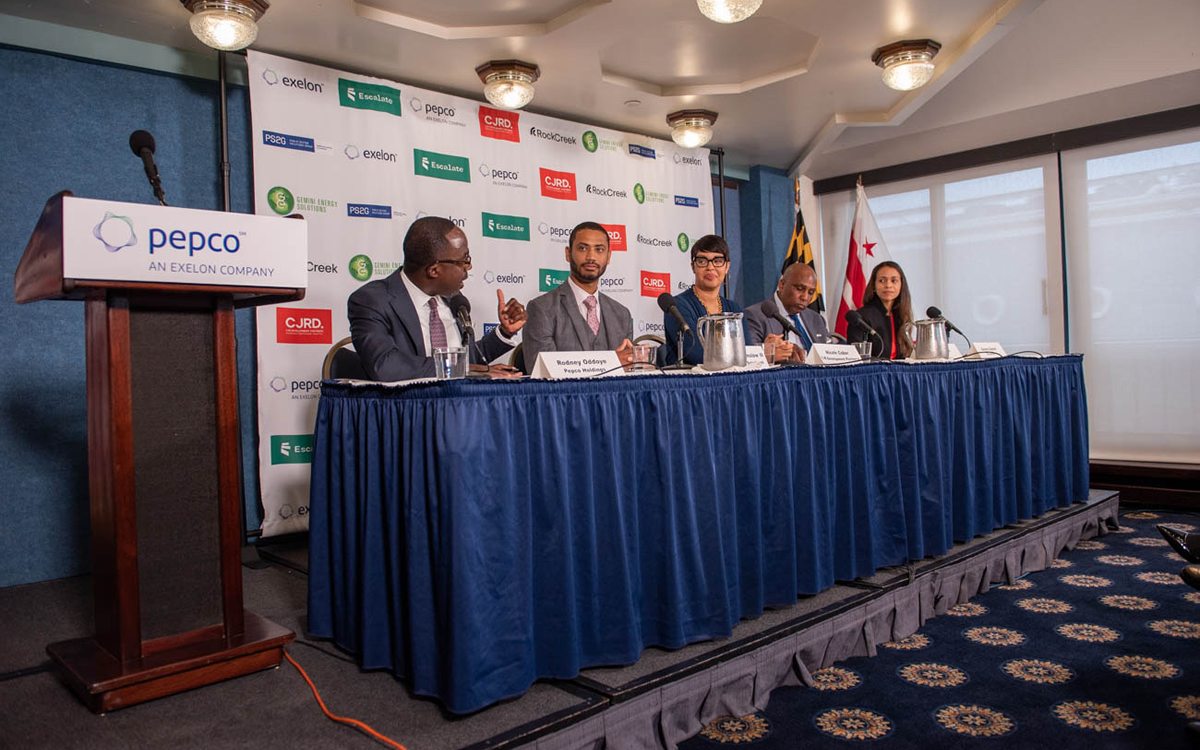 Pepco and Exelon announced a $2.7 million investment in four minority-owned businesses on Friday.
"Today's been a long time coming," said Pepco Vice President of Governmental and External Affairs Valencia McClure.
Pepco's parent company, Exelon, launched the Racial Equity Capital Fund (RECF) in 2022 to expand capital access to diverse businesses. This latest $2.7 million investment is just a portion of RECF's $36 million in funding.
At the announcement, D.C. Mayor Muriel E. Bowser spoke about the other ways Pepco and Exelon have "put their money where their mouth is" through their partnership with the D.C. Infrastructure Academy. She reported that all 22 of the residents that graduated from the program last week have a job offer from Pepco.
"We know that is not just a job, but a career," she said to the crowd's applause. "We know that working together, we can invest in D.C. residents, provide opportunity, and ensure that our D.C. businesses are a part of D.C.'s growing prosperity."
The four minority businesses that received funding were Gemini Energy Solutions, Public Sector Solutions Group, CJR Development Partners, and Escalate.
"It's good business sense to bring more people to the table," said fund recipient Nicole Cober, CJR Development's Principle Managing Partner.
Gemini Energy Solutions, which is Black owned, received $1 million, the most of the four companies. Its mission is to equitably scale energy efficiency to marginalized communities. For the founder and CEO Anthony Kinslow II, this investment means that he is able to get paid and advance the work of his organization.
"We are now able to accelerate the work in our software and technology development," he said. "What we were going to do in two years, we are now going to do in six months."
For Escalate, a workforce development platform focused on frontline worker retention, the funding means that it will be able to double the pay for frontline workers.
Public Sector Solutions Group CEO Darryl Wiggins emphasized that this investment was not just 'charity' work, but mission-driven work.
"The principle and the intent is greater than the money we receive," he said. Public Sector Solutions is Black owned.
Public Sector Solutions Group received a $600,000 debt investment; CJR Development, a minority and woman-owned small business, received a $600,000 debt investment; and Escalate, a majority Black and woman-owned company, received a $500,000 equity investment.
Exelon launched the RECF in partnership with RockCreek, one of the world's largest diverse-owned global investment firms, in 2022. The RECF expands capital access to diverse businesses so they can create more jobs, grow their companies and reinvest in their neighborhoods and communities, according to a statement from Exelon.
New RECF applications are accepted on a rolling basis. Interested businesses may apply online or contact RockCreek at [email protected] for more information.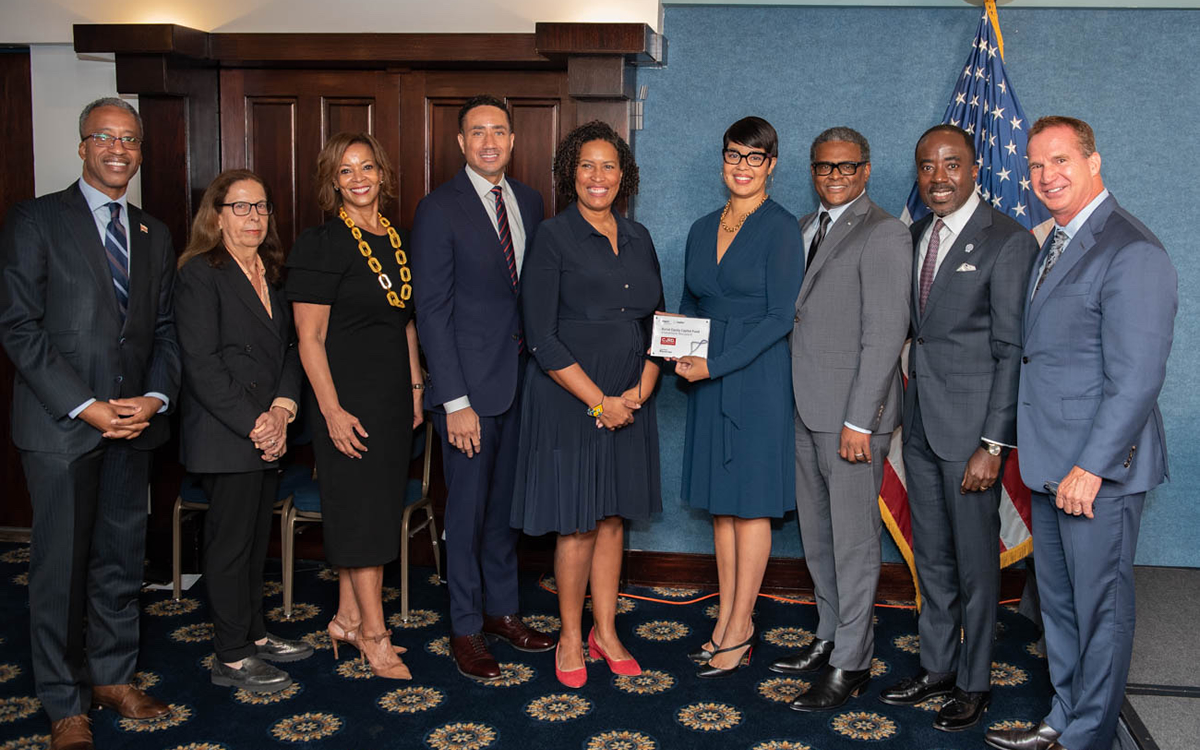 AIDS Healthcare Foundation celebrates opening of new D.C. healthcare center
Ribbon-cutting marks launch of state-of-the-art facility on Capitol Hill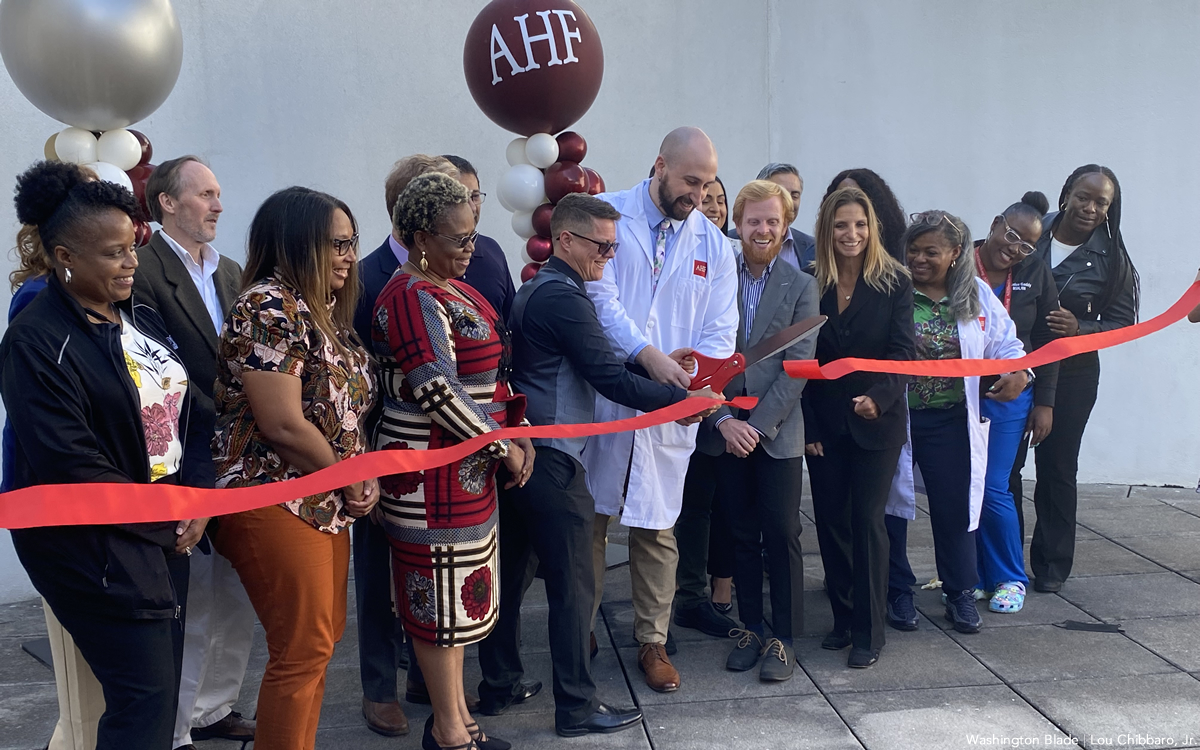 The AIDS Healthcare Foundation, the world's largest HIV/AIDS healthcare organization with its headquarters in Los Angeles, held a ribbon-cutting ceremony on Sept. 27 to mark the official opening of its Capitol Hill Healthcare Center.
The new center, which AHF describes as a state-of-the-art facility for the holistic care and treatment of people with HIV as well as a site for HIV prevention and primary care services, is located at 650 Pennsylvania Ave., S.E. a half block away from the Eastern Market Metro station.
A statement released by AHF says the Capitol Hill Healthcare Center will continue AHF's ongoing delivery of "cutting-edge medical care and services to patients regardless of insurance status or ability to pay." The statement adds, "The site also features a full-service AHF Pharmacy and will host Wellness Center services on Saturdays to offer STI testing and treatment."
The statement was referring to the testing and treatment for sexually transmitted infections. The D.C. Department of Health has said the highest number of STIs in the city have been reported for men who have sex with men.
Mike McVicker, AHF's Regional Director for its D.C., Maryland, and Virginia facilities, said the Capitol Hill center began taking patients in October of 2021 as AHF transferred its operations from its facility on Benning Road, N.E. about two miles from the Capitol Hill site. McVicker said the Benning Road site has now been closed.
AHF's second D.C. medical center is located downtown at 2141 K St., N.W. AHF operates three other extended D.C.-area health care centers in Falls Church, Va., Temple Hills, Md. and Baltimore.
"Our Capitol Hill Healthcare Center has no waiting room, so patients immediately are escorted to treatment rooms and serviced from a centrally located provider workstation," McVicker said. "The goal is to maximize efficiency using this patient-centered model to improve health outcomes and increase retention in care."
McVicker told the Blade the AHF Capitol Hill center is currently serving 585 patients and has a staff of 10, including Dr. Conor Grey, who serves as medical director. He said a separate team of five staffers operates the Saturday walk-in center that provides STI services as well as services related to the HIV prevention medication known as PrEP.
"I'm very excited to be a part of this team," Dr. Grey said at the ribbon-cutting ceremony, which was held in a courtyard outside the Capitol Hill office building where the AHF center is located. About 50 people, including D.C. government officials, attended the event.
"This is a beautiful thing to celebrate," Grey said. "So, I'm very happy to enjoy the day with all of you, and looking forward to a bright, productive future working together and fighting a common enemy that has unfortunately been with us."
Others who spoke at the event included Tom Myers, AHF's Chief of Public Affairs and General Counsel; Toni Flemming, Supervisory Public Health Analyst and Field Operations Manager for the D.C. Department of Health's HIV/AIDS, Hepatitis, STD, and Tuberculosis Administration (HAHSTA), and Dr. Christie Olejeme, Public Health Analyst for HAHSTA's Care and Treatment Division.
Also speaking at the event was Japer Bowles, director of D.C. Mayor Muriel Bowser's Office of LGBTQ Affairs.
Bowles called the AHF Capitol Hill center "another pivotal resource" for the LGBTQ community as well as for the city.
"We know, as has been previously stated, a low-barrier HIV prevention support is pivotal to the mayor's mission of eliminating HIV infections in the District of Columbia and the region," Bowles told the gathering.
"So, I'm very excited to see more services specifically provided to those in the Southeast and Northeast quadrants of our District," he said, referring to the AHF Capitol Hill center. "This is a great moment for our community, but also for D.C. as a whole."
In its statement released this week announcing the official opening of the Capitol Hill Center AHF notes that currently, 11,904 D.C. residents, or 1.8 percent of the population, are living with HIV. It points out that HIV disproportionately impacts Black residents, who make up about 44 percent of the population but comprise nearly three-quarters of the city's HIV cases.
AHF official Myers said the Capitol Hill center will join its other D.C.-area facilities in addressing the issue of racial disparities related to HIV.
"Our treatment model helps eliminate barriers for those already in care, those who may not know their HIV status, and those living with HIV who may not currently be in care," he said.
AHF says in its statement that it currently operates more than 900 healthcare centers around the world in 45 countries including 17 U.S. states. It has more than 1.7 million people in care, according to the statement. Founded in 1987, the organization has also taken on the role of public advocacy for federal and local government programs in the U.S. to address the HIV/AIDS epidemic, including efforts to lower the costs of HIV drugs.
During its work in the late 1980s and early 1990s AHF emerged as a strong advocate for addressing the special needs of gay and bisexual men who were hit hardest by HIV/AIDS at the start of the epidemic.
Georgetown University hosts panel on transgender, nonbinary issues
Lawmakers from Mont., Okla. among panelists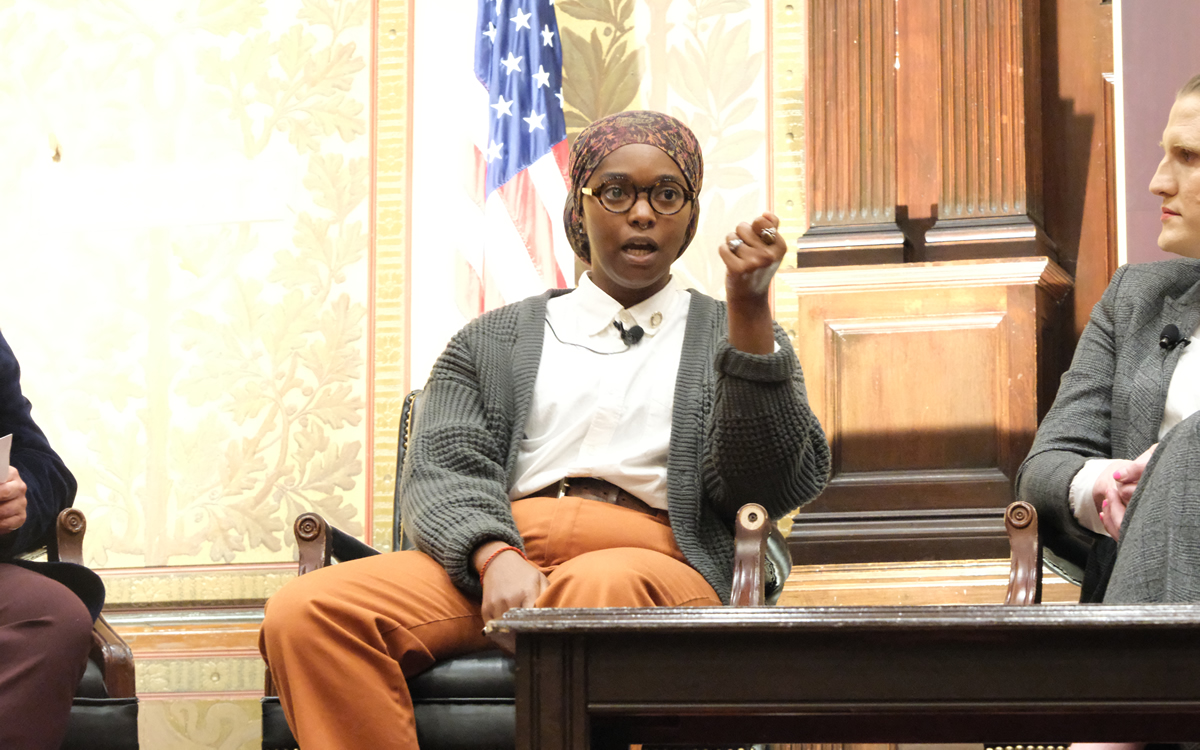 A panel on transgender and nonbinary issues took place at Georgetown University on Tuesday.
The panel included Montana state Rep. Zooey Zephyr and her fiancée, journalist Erin Reed, who are both trans, and nonbinary Oklahoma state Rep. Mauree Turner. Charlotte Clymer was also on the panel that Amanda Phillips, a nonbinary Georgetown professor, moderated.
The panel began with a discussion about anti-trans laws that have been enacted across the country.
Reed said the Alliance Defending Freedom and the American Principles Project developed a strategy in response to North Carolina's now repealed law that banned trans people from using public restrooms consistent with their gender identity.
They focused on states that are more "business-friendly and therefore harder to boycott, and started with sports. Reed said bans on gender-segregated sports put an "asterisk on [trans] identity" that made further attacks possible.
Clymer spoke on attitudes towards trans policies.
She referenced a survey that asked Americans if they supported nondiscrimination protections for LGBTQ individuals. Around 75 percent of respondents, including almost half of Republicans, said yes. Clymer said the next question that asked if such protections exist concerns her.
Roughly half of respondents said yes.
While there are two U.S. Supreme Court rulings — Obergefell and Bostock — that extended marriage rights to same-sex couples and employment protections to LGBTQ people respectively, Clymer noted there are no federal protections based on sexual orientation and gender identity.
Turner and Zephyr spoke about being censured for defending trans rights.
Oklahoma lawmakers in March censured Turner after they refused to turn into the authorities a trans person who had allegedly assaulted a state trooper.
Turner said in Oklahoma, where there is no public debate, and politicians are openly anti-trans, residents are fighting against an "apathetic" and "heinous" legislature. On the topic of activism, they said being a "truth teller," and saying "absolutely not" is "what got [them] censured."
Zephyr's censure was in April after she criticized a bill to restrict gender-affirming health care in Montana. The protests that followed stemmed from trans issues, but Zepher said they were about much more.
"The protests […] were about recognizing that when you silence a legislator, you take away representation from their constituents," she said. "That fight became a larger fight about democracy."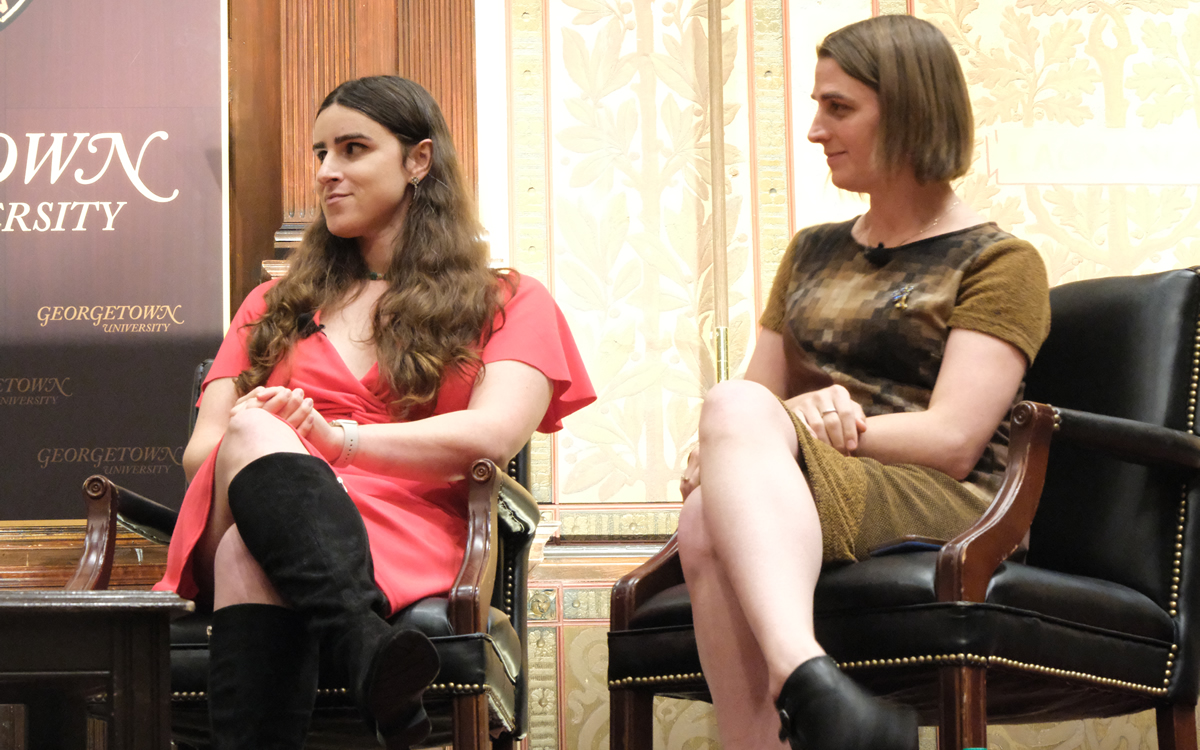 The panelists talked about mental health and addressing it.
Turner said that being the representation they needed keeps them going.
"I didn't think I was going to make it through middle school," they said. "Representation matters for so many people […] if you can aid in being that representation, being that force that helps somebody else keep going, that is one of the most powerful experiences."
The panel agreed that finding community is important to mental health.
"Sometimes our best activism is finding our community," Reed said.
The panel also spoke about queer joy and strength.
"Queer joy is the thing they can't take away," Zephyr said.
Reed talked about photos of activists who were organizing before the Stonewall riots in 1969; they were smiling and enjoying their community.
"The queer story is a story of not just surviving in the margins but thriving in the margins," Reed said.
Turner added "trans lives aren't just lives worth fighting for, they are lives worth living."
A self-described "journalist" who didn't identify himself or his outlet asked the panel, "What is a woman?" Clymer turned the question back to him, and he said it "comes down to genetics."
Clymer began to explain that chromosomes don't always define sex. The audience member began to argue and ignored an event organizer who was asking him to leave. Security promptly escorted him out.
Reed continued Clymer's point that even biological sex is difficult to define.
"Last year, 15 different state legislators tried to define sex, did you know that none of them managed to do so in a way that was scientifically correct?"
The panelists also offered advice to allies.
Clymer said treading about trans issues and being informed about them is a great start.
"You've got to step up," she said.
Turner said allyship goes beyond relationships, and into the realm of being uncomfortable.
"Allyship is synonymous with action and moving forward," they said.