Va. High School League policy on trans athletes to remain unchanged
New guidelines for transgender, nonbinary students released last week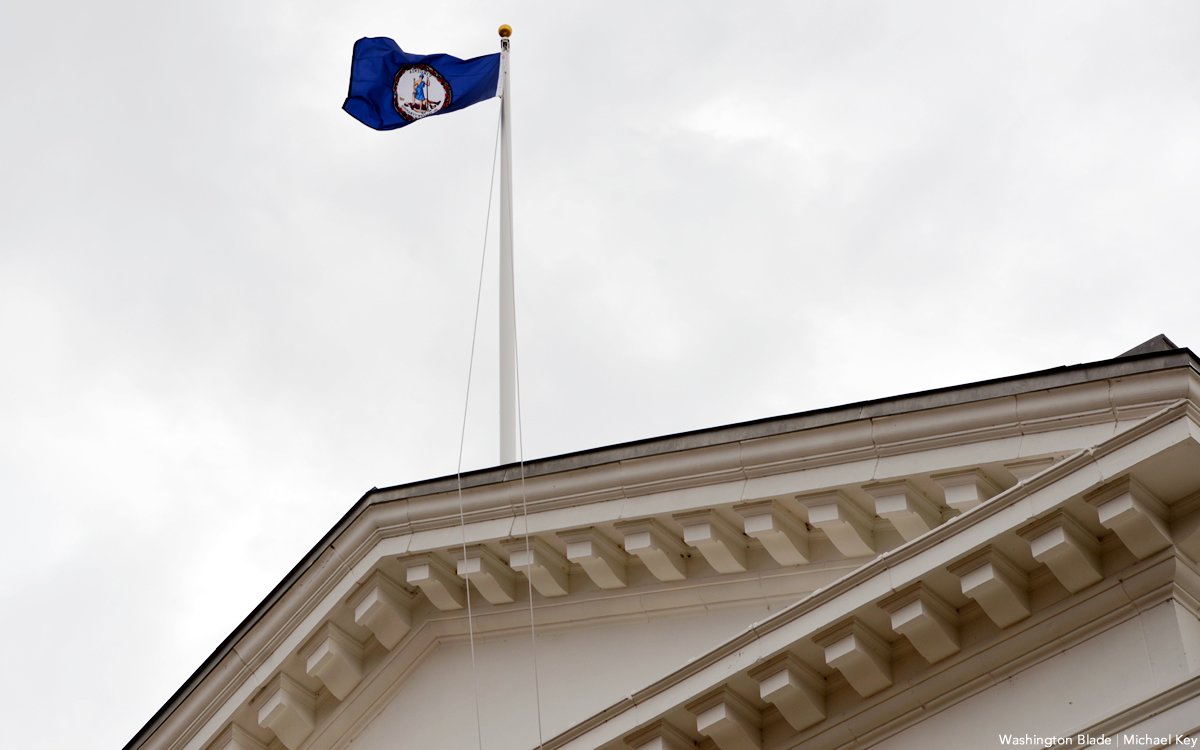 The Virginia High School League, the group that oversees school sports in Virginia, has said it will not change its policy that allows transgender athletes to compete on teams that correspond with their gender identity.
The Virginia Department of Education last week released its updated guidelines for trans and nonbinary students.
Republican Virginia Gov. Glenn Youngkin in a statement said "all children in Virginia deserve to have a parent engaged in their life and to be treated with dignity and respect" and the "updated model policies reaffirm my administration's continued commitment to ensure that every parent is involved in conversations regarding their child's education, upbringing and care."
The new guidelines do not specifically address trans and nonbinary student athletes, but the Washington Post on Wednesday reported the policy "suggests students should play on the team that matches their biological sex."
The Virginia High School League in 2014 adopted a policy that allows a student athlete to file an appeal in order to play on a team that corresponds with their gender identity. Virginia High School League Executive Director Billy Haun told the Post his group does not plan to change the policy.
"As the VHSL fall sport season begins this week, I am recommending the league stay with the current policy which has served us well," wrote Haun on Monday in a memo. "We certainly will respect the decision of any school division as they address their policies and will continue to review this matter as we move forward and the new school year begins."
A Virginia Senate subcommittee earlier this year tabled a bill that would have banned trans students from joining school sports teams consistent with their gender identity.
Youngkin embraces a softer 'parental rights' message
Governor's anti-LGBTQ postures shows no signs of abatement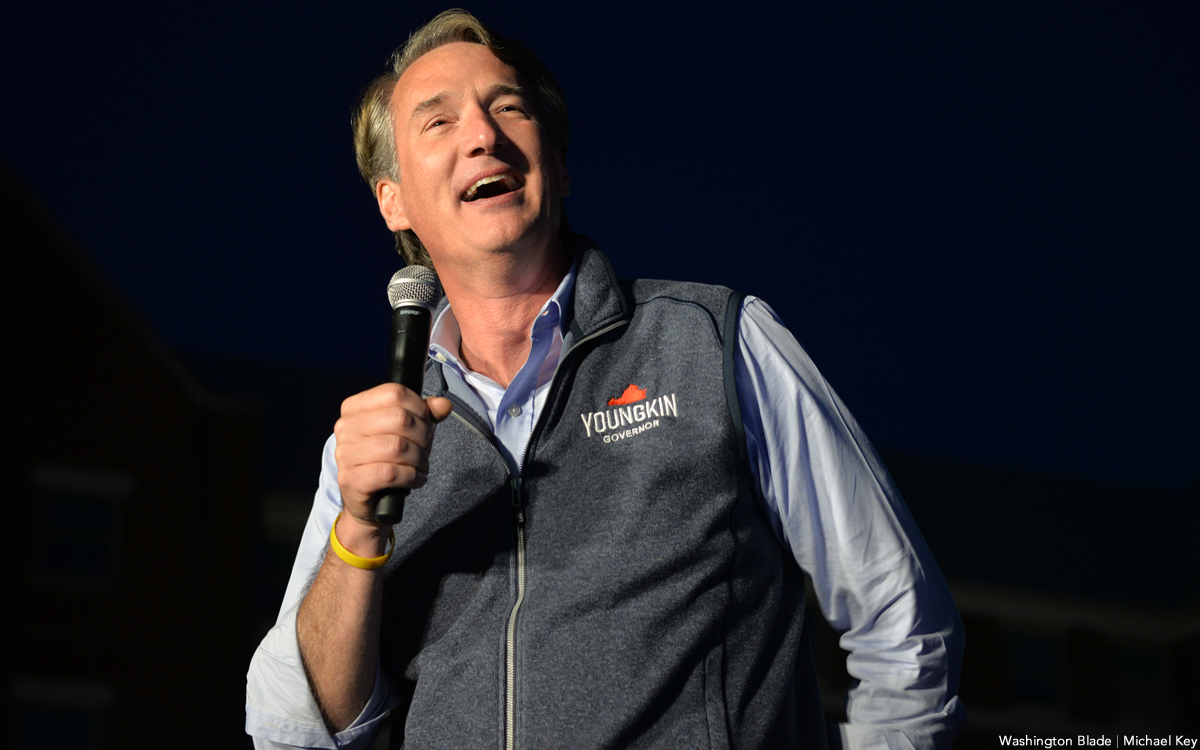 Republican Virginia Gov. Glenn Youngkin has a lot at stake with the potential for his party to win control over both chambers of the state's General Assembly in November and the growing chorus high profile GOP donors urging him to run for president.
Appearing before a crowd of Republican voters last month in Salem, Va., alongside state Sen. David Suetterlein (R-Roanoke), the governor was flanked by a huge sign that read, "Parents Matter," a message that Youngkin's 2021 gubernatorial campaign had used to fire up conservative Virginians concerned about education policies, including LGBTQ matters.
However, the Washington Post notes that while "parental rights" arguments were previously focused on opposition to pro-LGBTQ policies, pandemic mask mandates, and the teaching of critical race theory in Virginia schools, "this year's edition is decidedly more middle-of-the-road."
During campaign events for GOP state legislature candidates in battleground districts across the state, Youngkin has been "treading carefully around the red meat occasionally served up by his audiences," steering "comments back toward the catchall idea of parents being involved in their kids' lives," the Post reports.
For instance, during last month's event with Suetterlein, a member of the audience said her daughter had been "brainwashed" on social media into believing it possible for someone to be both gay and a Christian, which Youngkin addressed by urging parents to "be engaged" in their kids' lives and educate them on the dangers of social media.
At the same time, Youngkin's tenure as governor has seen a flurry of anti-LGBTQ policies, especially targeting youth, schools and the transgender community, which, unlike his "parents' rights" rhetoric, has not abated or become less extreme.
Last month, the governor reportedly took down a page on the Virginia Department of Health's website that offered two links for LGBTQ youth to access resources after the right-wing news outlet The Daily Wire inquired about it.
Last year, the Human Rights Campaign wrote, "Youngkin unveiled a new directive restricting the rights of transgender students in schools, ordering all 133 school districts to adopt policies that would require transgender students to use facilities and participate in activities corresponding with their sex assigned at birth."
When running for governor in 2021, Youngkin appeared on Fox News to defend a teacher who was suspended for refusing to use a student's preferred pronouns, vowing to "stand up for teachers and parents against these kinds of cancel culture initiatives."
HRC and Equality Virginia in March counted more than two dozen anti-LGBTQ bills that were introduced by Youngkin's GOP allies in the legislature during this session, all of which were ultimately defeated as Democrats have retained control of the upper chamber.
These included:
A measure to ban gender affirming care for transgender youth, which also sought to erode anti-discrimination protections for health insurers and permit the companies to opt out of covering gender affirming care for adults,
A policy requiring schools to "out" students by informing parents when their child has disclosed experiences of gender dysphoria or asked any employee of their school to participate in their social transitioning, such as by using preferred names or pronouns, and requiring parental consent "prior to the implementation at such school of any plan concerning any gender incongruence",
A requirement for students to obtain a court order to change a student's name on any school record, and
Legislation requiring parental consent and notification when their child participates in any Gender-Sexuality Alliance or Gay-Straight Alliance (GSA) club at school.
Va. Senate subcommittee essentially kills three anti-transgender bills
Measures would ban transition-related health care for minors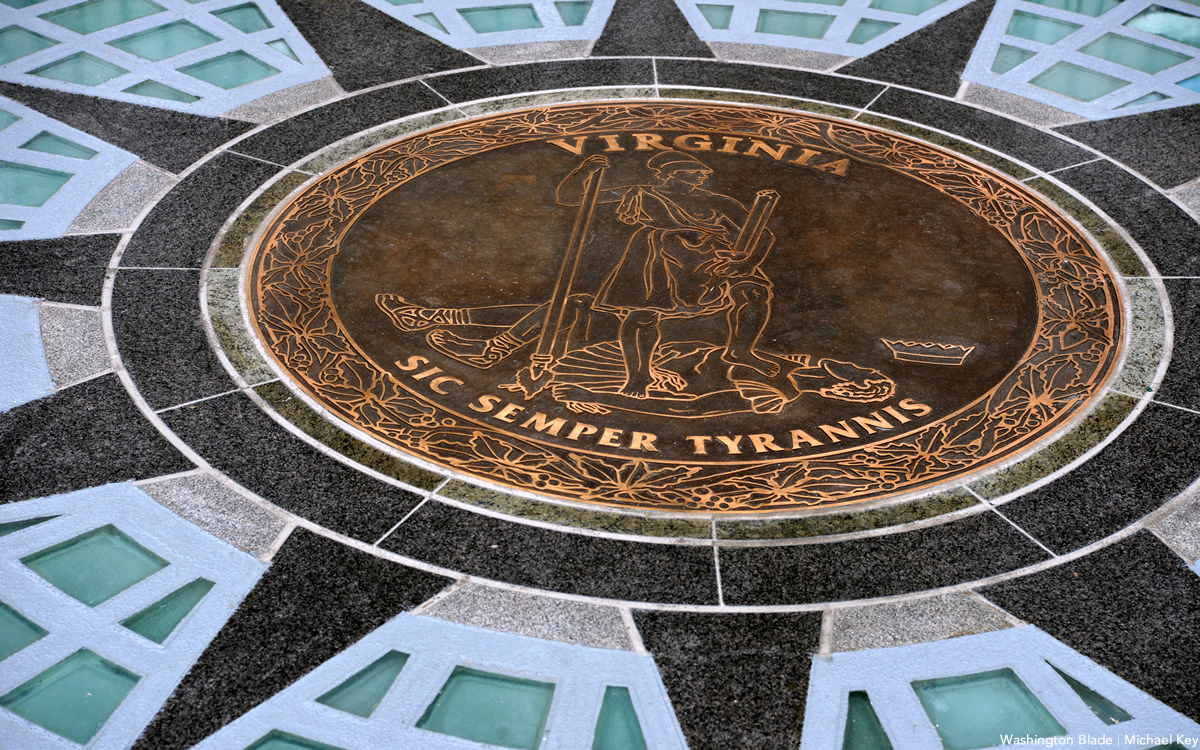 A Virginia Senate subcommittee on Tuesday essentially killed three bills that would have banned transition-related health care for minors in the state.
Equality Virginia in a tweet noted the Senate Health Subcommittee "recommended killing" state Sen. Mark Peake (R-Lynchburg)'s Senate Bill 960, state Sen. Amanda Chase (R-Colonial Heights)'s Senate Bill 791 and state Sen. Bryce Reeves (R-Spotsylvania County)'s Senate Bill 1203.
"We expect these bills to be officially dead after the full committee meets on Thursday," said Equality Virginia.
🎉VICTORY 🎉 Tonight a Senate subcommittee recommended killing all three trans healthcare bans! We expect these bills to be officially dead after the full committee meets on Thursday! #TransYouthBelongVA #VAleg

— Equality Virginia (@EqualityVA) January 31, 2023
Democrats have a 22-18 majority in the state Senate, and they have said they will block any anti-LGBTQ bill that reaches their chamber. State Del. Danica Roem (D-Manassas), who is the first openly transgender woman seated in a state legislature in the U.S., on Tuesday reiterated this point.
"With the defeat of these bills in the Senate, our (Virginia Senate Democrats) made it clear that *any* bills in the House targeting trans kids during the final week before crossover will not become law if they make it to the Senate," she tweeted. "Let's focus on feeding kids, not singling them out."
With the defeat of these bills in the Senate, our @VASenateDems made it clear that *any* bills in the House targeting trans kids during the final week before crossover will not become law if they make it to the Senate.

Let's focus on feeding kids, not singling them out. https://t.co/vF8MOp4I8C

— Del. Danica Roem (@pwcdanica) January 31, 2023