Members of Congress urge World Bank to suspend loans to Uganda
Country's president on May 29 signed Anti-Homosexuality Act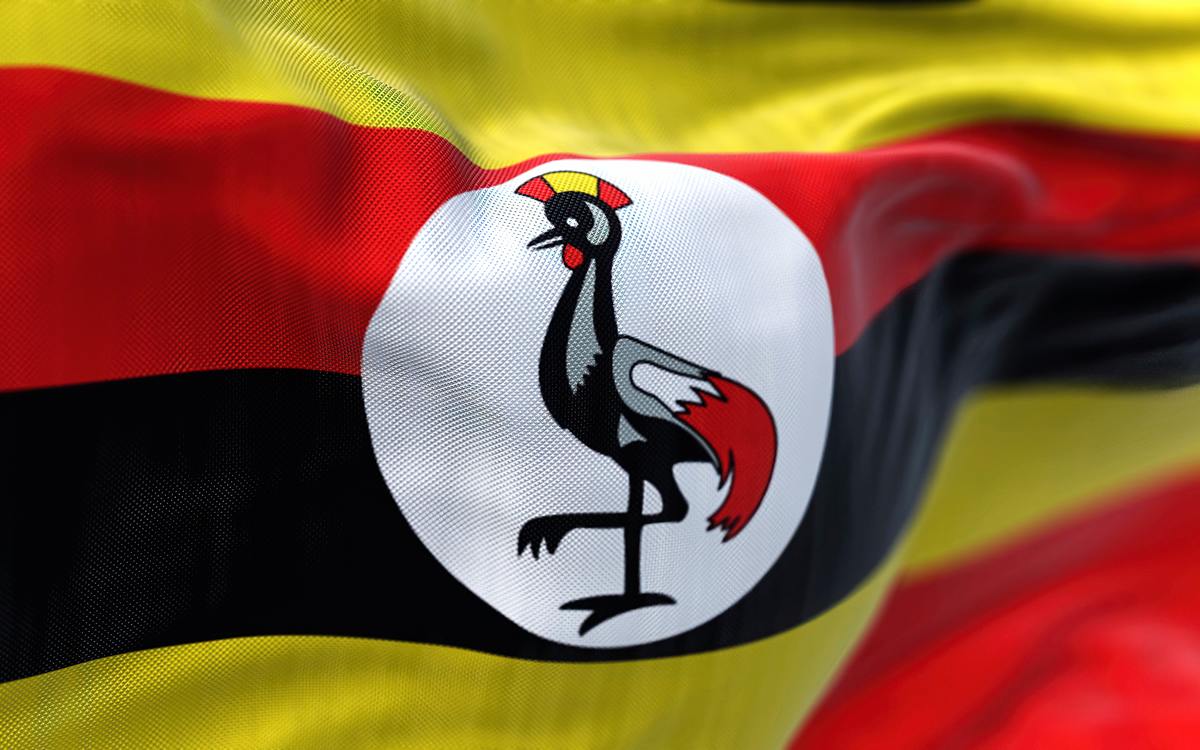 Nearly a dozen members of Congress this week asked the World Bank Group to suspend loans to Uganda in response to the country's Anti-Homosexuality Act.
U.S. Reps. Joyce Beatty (D-Ohio), Steven Horsford (D-Nev.), Mark Pocan (D-Wis.), Al Green (D-Texas), Brad Sherman (D-Calif.), Brittany Pettersen (D-Colo.), Wiley Nickel (D-N.C.), Jan Schakowsky (D-Ill.), Jim McGovern (D-Mass.) and Dina Titus (D-Nev.) and D.C. Del. Eleanor Holmes Norton in a letter they sent to World Bank Group President Ajay Banga urged him "to immediately postpone and suspend all current and future lending to Uganda until the recent Anti-Homosexuality Act, signed by President Yoweri Museveni on May 29, 2023, is struck down."
"While we undoubtedly support efforts to promote long-term economic development and poverty reduction in Uganda, the recent law mandates state-sponsored discrimination and violence against LGBTQ+ individuals, creating a humanitarian crisis that plainly violates World Bank stated policies," states the letter.
The Anti-Homosexuality Act, among other things, contains a provision that calls for the death penalty for "aggravated homosexuality."
The Council for Global Equality, the Human Rights Campaign, Outright International, Rainbow Railroad and Planned Parenthood Global are five of the 170 human rights organizations that urged the World Bank on June 15 to suspend loans to Uganda. The State Department the following day announced the U.S. had imposed visa restrictions against Ugandan officials.
Then-World Bank President Jim Yong Kim in 2014 postponed a $90 million loan to the Ugandan government in response to Museveni's decision to sign a version of the Anti-Homosexuality Act that did not contain a death penalty provision. (The Constitutional Court later struck down the law on a technicality.)
Kim's decision to postpone the loan without first consulting the World Bank board sparked widespread criticism among board members. Advocacy groups had asked the World Bank not to fund future projects in Uganda, but they did not ask for the cancellation of existing loans.
"We stand with Ugandan activists, international humanitarian organizations, and the LGBTQ+ community and insist that the bank take swift action to postpone and suspend all lending to Uganda until the law is struck down," reads the Congress members' letter to Banga. "Continuing to lend money to Uganda and implement projects in the country would signal to the Ugandan government, other governments considering similar laws and LGBTQ+ people around the world that the World Bank does not truly value inclusion and that its commitments to nondiscrimination are disingenuous. The World Bank can and must do better."
The Washington Blade on Friday obtained an email from a Ugandan LGBTQ and intersex activist that indicates the World Bank "has announced that they are carrying out a review of lending to Uganda, and that they won't disburse any funding or agree on any new lending during this period."
The Blade has reached out to the World Bank for comment.
Kevin McCarthy ousted as House speaker
Matt Gaetz led effort against Calif. Republican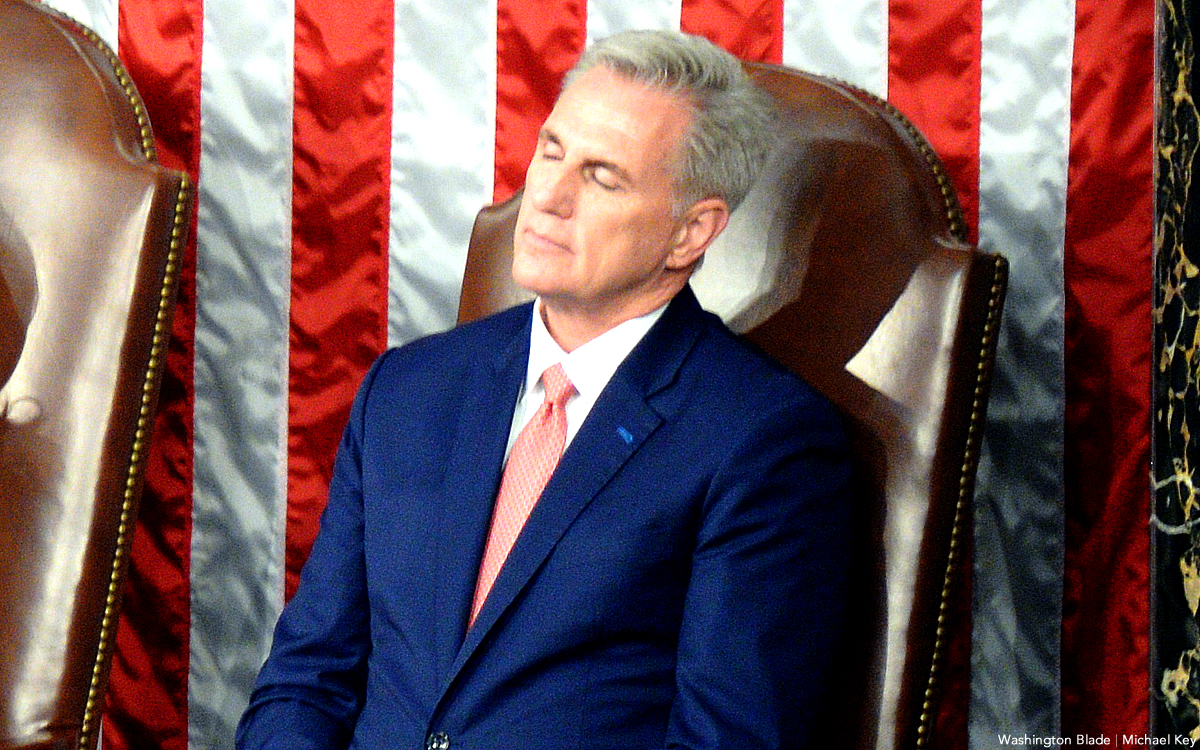 A motion to declare the chair vacant submitted by U.S. Rep. Matt Gaetz (R-Fla.) to oust House Speaker Kevin McCarthy (R-Calif.) succeeded on a 216-210 vote Tuesday after an at times contentious debate between House Republicans on the floor.
The last to vote in the full order of the roll call was McCarthy, who voted against the motion to remove him from his post. U.S. Rep. Steve Womack (R-Ark.), who chaired the proceedings, declared the speaker vacant after the House chamber went silent, after it had asked if anyone wishes to change their vote, then read off the tally submitted by the clerk.
U.S. Rep. Patrick McHenry (R-N.C.), a close McCarthy ally, will serve as speaker pro tem, or as temporary acting speaker.
With a sharp bang of the gavel, he declared the chamber in recess.
This is a historic action by the House as never before has a House speaker successfully been voted out of the chair. The last time the House had a vote to oust the speaker was in 1910.
The vote that year stemmed from angst among progressive Republicans that the speaker at the time, Joseph Cannon, a conservative known as "Uncle Joe," refused to bring progressive legislation to the floor for a vote.
The House Cannon Office Building, which was completed in 1908 and is the oldest congressional office building — a significant example of the Beaux Arts style of architecture is named for Cannon, who had served as House speaker. 
Earlier Tuesday afternoon the chamber voted 208-218 with Democrats supporting a motion to table Gaetz's resolution to oust McCarthy, setting the stage for a vote on whether McCarthy should remain in the top spot. Democratic leadership had told reporters earlier that their conference would be united in an effort to remove the House speaker.
Laphonza Butler sworn in as California's newest senator
Former vice president advisor will succeed Dianne Feinstein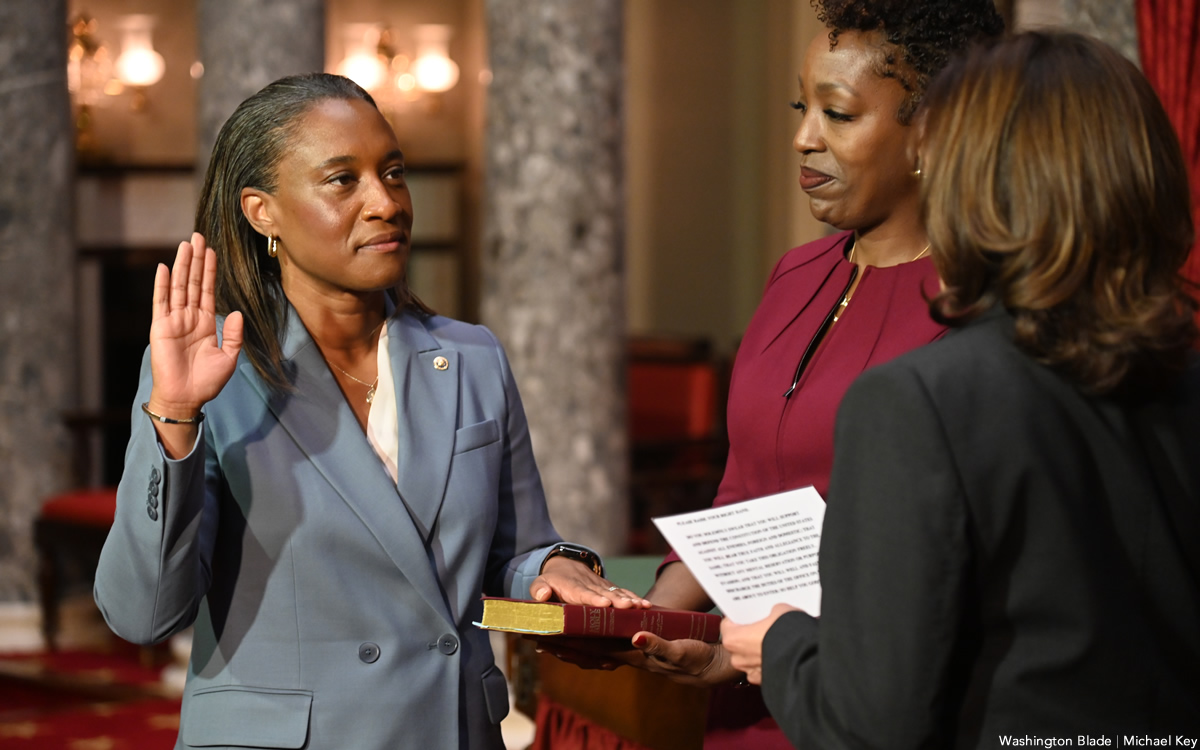 Vice President Kamala Harris on Tuesday swore in Democrat Laphonza Butler as California's newest U.S. senator during a ceremony at the U.S. Capitol.
The first Black lesbian to serve in the Senate, Butler was president of the nation's largest organization dedicated to electing women to public office, EMILY's List, and previously was a senior advisor to the vice president during her 2020 bid for the Oval Office.
Harris, the country's first woman vice president as well as the first Black and South Asian person to serve in that role, also made history with her tenure as attorney general and then senator for California.
Democratic California Gov. Gavin Newsom appointed Butler to fill the vacancy caused by the death, on Friday, of U.S. Sen. Dianne Feinstein, who had represented the state in the upper chamber since 1992.
Per the terms of her appointment, Butler will be eligible to run for the seat during next year's elections, in which case she would face competition from three high profile Democrats now representing California in the House: U.S. Reps. Barbara Lee, Katie Porter and Adam Schiff.
Newsom in 2021 pledged that he would appoint a Black woman to Feinstein's seat. Lee, so far the only Black woman among the declared candidates, congratulated Butler in a statement in which the congresswoman said she is "singularly focused on winning" her Senate campaign.
California "deserves an experienced senator who will deliver on progressive priorities," she said. "That's exactly what I'm running to do."
Consistent with her work in progressive politics, Butler was previously a labor leader with Service Employees International Union, SEIU, the powerful union where her wife, Neneki Lee, serves as director of the Public Services division.
Human Rights Campaign President Kelley Robinson and Claire Lucas and Judy Dlugacz were among those who attended the swearing in alongside Butler's wife.
Senate Majority Leader Chuck Schumer (D-N.Y.) and U.S. Sen. Alex Padilla (D-Calif.) escorted Butler into the chamber. Lee and Schiff were among those who attended the ceremony.
"It's a good day," Lucas told the Washington Blade as she left the chamber.
Michael K. Lavers contributed to this story.
Shutdown averted with bipartisan bill over objections of far-right House caucus
45-day continuing resolution passed 335-91.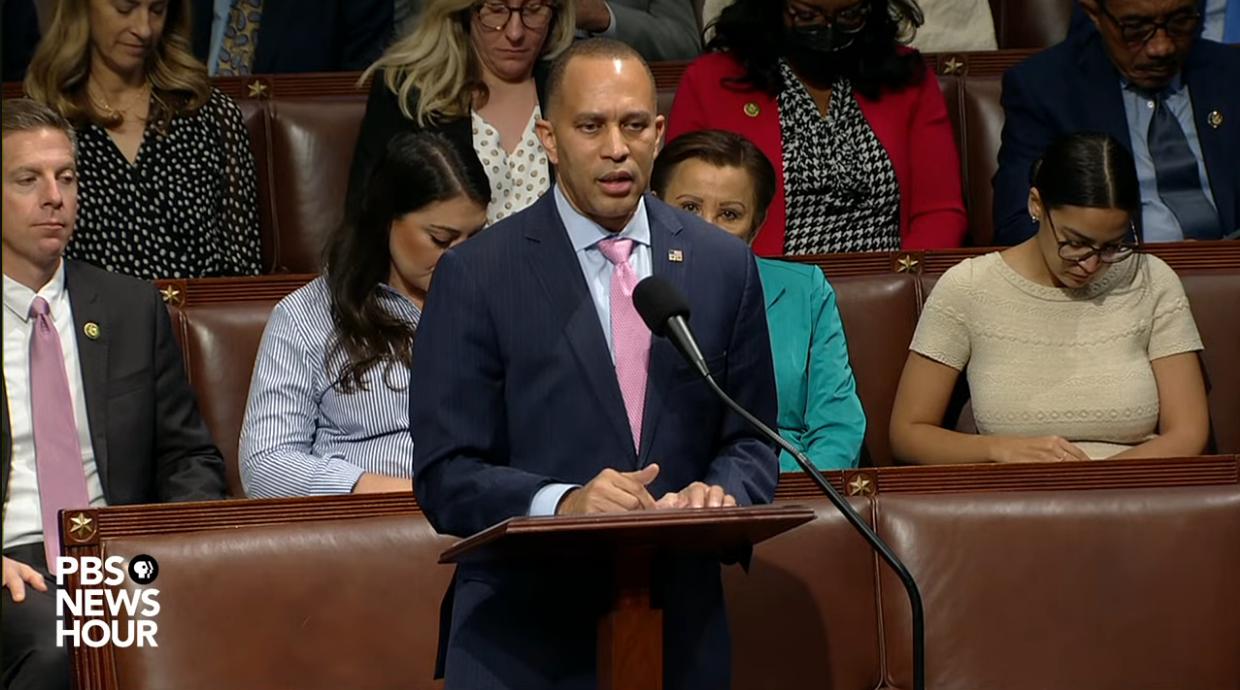 The U.S. House on Saturday approved a 45-day continuing resolution that, should the Senate approve the stopgap measure, as expected, will avert a government shutdown.
In a stunning turn of events, a coalition of Republicans and Democrats backed the proposal, H.R. 5860 advanced by House Speaker Kevin McCarthy (R-Calif.), which was passed with a vote of 335-91.
Ninety Republicans and one Democrat voted against the continuing resolution which, in addition to funding U.S. government agencies through mid-November, will provide billions in disaster relief .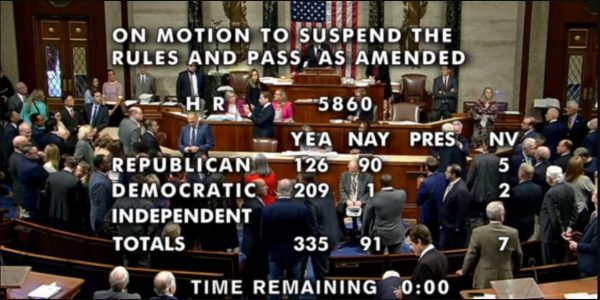 Democrats agreed to the bill even though it did not contain U.S. aid to Ukraine. Still, the most conservative members of McCarthy's caucus have warned they would replace their speaker if he cooperated with Democrats on a deal to avoid a shutdown.
In recent weeks, these members advanced far-right anti-LGBTQ amendments to spending packages that stood no chance of becoming law.
The Senate voted 88-9 to pass a "clean" continuing resolution (CR) that funds the government at current levels through Nov. 17 and gives the Biden administration $16 billion it requested to assist victims of natural disasters.
"Bipartisanship, which has been the trademark of the Senate, has prevailed. And the American people can breathe a sigh of relief," Senate Majority Leader Chuck Schumer (D-N.Y.) told reporters.
After the Senate voted late Saturday evening to pass the House stop-gap continuing resolution, the White House released the following statement from President Biden:
"Tonight, bipartisan majorities in the House and Senate voted to keep the government open, preventing an unnecessary crisis that would have inflicted needless pain on millions of hardworking Americans. This bill ensures that active-duty troops will continue to get paid, travelers will be spared airport delays, millions of women and children will continue to have access to vital nutrition assistance, and so much more. This is good news for the American people.
But I want to be clear: we should never have been in this position in the first place. Just a few months ago, Speaker McCarthy and I reached a budget agreement to avoid precisely this type of manufactured crisis. For weeks, extreme House Republicans tried to walk away from that deal by demanding drastic cuts that would have been devastating for millions of Americans. They failed.
While the Speaker and the overwhelming majority of Congress have been steadfast in their support for Ukraine, there is no new funding in this agreement to continue that support. We cannot under any circumstances allow American support for Ukraine to be interrupted. I fully expect the Speaker will keep his commitment to the people of Ukraine and secure passage of the support needed to help Ukraine at this critical moment."
Biden is expected to sign the measure once it is delivered to the White House before the midnight deadline.
UPDATED:
On Saturday, September 30, 2023, the President signed into law:

H.R. 5860, which provides fiscal year appropriations to Federal agencies through November 17, 2023, for continuing projects of the Federal Government and extends several expiring authorities.